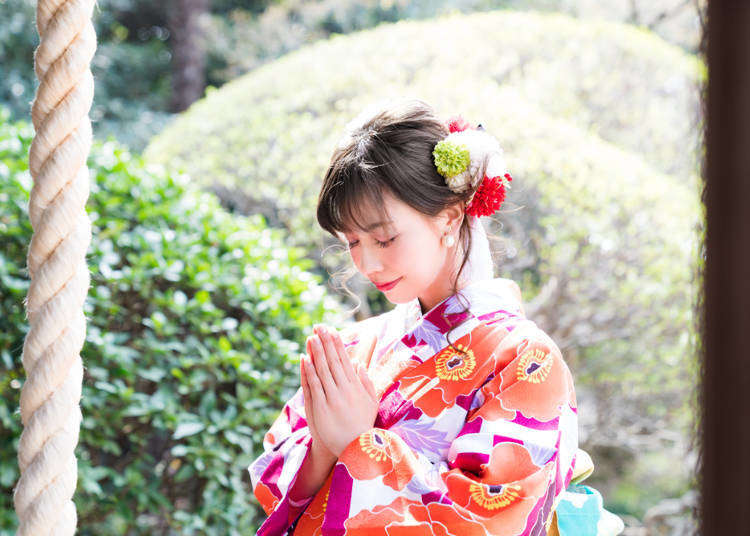 Visiting a Japanese shrine is on the must-do list of everyone who comes to Japan, no matter where you're from or how old you are. Of course, to an authentically Japanese shrine visit belongs formal worship – have you heard about the proper way of praying at a Shinto shrine before?

If not, there's no need to worry. Come with us to Meiji Shrine, in the lush green heart of Tokyo, and we will make you a Shinto prayer pro in no time!
Meiji Shrine: A Sacred Place in the Heart of Harajuku, the Hot Bed of Trends and Fashion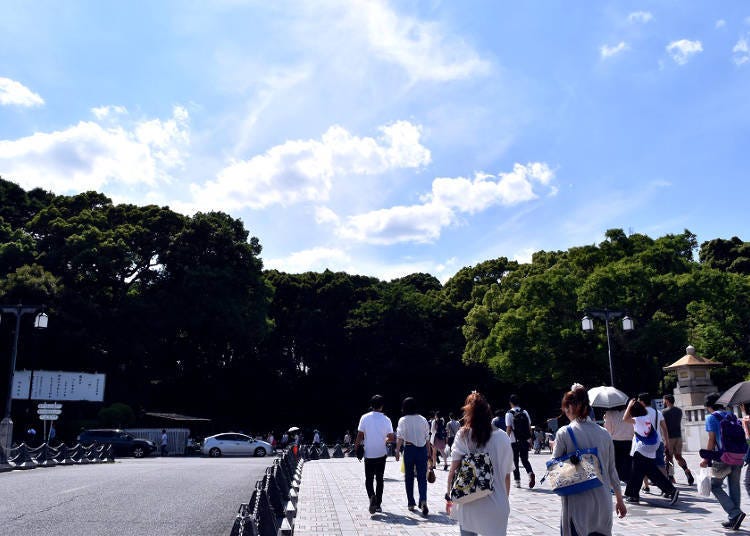 Meiji Shrine, called Meiji Jingu in Japanese, was founded in 1920 to enshrine Emperor Meiji and Empress Dowager Shoken as kami, Japanese deities. Surrounded by three stations – Harajuku Station, Meijijingu-Mae Station, and Sangubashi Station – the Japanese shrine boasts easy and convenient access.

Maybe that's why you will never find it empty – on New Year's Day alone, three million people visit Meiji Shrine to pay their respects and bring their wishes before the deities in the form of a prayer. Once you stand in front of the shrine's massive wooden gates called torii, you'll likely have forgotten that Harajuku, Japan's HQ of everything trendy and fancy, is just a stone's throw away.
1. Japanese Shrine Visit Basics: What Clothes to Wear, When to Go, Which Entrance to Take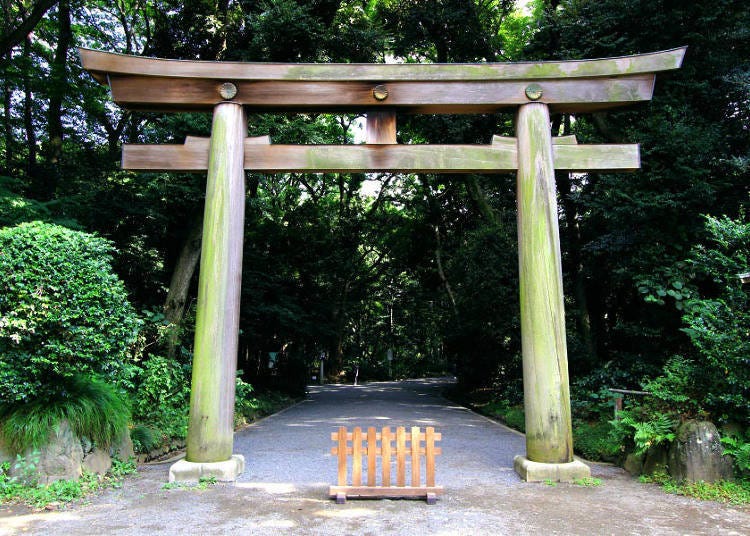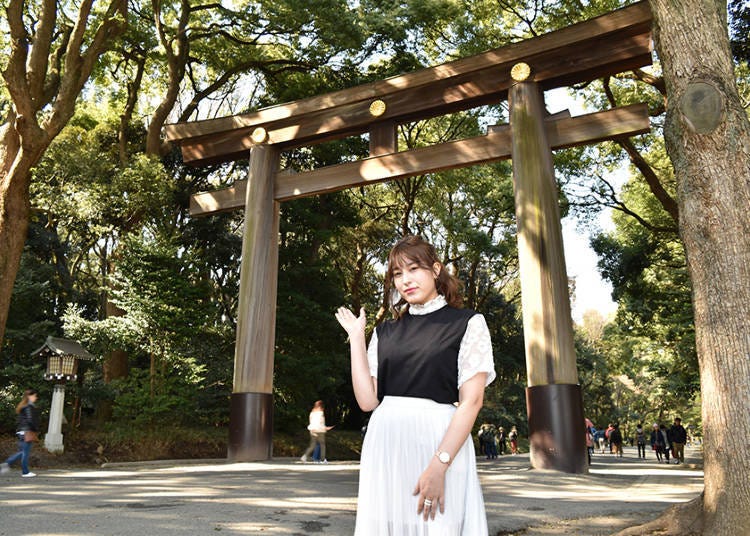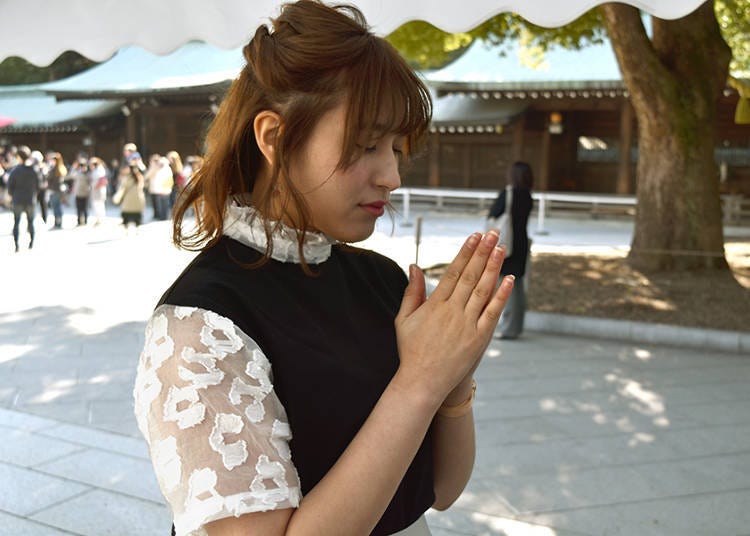 Ceremonial events and holiday celebrations can seem rather strict when it comes to rules and manners. So what about a shrine visit – when should you go, what should you wear, and which entrance should you take?

Asking directly at Meiji Shrine, it turns out that a shrine visit is fairly uncomplicated: "You can come on any day you like. As for clothes, a shrine visit means that you are greeting a deity, so dress appropriately. Since Meiji Shrine is surrounded by nature and thus insects, it is recommended to not expose too much skin."

However, Meiji Shrine is only open from sunset to sundown, so don't plan on visiting too late. The big shrine also has three different entrances: the Harajuku Entrance, the Yoyogi Entrance, and the Sangubashi Entrance. It does not matter which one you take!
2. Passing the Torii Gate: Remove Your Hat and Bow Once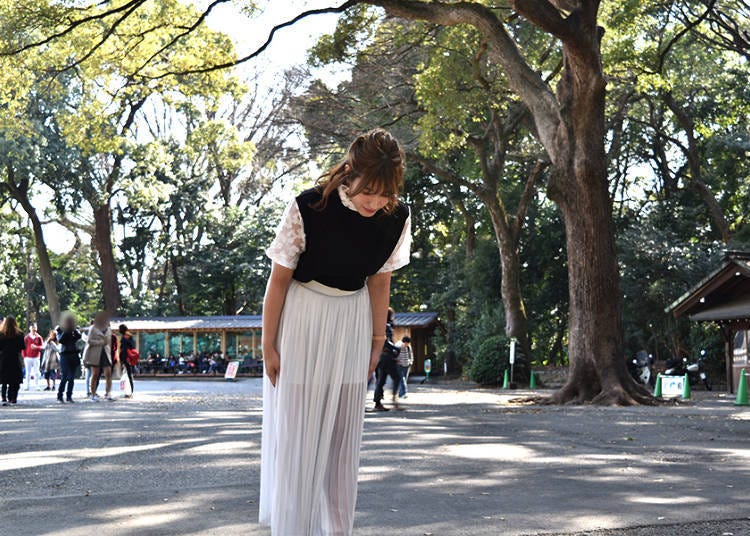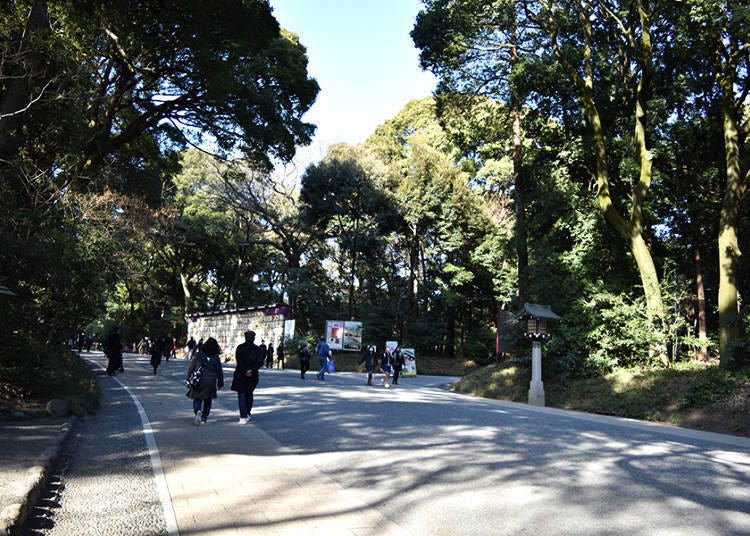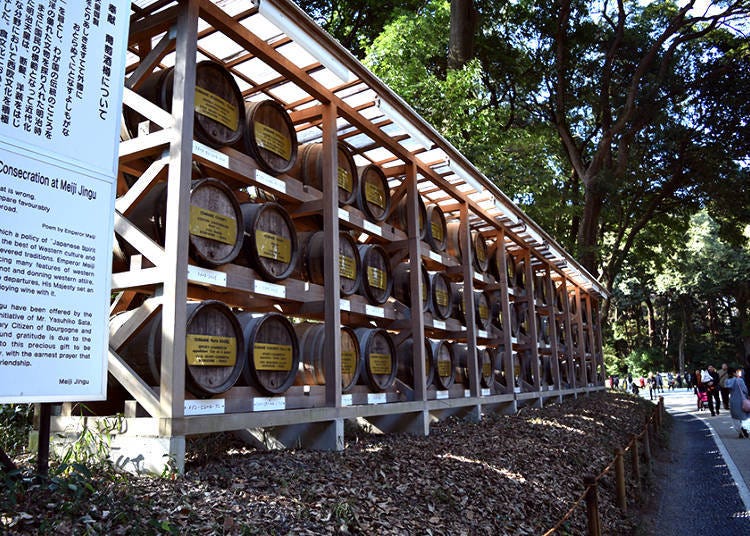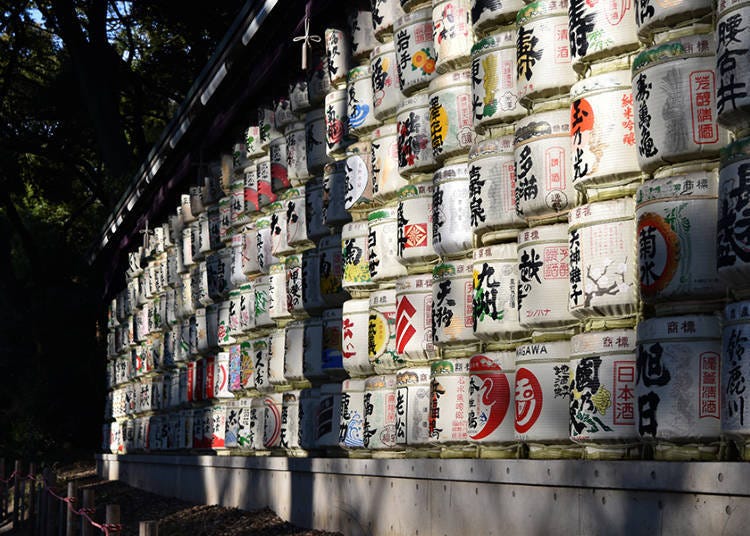 We started our shrine visit from the wooden gate called a torii at the Harajuku Entrance. There are two important points to remember before passing through this gate: taking your hat off and bowing in front of it.

The torii marks the sanctity of the shrine, marking that you are about to enter a sacred area. It actively separates the regular world from the realm of the kami, or the enshrined deity, which is a calm and quiet place. A torii can be called the official entrance to the kami's home, so show your respect by taking your hat off and bowing once before passing through.

By the way: when you leave the shrine, it is custom to bow again towards the main hall of worship before stepping through the torii.

Part of the approach to Meiji Shrine is a slope that gently rises from the bridge called Kamibashi towards the main hall of the Japanese shrine. This main hall is where the kami resides and thus is a bit elevated from the surrounding area. Try to walk on either the left or the right side of the path approaching Meiji Shrine, as it is said that the middle is the "path of the kami."

On your way, you'll see numerous big barrels stacked on top of each other. The wine barrels are gifts to the shrine from France, while the others are sake barrels that come from all over Japan. This display might feel a bit unusual and out of place for a shrine, but they are dedicated to Emperor Meiji, who had a great fondness for good wine.
3. Cleanse Yourself before Prayer at the Temizuya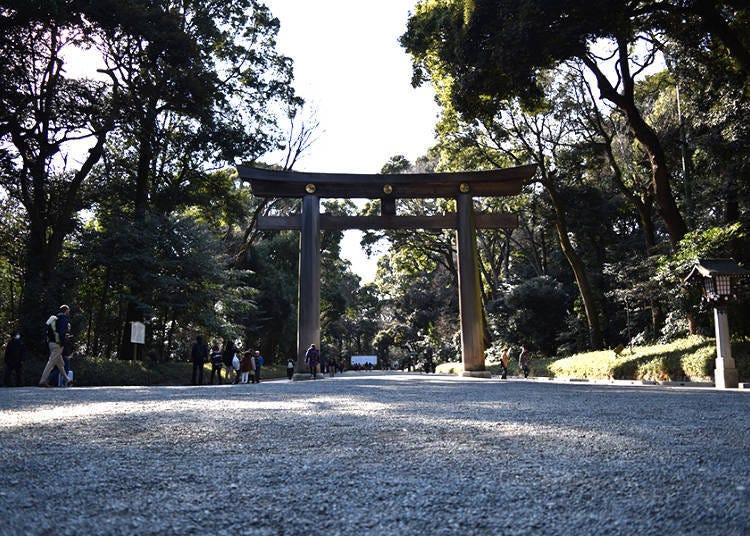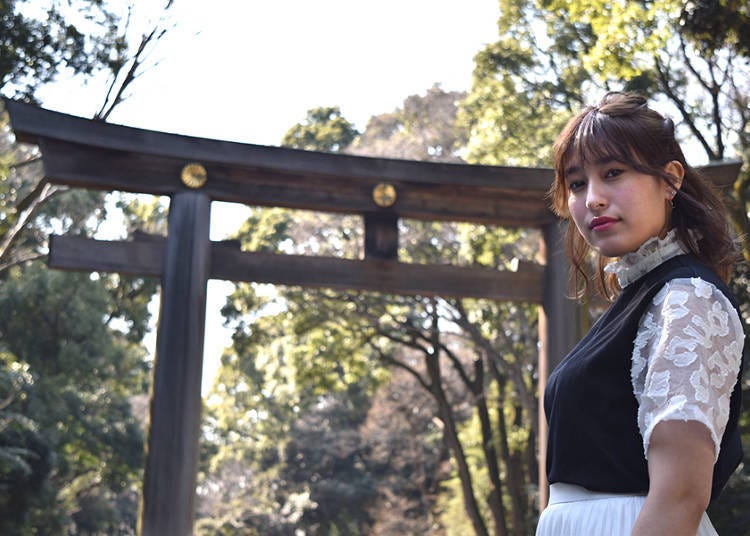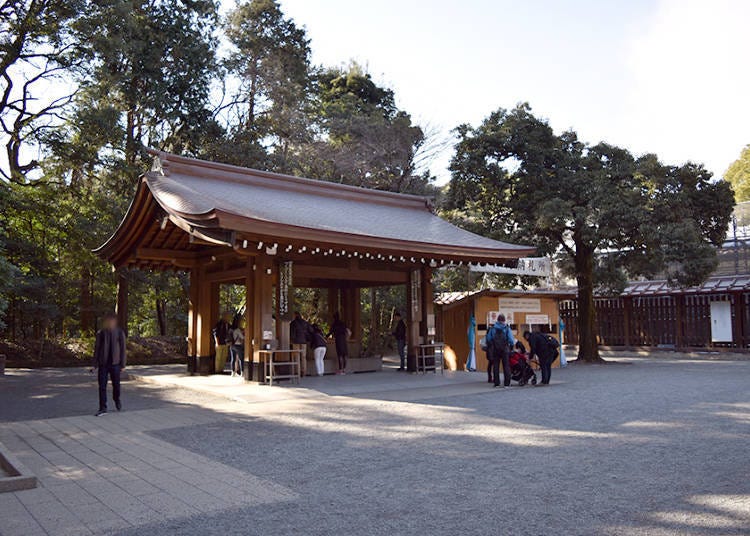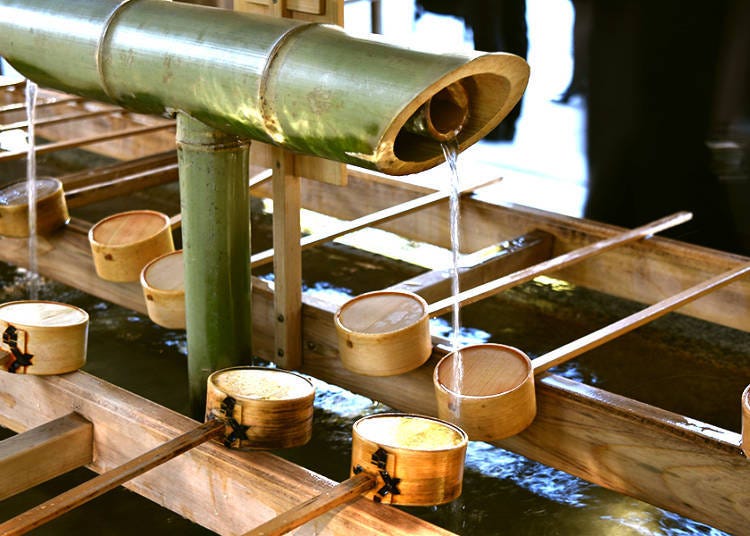 Soon, we find ourselves at the otorii, the second torii that stands where the paths from the Harajuku and Yoyogi Entrances meet. This impressive gate is made out of a cypress tree over 1,500 years old, is 12 meters high and 17.1 meters wide. The massive pillars have a diameter of 1.2 meters, and the entire construction weighs a total of 13 tons! This torii is the largest of all wooden shrine gates in all of Japan and one of Meiji Shrine's most popular photo spots. Don't forget to bow before passing underneath!

Following the approach to the famous Japanese shrine, we'll arrive at a water basin called the temizuya (or sometimes chozuya). A little purification ritual called temizu takes place here, supposed to cleanse both body and soul so that the kami will listen to your prayer. This ritual goes back to the Kojiki, or "Records of Ancient Matters," which is one of Japan's oldest historical documents. It describes how the deity Izanagi no Mikoto cleansed himself of the impurities of the Underworld by cleaning his body with water as a ritual of purification. The temizu practice is said to be a simplified version of this very ritual.

Numerous ladles called hishaku are arranged along the stone basin, ready to be used. Here is how the purification works:
1. Hold the ladle with your right hand and scoop water from the basin. Doing the entire ritual with a single scoop is the ideal.
2. Wash your left hand, change the ladle to the left hand, and wash your right.
3. Take the ladle again with your right hand, pour a bit of water in the palm of your left and rinse your mouth.
4. Cover your mouth with your left hand, spit the water out on the stones under the basin and rinse your left hand with a bit of water.
5. Slowly raise the ladle to an upright position to let the water rinse over the handle.
6. Put back the ladle.

There's no need to hurry – this cleansing ritual is best performed in a graceful and slow kind of way. After you've purified both body and mind, continue on to the main hall of the shrine!
4. Praying at a Shinto Shrine: Bow Twice, Clap Twice, Bow Once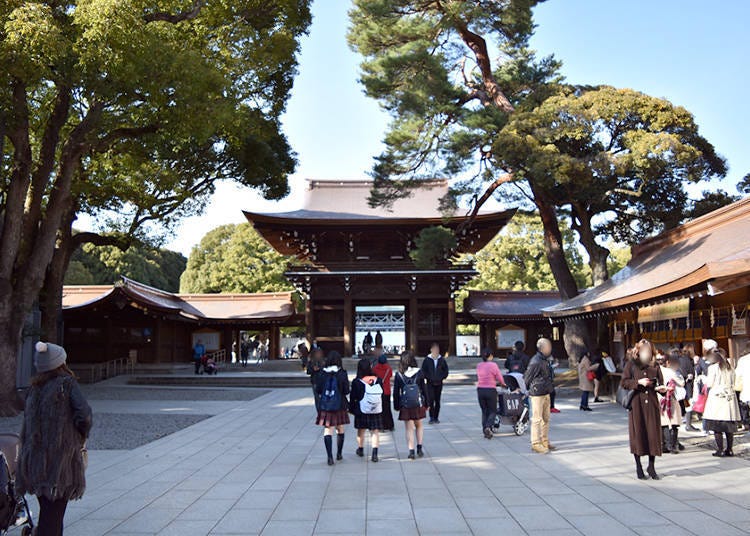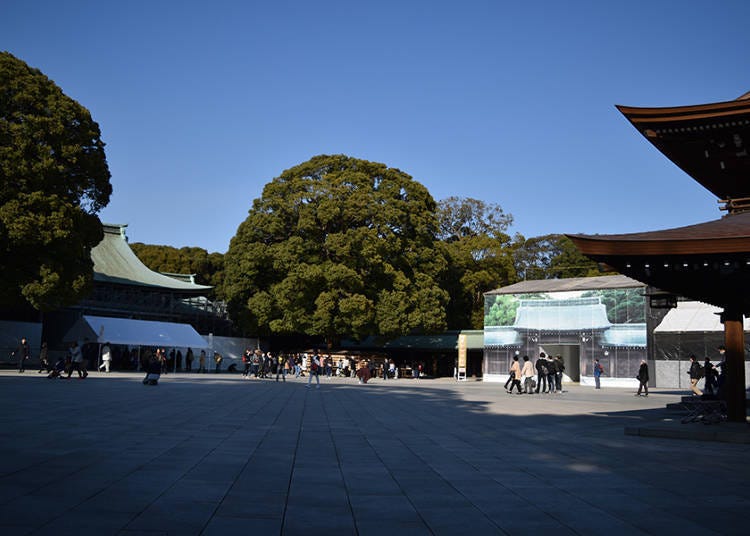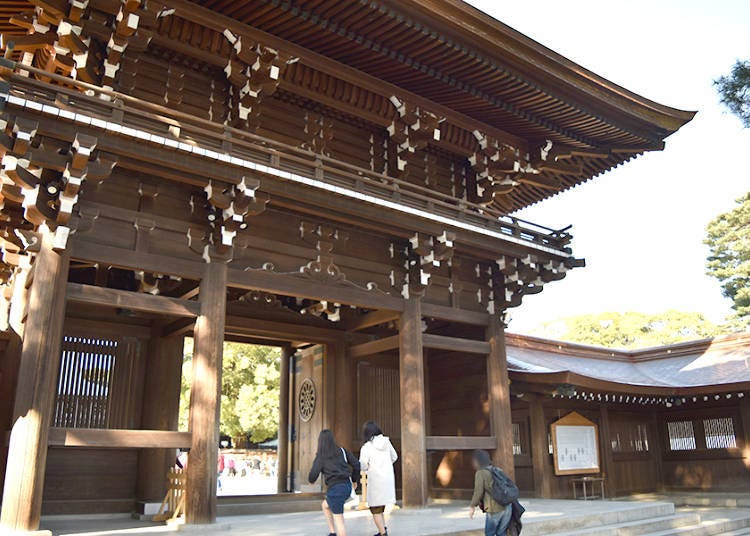 After bowing in front of the torii and cleansing yourself at the temizuya, it's time for prayer. Before stepping on the inner precincts surrounding the hall of worship, you need to pass through the Minamikamon, a beautifully crafted gate with numerous little details to discover. After passing through here, we find ourselves in front of the oratory, ready to pay our respects. The ritual goes as follows:

1. Approach the offering bow, lower your head a bit in respect, and if there is a bell, go ahead and ring it. This will catch the kami's attention.
2. Throw your money in the offering box.
3. Bow deeply – at a 90-degree angle – twice.
4. Press your hands together in front of your chest, clap twice, and say your prayer in silence. (*When you clap, make sure your right hand is a tad lower than the left one.)
5. Bow deeply one more time once you're done praying.

This routine of "Bow Twice, Clap Twice, Bow Once" is the same for every Shinto shrine. It may seem difficult at first, both the praying and the cleansing at the temizuya, but just take your time and do it slowly, one step after another – it becomes surprisingly easy.

Regarding the monetary offering: at Meiji Shrine, it really does not matter how much or how little you offer, and it is perfectly acceptable to use foreign currency as well.
More than Prayer: Meiji Shrine, the Sightseeing Highlight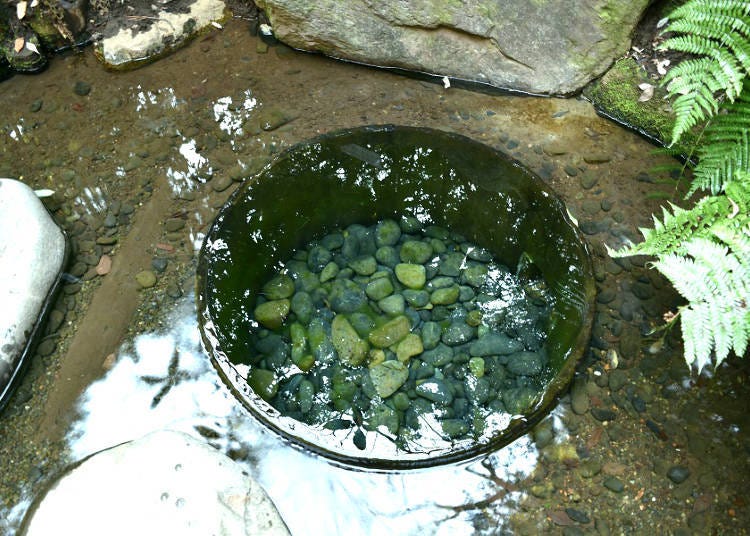 Besides the main shrine, Meiji Shrine offers a plethora of unique sightseeing spots. One of them is Kiyomasa's Well, located in the shrine's Inner Garden.

This wishing well was supposedly dug by the famous feudal lord Kiyomasa Kato, who seemed to have a residence close by. Nowadays, Kiyomasa's Well is said to be a potent charm in regards to money and good fortune, and thus one of Tokyo's most popular "power spots."

Other than being a wishing well, Kiyomasa's Well offers an amazingly quiet and peaceful hideaway from the busy life of the big city. Just standing there and listening to the soft gurgling of the water is very relaxing and sure to calm and refresh your mind. Access to the Meiji Shrine Inner Garden costs 500 yen, used for maintenance of the beautiful garden. It's a must-see after paying respect at Meiji Shrine itself.
Hours: Sunrise to sunset
Closed: Always open
Address

1-1, Yoyogikamizonocho, Shibuya-ku, Tokyo, 151-8557
View Map

Nearest Station

Sangubashi Station (Odakyu Odawara Line)


Phone Number

03-3379-5511
More about Meiji Shrine:
*This information is from the time of this article's publication.
*Prices and options mentioned are subject to change.
*Unless stated otherwise, all prices include tax.