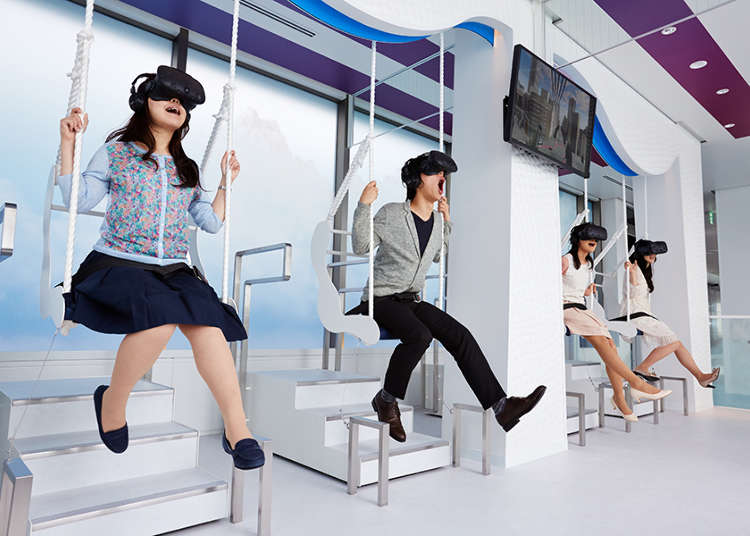 In recent years, virtual reality (VR) technology has made giant strides, allowing us to explore incredibly realistic 3D worlds. Of course, the modern city of Tokyo has already caught on to this new trend and offers a variety of exciting VR experiences. From having fun in a theme park to transforming yourself into a cute character, let's see what Tokyo's VR spaces have to offer!
VR Park Tokyo: The Theme Park VR Experience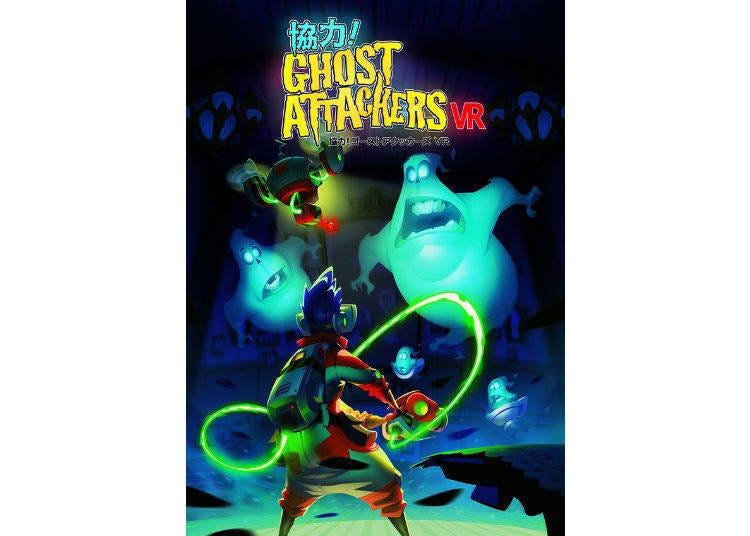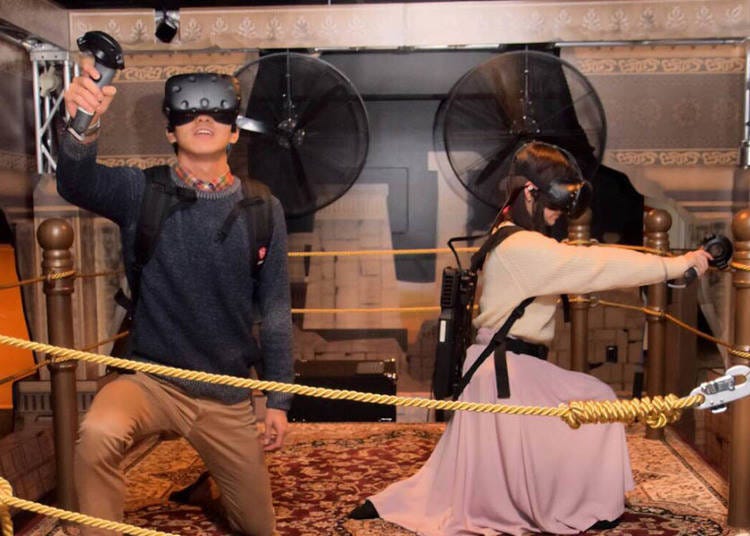 VR Park Tokyo just opened in Tokyo's Shibuya area in December 2016. This space offers a total of seven different VR experiences, some of them original content that can only be enjoyed at this very location. The admission fee is 2,900 yen per person with a prior reservation and 3,200 yen without. For this, you'll get 80 minutes to freely experience the many VR adventures that each have their own themed area! This makes VR PARK TOKYO feel like a little theme park!
Our VR recommendation is "Ghost Attackers VR." One player turns into a professional ghost exterminator, while the second player becomes their skilled colleague handling support gadgets such as drones. Happy ghost hunting!

Hours: 10:00 a.m. - 11:25 p.m.
Closed: always open
VR PARK TOKYO

Address

4F, 13-11 Udagawacho, Shibuya-ku, Tokyo-to 150-0042
VR Space Shibuya: Become a Space Pirate, Flip Digital Burgers, and Paint a Picture!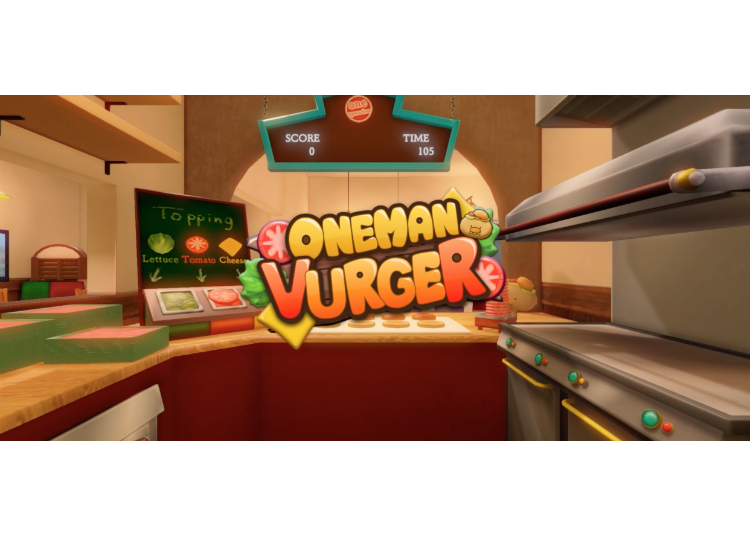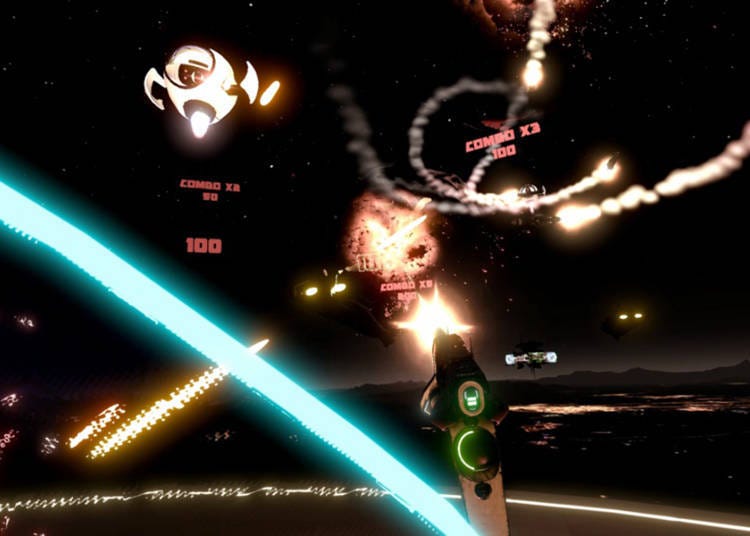 A 10-minute walk away from Shibuya Station lies VR Space Shibuya, amazing Tokyoites and tourists with 10 different kinds of VR experiences! Hone your galactical buccaneering skills with the Space Pirate Trainer and shoot down attacking UFOs, get to grilling and run a fast food chain at ONE-MAN VURGER, or get creative and show off your art with the 3D art program Tilt Brush. There's much and more to discover!
A "pair ticket" for two is available for 7,000 yen, netting you 40 minutes of unrestricted VR fun per person. There are also a variety of games that can be enjoyed by four players, such as fun and engaging shooting games, so VR Space Shibuya is absolutely a place for all of your friends and even for family trips.
※Due to possible health risks, no admission for children under 13 years, people over 70 years, pregnant people, and drunk people.

Hours: 12:00 p.m. - 9:00 p.m. (Wednesdays, Thursdays, Fridays)
10:30 a.m. - 9:00 p.m. (Saturdays, Sundays, national holidays)
Closed: Mondays, Tuesdays
VR SPACE SHIBUYA

Address

4F, 2-1-11 Shibuya, Shibuya-ku, Tokyo-to 150-0002
Sky Circus: Flying Over VR Tokyo!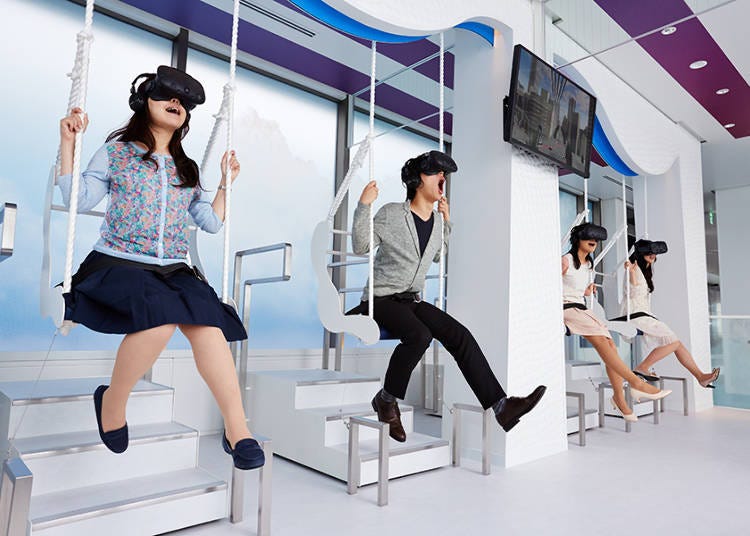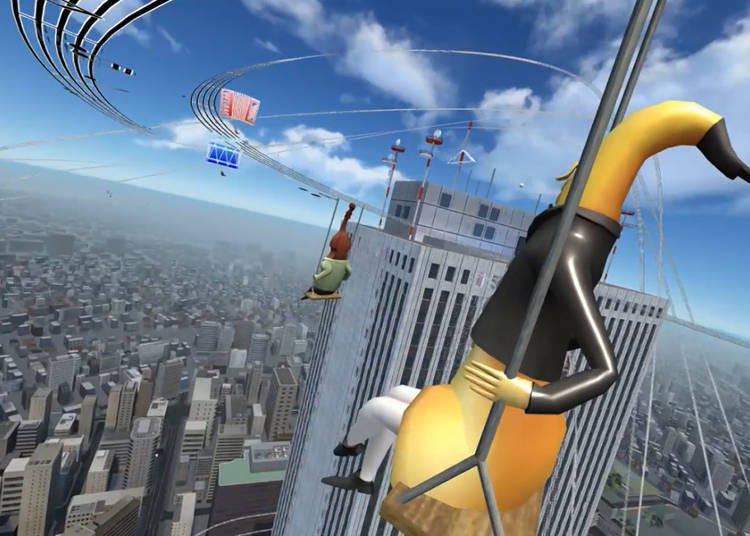 Our next VR highlight is located in Ikebukuro's big Sunshine City "Sunshine 60" building. It's called SKY CIRCUS Sunshine 60 Observation Deck" and offers two unique VR experience that fuses virtual reality with the beautiful scenery of a light-flooded observation deck.
The first experience is a "swing coaster," a trapeze-like attraction that lets you glide over VR Ikebukuro. The second highlight is called the Tokyo Bullet Flight in which you board a cannon and are catapulted from the Tokyo of today to the Tokyo of tomorrow!
Next to the two VR activities, free attractions are also available. One of them is the "Infinite Scape," a beautiful experience that will make you feel like you stepped in one massive kaleidoscope. We particularly recommend visiting Sky Circus in the evening, when the glittering night view of Tokyo sprawls out in front of you.

Hours: 10:00 a.m. - 10:00 p.m.
Closed: always open
Admission: 1,800 yen (tax included); 400 yen extra for the VR experiences
SKY CIRCUS Sunshine 60 Observation Deck

SKY CIRCUS サンシャイン60展望台

Address

Sunshine 60 Buildings 60F, Sunshine City, 3-1 Higashi-Ikebukuro, Toshima-ku, Tokyo-to 170-8630
Dospara VR Paradise: 17 VR Games for Free!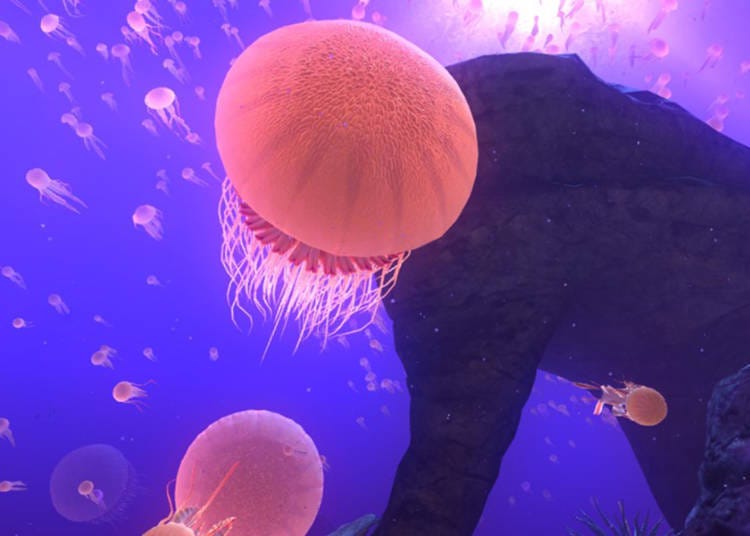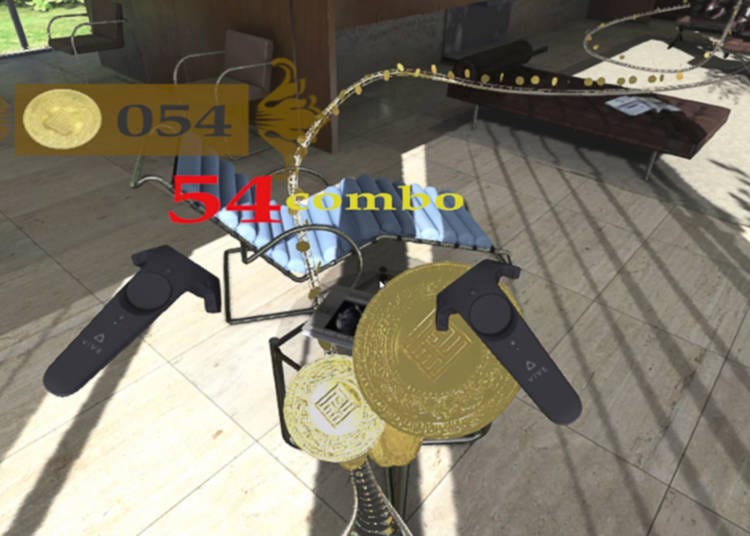 Dospara Akihabara is a famous computer parts shop in Tokyo's famous pop culture and technology neighborhood. Next to an extensive selection of parts, the store also offers 17 different VR experiences to try for free! Each group gets 30 minutes to explore all the games without reservation, but as this free VR experience is really popular, we recommend to book.

Hours: 1:00 p.m. - 8:00 p.m. (weekdays)
12:00 p.m. - 8:00 p.m. (Saturdays, Sundays)
ドスパラVRパラダイス

Address

5F, 3-11-2 Sotokanda, Chiyoda-ku, Tokyo-to 101-0021
Space Create NEXT: A Relaxed VR Experience in a Private Room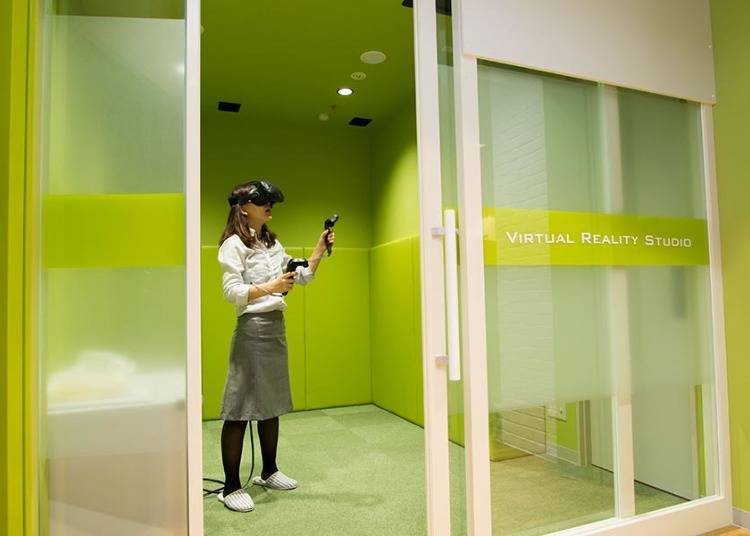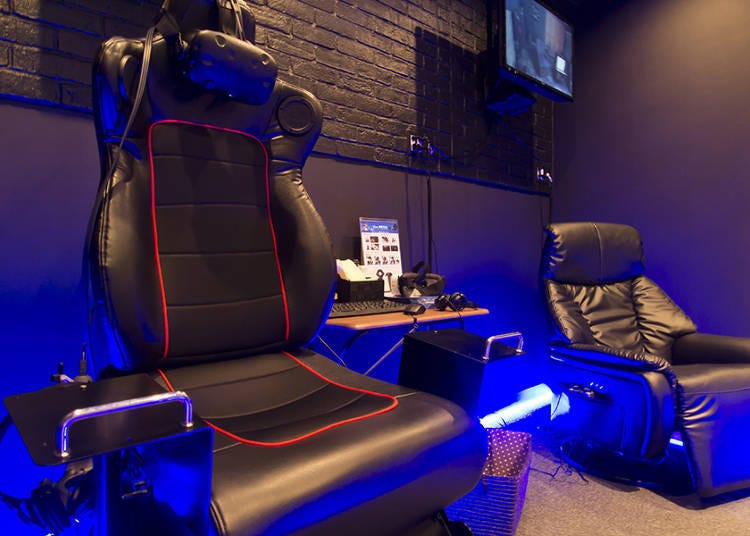 Space Create NEXT is an internet cafe that is just a 5-minute walk away from Kamata Station. Look forward to enjoying a unique VR experience 24 hours a day, 365 days a year! The admission fee for VR use only is a flat 1,000 yen for 30 minutes, tax included. We highly recommend making use of a private room or booth for an additional 300 yen per 30 minutes, allowing you to fully emerge in the 3D experience. From a fierce table tennis match to shooting games, seven different VR games await at NEXT. The 3rd floor is even home to a "VR Studio" that lets yo walk around the room while emerged in the virtual reality.
Due to its 24-hour availability, Space Creat NEXT makes for an excellent, flexible addition to your sightseeing plan or as a means to get you through the night with exciting games!

Hours: 24/7
Closed: always open
Space Create NEXT, Kamata West Exit

スペースクリエイト自遊空間NEXT 蒲田西口店

Address

7-2-3 Nishikamata, Ota-ku, Tokyo-to 144-0051
Aeon Lake Town Mori: Great VR for Little Money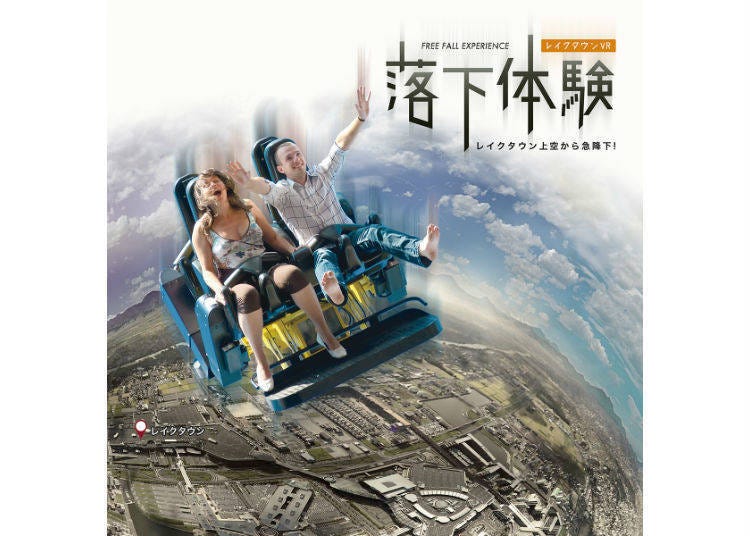 The VR Center on the 3rd floor of the shopping center Aeon Lake Town Mori is Japan's largest VR facility to date with an amazing 500 square meters full of fun. It's a wonderfully casual space, perfect for dropping by for some VR relaxation after shopping!
One of our favorite VR games here is the "Circle of Saviors", allowing you to strike down enemies with sword, shield, and magic! Another must-try is the Lake Town VR Free Fall Experience, a thrilling ride that will drop you from the sky over the mall. Try eleven different VR games, including classic roller coasters and the fun "urban coaster" that sends you right through Tokyo's high-rise buildings.
For 500 to 600 yen per experience, the VR Center is more than reasonably priced and there are many experiences that are fit for VR first-timers!

Hours: 10:00 a.m. - 9:00 p.m.
Closed: always open
イオンレイクタウンmori

Address

3-1-1 Koshigaya-shi, Saitama-ken 343-0828
ライター:石部千晶
*This information is from the time of this article's publication.
*Prices and options mentioned are subject to change.
*Unless stated otherwise, all prices include tax.