Nothing says spring like the vivid red color and the full-bodied taste of strawberries, and nothing says souvenir from Japan like an adorably designed box full of delicious sweets! Let's combine both spring fever and Japan with these amazing seasonal strawberry treats!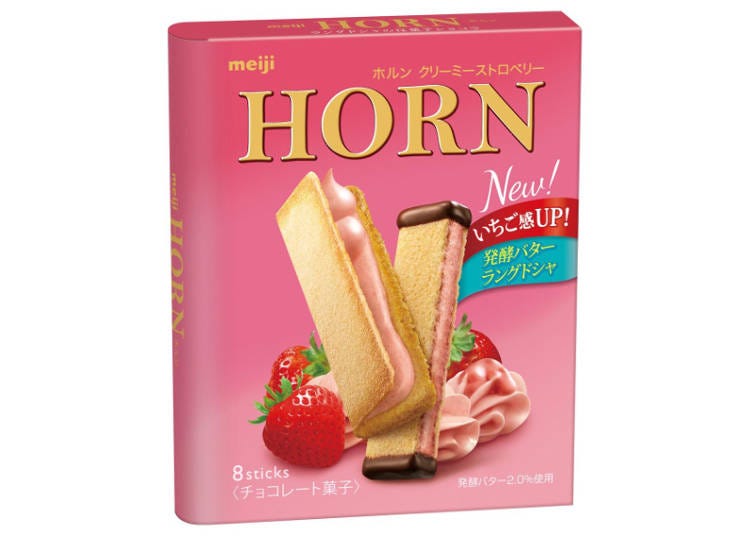 Meet Meiji's Horn Strawberry, available for 200 yen (tax excluded), the incredibly delicious cat tongue treat made with cultured butter and lightly whipped chocolate! As it melts exquisitely on your tongue, a subtle yet sublime sweet and sour strawberry flavor spreads throughout your entire mouth, creating a harmony of flavors second to none!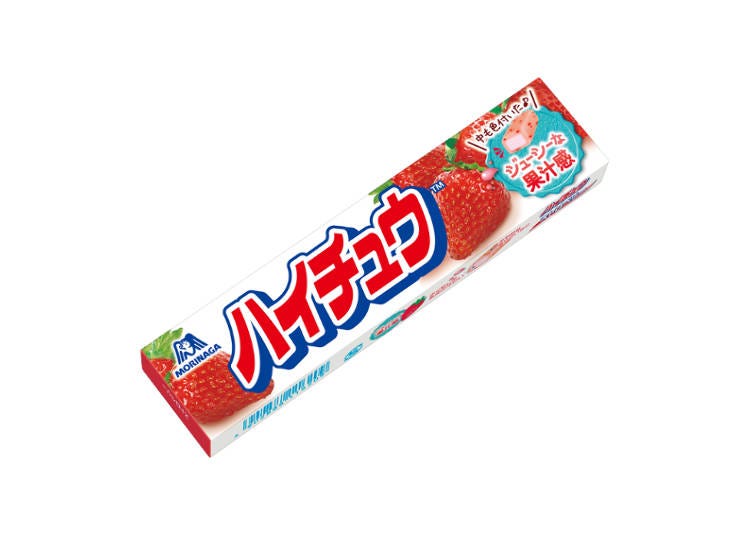 Hi-Chew is a candy so popular, it is not only known and loved in Japan but also in the United States. Recently, little crunchy bits have been added to the classic fruit chew and of course, a special strawberry edition can be enjoyed throughout spring. Uniting the elegant fragrance of Tochiotome and the fresh taste of Camarosa strawberries, Hi-Chew Strawberry packs a double punch of the real taste of spring! One pack is available for 100 yen (tax excluded).
Otona Pack'n Cho: Full-Bodied Strawberry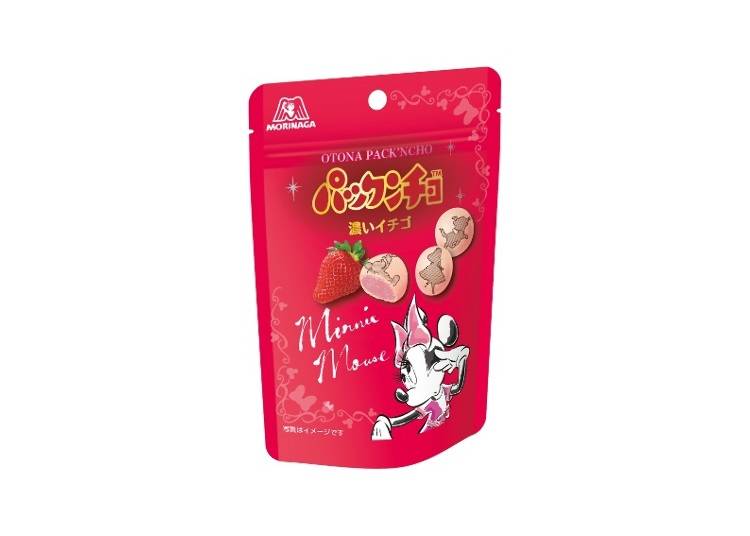 Flavorful strawberry cream in a shell of crunchy biscuit, coated by pleasantly bitter cocoa powder – such is the strawberry version of the easy to snack sweets called Pack'n Cho by Morinaga, available for 146 yen (tax excluded). The rich sweetness of the cream is followed by the lingering bitterness of the cocoa, acting as a wonderful balance and making for a well-rounded treat.
Giant Caplico: Strawberry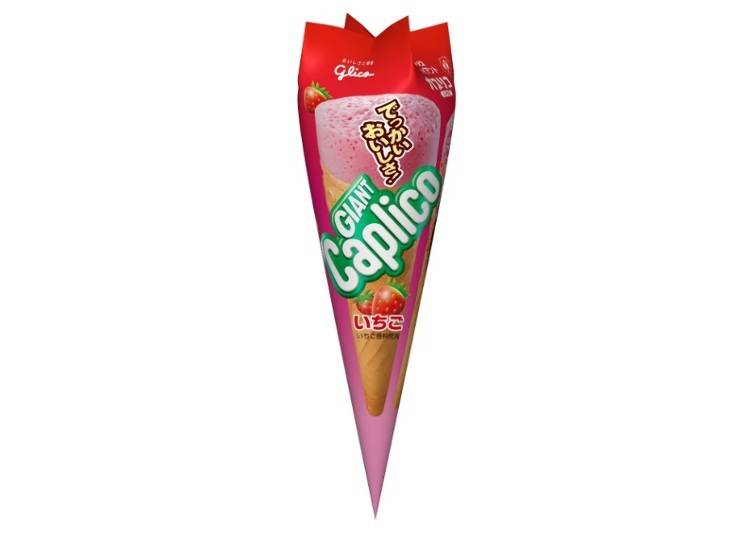 Glico's Caplico is a classic sweet that, as it has a cone just like ice cream, is especially popular as a to-go treat. Its strawberry version offers creamy milk chocolate inside strawberry chocolate, reaching down to the very bottom of the cone and thus promising spring flavored deliciousness until the very end. One cone is available for 100 yen (tax excluded).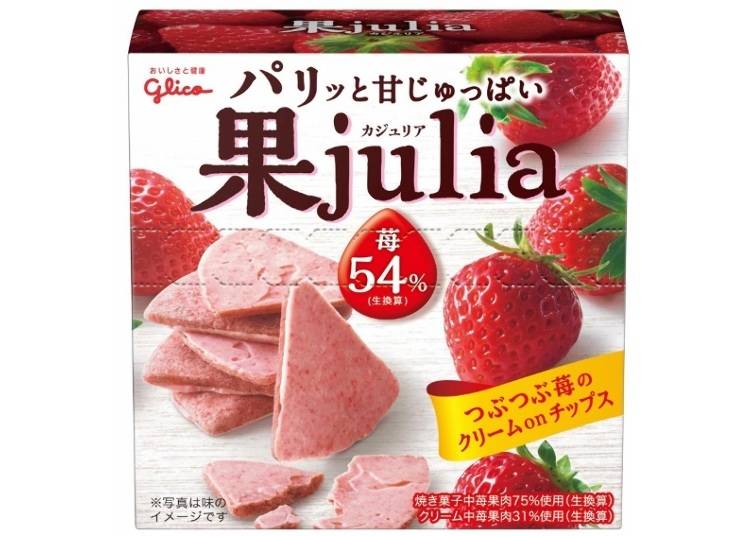 Another seasonal treat by Glico is Ka-Julia strawberry, which promises both the sweet sourness of fresh strawberries, as well as the typical crunchiness of potato chips. The bite-sized strawberry snacks are actually fruit chips, a baked confectionary of fruit pulp powder, coated with a fruit pulp cream – that's a proper strawberry snack for you! The crunchy crispiness just adds to the rich, sweet and sour strawberry flavor with every bite. One pack is available for 180 yen (tax excluded).
Caramel Corn: Strawberry Milk Flavor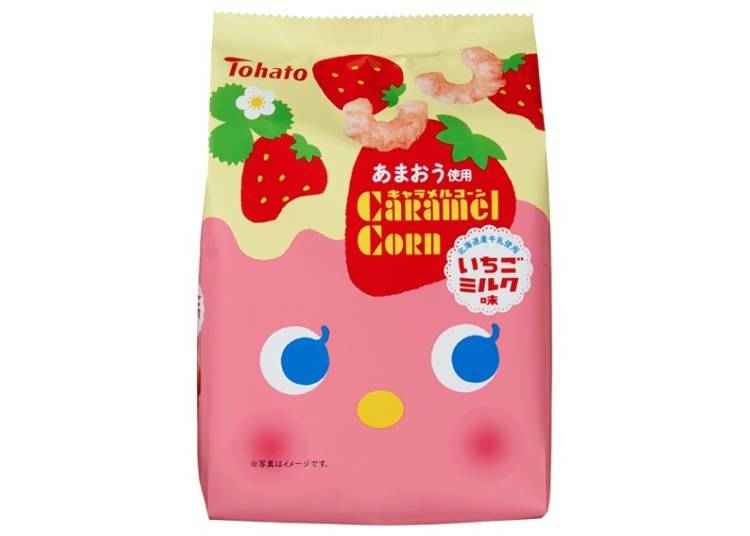 Tohato's Caramel Corn is known for being both crunchy and incredibly fluffy, with a subtle caramel coating that melts pleasantly on your tongue. For spring, look forward to an Amaou strawberry version of this beloved snack, coated in a mixture of Strawberry juice, Hokkaido milk, and honey. This mellow spring snack is available for 122 yen (tax excluded).
Harvest Chocolate Melise: Strawberry Milk
The gently baked biscuits by Tohato called Harvest do of course not miss out on the strawberry spring season. Coated in a sweet and sour mixture of Tochigi Prefecture's Tochiotome strawberry and milk from Hokkaido, this little, luxurious biscuit is a light treat with an elegant flavor, available for 198 yen (tax excluded).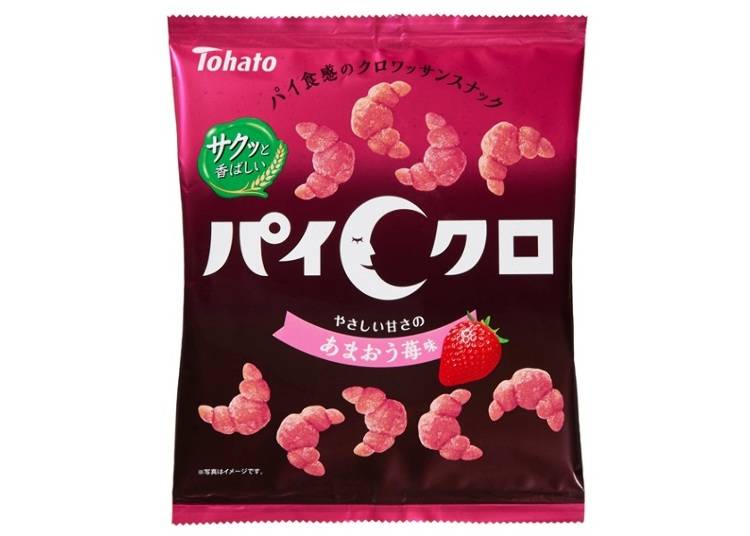 The tiny, pie-like croissants by Tohato aren't just incredibly adorable to look at, they also taste amazing in their own unique way. Spring's version features Fukuoka's own Amaou strawberry variety fruit juice, infused with condensed milk and honey. They go excellent with coffee! One pack of Paicro is available for 122 yen (tax excluded).
Ichigo Miruku – Strawberry Milk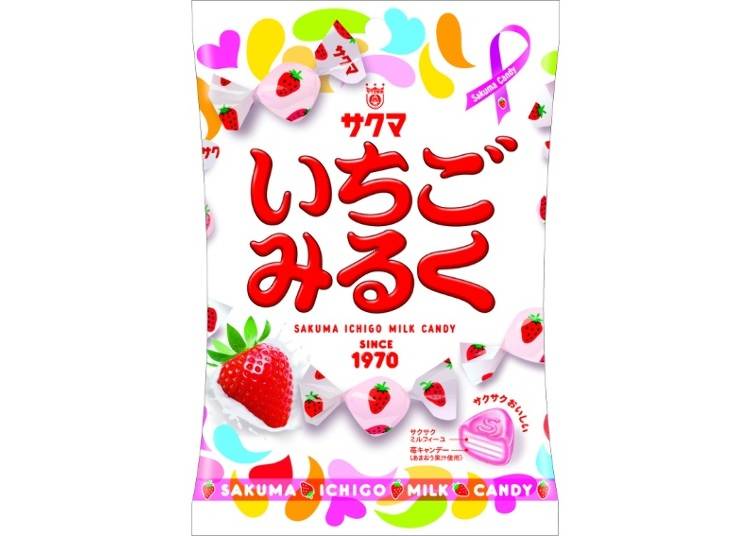 This milky pink strawberry candy by Sakama was born as early as 1970 and thus is a real classic when it comes to spring's strawberry sweets. Ichigo Miruku is the perfect harmony of the subtle sourness of strawberries and the gentle flavor of milk, all contained within one small candy. Besides the delicious flavor, the wrapping paper with tiny strawberries printed on it is also very characteristic and the symbol for spring sweets for many a Japanese person. Available for 200 yen (tax excluded).
Koyuki – Powder Snow Strawberry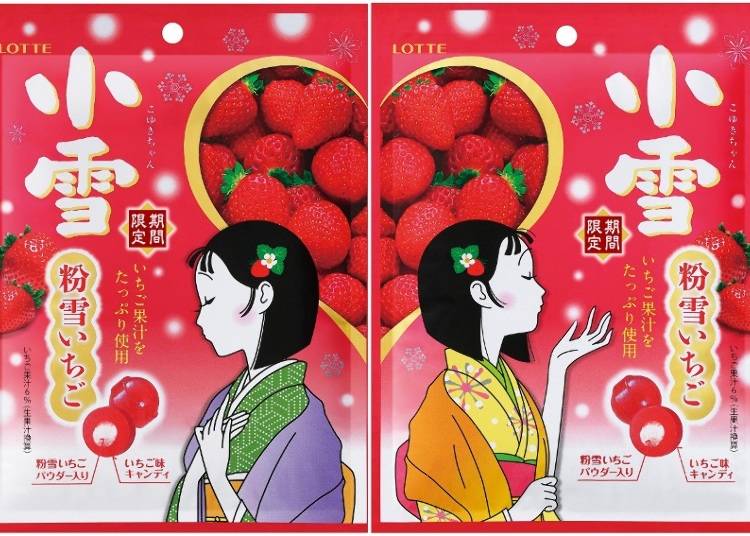 Brought to you by Lotte, Koyuki – Powder Snow Strawberry for 216 yen (tax included) is made with 6% of flavorful strawberry juice! The core of the candy is filled with strawberry-flavored powder that'll melt in your mouth like the powdery snow the sweet delicacy is named after. There are two kinds of packages, and when laid down next to each other, they form a little strawberry heart. Close your eyes and enter a world of strawberry snow!
Petit Bouche – Fragrant Strawberry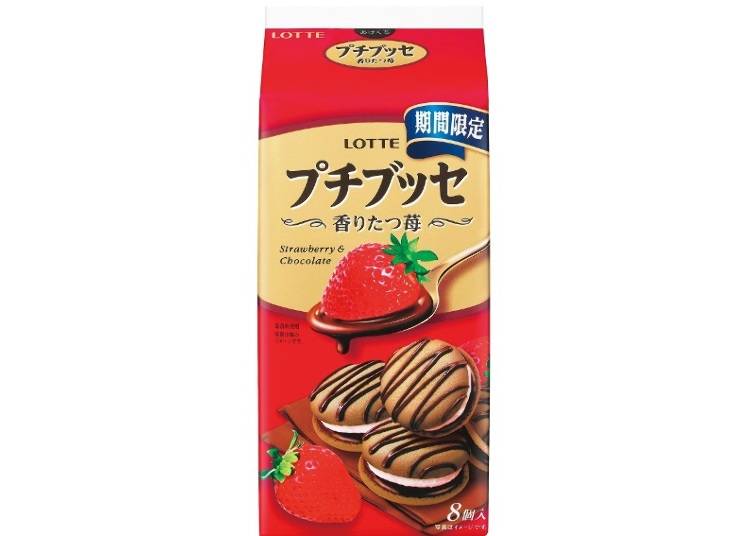 Lotte's Petit Bouche is bite-sized, making feasting on them particularly easy and convenient. Generally, this sweets creation is filled with a soft chocolate mousse, but Lotte released a Petit Bouche – Fragrant Strawberry" version for 237 yen (tax included). The cocoa cake goes wonderfully with the sweet and sour flavor of strawberries – our recommendation is to chill the little delights, which will make the chocolate particularly crunchy.
Custard Cake – Fragrant Strawberry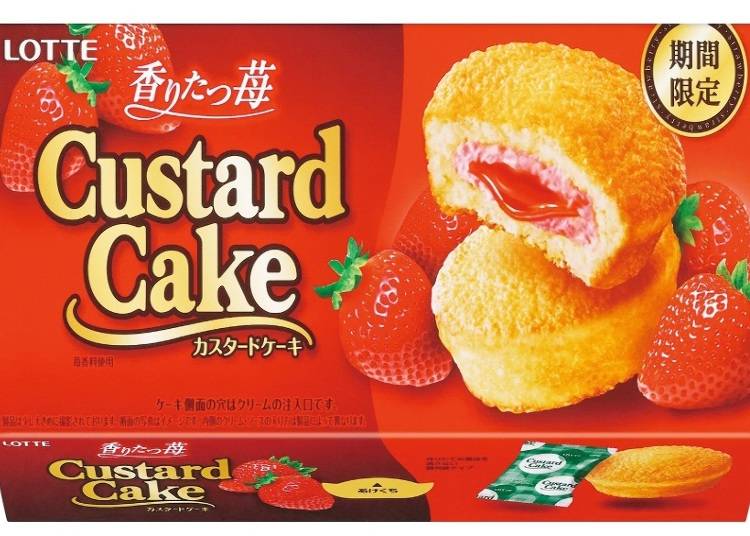 Another pastry creation by Lotte is the Custard Cake – Fragrant Strawberry for 324 yen (tax included), filled with both strawberry custard cream and strawberry sauce. The juicy cake that surrounds them is pleasantly fluffy and compliments the strawberry flavor of its filling.
*This information is from the time of this article's publication.
*Prices and options mentioned are subject to change.
*Unless stated otherwise, all prices include tax.