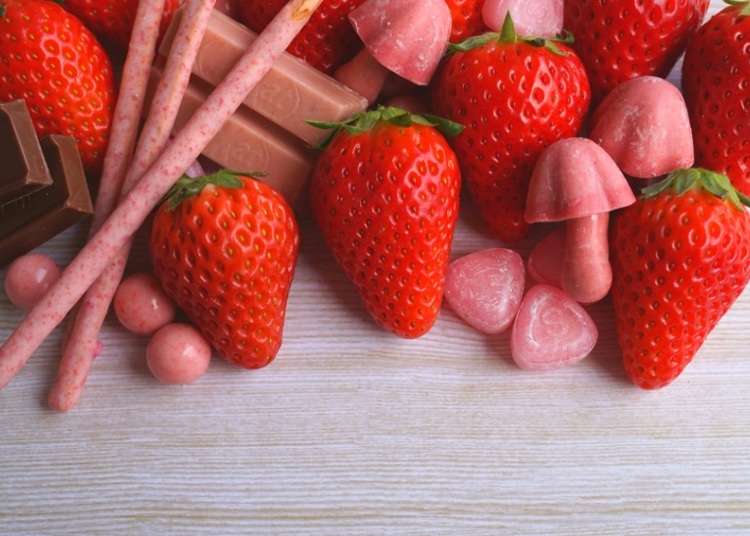 Strawberry is Japan's favorite fruit of spring, and once this wonderful season is right around the corner, the shelves of convenience stores, supermarkets, train stations, and airports all around Japan turn bright red and pink! The colorful, vivid packages of the various sweets don't just look enticing, once you open them, the sweet smell of rich strawberries is sure to invoke the proper spring fever feeling! But wait until you take a bite...
Creamy Two-Tone Strawberry Chocolate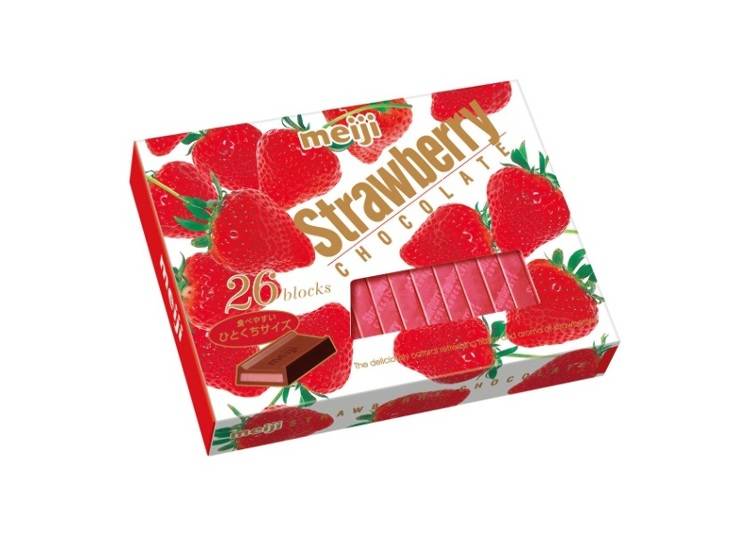 One of the classic strawberry sweets of spring is Meiji's Strawberry Chocolate for 305 yen (tax excluded). A sweet and sour strawberry-flavored core is coated by creamy milk chocolate, a combination so delicious you'll have to close your eyes as you indulge in the melt-in-your-mouth treat!
Kinoko no Yama Goes Strawberry!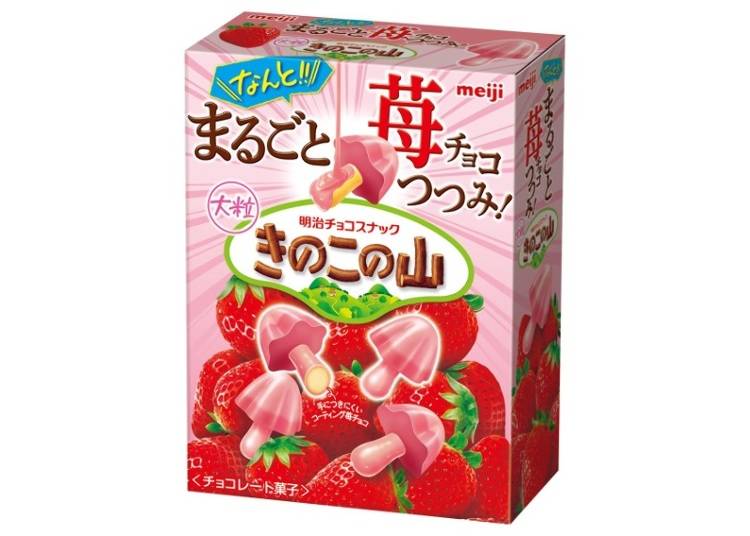 Meiji's Kinoko no Yama, or literally "mushroom mountain" available for 150 yen (tax excluded), is one of Japan's most signature chocolate and biscuit bites – and in spring, the beloved mushrooms turn into sweet and sour strawberries! The little pink delicacies come in individual packaging, making them perfect to share with all of your friends and family.
Meltykiss Premium Enchants Us with Fruity Strawberry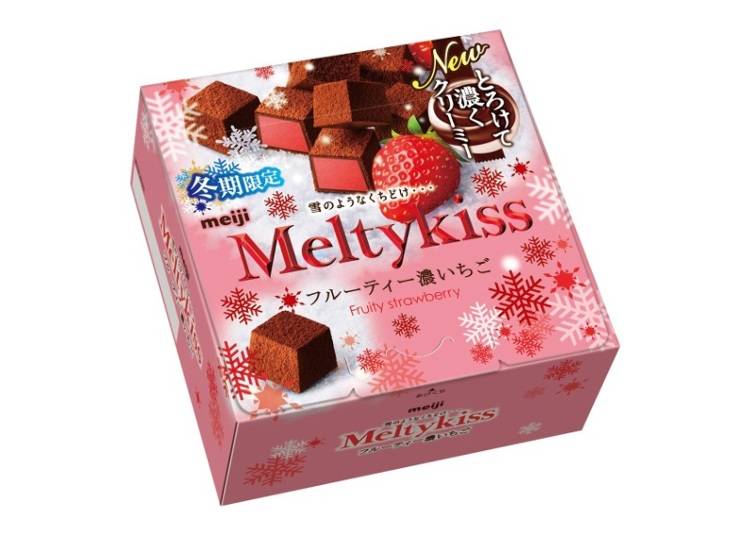 Meltykiss, another treat by Meiji, is the one seasonal sweets creation everyone looks forward to. Generally, Meltykiss is generally known as a winter-only delicacy but when spring is just around the corner, the characteristic winter chocolate celebrates the warm season with a full-bodied, rich, and extremely creamy strawberry filling. Don't miss out on this premium delight, available for 248 yen (tax excluded).
Chocoball Strawberry – Eating Just One is Impossible!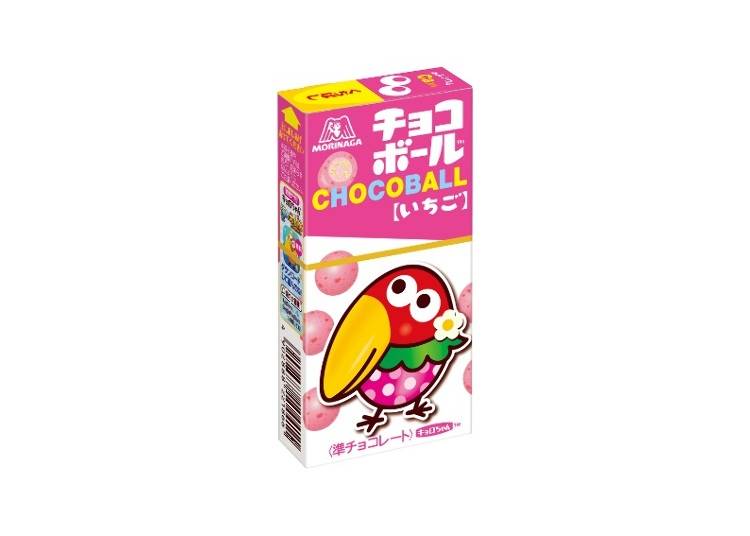 Enhanced with tiny crunchy bits, Morinaga's Chocoball Strawberry for 80 yen (tax excluded) is an explosion of flavors in your mouth! There's the sweet and sour crunchy coating on the outside that then reveals a crispy, full-bodied chocolate core, creating a harmony so addicting, you won't be able to stop until there are no Chocoballs left at all...
Spring Fever with KitKat Mini Strawberry Cheesecake – Mount Fuji Edition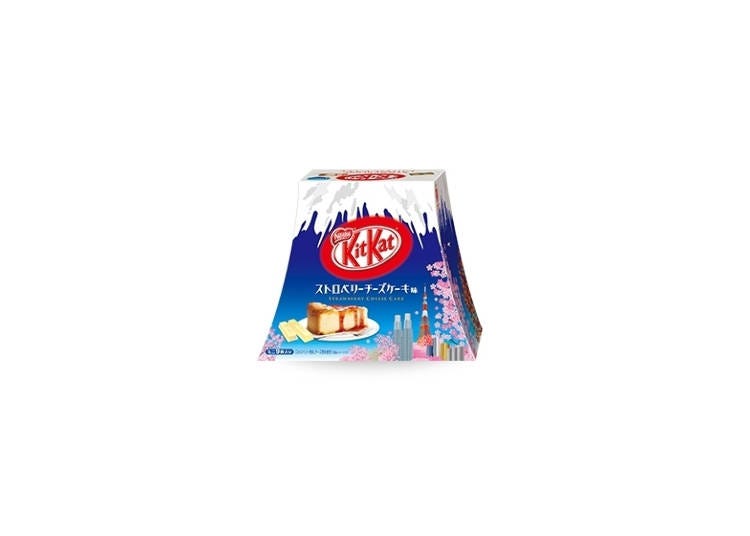 You think you know KitKat? Wait until you try Japan's spring edition: cream cheese between fragrant wafers, coated by white chocolate with cheese and strawberry. On top of that, these amazing treats come in a Mount Fuji packaging, making both a wonderful gift to yourself and a great souvenir. One package features 9 KitKats and is available for 600 yen (tax excluded).
KitKat Mini Tochiotome Takes You to Tochigi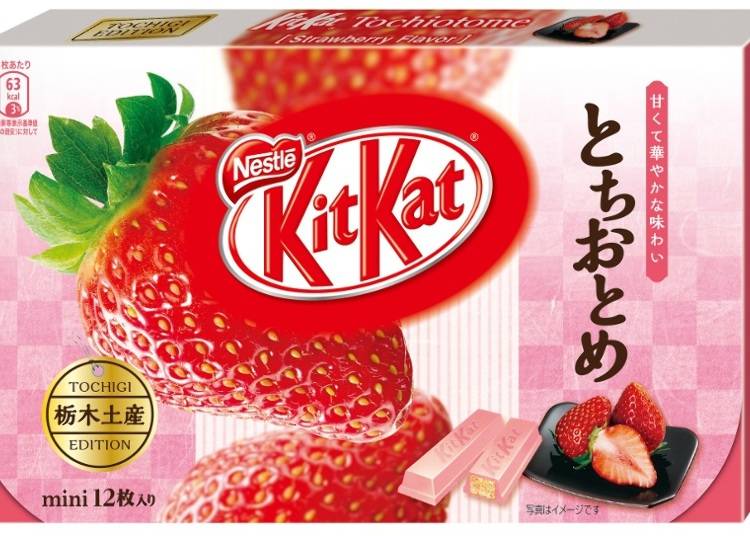 Tochiotome is a popular and full-bodied strawberry variety from Tochigi Prefecture – and it also makes for an amazing fusion of flavors with the classic KitKat. Only available in Tochigi itself, the sweet and creamy strawberry chocolate coating the characteristic wafers might soon become your favorite KitKat variety. A runner-up to that title is Kyushu's own Amaou strawberry, which of course also has a KitKat version – should you be in Kyushu, don't hesitate to try!
Either variety features 12 KitKats per package, available for 800 yen (tax excluded).
Seventh Heaven: KitKat Chocolatory Special – Strawberry Maple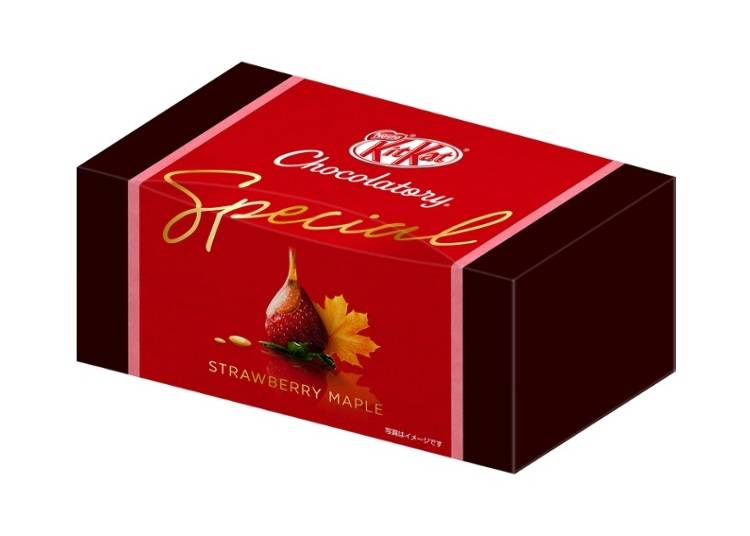 KitKat Chocolatory is a specialty shop of the famous chocolate and wafer treat that employs its very own pastry chefs to create amazing and unique flavors on a regular base. One of those creations is the Strawberry Maple edition, fusing the slightly sour freshness of strawberries with the rich sweetness of maple – a treat that'll take you right to seventh heaven! This unique KitKat variety can be found at every KitKat Chocolatory store and is available for 400 yen (tax excluded) per box of four.
Show Your Love with Heartful – Crunchy Strawberry Pocky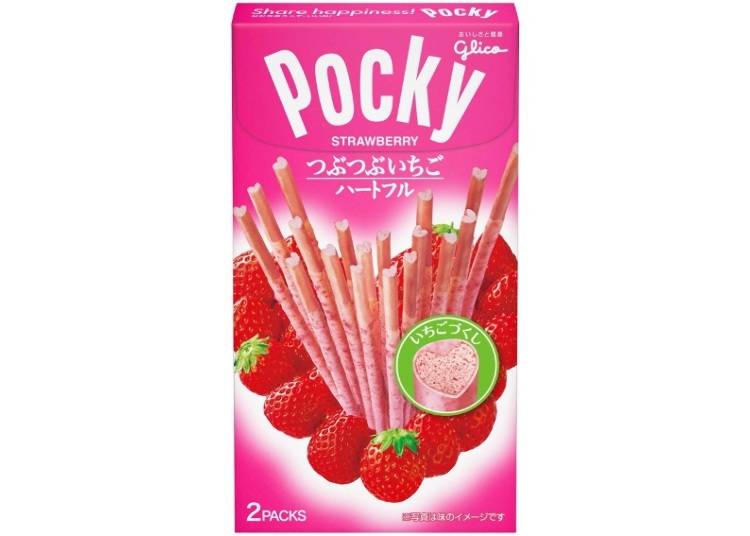 Everyone knows and loves Pocky, Glico's signature sweets creation born in 1966. One of Japan's most popular seasonal delicacies are the Heartful – Crunchy Strawberry Pocky that are so rich in flavor, the sweet and sour strawberry taste will linger on your tongue long after the last delicious bite! But take a closer look before snacking the treat, as each Pocky comes in an adorable heart-shape. One box is available for 150 yen (tax excluded).
Our next strawberry spring highlight is for all of you who know to enjoy the bitter kind: Tirol Choco, a company that loves to tickle our tongues with all kinds of interesting flavors combined with bitter chocolate, just released its own orange and strawberry version! Who said that strawberry can only be enjoyed sweet? One package with eight chocolate bits is available for 130 yen (tax excluded).
Akabeni Strawberry – The Taste of Japan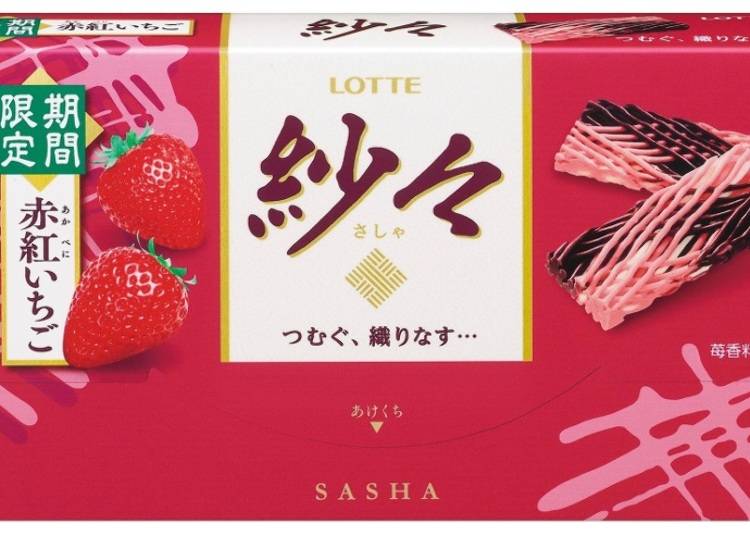 Behold, this is "Sasha – Akabeni Strawberry" by Lotte for 237 yen (tax included). As beautiful as it is delicious, this chocolatey treasure is three kinds of chocolate strings woven delicately into each other, tasting pleasantly rich of sweet and sour strawberries. Akabeni is one of Japan's traditional colors, once regarded as one of the basic colors, having a characteristic dark and vivid red.
*This information is from the time of this article's publication.
*Prices and options mentioned are subject to change.
*Unless stated otherwise, all prices include tax.