While Tokyo's world-famous fish market relocated from Tsukiji to Toyosu, there are still many shops in the area that are packed full of the kind of "food entertainment" you hunger for while in Tokyo!

Case in point: the tuna cutting show is an event performed right in front of your eyes. An entire gigantic tuna is cut into parts like otoro, known in English as fatty tuna, and chu-toro, semi-fatty tuna which is the delicious part that ends up as sushi on your plate.

The fish used in the cutting show is freshly delivered, freshly cut, and freshly prepared. The fish isn't frozen once from the time it is caught until the moment it is ready to be eaten as sushi or sashimi.

Savoring raw tuna at its freshest is a delight, especially after having witnessed how the massive fish is cut and prepared. A gourmet event such as this one is rare to come by, even for Japanese standards. So let's take a closer look at some of the coolest spots you'll want to add to your Tokyo bucket list!
1. Tsukiji Sushi Ichiban: The Tuna Cutting Show, held in one of Tsukiji's Atmospheric Alleys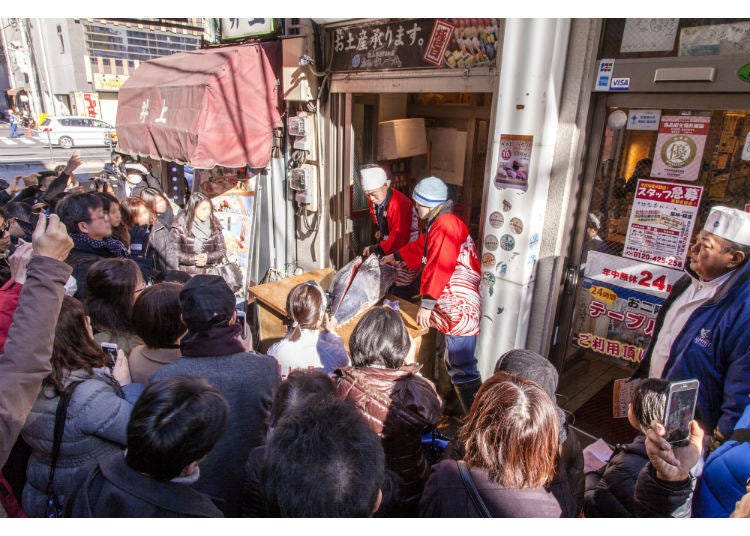 This amazing tuna cutting show is highly recommended for anyone who wants to experience the unique, historical atmosphere of Tokyo's Tsukiji area first hand up close. Head to the Tsukiji Outer Market, and find the restaurant Tsukiji Sushi Ichiban. This is where you can find the tuna cutting show which is performed at 10am on Saturdays and Sundays at both of its stores; the first in the 4-chome (yonchome) district and the second in the Central Tsukiji Outer Market. Inquiries can be made every day of the week at either restaurant.
Brought directly from the market to Tsukiji Sushi Ichiban, the tuna cut in the show is a fresh catch of the day and displayed in front of the store. The fish isn't just skillfully cut with a large blade, however, the staff also entertains the curious crowd with various facts and tips about tuna and its meat.

Tuna Cutting Show: From 11am on Saturdays and Sundays
Hours: Open 24h
Closed: Always open
築地 すし一番 4丁目場外市場店

Address

4-8-6 Tsukiji, Chuo-ku, Tokyo, 1040045 Japan
2. Maguro Shouten: Savoring All-You-Can-Eat Tuna!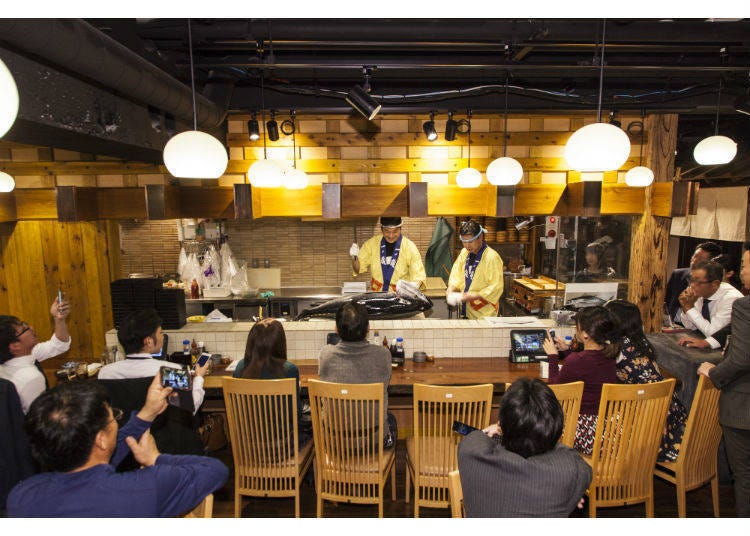 Everyone knows Kabukicho, the nightlife district in Shinjuku and its colorful gate which marks the entrance to a glitzy neon world. Our next stop is a restaurant on Kabukichi Ichibangai, called Urikirigomen! Mainichi Kaitai Maguro Shoten – or just Maguro Shoten for short.

The restaurant's name roughly translates to "Sorry, sold out! Every day freshly cut tuna shop" and while this is quite a mouthful, you most certainly won't be complaining once you have a mouthful of one of Maguro Shoten's delicious tuna delicacies, such as yogan-yaki, tuna roasted on a hot stone, for 2,480 yen or raw tuna cutlet for 1,280 yen (tax excluded).

Ever since the restaurant's opening in December 2015, they have been serving their raw tuna for incredibly low prices almost every single day while performing a cutting show live at the counter. This performance is held from 7:30pm on weekdays and from 6:30pm on Saturdays, Sundays, and national holidays, and lasts for around 20 minutes. The cut tuna from the show is offered at 1,200 yen for otoro sashimi, or at 1,500 yen for a large set of akami, chu-toro, and otoro (tax excluded).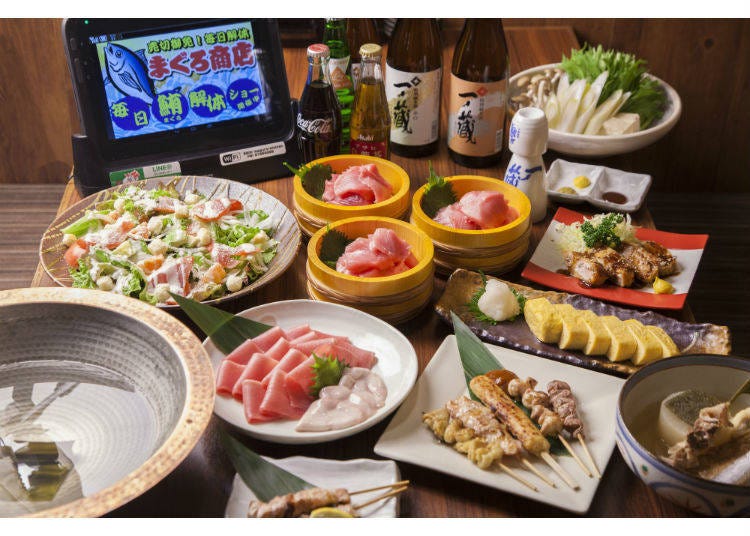 A tuna all-you-can-eat offer can be enjoyed every Monday. Otoro, chu-toro, or akami – all kinds of fresh sashimi are included in this amazing offer! On top of that, why not try the tuna shabu-shabu (Japanese fondue), or juicy tuna grilled on a hot stone?

You can even treat yourself to some dishes from the side menu with the all-you-can-eat offer, so go ahead and dig in! 90 minutes of tuna galore costs 3,980 yen for men and 3,480 yen for women (tax excluded). The only downside to the all-you-can-eat offer is that you won't catch the tuna cutting show. However, you can watch the skilled chefs preparing the fish in front of your eyes before it's carefully prepared on your plate.

Tuna Cutting Show: from 7:30pm on weekdays, from 6:30pm on Saturdays, Sundays, and national holidays (not taking place on all-you-can-eat Mondays)
Hours: 5:00pm – midnight (from 12:00pm on Saturdays, 12pm – 11pm on Sundays and national holidays)
Closed: No regularly closed days
Urikiri Gomen Mainichi Kaitai Maguro Shoten

売切御免!毎日解体 まぐろ商店

Address

B1F 1-23-14, Kabukicho, Shinjuku-ku, Tokyo, 1600021 Japan
3. Taiko Chaya: Have a Healthy Appetite for the All-You-Can-Eat Sashimi Lunch!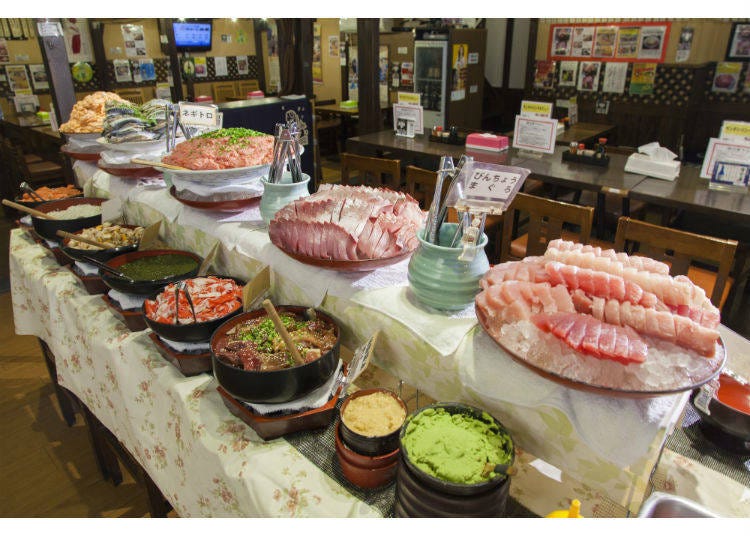 Amidst trendy fashion and brand stores, selling the season's latest clothes and trends, a long line of people wait in front of one particular store every lunch time: the izakaya Taiko Chaya.

From 11:30am to 2pm, this Japanese tavern offers its amazing sashimi all-you-can-eat lunch buffet. As well as seafood such as tuna, salmon, yellowtail, and bonito, guests can also find a large variety of side dishes on the long buffet tables – and all of this for a mere 1,200 yen for 50 minutes, tax included!

Taiko Chaya is so popular, tickets for this lunch offer are distributed starting from 10 in the morning, handed out to many a worker from the neighboring businesses as well as customers traveling from afar.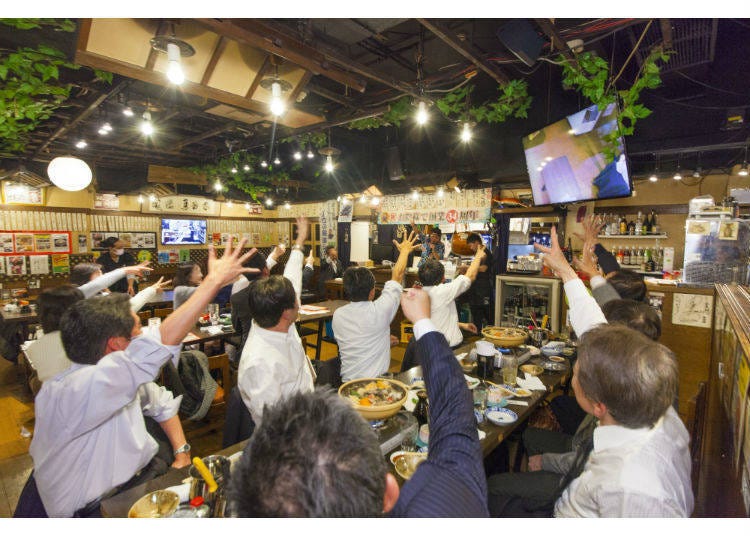 In the evening, Taikochaya hosts a tuna cutting show from 7:30pm, a marvelous experience that has the entirety of the izakaya holding their breath as the large knife is raised above the tuna.

We urge you to try the "O-chu-aka Bowl" for 1,380 yen (tax excluded) that overflows with delicious and freshly cut tuna meat. Or why not indulge in the "Surprise Bowl" for 2,000 yen (tax excluded) that is filled with plenty of different kinds of seafood; not only tuna but also squid, shrimp, yellowtail, and more.

There's a rock-paper-scissors competition held after the tuna cutting show which gives guests the chance to win premium gifts, giving the entire izakaya the atmosphere of a lively festival.

Tuna Cutting Show: From 7:30pm everyday
Hours: 11:30 a.m. – 2:00 p.m.; 5:00pm – 11pm.
Closed: No regularly closing days, always open
Osakana Honpo Taiko Chaya

おさかな本舗 たいこ茶屋

Address

B1F 2-3-2 Nihombashibakurocho, Chuo-ku, Tokyo, 1030002 Japan
*This information is from the time of this article's publication.
*Prices and options mentioned are subject to change.
*Unless stated otherwise, all prices include tax.