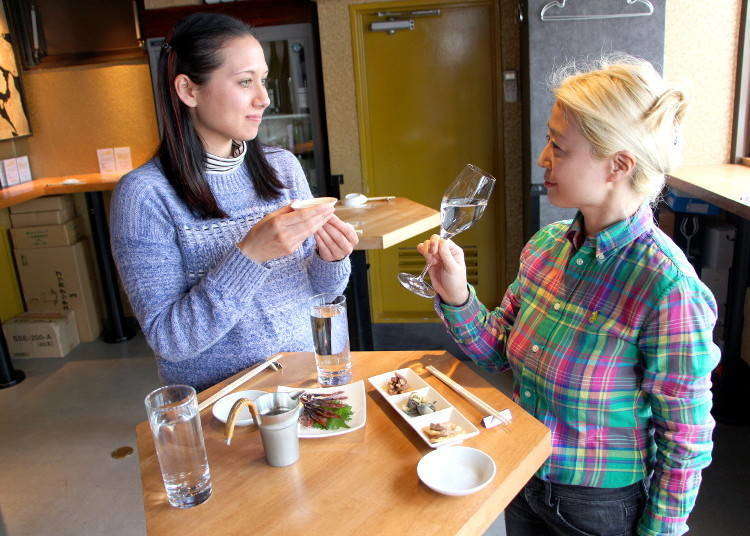 The first part of this article series looked at sake itself and beginner's tips and tricks about going to a sake bar. Now, let's take a look at the actual sake bar experience, such as the general system of a bar, sake etiquette, and phrases for ordering to make the most out of your sake experience!
The Workings of a Sake Bar: System and Pricing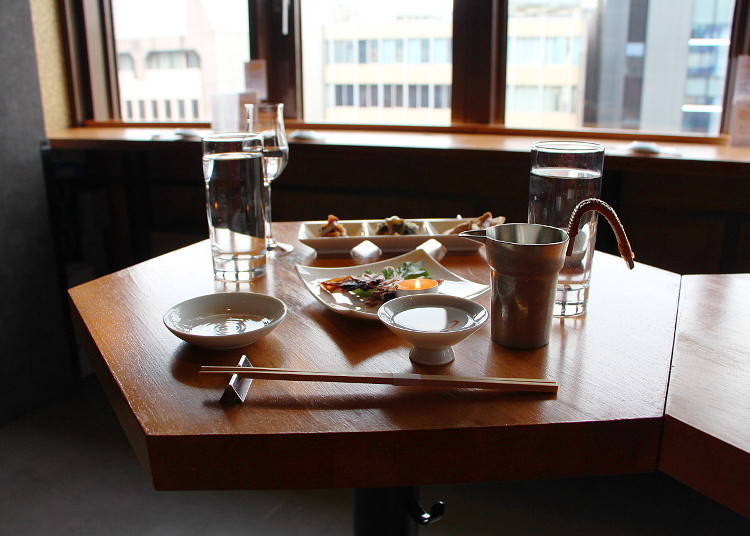 This one is no surprise but as the name suggests, sake bars mainly serve Japanese sake. Some places do not serve anything but sake, not even beer or soft drinks.

・The Pricing System
Not exclusive to sake bars but many stores throughout Japan have a cover charge called otoshidai, which literally means appetizer fee. This fee is charged per person for a seat and a small dish or dishes that cannot be found on the regular menu. The served delicacies differ by store. The regular prices of sake and dishes are then added to this cover fee.
Certain stores do not have a cover charge like that and charge the same price for every cup, and some even offer unlimited drinks at a fixed price – if you're looking to enjoy sake casually, a place like this might be just right for you.

・The Food
Sake is a drink that pairs excellently with a variety of food. Some bars offer proper meals while others focus on so-called otsumami, simple snacks that are created to perfectly suit the served drinks. Whether you prefer savoring snacks in a standing bar or sitting down for a full meal, we're sure you'll find a bar that strikes your fancy.

・The Budget
When you just hop in a bar to enjoy a quick drink, you'll likely spend less than 1,000 yen per person – but if it is a high-end bar, you might end up with up to 10,000 yen.
The majority of sake bars can be visited without prior reservations, but it might be harder to get into especially popular shops as they tend to be rather full. Checking a bar's menu and means of reservation beforehand is always a good idea.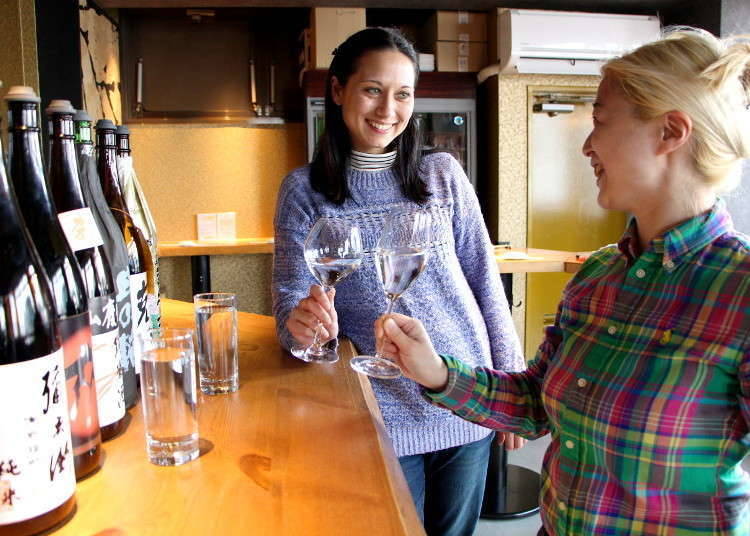 If you plan on going to a Japanese sake bar, make sure to not wear any perfume or use strongly scented cream, as it compromises the delicate aroma of sake, which is an important part of the entire experience. As such, going without perfume is part of the etiquette of a sake bar. For the same reason, a lot of places are non-smoking as well.
A cup of water is offered to every guest coming to a sake bar. This is a chaser and helps to weaken the effect of the alcohol, so make sure to not ignore it and take sips in between drinks!

Japanese sake is slightly stronger than wine. Alcohol is absorbed into the bloodstream after being warmed up in the stomach. Chilled sake has a very refreshing taste and thus you might be inclined to drink one cup after another, but you might find yourself being rather drunk from one moment to another, especially when you drink fast, because of the time it takes for the sake in your stomach to warm up and be ingested. This is especially unfortunate when you're savoring a sake of high quality. So even if the bar recommends the next cup, be sure to drink at your own pace. Some bars will also reduce the amount of sake poured to make savoring different kinds easier and allow customers to enjoy it little by little.

Another thing: most bars allow taking photos and uploading them to your social networks, but some have a no-photo-policy, primarily put in place to not ruin the atmosphere of the bar. If you want to take a picture of a sake bottle, simply tell the barkeeper with a quick word or gesture to not put the bottle away immediately. (In many stores, the sake specialists quickly put the bottles back into a fridge to properly preserve them.)

Another thing that differs vastly from bar to bar is, of course, the atmosphere. There are those where people drink together in a lively setting, while others will let you savor in a calm and relaxed atmosphere. Particularly in the quieter bars, you will find a lot of guests, men as well as women, who just want to enjoy a cup of sake by themselves, so don't go out of your way to strike up a conversation with them – that is seen as a taboo and rather rude. Respect the concept of the bar and enjoy your Japanese sake along with it!
The Proper Know-How for Sake Ordering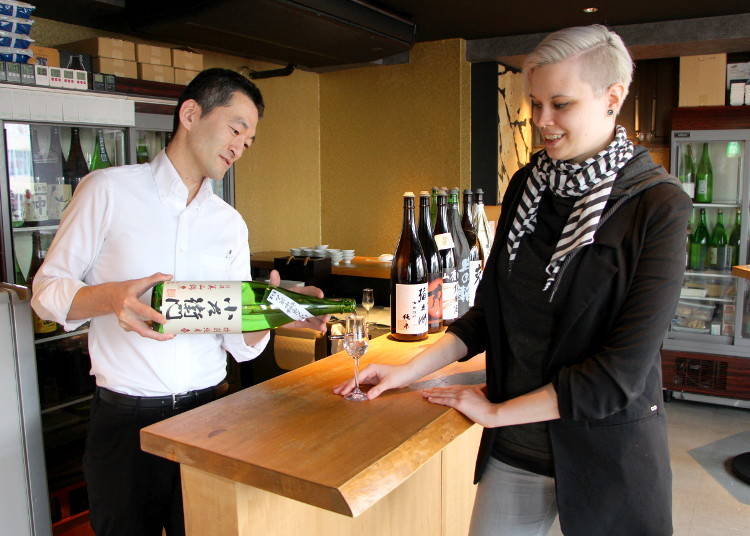 An insider tip when ordering sake is to ask the bar's staff for a recommendation for your very first cup and then to tell them your thoughts about it – and let them choose the next cup for you. If you additionally tell them how many cups you plan on drinking at their bar, it is much easier to create that certain kind of flow that is just perfect for savoring and comparing Japanese sake.
If it's not your first time and you have certain preferences regarding taste and aroma, make sure to inform the staff about those as well. Feel free to show them pictures of your favorite brand if you want to, and they will recommend sake products similar in taste. A bar might not have that one brand you like best but a whole variety of sake you've never tasted before. However, this actually creates a wonderful opportunity to discover different flavors and aromas and to dive deeper into the world of Japanese sake.
Sake Vocabulary: Useful Terms for Ordering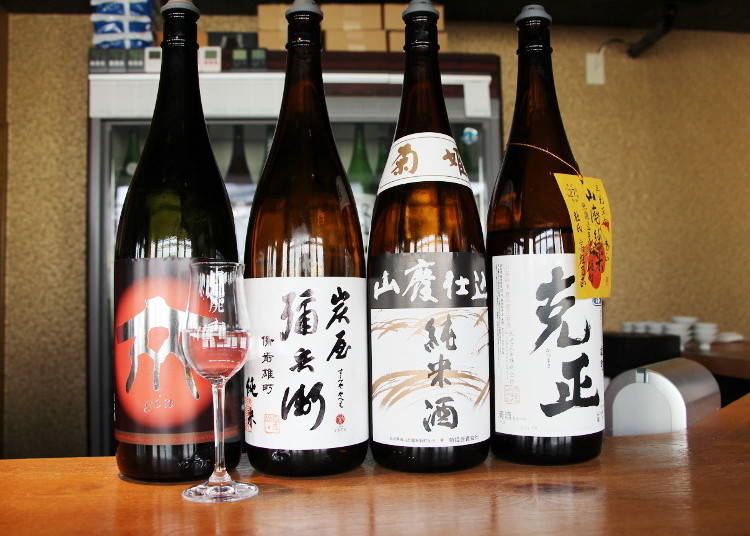 Terms for expressing the flavor and aroma of Japanese sake:
・kaori no tsuyosa – the intensity of the aroma
Saying "kaori ga aru" will get you a sake that has a strong aroma, while "kaori ga odayaka" refers to a product with a subtle aroma.
・nonda kanji no omosa – the heaviness of the drink
"Karui" means light and refers to a sake with little sugar, one that is easy to drink. "Dosshiri shita," on the other hand, describes sake rich in sugar and flavor.
・hanayaka – flowery
If you want to savor a sake with a characteristic aroma, one with a certain kind of "gorgeousness," make sure to use this term when ordering. A flowery sake can genuinely have a fragrance of flowers but also be fruity with a hint of apple, banana, and other fruits.
・dorai – dry
If you enjoy your drinks dry, you are called a "karaguchi" in Japanese. "Karai" also means spicy but in the case of alcoholic beverages, it refers to the dryness of a drink.
・amai – sweet
A fruity or flowery sake is called a sweet sake. Amai is the antonym to dorai.
・kome no aji / umami – flavor of the rice
Opposed to "amai," "kome no aji" or "umami" refers to the essence of the rice used for brewing the sake itself.
・nodogoshi ga sumuusu – smooth taste
A sake with a smooth taste is a sake that feels particularly silky and soft from the first sip without leaving a strong aftertaste.
・koku no aru nomikuchi – rich in aftertaste
The antonym to the aforementioned smoothness, this expression is used for sake that have a rich aftertaste, lingering especially in the taste buds at the back of the throat.
・happokan no aru – fizziness
Some sake are carbonated, others have a slight fizzy feeling to them due to the yeast in the drink.
・furesshu na – freshness
Although this term will sound very familiar to English speakers, in Japanese, it is actually mainly used for sake, describing a unique taste. A fresh sake feels, well, fresh, but also will hit you rather hard in regards to taste.
・aji no koi – denseness
A mature sake, or a sake with a lot of different ingredients, generally strong in taste.
・supaishii – spicy
With nuances similar to sherry or Shaoxing rice wine, a spicy sake is a mature one with hints of cinnamon, ginger, and clove.
・atakku no tsuyoi – packing a punch
A sake with a "strong attack" is one that has a high alcohol content and generally strong in taste.
Phrases to know for ordering your first cup:
・saisho no ippai ni osusume no mono o – I'd like my first cup to be your recommendation.
・ima made nihonshu o nondakoto ga nai ga, osusume no mono o – I have never had Japanese sake, but I'd like my first cup to be your recommendation.
・tsure to onaji shurui – I'll have the same type as my friend, please.
・chigau shurui no mono o – I'll have a different kind of sake than my friend, please.

Phrases to know for ordering the next cup(s):
・tsugi mo, kore ni nita aji o – Something of a similar taste next, please.
・tsugi wa, motto karui / omoi / amai / dorai na mono o – Something lighter / heavier / sweeter / dryer next, please.
・omoikiri shuko o kaeta mono o – Something entirely different from my usual preference / from what was recommended up until now, please.
・tsumetai sake / jo'on no sake / okanshita sake o – A cold sake / room temperature sake / warm sake, please.
・kono tabemono ni macchi shita mono o – A sake that matches this dish, please.
・omise no hito ni totte saigo no ippai ni nonde hoshii mono o – A sake that you (the barkeeper) would recommend as the last cup.
・raberu no omoshiroi mono o – A sake with a unique label, please. (Such as a manga illustration or another visually pleasing, interesting design)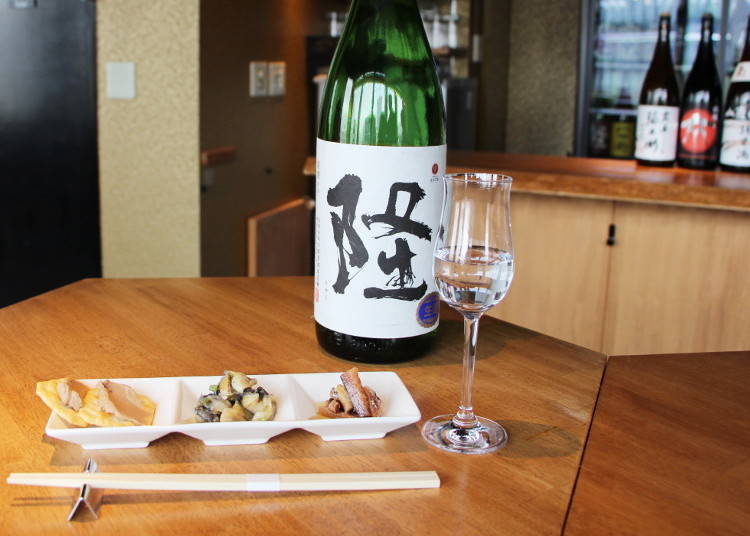 Keep in mind that not every staff at a sake bar can speak and understand languages other than Japanese, so the language barrier might indeed get in the way of easy sake ordering. This shouldn't hold you back, however, as barkeepers around Japan are aware that the interest in Japanese sake is growing on a global level and will do their best to serve you the perfect cup! Make use of the phrases and words provided above, and gestures and pictures always help with having a conversation as well!

A lot of people who go to sake bars have a finely tuned sense in regards to this signature drink of Japan and are very open and positive about discovering and accepting a broad variety of Japanese sake. The passion for the drink is palpable in every sake bar, a passion that not only the barkeepers and sake experts are keen on sharing. As such, it is the best place to start your journey to the world of Japanese sake. In a sake bar, all kinds of aspects of the drink connect. The passion of the people as well as various brands and makers, rice farmers, sellers, patrons. They all make up the culture and tradition of Japanese sake – why don't you become a part of it? Your Japanese sake bar experience may be the first step into the Circle of Sake.
Written by Emiko Midorikawa

*This information is from the time of this article's publication.
*Prices and options mentioned are subject to change.
*Unless stated otherwise, all prices include tax.
Limited time offer: 10% discount coupons available now!