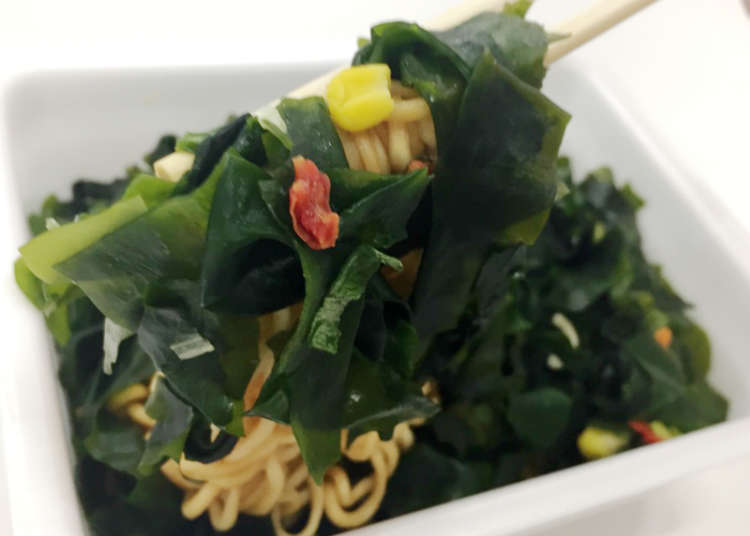 There's one particular "Made in Japan" thing that is famous all around the world: cup noodles!
And this year's instant noodle creations are quite a bit different from what you might be used to. The theme of 2016's cup noodle royalty is the fusion of instant food with popular dishes from all around the world.

Some of these examples are also some of Japan's favorite flavors, such as crab cream and beef sukiyaki but also unconventional tastes that you really wouldn't expect in an instant noodle cup, like different snacks such as potato chips.
Let's take a look at these unique new cup noodle flavors!
Pollo al Ajillo Chicken Ramen: Japan goes Vacationing in Spain!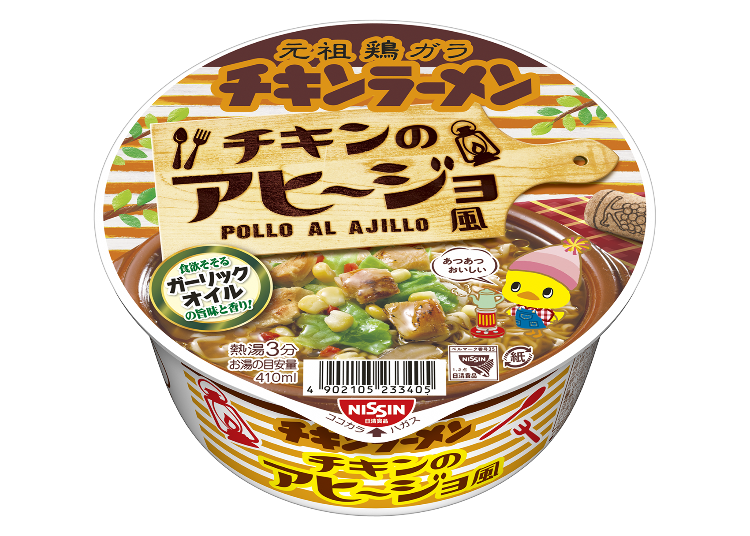 The "Chicken Ramen Pollo al Ajillo" debuted in stores all around Japan on the 14th of November 2016.
"Al ajillo" is a Spanish style of cooking that refers to frying something in garlic oil, a style that has become incredibly popular outside of its country of origin as well. Pollo al ajillo is characterized by both the wonderful aroma and flavor of the tender chicken meat, and in this cup noodle creation, it is enjoyed with cabbage and corn.

This rich in flavor cup noodle dish is especially delicious when enjoyed piping hot during the cold winter months!

Product: Chicken Donburi Pollo al Ajillo
Price: 180 yen (tax excluded)
Sold at: throughout Japan
Japans Western Cuisine Fusion Favorite: Crab Cream goes Ramen!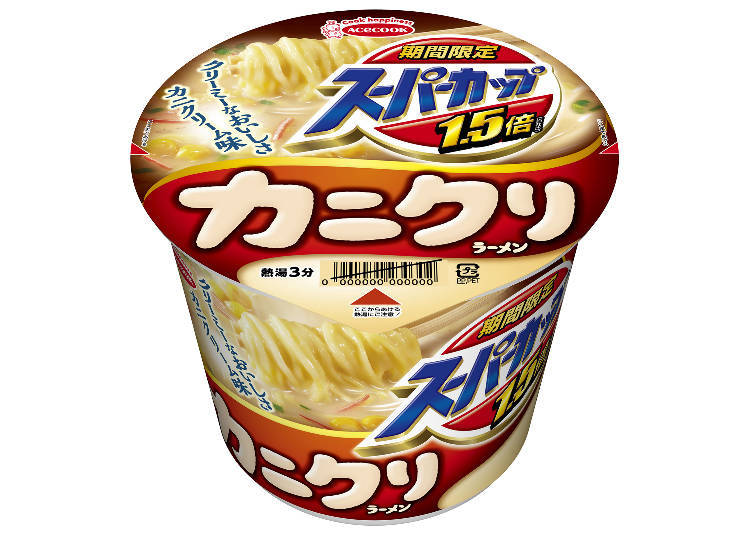 It was actually just a matter of time until one of Japan's most beloved Western-style flavors goes cup noodles! Especially delicious during winter, the shiny new crab cream ramen will melt on your tongue and warm your body from the inside! The crab cream ramen are sold from November the 14th in supermarkets throughout Japan.

The rich flavor of the cream sauce and the subtle sweetness of crab goes extremely well with the onion and cheese aroma added to the tasty cup. The thick soup sticks wonderfully well to the instant noodles, allowing for proper mouthfuls of deliciousness!

Product: Limited Super Cup 1.5 Size Crab Cream Ramen
Price: 200 yen (tax excluded)
Sold at: throughout Japan
Snack-Infused Instant Pasta: Kara Mucho Yakisoba!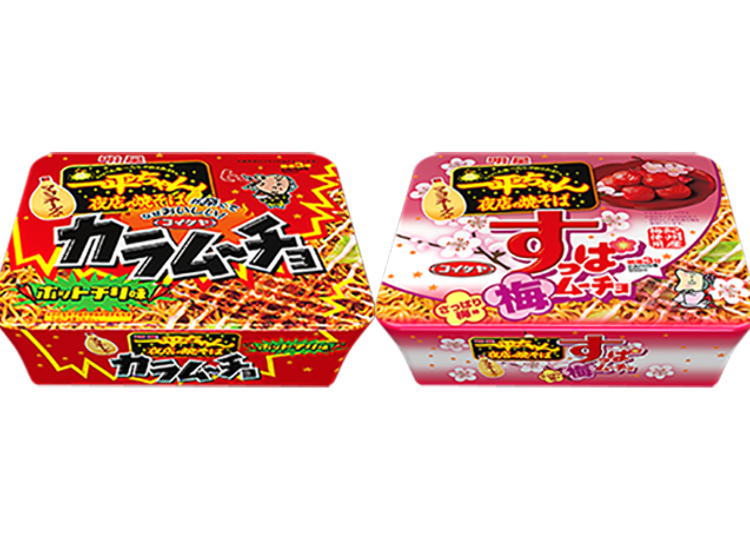 Kara Mucho, spicy potato chips created by a company called Koikeya, is one of Japan's favorite snacks to enjoy all around the year. Now, two different varieties of this snack, the classic Kara Mucho and the sour Suppa Mucho, have teamed up with the famous Myojo Ippei-chan Yomise Yakisoba instant noodles to create two entirely new and exciting flavors, sold from the 14th of November. By the way: the "kara" in Kara Mucho comes from the Japanese word karai, meaning spicy, while the "suppa" in Suppa Mucho comes from the word suppai, which means sour.

The Kara Mucho Hot Chili instant yakisoba are pleasantly flavored with soy sauce and the appropriate amount of chili spiciness, while the Suppa Mucho Sappari Ume flavor features the characteristic sweet sourness of the Japanese ume – whichever one you try, these unique instant noodle creations are sure to enhance your instant noodle palate!
Both of these Ippei-Chan Yomise Yakisoba creations come with a special serving of plain mayonnaise.

Product: Myojo Ippei-chan Yomise Yakisoba Kara Mucho Hot Chili; Myojo Ippei-chan Yomise Yakisoba Suppa Mucho Sappari Ume
Price: 180 yen per cup (tax excluded)
Sold at: throughout Japan
Plenty of Topping: the Wakame MAX Yakisoba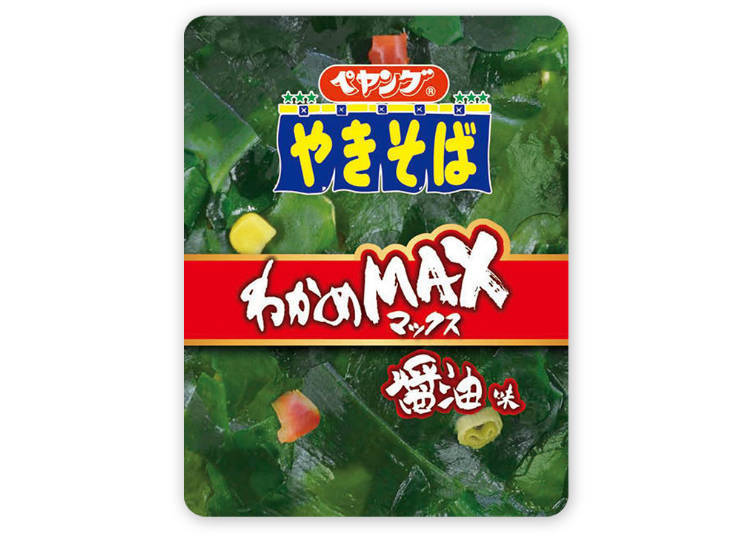 The picture on the packaging of this instant noodle dish isn't exaggerating! The Wakame MAX Yakisoba by Peyoung comes with an amazing mountain of wakame seaweed to make for an extraordinarily healthy cup of instant noodles, sold from the 14th of November.

This is why this cup of goodness has the name "MAX" in it, a clear reference to the mountain of seaweed on top of it – but it's also a series of instant products. Another top seller was the Garlic MAX with an aroma that was so deliciously strong, it bothered many a seating neighbor around Japan. The contents of this instant noodle series are an astonishing 235g, thus it comes to no surprise that this particular product has quite a lot of fans.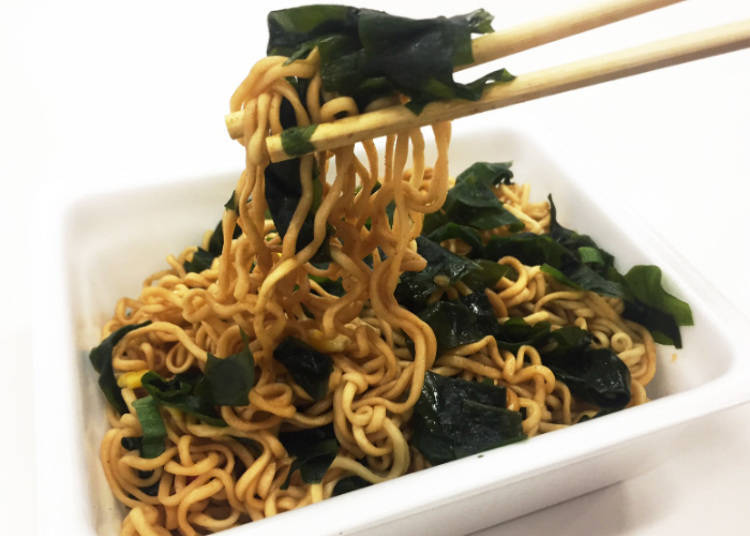 We've heard the rumors about these large sizes but when we opened the lid after letting the noodles cook for a bit, we were genuinely surprised by the large amount of wakame topping.

The Wakame MAX Yakisoba have a wonderfully light soy sauce taste that fits the seaweed's own unique flavor extremely well – go ahead and try this cup noodle delicacy for yourself!

Product: Peyoung Wakame MAX Yakisoba
Price: 175 yen (tax excluded)
Sold at: throughout Japan
A Delicious Staple Food from Chinese Cuisine: Hot and Sour Soup Donbei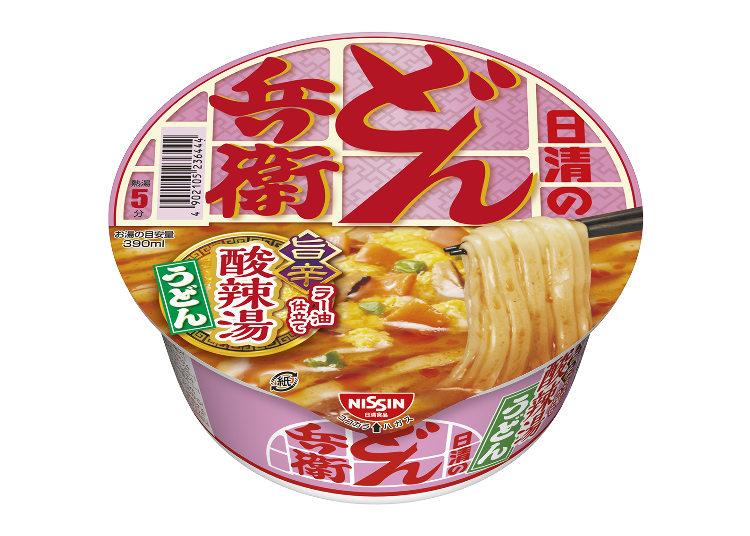 One of Nissin's major cup noodle products, "Nissin Donbei", celebrates its 40th anniversary this year. To commemorate this milestone, the company released "Nissin Donbei Hot and Sour Soup Udon," on the 7th of November, a delicious flavor that is just right for the cold season.

The gentle sourness of vinegar that goes excellent with the spiciness of the chili oil is the main characteristic of the Chinese hot and sour soup, a staple dish both in homes all around China as well as in restaurants all across the world. Paired with the thick Japanese udon noodles, a whole new gourmet experience waits to be discovered!

What better way to keep your body warm than with a bowl of blissfully spicy hot and sour soup, infused with a generous serving of delicious udon? This is a must-try cup noodle creation!

Product: Nissin no Donbei Umakara Sanraatan Udon
Price: 180 yen (tax excluded)
Sold at: throughout Japan
Japanese Cup Noodles: The Kings and Queens of Instant Pasta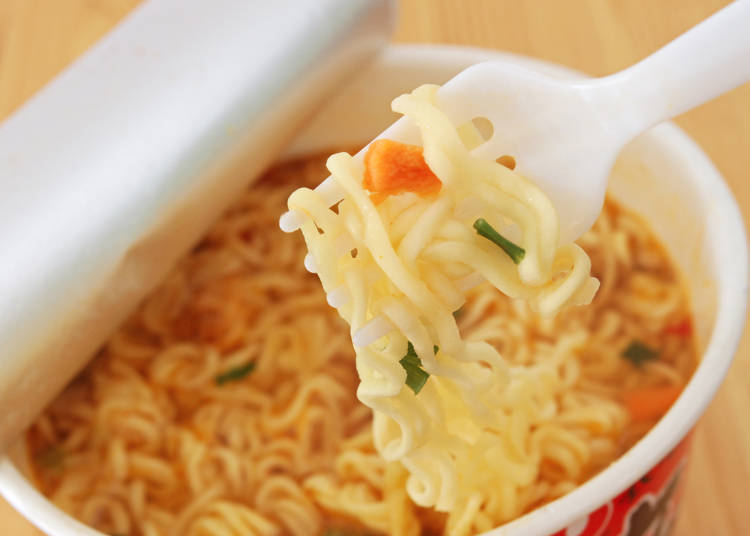 You just add a little bit of hot water and after a minute or two, you can enjoy a warm, delicious meal – that's the main characteristic of cup noodles. It is almost hard to believe that the first instant pasta dish was released internationally in 1971 as "Cup Noodles," which really isn't that long ago in the world of food. Ever since then, the delicious cup has conquered the world.

The original "Cup Noodles" go back to Nissin Foods, founded by Momofuku Ando. He once visited the city of Los Angeles and is said to have truly experienced the many differences when it comes to food culture. It is said that the lack of both rice bowls and chopsticks in the general Western food culture was what inspired him to make "instant noodles in containers" for an easy and convenient meal.

While cup noodles can be enjoyed in almost every country all around the world, the characteristic of Japan's instant pasta is its almost insane variety. Ramen are a given, but even soba (buckwheat noodles), udon, Italian pasta, vermicelli soup, and a whole lot of different other dishes are among the instant delicacies of Japan. Tourists often take home especially interesting and unique types of cup noodles as a fun souvenir.

These cup noodle varieties are only sold at convenience stores and supermarkets throughout Japan – so why not look for the nearest place to get your own share of Japanese instant goodness?
*This information is from the time of this article's publication.