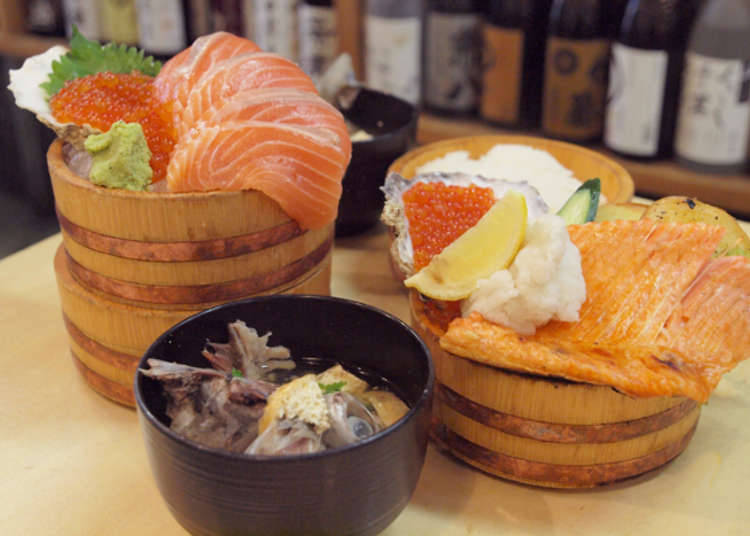 Whether savored in a local seafood specialty restaurant with a long tradition or skillfully prepared by fishmonger connoisseurs, a seafood bowl, or kaisendon in Japanese, tickles your tongue with the excellent and fresh taste of seasonal delicacies.

While this might sound very elaborate, these delicious bowls can be enjoyed for surprisingly little money and in large, filling portions. We've found the very best directly managed fresh fish restaurants that serve the very best kaisendon, both rich in flavor and in volume!
1. Kappou Saitou: A Luxurious Kaisendon Topped with Nigiri Sushi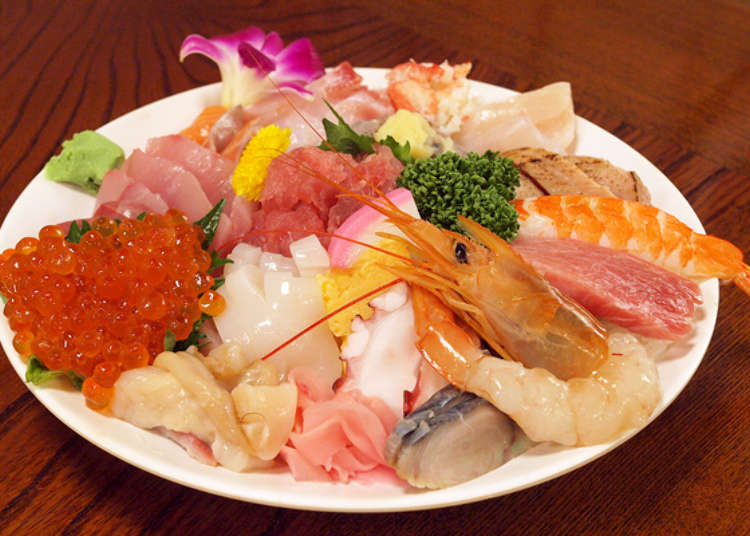 The first kaisendon recommendation on our list is so richly topped with fresh seafood that you cannot even see the white rice underneath! This mouthwatering bowl and its large pile of fish, salmon roe, squid, shrimp, and more, can only be enjoyed during lunch, for the amazing price of a mere 1,050 yen. Around twenty different kinds of seafood, all from the catch of the day, make for the perfect seasonal taste of the sea. The owner of the restaurant lives close to Tsukiji and carefully examines all of their purchases every single morning. If you look closely, you'll be able to spot two nigiri sushi in the kaisendon - this isn't a coincidence. "I want to make my customers feel like they enjoyed sushi", says the owner. This might surprise some people, but the seafood bowl is seen as a more casual seafood dish in comparison to sushi, which requires elaborate handicraft to form the rice and arrange the toppings.
割烹 さいとう

Address

2-9-7 Shitaya, Taito-ku, Tokyo 1100004 Japan
2. Takamaru Sengyoten: Enjoy Fresh Fish in a Relaxed Port Town Atmosphere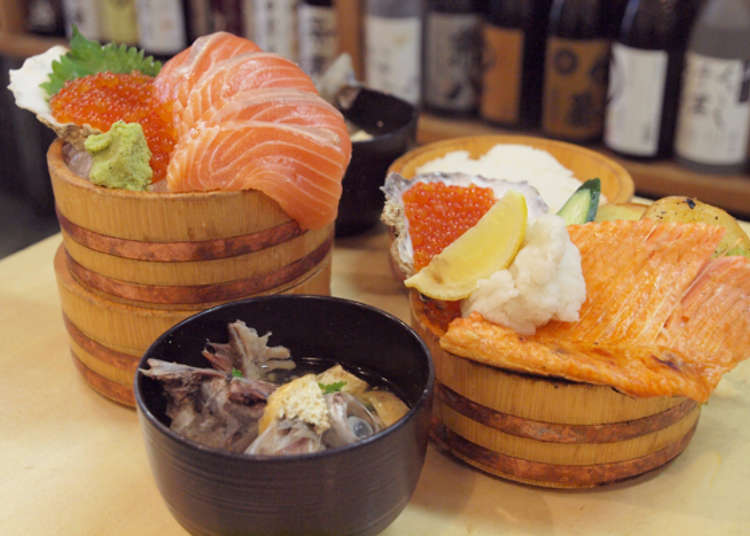 Takamaru Sengyoten, a seafood specialty restaurant in Shinjuku, doesn't only hold a buyer's license for the famous Tsukiji fish auction, but also purchases their seafood directly from fishermen all across Japan. Fresh fish and dried fish, various side dishes and even bento can be savored in this restaurant and its wonderful port town atmosphere. Some of the most popular items on the menu are the "Akadon" with grilled salmon and salmon roe, and its raw salmon version, the "Nama-Akadon", while the "Kurodon" is topped with plenty of tuna. Each of the three bowls can be enjoyed for 1,058 yen. The large portions of rice and seafood are served in kioge, traditional two-layered wooden buckets, providing a feast for both taste buds and eyes. As the restaurant is directly managed by a middle trader from Chiba, the seafood is seasoned with three different kinds of Chiba-produced soy sauce. Why three types? Because different kinds of seafood go best with different kinds of soy sauce, of course - this really is a seafood specialty restaurant after all.
鷹丸鮮魚店 4号店

Address

GS Plaza 1F, 7-7-24 Nishishinjuku , Shinjuku-ku, Tokyo 1600023 Japan
3. Noguchi Sengyoten: A Menu so Rich, You Won't be Able to Choose!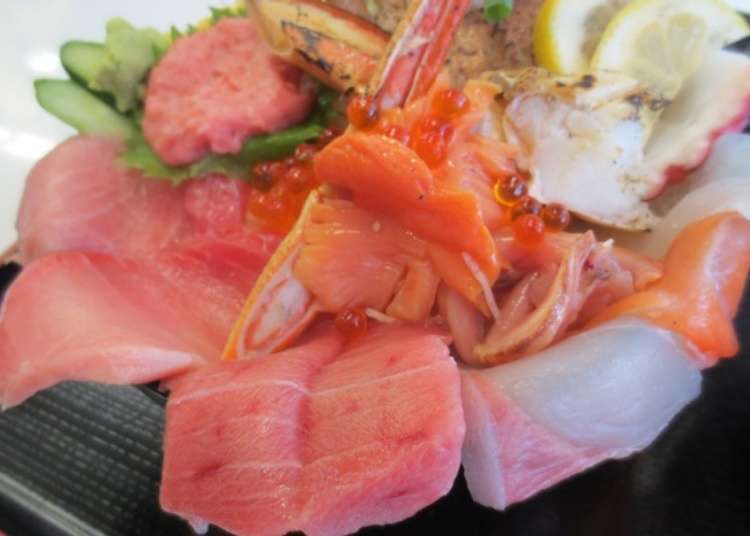 Not far from Tokyo's own Skytree, you'll find Noguchi Sengyoten, a seafood specialty restaurant under the direct management of a trader from the Tsukiji tuna auction, about a three-minute walk away from Honjo Azumabashi Station. Operating under the motto of "The first thing in the morning: getting the freshest of fish", the "Early Morning Tsukiji Bowl", available for 1,933 yen, features plenty of tuna belly, lean tuna meat, jumbo shrimp, thinly sliced tuna, salmon roe, and snow crab - a total of seven different, delicious seafoods. Apart from classic sashimi, fish can also be enjoyed as a steak or roasted, or even as a carpaccio. No matter which way you choose to enjoy your seafood, we promise that the delicious taste will leave you longing for more! The menu offers a wide range of dishes, from a tuna steak bowl from 700 yen to the "High-Class Noguchi Bowl" for 3,024 yen, which cannot possibly be eaten all by oneself.
小さな魚がし 野口鮮魚店

Address

4-6-9 Higashikomagata, Sumida-ku, Tokyo 1300005 Japan
*This information is from the time of this article's publication.
*Prices and options mentioned are subject to change.
*Unless stated otherwise, all prices include tax.
Limited time offer: 10% discount coupons available now!