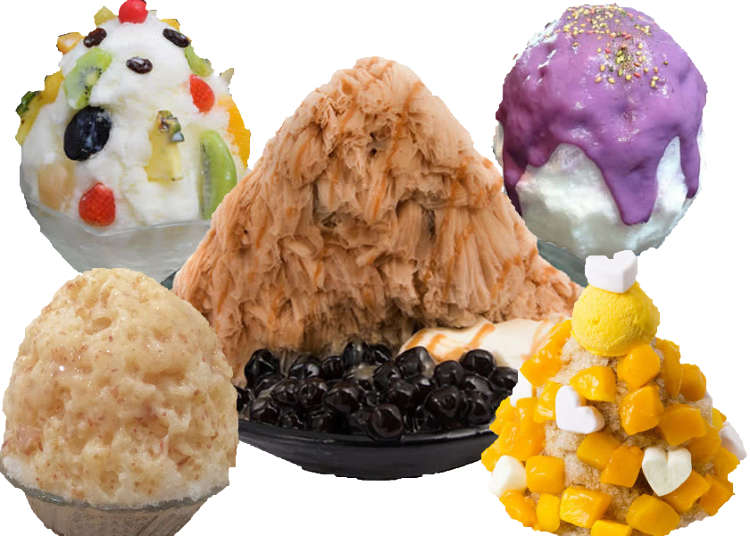 Kakigori is an old Japanese treat that can basically be called shaved ice. Flavored with different kinds of special syrup, kakigori is a necessity in fighting the Japanese summer heat! Every shop and restaurant has its very own way of making kakigori, using different water, all sorts of different syrups and toppings.

Taste your way through Tokyo's top six kakigori specialty shops!
Tastes like Japan: Kakigori of the Clear Waters of Mount Fuji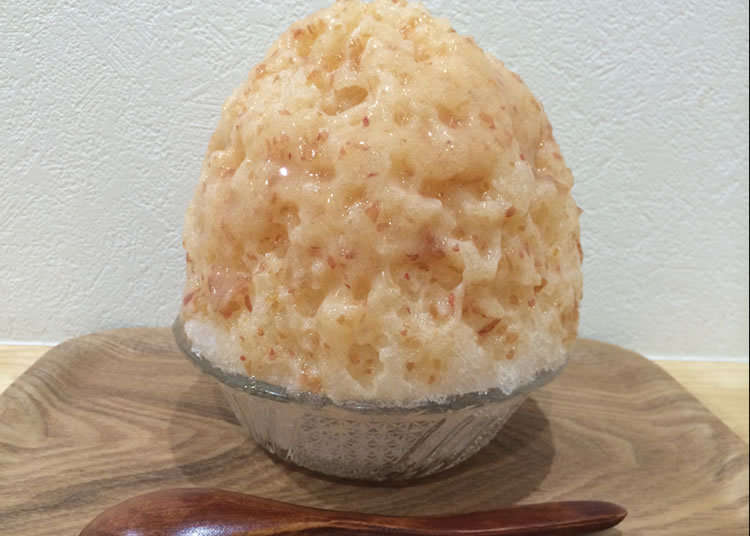 Nestled in one of the back alleys of the Jizo Dori street in Sugamo lies our first kakigori stop. The ice being served here is made with the natural spring waters from underneath Mount Fuji, carefully frozen over a period of three entire weeks.

Because of this process, the ice has a slightly higher density than regular ice, allowing for particularly thin shaves that will feel amazingly fluffy and light on your tongue! Our recommendation is the anno-imo flavor, or sweet potato, available for 700 yen.

The sweet potatoes from Kagoshima are naturally very sweet and this shop roasts them in a pot until they're soft and can be mashed to a paste which is then added to the syrup.

Take the real momo challenge with the special Japanese momo (peach) flavor using peaches from Nagano is also an amazing kakigori experience, part of the shop's summer menu and available for 800 yen.
かき氷工房 雪菓

Address

3-37-6, Sugamo, Toshima-ku, Tokyo, 170-0002, Japan
Mango-Kakigori, Taiwan-Style!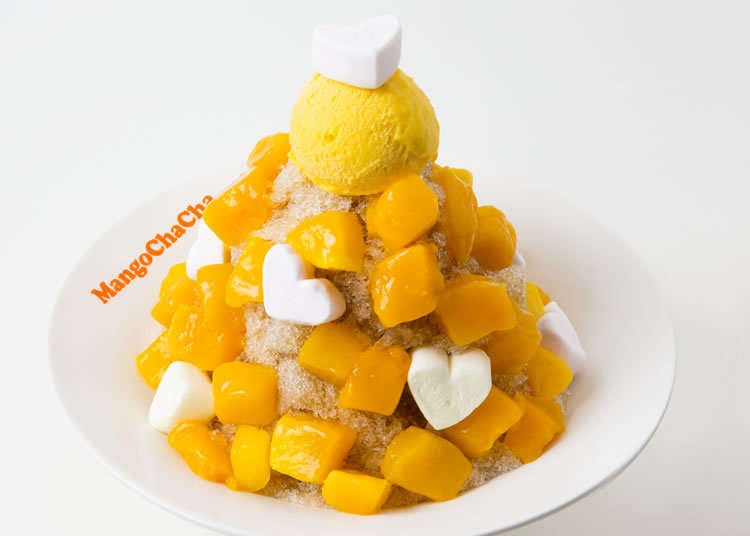 A mango sweets specialty store which is immensely popular in Taiwan has opened its very first store in Japan. Using Taiwan's finest apple mango fruits, Mango Cha Cha will tickle your tastebuds with an extremely unique and creative menu. One of their best dishes is the "Honey-Infused Deluxe" or "mitsu na kankei gokaban" as it is called in Japanese, for 2,970 yen. The kakigori, drenched in dark honey, is topped with plenty of fresh mango and mango ice cream, as well as little marshmallow hearts - amazing to look at and even more amazing to taste! This dish is so huge, it'll easily feed three to four people - but of course there's also a one-person-portion available for 920 yen.
マンゴーチャチャ

Address

Harajuku Maple Square2F,4-25-35 Jingumae, Shibuya-ku, Tokyo, 150-0001,Japn
Kagoshima's Specialty, Now Available in Tokyo!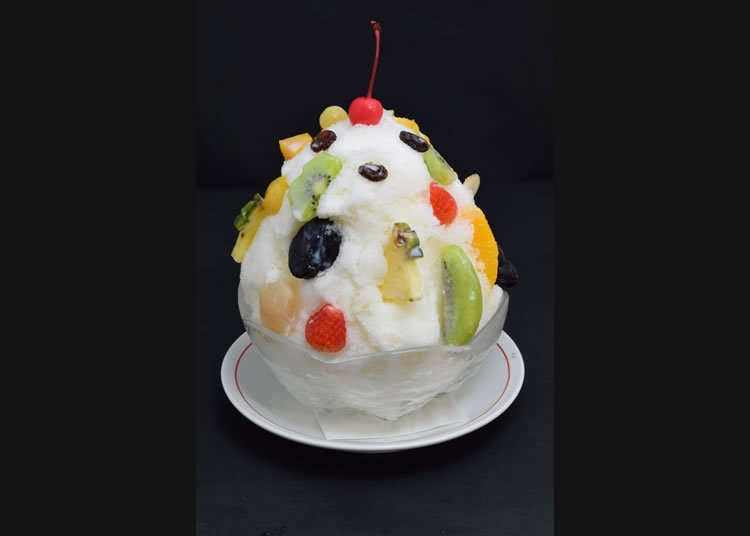 Focusing mainly on Kagoshima's famed black pork, this restaurant serves shabu-shabu and tonkatsu made from the delicious pork. Another Kagoshima specialty is on the menu, however: shirokuma, literally "polar bear," a kakigori creation that can be enjoyed for 800 yen. The beautiful little mountain of ice is topped with a very mild syrup, as well as little bits of seasonal fruits, such as grapefruit, orange, and pineapple. The small portion called koguma, or little bear, is available for 500 yen.
遊食豚彩 いちにぃさん

Address

1-6-4 Chiyoda Bldg.2F, Yurakucho, Chiyoda-ku, Tokyo, 100-0006, Japan
The Gentle Taste of Natural Ice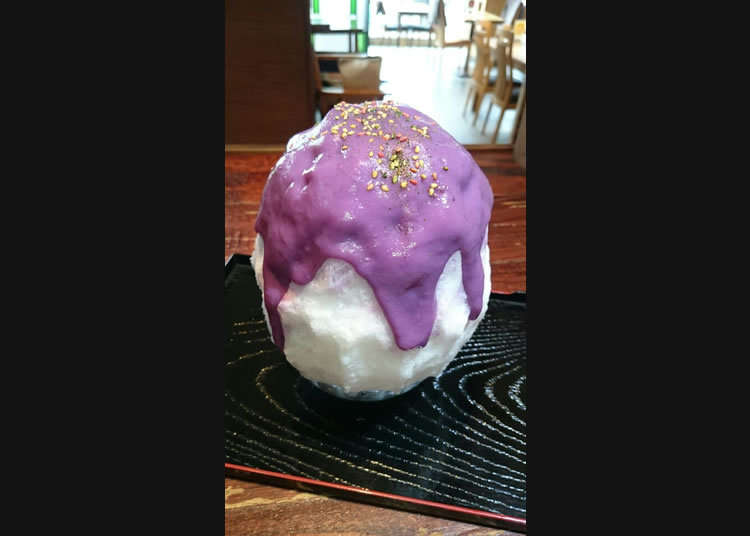 As far as traditional Japanese food goes, the kakigori made from the same water that the Nikko breweries use for their products is extremely popular. Serving this is Wa Kitchen Kanna. The ice is soft and fluffy and the taste is rather gentle. There is a classic menu available all year round as well as seasonally limited dishes, making up for around 20 items on the menu. The shop's bestseller is mizushiroko, a type of kakigori that is covered in sweet azuki bean paste for 1,000 yen. The ice itself is also infused with bean paste and black soybeans, and kakigori topped with thick purple sweet potato milk is also very popular (700 yen with pure water ice, 1,000 yen with spring water ice).
和kitchenかんな

Address

2F, 2-43-11 , Shimouma, Setagaya-ku, Tokyo, 154-0002,Japan
Kagigori in a Traditional Environment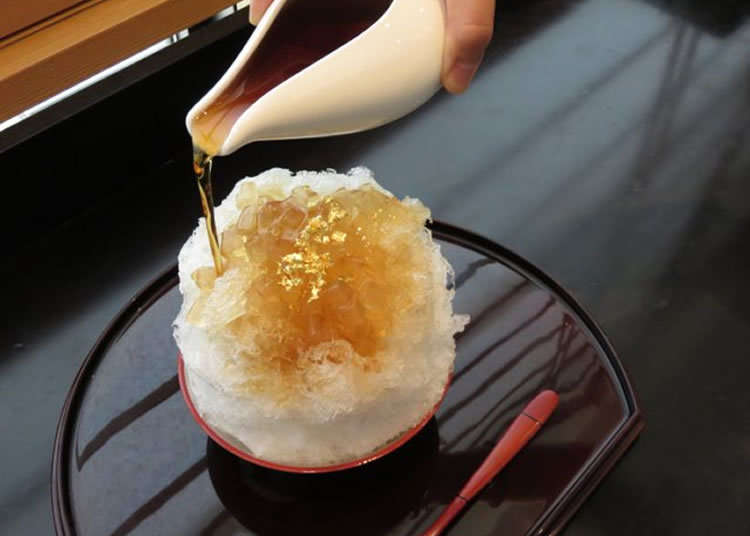 Gion Tokuya has, as its name suggests, its headquarters in the famous, traditional district of Gion, Kyoto. Using only domestic warabi, or bracken starch, the shop has a lot of traditional Japanese sweets on its excessive menu. Some of the most famous ones are warabimochi, sticky rice cakes with bracken powder, or oshiruko, a sweet red bean soup. Delicious, homemade kakigori is also one of them. The most popular flavor is from 2015's summer menu, called "Wasanbongori" for 1,000 yen. Wasanbon is a type of fine-grained Japanese sugar that can be found in many Japanese sweets. The shaved ice is topped with agar-agar made from wasanbon from Tokushima and the syrup that is then poured over the kakigori brings out the flavor of the sugar really well.
ぎおん徳屋 原宿店

Address

UNITED ARROWS FOR WOMEN 1F,2-31-12,Jingumae,Shibuya-ku, Tokyo, 150-0001,Japan
Shaved Ice Straight from … a Block?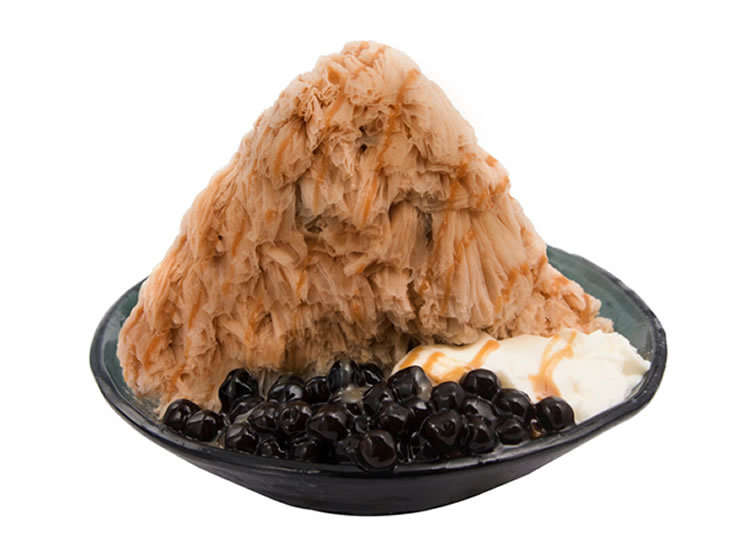 The one shop responsible for the mango kakigori boom in Thailand, Ice Monster, has opened its first location in Japan! This store recreates the genuine flavors of ingredients like fruits or black tea in their "flavor ice blocks". Since every ingredient is frozen in its very own way, the original and rich flavor is kept extremely well! Our special recommendation is the milk tea kakigori, topped with caramel sauce, panna cotta, and warm tapioca, called the "Tapioca Milk Tea Kakigori" for 1,000 yen. Or you can go full Taiwan-style and order the all-mango version!
ICE MONSTER OMOTESANDO

Address

6-3-7, Jingumae, Shibuya-ku, Tokyo, 150-0001,Japan
*This information is from the time of this article's publication.
*Prices and options mentioned are subject to change.
*Unless stated otherwise, all prices include tax.