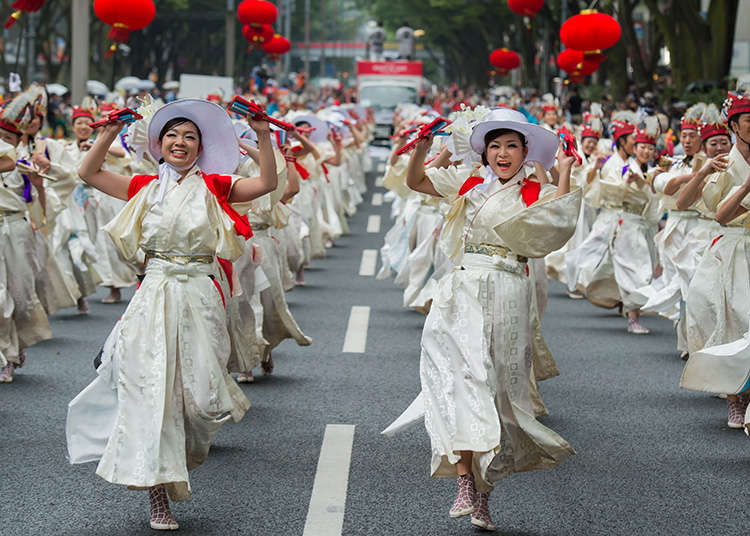 Festivals such as BonOdori, samba dancing, and yosakoi challenge the summer heat with their energetic performances! Dance away the heat or slurp udon as local noodle masters from all over Japan compete for the crown, a spectacle that mustn't be missed. In the scorching heat of Tokyo's summer, these spirited events offer refreshments to Tokyoites and tourists alike!
Toro Nagashi: The Asakusa Summer Night Festival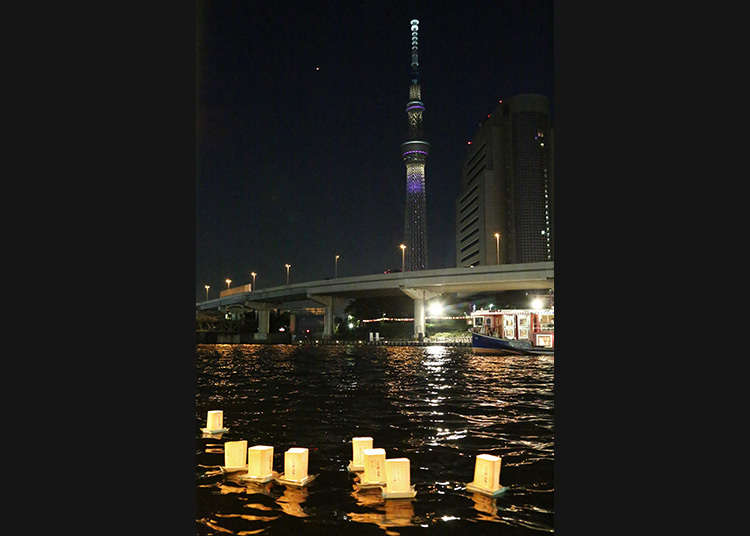 This beautiful festival dates back to the year 1946, when hundreds of paper lanterns were set down on the Sumida River as a memorial to the victims of the Second World War. After that, the Toro Nagashi festival didn't take place for a while during shore protection work on Sumida River but it was revived in 2005. The lanterns travel down the river from the Sumida Park River Terrace, each carrying a thought of the person who set it down. The soft light of the lanterns that glitter on the water's surface creates a warm, almost mysterious atmosphere. Tourists are welcome to take part in the festival and you can register for a lantern yourself on the same day that the festival is held on.
Sumida Park River Terrace

隅田公園親水テラス

Address

1-2, Hanakawado, Taito-ku, Tokyo, 111-0033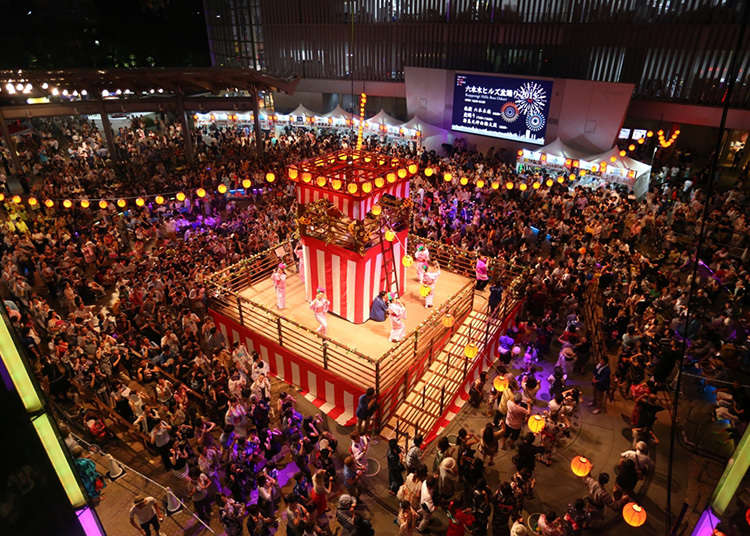 This is a true Roppongi summer tradition: over 60,000 people visited the three day long festival in 2015. The dance itself is held on the 27th and 28th in the Roppongi Hills Arena and traditionally begins with Roppongi's original song "Ropponjin Ondo", which translates to "the dance of the people of Roppongi". When the people dance around the traditional wooden scaffold to the song's tunes, Roppongi's Obon has officially begun.

During the festival, the shops and restaurants inside Roppongi Hills are also opened, so why not enjoy a delicious gourmet snack in between the dances? There are even special food items to be savored that are available only during Obon.
六本木ヒルズアリーナ

Address

6‐10‐1,Roppongi, Minato-ku, Tokyo, 106-6155
Masters of local and creative udon specialties gather to have their noodle creations judged by visitor votes. This year, 16 different shops and restaurants are competing for the crown. The rules of voting are simple - When you eat at one of the participatings booths, you'll receive a voting ticket where you can judge your udon experience: very satisfied, satisfied, neutral, not that great, or terrible. First to third place are determined via these voting tickets. In 2015, "Himokawa Udon" from Gunma Prefecture emerged as the winner. So who will claim the crown this year?
代々木公園 イベント広場

Address

2, Jinnan, Shibuya-ku, Tokyo, 150-0041
Harajuku Omotesando Genki Matsuri: Super Yosakoi 2016
The yosakoi festival was born in Kochi Prefecture in the year of 1954 in the context of projects to revitalize and develop the local economy. Yosakoi makes use of little instruments called naruko that bring sound to the energetic dance of people in colorful outfits. This custom took Japan by storm and today, yosakoi festivals can be enjoyed throughout the entire country. The Harajuku Omotesando Genki Matsuri: Super Yosakoi was first held in 2001 as a shrine festival dedicated to Meiji Shrine. Around 100 teams took part that year that drew in a crowd of about 850,000 spectators.
Address

1-1, Yoyogikamizonocho, Shibuya-ku, Tokyo, 151-8557
View Map

Nearest Station

Sangubashi Station (Odakyu Odawara Line)


Phone Number

03-3379-5511
Japan's largest samba parade takes place in Asakusa's summer heat. Ever since its beginnings in 1980, the festival has grown in size and scale every year, leading up to almost half a million visitors in 2015. On this day, samba teams from all over Japan come together, each one of them showing off their costumes and skills under a theme that the teams chose for themselves. The parade starts at 1:30 p.m.
Umamichi Street ~ Kaminarimon Street

馬道通り~雷門通り

Address

1‐25-15 ROX5F, Asakusa, Taito-ku, Tokyo, 111-0032
Azabu-juban Summer Night Festival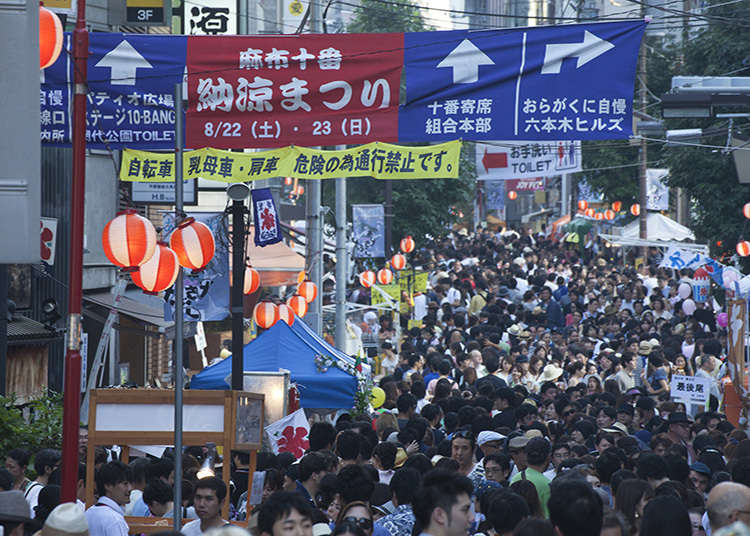 As one of Tokyo's most popular festivals, Azabu-juban Summer Night Festival celebrates its 50th anniversay in 2016, attracting around half a million visitors every year who enjoy strolling down the street and snacking their way through the night. Azabu-juban is well known as a shopping street of famous luxury and brand stores close to the many embassies. There's also an area called oragakuni jiman which features over 50 cities, towns, and regions from all over Japan offering regional produce and specialties. Taste your way through local dishes, sake, and beer! At a place called Patio Juban is a stage on which dance and music performances are held to entertain the visitors.
パティオ十番、ほか

Address

2-3-10, Azabujuban, Minato-ku, Tokyo, 106-0045
Area

Category

Articles Genre
*This information is from the time of this article's publication.