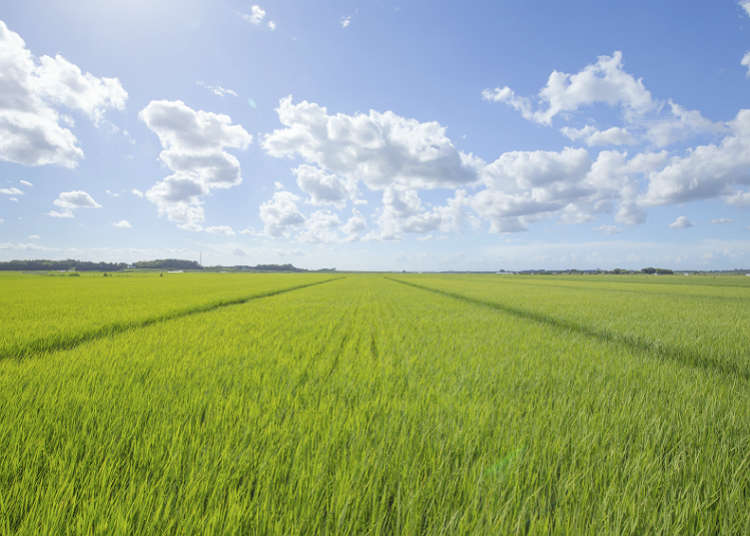 Japan has been a major agricultural country with the great majority of the population engaged in agriculture since ancient times. Although modernization decreased the number of farmers, there are still many places where you can enjoy the peaceful sight of rice fields, the staple food in Japan.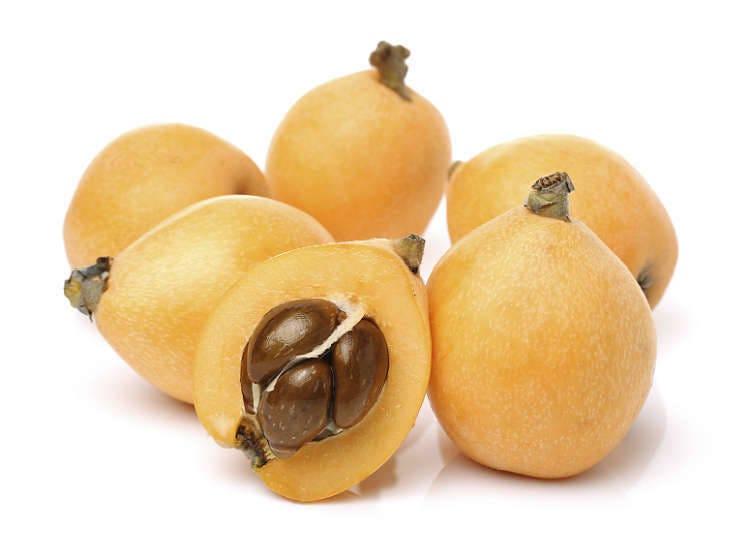 Generally, farmers' houses are located near their farm land, especially near their paddy fields. In most farm villages, all the infrastructures including the water and sewage system, schools and post offices are within their village. Each area produces different products. In Hokkaido, they grow potatoes on a massive scale on flat land. As for the surrounding Kanto area, agriculture is active in Tochigi and Ibaraki, fruits like loquats (photo) and peanuts are produced in the Boso area in Chiba where the climate is warm.
Farm villages in the past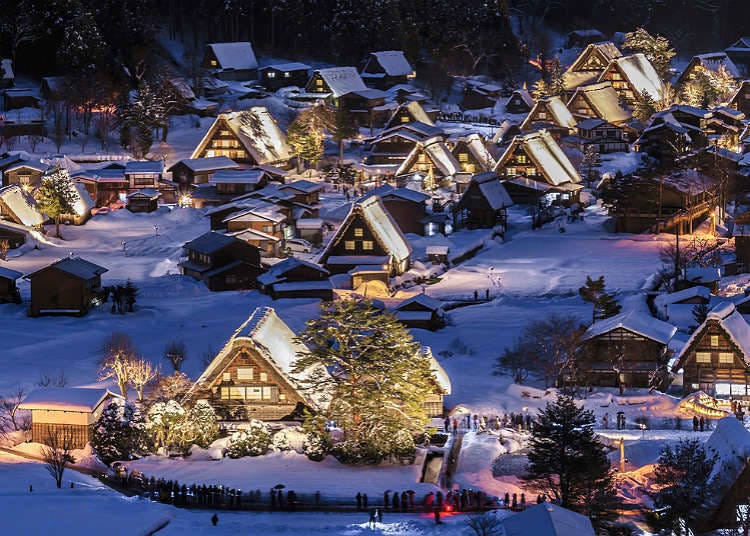 Agriculture is considered to have started as early as in 300 BC. At that time, villages generally developed along rivers where it was easy to draw water. After the Edo period, irrigation systems were installed, and as paddy fields expanded, beautiful pastoral landscapes were formed. In the Shirakawago area (photo) in Gifu, the beautiful scenery of traditional Japanese farm villages has been preserved. The triangle-shaped thatched roofs, Gasshou zukuri are one of such characteristics. There are some thatched houses that have been preserved in Higashiiya, Miyoshi-shi in Tokushima.
Beautiful sceneries in farm villages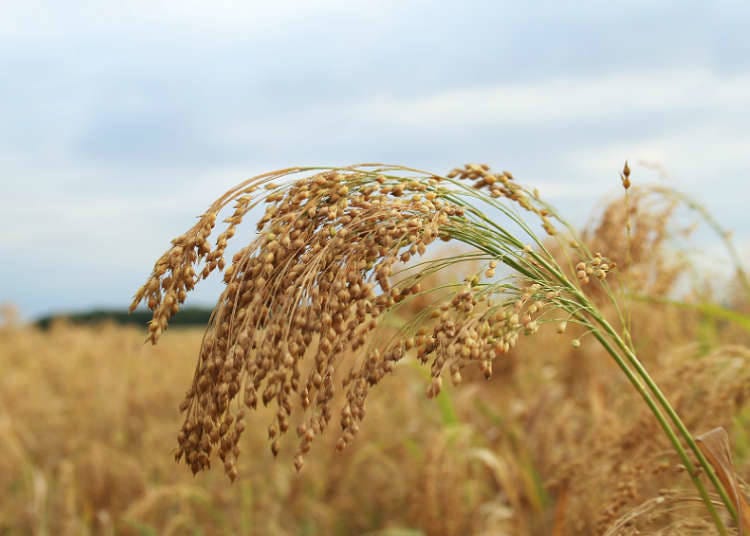 Rice, the staple food of the Japanese is generally planted in May and harvested in September. You can see young rice plants set in the paddy fields during the rice-planting season, green rice plants growing in July, and the golden color in the ears of ripening rice plants after September. Rice is grown not only on a level field, but also on a slope called Tanada (terraced paddy-fields). Tanada are found in the Tokai region and further south, including Fukushima Shinden in Nagano, and Yotsuya Senmaida in Aichi.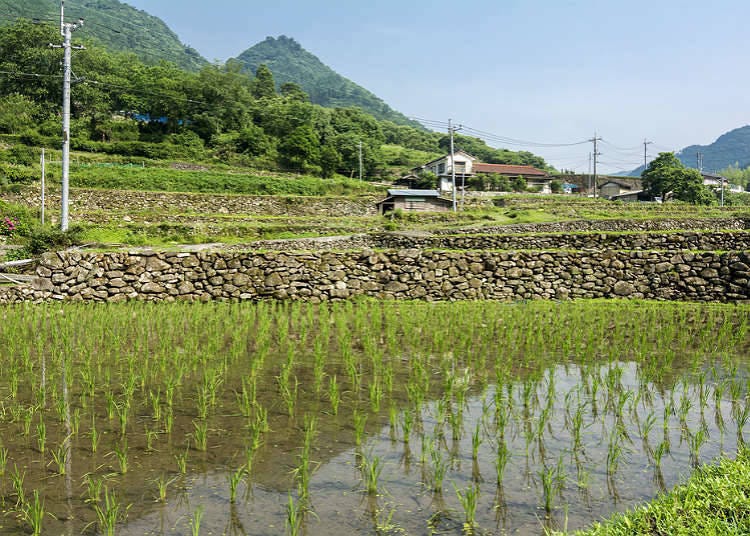 Now the agricultural population in Japan is aging rapidly, and depopulation is progressing in mountain villages. There is an increasing number of villages called Genkai shuraku, which have more than half of the population being 65 years of age or older. They have various problems, including the increasing number of vacant houses, and difficulty in getting medical care and going shopping.
Farmers with second jobs and an increase in the number of people moving out of the villages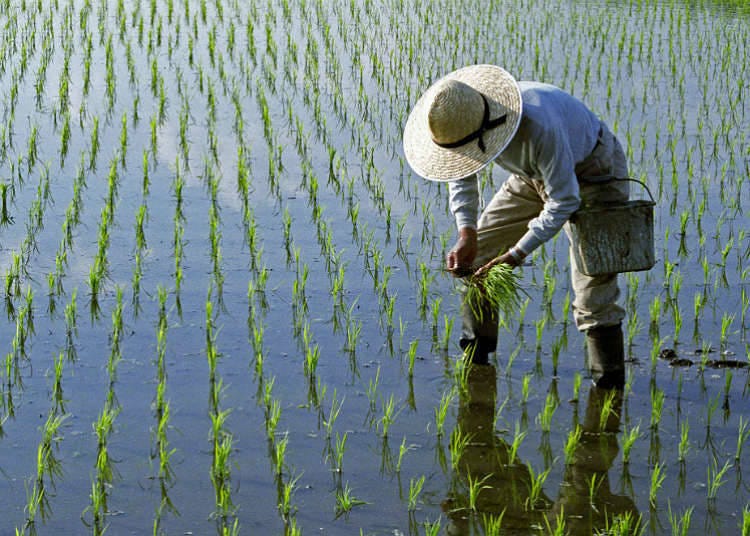 It is said that more than 70 percent of the agricultural population make money from a job besides farming in recent years. Some farmers are employed by companies and do farming on weekends. Others gain incomes from managing properties including apartments. Also, there seems to be people who go to work in the cities during winter when they can't grow any crops. In consideration of the decline of agriculture and fishery as well as the decrease of population in villages in the countryside, the government supports the regional cooperation activities run by local communities. As a result, young people who take an interest in moving to the countryside and engaging in agriculture have started increasing.
Sightseeing in farm villages
Most farm villages in Japan are located in places where public transportation is not developed. So, it's more convenient if you go by car. Each region has rest facilities for drivers called Michi-no-eki, where local specialties particular to that region are sold. Also, you may be able to stay at a farm house, so if you want to know more about the farm villages, take advantage of that opportunity.
*This information is from the time of this article's publication.
*Prices and options mentioned are subject to change.
*Unless stated otherwise, all prices include tax.
Limited time offer: 10% discount coupons available now!