Tokyo Station is the hub for several JR lines leading into Tokyo city as well as Shinkansen trains that will carry you all the way north or south of Japan. However, Tokyo Station is much much more. It is the key place to buy "Tokyo" souvenirs and station bento (boxed lunches). Here we will introduce the top 10 most popular souvenirs as well as the top 5 bento choices we recommend.
#10 Gummi Shell Package Only Available in Tokyo Station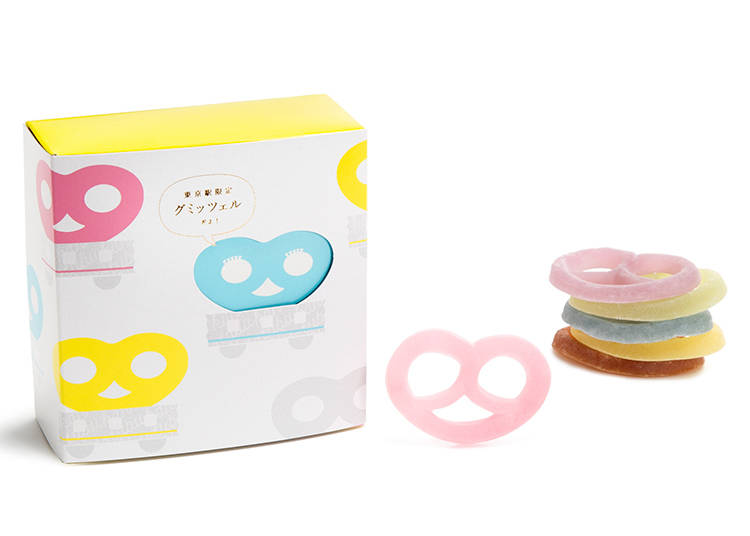 One of the standard items of Kanro, a popular confectionery shop in Japan. This Gransta-limited item has a hard inside, yet a gummi shell, hence its name. Each box comes an assortment of 6 different flavors, grape, cola, french pear, apple, soda, and grapefruit.

We tried it!
This unique, pretzel-shaped confectionery captivated us immediately with its cute pastel colors and we especially recommend them as a gift for women and girls with a sweet tooth. "They come in six flavors, which one do you like best?" is a great conversation starter and invites to snack on the yummy treat together!

-Price: Box of 6 for 800 yen
-Shop Name: Hitotsubu Kanro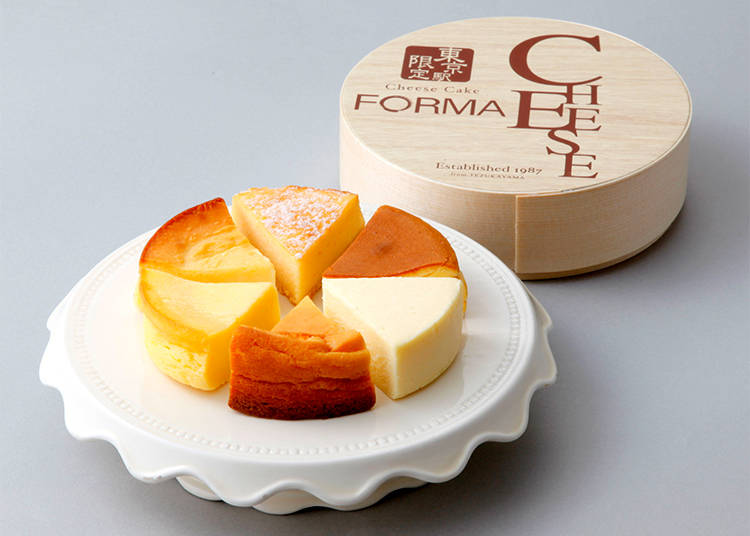 With an assortment of 6 types of cheesecake, each with its unique richness and taste, this product is perfect to indulge in over wine or tea while deciding on your favorite flavor. The "Kanjuku Cheesecake" available only in Gransta is a baked cheesecake loaded with cream cheese. Though rich in taste, it doesn't stray from the norm with just the right level of sweetness.

We tried it!
The six slices really do taste different and rather luxurious! Especially the "Kanjuku Cheesecake" is amazing, so sweet and delicious! We recommend getting this as a souvenir for yourself, enjoying it at your hotel after a long day of sightseeing.

-Price: 1,944 yen
-Shop Name: Forma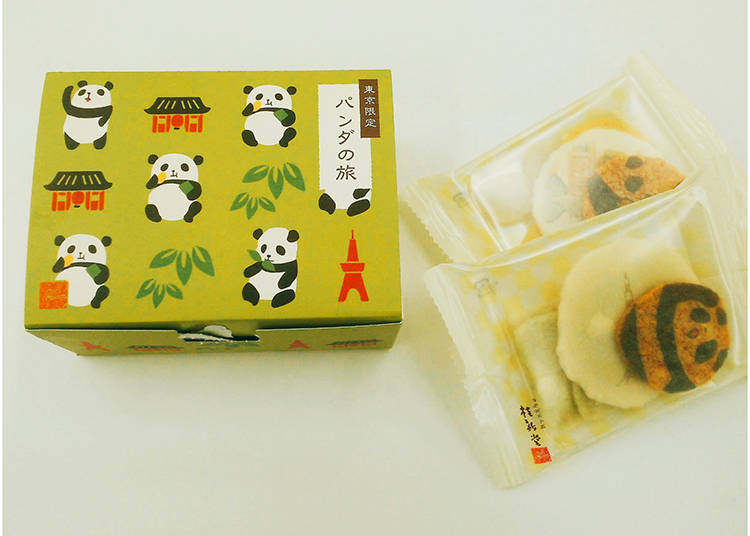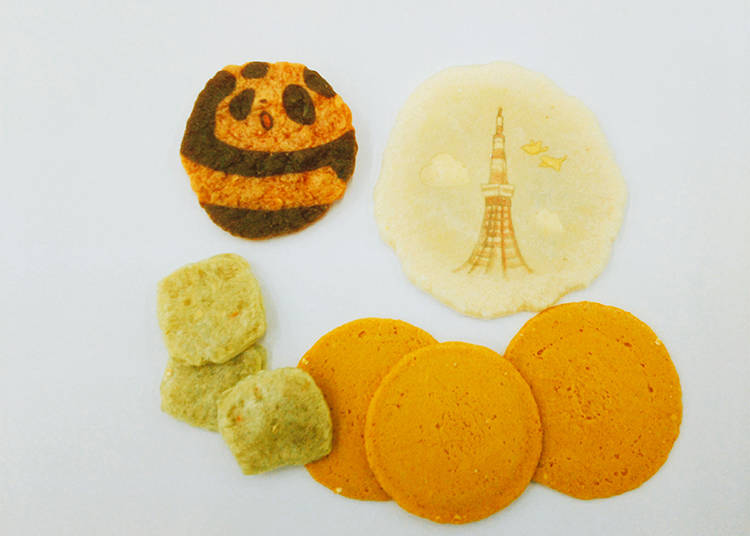 These ebi senbei (rice crackers with minced prawn) are only available in Tokyo Station and are products of Katsura Shindo, a company that was established way back in 1866.
Other than the cute panda shape, these ebi senbei are also sold in the shapes of Tokyo Tower, Kaminarimon, Kabuki and other Tokyo icons, making this the perfect Tokyo souvenir.

We tried it!
There's no resisting the assortment of four rice cracker varieties that come in the shape of an adorable panda or with Tokyo's iconic landmarks printed on them. They're crispy and crunchy beyond belief! The different varieties actually do taste different as well and the adorable box is surprisingly light, so you won't have to worry about a heavy suitcase. Their shelf life is over one month as well, so it's a great choice as a yummy souvenir to take back home.

-Price: 3 bags for 648 yen 5 bags for 1,080 yen / 10 bags for 2,160 yen
-Shop Name: Katsura Shindo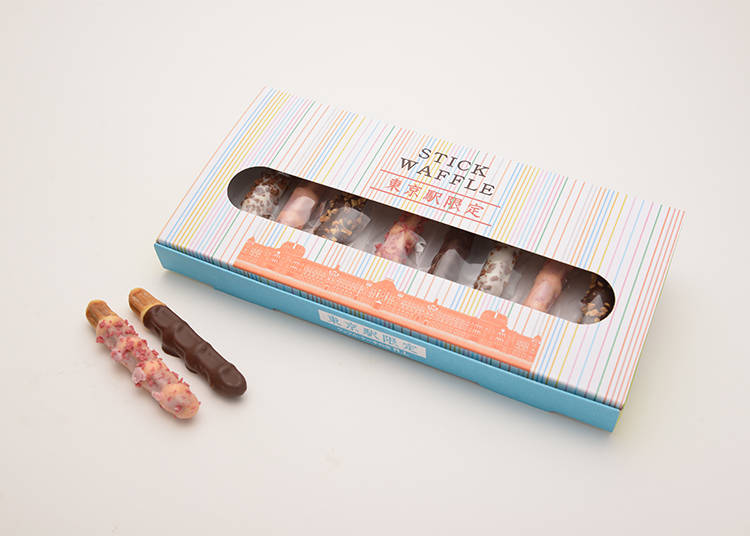 The colorful arrangement of the chocolate on these crunchy sticks makes for an appealing snack.
Baked with cookie dough, yet molded into a waffle pattern, these tasty treats can be eaten while sitting down or on the go.

We tried it!
The colors of the chocolate coating are fun and cute. With a crispy outside and a soft, juicy inside, these waffle sticks are a souvenir that won't fail to surprise! The box is light, so don't hesitate to put it in your suitcase.

-Price: 5 sticks for 720 yen / 10 sticks for 1,388 yen
-Shop Name: R. L. Waffle Cake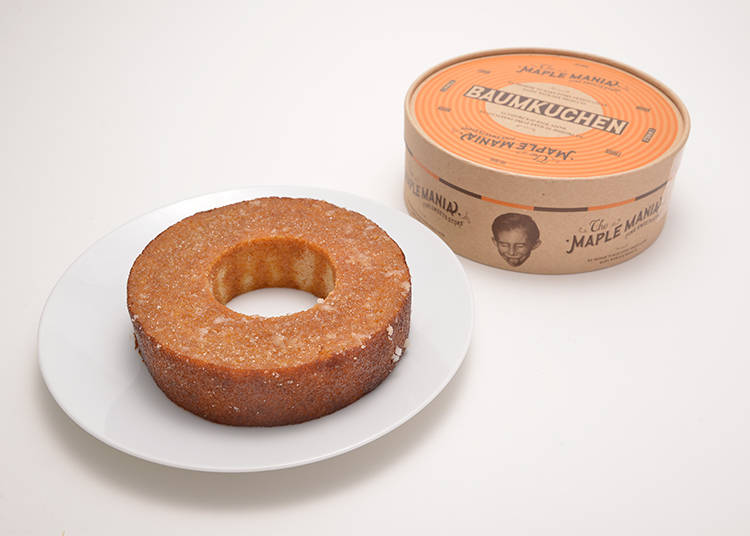 This baumkuchen, the German version of spit cake, is rich with maple taste and is sure to fill you up. It is loaded with maple sugar and baked to an ever so light texture. The caramelized shell makes for a scrumptious all-around texture.

We tried it!
The stylish box makes this cake a perfect souvenir for colleagues or even your boss. With its caramelized shell, it offers a unique and delicious spin and won't fail to impress.

-Price: 2,268 yen
-Shop Name: The Maple Mania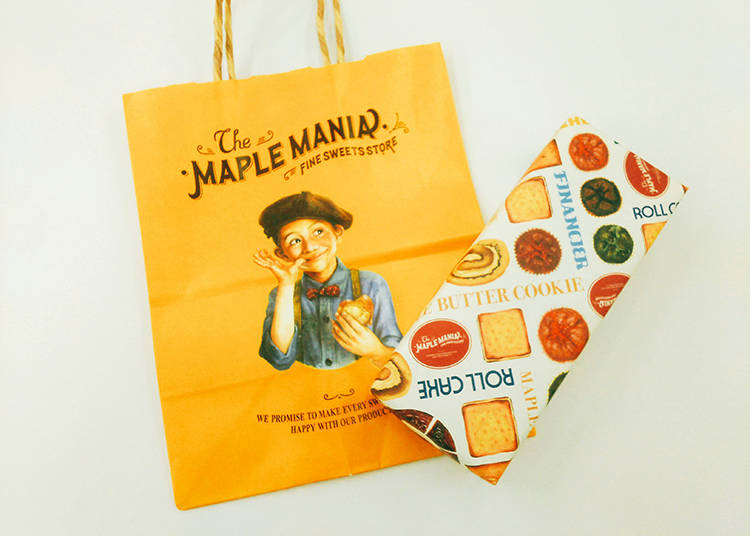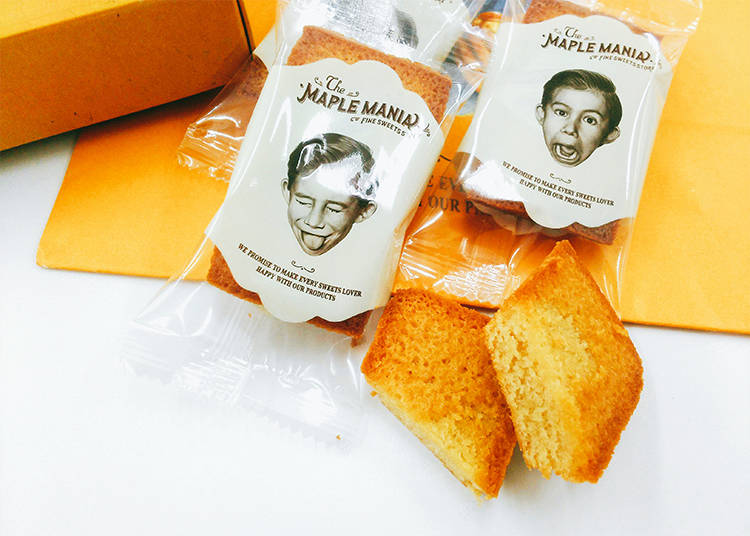 Though not even in the Top 10 of the previous year, this year The Maple Mania's maple financier made number 5 in the popularity rankings. This rich maple financier has a crunchy maple-filled shell and a soft, spongy inside.

We tried it!
The inside is incredibly moist and juicy while the maple aroma spreads throughout your entire mouth – yummy! The elegant taste matches its unique packaging.

-Price: 6 for 1,069 yen / 12 for 2,138 yen / 20 for 3,564 yen
-Shop Name: The Maple Mania
#4 Tokyo Gianduja Choco-Pie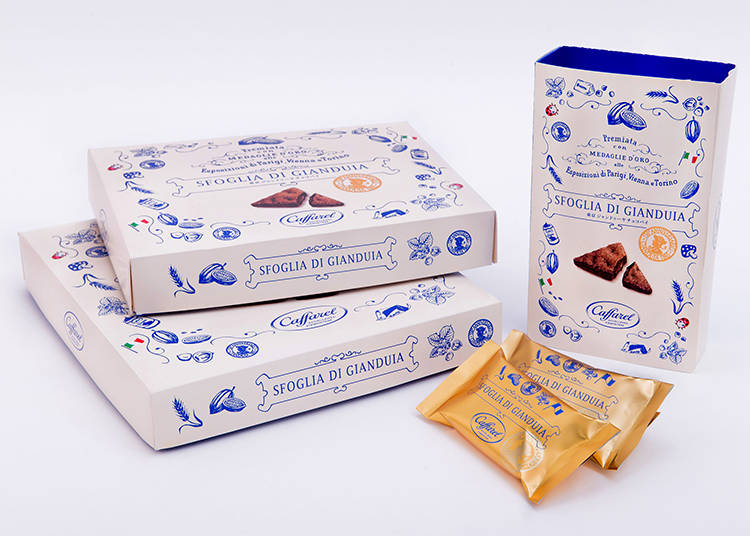 This famous chocolate brand, Caffarel from Turin, Italy can only be found in Gransta within Tokyo Station. Caffarel's leading product, Gianduja has been around for over 150 years. It's strong flavor, rich aroma, and heavenly light texture will surely satisfy your taste buds. Having only been released in Gransta in 2015, the product has climbed the popularity charts quite quickly.

We tried it!
Only available at Gransta Tokyo Station! The hazelnut flavor is unbelievably rich and goes excellently well with the full-bodied chocolate cream on the inside. Apparently, over one million of these little delicacies are sold every year! It's an absolute must-try and the individual packaging makes it perfect for sharing.

-Price: 4 for 648 yen / 8 for 1,080 yen / 12 for 1,620 yen
-Shop Name: Caffarel
#3 10-Waffle Package Only Available in Tokyo Station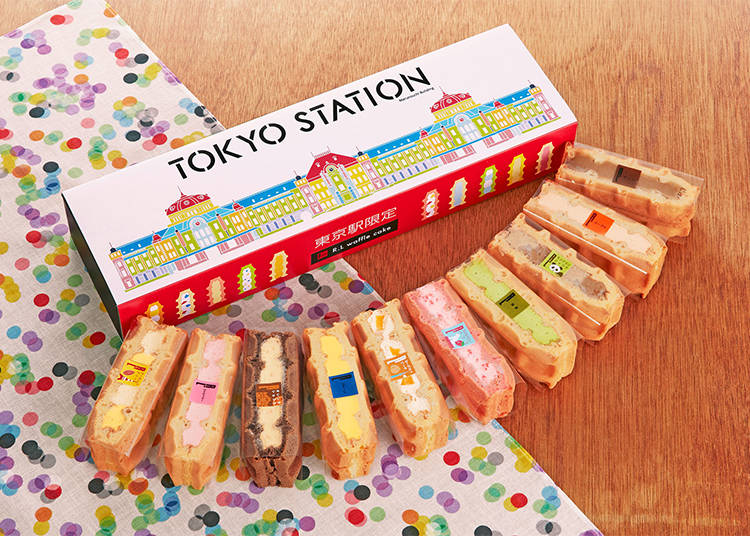 An assortment of 10 different flavors of cream such as custard, chocolate or even matcha sandwiched in between two fluffy mini-waffles. With a brand new package in November 2017, this assortment comes with 5 flavors only available in Tokyo Station and 5 of the most popular standard flavors.

We tried it!
This set of ten is almost too pretty and cute to eat – and it's surprisingly filling! Despite its generous filling, the waffle stays fluffy and delicious. Since they're bite-sized, these waffles are a perfect snack while walking or over a cup of coffee.

-Price: 1,300 yen
-Shop Name: R.L. Waffle Cake
#2 Gin-no-Budou's Chocolate Sandwich, "Almond"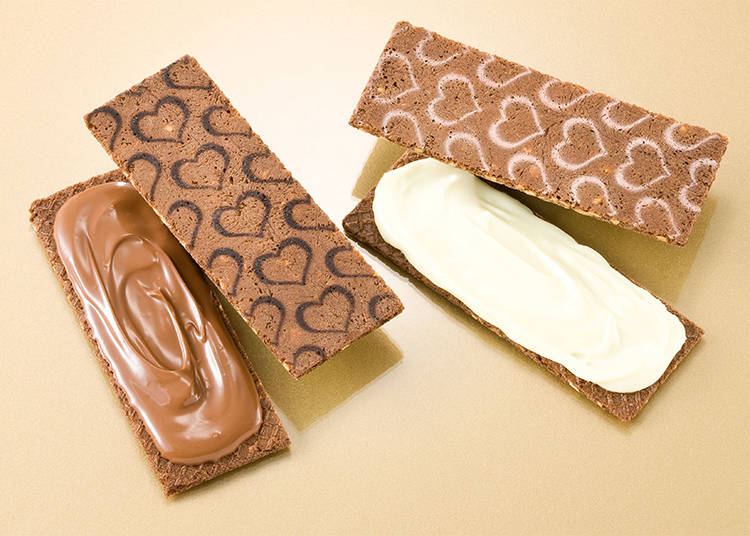 At their peak, 50,000 of these yummy cookies were sold in a single day.
This original recipe includes crispy chocolate and almond layers on the outside and velvety white or milk chocolate on the inside. The heart design on the cookie makes for a great Valentine's gift.

We tried it!
One of the most adorable snacks on the list, the creamy white and milk chocolate on the inside boasts an extraordinary texture, melting right on your tongue. This one is a must-buy!

-Price: 8 cookies 712 yen / 12 cookies 1,080 yen / 18 cookies 1,620 yen / 24 cookies 2,160 yen
-Shop Name: Gin-no-Budou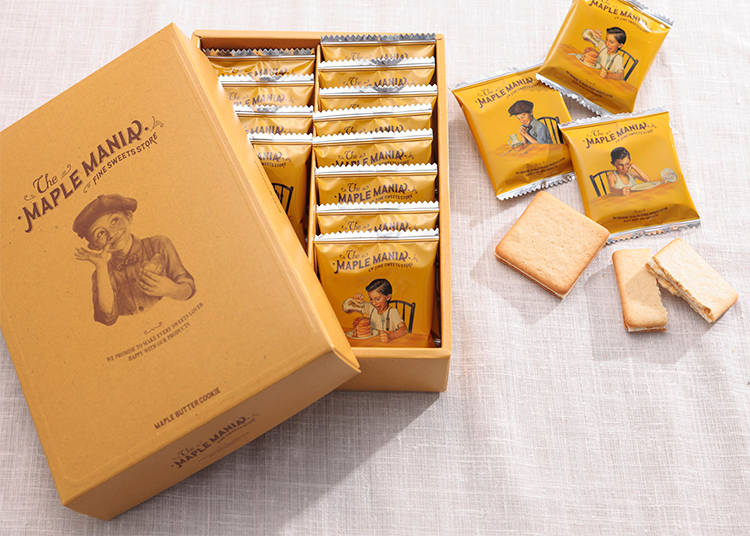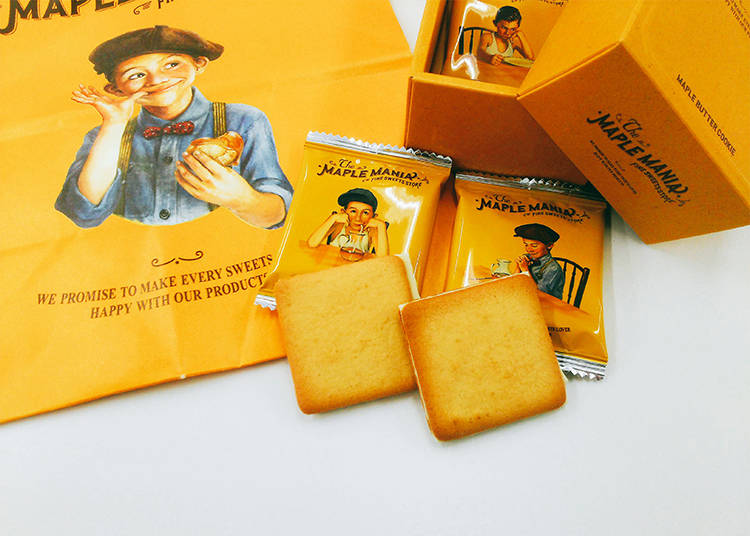 Maple cookies took first place last year, selling upwards of six million cookies! Maple sugar from Canada and fermented butter are baked into two slices of crunchy cookie, which are then used to sandwich some creamy chocolate to make a tasty treat. What makes this souvenir special is the taste and aroma of fresh pancakes smothered in maple syrup. With the company's signature maple boy drawn on the front, the package is quite cute as well.

We tried it!
With their cute box, these cookies stimulate both the eye and the tongue! The taste of butter and maple syrup spread over a freshly baked pancake isn't something we would have expected from a simple cookie – we're in love, head to heels. The cookies are light, they can be stored at room temperature, and are easily shared.

-Price: 9 cookies 864 yen / 18 cookies 1,728 yen
-Shop Name: The Maple Mania
About the Shopping Area in Tokyo Station, Gransta
Gransta is a large-scale shopping center on Tokyo Station's basement floor between the Yaesu exit side and Marunouchi line. In this central shopping area, you can treat your taste buds to freshly made bento, side dishes, or even sweets you won't find anywhere else. There is also a large magazine and cosmetics area where an enormous variety of goods are lined up. There are other services as well, such as a station concierge desk, a place to temporarily store your luggage (for a small fee), currency exchange and a tax-free counter. On the 1st floor, there is a large-scale bento shop called Ekiben Matsuri as well to meet your bento needs.
Location: Marunouchi 1-9-2 Chiyoda-ku Tokyo-to JR East Japan Station B1 and 1F (Inside ticket gates)
Business Hours: 8am to 10pm (Closes at 9pm on Sundays and the last day of successive holidays)
*Hours for each individual shop are subject to change.
*Gransta's new area hours are 9am to 10pm (Closes at 9pm on Sundays and the last day of successive holidays).
The Gransta Marunouchi is a new shopping district that was opened on July 27th, 2016 on the outside of the ticket gates near the Tokyo Station Maru-no-Uchi basement area. Shops continued to open all the way through August 30th, 2017, totaling 33 shops. Similar to Gransta's new area, the concept of the area is based on increasing the time people spend in Tokyo and they aim to improve the lives of those who spend time in the station or the surrounding area.
Location: Maru-no-uchi 1-9-2 Chiyoda-ku Tokyo-to JR East Japan Station B1 (outside ticket gates)
Business Hours: 10am to 10pm (Closes at 9pm on Sundays and the last day of successive holidays)
*Hours for each individual shop are subject to change.
Area

Category

Articles Genre
*This information is from the time of this article's publication.