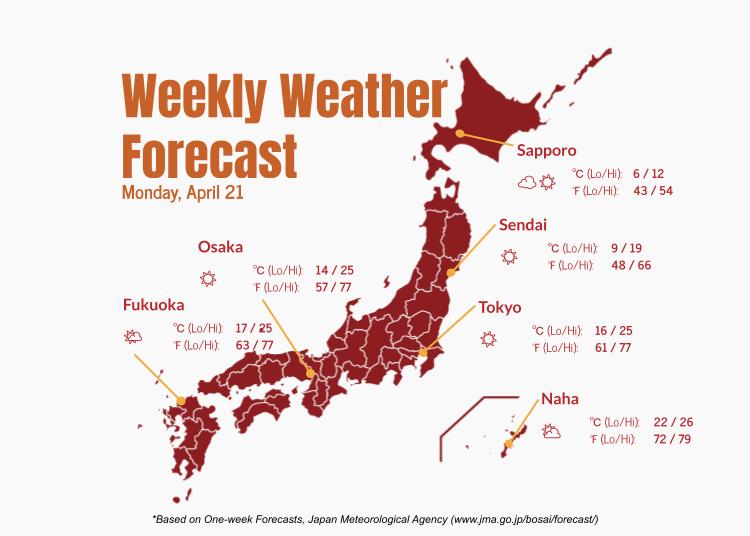 Summer has fully arrived in Tokyo! After days of torrential downpours in western Japan, sunnier weather is looking to stay around for much of the nation for the week to come. Check out this week's forecast below!
Tokyo's Forecast: After rainy season has finished, the hot days continue!
Over this past weekend, Tokyo saw hot and sunny weather, with moderate humidity levels. Temperatures in the low to mid 30s°C (upper 80s°F) look to continue, with some showers possible toward the middle of the week. If you will be visiting town soon, be sure to pack lighter clothes that can wick away sweat, with shorts and t-shirts preferable. Sunblock, summer hat and sunglasses are also highly recommended items to bring.
Japan Weather Forecast for July 9-15, 2018
Looking at the weather forecast for the rest of Japan, in the north Hokkaido will be seeing showers, with rain and temperatures in the mid 20s°C (upper 70s°F) predicted for the coming week. Meanwhile, the greater Osaka area and Fukuoka are expected to be a mixture of sun and clouds, with highs in the mid 30s°C (80s°F). As for Okinawa (Naha), save for some occasional showers early in the week, partly cloudy skies are expected, with daytime highs in the mid-30s°C (80s°F).
Source for forecast and images: Japan Meteorological Agency website / http://www.jma.go.jp/jma/en
Area

Category

Articles Genre
*This information is from the time of this article's publication.