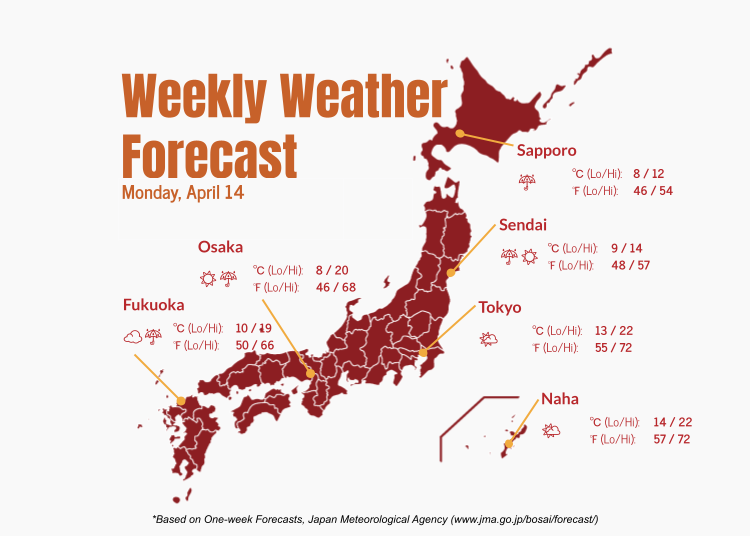 January has been going along quickly! While Tokyo saw its first flurries over the weekend, for the most part the weather is expected to be fairly clear. Meanwhile, other areas of the country have been receiving heavier snowfall! Read on as we cover this week's forecast and more.
What's the weather like in Tokyo? Forecast for January 14-20: Mostly clear with winter temperatures!
The week ahead in Tokyo will generally be cool, with partially clear skies. Showers (or snowfall) are not expected for the week ahead. Daytime highs will be in the low teens℃ (low 50s℉), while evening lows will be hovering around freezing. The mostly clear skies have made for outstanding photos of Mt. Fuji!

What to pack for Tokyo?
・It's colder - prepare for winter weather.
・Bringing a winter jacket and sweater is recommended; you will want thermals and warmer wear in layers particularly if you'll be traveling into the higher elevations.
・Be sure to bring long-sleeved shirts and jeans, with warmer socks and sneakers or shoes. Hat and gloves are recommended too.
What's the weather like in Japan? Weather Forecast for January 13-20
Japan nationwide
Looking at the weather forecast for the rest of Japan, most areas will be seeing fairly pleasant weather, with flurries expected in the higher elevations and northern territory.

Northern Japan
Flurries are expected in Hokkaido for much of this week. Daytime highs will be around freezing, with evening temperatures dipping down to around -2℃ to -10℃. If you will be heading to Hokkaido or to the Tohoku region, be sure to pack warm clothes fit for winter. Winter boots and a proper winter jacket would be useful as well.

Central Japan
Meanwhile, the greater Osaka and Kyoto area as well as Fukuoka and northern Kyushu are expected to see partly cloudy skies for much of the week, with some showers likely in Osaka on Tuesday and in Fukuoka toward the weekend. Daytime highs will be brisk, in the low teens, with lows in the low single single digits. Dressing for winter is advised.

Okinawa
As for Okinawa (Naha), cloudy skies are expected for much of the week, with showers likely on Wednesday and Thursday. Daytime temperatures will be comfortably in the lower 20s℃ for much of the week.
Special: Tokyo Furusato Festival
Held at Tokyo Dome until January 20, 2019 the Furusato Festival gives you the chance to take a select taste of Japan's local dishes while you can enjoy the sights and sounds from all over Japan! At the "Festival Hiroba", you can experience prestigious presentations such as "Aomori Nebuta Festival", one of Japan's most massive festivals that is known for its floats commending bravery, as well as the "Hachinohe Sansha Taisai Festival" where colorful floats are freely roaming around while changing their appearance. In the food area, you can select from a wide selection of sweets like fresh melon ice cream from Hokkaido and other traditional dishes from throughout the country.

When: January 11 (Fri) –January 20 (Sun), 2019
Hours: 10am – 9pm (closes at 6pm on the 20th)
Price: 1,700 yen the day of (advance tickets 1,500 yen), Advance admission ticket with special seating 2,200 yen
* Weekends and holidays, Specified daily
Where: Tokyo Dome
Special: Japanese Custom - Coming of Age Day (January 14)
Right after the long-lasting Japanese New Year's celebrations that tend to span over the course of several weeks, young Japanese all over the country look forward to yet another very unique celebration. On the second Monday of January every year, Japanese offices, schools and universities stay closed to welcome a whole age group of young people into adulthood.

Check out the link below for more about this special Japanese holiday in January!
Other recommended articles for winter 2019
Source for forecast and images: Japan Meteorological Agency website / http://www.jma.go.jp/jma/indexe.html
Area

Category

Articles Genre
*This information is from the time of this article's publication.
*Prices and options mentioned are subject to change.
*Unless stated otherwise, all prices include tax.
Recommended places for first-time visitors to Tokyo