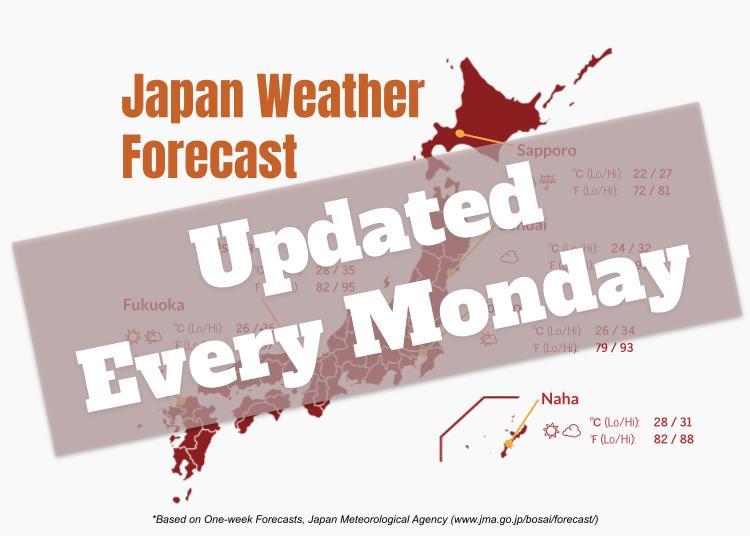 Although Tokyo saw a burst of mild temperatures over the weekend, sweater weather is back again! With the cooler temperatures, autumn colors are gradually spreading through the region Read on as we cover the upcoming forecast as well as some of the sights and trends now happening around Tokyo!
What's the weather like in Tokyo? Forecast for November 12-18: Cool autumn temperatures!
For Tokyo, the week ahead will see mostly cloudy skies and cooler daytime highs in the mid teens℃ (mid 60s℉). Expect evening lows in the low teens℃ (low-mid 50s℉). There will be a 20-40% chance of sprinkles for much of the week, with showers likely on the weekend, so keep a portable umbrella handy.

What to pack for Tokyo?
It's getting into more sweater weather. Bringing a light jacket or cardigan for the day might be a good idea, but you will likely want warmer wear in layers particularly if you'll be traveling into the higher elevations. Be sure to bring long-sleeved shirts and jeans, with warmer sneakers or shoes.
What's the weather like in Japan? Weather Forecast for November 12-18, 2018
Japan nationwide
Looking at the weather forecast for the rest of Japan, most areas will be seeing partially cloudy skies and chance of intermittent showers during the day for much of the week. Be sure to bring an umbrella with you just in case.

Northern Japan
In the north, a mixture of cloudy skies and showers is expected for most of the week, with cooler daytime temperatures in the low teens. Evenings will be chilly, so be sure to pack warmer clothes.

Central Japan
Meanwhile, the greater Osaka and Kyoto area as well as Fukuoka and northern Kyushu are expected to see pleasant and mostly clear weather toward mid-week, though showers are expected at the beginning and end. Daytime highs will be in the upper teens℃.

Okinawa
As for Okinawa (Naha), partly cloudy skies are expected for most of the the week. Daytime temperatures comfortably in the mid 20s℃.
Special: November - time for Tori-go-Ichi!
If you are visiting the Tokyo area during the month of November, you're in luck! The Tori no Ichi Fair is a Tokyo pastime that has occurred every year since the Edo era. In 2018, it will be held on November 1, 13, and 25.

Celebrated at the stroke of midnight on the day of the rooster, which occurs every 12 days, the fair consists of a variety of shop owners that sell rakes to bring in good fortune and business prosperity! It's a fantastically fun time that you won't want to miss. Check the link below for details!
Autumn is one of the best times for sightseeing around Japan! The weather is generally quite pleasant (if cool), and the autumn leaves are utterly spectacular. Below are some of our top recommendations on what to do and where to go this season!
Source for forecast and images: Japan Meteorological Agency website / http://www.jma.go.jp/jma/indexe.html
Area

Category

Articles Genre
*This information is from the time of this article's publication.
*Prices and options mentioned are subject to change.
*Unless stated otherwise, all prices include tax.
Recommended places for first-time visitors to Tokyo