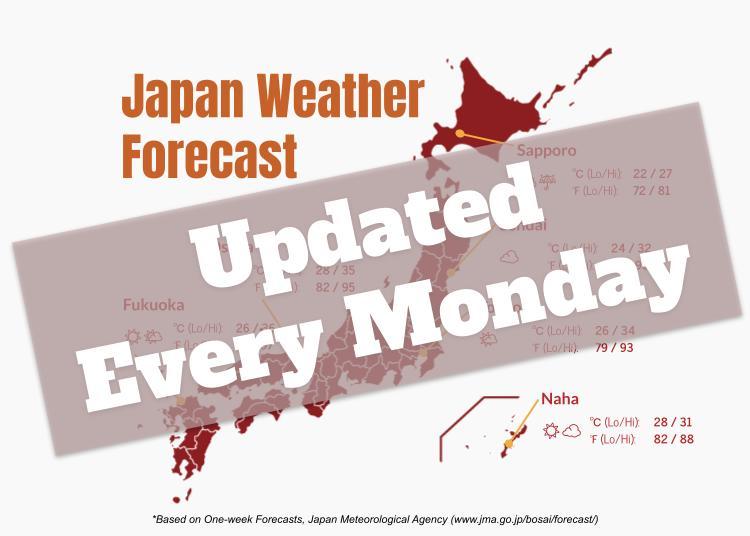 Tokyo is continuing to see cooler autumn temperatures, with some showers toward evening. Although the weather is looking fairly nice for sightseeing, there will be some sprinkles again this Friday before temperatures hike again. Find this week's forecast below – plus tips on what's happening in town!
Tokyo's Forecast for September 17-23: Cool, cloudy weather ahead!
Although the past weekend saw clear skies and warmer weather, a front pushing into the region is bringing cooler temperatures and rains. Tokyo is expected to see showers Tuesday evening and part of Friday as well, with the rest of the week seeing a mix of sun and scattered clouds. Daytime temperatures will range from around 26-31°C (low-mid 80s°F), with lows in the low 20s°C (upper 60s°F).

If you will be staying for the week, be sure to pack some simple rain gear (collapsible umbrella, waterproof bags for electronics and the like). Jeans are recommended, along with layers (t-shirts but also long-sleeved flannels). Bear in mind that even on overcast days, UV rays can still be somewhat strong even in this season, so be sure to apply sunscreen if you've sensitive skin.
Cloudy one hour, clear the next - autumn is coming to the Tokyo area! Photo location: Kamakura
Japan Weather Forecast for September 17-23, 2018
Japan nationwide
Looking at the weather forecast for the rest of Japan, most areas will be seeing partially cloudy skies for much of the week, with some cooler temperatures dipping in around Thursday until just before the weekend, when summery warms return.

Northern Japan
In the north Hokkaido will be seeing comfortable daytime temperatures in the mid-high teens°C (low-mid 60s°F) predicted for the coming week. Some showers are expected on Saturday.

Central Japan
Meanwhile, the greater Osaka and Kyoto area as well as Fukuoka and northern Kyushu are expected to see a mixture of clouds and some showers toward the end of the week, with highs in the low 30s°C (mid 80s°F).

Okinawa
As for Okinawa (Naha), scattered clouds are forecast through the rest of the week with daytime highs in the lower 30s°C (mid 80s°F).
Tokyo has so much in store for visitors! As summer winds down, so, too, are the beer gardens – highly recommended if you're a beer lover visiting the area for the first time!

Note that Monday, September 24 is a national holiday in Japan (Respect for the Aged Day and Autumnal Equinox Day, respectively). Accordingly many popular places may be somewhat crowded.

If you are looking for things to do over the coming week (like catching the final days of the Snoopy Museum - or checking out the Tokyo Game Show), be sure to check out the links below!
Source for forecast and images: Japan Meteorological Agency website / http://www.jma.go.jp/jma/indexe.html
Area

Category

Articles Genre
*This information is from the time of this article's publication.
Recommended places for first-time visitors to Tokyo