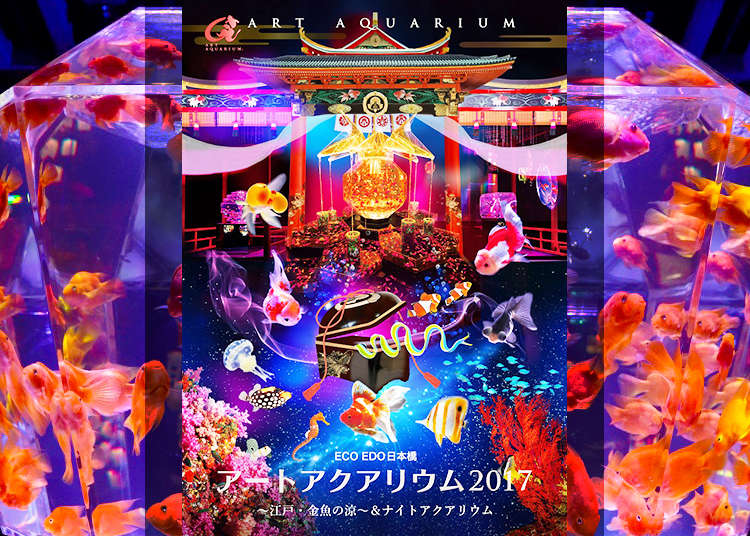 Every summer, Tokyoites look forward to the city's most popular art exhibition: it's the ECO EDO Nihonbashi Aquarium. This amazing event is all about mixing tradition with modernity. Hundreds of goldfish swim in amazingly designed and lit up aquariums, evoking both the image of Old Edo and a fantastical illumination wonderland.
In 2017, the Art Aquarium opens its doors from July 7 under the theme of Ryugu Palace, Japan's mythical Palace of the Dragon King. Look forward to entering an enigmatic underwater world, populated by numerous fish that swim in aquariums styled after pompous treasure chests called "tamaterium," hanging scrolls, and more! Now, let's step through the gates of Ryugu Palace...
A Fantastic Scenery to Bring a Bit of Magic to Your Japanese Summer Experience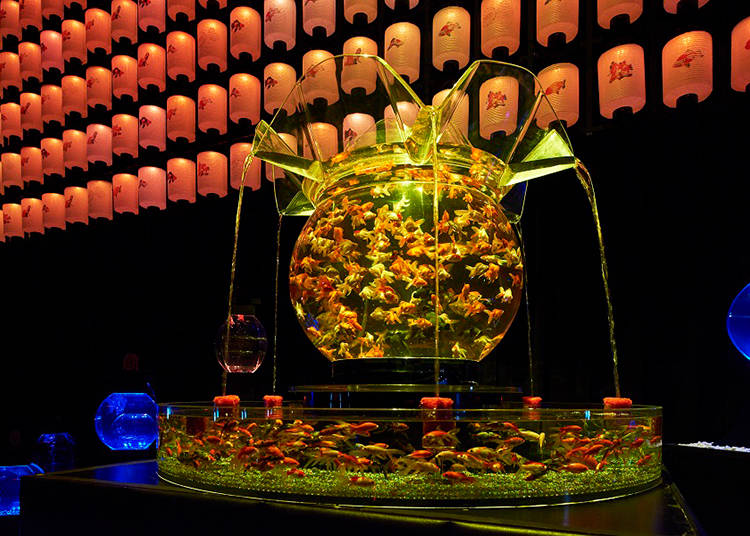 The "oiran"
The ECO EDO Nihonbashi Art Aquarium takes place from July 7 to September 24 on the 15th floor of the Nihonbashi Mitsui Hall, so there is plenty of time to explore. Ever since the fantastical exhibition first took place 11 years ago, it has drawn in a total of 7.3 million people! Goldfish are closely connected to the Japanese summer ever since the Edo period, and the art aquarium really does a fantastic job of bringing this traditional imagery to the present in spectacular ways. The creative brain behind the Art Aquarium summer magic is Hidetomo Kimura and his aquatic art group.
Over 8,000 Goldfish Dance Around the Art Aquarium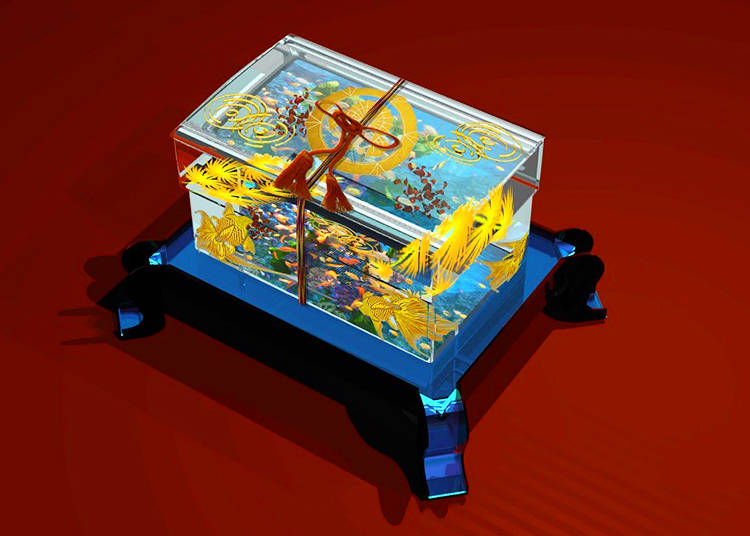 The "tamaterium"
As already mentioned above, the 2017 theme of Art Aquarium is Rugu Palace. According to Japanese folklore, it's the home of a dragon called Ryujin, who is also the god of the sea. The many tanks of Art Aquarium are all designed to evoke the image of this underwater palace. One of the most prominent examples is the "tamaterium," a fish tank that resembles a treasure chest. These artistic creations house over 8,000 ornamental fish, the majority of them goldfish varieties that seem to dance gracefully through the many decorations.
The Night Aquarium: Enjoying Fish and a Cold Drink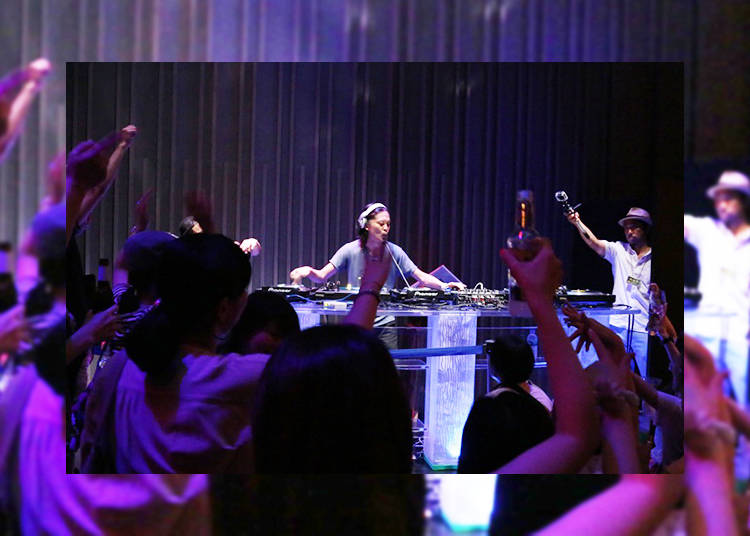 A 2016 event
Every day from 7:00 p.m., the Art Aquarium transforms into the Night Aquarium. While the exhibition stays the same, your experience is enhanced with alcoholic beverages of various kinds!
On top of that, events take place on specially set up stages, including performances by both Japanese and international DJs, live Jazz bands, drama shows, and even traditional dances of Japan's famous maiko and geisha. For the real cultural experience, be sure to visit Art Aquarium after the sun has set.
Cooling Down: The Art Aquarium Way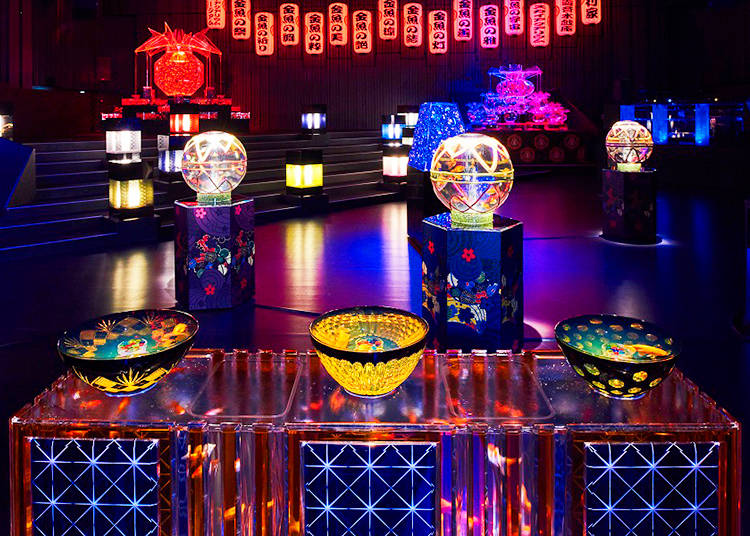 The venue at the opening in 2016
Of course, Art Aquarium makes for an excellent destination especially for tourists visiting Tokyo in the summer. Since the entire wonderland is inside, it's a wonderful spot to escape the harsh summer heat or fill your sightseeing program on a rainy day. But climate aside - it's an amazing experience that lets you taste the magic of one of Japan's most famous folklore legends, presented in a breathtakingly beautiful, modern way.
What else is there to say? Start your journey into the mystical underwater world of Ryugu Palace at Tokyo's ECO EDO Nihonbashi Art Aquarium!

Date: July 7 (Fri) - September 24 (Sun) 2017
Hours: 11:00 a.m. - 11:30 p.m. (last admission at 11:00 p.m.)
Art Aquraium: 11:00 a.m. - 7:00 p.m.
Night Aquarium: 7:00 p.m. - 11:30 p.m.
Admission: 1,000 yen (regular, from junior high) 600 yen for children (between the age of 4 and elementary school)
Closed: always open
※※Hours may differ for certain events, so please be sure to check the official homepage.
Nihonbashi Mitsui Hall (COREDO Muromachi 15F)

日本橋三井ホール(コレド室町15階)

Address

2-2-1 Nihonbashi Muromachi, Chuo-ku, Tokyo-to 103-0022
Area

Category

Articles Genre
*This information is from the time of this article's publication.