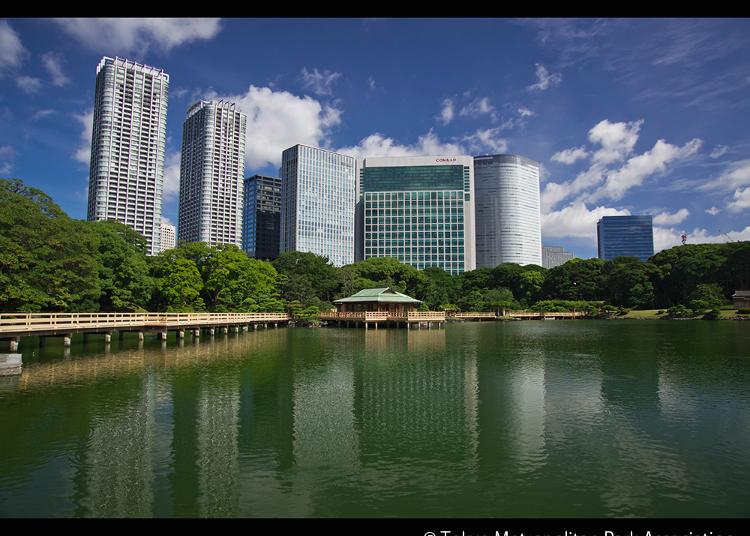 Here are the best Gardens in Tokyo and Surroundings, with travel tips and more, according to LIVE JAPAN, a top-class travel website for visitors to Japan. Our ranking is based on the most popular pages viewed by foreign visitors in a given category.

For instance, Shinjuku Gyoen National Garden, Hamarikyu Gardens, Rikugien Gardens and other related spots will be listed. Be sure to check them out during your visit to Tokyo and Surroundings!
1.Shinjuku Gyoen National Garden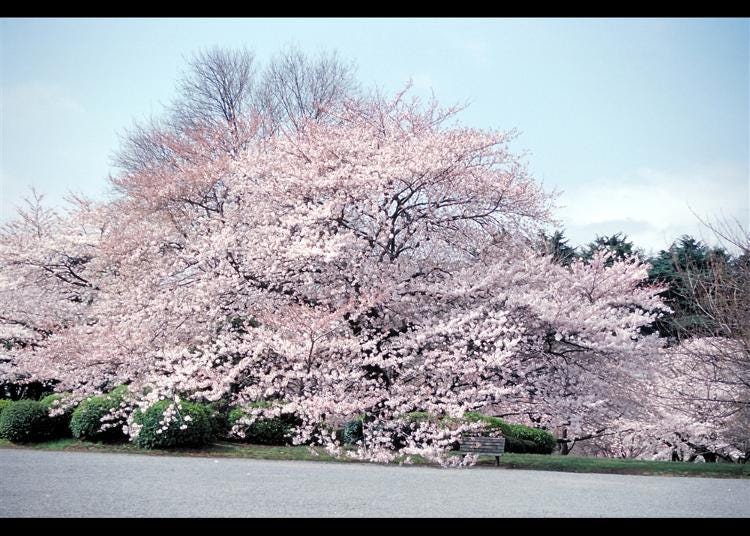 Shinjuku Gyoen a spacious garden with an area of 58.3 hectares (144 acres) and a circumference of 3.5 kilometers. In 1906 it was established as an Imperial Garden and it is now managed by the Japanese government. It consists of three distinct styles: an expansive Landscape Garden, a symmetrically arranged Formal Garden, and a calm Japanese Traditional Garden. These well-designed gardens are said to be masterpiece of garden landscapes in Japan. It is a place where you can fully enjoy the scenery in every season. About 1,000 cherry trees from 65 species bloom in spring, and in autumn the fall foliage is spectacular. Shinjuku Gyoen also has a tea house where you can enjoy powdered green tea and traditional Japanese cakes. Experiencing a casual tea ceremony (for an extra fee) is one of the attractions. Admission Fee: Adults ¥500; Junior high school students and under are free. Shinjuku Gyoen is a five-minute walk from the Tokyo Metro Marunouchi Line Shinjuku-Gyoenmae Station (Exit No. 1) or a ten-minute walk from JR (Japan Railways) Shinjuku Station (South Exit). Note that alcoholic beverages cannot be brought into the park and that use of toys and sports equipment is also prohibited in the garden.
Address

11 Naito-cho, Shinjuku-ku, Tokyo, 160-0014
View Map

Nearest Station

Shinjuku-Gyoemmae Station (Tokyo Metro Marunouchi Line)
5 minutes on foot


Phone Number

03-3350-0151
A representative daimyo teien (feudal lord's garden) of the Edo Era, with a tidal pond and two duck hunting sites. Historically, it was a falconry for the shogun's family. The tidal pond is a seawater pond that depends on the intake of water from Tokyo Bay, and the atmosphere of the pond changes as the intake volume is adjusted by opening or closing the water gate according to changes in the water level of Tokyo Bay. In the fall and the winter, wild ducks still fly to the duck hunting site, which was used as a hunting site during the Edo Era. There is also a 300-year-old pine tree, which is said to have been planted to praise the great achievements of the sixth Tokugawa shogun, Ienobu, who ordered large-scale reconstruction of this garden. There are 800 plants of 60 species planted in the garden and the flowers of the seasons, such as cherry blossoms in spring and peonies in winter, are worth seeing. At the tea room called Chaya, you can enjoy a cup of tea with Japanese-style sweets while appreciating the beautiful landscape of the garden. Currently, it is designated a Special Place of Scenic Beauty and a National Special Historic Site by the nation. It takes 5 minutes to get to Ujoguchi located inside of the garden from Shiodome Station of Metropolitan Subway Oedo Line and 7 minutes to get to Otemon gate from Tsukijishijo and Shiodome stations on the Metropolitan Subway Oedo Line and Shiodome Station on Yurikamome.
Address

Hamarikyuteien, Chuo-ku, Tokyo, 104-0046
View Map

Nearest Station

Tsukijishijo Station (Toei Oedo Line)
5 minutes on foot


Phone Number

03-3541-0200
Rikugien is a landscape garden created in 1695 by Yanagisawa Yoshiyasu, soba-yonin (chamberlain and aide) of fifth Edo shogun Tsunayoshi, who gifted the land. It took seven years for Yoshiyasu to complete the spacious garden, which was designed to allow appreciation while freely circling the pond. The garden area, originally flat, became an atmospheric scene of Japanese aestheticism with spacious ponds reflecting verdant trees, and tsukiyama or raised mountains symbolizing the relationship between man and woman. Weeping cherry trees blooming around late March are another draw. Edohigan (Cerasus spachiana var. spachiana forma ascendens) is a genus of Cerasus, known as weeping cherry, with blossoms cascading like waterfalls on pliant branches. The garden's significant artistic value earned its selection as a Special Site of Scenic Beauty. Guided tours are available for overseas visitors. A seven-minute walk from Komagome Station on either the JR Yamanote or Tokyo Metro Namboku Line.
Address

6, Honkomagome, Bunkyo-ku, Tokyo, 113-0021
View Map

Nearest Station

Komagome Station (JR Yamanote Line / Tokyo Metro Namboku Line)
7 minutes on foot


Phone Number

03-3941-2222
4.Imperial Palace East Garden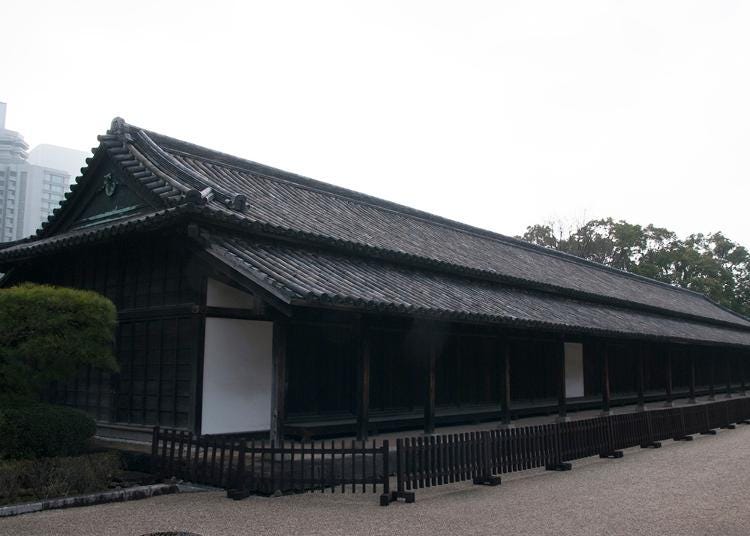 As part of constructing the Imperial Palace, areas enclosed by the eastern outer walls of the former Edo castle — Honmaru, Ninomaru and Sannomaru — were turned into gardens. Development began in 1961 and ended in 1968 with the public opening of the East Gardens. Covering some 210, 000 square meters, the gardens contain such buildings as Toukagaku-do, a music hall built in 1966 to commemorate Empress Kojun's 60th birthday, and Sannomaru Shozokan, which houses paintings, calligraphy and crafts handed down to the Imperial Family. Other major buildings include the Music Department, where public performances of gagaku (ancient court music and dance) are held every autumn, and Shoryobu, which manages the valuable archives and mausoleums of the Imperial Family. The closest railway station depends on the entrance gate. For instance, Otemon Gate is a five-minute walk from Otemachi Station on the Tokyo Metro and Toei lines; Hirakawamon-gate, a five-minute walk from Takehashi Station on the Tokyo Metro Tozai Line; and Kitahane-bashi-gate, a five-minute walk from Takehashi Station on the Tokyo Metro Tozai Line.
Address

1-1, Chiyoda, Chiyoda-ku, Tokyo, 100-0001
View Map

Nearest Station

Nijubashimae "Marunouchi" Station (Tokyo Metro Chiyoda Line)
5 minutes on foot


Phone Number

03-3213-1111
5.Kyu-Iwasaki-tei Gardens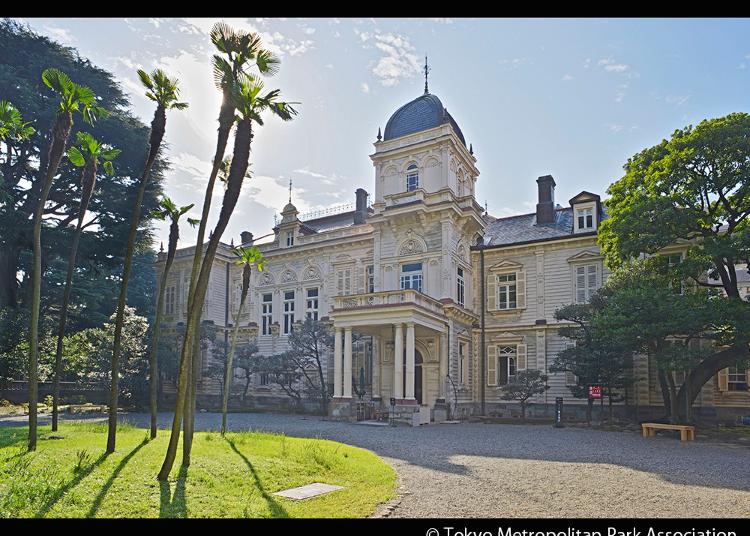 British architect Josiah Conder, known for the Rokumeikan, designed this mansion built in 1896. Its wooden, Western-style architecture represented modern Japan. It was constructed as the official residence for Hisaya Iwasaki, first son of Yataro Iwasaki, founder of Mitsui Zaibatsu (one of three such financial conglomerates in Japan). Today, only one-third of the original site remains: the Western-style building, billiard hall and Japanese-style building. The billiard hall was designed like a Swiss lodge, which was quite rare in those days; its basement connects with the Western-style building. The Japanese-style building, connecting with the Western one, adopts a traditional technique called shoin-zukuri. On the alcove and fusuma (partition doors) are works ostensibly by Gahou Hashimoto, a notable Meiji-Era painter. In 1999, the entire building and its survey drawings became Important Cultural Properties. A three-minute walk from Yushima Station on the Chiyoda Line.
Address

1, Ikenohata, Taitou-ku, Tokyo, 110-0008
View Map

Nearest Station

Yushima Station (Tokyo Metro Chiyoda Line)
3 minutes on foot


Phone Number

03-3823-8340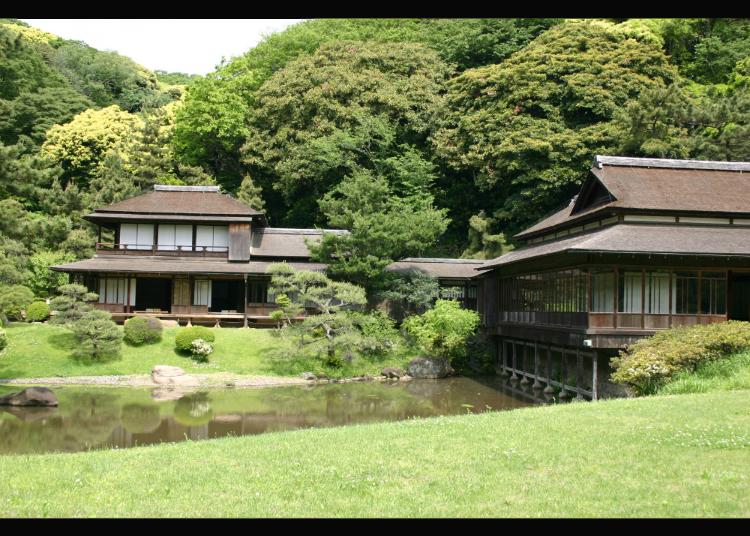 The garden was created and opened in 1906 by Sankei Hara, who made a fortune in a silk-reeling industry and from silk trading. Inside the spacious Japanese garden, 175,000 square meters in area, the old historical buildings moved from Kyoto and Kamakura (ten of National Important Cultural Properties, three of Tangible Cultural Properties designated by Yokohama) are neatly placed. You can enjoy the historical buildings such as the three-story pagoda from old Tomyoji, tea houses and houses with steep rafter roofs along with views in harmony with nature of the seasons such as plums, cherry blossoms, lotus flowers and autumn leaves. The garden also has the Sankei Memorial Hall where items such as art works that are exhibited, chaya (Japanese style cafe) and a museum shop can be enjoyed. It is about a 10-minute City Bus (Line No.58, No.99 or No.101) ride from JR Negishi Station and about a 10-minute walk from the Honmoku bus stop. It is a 15-minute City Bus (Line No.8 or No.148) ride from the Yamashita-cho bus stop near the Exit 0000004 of the Motomachi-chukagai Station of the Minato Mirai Line and another 5-minute walk after getting off at the Honmoku-sankeien-mae bus stop.
Address

58-1, Honmokusannotani, Naka-ku, Yokohama-shi, Kanagawa, 231-0824
View Map

Nearest Station

Negishi Station (JR Negishi Line)
10 minutes by bus


Phone Number

045-621-0634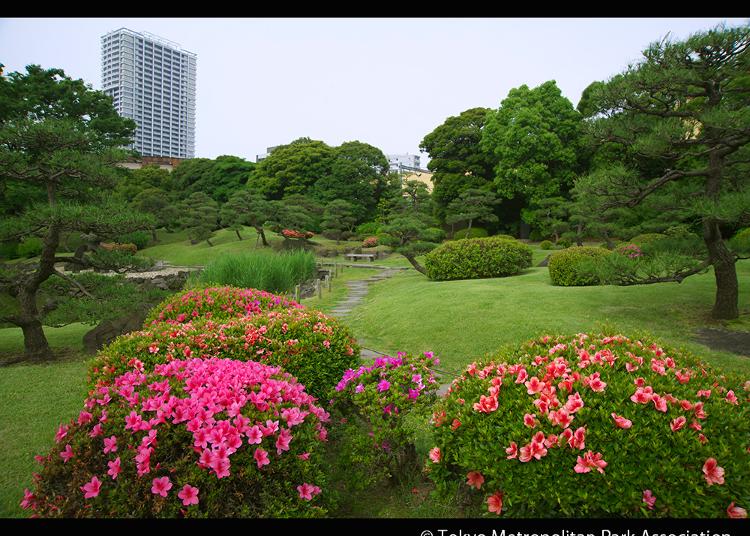 This is one of the remaining feudal lord gardens in Tokyo from the early Edo Period (mid-17th century). It is a circular landscape garden with a spacious pond at its center. The main features of the garden are a pond surface that reddens with the setting sun, and valuable stones such as nebukawa-ishi (pyroxene andesite) from Odawara and kuroboku-seki (dark-colored basaltic pumice) from Fuji. Other features include the karetaki, or dry waterfall, denoting cascades over a gorge stream; a stone bridge arching over the pond's Nakajima island resembling one over the Baidi causeway at West Lake in Hangzhou, China; and notable rock formations including Mount Penlai, the mythological Chinese mountain of immortality, recreated on Nakajima island. The West Lake causeways have been motifs for poems and paintings since ancient times. This garden is also a popular place to enjoy plum blossoms in spring and reddish maple leaves in autumn. In 1979, the garden was designated a Place of Scenic Beauty under the Act to Protect Cultural Properties. A one-minute walk from Hamamatsu-cho Station on both the Yamanote and Keihin Tohoku Lines.
Address

1, Kaigan, Minato-ku, Tokyo, 105-0022
View Map

Nearest Station

Hamamatsucho Station (JR Keihin-Tohoku Line / JR Yamanote Line)
1 minute on foot


Phone Number

03-3434-4029
8.Yokosuka Kurihama Flower Park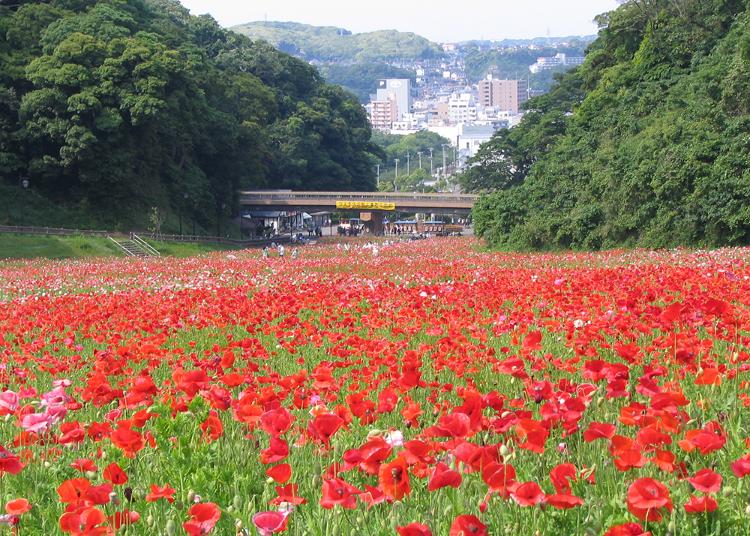 It is a large park that utilizes its natural, geological landscape. Many kinds of flowers are blooming. The cosmos and poppy garden is especially famous as poppies bloom in spring and cosmos flowers in autumn. The park has one million flowers covering its grounds like a carpet. The herb garden in the Kurihama Hanano-kuni area is known as one of the best in the Kanto region. This garden has about 30,000 roots of herbs in 130 different varieties. Lavenders and other flowers are in season between spring and early summer and sages in autumn. The characteristic of the Kurihama Flower World is not only flowers but also its abundant facilities such as a playground (the Adventure Land), a golf course, an archery field, and an air-rifle field. The Adventure Land has large-sized equipment such as huge Godzilla slides and 45-meter-long roller slides and is very popular among children. Within its large premises with rolling hills are steam locomotive-shaped buses called "Flower Trains," providing regular service, and visitors can travel comfortably while enjoying the view. The park is a 15-minute walk from the JR Kurihama Station or the Keikyu Line's Kurihama Station.
Address

1, Shinmeicho, Yokosuka-shi, Kanagawa, 239-0832
View Map

Nearest Station

Kurihama Station (JR Yokosuka Line)
15 minutes on foot


Phone Number

046-833-8282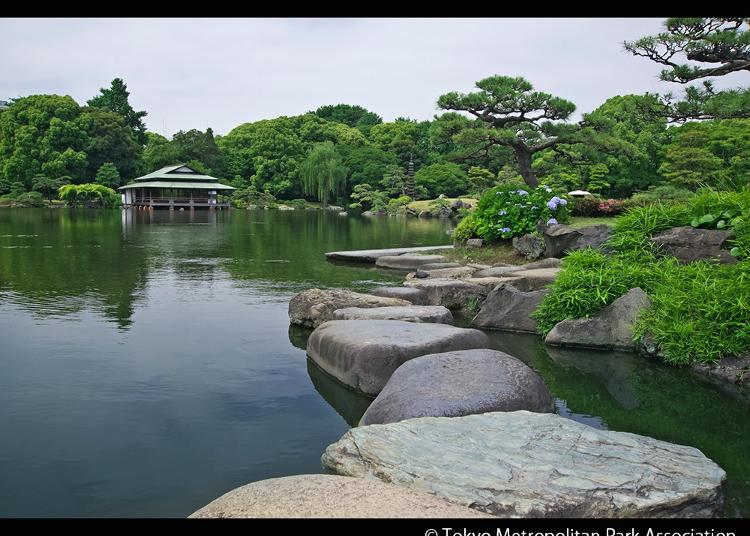 Kiyosumi Teien, designated a Place of Scenic Beauty in 1979, is a stroll-style garden featuring miniature hills and dry landscaping. The cornerstone of the garden is a huge pond ("sensui" in Japanese) that, containing three islets and the shadows of trees, creates stunning vistas. Water for the pond water once came from the Sumida River and now comes from rainwater. Extending into the pond is the sukiya-style (architectural aesthetics developed by tea masters in the 16th–17th centuries) Ryotei tea house, designated an Outstanding Historical Building by the Tokyo Metropolitan Government. Other highlights of the garden are the artificial mountain (Fuji-san), a typical motif of many Japanese gardens, its sides covered with azaleas and other vegetation to denote a waving sea of clouds, and the Japanese-style rock garden made up of assorted stones and gems. A three-minute walk from Kiyosumi-shirakawa Station on either the Toei Oedo or Tokyo Metro Hanzomon Lines.
Address

2, Kiyosumi, Koutou-ku, Tokyo, 135-0024
View Map

Nearest Station

Kiyosumi-Shirakawa Station (Tokyo Metro Hanzomon Line / Toei Oedo Line)
3 minutes on foot


Phone Number

03-3641-5892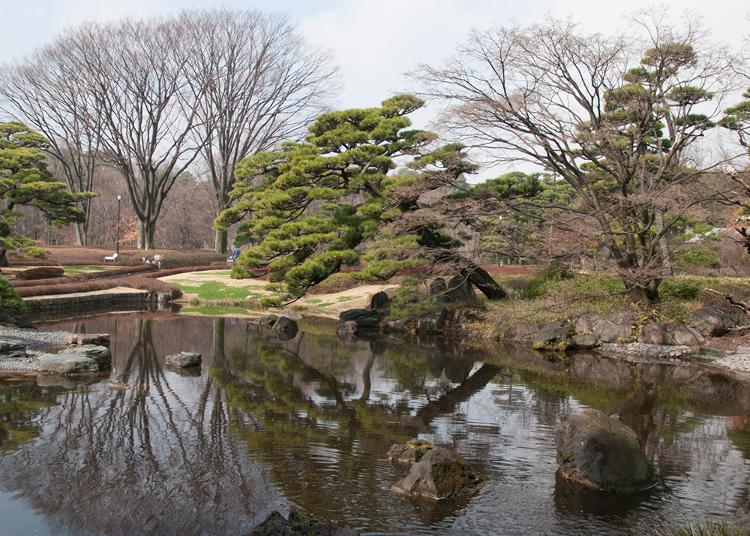 Ninomaru Garden is a five-minute walk from the C13a Exit of Otemachi Station on both the Tokyo Metro and Toei lines. The garden was created in 1968 based on a plan drawn up during the reign of ninth shogun Tokugawa Ieshige. Stretching out before your eyes is a lush Japanese garden free from the hustle and bustle of urban life. Enjoy the essence of the season such as azaleas in spring, irises in early summer and camellias in winter along with the wild birds and insects drawn by the flowers. Ninomaru Garden is an oasis in the city, a place to enjoy some relaxing moments. Access through the three East Garden gates: Ote-mon, Hirakawa-mon and Kitahanabashi-mon. Opening hours depend on the season, so be sure to check before going.
Address

Imperial Palace East Garden, 1-1, Chiyoda, Chiyoda-ku, Tokyo, 100-8111
View Map

Nearest Station

Takebashi Station (Tokyo Metro Tozai Line)
5 minutes on foot


Phone Number

03-3213-1111
*This information is from the time of this article's publication.
*Prices and options mentioned are subject to change.
*Unless stated otherwise, all prices include tax.