Here are the best Landmarks in Tokyo and Surroundings, with travel tips and more, according to LIVE JAPAN, a top-class travel website for visitors to Japan. Our ranking is based on the most popular pages viewed by foreign visitors in a given category.

For instance, Tokyo Metropolitan Government, Tokyo Skytree®, Nishi Shinjuku LOVE Statue and other related spots will be listed. Be sure to check them out during your visit to Tokyo and Surroundings!
1. Tokyo Metropolitan Government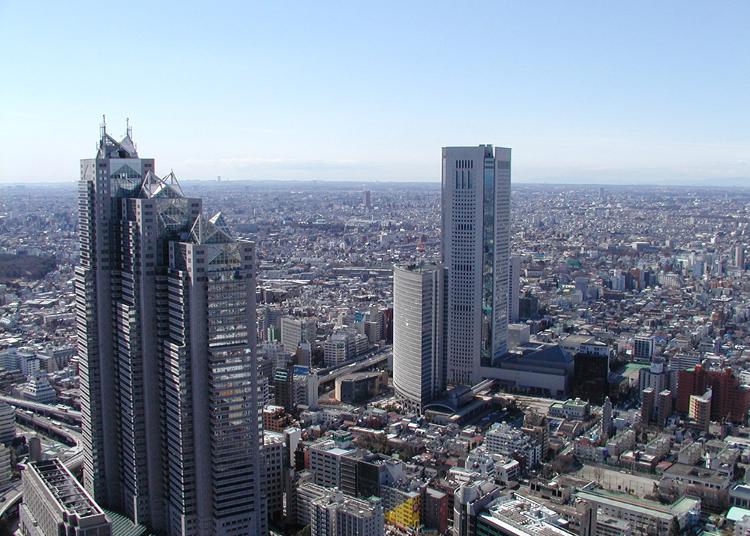 The Tokyo Metropolitan Government started its operation in the unique and impressive building in 1991. Within the premises of approximately 42,940 square meters, the 243-meter-tall Main Building No.1, the Main Building No.2, and the Tokyo Metropolitan Assembly Building are located, and visitors can tour the premises without a prior appointment. The observation deck at a height of 202 meters above ground on the 45th floor of the Main Building No.1 is particularly popular as a sightseeing spot in Tokyo. You can enjoy the view of Mt. Fuji on a fine winter day and a panoramic view of the city glistening with illumination in the evening. Admission is free. In addition, the Tokyo Tourist Information Center and Japanese prefectural tourism promotion booths on the premises are very useful for people traveling not only in Tokyo but also to other areas in Japan. Also, 38 pieces of artwork, including sculptures and reliefs, are displayed in the buildings. Visitors can appreciate works of famous modern art artists in and out of the country as well as the works publicly solicited from the general public or young artists. Dining facilities, cafes, and kiosks are available on the premises, so it is a convenient place to have a break during sightseeing in Tokyo.
Address

2-8-1, Nishishinjuku, Shinjuku-ku, Tokyo, 163-8001
View Map

Nearest Station

Tochomae Station (Toei Oedo Line)


Phone Number

03-3277-2815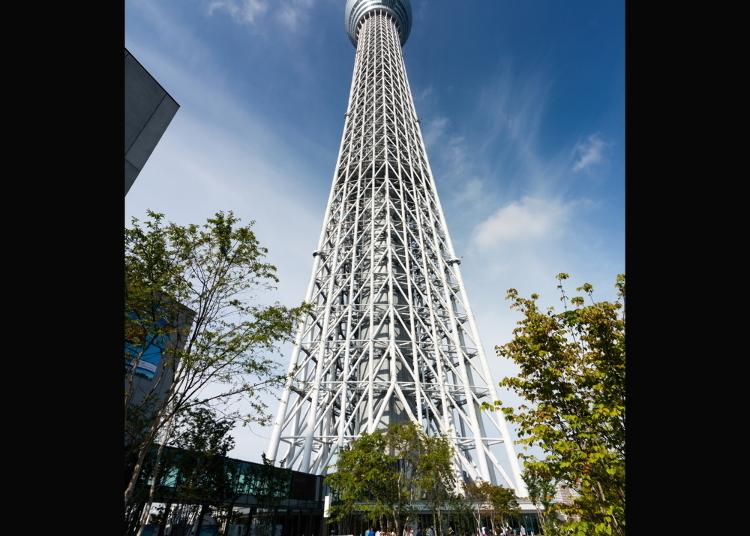 Tokyo Skytree opened in 2012. In addition to playing a role of a freestanding radio tower, it garners popularity as a popular sightseeing spot. This 634-meter tower was constructed with a tree growing up into the sky as the concept. At 350 meters above the ground is a triple-layered Tembo observation deck, and restaurants where you can spend time looking out at the view, an official shop, and a photo service station are placed. When you change elevators to go further up to the Tembo Galleria at 450 meters above the ground, you can enjoy a 360-degree panoramic view that affords as far as 70 kilometers away. You need to purchase a separate ticket to go there, but it is worth the purchase to see the townscape from high up in the sky. The light up of the Skytree tower at night is also attractive. Two patterns, Iki chic blue showing the spirit of the tower and Miyabi elegant purple expressing the sense of beauty alternately illuminate the night sky over Tokyo. You will be fascinated by this lighting effect showing Edo aesthetics with the friendly atmosphere of the traditionally commercial and working-class neighborhoods.
3. Nishi Shinjuku LOVE Statue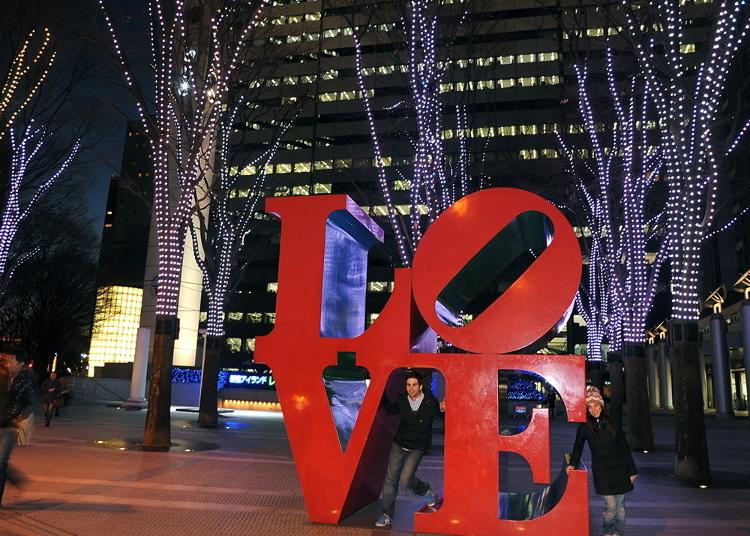 LOVE Objet is a popular meeting place at Nishi-Shinjuku Station. It is a public artwork fronting the entrance of Shinjuku i-LAND, a skyscraper with 44 floors of offices, stores, residences and a specialty school. The famous objet, created by American artist Robert Indiana, is frequently shown on TV and is a popular meeting place for couples. It has even spawned its own subculture: one rumor says that if you can pass between the V and E without your body touching it, your romantic relationship will succeed.
Address

6-5-1, Nishishinjuku, Shinjuku-ku, Tokyo, 163-1312
View Map

Nearest Station

Nishi-Shinjuku Station (Tokyo Metro Marunouchi Line)
1 minute on foot


Phone Number

03-3348-1177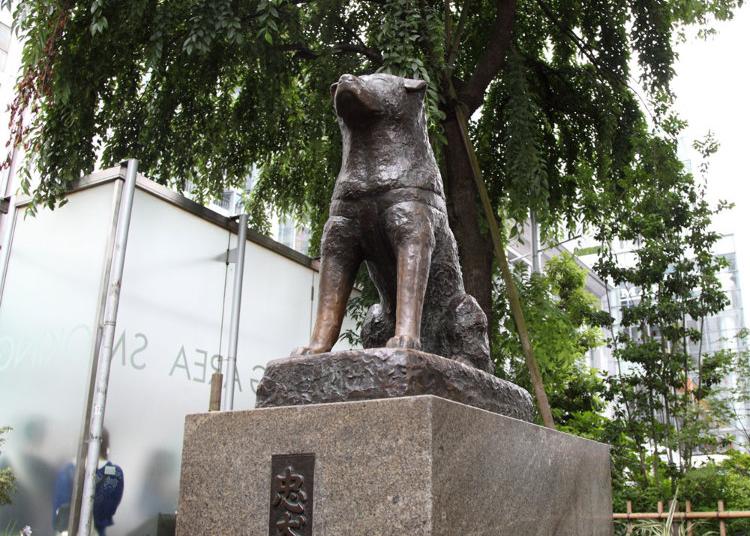 The bronze statue of Chuken Hachiko is in the square of Shibuya station, and is a popular meeting place. The model of this statue was an Akita dog Hachi, who was a pet of Hidesaburo Ueno, a professor in the Faculty of Agriculture at the University of Tokyo. Being brought up with a lot of love to become a faithful dog, it was Hachi's daily routine to greet the professor. When the professor suddenly passed away in 1925, Hachi continued to wait for his deceased master at Shibuya Station for 10 years. In 1934, a fine bronze statue of 162 centimeters on a 180 centimeter plinth was built by the donations of people who were moved by Hachi's faithful actions. At the unveiling ceremony, around 300 people gathered including the professor's wife and representatives from various quarters, and it is said that Hachi was also watching with the stationmaster of Shibuya Station. It was once taken away during World War II, but it was reinstalled in 1948, which is the statue that stands today.
Address

2-1, Dogenzaka, Shibuya-ku, Tokyo, 150-0043
View Map

Nearest Station

Shibuya Station (JR Shonan Shinjuku Line / JR Yamanote Line / JR Saikyo Line / Tokyo Metro Ginza Line / Tokyo Metro Hanzomon Line / Tokyo Metro Fukutoshin Line / Tokyu Toyoko Line / Tokyu Den-en-toshi Line / Keio Inokashira Line)


Phone Number

03-3462-8311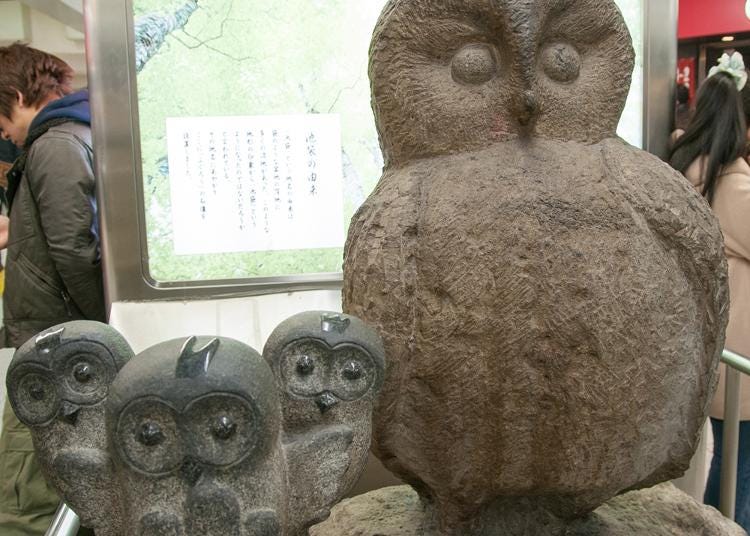 Ikefukuro or Ike-fukuro is a stone statue erected in September 1987. It was created because there was no outstanding meeting spot in the Inkebukuro Station when the JR (Japan Railways) was launched in March of the same year. Fukuro (an owl) is a pun on the "bukuro" part of the word "Ikebukuro." Initially, the station staff tried to carve an owl out of wood, only to fail. They contracted the work to a masonry company in the Tochigi prefecture, which completed it. The history of the Ikebukuro area is inscribed on the post placed just behind the statue. In 2006, a new statue of three little owls was placed next to the original one. The three-little-owl statue was a generous donation from the 5th-grade class-1 pupils of the nearby Ikebukuro Dai-san (No. 3) Elementary School. Both statues are now popular as the "parent and baby owls."
Address

The Ikebukuro Station yard, 1, Minamiikebukuro, Toshima-ku, Tokyo, 171-0022
View Map

Nearest Station

Ikebukuro Station (JR Shonan Shinjuku Line / JR Yamanote Line / JR Saikyo Line / Tokyo Metro Marunouchi Line / Tokyo Metro Yurakucho Line / Tokyo Metro Fukutoshin Line / Seibu Ikebukuro Line / Tobu Tojo Line)


Phone Number

03-3988-2914
6. Panasonic Center Tokyo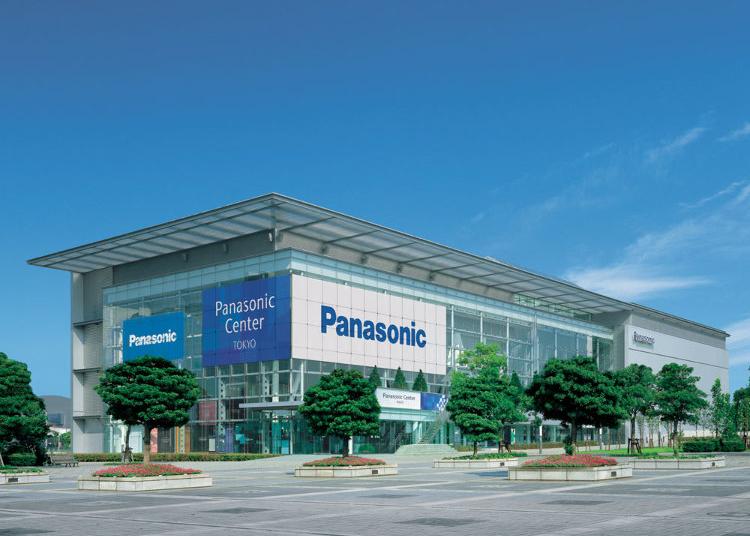 Panasonic Center Tokyo is a corporate showroom where you can experience technology through various products and events. General admission is free, with some areas requiring a surcharge. The first floor exhibits Panasonic goods, including next-generation products, all organized by theme, and lets you try them out. At the Nintendo Game Front section on the second floor, you can enjoy popular video games on large displays and even have your picture taken with Super Mario. Also on the second (and third) floor is RiSuPia, a hands-on museum where visitors can experience mathematics hidden in nature and the joy of discovering science hidden in everyday life. The second floor also has a café if you need a break.
Address

3-5-1, Ariake, Koutou-ku, Tokyo, 135-0063
View Map

Nearest Station

Kokusai-Tenjijo Station (Rinkai Line)
2 minutes on foot


Phone Number

03-3599-2600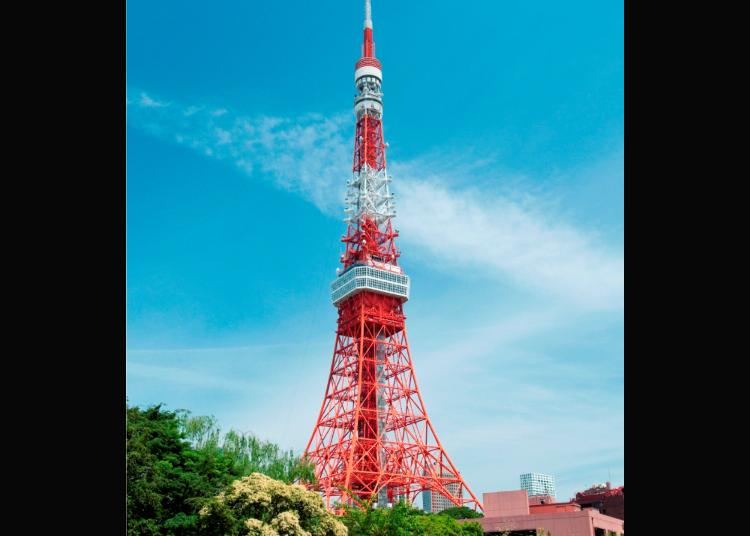 Tokyo's iconic tower, the Tokyo Tower, with a height of 333 meters, was built as a general television and radio broadcasting tower in 1958. In the present day, the Tower is frequented by those seeking views of the cityscape of Tokyo from either of the Tower's two observation decks. The main observation deck is at 150 meters from the ground, and the special observation deck at 250 meters is located on the top floor. The main observation deck spans two floors and is accessible by staircase or by one of three elevators. Once on the observation deck, visitors can find a cafeteria and a kiosk as well as a special stage, Club 333, where audiences become entranced by the superb view of Tokyo and special music events. The Tower, when lit up at night, livens up the night view of Tokyo. Through various colors and illumination patterns, the tower expresses the themes of Earth, peace, or dreams. Visitors may also see the Tower lit up in different ways depending on the event, promotions, and seasons. Hosted inside the Tower, visitors can enjoy an aquarium, food court, or souvenir shops.
8. Statue Of Liberty, Tokyo
The French Statue of Liberty made in France in 1889 was placed in Odaiba from April 1998 to January 1999 as a symbol of the Japan-France friendship. It was her first exhibition abroad. The statue was so popular that people wanted to have their own as her return date approached. The present statue is a replica created in 1999 with official permission from the city of Paris and was unveiled on December 22, 2000. It is 12.25 meters in height from the pedestal to the top and weighs 9 tons. The best spot to take its photos is the promenade called Skywalk, which connects the Odaiba Marine Park and the Symbol Promenade Park. You can see the statue up close from there.
Address

1, Daiba, Minato-ku, Tokyo, 135-0091
View Map

Nearest Station

Odaiba-Kaihinkoen Station (Yurikamome)
3 minutes on foot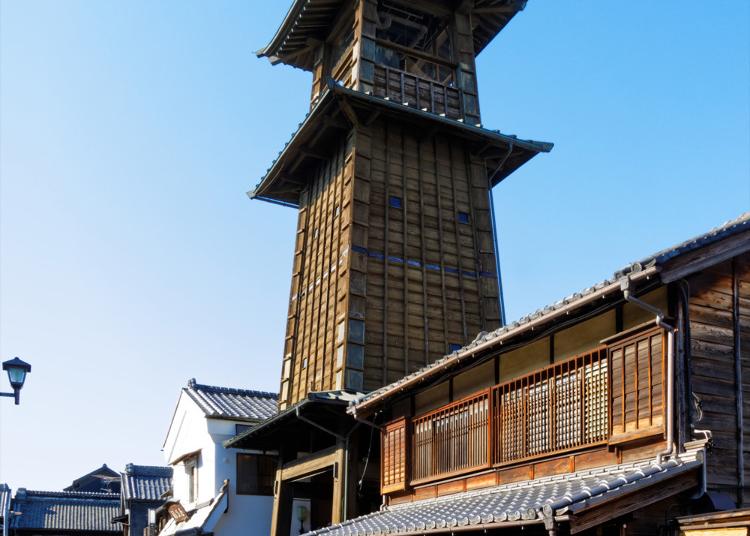 The Chime of Time is a symbol of Kawagoe, a town of traditional Japanese warehouses. Locals love the Chime, which has been telling time since the Edo Period. It is said to have been built 400 years ago. The present tower and bell are the fourth generation, having been rebuilt after burning down several times. The Chime is 16-meters high and has three wooden layers; it sounds four times a day. While it now rings automatically, the tone informing locals of the time has not changed, and in 1996 was chosen as one of the "100 Soundscapes of Japan." The chime has a different character depending on the time of day, comforting those who seek nostalgia and healing.
Address

15-7, Saiwaicho, Kawagoe-shi, Saitama, 350-8601
View Map

Nearest Station

Hon-Kawagoe Station (Seibu Shinjuku Line)
15 minutes on foot


Phone Number

049-224-6097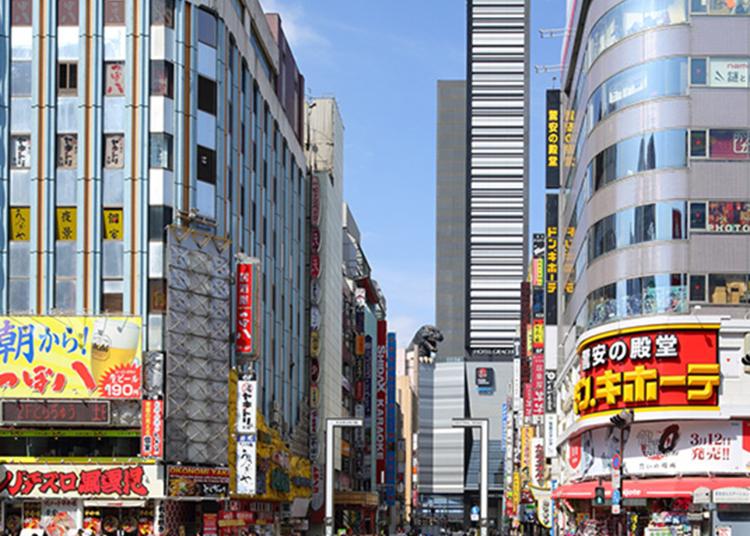 The huge Godzilla head that suddenly appeared in Kabuki-cho, Shinjuku, was established to convey the charm of the global character Godzilla when the Shinjuku Toho Building started business in April 2015. The Godzilla head placed in the outdoor terrace of the eighth floor is a life size model with a height of 12 meters. It is from the movie "Godzilla VS Mothra" filmed in 1992, which is a film in the Godzilla series. Toho Eizo Bijutsu, the producer of the movie, made this model that weighs 80 tons with special material reinforced with fiberglass. You can see it from behind the building from Yasukuni Street, which makes you feel like a real life Godzilla has appeared in Shinjuku.If you use the hotel or cafe in the building, you will be able to see the model up close from the terrace.
Address

1-19-1, Kabukicho, Shinjuku-ku, Tokyo, 160-0021
View Map

Nearest Station

Shinjuku Station (JR Shonan Shinjuku Line / JR Yamanote Line / JR Chuo Main Line / JR Saikyo Line / Tokyo Metro Marunouchi Line / Toei Shinjuku Line / Toei Oedo Line / Keio Line / Keio New Line / Odakyu Odawara Line)
5 minutes on foot

*This information is from the time of this article's publication.
*Prices and options mentioned are subject to change.
*Unless stated otherwise, all prices include tax.