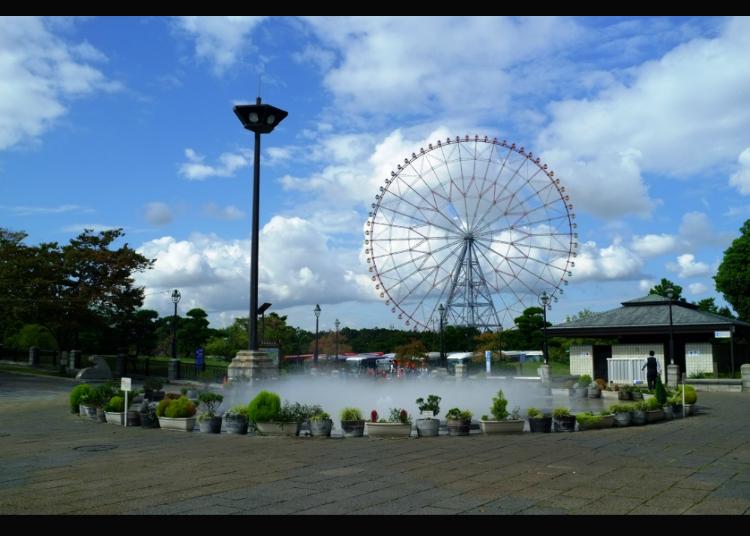 Here are the best Parks in Tokyo and Surroundings, with travel tips and more, according to LIVE JAPAN, a top-class travel website for visitors to Japan. Our ranking is based on the most popular pages viewed by foreign visitors in a given category.

For instance, Sumida Park, Yoyogi Park, Kasai Rinkai Park and other related spots will be listed. Be sure to check them out during your visit to Tokyo and Surroundings!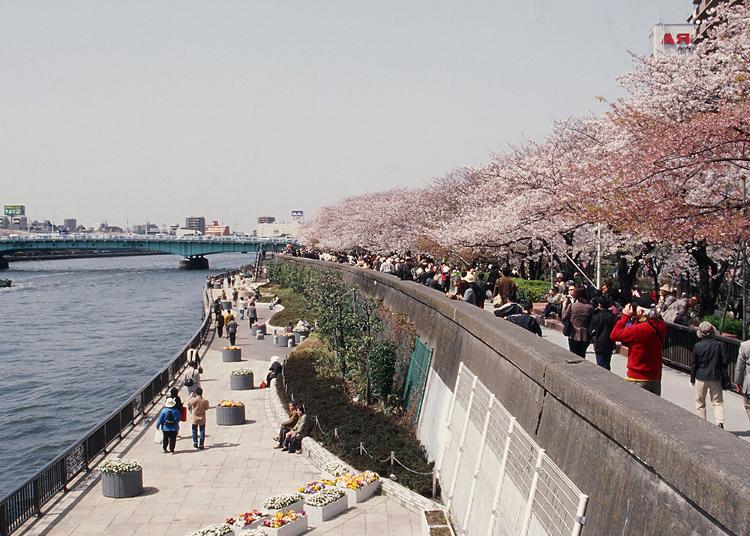 Approximately 45 acres, a park located along the Sumida River, extending over the two wards of Taito ward and Sumida ward. The Japanese garden on the Sumida ward side of the park was made using the remains of Mito Tokugawa family's residential house from the Edo period, such as its pond. The house was destroyed in the Great Kanto Earthquake. Later the remains were incorporated into the Sumida Park and transformed into the Japanese garden. About 1,000 cherry trees are planted in the park, 600 cherry trees in the Taito ward side and 400 cherry trees in the Sumida ward side and the park was selected as one of Japan's Top 100 Cherry Blossom Spots. Especially a stretch of both banks of the Sumida River between Azumabashi Bridge and Sakurabashi Bridge has approximately a 1 km line of cherry trees. It is a very popular photography spot where you can shoot photos of cherry blossoms with the Tokyo Skytree. During summer one of Japan's biggest firework festivals is held on the Sumida River. You can also enjoy sports at the sports center with a baseball field and tennis courts located in the Taito ward side.
Address

Sumida-ku, Tokyo, 131-0033
View Map

Nearest Station

Asakusa Station (Tokyo Metro Ginza Line / Toei Asakusa Line / Tobu Isesaki Line (Tobu Sky Tree Line) / Tsukuba Express)
5 minutes on foot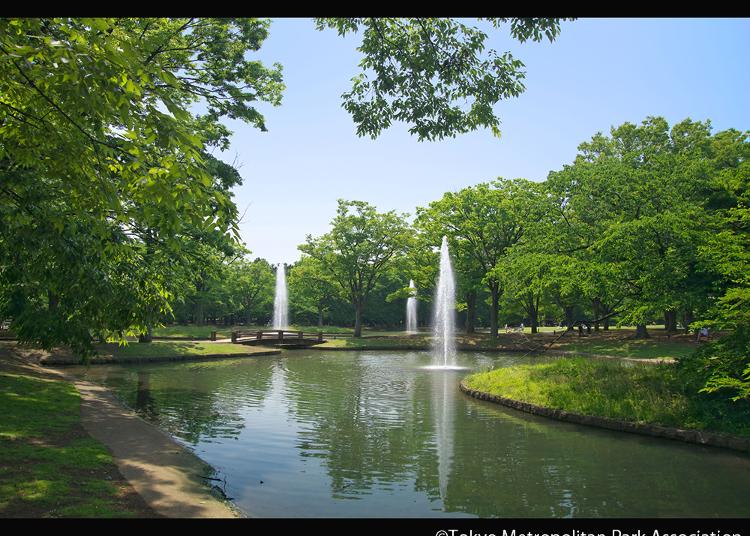 Yoyogi Park is the fifth largest among the Tokyo municipal parks within the 23 wards of central Tokyo, and many families and couples, regardless of age, visit the place during the weekends. The trees that were still young when the park opened have grown fully today, and a third of the park grounds is now covered with a dense green forest. The central field is wide open and covered with green grass. The three large and small fountains provide a wonderful water attraction too. A bird sanctuary (a natural reserve for wild birds) where visitors can watch various wild birds, as well as an observation deck, are also situated within the park. At the cycling center, bicycles are available for rent, and visitors can go around the cycling course in the park. The bicycles are not just for adults and children as there are tandem bicycles for two people, such as couples and families.
Address

2-1, Yoyogikamizonocho, Shibuya-ku, Tokyo, 151-0052
View Map

Nearest Station

Harajuku Station (JR Yamanote Line)
3 minutes on foot


Phone Number

03-3469-6081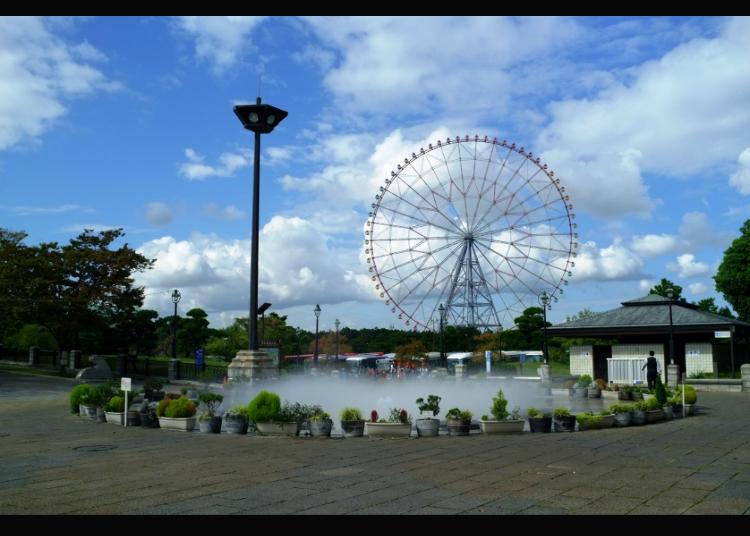 A Tokyo Metropolitan Park facing Tokyo Bay. Together with the adjoining Kasai Marine Park, it is beloved as a playground for Tokyo residents. The large park consists of five zones: Grass Field, Sea Breeze Field, Tokyo Sea Life Park, Bird Watching Center and Entrances. There is a broad range of experiential facilities to enjoy nature such as Tokyo Sea Life Park in the center of the park, a very popular Giant Ferris Wheel and Bird Watching Center. You can also see a splendid view of Tokyo Bay from the observation rest house, Crystal View. With an area appropriate for small children (Grass Field), a barbecue space (reservation required) and a hotel on the grounds, the park is very popular among families. A ride in the shape of a locomotive, Park Train, will take you on a slow 25-minute tour around the park. On a clear day, Boso Peninsula in Chiba and the Tokyo Bay Aqua-Line can be seen from the park.
Address

6, Rinkaicho, Edogawa-ku, Tokyo, 134-0086
View Map

Nearest Station

Kasairinkaikoen Station (JR Keiyo Line)
1 minute on foot


Phone Number

03-5696-1331
Ueno-onshi-koen, or the Ueno Park, is one of the most famous cherry blossom viewing sites in Japan, and there are about 1,200 cherry trees in the park. Every spring, when the cherry blossoms bloom, nearly 2 million people visit the park for hanami, or cherry blossom viewing (a custom in which food and alcohol are enjoyed under blooming cherry trees). In the evening, bonbori (paper lanterns) are lit, and the cherry blossoms look fantastic as they appear in the soft illumination of the paper lanterns. There are various festivals held in the summer such as enthusiastic performances by various artists, music concerts on the outdoor stage, and a bon-dance festival. (Bon is a religious observation.) A beautiful autumn foliage can also be viewed, and it attracts many visitors who want to experience a tasteful walk. In winter, there is an exhibition of beautiful peonies at the Ueno Toshogu Shrine, which is situated within the park. Peonies are some of the auspicious flowers celebrating a new year. Also, a zoo, a museum, and an art gallery are placed within the park premises, so the premises is widely known as bunka-no-mori (translated as the forest of culture).
Address

Uenokouen, Taitou-ku, Tokyo, 110-0007
View Map

Nearest Station

Ueno Station (Hokkaido Shinkansen Line / Tohoku Shinkansen Line / Akita Shinkansen Line / Yamagata Shinkansen Line / Joetsu Shinkansen Line / Hokuriku Shinkansen Line / JR Keihin-Tohoku Line / JR Yamanote Line / JR Tohoku Main Line / JR Utsunomiya Line / JR Takasaki Line / JR Joban Line / JR Ueno Tokyo Line / Tokyo Metro Ginza Line / Tokyo Metro Hibiya Line)
1 minute on foot


Phone Number

03-3828-5644
5. Wadakura Fountain Park
The Wadakura Fountain Park, completed in 1961, is located at the Wadakura area of the Kokyo Gaien National Garden. In 1995, the park was renovated to commemorate the wedding of Imperial Prince Akihito and Princess Michiko. Its grand fountain splashes water up to 8.5 meters, and the curtain of an artificial waterfall, 5.5 meters high and 30 meters across, is joined by a draining system. At night, these fountains are illuminated to create a fantastic vista in contrast to the daytime. The park also has a monument engraved with a poem by the Emperor, a restaurant, and a glass-covered rest area overlooking the entire park. There is also an information booth that explains the natural beauty of the Kokyo Gaien Imperial Garden.
Address

3-1, Koukyogaien, Chiyoda-ku, Tokyo, 100-0002
View Map

Nearest Station

Nijubashimae "Marunouchi" Station (Tokyo Metro Chiyoda Line)
1 minute on foot


Phone Number

03-3213-0095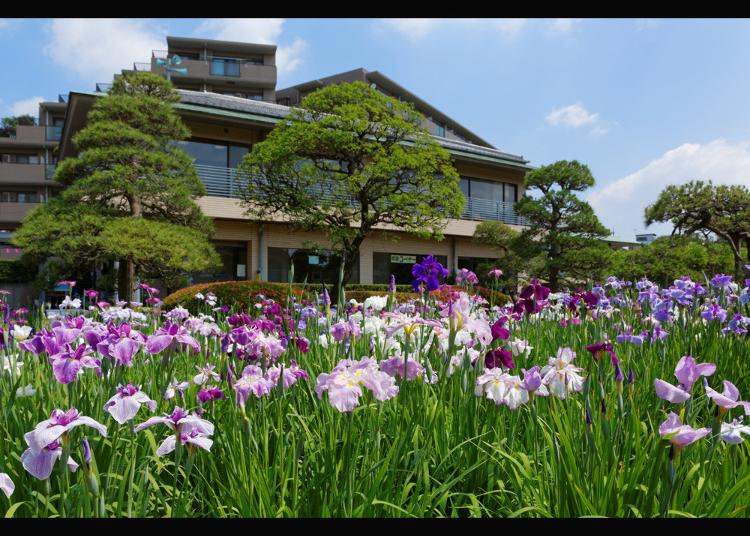 It was during the Edo period (1603-1868) when the iris garden opened in the Horikiri area in Edo (current Tokyo) as a tourist attraction. Among other iris gardens in Edo, the Horikiri Iris Garden was particularly chosen as the motif of ukiyo-e paintings by famous painters of the Edo period, such as Utagawa Hiroshige, because of the garen's magnificent sceneries. Even today, it is known as one of the most popular tourist attractions in the Tokyo Metropolis. During mid-June every year, 200 cultivars and 6,000 bulbs of irises gracefully welcome the visitors. The flower is associated with words such as "good news," "trust," and "grace." To coincide with the peak blooming season, the Katsushika Iris Festival is annually held around the garden in early June, attracting many people with parades, fairs, and bazaars. The garden is also a Japanese garden designed to enjoy the flowers of the season such as plum blossoms, wisteria, winter-blooming cherry, and peonies.
Address

2-19-1, Horikiri, Katsushika-ku, Tokyo, 124-0006
View Map

Nearest Station

Horikiri-Shobuen Station (Keisei Main Line)
10 minutes on foot


Phone Number

03-3697-5237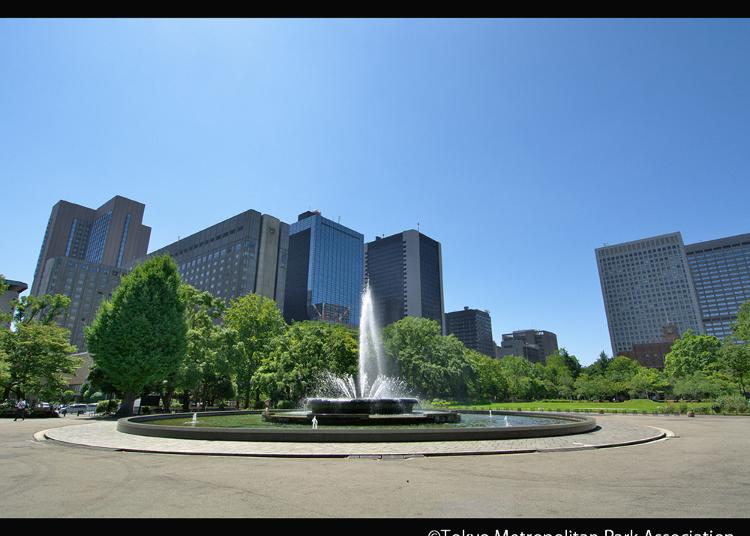 Hibiya Park is Japan's first modern, Western-style public park built through urban planning. It is situated south of the Imperial Palace. It celebrated the 110th anniversary of its opening day in 2013. The large fountain is the most symbolic structure of the park. You can enjoy watching 24 different patterns of water movements every 28 minutes. It shoots up water as high as 12 meters, and it lights up at night. There are two outdoor music halls, one large and one small, as well as an auditorium, a plaza around the fountain, flower gardens, a library, tennis courts, and others. There are colorful flowers blooming in the gardens all year round, so you will enjoy the different sceneries according to the season. In autumn, the leaves of the ginkgo trees lined along an S-shaped promenade turn to a beautiful golden yellow. The park also serves as an oasis for business people, as it adjoins the Kasumigaseki, Ginza, and Shinbashi business districts. It also holds many events throughout the year, so the park is very popular.
Address

1-6, Hibiyakouen, Chiyoda-ku, Tokyo, 100-0012
View Map

Nearest Station

Hibiya Station (Tokyo Metro Hibiya Line / Tokyo Metro Chiyoda Line / Toei Mita Line)
3 minutes on foot


Phone Number

03-3501-6428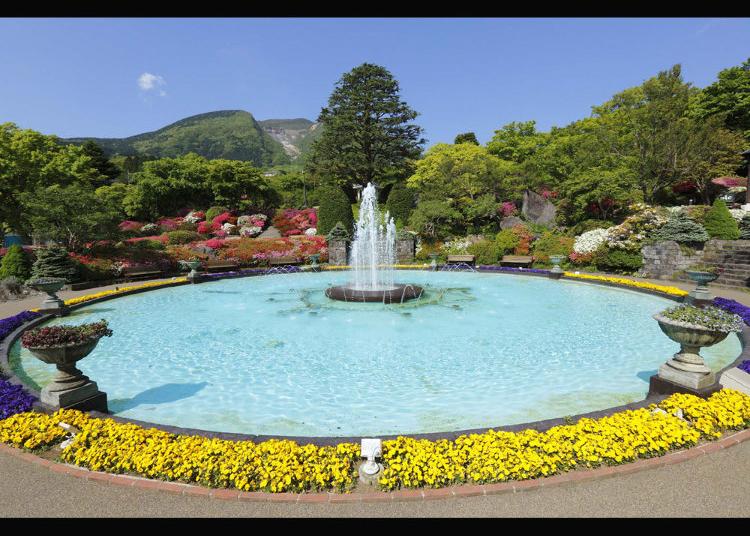 Opened in 1914, this was the first formal French garden in Japan. The total area was approximately 36,400 square meters when the park first opened. About 26,500 square meters remains and is used as the park grounds. There are many slopes and stairs throughout the park, and there is a difference of approximately 40 meters in elevation between the main gate and the west gate. You can feel the difference in temperature within the park, and during the wintertime, you can observe a rare phenomenon where snow falls only in some areas of the park. You can also enjoy such seasonal flowers as cherry blossoms and azaleas in spring, hydrangeas in summer, maples in autumn, and poinsettias in winter. There are many other attractions, such as the Tropical Flora House, Tea Garden, and Hands-on Workshop Craft House where you can experience pottery making.
Address

1300, Gora, Ashigarashimo-gun, Kanagawa, 250-0408
View Map

Nearest Station

Hakone-Yumoto Station (Hakone Tozan Railway)


Phone Number

0460-82-2825
It is a park that has been favored as a good cherry blossom viewing spot by people since old times, and there are about 600 cherry trees of such varieties as Somei-Yoshino and satozakura. Many people from the vicinity visit this park for cherry blossom viewing in spring when cherry blossoms bloom. Not only are there cherry blossoms, but 15,000 azaleas (of about 10 species) and 1,300 hydrangeas along the railway have also been planted. Because it is located on top of Mt. Asukayama, Asuka Park Rail, a self-propelled, inclined monorail system, was introduced in 2009. The monorail car, which looks like a snail, is called Asukarugo, combining the name of Mt. Asukayama and a French word, "escargot". There is a piece of playing equipment of a big castle, with which children can play, and a fountain in the park. There are also three museums, Asukayama Museum, the Paper Museum, and Shibusawa Memorial Museum, so you can learn the history of Kita-ku (Kita Ward, Tokyo).
Address

1, Oji, Kita-ku, Tokyo, 114-0002
View Map

Nearest Station

Oji Station (JR Keihin-Tohoku Line / Tokyo Metro Namboku Line)
1 minute on foot


Phone Number

03-3908-9275
10. Ikebukuro Nishiguchi Park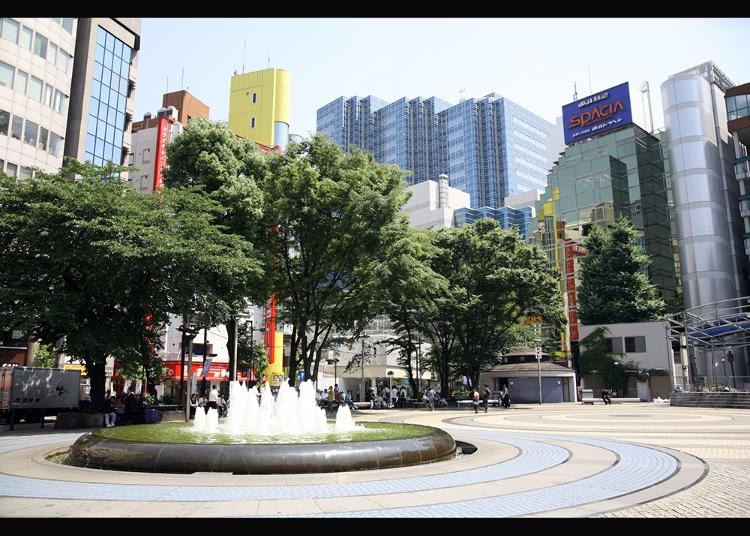 This open, spacious park along with the adjacent Tokyo Metropolitan Theater was redeveloped as a whole in 1990. Several objects of art are arranged within the park, effectively creating an artistic space. Its beautiful landscape makes this park one of the most favored TV commercial or TV drama shooting spots, and the fountain, in particular, near the entrance coming from the train station is beautifully illuminated in golden light at nighttime. The monthly-held flea market is one of the largest in the Ikebukuro area and you can see booths selling goods ranging from freshly picked vegetables to Malaysian food as well as several second-hand clothes. The outdoor stage is where many live performances are given when the flea market is open, and they attract many people.
Address

1-8-26, Nishiikebukuro, Toshima-ku, Tokyo, 171-0021
View Map

Nearest Station

Ikebukuro Station (JR Shonan Shinjuku Line / JR Yamanote Line / JR Saikyo Line / Tokyo Metro Marunouchi Line / Tokyo Metro Yurakucho Line / Tokyo Metro Fukutoshin Line / Seibu Ikebukuro Line / Tobu Tojo Line)
1 minute on foot


Phone Number

03-3981-0534
*This information is from the time of this article's publication.
*Prices and options mentioned are subject to change.
*Unless stated otherwise, all prices include tax.
Limited time offer: 10% discount coupons available now!