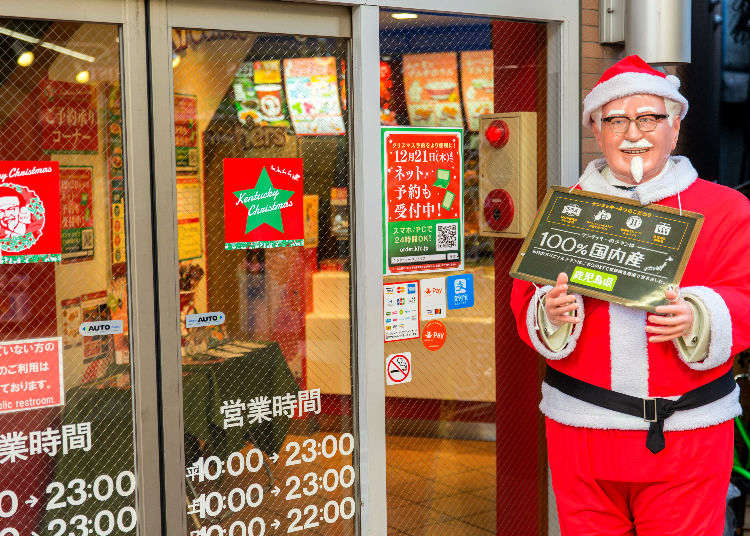 Japan is full of eateries originating from other countries. Walk around Tokyo, Osaka or even parts of the countryside and you'll see many familiar brand restaurants dotting the landscape. They range from McDonald's to KFC to a fair share of the big American pizza companies. These offer a taste of the United States to Japanese citizens, while also giving those visiting the country a taste of home.

Yet there are plenty of differences between chain dining establishments in Japan when compared to their place of origin. Sometimes it just comes down to the menu, and other times it involves the venue itself along with the services on hand. It can actually be jarring to go somewhere you think you understand, only to find out that nope, it's pretty different. So here are some of the key differences between Japanese versions of chains and their origin version.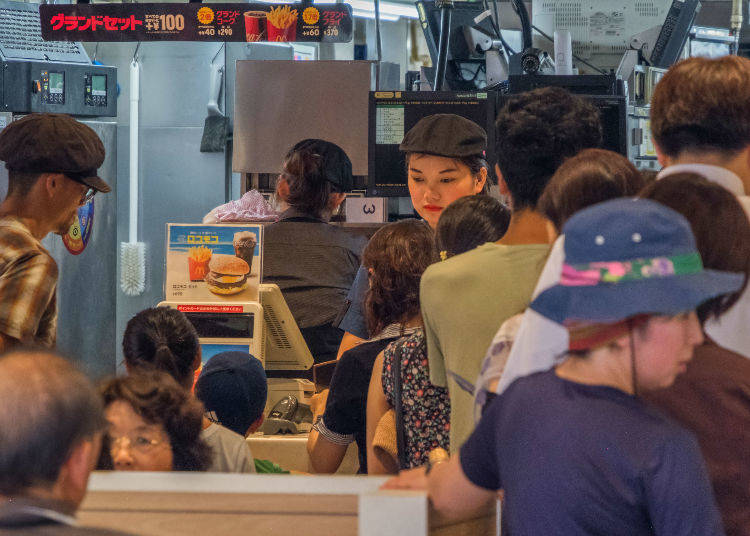 Mahathir Mohd Yasin / Shutterstock.com
Let's start with a few general differences between Japanese and Western eating establishments. An obvious one is what appears on the menu itself, as stores adjust their menus to reflect local tastes. This is obviously not exclusive to Japan — you can pick up Japanese magazines and find articles about what McDonald's in the Middle East or South America serve — but is one of the starkest differences. We will get into certain specifics later on.

The other big difference...is actually small. Japanese fast food servings are often not as large as the one's you would find in the United States or other Western countries. A large drink in Japan, for example, can often be about as big as a medium in the States. Other places, such as Starbucks, have really small options for those not wanting to have too much.

Finally, whereas the majority of American fast food joints offer free refills on soft drinks, this isn't the case in Japan. Some places are the exception to the rule here — more details later — but don't expect to get more Coke when you hit up McDonald's in Japan, unless you are willing to pay more.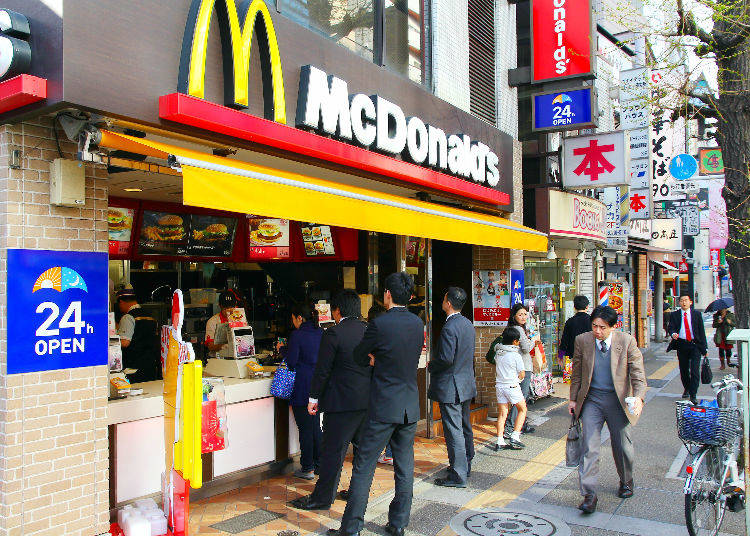 Tupungato / Shutterstock.com
The most immediate difference between McDonald's in Japan and the U.S. is on the menu. Going beyond just seasonal offerings, Japanese outposts of this chain offer favorites like the Teriyaki McBurger and the Ebi Fillet (Shrimp Fillet), tasty treats that are always around and among the most popular items on sale. Save maybe for the sizes of fries and drinks — they are significantly smaller than what you can get in the States, although you can still get a bucket of 48 chicken McNuggets sometimes — this is the most striking difference.

Still, this is a global franchise, so uniformity still dictates how things go. But a few other small differences include the fact that Japan still deep fries the apple pies in oil, whereas they are baked in an oven in the States. It was a big deal in America when breakfast items became something you could buy at anytime of the day, but in Japan the cut off remains 10:30 in the morning, so make sure to get up early. Wi-Fi hotspots in McDonald's Japan are far less reliable than what you might find in America, though I also am struggling to think of why you would spend a long time using Wi-Fi in a McDonald's.

Cutest of all — they offer a "smile" to customers for no charge. Just ask, if you really need to see someone display human kindness towards you.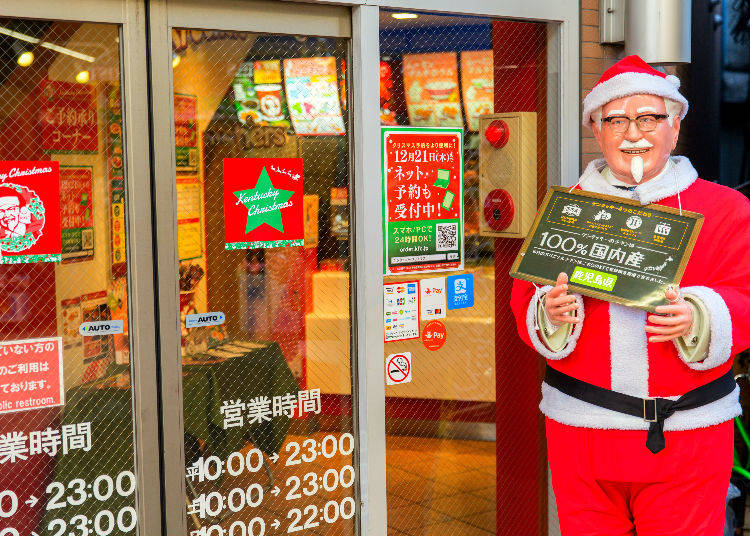 Quality Stock Arts / Shutterstock.com
Let's get the biggest cultural difference regarding this chain out of the way first — the Japanese love to eat KFC on Christmas. Really, they love to eat fried chicken on December 25, and plenty of other Japanese fast-food joints offer Christmas deals. But KFC dominates imagination of food during this holiday, and you'll see no shortage of Christmas-themed ads and deals at the chain in November and December. People put in pre-orders!

On an everyday basis, the chicken at Japan's KFC is slightly less salty than what you will find Stateside, and dark meat tends to be more popular than white meat (though you can still get it, so don't worry). All of KFC Japan's chicken comes from Japan itself — a fact that is promoted heavily here — but everything is also a touch pricier than what you will find in America. Individual pieces of the chicken aren't sold, but rather a choice between regular and boneless. The side dish menu isn't radically different, but one thing that stands out is that the biscuits in Japan are promoted almost like a dessert, and come with honey. And at certain times of the year, KFC in Japan runs an all-you-can-eat promotion in select stores. Whereas in the States, certain stores are always buffet-style dining...though the majority aren't. Oh, and you can usually get beer in Japan.

The most visually drastic difference? Almost every KFC in Japan has a statue of Colonel Sanders outside the main door. And his clothes change based on what holiday is coming up.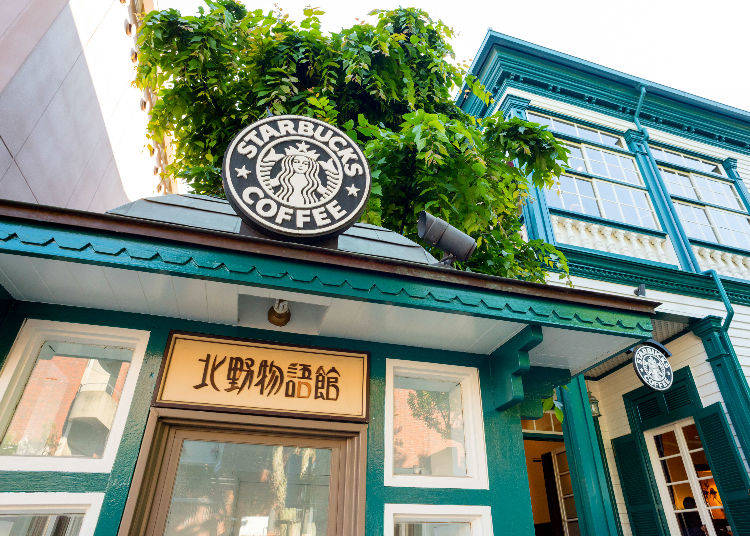 Nor Gal / Shutterstock.com
The menu features more items geared towards Japanese taste buds. Fitting for the country's history, the menu boasts a wide variety of green tea-flavored items available all year. Seasonally, Starbucks Japan sells sakura (cherry blossom) frappuccinos, lattes and more during the spring, while at other times they offer drinks boasting hojicha (a type of tea).

Beyond that, Starbucks seems like one of the U.S.-born chains that has undergone the fewest changes of any present in Japan. The sizes are basically the same, although as mentioned above Starbucks does offer a "short" size smaller than the usual trio of sizes. Not found at Japanese establishments — the biggie-sized "Trenta" offering. Every store has Wi-Fi (they've even made it easier to use in recent years), some locations have drive-thrus, there is a contingent of people who treat stores like their personal office, etc.

All of the differences come in individual stores. Some locations offer a variety of tasting sessions and classes that allow customers the chance to learn more about coffee. Recently, some Starbucks have even opened up in Japan that mimic the architecture and décor of the surrounding area. The most noteworthy is in Kyoto, where one new outpost is modeled after a traditional Japanese teahouse, complete with tatami seating.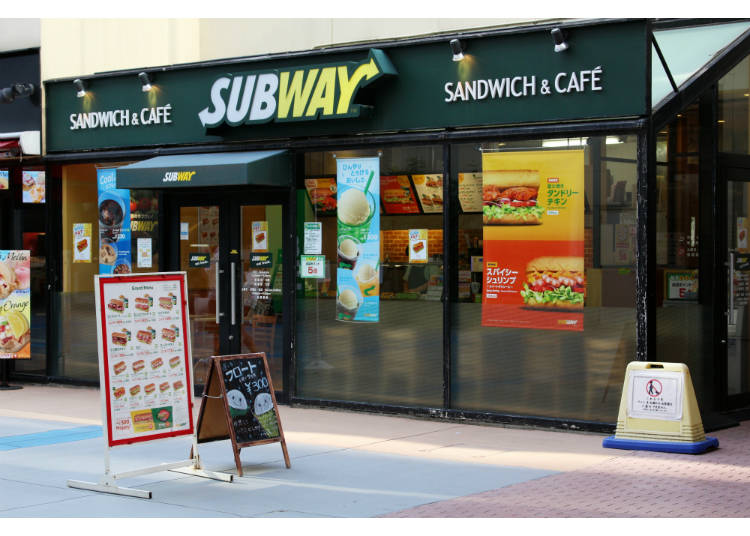 Ned Snowman / Shutterstock.com
Pretty similar all around — you show up, wait in line, tell the people what you want, they make it and you pay. The prices are significantly steeper than what you would find in the United States. Whereas a foot-long sandwich in American can go as low as $5, in Japan you should expect to pay at least ¥800 (costs like $8) for the same thing.

The menu is slightly different, but with two big additions, both on the side offerings, uh, side. For one, you can get French fries at Subway Japan, and not just regular spuds but ones that come in a bag that you shake a specific flavor powder on. Offerings include cheese, basil and more. You can wash that down with a refreshing ice cream soda float, complete with scoop of vanilla right on top.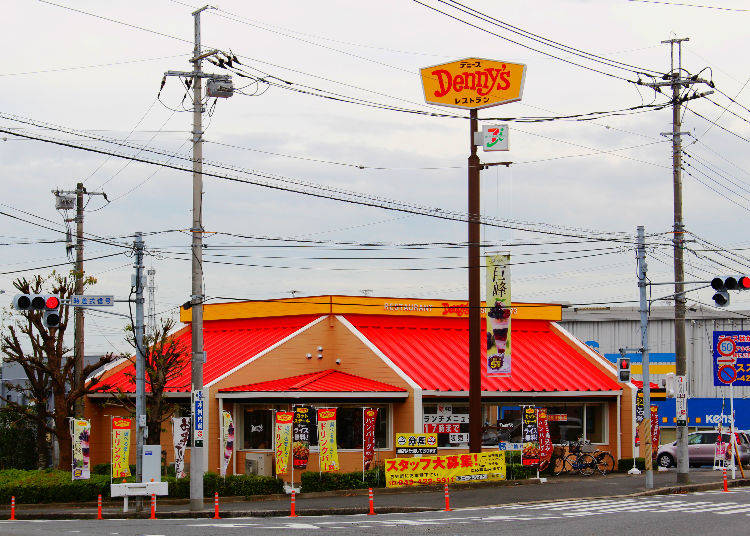 Ned Snowman / Shutterstock.com
I hope you are sitting down for this one. Denny's is practically an entirely different restaurant in Japan than what those in the States would expect to find, despite boasting the same name and general design. In America, Denny's is a chain diner, open 24 hours a day and serving up a variety of hearty fare ranging from classic breakfast options (pancakes, bacon, eggs, waffles etc.) to U.S. staples (burgers, fried chicken, grilled cheese, all kinds of sandwiches, I could go on). This is the ideal place to stop by when you are waking up and need some energy for the day ahead...or you are a little bit tipsy and need to get some greasy food in your system.

In Japan, Denny's is a family restaurant. The menu is radically different — which one would expect, local tastes and all — but almost nothing brings to mind the American version of this place. Everything is Japan-centric, from all sorts of traditional dishes to hamburg steak (not hamburger, get your knife and fork ready) to salads designed for sharing. It can often be tasty, but if you have this mental image of Denny's as a greasy spoon, it can be jarring. It's like a whole different franchise.

One other notable difference is that Denny's in Japan, like most family restaurants, has the option for you to get unlimited drink service via a drink bar, which you walk up to yourself. In the States, you get free refills, but the server is the one responsible for getting you another Coca-Cola.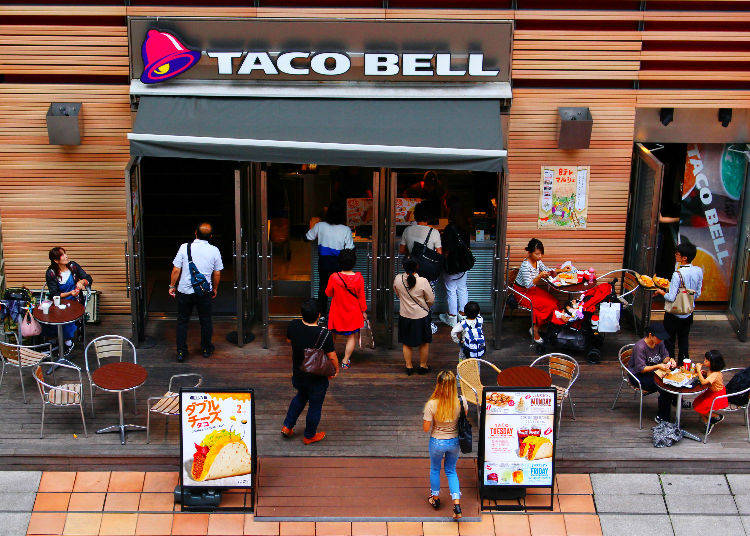 Ned Snowman / Shutterstock.com
Taco Bell is a relatively new addition to the Japanese fast-food landscape, arriving in Shibuya, Tokyo in 2015 — they only just opened their first store outside of Tokyo (in Osaka) late last year — but there are enough small differences to take in. The biggest is price. Taco Bell in the States is cheap, to the point you can get a banquet of "Mexican" food for just five bucks. In Japan, expect to pay closer to regular fast-food prices for tacos and burritos, which feels like a swindle when coming from the U.S. But hey, you can get beer here.

Taco Bell's in Japan offer fries and tortilla chips as sides to all of their main offerings, and Taco Bell is actually one of the only chains in Japan allowing for free refills on drinks. However, they also don't have the packets of Taco Bell sauce that have become famous in America. Nothing to lose your mind over, but one of the more significant differences between this chain in the two countries.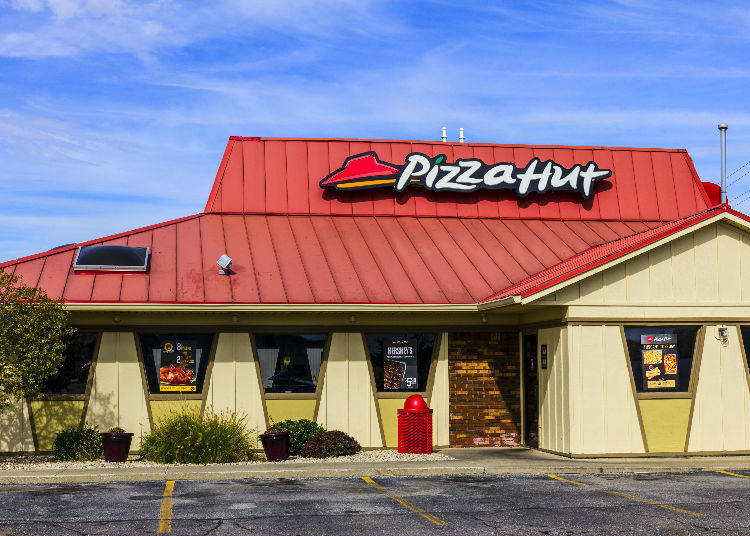 Jonathan Weiss / Shutterstock.com
Alright, now that we've hit the pizza section, let's get the huge one out of the way. Toppings in Japan for all pizza places can be...different. Common and popular options include mayonnaise, corn, bulgogi, seaweed, mentaiko (spicy cod roe, a type of fish egg popular in Fukuoka prefecture) and much more. All of these can be perfectly delectable, but could be an acquired taste for someone coming over fresh. So keep that in mind with the next three entries.

Pizza Hut allows customers to basically turn one large pizza into four mini pizzas thanks to a system that allows for quite a bit of customization. So this is the place to go for variety. The trade-off is that it can also be really pricey, with a large pizza creeping towards ¥4000 (~$40) a pie. Still, they have plenty of basic options that are closer to U.S. prices. And you can tweak the crust as you like, even stuff it with cheese or sausage if that sounds fun.

Don't miss the side menu, which comes complete with fried chicken and French fries. And make sure to ask for their green chili sauce, which adds a little bit of a kick to every slice.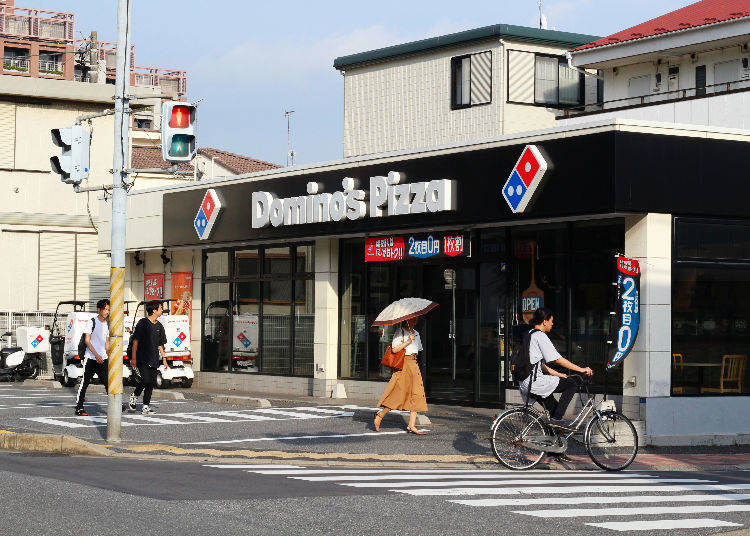 Ned Snowman / Shutterstock.com
In general, Domino's Pizza Japan has better options when it comes to specials and deals, such as a solo lunch offering that nets you a pizza and drink for a pretty low price. They also make a variety of sandwiches that are great for those who want something that tastes kinda like pizza without the guilt of housing down a large pie by themselves.

One similarity between this chain's Japanese presence and American stores: both use an online pizza tracker allowing you to see where your pizza is, whether that is in the oven or zipping through the streets. In the Japanese one at least, if you watch you can also play a game that nets you coupons you can use on future orders.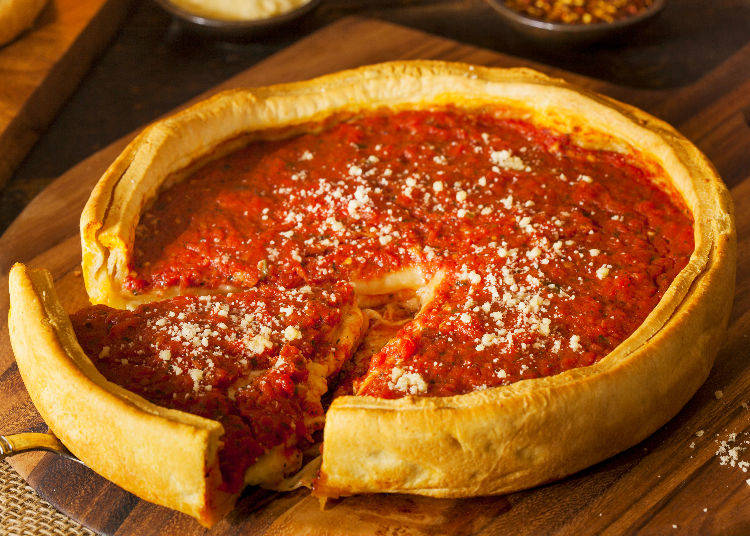 This is the one "cheat" included in this list, because the Japanese chain Chicago Pizza is a stand in for the idea of Chicago-style pizza (no such chain as "Chicago Pizza" exists in America). While a few special stores in Tokyo cook up a good deep-dish pie, this chain actually offers a slightly—very slightly—thicker pie that is closer to Pizza Hut than whatever you would find in the Windy City.

They've got sausages though.
Bonus: These are also different!
Häagen-Dazs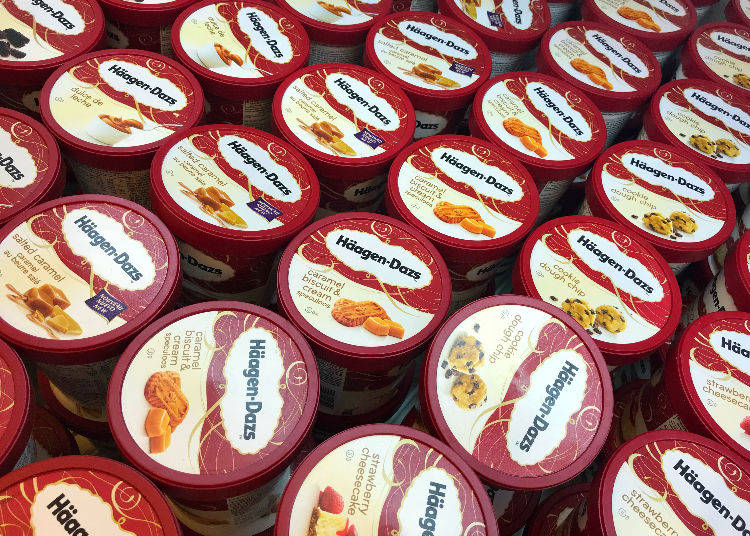 Muhammad ZA / Shutterstock.com
It's all about flavors with this upscale brand of ice cream. The Japanese market boasts a wide variety of flavors that you won't find anywhere else in the world, often featuring classic Japanese ingredients like green tea, kinako (roasted soybean flour, usually found on bread and Japanese desserts) and more. Right now, you can get a hearty sweet potato-flavored ice cream just in time for the fall.
Coca-Cola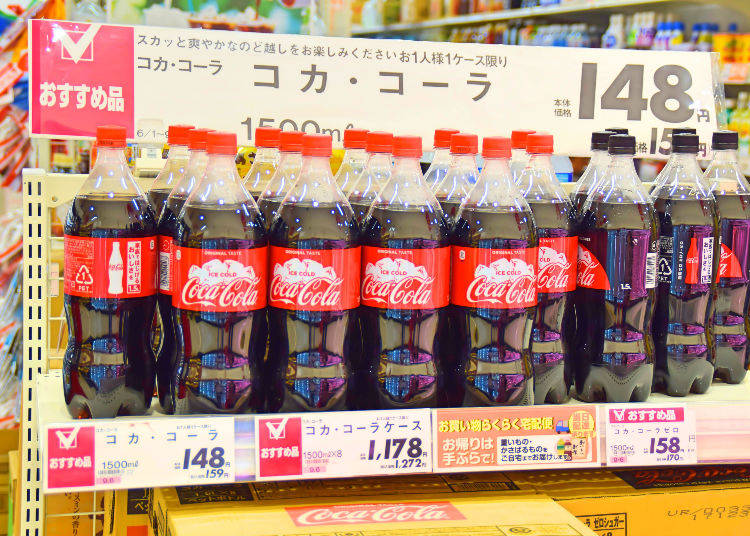 wanchalerm thailand / Shutterstock.com
Classic Coca-Cola and Coke Zero abound in Japan, but Diet Coke isn't an option! So make peace with that fact now. Other than that, some special types of the soda only available in Japan include a frozen Coca-Cola that comes in a squeeze pouch, Coca-Cola Plus which is allegedly healthy, and Coca-Cola Clear, which is Cola but...clear. No calories, and a pinch of lemon as well!

That's an overview of the differences between U.S. and Japanese chains, but make sure to dive in on your own when you visit the country and see what you can find.

Written by Patrick St. Michel
*This information is from the time of this article's publication.
*Prices and options mentioned are subject to change.
*Unless stated otherwise, all prices include tax.