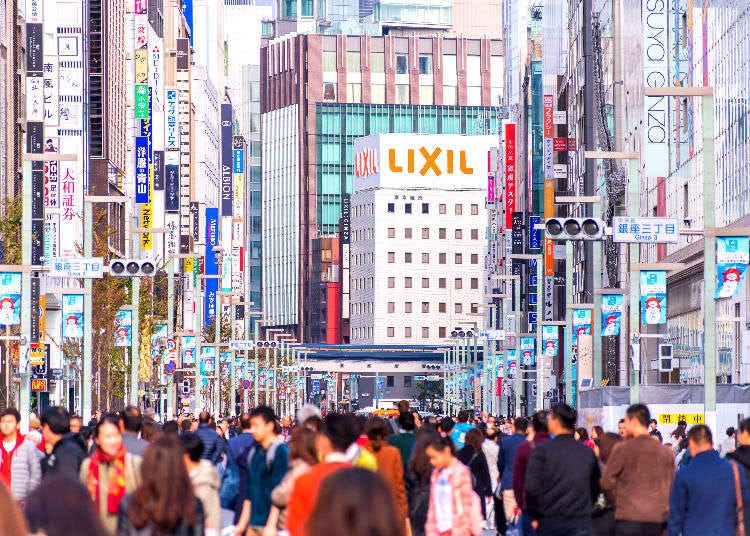 Tips from a Japanese Travel Expert! 10 Things You Must Know Before Making Lodging Reservations in the Tokyo Area
Date published: 23 October 2019
The Tokyo area is going to become increasingly livelier as the 2020 Tokyo Olympics draw near. In the last 15 years the number of foreign visitors has increased five-fold and this in turn has made it increasingly more difficult to find accommodations due to most hotels being booked solid. When making reservations hotel confirmations can be quickly made using a reservation web site, however, there are some useful points to keep in mind before looking for a hotel. This article will introduce some useful hints for securing a hotel in Tokyo provided by a veteran traveler who travels to Tokyo weekly on business and who can tell you how to find little-known but good deals.
1. Hotels in Central Tokyo are always Fully Booked so Start Your Search at least 2 Months in advance!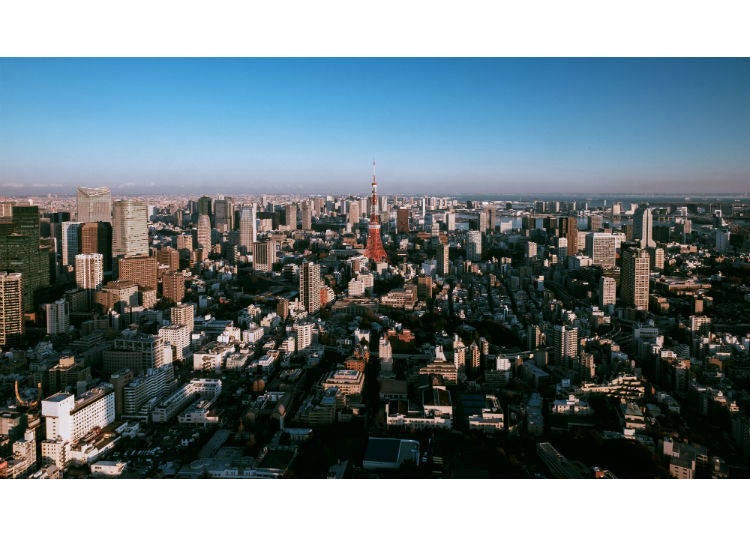 Hotels in the 23 wards of Tokyo, which comprise its center, have in recent years become continuously booked solid due to the increase in foreign visitors. Popular hotels are fully booked two months in advance.

Hotel reservations are particularly difficult to make during January and February during the university entrance exams period and in early April when the new school year begins because students from all over the country flock to hotels in Tokyo. Reservations are also difficult to make when there is a special event or concert by a famous artist and at those times rates are also more expensive.

The most crowded times for hotels in Tokyo are as follows, so you would be wise to keep them in mind when making your travel plans.

Times When it is Hard to Make Reservations
January - February: University entrance exams
Early April: University entrance ceremonies
End of April - early May: Golden Week (long holiday period especially when weekends are included)
End of July - About August 20: Summer holidays
Mid-September: Silver Week (two three-day weekends and other national holidays)
End of December - early January: Christmas and New Year's holidays
2. Business Hotels are usually Fully Booked Wednesday through Friday. When You can't Make an Online Reservation, Making a Telephone Call can be Effective
Reservations are relatively easier to make for Sundays and Mondays. On Wednesday through Friday there are many people coming to Tokyo on business from Osaka, Fukuoka and other regional areas and as a result business hotels tend to become fully booked; single rooms especially are filled up quickly. On Saturdays there are fewer business guests, but there is an increase in vacationers which makes it difficult to book twin rooms and suites.

If you are unable to find vacancies on major reservation websites, try using lesser known reservation sites or the hotel's official web site. If that is of no avail, then your last chance might be to directly telephone the hotel. Recently it is possible to make phone calls over the Internet which is much less expensive than international phone calls and which also makes it easy to telephone from overseas.

Types of guest rooms
Single Room – one bed; only 1 guest possible
Twin Room – two beds; 2 guests maximum
Double Room – 1 large bed; two guests maximum
Triple Room – 3 beds; 3 guests maximum
Extra Bed – simple-type of bed
3. Rates are Higher if the Hotel is within 5 minutes Walking Distance from a Station! If you have to Walk 10 minutes or more the Rates are Lower!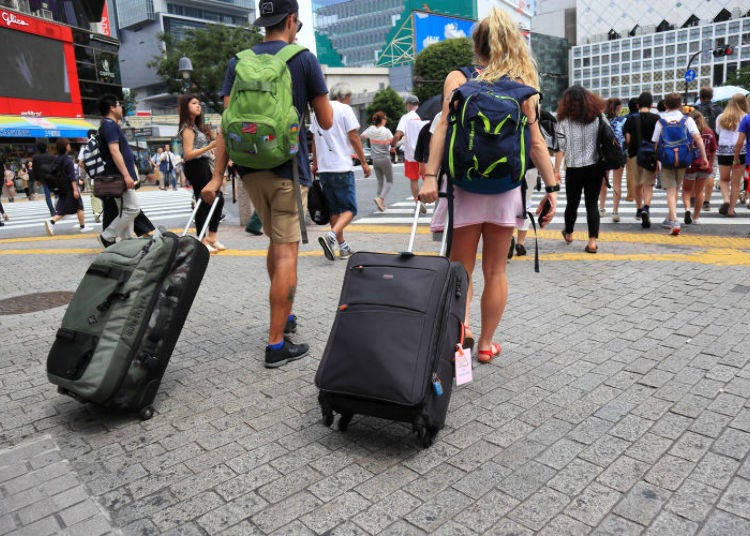 One important factor in selecting a hotel is the scale of the nearest station. Hotels near terminal stations, like Shinjuku and Shibuya which are serviced by several train lines, have more expensive rates than hotels located farther away from them.

Another important factor is the distance from the station. Hotels located more than a 10-minute walk from the station are about 10% less expensive than hotels within a 5-minute walking distance and also it is easier to make a reservation with them. For example, if a night at a hotel within 5 minutes walking distance from Shinjuku Station costs 10,000 yen, a hotel of the same size at the next station would cost about 9,000 yen.

Moreover, if you had to walk more than 10 minutes to the hotel, the rate would be about 8,000 yen. Of course hotels nearer terminal stations are more convenient, but if you are planning an extended or leisurely stay, then staying at a hotel farther from the station could be easier to reserve and less expensive.
4. Try Cancelling at the Last Minute! Best to Do 4 - 11 days before!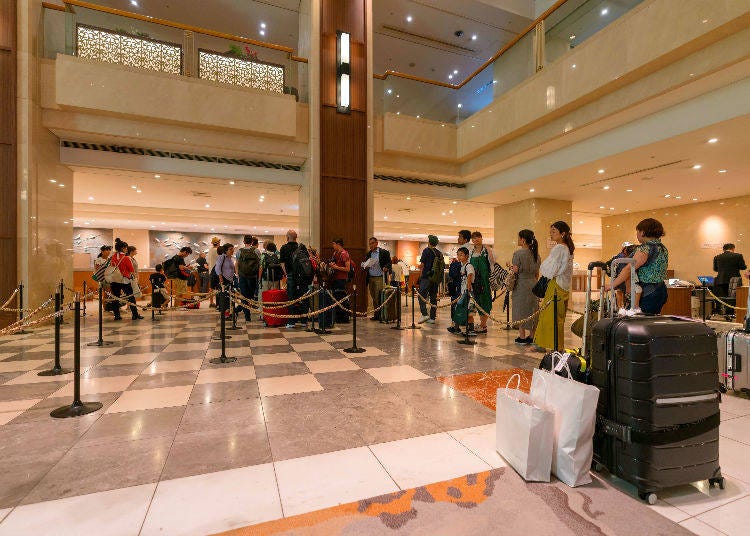 Tokyo hotels all have cancellation policies. They state in detail the cancellation fees and cancellation timing, but many hotels also have periods when there is no cancellation charge. When considering where to stay, first look for hotels that do not have cancellation fees and make a reservation with them. Then once your travel plans have become set, you can cancel the hotel reservations you do not need.

The cancellation periods vary depending on the hotel, but often it is 10 days in advance, 7 days in advance, 5 days in advance, and 3 days in advance. Many people cancel reservations just before the cancellation period deadline at hotels that have cancellation charges, so in the case of the previously mentioned deadlines that would be 11 days in advance, 8 days in advance, 6 days in advance, and 4 days in advance.

If you are unable to make a hotel reservation, check the hotel's reservation policy and try cancelling just before the cancellation charge takes effect. Cancellations also suddenly occur the day before or on the day of a reservation. If you do not have a reservation for the day, try telephoning the hotel around 3:00 p.m. and you might just be able to make a reservation for that day because of an opening due to a sudden cancellation.
5. If Price is Your Main Concern then Look for Areas off the Beaten Path! Several Inexpensive Hotels are Clustered in the Senju and Kamata Areas!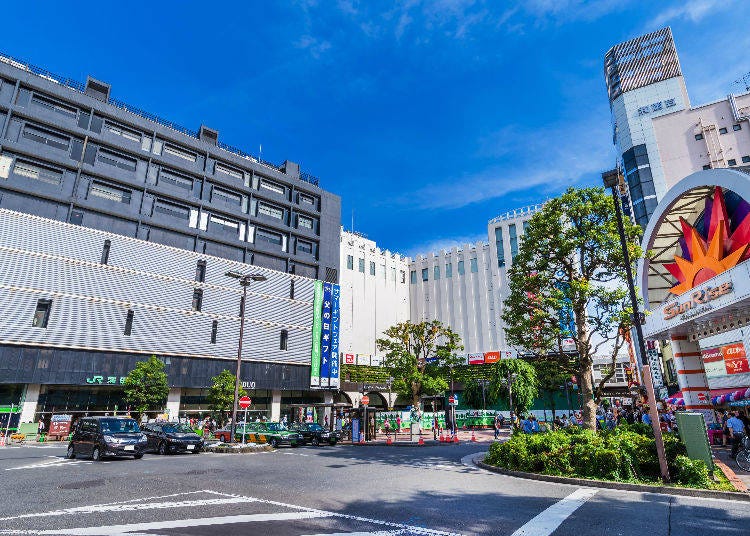 Tokyo, Shinagawa, Shibuya, Shinjuku, Ikebukuro, and Ueno are the foremost terminal stations in Tokyo. Consequently hotels in those areas charge relatively higher rates. Places that are less convenient and more out of the way are less expensive and good areas in which to look for lower hotel rates.

The Senju area, for example, is not that well known, yet you can get to Asakusa from there on the Tobu Skytree Line and to Ueno on the Tokyo Metro Hibiya Line and JR, making it surprisingly convenient. The Kamata area is also conveniently located because of its easy access from Haneda. Plus it is an area with many business hotels competing for business that keeps rates relatively low.

The Gotanda and Osaki area is another area with many large-scale chain hotels and getting reservations in this area is also relatively easy.

List of hotel areas off the beaten path

Senju area
Urbain Tokyo Ueno Kitasenju

アーバイン東京・上野 北千住

Address

4-2--10 Senju, Adachi-ku, Tokyo 1200034, Japan / 〒120-0034 東京都足立区千住4-20-10
Hotel Coco Grand Kita-Senju

ホテル ココ・グラン北千住

Address

3-40-2, Senju, Adachi-ku, Tokyo, 1200034, Japan / 〒120-0034 東京都足立区千住3-40-2
Kamata area
東急ステイ蒲田

Address

4-23-1, Kamata, Ota-ku, Tokyo, 1440052, Japan / 〒144-0052 東京都大田区蒲田4-23-1
西鉄イン蒲田

Address

7-49-5, Nishikamata, Ota-ku, Tokyo, 1440051, Japan / 〒144-0051 東京都大田区西蒲田7-49-5
6. Only 1 Station Away can Make a Huge Difference. A Wealth of Off-the-beaten-track Hotels at Stations One Stop Away from Terminal Stations!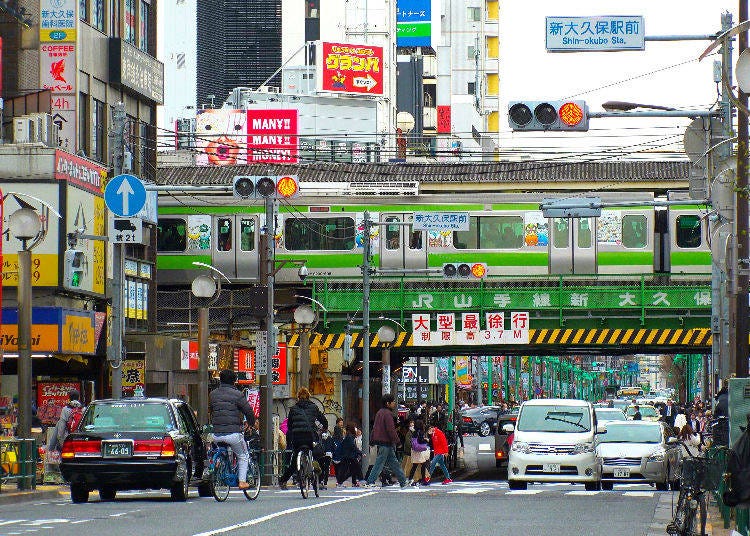 As previously mentioned, hotels close to terminal stations are expensive while the farther away a hotel, the lower the rate tends to be. There is no doubt that hotels close to terminal stations are more conveniently located, but the distance to the platforms after entering the station can be long and the station itself complicated and confusing to navigate meaning that it actually takes longer than the "so-many-minutes on foot from the station" touted.

When taking that into consideration, the station adjacent to a terminal hotel has much to offer. Distances between train stations in Tokyo are also relatively short and the distance between them can easily be walked. Even riding the train they are only a minute or two away which at most costs 150 yen.

Some examples of these off-the-beaten-track stations are Kanda Station next to Tokyo Station, Shin Okubo Station next to Shinjuku Station, and Otsuka Station next to Ikebukuro Station. These are not inconvenient places to stay while the rates are generally 10% lower and the rooms more spacious. Compared to terminal hotels they are less popular, but for that reason, making a reservation is easier.
7. Difficult Times Ahead for Minpaku (guest houses)? New Laws cause Sharp Drop in the Number of Registered Airbnb!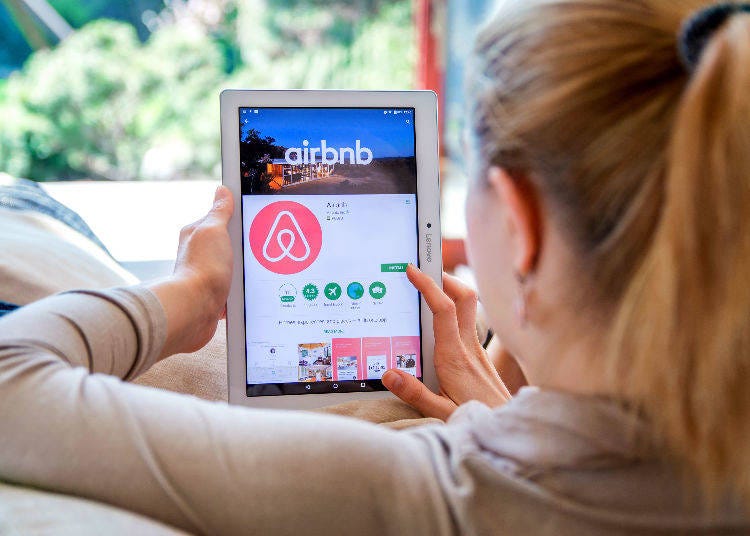 Airbnb style lodging, which in Japan is called minpaku, is continuing to become widely accepted throughout the world. They lack the conveniences of hotels, but their low prices make up for that and depending on the facility, enable guests to experience Japanese lifestyles.

Until recently there had been a growing number of these facilities in the Tokyo area. However, in Japan there are laws regulating facilities that charge guests for lodging and for that reason it is not possible for average households to charge guests a fee to stay there. In fact, most of the homes registered with Airbnb were in violation of the law in that respect and because there were no penalties prescribed by the law, the law was quickly revised to amend that situation and the new law went into effect on June 15, 2018.

As a result, those minpaku that had operated in violation of the law quickly disappeared and since the law came into effect on June 15, it has become very difficult to reserve minpaku lodging. This disruption is expected to continue which will definitely make looking for minpaku accommodation increasingly difficult.
8. Cool and Comfortable! Capsule Hotels are Constantly Evolving!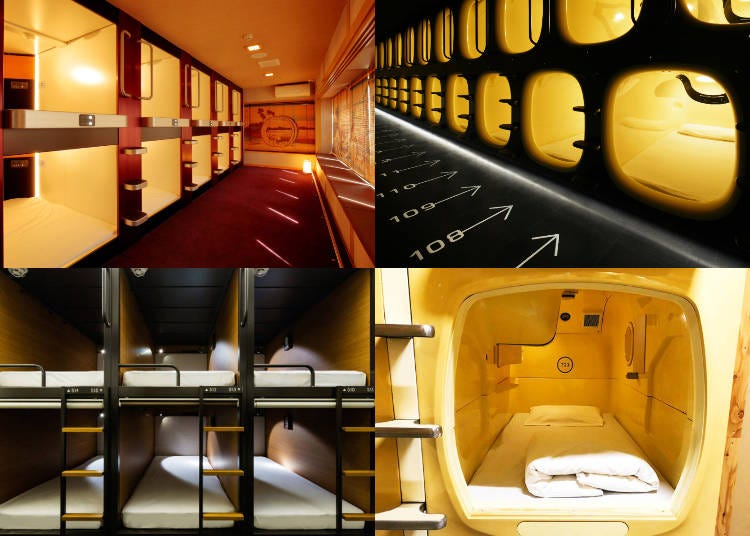 Capsule hotels were invented in Japan in order to get maximum use out of minimum space. Simply stated, capsule hotels offer spaces just large enough for one person to sleep, the sleeping capsules are stacked on top of one another like berths on a ship or train.

Many sarcastically see it as symbolizing the crowded and compact lifestyles of the Japanese. Until now, capsule hotels have primarily been used by commuters who missed their last trains and needed an inexpensive place to spend the night; most of the guests were men. Recently, however, they have evolved into facilities offering a range of different amenities with an emphasis on quality for a clean stay.

More business travelers are using them and some are for women only. Naturally an increasing number of foreigners have begun using them, too. More and more people are seeing them as good lodging accommodations in lieu of luxury hotels. Whereas it is hard to get a reservation at a hotel unless made well in advance, that is not the case with capsule hotels where often it is possible to get a room on the spot.
9. The Last Means? One Option is to Stay at a Romantic "Leisure Hotel"!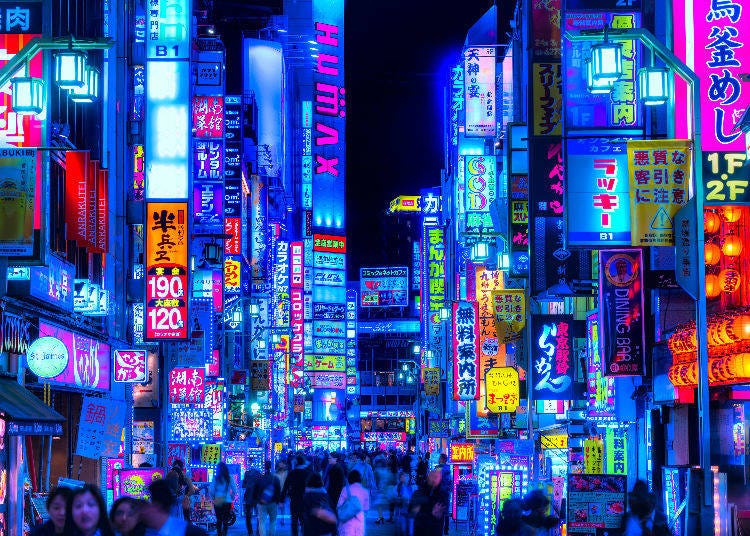 "Leisure hotels" were originally used by couples for a few hours of time together; sometimes also called "love hotels" or "boutique hotels". These are often found clustered together in certain sections of popular areas like Shinjuku, Shibuya, Ikebukuro, and Ueno.

When night falls, couples drifting into these places is a common scene. It is not possible to make reservations in these hotels and once you enter one, you cannot step out for a bit and then return, which makes them inconvenient, but, in recent years that inconvenience is being remedied by an increasing number of these hotels accepting regular guests.

Usually they are located in lively sections of town with good access to stations and getting a room is quite easy. The guest rooms have overly romantic themes, but if you don't mind that, these are really bargains when it comes to cost performance.
10. If That Doesn't Work, then Try Staying at Hotel near a Station in a Neighboring Prefecture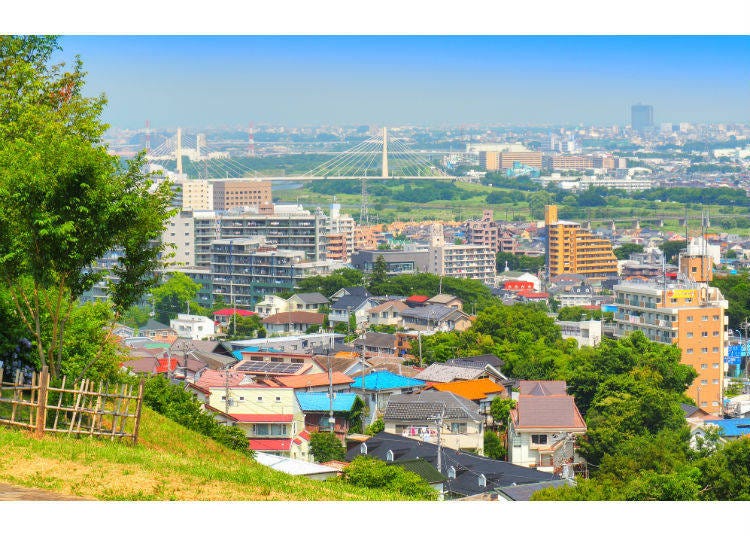 If you are unable to find a hotel in Tokyo, then try looking for one in the suburbs. The terminal stations in the city have train lines running into the suburbs making it easy to look for a hotel 30 minutes or so out from a terminal station.

One downside is the extra time and cost it takes to go sightseeing in Tokyo, but the upside is that prices are lower and rooms generally more spacious. Look for areas that have been developed in recent years because in many cases new hotels have been built in locations conveniently close to or connected to stations.

For example, Kashiwa City, Yachiyo City, and Inzai City are all located in Chiba Prefecture which is next to Tokyo. These are emerging residential areas and hotels in or near their stations usually have vacant rooms.
Extra: Get down the basics of hotels in the Tokyo area!
- Learn about the types of hotels there are in Tokyo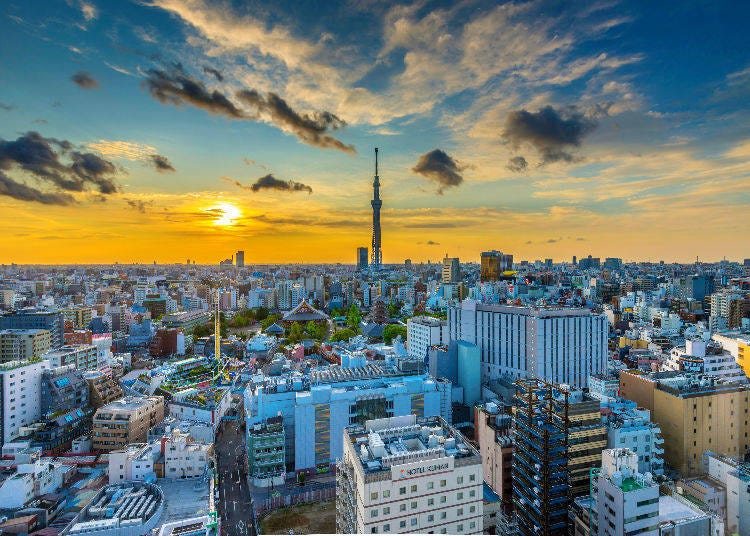 The types of lodging in the Tokyo area can roughly be divided as follows. The rates are generally for one or two people use.

1) Youth hostels / guest houses 2,000 - 3,000 yen per night
Dormitories. Guest houses for foreigners are increasing and good places for exchanging information.

2) Capsule hotels 2,000 - 5,000 yen per night
Capsule hotels, as described above, are comfortable when you get used to them. Good choice for short stays.

3) Business hotels / city hotels 7,000 - 20,000 yen per night
It is hard to tell the difference between a business hotel and a city hotel, but generally business hotels have mostly single rooms while city hotels have mostly twin rooms.
These include Toyoko Inn, Apa Hotel, Super Hotel, Washington Hotel, Tokyu Hotel, Sun Route Plaza.

4) Ryokan (Japanese-style Inns) 7,000 - 15,000 yen per night
Usually the guest rooms have tatami-mat flooring and guests sleep in futons. Good for experiencing Japanese culture.

5) Luxury hotels 15,000 - 40,000 yen per night
Brands that are recognized internationally.
Those that are of Japanese origin include the Prince Hotels, Nikko Hotels, Keio Plaza Hotel, and Imperial Hotel.
Hotel Rates Vary According to the Number of People Staying in a Room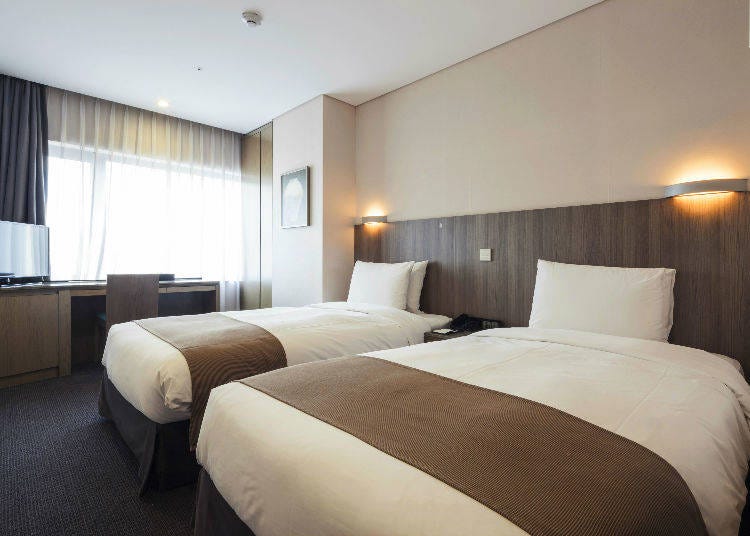 In most cases, hotels in Japan do not charge by the room, but instead by the number of people staying in a room. The more people in a room, the slightly cheaper the rate, that for one person staying in a single being the highest. So a family staying together or friends sharing a room can help keep the price down. Most twin rooms can handle an extra bed to enable three people to stay in one room. It is best to ask about these things when making a reservation.
Most Plans are only for Lodging, but Some Include Meals Which can be Advantageous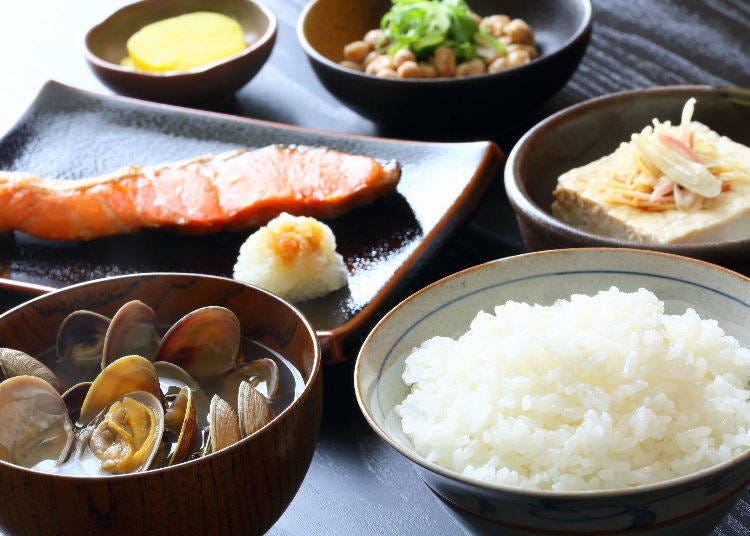 Most hotels charge just for the room, but there are many that have plans where breakfast is included. There has also been an increase in the number of hotels offering free simple breakfasts. Some city and business hotels include two meals in their hotel restaurants for further savings on room rates. If you want to save money on food, look for plans like these.

Photo credit (main image): Mahathir Mohd Yasin / Shutterstock.com
Spots showcased in the article
Urbain Tokyo Ueno Kitasenju

アーバイン東京・上野 北千住

Hotel Coco Grand Kita-Senju

ホテル ココ・グラン北千住

Tokyu Stay Kamata

東急ステイ蒲田

Nishitetsu Inn Kamata

西鉄イン蒲田
Read this article on mobile
https://livejapan.com/en/in-tokyo/in-pref-tokyo/in-tokyo_train_station/article-a0002129/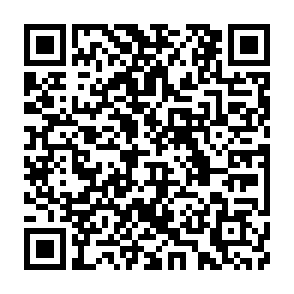 View the map on mobile
https://livejapan.com/en/in-tokyo/in-pref-tokyo/in-tokyo_train_station/article-a0002129/map/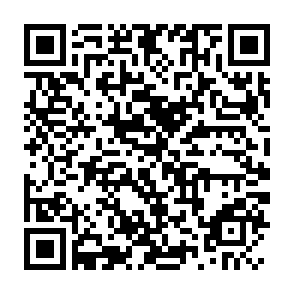 *This information is from the time of this article's publication.
*Prices and options mentioned are subject to change.
*Unless stated otherwise, all prices include tax.