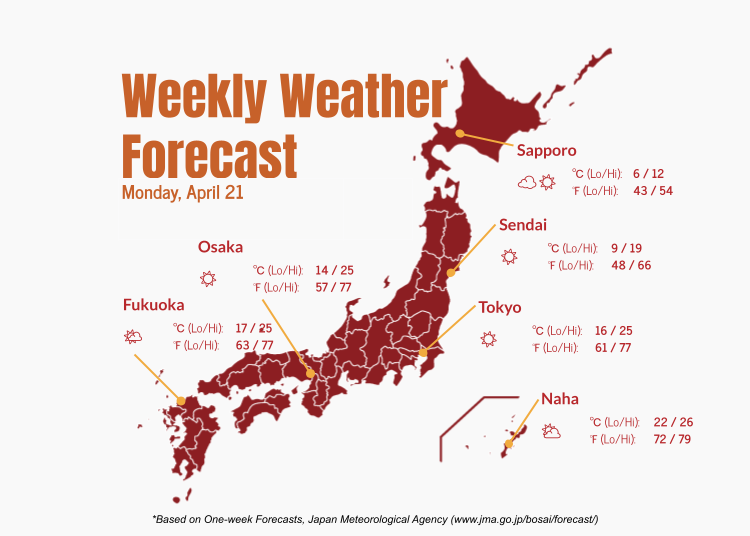 Over the weekend, Tokyo caught a dusting of snow! Although the snow has since melted, the area is still seeing cool evening temperatures that look to continue through the week. Meanwhile, we have an updated pollen forecast if you suffer from hay fever and will be traveling to Japan this spring. Read on as we cover this week's forecast and more!
What's the weather like in Tokyo? Forecast for February 18-24: Mostly clear with winter temperatures!
Tokyo is looking to be brisk and under partly cloudy skies for the week ahead, with highs around 14°C (55°F) and lows around 4°C (39°F). Showers are likely Tuesday evening and Wednesday, and then again on Saturday.

What to pack for Tokyo?
・It's colder - prepare for winter weather.
・Bringing a winter jacket and sweater is recommended; you will want thermals and warmer wear in layers particularly if you'll be traveling into the higher elevations.
・Be sure to bring long-sleeved shirts and jeans, with warmer socks and sneakers or shoes. Hat and gloves are recommended too.
・Carry a portable umbrella with you.
Flowers beginning to bloom around Tokyo
The Tokyo area continues to see plum blossoms opening as well as some of the winter-blooming sakura. Plum season tends to be from early February until mid-March in the greater Tokyo area. To find out where to catch these gorgeous perfumed flowers, be sure to check out the link below!
What's the weather like in Japan? Weather Forecast for February 18-24
Japan nationwide
Looking at the weather forecast for the rest of Japan, most areas will be seeing mixed weather, with showers Tuesday and again toward the end of the week.

Northern Japan
Snow is expected in Hokkaido and in the north country on Tuesday, while the remainder of the week is looking pleasant, with partly cloudy skies. Daytime highs will be hovering just above freezing, with evening temperatures dipping down to around -3℃. If you will be heading to Hokkaido or to the Tohoku region, be sure to pack warm clothes fit for winter, including winter boots and a good cold-weather jacket.

Central Japan
Meanwhile, the greater Osaka and Kyoto area as well as Fukuoka and northern Kyushu are expected to see partly cloudy skies for much of the week ahead, with showers likely on Tuesday and Friday. Daytime highs will be cool, around 13°C with lows in the single digits. Dressing in layers for winter is advised.

Okinawa
As for Okinawa (Naha), rain is expected for much of this week, with weather clearing over the weekend. Daytime temperatures will be comfortably in the lower to mid 20s℃ for much of the week, with summer-like highs toward mid-week.
Special: Japan 2019 Hay Fever forecast
Spring in Japan brings a large amount of pollen with it, with cedar and cypress the more prominent sources. Although not everyone has seasonal allergies, if you do experience hay fever in your home country, you may wish to consider taking hay fever medication ahead of time to prepare.
Other recommended articles for winter-spring 2019
See the links below for more on upcoming fun events and festivals!
Source for forecast and images: Japan Meteorological Agency website / http://www.jma.go.jp/jma/indexe.html
*This information is from the time of this article's publication.
*Prices and options mentioned are subject to change.
*Unless stated otherwise, all prices include tax.
Recommended places for first-time visitors to Tokyo