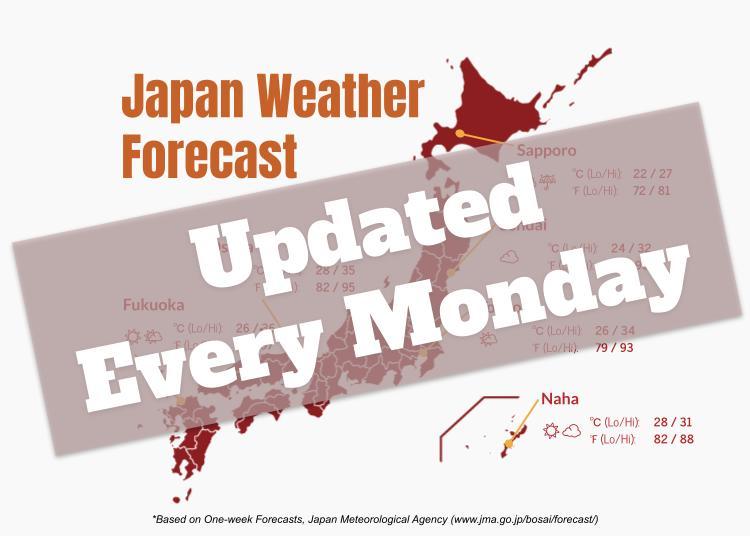 Tokyo has been seeing very pleasant, breezy spring weather with some summerlike temperatures. Some showers are expected this week and in the weekend however. Read on as we cover this week's forecast and more!
What's the weather like in Tokyo? Forecast for May 13-19: Warm spring weather
For the greater Tokyo area, the week ahead will be seeing very warm weather, with daytime highs around 23-25°C (73-77°F) and evening lows in the mid to upper teens Celsius (60s Fahrenheit). Scattered showers are expected Tuesday. There is a possibility of rain over the weekend as well, likely on Sunday.

What clothes to pack for Tokyo in May?
・It's warm but still cool in evenings. Packing for early spring weather is advised.
・Bringing a light spring jacket is recommended. Sunblock and/or a hat is suggested, especially if you have sensitive skin.
・Short-sleeved shirts and jeans, with breathable socks and comfortable sneakers or walking shoes are recommended. Also pack long-sleeved flannels for cooler evenings.
Festival season begins in Tokyo!
From Friday, Tokyo saw the biennial Kanda Matsuri festival parade through its streets in the greater Kanda/Akihabara area. It takes place in May in odd-numbered years, alternating with the Sanno Matsuri, which is held in even numbered years.

One of Tokyo's largest festivals, the Sanja Matsuri, is coming up this weekend (May 17-19). It's a must-see event held in the Asakusa area.
What's the weather like in Japan? Weather Forecast for May 13-19
Japan nationwide
Looking at the weather forecast for the rest of Japan, most areas will also be seeing warm, comfortable temperatures. Showers are expected for much of Japan from Thursday through Saturday.

Northern Japan
Hokkaido and the north country are expected to see mostly clear weather early in the week, with showers Friday. Daytime highs will be warm, in the low 20s°C; evening temperatures will be cool, in the upper single digits. If you will be heading to Hokkaido or to the Tohoku region, be sure to pack spring clothes for the daytime, plus long-sleeved shirts or a light spring jacket that you can put on in the evenings.

Central Japan
The greater Osaka and Kyoto area are expected to see fair weather for most of the week, with some scattered showers Saturday. Temperatures will be very warm, in the mid-upper 20s°C with lows in the upper teens.

Okinawa
As for Okinawa (Naha), cloudy skies are expected for much of the week, with rain Tuesday, Thursday and Friday. Temperatures are expected to be hot, with highs in the upper 20s℃ for much of the week.
Other recommended articles for spring 2019
See the links below for more on upcoming fun events and festivals!
Source for forecast and images: Japan Meteorological Agency website / http://www.jma.go.jp/jma/indexe.html
*This information is from the time of this article's publication.
*Prices and options mentioned are subject to change.
*Unless stated otherwise, all prices include tax.
Recommended places for first-time visitors to Tokyo