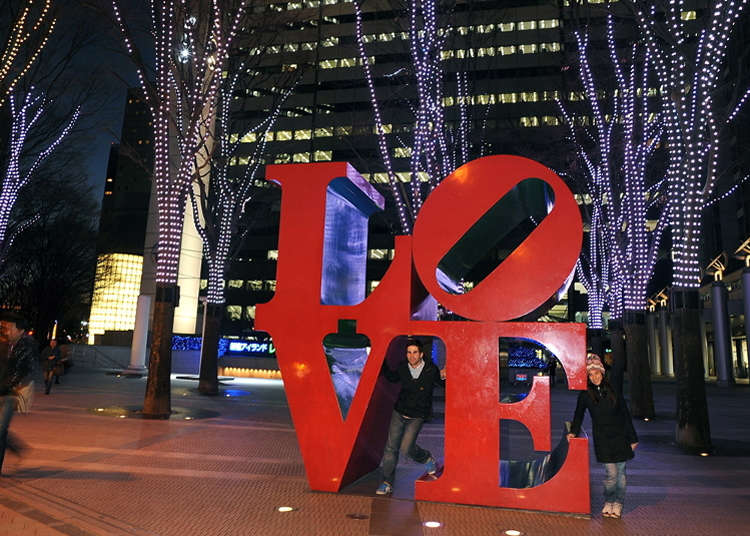 These are the top recommendations for Shinjuku, with travel tips and more, according to LIVE JAPAN, a top-class travel website for visitors to Japan. Our ranking is based on the most popular pages viewed by foreign visitors in a given category.

For instance, Nishi Shinjuku LOVE Statue, BICQLO, ITAMAE SUSHI and other related spots will be listed. Be sure to check them out during your visit to Shinjuku!
1.Nishi Shinjuku LOVE Statue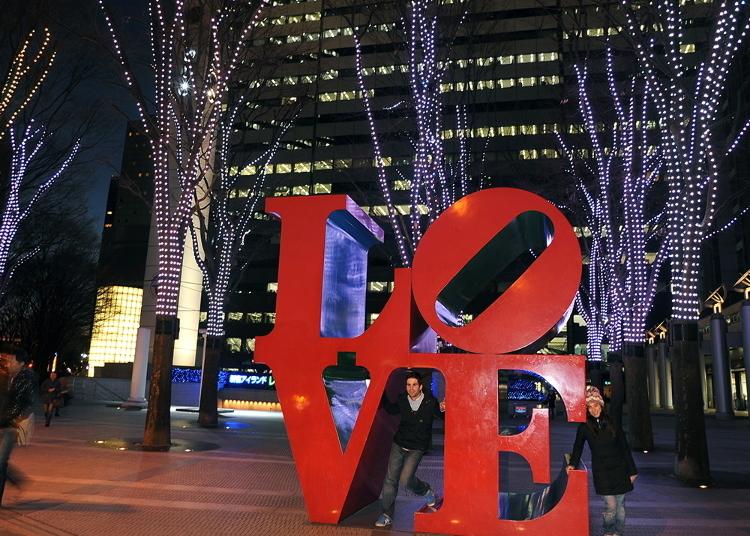 LOVE Objet is a popular meeting place at Nishi-Shinjuku Station. It is a public artwork fronting the entrance of Shinjuku i-LAND, a skyscraper with 44 floors of offices, stores, residences and a specialty school. The famous objet, created by American artist Robert Indiana, is frequently shown on TV and is a popular meeting place for couples. It has even spawned its own subculture: one rumor says that if you can pass between the V and E without your body touching it, your romantic relationship will succeed. Shinjuku i-LAND is directly connected to Nishi-Shinjuku Station on the Tokyo Metro Marunouchi Line, and an eight-minute walk from Shinjuku Station on the JR, Odakyu, Keio and Toei Shinjuku Lines.
Address

6-5-1, Nishishinjuku, Shinjuku-ku, Tokyo, 163-1312
View Map

Nearest Station

Nishi-Shinjuku Station (Tokyo Metro Marunouchi Line)
1 minute on foot


Phone Number

03-3348-1177
A collaboration store by Bic Camera, known for selling large consumer electronics, and well-known casual fashion retailer Uniqlo. The store comprises six above-ground and three below-ground floors, with Floors 1-3 housing Uniqlo. Uniqlo offers a large selection of seasonal fashions and the My Uniqlo section on Floor 2 allows customers to create their own original clothing items by customizing their purchases with buttons, lace, and other decorations. On the below-ground floors and Floors 4-6, you can find a wide-range of products, including the latest consumer electronics, games, daily necessities, and sports equipment. Free Wi-Fi is available throughout the store and there are plenty of customer services available, including a service for sending purchases to the airport. We also employ staff that can speak English, Chinese, and Korean, and accept payment by all credit cards, digital currency, and even bitcoin. For direct access via the Tokyo Metro Marunouchi and Fukutoshin Lines and the Toei Shinjuku Line, alight at Shinjuku-sanchome Station and take exit A5.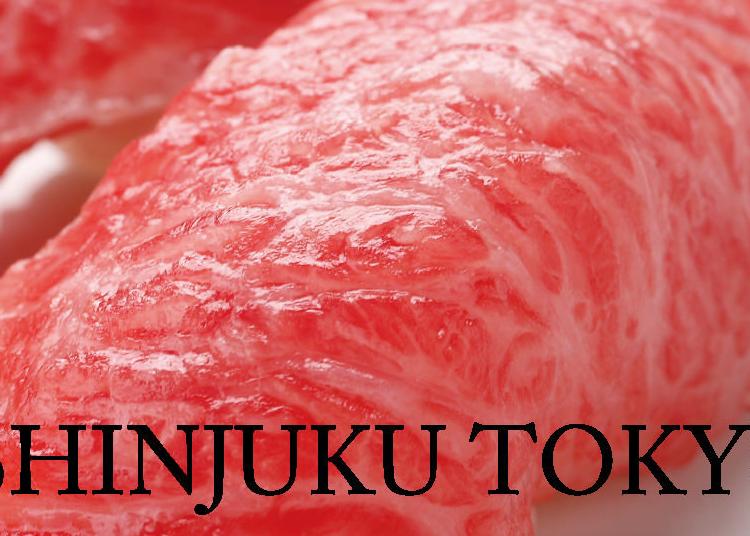 In April 2015, Itamae Sushi opened its biggest branch in Shinjuku's famous Kabukicho district in the Toho building, which is topped with a life-size Godzilla statue. Boasting seating for 100, including counter seating for 18, the restaurant is laid out around a semi-stage cooking area, allowing diners to observe the techniques of the sushi chefs, up to 24 hours a day. With 11 branches in Japan and more than 60 overseas, Itamae chefs know their fish, carefully selecting their ingredients directly from the Tsukiji Fish Market and ports across Japan. Blue fin tuna is a specialty and Itamae's is as good as that found at the highest-end restaurants. Sushi starts from just ¥58/piece and nigiri sushi sets start at ¥1,380. Course menus featuring seven items are ¥3,500, while eight-item courses are ¥5,000. All-you-can-drink options start at ¥1,500. Itamae Sushi offers high-quality sushi in a foreigner-friendly atmosphere and their chefs are happy to recommend wine, champagne, sake or shochu to best complement the sushi.
4.Don Quijote - Shinjuku Higashiguchi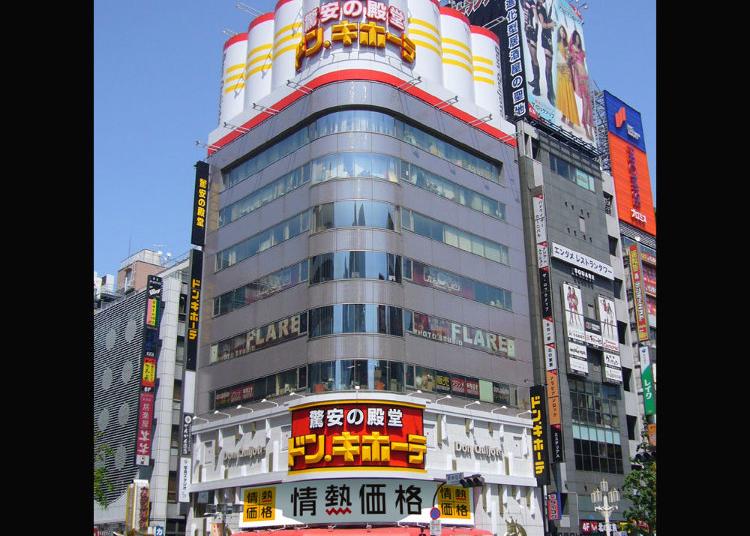 Don Quijote Shinjuku Higashiguchi Honten is located in Kabuki-cho, Shinjuku, and the chain is a general discount store based throughout Japan. In addition to food, household goods, electronics and various brand-name goods, it offers a rich variety of items such as party goods. Some of its more popular goods are Cosplay outfits. There are also plenty of souvenir products and services catering to foreign tourists. Not only does Don Quijote offer duty free but it also accepts the US dollar, Renminbi, Euro, Thai baht, Korean won, Hong Kong dollar and Taiwan dollar for purchases (notes only). Customers can rest assured that credit cards, China UnionPay, and Alipay are also accepted. There is also an airport delivery service, so you can shop to your heart's content. It is 3-minute walk from Pepe-mae Exit of Seibu-Shinjuku Station on the Seibu-Shinjuku Line and a 5- minute walk from the East Exit of Shinjuku Station on all lines.
Address

1-16-5, Kabukicho, Shinjuku-ku, Tokyo, 160-0021
View Map

Nearest Station

Seibu-Shinjuku Station (Seibu Shinjuku Line)
3 minutes on foot


Phone Number

03-5291-9211
5.Takashimaya Dept. Shinjuku Store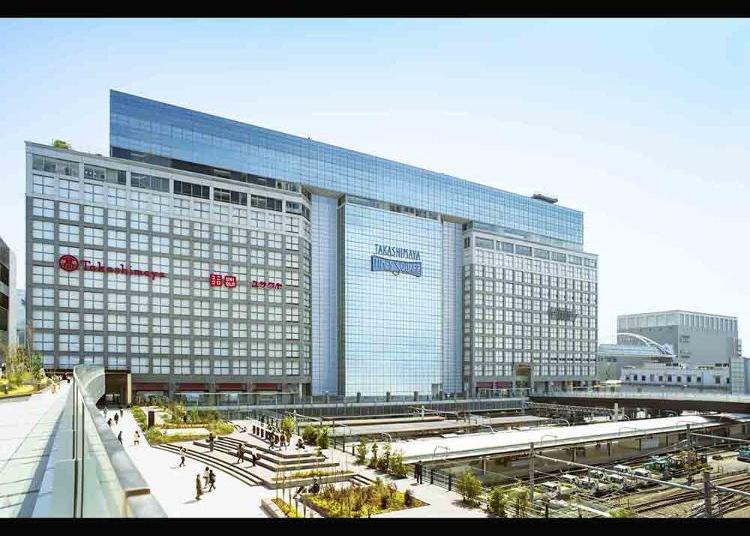 This department store stocks a wide variety of items, including first-class Japanese and import brands as well as quality Japanese-made products. On the upper floors you'll find the store's restaurant section, one of the capital's finest with 36 restaurants and a gorgeous night view.
Special offer: Foreign tourists can receive a 5% courtesy card by presenting their passports at the duty-free counter on the 2nd floor.
Delivery: Shinjuku Takashimaya provides paid delivery service to Haneda and Narita Airports. Purchased products can be delivered to neighboring hotels at no additional cost.
Accepted credit cards: VISA, MasterCard, DC, JCB, UC, NICOS, American Express, Diners Club, and more (UnionPay accepted)
Wi-Fi spots: Available (free for 30 minutes)
Other: There is a prayer room on the 11th floor open to everyone during the store's hours of operations.
Address

5-24-2, Sendagaya, Shibuya-ku, Tokyo, 151-8580
View Map

Nearest Station

Shinjuku Station (JR Shonan Shinjuku Line / JR Yamanote Line / JR Chuo Main Line / JR Saikyo Line / Tokyo Metro Marunouchi Line / Toei Shinjuku Line / Toei Oedo Line / Keio Line / Keio New Line / Odakyu Odawara Line)
2 minutes on foot


Phone Number

03-5361-1111
6.Tokyo Metropolitan Government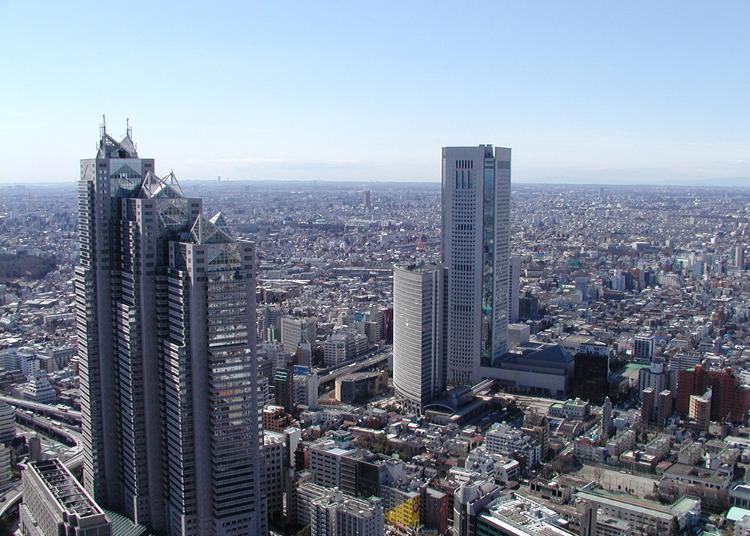 It is located on a 10-minute walk from the West exit of JR Shinjuku Station. The Tokyo Metropolitan Government started its operation in the unique and impressive building in 1991. Within the premises of approximately 42,940 square meters, the 243-meter-tall Main Building No.1, the Main Building No.2, and the Tokyo Metropolitan Assembly Building are located, and visitors can tour the premises without a prior appointment. The observation deck at a height of 202 meters above ground on the 45th floor of the Main Building No.1 is particularly popular as a sightseeing spot in Tokyo. You can enjoy the view of Mt. Fuji on a fine winter day and a panoramic view of the city glistening with illumination in the evening. Admission is free. In addition, the Tokyo Tourist Information Center and Japanese prefectural tourism promotion booths on the premises are very useful for people traveling not only in Tokyo but also to other areas in Japan. Also, 38 pieces of artwork, including sculptures and reliefs, are displayed in the buildings. Visitors can appreciate works of famous modern art artists in and out of the country as well as the works publicly solicited from the general public or young artists. Dining facilities, cafes, and kiosks are available on the premises, so it is a convenient place to have a break during sightseeing in Tokyo.
Address

2-8-1, Nishishinjuku, Shinjuku-ku, Tokyo, 163-8001
View Map

Nearest Station

Tochomae Station (Toei Oedo Line)


Phone Number

03-3277-2815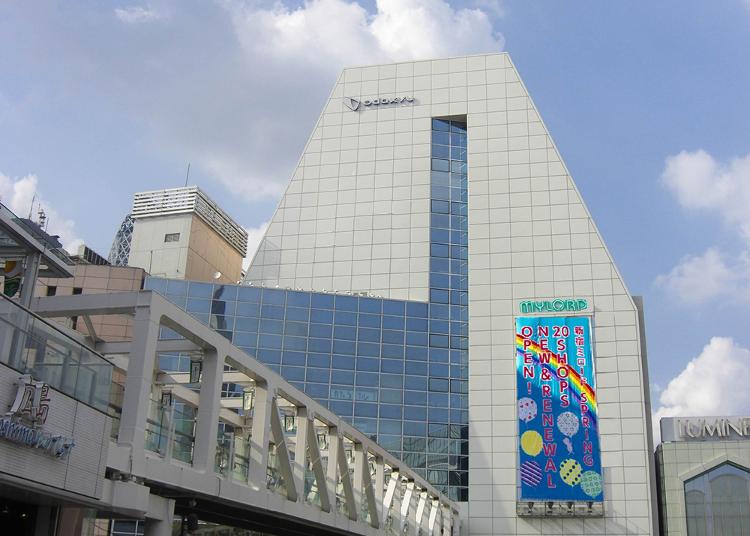 Featuring fashion retailers, assorted shops, cosmetic stores, restaurants, cafes, and more, Mylord Shinjuku is a shopping complex located just near the south exit of Shinjuku Station on the Odakyu Line. Situated above the station, it's great for shopping on a rainy day, and there's Odakyu Free Wi-Fi available too! With restaurants and cafes open until 11:00 p.m., you can enjoy a leisurely dinner late into the evening.

*Overseas visitors welcome!
*Lots of duty-free shops, including Samantha Vega Celebrity, ANNA SUI, ear PAPILLONNER, niko and…, Mercibeaucoup, pas de calais, MAJESTIC LEGON, kutsushitaya, LOCK YOUR HEARTS, X-girl, JINS and more! For details, stop at the floor guide on the 2nd floor or check out the website at
https://www.odakyu-sc.com/shinjuku-mylord/access/language/english.html
*Telephone interpreting services available (English, Chinese, Korean and Spanish)
*Odakyu Free Wi-Fi available.
Goods

Address

1-1-3, Nishishinjuku, Shinjuku-ku, Tokyo, 160-0023
View Map

Nearest Station

Shinjuku Station (JR Shonan Shinjuku Line / JR Yamanote Line / JR Chuo Main Line / JR Saikyo Line / Tokyo Metro Marunouchi Line / Toei Shinjuku Line / Toei Oedo Line / Keio Line / Keio New Line / Odakyu Odawara Line)
1 minute on foot


Phone Number

03-3346-5611
8.Tokyo Milk Cheese Factory Lumine Shinjuku Store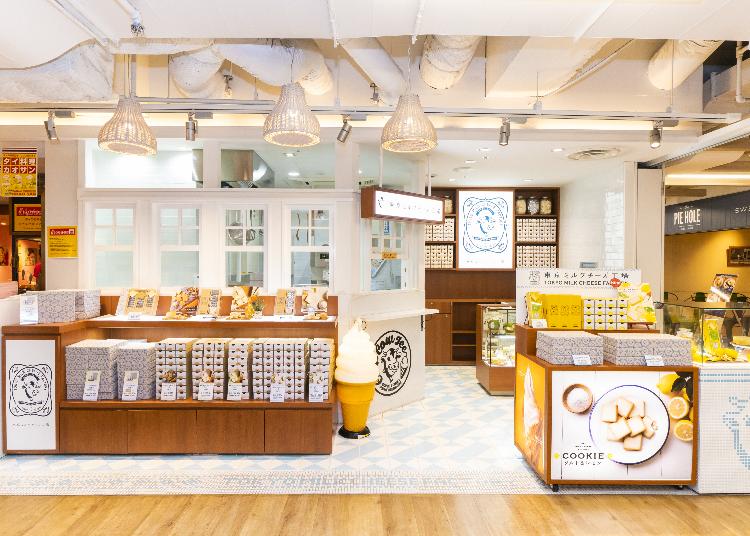 The Tokyo Milk Cheese Factory at the Lumine Shinjuku Store enjoys high popularity and ratings among customers within and outside Japan. We have an assortment of pastries made with carefully selected ingredients from across the world, such as our Salt & Camembert Cookie which is made with Hokkaido milk and French Guérande salt, and a camembert cheese chocolate filling in between. Our premium soft serve CowCowIce is only available at Lumine Shinjuku. CowCowIce Mix soft serve ice cream is made with Hokkaido Tokachi's Jersey milk, two kinds of cream cheese, and Hokkaido's Gouda cheese. Every CowCowIce waffle cone blended with Vintage Red Cheddar is a creation with best selected ingredients baked by hand.
Our shop is open from 10:00 a.m. - 10:00 p.m.
We have a tax-free service desk in the shop, where you can complete all the relevant procedures.
Free samples of cookies and other confectionary is available at the shop. Please stop by!
Address

LUMINE Shinjuku LUMINE1 B2, 1-1-5, Nishishinjuku, Shinjuku-ku, Tokyo, 160-0023
View Map

Nearest Station

Shinjuku Station (JR Shonan Shinjuku Line / JR Yamanote Line / JR Chuo Main Line / JR Saikyo Line / Tokyo Metro Marunouchi Line / Toei Shinjuku Line / Toei Oedo Line / Keio Line / Keio New Line / Odakyu Odawara Line)
1 minute on foot


Phone Number

03-6279-0227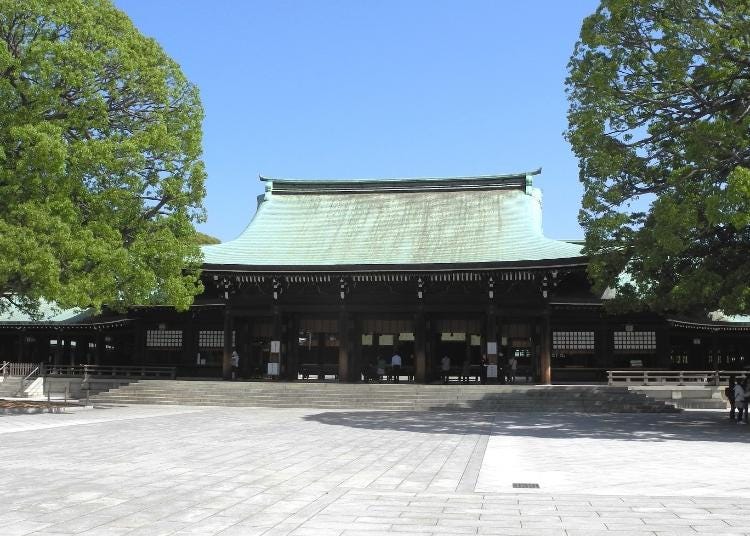 This is a shrine that worships the Meiji Emperor and his wife, Empress Shoken. This shrine has the most visitors during New Year's holidays. There is a large forest that spreads over 700 thousand square meters in the inner garden of Meiji Shrine that has the main building in the center, and this forest has become an oasis for the citizens of Tokyo. The irises in the iris garden that was planted for Empress Shoken comes into bloom in June, which delights the visitors' eyes. In the outer garden, there is the Seitoku Gallery, and also some sports facilities such as the Shrine Stadium. There is also the Meiji Memorial Hall which is a hall used for weddings and other parties that even talents and celebrities use. There is a kagura (sacred music and dancing performed at shrines) performed during the end of April to the beginning of May in the Spring Festival called the Urayasu-no-Mai. Urayasu-no-Mai is a mikomai (female Shinto dance that the young girls each carry a small baton with bells) that is popular as a way to experience the atmosphere of ancient Japan. There are also various traditional performances such as bugaku (court dance and music) and nohgaku (traditional Japanese play using masks) on the Shinto stage in front of the main building during this period. It is recommended that you visit at least once to experience traditional Japanese culture. It is a one-minute walk from JR Yamanote Line Harajuku station.
Address

1-1, Yoyogikamizonocho, Shibuya-ku, Tokyo, 151-8557
View Map

Nearest Station

Sangubashi Station (Odakyu Odawara Line)


Phone Number

03-3379-5511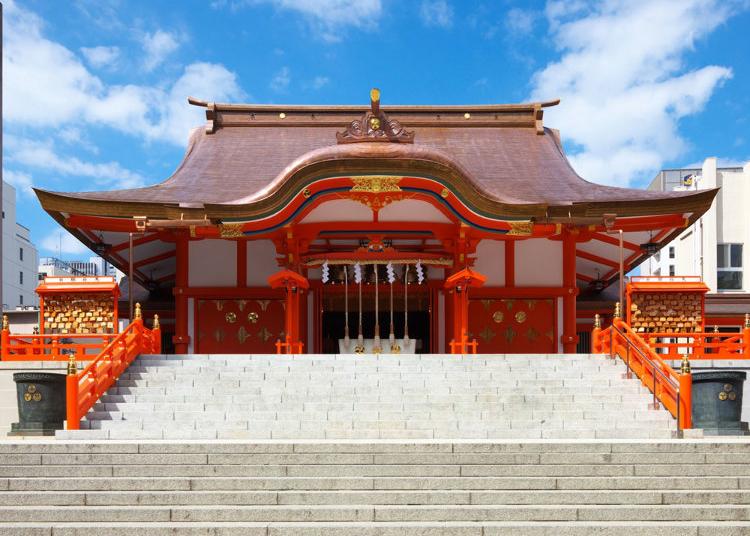 A shinto shrine that had been worshiped as the central shrine of Naito Shinjuku even before Tokugawa Ieyasu established the Edo Shogunate, as Shinjuku thrived as a lodging station. It was about 250 meters south of the current location between 1624 and 1644, but moved to a section of the flowering garden of the suburban residence of the Owari feudal lord in Edo, when the name was changed to Hanazono (flower garden) Inari (a fox deity). Geino Asama-jinja Shrine, one of the sub shrines on the premises, is known as the deity of entertainment. This is because the shrine put on shows, theatrical plays, and dances on a stage built on the grounds to finance its reconstruction after fires in 1780 and 1811. The Tori-no-Ichi fair, held on the days of the rooster in November to commemorate the death of Prince Yamato Takeru (a legendary prince) attracts approximately 600,000 people every year visiting to buy kumade rakes for thriving business and to attend the various amusement booths which are the famous spots at the Hanazono-jinja Shrine. It is a short walk from the E2 Exit of Shinjuku Sanchome Station on Tokyo Metro Marunouchi and Fukutoshin Lines.
Address

Shinjuku 5-17-3, Shinjuku-ku, Tokyo, 160-0022
View Map

Nearest Station

Shinjuku-Sanchome Station (Tokyo Metro Marunouchi Line / Tokyo Metro Fukutoshin Line / Toei Shinjuku Line)


Phone Number

03-3209-5265
*This information is from the time of this article's publication.
*Prices and options mentioned are subject to change.
*Unless stated otherwise, all prices include tax.
Recommended places for first-time visitors to Tokyo