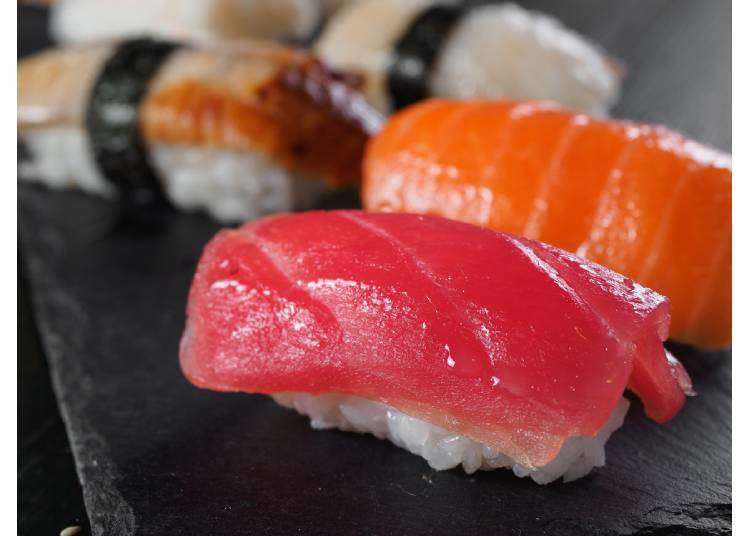 Lunch in Shinjuku: Enjoy Wagyu, Sushi, and Tempura for Very Little Money!
Date published: 21 February 2019
Shinjuku is one of Tokyo's most famous neighborhoods, known as a high-tech business area, the Tokyo Metropolitan Government Building, big and small retailers, and notorious for its glitzy, exciting nightlife! Chances are high that you'll end up in Shinjuku at least once when sightseeing in Japan and you might find yourself lost in the urban jungle while looking for something to eat. Fear not, as we have skimmed every nook and cranny of the massive place to find Shinjuku's top restaurant recommendations, offering a variety of dishes for very reasonable prices! Getting hungry yet?
Sangokuichi: Tasty Sukiyaki Nabe Udon, all Home-Made!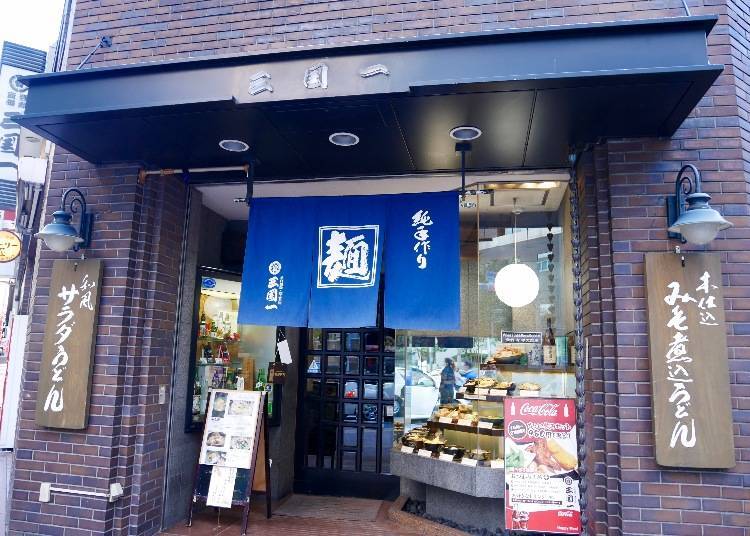 Sangokuichi's West Exit store is close to Shinjuku's Metropolitan Government Office and its famous free observation floor. As such, it makes for a great, casual place to drop by after an exciting morning of sightseeing to recharge your energies! The shop's specialty is their all home-made udon, coming as all kinds of dishes. Stir-fried yaki udon, delicious miso katsu udon with a juicy cutlet, or crunchy salad udon are just some of the yummy treats that Sangokuichi has to offer. We especially recommend the sukiyaki nabe (hot pot) udon that'll warm you to the core!

Both children and adults will find something that suits their taste and enjoy it in the spacious, cozy restaurant. The smoking area is separated from the non-smoking seats, so there's no need to worry about that either.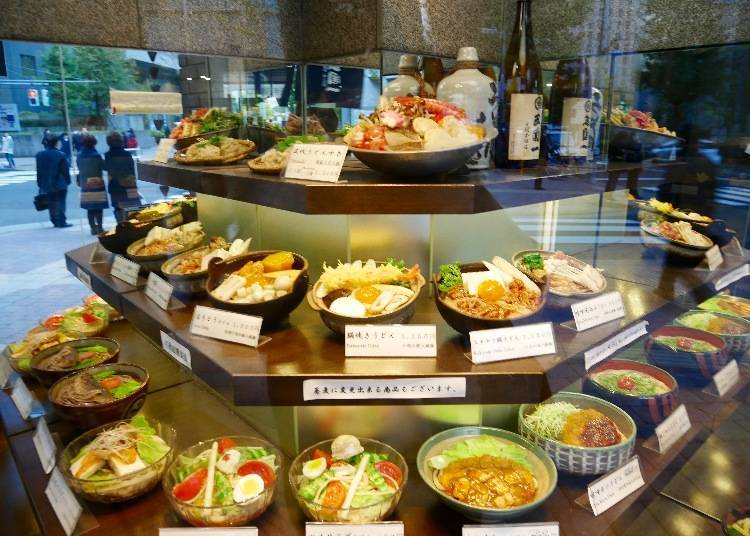 A plethora of udon dishes – food samples make choosing easier!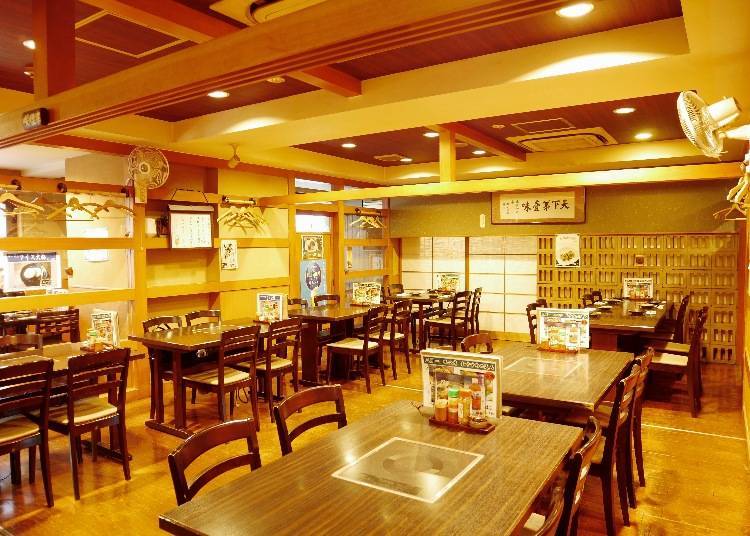 The spacious interior of Sangokuichi offers seats for over 100 people. The restaurant enjoys a lot of regulars, so be prepared to meet quite the crowd if you decide to stop by between noon and 1:30 p.m.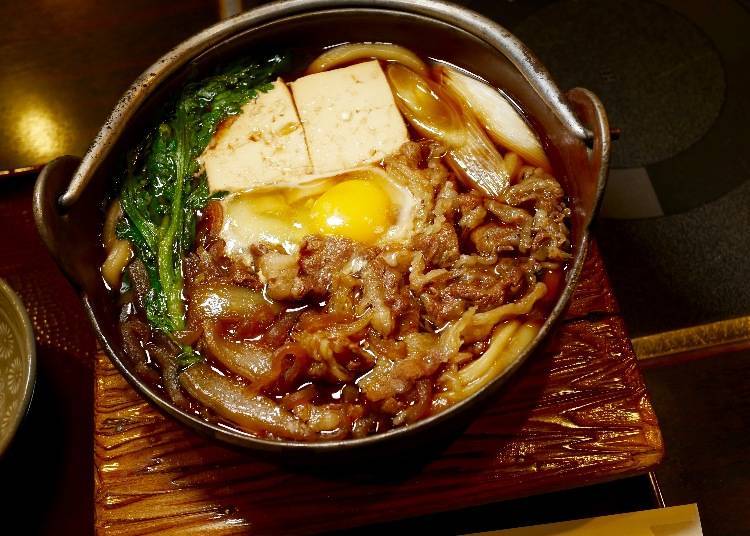 Sukiyaki Nabe Udon for 1,100 yen
One of the store's most popular dishes – and our favorite – is the aforementioned sukiyaki nabe udon. It's a bowl of savory hot pot broth, home-made udon noodles made fresh every day, and various ingredients such as tofu and juicy beef.

Fresh udon in a yummy sukiyaki nabe is the best choice for colder days – it'll warm you up right from the inside! But even if its warm outside, try some of Sangokuichi's cold udon delicacies with uniquely Japanese sauces. You'll quickly get addicted!
三国一 西口店

Address

Nishishinjukushowa Bld., 1-13-10, Nishishinjuku , Shinjuku-ku, Tokyo, 160-0023, Japan

Hours
Monday to Friday: 11:00 a.m. – 11:00 p.m. (last order at 10:30 p.m.)
Saturdays: 11:00 a.m. – 10:00 p.m. (last order at 9:30 p.m.)
Sundays and national holidays: 11:00 a.m. – 9:00 p.m.
Tontake: Juicy Pork Cutlet for Every Occasion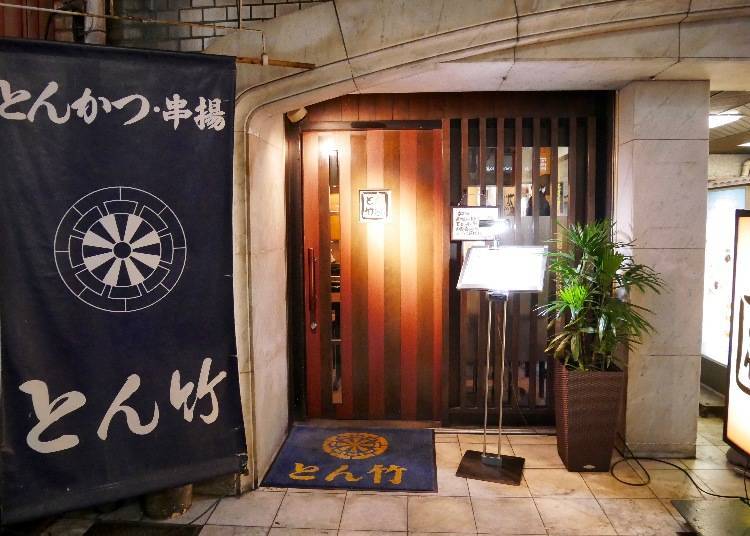 Tonkatsu, or pork cutlet, might be one of Japan's most casual and most beloved dishes. One of the best restaurants in Shinjuku serving this yummy treat is Tontake, a 2-minute walk away from Shinjuku Station's south exit. The place uses pork from Kagoshima for its dishes, known for its high quality and excellent taste. Its characteristics are an incredible juiciness and richness of both flavor and aroma – you'll quickly fall in love with it!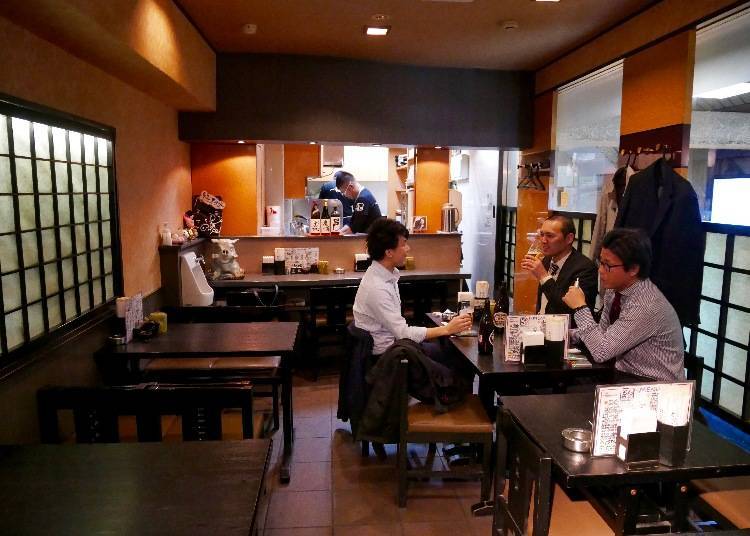 The shop itself is small and incredibly cozy, offering a great space to forget the hustle and bustle of the big city for a moment. The owner, a veteran of tonkatsu cooking, only hands out freshly made dishes that'll take you right to gourmet heaven!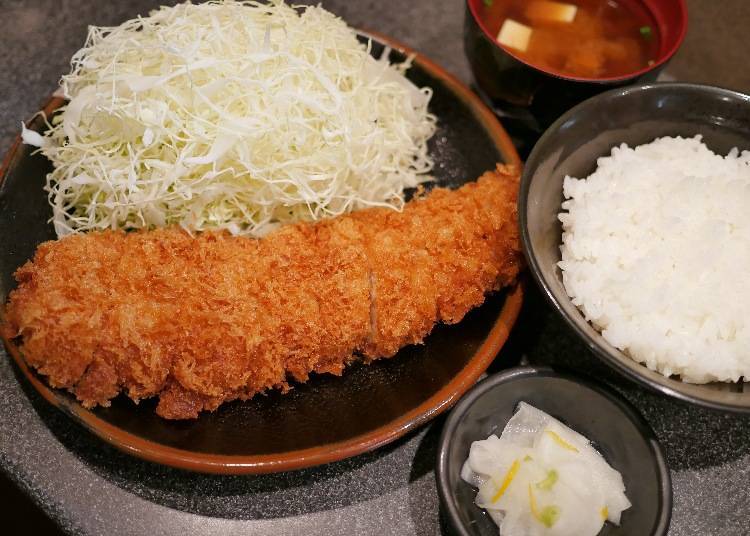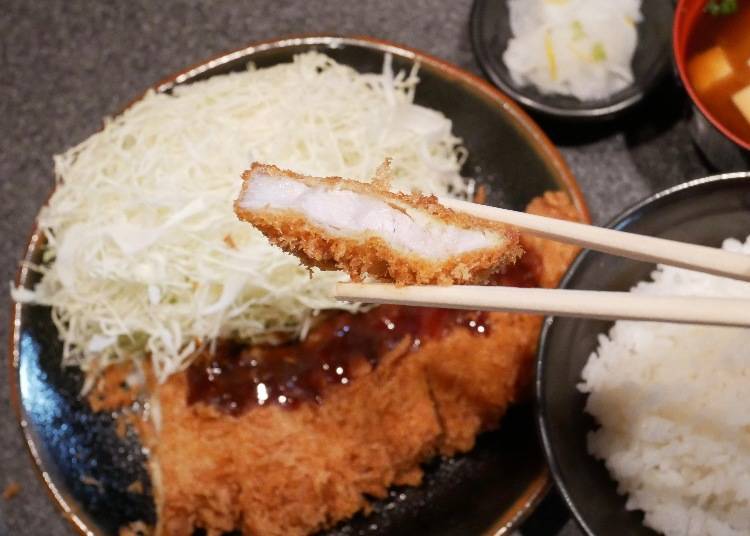 The tonkatsu lunch set for 850 yen (tax excluded) comes with miso soup, cabbage, and pickles.
The crispy breading reveals a wonderfully juicy pork cutlet with a mouthwatering aroma. Because of the excellent Kagoshima pork used for this dish, it's a simple yet exquisite gourmet encounter that'll make for a great memory.

The set meals start at 1,300 yen for dinner and 850 yen for lunch, unbelievably reasonable prices for such a high quality! Tontake is an absolute must-visit if you're hungry in Shinjuku.
とん竹

Address

2-7-6, Yoyogi, Shibuya-ku, Tokyo, 151-0053, Japan

Hours
Monday to Friday: 11:00 a.m. – 3:00 p.m. (last order at 2:45 p.m.), 5:30 p.m. – 9:30 p.m. (last order at 9:30 p.m.)
Saturdays: 11:00 a.m. – 3:00 p.m. (last order at 2:45 p.m.)
Closed: Sundays, national holidays
Yakiniku Rien: High-Grade Wagyu for Only 1,100 Yen!!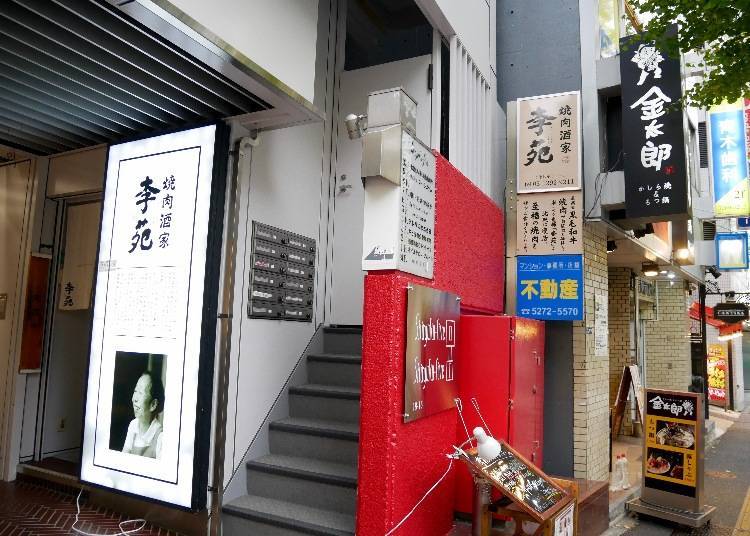 Yakiniku Rien is about a 10-minute walk away from Shinjuku Station, behind Isetan and Shinjuku Marui. It's easy to miss, so keep your eyes open for a small signboard along the broad main street and the characteristic red color of the wall!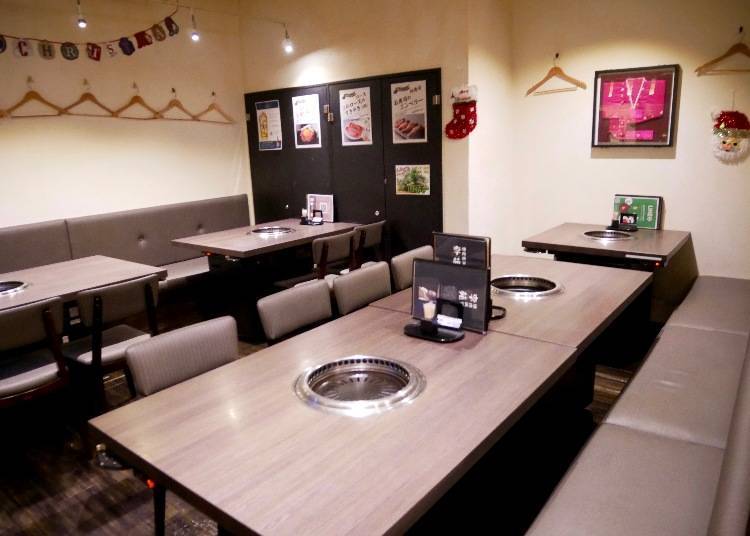 Rien follows the creed of simple but warm, boasting a welcoming atmosphere that everybody can relax in, no matter age and gender.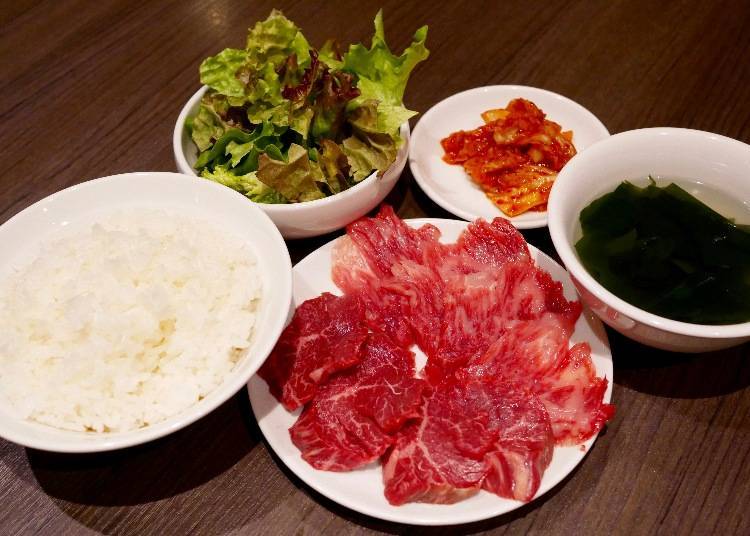 The Lunch Set B offers a choice of either three cuts (wagyu ribs, loin, and skirt steak) or one cut. It also comes with wakame (seaweed) soup, salad, and all-you-can-eat kimchi for 1,100 yen for everything (tax excluded).
Yakiniku is Japanese-style barbecue (which is actually inspired by Korean barbecue!) and a real must-have gourmet experience for meat lovers. Usually, a nice yakiniku course costs about 3,000 yen for one person but Rien lets you indulge in amazing wagyu (Japanese beef) for a mere 1,100 yen. The unique melt-in-your-mouth texture of Japanese beef is a gourmet experience that you must make at least once in your life!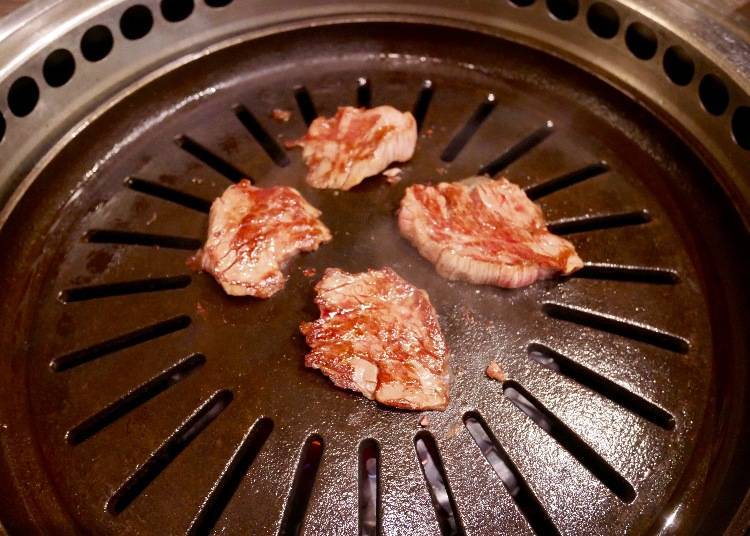 Especially great is the Lunch Set B. It offers three different kinds of wagyu cuts: ribs, loin, and skirt steak. You can either choose to try all three or pick one kind of cut. Wagyu ribs tend to be rich in fat, giving the meat a deep flavor and its excellent melt-in-your-mouth texture. Loin, on the other hand, is on the leaner side and a popular choice for yakiniku dishes. Skirt steak has a pleasant chewiness to it and very little fat. The choice is yours to make!
焼肉酒家 李苑

Address

B1, 5-18-16shinjuku5-1 Bld., Shinjuku, Shinjuku-ku, Tokyo, 160-0022, Japan

Hours:
Mondays – Saturdays: 11:30 a.m. – 2:30 p.m. (last order at 2:00 p.m.), 5:00 p.m. – midnight (last order at 11:15 p.m.)
Sundays and national holidays: 5:00 p.m. – midnight (last order at 11:15 p.m.)
Himawari Sushi: Conveyor Belt Sushi from 150 Yen per Plate!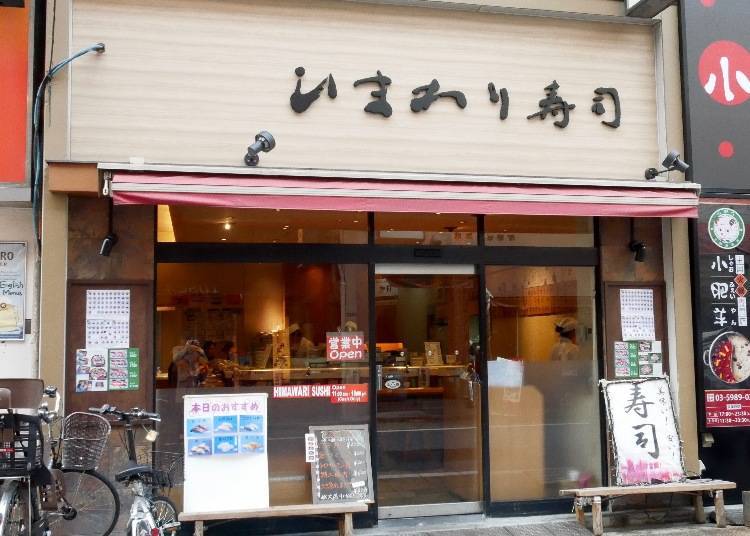 Himawari Sushi is rather famous in the Shinjuku area because not only does it have ridiculously low prices, it also serves amazing sushi creations. From a mere 150 yen per plate, you'll get to savor classics such as tuna, salmon, shrimp, and many more! At any time, there are about 50 varieties making their rounds on the conveyor belt.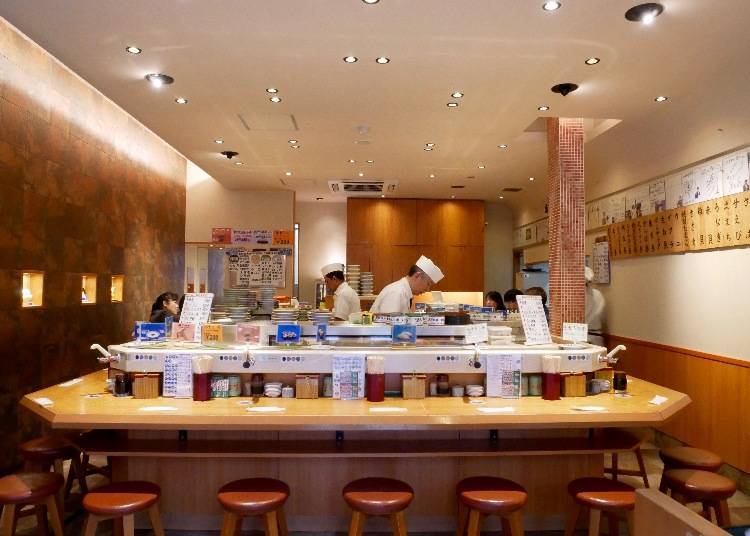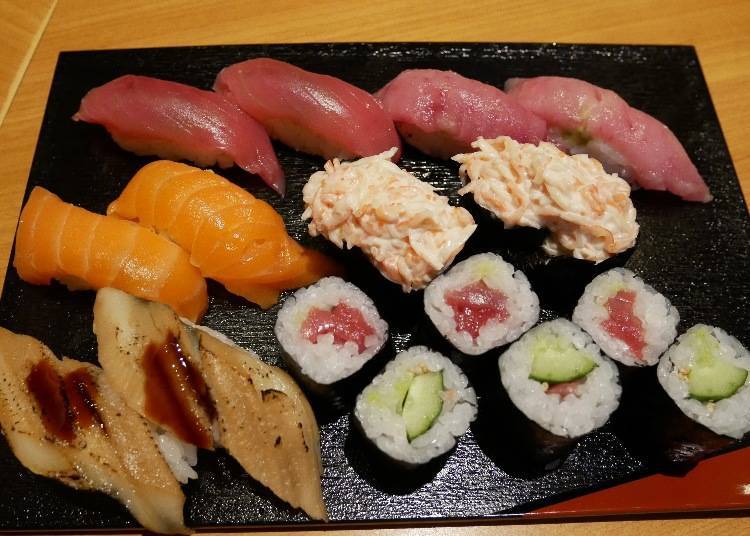 The "Number Three" set for 900 yen (tax included)
Next to single plates, Himawari Sushi also offers plenty of sets, starting at 500 yen. We're especially in love with the "Number Three" set that gets you two different kids of tuna nigiri (set of two), salmon nigiri, anago (conger eel), two battleship rolls with crab, three tekka-maki rolls (sliced raw tuna), and three kappa (cucumber) rolls. If you don't like wasabi, simply tell the staff! The restaurant also offers its menu in English and Chinese.
ひまわり寿司 新都心店

Address

1-15-3, Nishishinjuku , Shinjuku-ku, Tokyo, 160-0023, Japan

Hours: 11:00 a.m. - 10:00 p.m.
Closed: December 31 - January 3
Tenkichiya: The Best Shrimp Tempura in all of Shinjuku?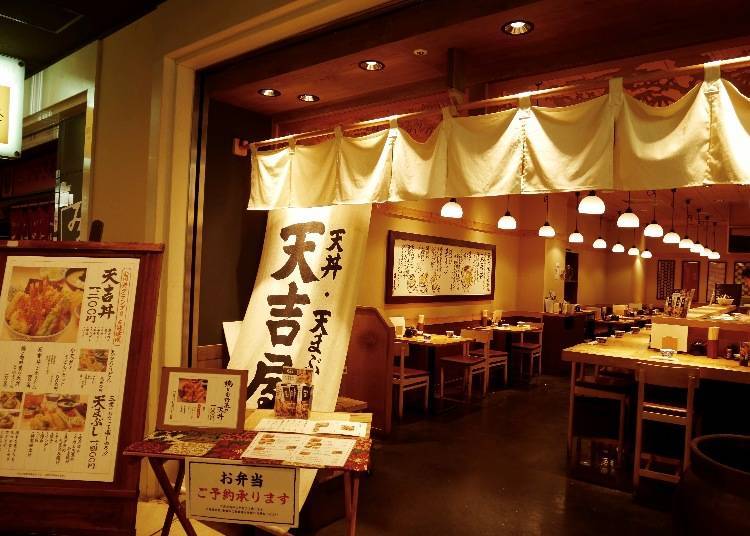 The tempura restaurant Tenkichiya can be found on the second floor of the Shinjuku Nomura Building and is a special recommendation by Japanese gourmets. Because it is situated in an office building, expect rather large crowds of people between 12:00 p.m. and 2:00 p.m. Tenkichiya is extremely popular for its delicious food and reasonable prices, so you'll spot a good deal of tourists amidst the working population as well. The restaurant offers its menu in both English and Chinese.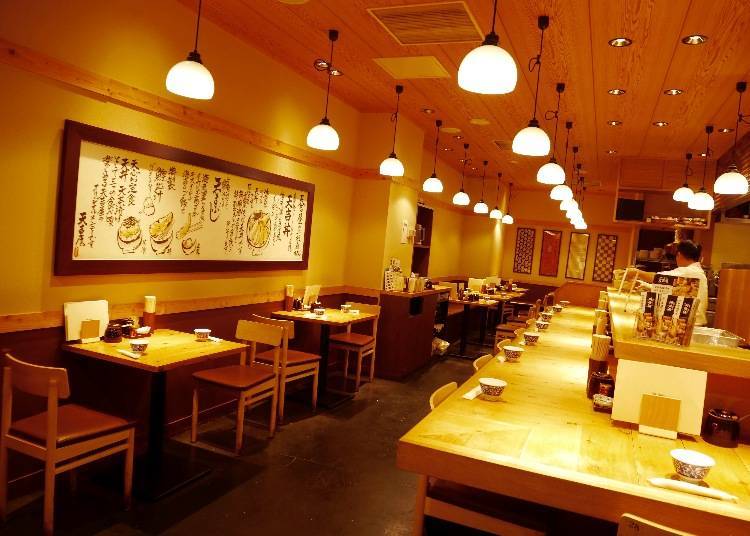 The simple interior offers a warm, welcoming atmosphere.
Tenkichidon for 1,200 yen (tax excluded)
We especially recommend a dish called Tenkichidon. It offers four pieces of shrimp, codfish from Hokkaido, squid, a half-boiled egg, eggplant, and beans, all crispily fried as yummy tempura, garnished with some nori (dried seaweed). For a tempura bowl, it offers a luxurious amount of toppings!

The ingredients used for the Tenkichidon are all of outstandingly high quality, fried to perfection. This delicious dish goes over the counter a total of 160 times a day! On top of that, Tenkichiya offers various other tempura sets, such as chicken and seasonal vegetables. Don't hesitate to try your way through the menu!
天吉屋 新宿店

Address

B2, Nishishinjuku Shinjuku Nomurabiru, Shinjuku-ku, Tokyo, 163-0590, Japan

Hours:
Monday – Friday: 11:00 a.m. – 9:00 p.m.
Saturdays and national holidays: 11:00 a.m. – 8:00 p.m. (last order at 7:30 p.m.)
Closed: Sundays
It's almost surprising that a glitzy urban jungle such as Shinjuku is home to so many little restaurants, tickling your taste buds with tasty Japanese food for unbelievably little money! We hope that our selection includes a nice place that struck your fancy! See you in Shinjuku!
Spots showcased in the article
Sangokuichi

三国一 西口店

Tontake

とん竹

Yakiniku Rien

焼肉酒家 李苑

Himawari Sushi

ひまわり寿司 新都心店

Tenkichiya

天吉屋 新宿店
Read this article on mobile
https://livejapan.com/en/in-tokyo/in-pref-tokyo/in-shinjuku/article-a0001734/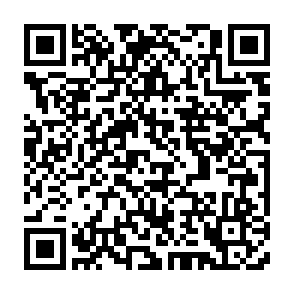 View the map on mobile
https://livejapan.com/en/in-tokyo/in-pref-tokyo/in-shinjuku/article-a0001734/map/
*This information is from the time of this article's publication.
*Prices and options mentioned are subject to change.
*Unless stated otherwise, all prices include tax.