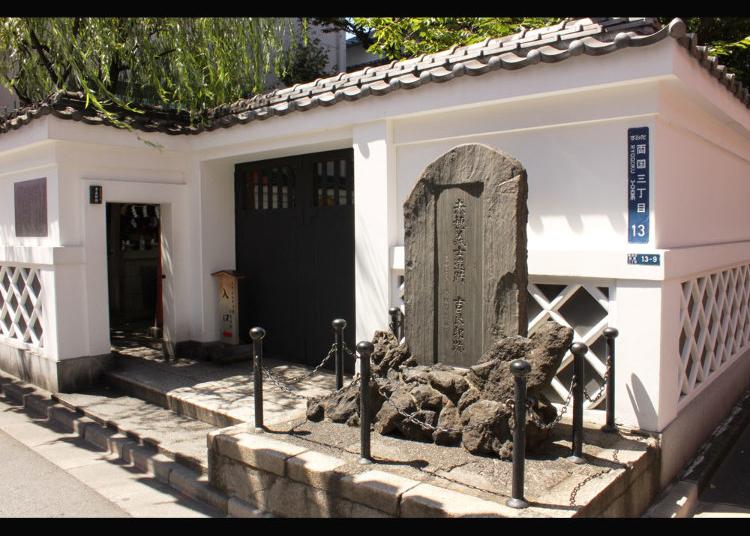 Here are the best Landmarks in Ryogoku / TOKYO SKYTREE area, with travel tips and more, according to LIVE JAPAN, a top-class travel website for visitors to Japan. Our ranking is based on the most popular pages viewed by foreign visitors in a given category. For instance, Tokyo Skytree®, Former Kira Residence, Sakura-bashi Bridge and other related spots will be listed. Be sure to check them out during your visit to Ryogoku / TOKYO SKYTREE(R)!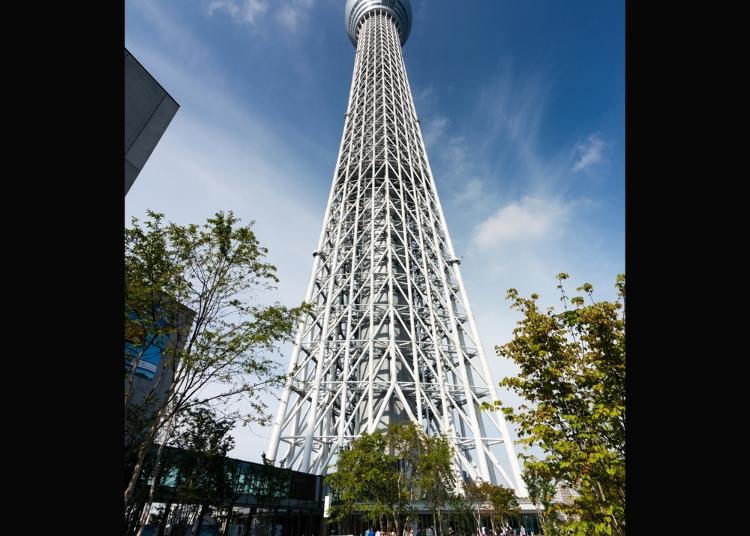 Tokyo Skytree opened in 2012. In addition to playing a role of a freestanding radio tower, it garners popularity as a popular sightseeing spot. This 634-meter tower was constructed with a tree growing up into the sky as the concept. At 350 meters above the ground is a triple-layered Tembo observation deck, and restaurants where you can spend time looking out at the view, an official shop, and a photo service station are placed. When you change elevators to go further up to the Tembo Galleria at 450 meters above the ground, you can enjoy a 360-degree panoramic view that affords as far as 70 kilometers away. You need to purchase a separate ticket to go there, but it is worth the purchase to see the townscape from high up in the sky. The light up of the Skytree tower at night is also attractive. Two patterns, Iki chic blue showing the spirit of the tower and Miyabi elegant purple expressing the sense of beauty alternately illuminate the night sky over Tokyo. You will be fascinated by this lighting effect showing Edo aesthetics with the friendly atmosphere of the traditionally commercial and working-class neighborhoods.
No.2:Former Kira Residence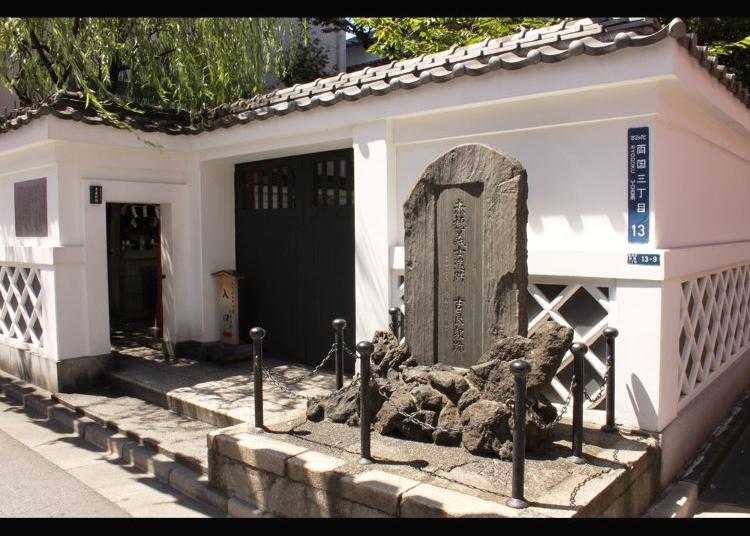 Kira tei, or Kira's former residence, is also known as Honjyo Matsuzakacho Park. It is a small part of the former residence of Kira Kozukenosuke Yoshihisa, a court official in the Edo shogunate. This building became famous after the historical event known as Ako-roshi (or Ako vendetta). Asano Takuminokami, who was a lord of Ako, killed himself by committing seppuku (ritual suicide) when he was assaulted by Kira. A group of 47 Ako-roshi from Asano's clan attacked Kira's residence to avenge their master's honour. This tragic event was made into many kabuki plays and films titled "Chushingura." The original residence was built on a huge plot of land measuring 134 meters from east to west and 63 meters from south to north; today only one seventy-sixth of the residence remains. Matsuzaka-inari shrine, on the same property, enshrines Kira and the well said to have been used to clean his head. The site is designated an Important Cultural Property of Tokyo and is open to the public with free admission.
Address

3-13-9, Ryogoku, Sumida-ku, Tokyo, 130-0026
View Map

Nearest Station

Ryogoku Station (Toei Oedo Line / JR Sobu Line)
7 minutes on foot


Phone Number

03-5608-6951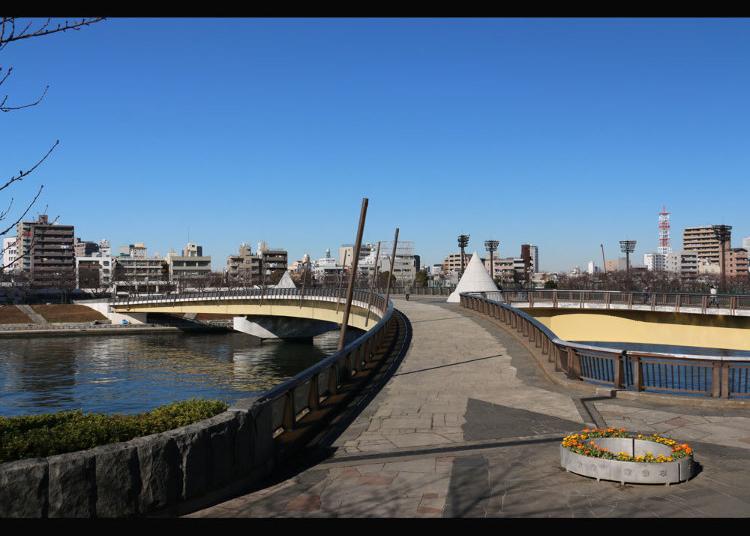 The bridge was constructed in 1985 as a part of Sumida Park. The 169.5-meter long and 6-meter wide pedestrian bridge is built over the Sumida River to connect the Sumida side and the Taito side of Sumida Park. It has a smart design that blends in with the surroundings and is distinguished by a curve in the shape of an x. The design received the Tanaka Award from Japan Society of Civil Engineers in 1989. Natural stones were used as the base stone and seasonal flowers are planted at the edges. In 1995, A sculpture made by the sculptor, Yoshio Hosoi, based on a design by the nihonga painter, Ikuo Hirayama, was installed on the bridge to celebrate the tenth anniversary of its construction. The more than 1000 cherry blossoms along both banks of the Sumida River can be enjoyed in in the spring and the Sumida River Fireworks Festival in the summer.
Address

2, Mukoujima, Sumida-ku, Tokyo, 270-2265
View Map

Nearest Station

Tokyo Skytree Station (Tobu Isesaki Line (Tobu Sky Tree Line))
15 minutes on foot

*This information is from the time of this article's publication.
*Prices and options mentioned are subject to change.
*Unless stated otherwise, all prices include tax.