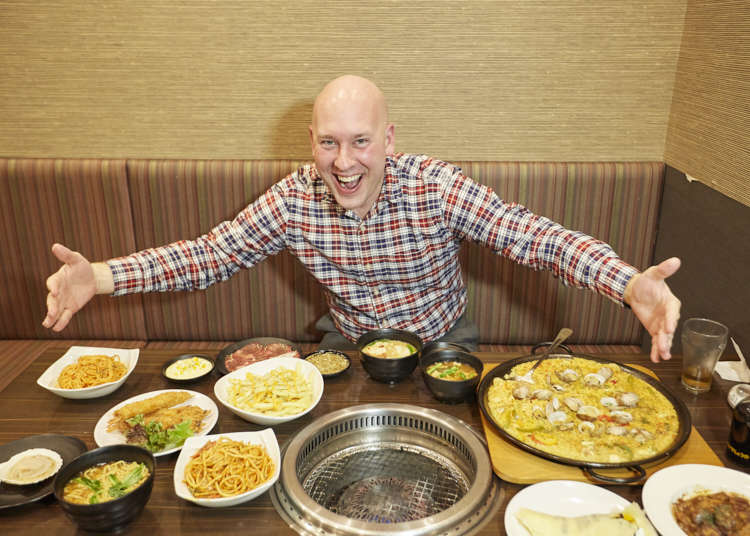 All-you-can eat is an amazing concept. Recently, especially hotel buffets offering various delicacies have become popular in Japan among both old and young alike! While hotels are nice, they're not exactly a casual place to simply stop by. That's where Stamina Taro takes the stage. The restaurant offers an amazing all-you-can-eat experience for little money and outstanding flavors!
What is the Next-Level "Stamina Taro NEXT?"
Stamina Taro is Japan's largest buffet restaurant chain with a total of 156 locations throughout the country. It's a rich selection of about 130 dishes that doesn't only include pasta, ramen, and desserts but mainly focuses on sushi and meat delicacies!

Up until now, Stamina Taro has mainly set up shop at major roads in suburban areas, but the popular chain is finally coming to the city centers! Within walking distance of large stations, these new urban shops follow a "next-level" concept under the name of Stamina Taro NEXT.
The all-you-can-eat shops don't only target families but also students and office workers, drawing people in with the high-quality menu that is prepared with special attention to ingredients and cooking methods, while the interior conveys a modern atmosphere of cleanliness and calm. To people who are already familiar with the chain, it's best to describe it as the regular Stamina Taro having ranked up!

We know that Japanese people are already in love with Stamina Taro NEXT, but what about international gourmets? We asked Timothy, our resident taste-tester from the United States and serious gourmet, to give the place a try!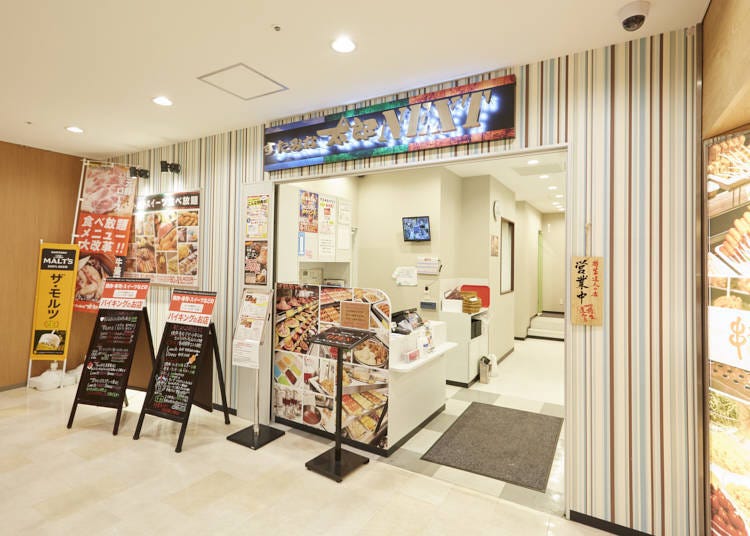 The restaurant we're visiting is the Stamina Taro NEXT BIGBOX Takadanobaba. It's just outside Takadanobaba and located on the 9th floor of the iconic BIGBOX complex.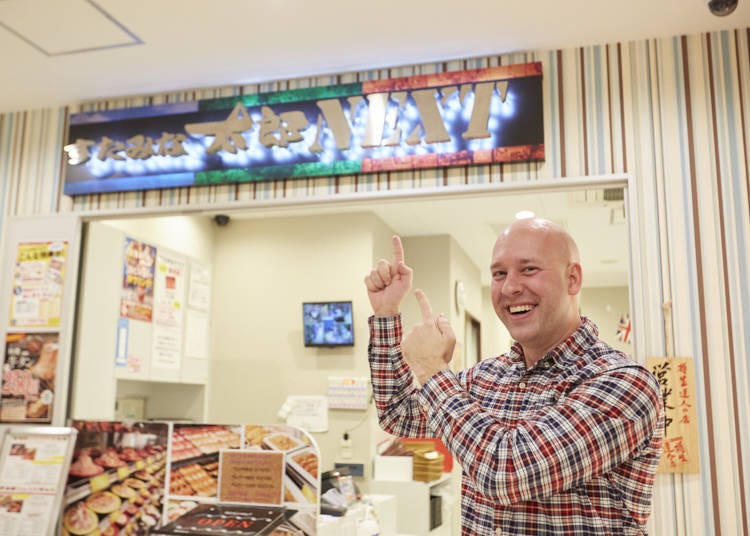 Timothy, originally from New York State, has been living in Japan for over 16 years. He loves to eat and tells us that he often visited buffet-style restaurants back in the States. It's his first visit to Stamina Taro NEXT and to prepare for the experience, he hasn't eaten anything since the previous day!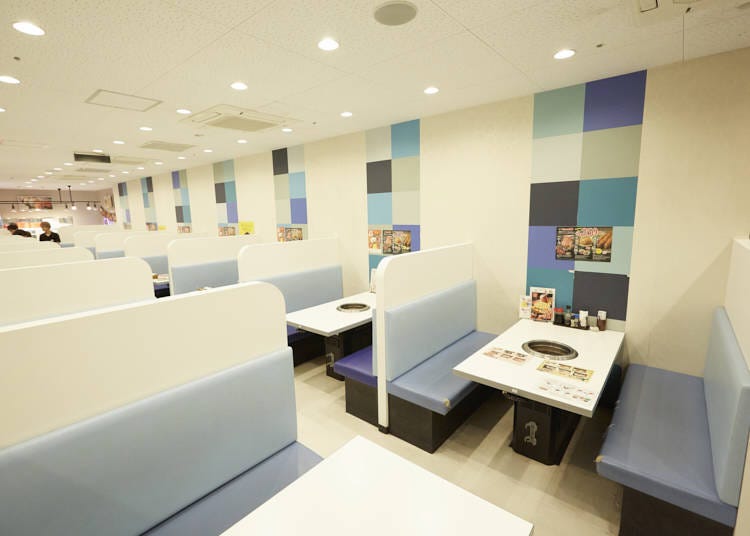 We're engulfed by a wonderfully calm, clean atmosphere evoked by the tasteful interior centering on the color blue. The restaurant offers not only box seats but also private rooms, offering a relaxed space for both solo diners and larger groups.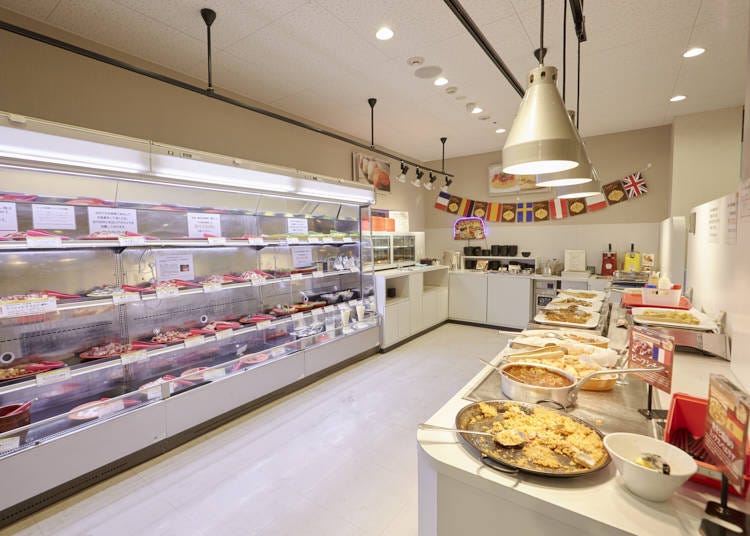 In the back sprawls the rich buffet with Japanese barbecue, sushi, noodles, vegetable dishes, deep-fried skewers, salads, desserts, and more, neatly arranged and ready to be savored!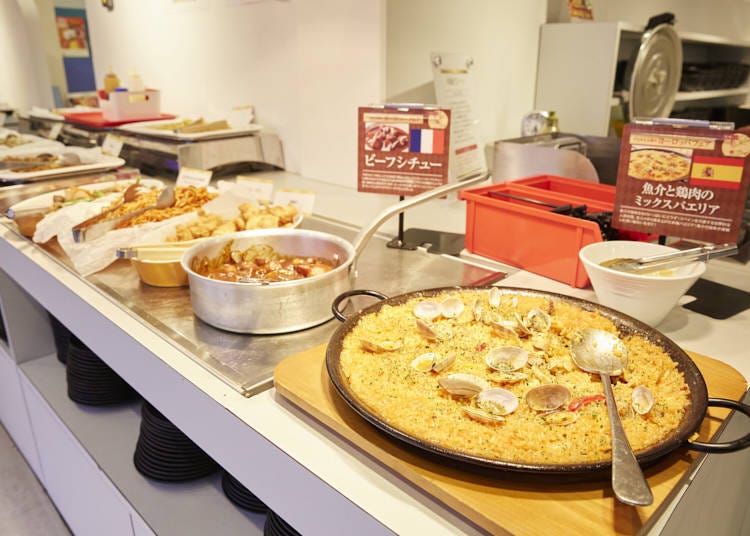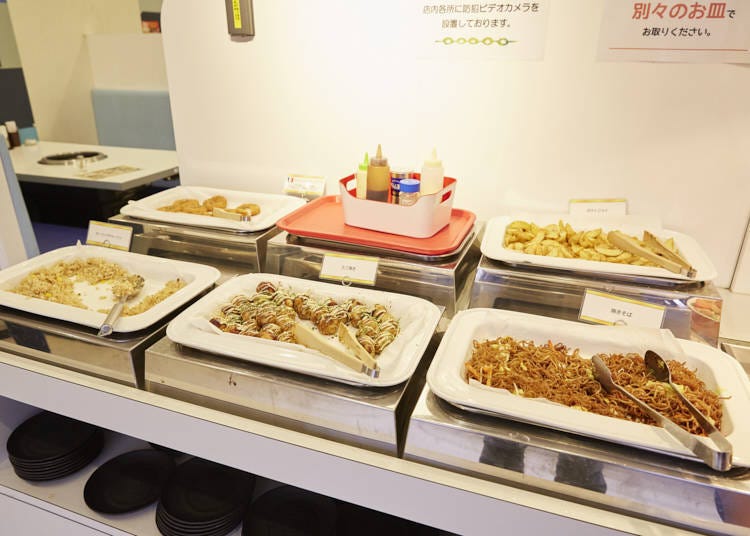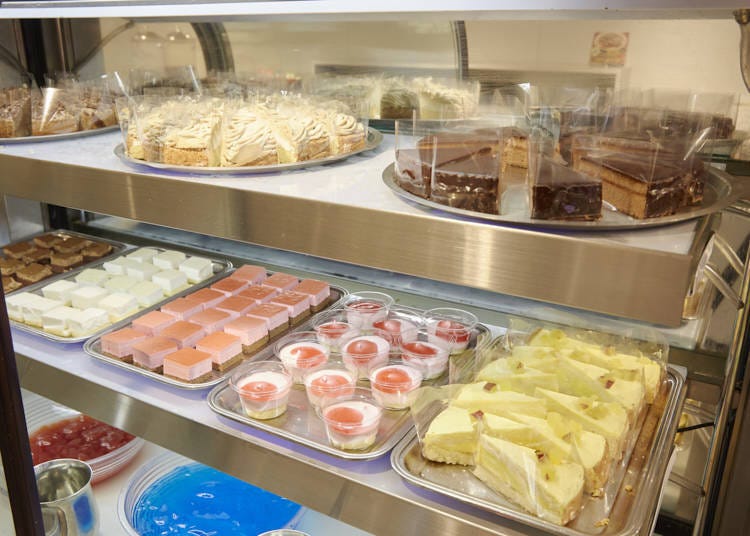 Timothy: "This is a huge selection! I see something for everyone here: different cuts of meat, sushi, veggies, and even paella. Dishes from entirely different genres, even. Just looking at the display is exciting."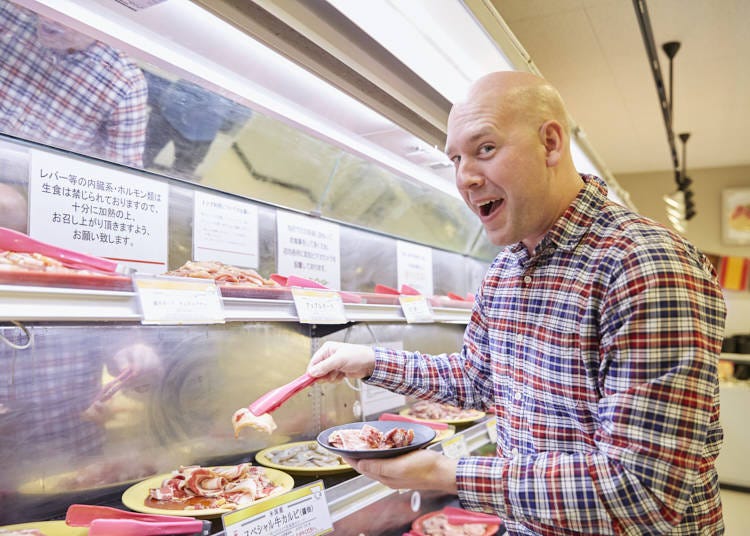 Timothy briefly glances over the menu of the store and then immediately puts the dishes that pique his appetite on his plate.

By the way, this is the 90-minute dinner course, costing 2,400 yen (tax excluded) for adults (junior high students and older). That is a surprisingly reasonable price for an all-you-can-eat buffet, but that price is even lower during weekdays. Then, lunch only costs 1,600 yen (tax excluded) for 90 minutes.
What's Stamina Taro NEXT's No. 1 Menu Item? Timothy's Food Report!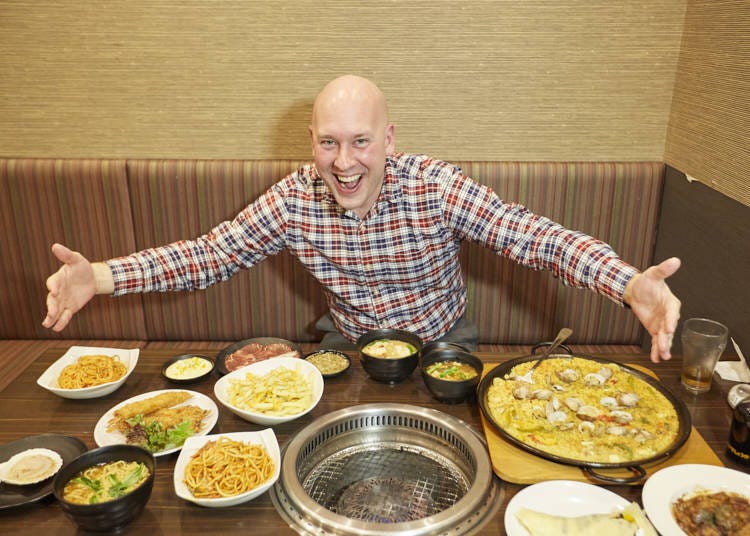 Tadah!

This is everything that Timothy found particularly interesting – about 30 different dishes! And even that is just a quarter of the menu.

*The paella is usually not given out as a whole, but the shop made an exception for us!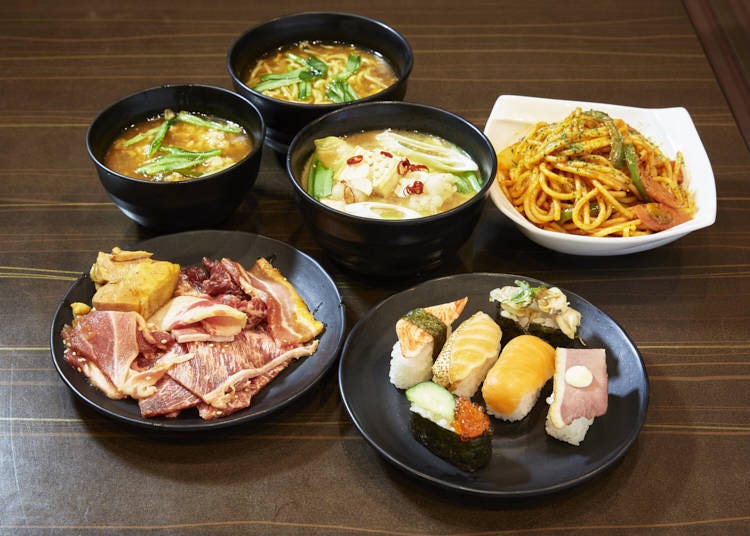 Part of the menu: Staro Pasta and Staro Rice (upper left), Miso Offal Hot Pot (center), Staro Cheese Potato (upper right), various kinds of meat for Japanese barbecue (lower left), Staro Napoli (bottom right), assorted sushi (bottom center).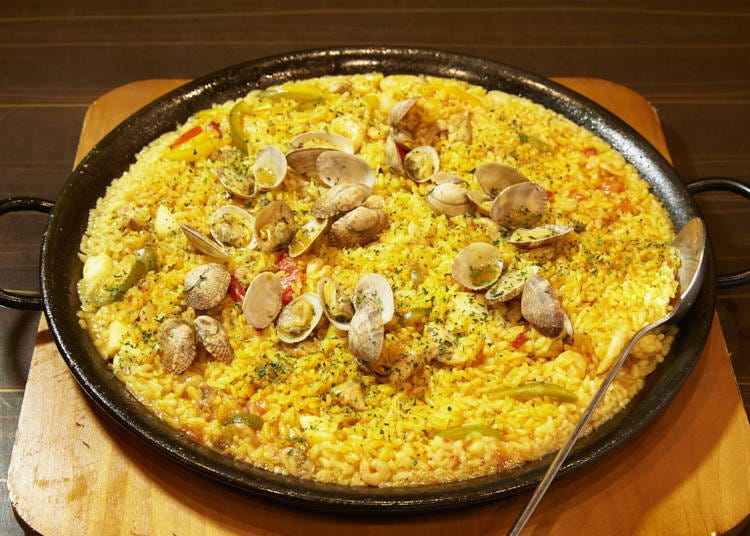 The mixed paella with seafood and chicken (available until end of February).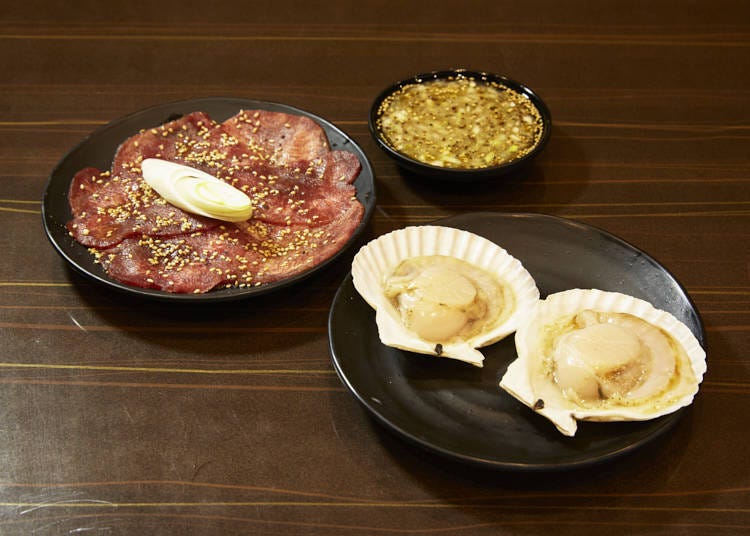 The extra menu: special beef tongue (left) and scallops grilled in the shell (right, 250 yen each)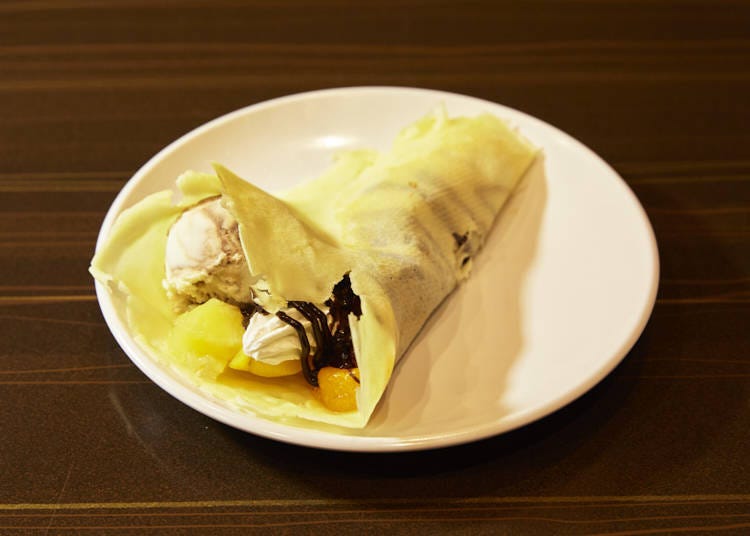 The "make your own crêpe" is part of the sweets menu!

Well, there is a 90-minute time limit, so let's get to eating!

Timothy: "Itadakimasu!"
Japanese Barbecue: A Rich Variety of Meat Cuts with Different Seasonings!
Timothy starts his gourmet experience with the Japanese barbecue. There are about 20 different cuts of meat alone, such as special beef spareribs, pork shoulder, pork skirt steak, soft chicken with salt seasoning, and more! Among them, Timothy chose the premium spareribs, spicy pork belly (samgyeopsal), apple pork, spicy dak-galbi, and beef offal with salt and garlic, five delicacies in total.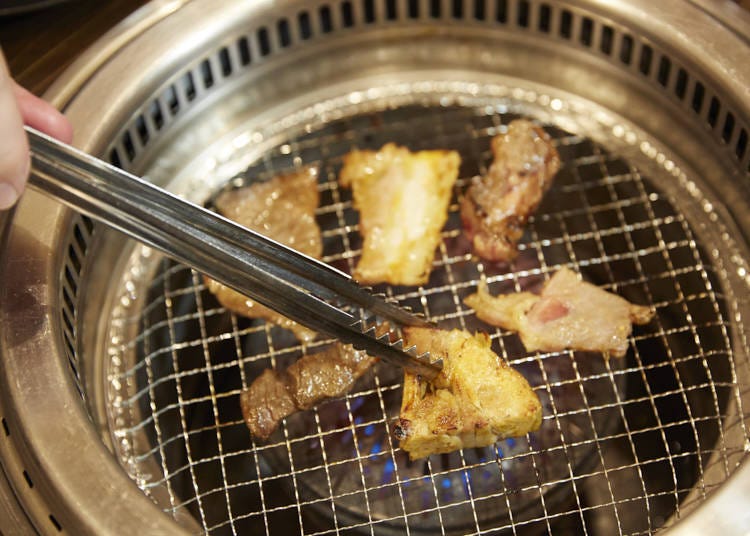 Timothy grills his meat slowly, carefully, and with the hands of a seasoned barbecuer. He likes nothing quite as much as meat and tells us that in Japan, he often eats shabu-shabu (Japanese meat fondue), so we are looking forward to hearing his expert judgment.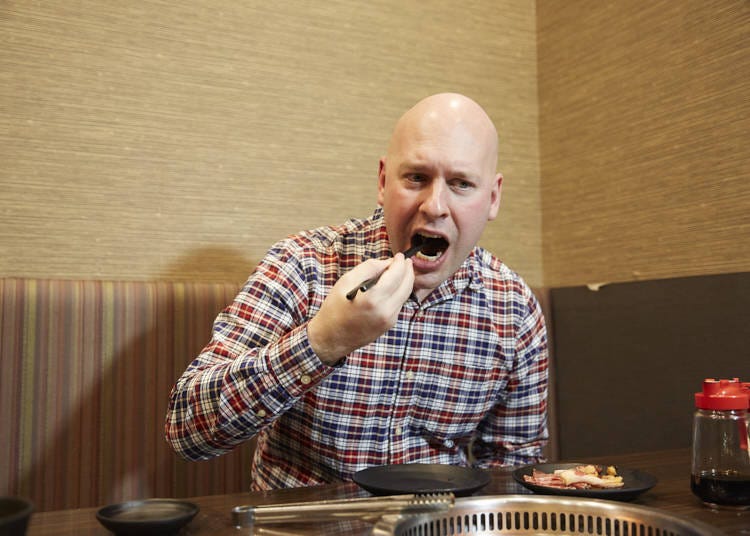 First, he tries Stamina Taro NEXT's most popular cut, the premium spareribs.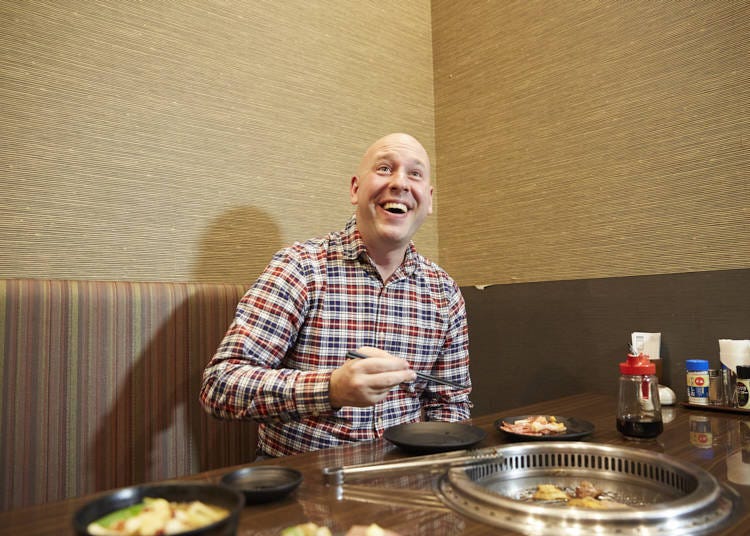 Timothy: "Oh yeah, great from the first bite! It is deliciously juicy, very tender, and I love the sweet sauce with it."

The first dish gets praise from Timothy! He savors the sparerib delicacies one by one until his plate is empty, which is when he turns to the spicy dak-galbi (Korean spicy chicken).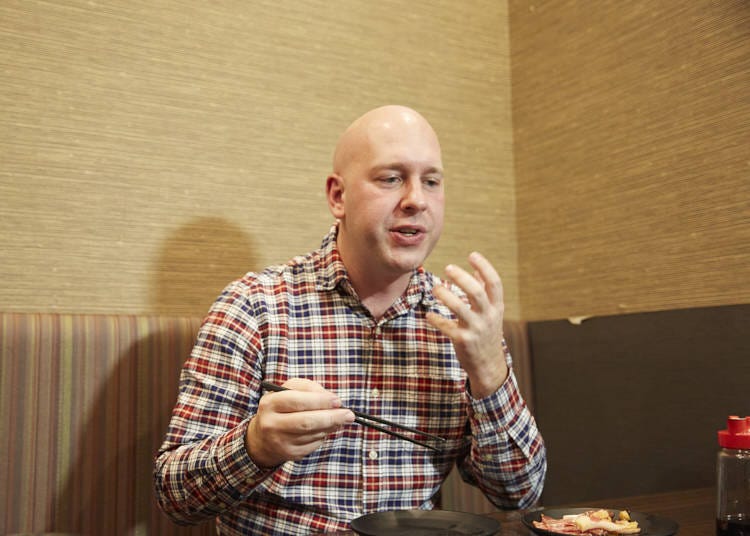 Timothy: "I've been curious about these because dak-galbi has been something of a boom in Japan, but I haven't yet tried it. The spicy dak-galbi uses chunky chicken pieces, they're a nice mouthful. They have also been marinated properly, so every time you chew, the taste just gets richer! One thing though, the dish is labeled as spicy, but it's actually pretty mild...oh."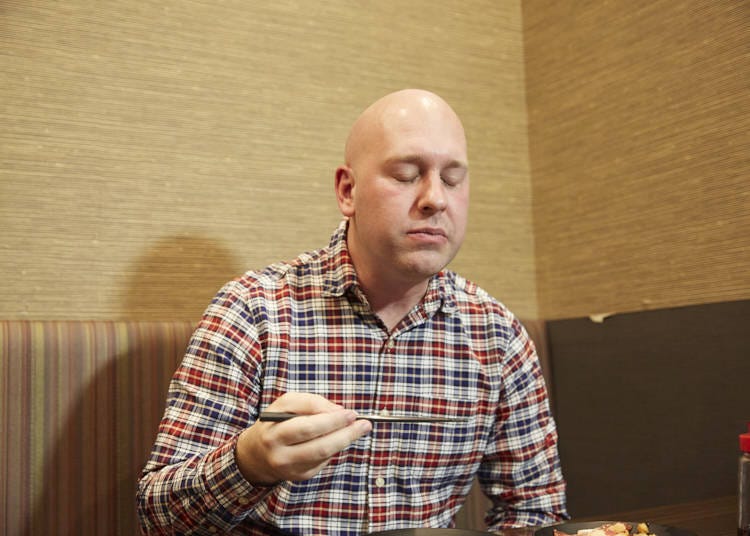 Timothy: "...okay, so there's a kick at the end! (laughs) It's just hot enough to make you crave for more. Really nice."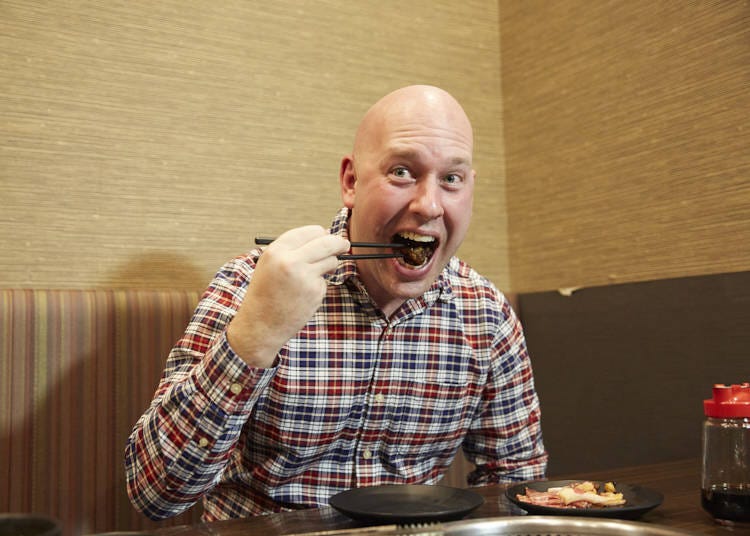 Timothy barbecues and eats then barbecues some more and seems to forget about the food report among all the deliciousness, enjoying the flavors in a savoring silence.
Sushi: From Basic Delicacies to Creative Varieties!
After Japanese barbecue, Timothy takes on Stamina Taro NEXT's sushi specialties. Sushi is something that he particularly likes when it comes to Japanese cuisine. The buffet features 16 different varieties, including standard toppings such as tuna, salmon, ikura (salmon roe), squid, and egg, but also creative sushi creations such as sliced duck, littleneck clam, and mayo tarako (spicy cod roe).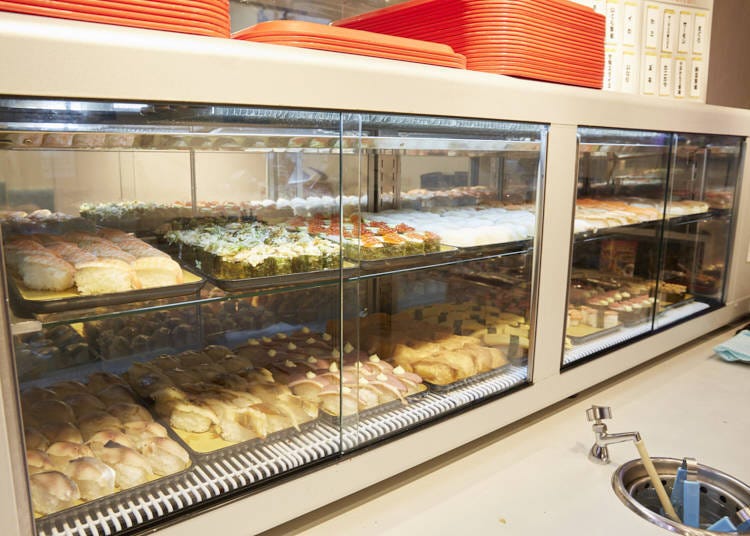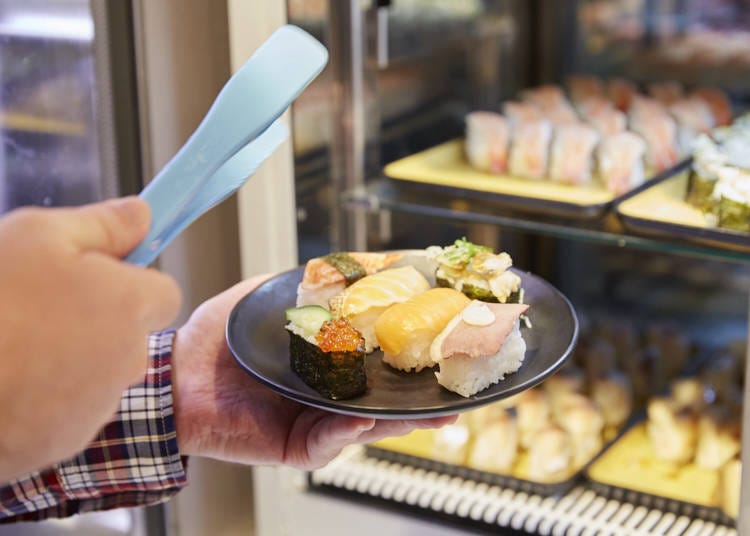 The sushi specialties line up in a special display case, keeping both the toppings and the rice fresh and delicious.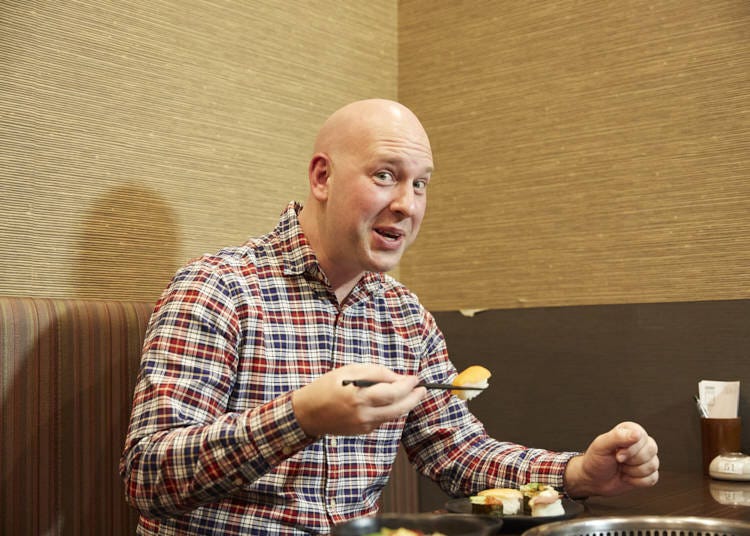 Timothy starts with the popular salmon nigiri.
Timothy: "There is no fishy odor at all! Actually, all the nigiri have a nice size that makes them easy to eat."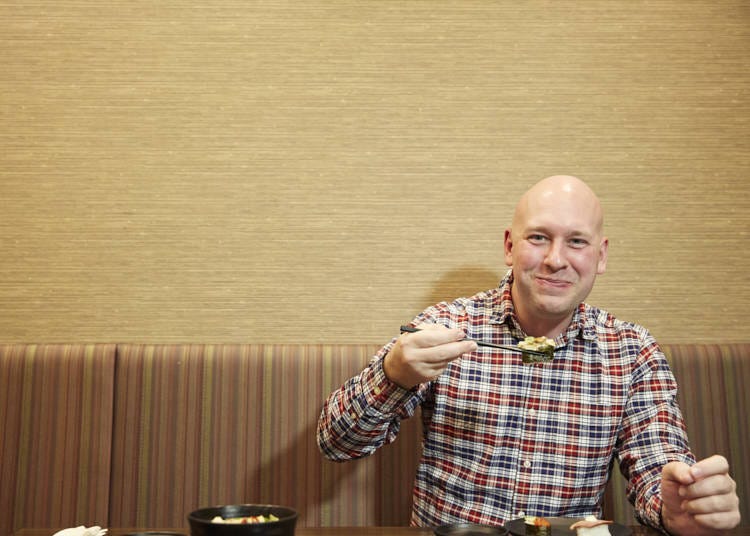 Next up is the littleneck clam gunkan ("battleship roll"), one of the less traditional varieties.

Timothy: "It's the first time for me to eat this combination, but I really like the rich taste of seaweed and clam and that beachy aroma that it creates. The sweet sauce it is seasoned with is also good, you don't need additional soy sauce for flavor at all."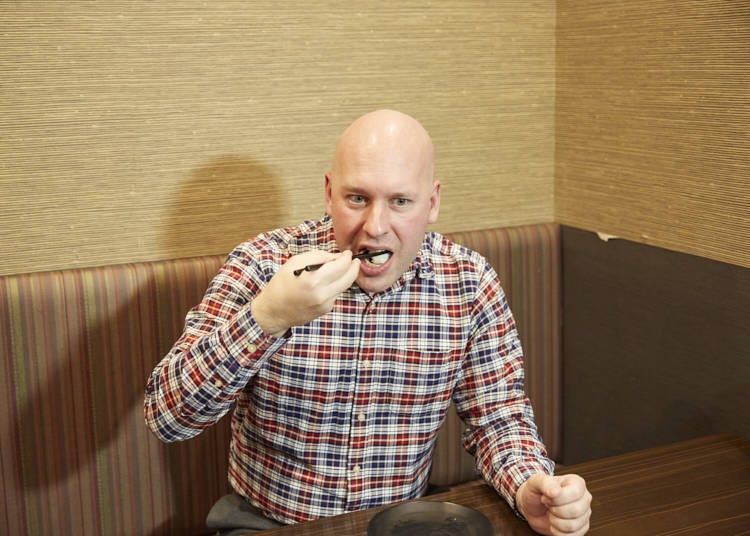 He also doesn't leave any sushi leftovers and he especially liked the grilled salmon sushi.

Timothy: "It's fattier than regular salmon and is incredibly tasty. For people who don't like raw fish, this is an excellent choice."
The Winter-Only Menu: Rich Beef Stew!
While Timothy has already had a generous selection of meat and sushi, but we're sure that there's still room in his stomach!
This gorgeous beef stew can only be savored during dinner time and in winter, available until late February. Made with 100% beef that is cut into blocks right at the restaurants, this lavish dish is finished with a rich demiglace sauce, itself an amazing blend of onion, red wine, and tomato paste.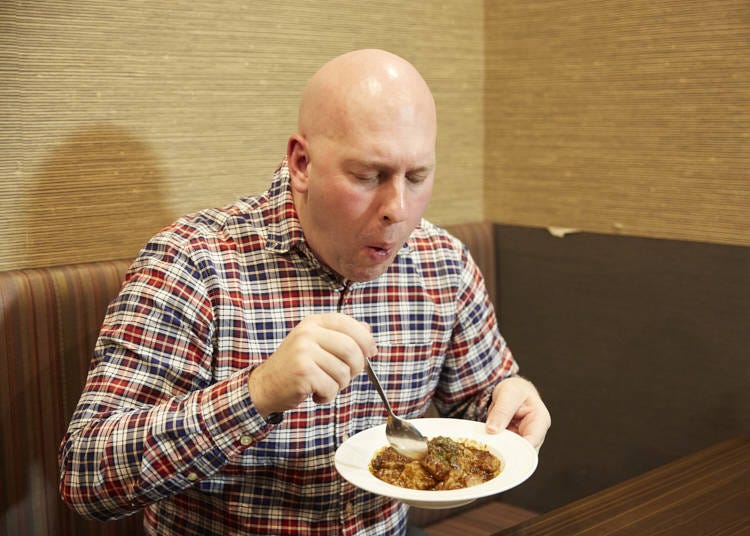 Timothy: "The beef is unbelievably tender and the demiglace sauce boasts a nice and mellow taste. I'm quite amazed that a dish such as this is part of an all-you-can-eat buffet."
A Plethora of All-Time Favorites!
Timothy still has room for more food, so let's tackle some of Stamina Taro NEXT's all-time favorite dishes!

Timothy: "They even have pasta varieties that I like. The 'Garlic and Red Pepper Tomato Sauce Spaghetti' (winter only) is the king of pasta flavors for me. I also love the ketchup-based "Staro Napoli," the sweet-and-sour sauce sticks well to the thick pasta and this is something I could eat every day."

He also tried the Staro Noodles for us, which is the talk of the town when it comes to Stamina Taro's original dishes. You boil the noodles yourself and coat them with a special soup sauce. Eating that soup with rice seems to be the most popular way of enjoying this unique treat.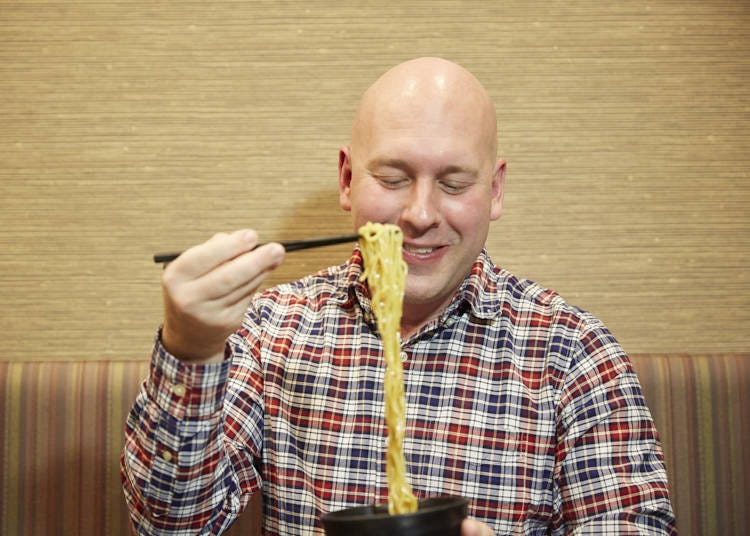 Timothy: "I taste chives, garlic, and Chinese chili sauce in the soup. Together with the noodles, this really is delicious! I can see why this is one of the most popular dishes and it certainly goes great with rice."

Slowly but surely, even Timothy is getting full. The delectable aroma of the miso offal hot pot catches his attention, though.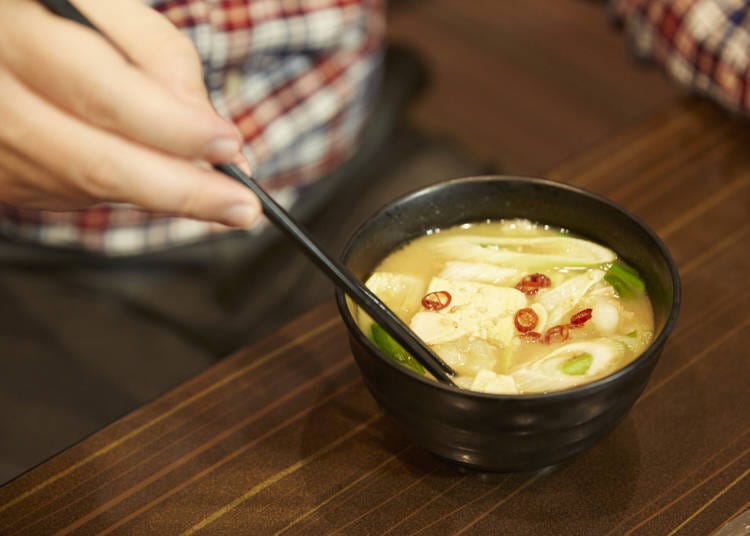 Timothy: "There's not much of an offal culture in the United States, I only started eating them after coming to Japan. They tend to have a texture like gum, and some you can't even chew. Let's try this soup!"

With an appetite rekindled by the savory aroma of the hot pot, Timothy cautiously puts the offal pieces into his mouth.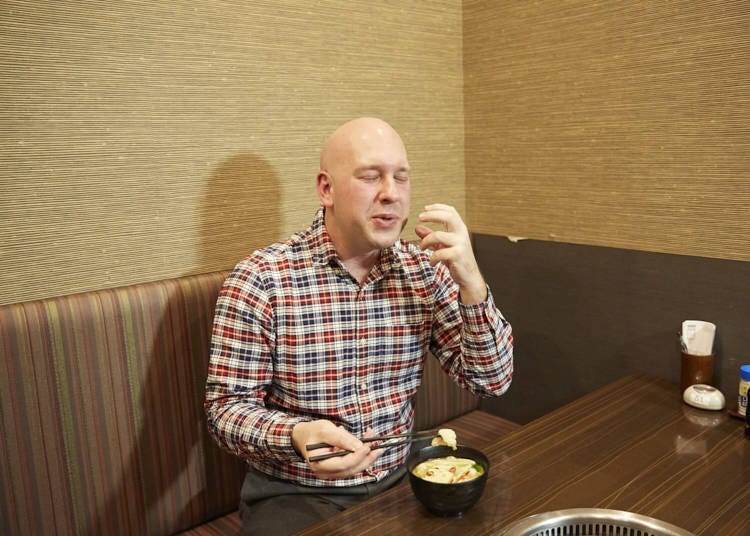 Timothy: "This is delicious! The offal is very tender and has this melt-in-your-mouth sweetness. I also enjoy the garlic flavor of the miso-based soup; it's very warming, making it great for the cold season. If you haven't had offal yet, you should definitely try this."
Stamina Taro NEXT: What is Timothy's Favorite Dish?
Timothy gave it his gourmet all and dug into Stamina Taro NEXT's dishes for 90 minutes without pause. In the end, we asked him to crown his favorite dish out of the rich selection.

Timothy: "My personal number one is..."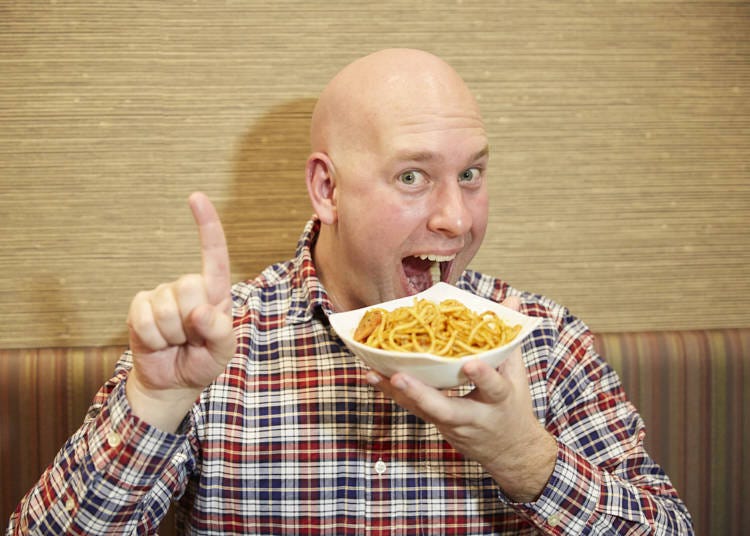 Timothy: "Staro Napoli! However, it shares first place with the premium spareribs and the grilled salmon sushi. The miso offal hotpot was also really good... however, the Staro Napoli really are an excellent balance of the flavor of ketchup, sausages, onions, and green peppers. The ingredients are great and it is simply delectable. I think you can't quite get the same taste outside of Japan, so I would say to visitors to definitely give it a go. You'll like it."

We certainly did not expect our barbecue veteran to choose Staro Napoli as his number one! Timothy was passionate about pasta back when he lived in the United States as well, and he says that the Staro Napoli evoked a sense of comfort while being positively addictive and offering a thoroughly unique, Japanese taste.

Last but not least, Timothy also tells us that he is positively surprised by Stamina Taro NEXT and its buffet being even more delicious than he anticipated! Why don't you try this casual, reasonable all-you-can-eat buffet for yourself and discover new flavors, just like Timothy did?
Stamina Taro NEXT BIGBOX Takadanobaba

すたみな太郎NEXT BIGBOX高田馬場店

Address

BIGBOX 9F, 1-35-3 Takadanobaba, Shinjuku-ku, Tōkyō-to 169-0075

Nearest Station

Takadanobaba Station (Seibu Shinjuku Line, Yamanote Line, Tokyo Metro Tozai Line)


Phone Number

03-5287-3121

Seats: 156
Parking: not available

Hours:
Lunch (weekdays): 11:00 a.m. - 5:00 p.m. (admission until 4:00 p.m.)
Lunch (weekend & national holidays): 11:00 a.m. - 4:00 p.m. (admission until 3:00 p.m.)
Dinner (weekdays): 5:00 p.m. - 11:30 p.m. (admission until 10:00 p.m.)
Dinner (weekend & national holidays): 4:00 p.m. - 11:30 p.m. (admission until 10:00 p.m.)

Homepage: http://edo-ichi.jp/next/shop_search/610.html
食べ放題・バイキング すたみな太郎NEXT ドン・キホーテ浅草店

Address

Don Quijote Asakusa store 5F,2-10-14, Asakusa, Taito-ku, Tokyo, 111-0032


Nearest Station

Tawaramachi Station (Tokyo Metro Ginza Line)


Phone Number

03-5827-7778
食べ放題・バイキング すたみな太郎NEXT 上野アメ横店

Address

Ueno Nishida Building 4F,4-2-6, Ueno, Taito-ku, Tokyo, 110-0005


Nearest Station

Ueno-Hirokoji Station (Tokyo Metro Ginza Line)


Phone Number

03-5816-3929
食べ放題・バイキング すたみな太郎NEXT 横浜伊勢佐木モール

Address

Kiraku building 4F,1-6-5, Isezakicho, Naka-ku, Yokohama-shi, Kanagawa, 231-0045


Nearest Station

Kannai Station (JR Negishi Line / Line 1 (Yokohama Blue Line) / Line 3 (Yokohama Blue Line))


Phone Number

045-260-2989
食べ放題・バイキング すたみな太郎NEXT 大森店

Address

YK-15 building 7F,1-1-2, Omorikita, Ota-ku, Tokyo, 143-0016


Nearest Station

Omori Station (JR Keihin-Tohoku Line)


Phone Number

03-5764-1121

*This information is from the time of this article's publication.
*Prices and options mentioned are subject to change.
*Unless stated otherwise, all prices include tax.