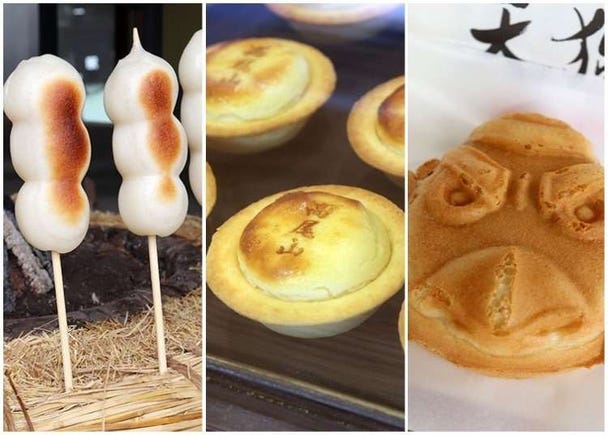 Mount Takao is located in Tokyo's Hachioji town and visited by vast numbers of tourists and mountain climbers every year. At about an hour away by express train on the Keio Line from Shinjuku Station, the accessibility and convenience this nature spot offers just can't be beat. The mountain has a few trails that hikers can take to reach the summit, ranging from beginner-friendly routes to challenging tracks for experienced climbers. People have also been sitting up and paying more attention ever since the beautiful natural landscapes this mountain has to offer were rated three-stars by Michelin Green Guide Japan - on par with the rating the better-known Mount Fuji received!

In the area around Mount Takao, you'll find plenty of food spots serving up great chow for famished mountain climbers, including unique local specialties you can't help but want to try as you're strolling around the mountain! We'll be introducing you to five must-try foods in the area that are suitable for eating along the way - from places near the station to eateries you can only find as you head up certain mountain trails, and even one right on the mountaintop itself! Since these food spots are all within easy reach if you plan on climbing the mountain anyway, why not aim to drop by every single one and try out what they have to offer?
■Tengu-Yaki: Black bean paste in a Tengu-shaped pastry puff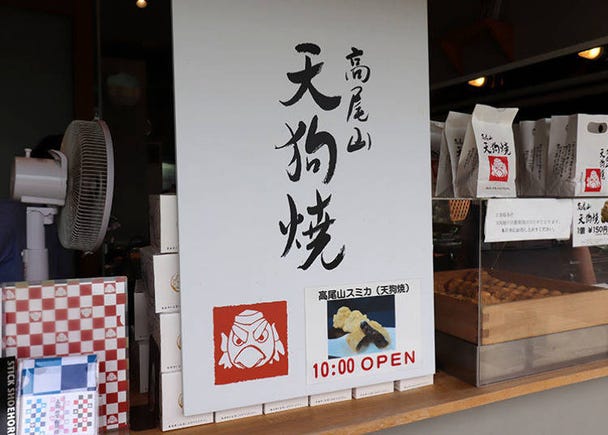 We have to kick off our list of recommendations with the well-known "Tengu-Yaki". This specialty confectionery started selling in 2007 and has steadily built up a reputation as one of Mount Takao's must-try foods over the years. You can buy it from Takaosan Sumika, a shopping complex situated right next to the cable car's Takaosan Station.

Except for a few special occasions, this is a product you'll only be able to buy at Takaosan Sumika, which means it's something that can't be had unless you climbed Mount Takao! So if you're visiting Mount Takao, this tasty morsel is an absolute must-try.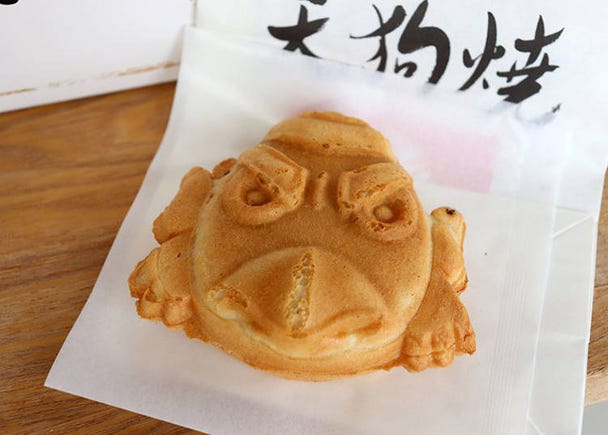 As the name "Tengu-Yaki" suggests, the pan-cooked pastry is modeled after the face of Karasu Tengu, a long-nosed goblin. It is said that Karasu Tengu has the ability to ward off evil, so eating this snack surrounded by the natural elements of Mount Takao, known to be a sacred mountain, should help you absorb Karasu Tengu's useful skill more readily than usual!

The flour used for this snack is light and crispy on the outside, yet chewy and fragrant on the inside. Stuffed within the pastry is a thick bean paste that's not too sweet.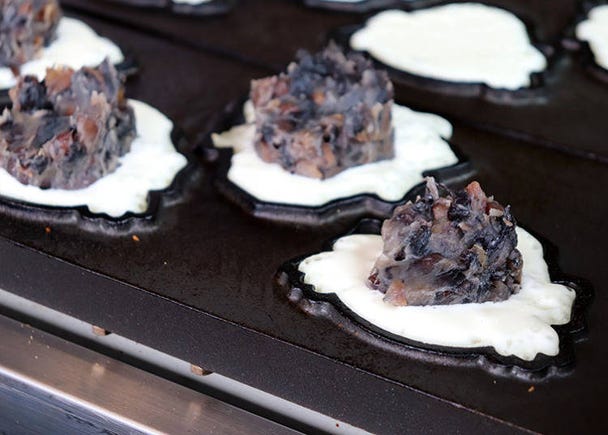 This unique filling, carefully crafted by masters of the trade, is actually a paste made from black beans produced in Hokkaido, and many would even venture to call it the core appeal of "Tengu-Yaki". In any case, the crunchy black bean paste combined with the lovely pastry texture makes this a great little tidbit to snack on when you're feeling a little peckish on your hike.

Each "Tengu-Yaki" will set you back 150 yen, including tax. If you're eating it right away, the staff will wrap it up in paper for you. Eating it hot and fresh is our recommendation, but since it can also be packed and taken home, you should absolutely buying consider some back as a Mount Takao specialty souvenir too!
高尾山スミカ

Address

2181 Takao-cho, Hachioji-shi, Tokyo-to

Hours: 10:00 a.m. – 4:30 p.m. (4:00 p.m. during winter season)
Closed: Open daily (may be closed temporarily on some days depending on the weather)
■Tenguya's Cheese Tart: The best Western snack on Mount Takao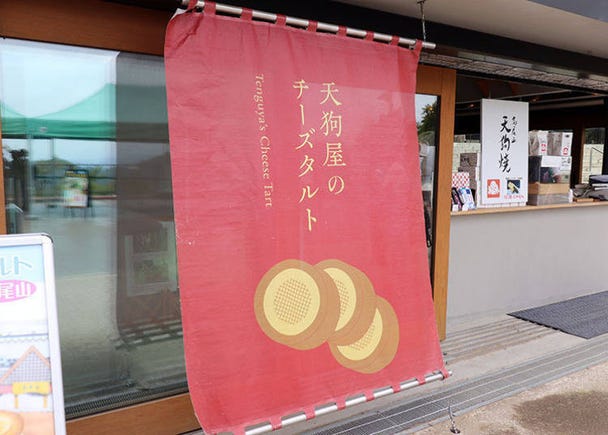 Next up is Tenguya's "Takaosan Cheese Tart", a confectionery that certainly stands out among the dango (sticky rice dumpling on skewers) and manju (stuffed steamed bun) usually seen on Mount Takao. This snack ranks among the best in Mount Takao, even matching up to the immense popularity of the "Tengu-Yaki" we introduced just now!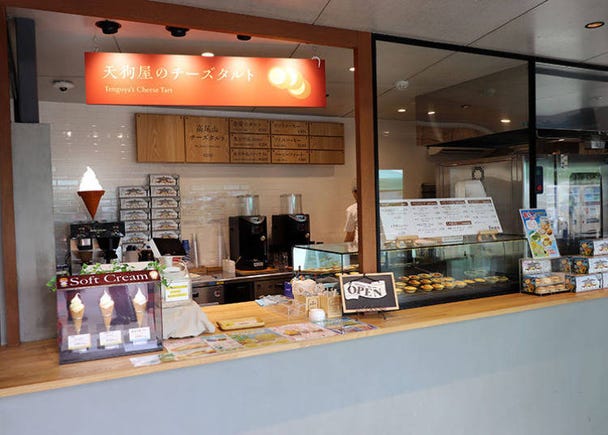 As you approach the shop front, the sweet fragrance of freshly-baked cheese tarts will whet your appetite for them. Besides their signature cheese tarts, the shop also sells other things like soft serve ice-cream, soft drinks, and lemonade. If you're dead set on those "Takaosan Cheese Tarts", though, they can be yours for 250 yen per piece, including tax!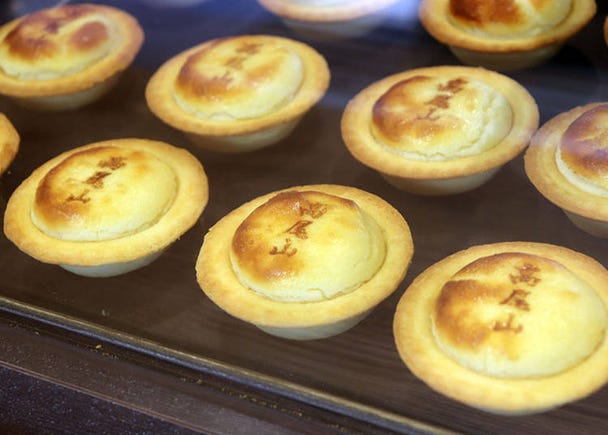 Rows upon rows of round and adorable tarts are lined up tidily in the shop's show display, making them an excellent subject for great-looking photographs. The rich and flavorful tart topping is made of an exquisite blend of different cheeses from Hokkaido, France, and Denmark, and it goes perfectly well with the crunchy tart pastry.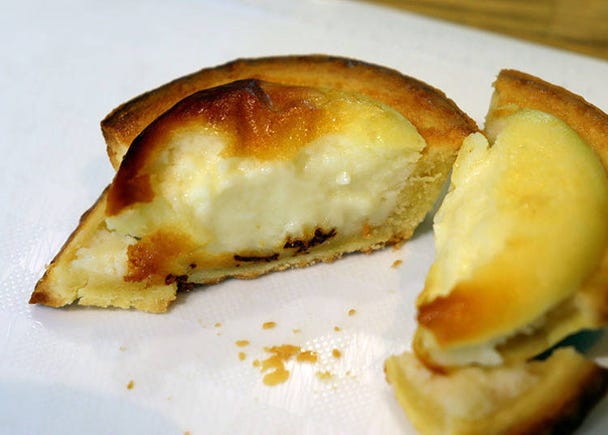 The tart has a refreshing, sour taste that's usually found on no-bake cheesecakes. It tastes great whether chilled or fresh from the oven. Since you can also buy them in boxes of six for 1,500 yen including tax, we do also recommend buying some back as a souvenir!
高尾山スミカ

Address

2181 Takao-cho, Hachioji-shi, Tokyo-to

Hours: 10:00 a.m. – 4:30 p.m. (4:00 p.m. during winter season)
Closed: Open daily (may be closed temporarily on some days depending on the weather)
■Mitsufuku Dango: Sticky rice dumplings representing good things come together as one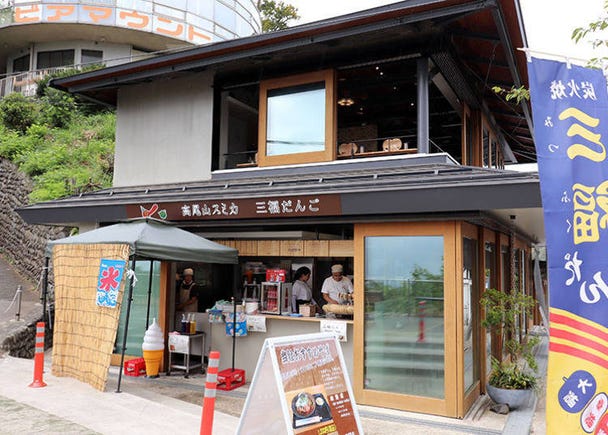 Another Mount Takao specialty food is the "Mitsufuku Dango", or triple bliss sticky rice dumpling dessert! Like the "Tengu-Yaki" and "Takaosan Cheese Tart", this interesting snack can be found at Takaosan Sumika.

Right in front of the shop is an observation space for Trail 1, where some tables and chairs have been set up for hikers to rest and recover strength should need be. Nothing says relaxation quite like chewing on some mouth-watering dango while gazing out at a stunning natural landscape!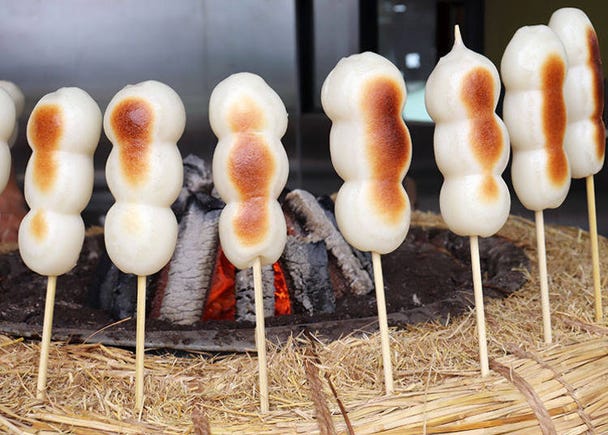 "Mitsufuku Dango" are made from steamed and hammered top-grade rice flour. From top to bottom, the dango stands for daifuku (good fortune), kofuku (happiness), and yufuku (prosperity). Because the three are stuck together, many consider this dango as an auspicious food that will bring all the luck, happiness, and prosperity to its eater! The wooden part of the skewers are stuck into straw bales so the dango can be slowly cooked over a charcoal fire.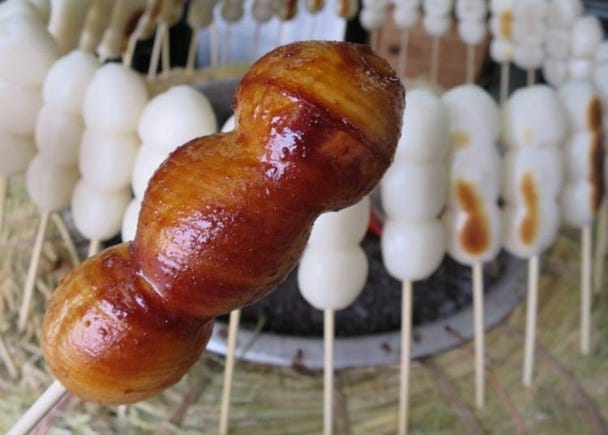 Once ready, the freshly cooked warm dango are then served with the shop's original walnut miso sauce. The sweetness of the sauce enhances the springy texture of the dango, making the snack more irresistible than it already is!

Each dumpling is about the size of an infant's fist, so you can expect to feel full and satisfied from even a single skewer. Consider getting it as a nutritional supplement that will provide that much needed boost to get you up to the mountaintop, or a great filler snack on your way down!
高尾山スミカ

Address

2181 Takao-cho, Hachioji-shi, Tokyo-to

Hours: 10:00 a.m. – 4:30 p.m. (4:00 p.m. during winter season)
Closed: Open daily (may be closed temporarily on some days depending on the weather)
■Sake Manju: Comfort food with a fluffy texture and moderately sweet filling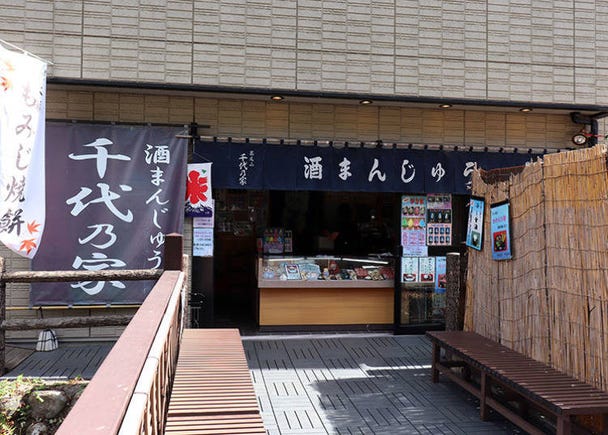 "Sake Manju" is our next recommendation, and it can be found in Chiyonoya, about four minutes from Takaosanguchi Station on the Keio Line if you walk in the direction of the cable car's Kiyotaki Station or the chair lift's Yahikoyama Station. Since the shop is located quite near a well-used path, it's often crowded with customers on fair-weather days or weekends.

A small stream flows along the eaves of the shop, so the murmurings of the river will accompany your short rest here. Besides the famous "Sake Manju", the shop also sells other goodies like kakigori (shaved ice with sweet toppings), soba dango (buckwheat and sticky rice dumpling), momiji yakimochi (baked sticky rice dumpling), and a variety of drinks to go along.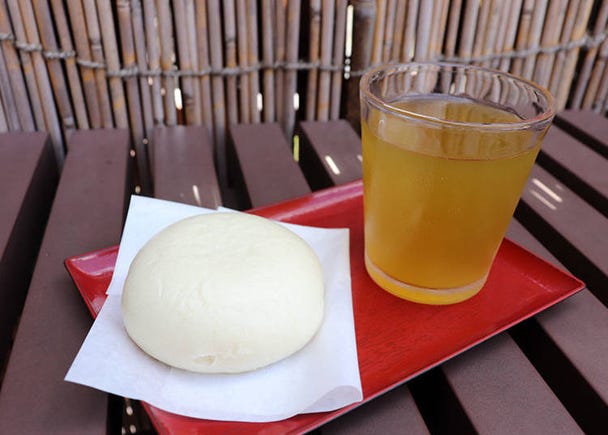 Whatever the case, we recommend picking the "Sake Manju and Drink Set (460 yen, tax included)" since it comes with a sake manju and your choice of coffee, tea, or green tea. All drinks are served either hot or cold according to your preference. On our visit, we chose to go with a refreshing cup of iced green tea.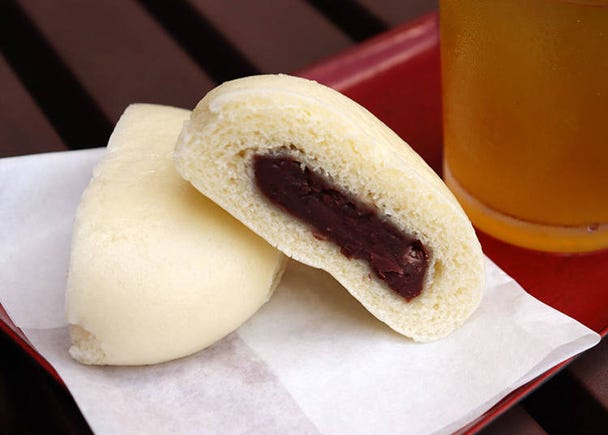 The manju is made from flour fermented using malted rice and has a plain flavor. The texture is fluffy and inside, it's stuffed with a moderately sweet homemade red bean paste filling. Despite the simplicity of this food product, it is still the shop's most popular item. Although the bun is called "Sake Manju", rest assured that it contains no alcohol and can be safely enjoyed by children as well.

The shop contains an eat-in space for those who would like to have their food seated down, but really, in our opinion, "Sake Manju" is a snack that's best enjoyed on the go! Box sets are available as well (6 pieces, 840 yen, tax included) for those considering buying some back home as a souvenir.
千代乃家

Address

2477, Takao-cho, Hachioji-shi, Tokyo-to

Phone Number

042-661-4118

Hours: 10:00 a.m. – 6:00 p.m.
Closed: Mondays

Vacancy search, reservation

Please enquire directly about rates.

Check with our partner site as the latest rates, rate details, and guest room requirements may vary.
■Nameko Soup: A soothing balm for the body and soul of mountaineers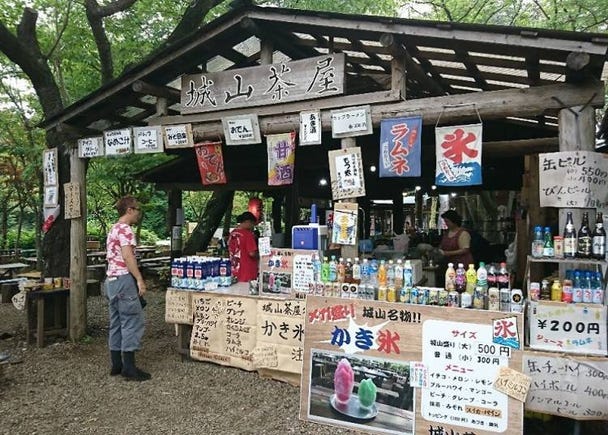 Our last recommendation would be the "Nameko Soup" offered by a little hut called Shiroyamachaya that's located on the peak of Kobotoke Shiroyama, a mountain in nearby Uratakao that can be reached in about an hour's walk from Mount Takao's summit. The walk to this lesser known mountain will appeal to hikers who prefer a more enjoy a peaceful and quiet mountain climbing experience. And if you do decide to make the extended trip to Shiroyama, then definitely make a note to drop by Shiroyamachaya!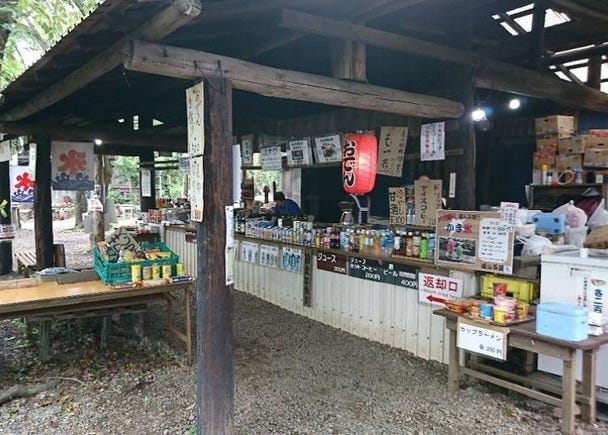 This hut on the peak of Shiroyama has a surprisingly varied menu that includes things like oden (stew), kakigori, cup noodles, motsuni (tripe stew), and all kinds of drinks. The "Nameko Soup (250 yen, tax included)" that we especially recommend can be found here as well! Needless to mention, it is a beloved and well-used stopover point for many hikers.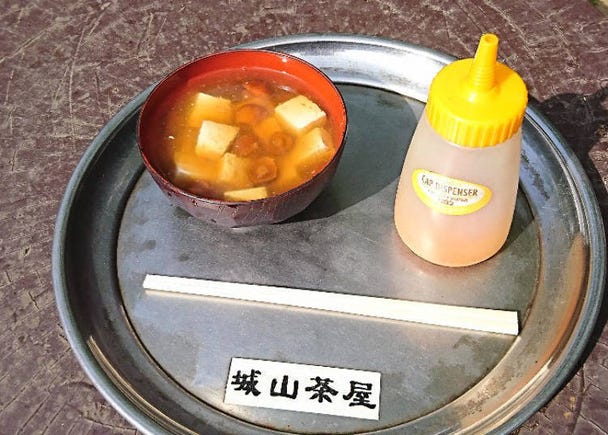 Apparently, the "Nameko Soup" here is so well-known, quite a number of hikers scale the mountain specifically with this simple dish as their goal. Although it may seem like a bowl of miso soup at first glance, "Nameko Soup" is actually made from a soy sauce base, adding to its uniqueness.

The tofu in the soup is purchased from Mineo Tofu Shop, also located at Uratakao, and the tea hut uses the same water the tofu shop uses to make their soup as well. This rich and viscous soup has warmed the cockles of the hearts of many a mountain climber, and will surely continue to warm more! If spicy is your kind of thing, we also recommend adding some zesty shichimi seven-spice seasoning into the soup for that extra kick.
城山茶屋

Address

1885-2 Uratakao-machi, Hachioji-shi, Tokyo-to

Phone Number

042-665-4933

Hours: 9:00 a.m. – 5:00 p.m. (9:00 a.m. – 3:30 p.m. during winter season)
Closed: On bad weather days
Our recommended food items are but a small selection from a wide variety of specialty foods that can only be found in Mount Takao. As you plan to go on your mountain climbing adventure, don't forget to include one or two food stops along the way for an even more enjoyable experience!

Written by: Naho Jishikyu. English translation by: Huimin Pan.
*This information is from the time of this article's publication.
*Prices and options mentioned are subject to change.
*Unless stated otherwise, all prices include tax.