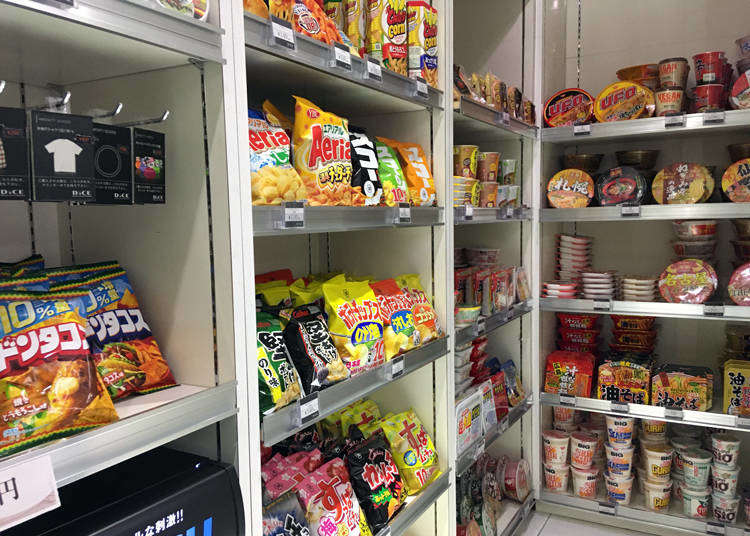 Ikebukuro, along with Shinjuku and Shibuya, is a major hub in Tokyo. Here there are many Japanese language schools, commercial complexes, and recently one particular road has become very popular. Otome [Maiden] Road is known for its shops selling anime goods and magazines. It is a part of town that has become popular even with travelers who see it as a "subculture mecca" for fans of manga and anime. There are lots of places where you can have so much fun you forget the time - and even end up missing the last train home! This happens to more than just a few people.

In this article we will tell you about good places where you can leisurely spend time until morning that include a hotel-like net cafe and a restaurant-cafe that has many repeat visitors from overseas. These are also good places to rest for travelers who arrive in Japan in the middle of the night and need a place to rest as well as being good places for groups who want keep on partying throughout the night. These spots have delicious food and just about anything else you might need.
1. DiCE Ikebukuro: 24/7 Internet and manga cafe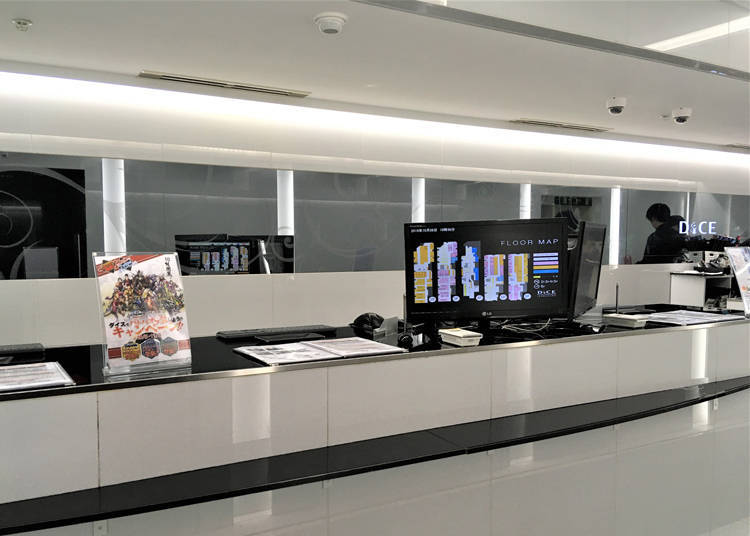 Our fist recommendation is the internet café and manga kissa [manga cafe] DiCE Ikebukuro. Located a short 2-minute walk from the East Exit of Ikebukuro Station, this facility is located right in the heart of that part of Ikebukuro where there are lots of net cafes and manga kissa. It is open 24 hours a day 365 days of the year.

All the seats are in clean individual booths. The booths are fully equipped with PCs, free Wi-Fi, and there are (a limited number of) free-of-charge rental chargers for cell phones as well as a shower room (separate cost) that can be used. On top of that, there is also a convenient cloak service where travelers can keep their luggage (prices start from 300 including tax and go up depending on the size of the luggage).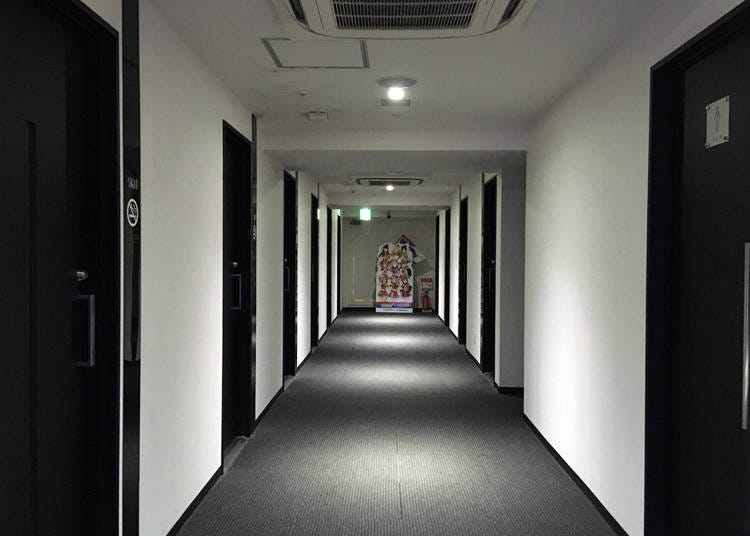 Inside it is as quiet and clean as a hotel. The photo shows a corridor lined with VIP Karaoke Room booths (500 yen per 30 minutes on weekdays and 1,000 yen per 30 minutes on weekends, including tax).

Rates are based on a basic fee for the first 30 minutes and then an additional fee for every 10-minute extension. When a set amount of time has been exceeded, then a suitable "pack plan" automatically replaces the aforementioned rate system.

Popular plans are the 3-hour Day Pack for afternoons (1,100 yen on weekdays and 1,400 yen on weekends); the 6-hour Night Pack that takes effect after 6:00 p.m. (1,500 yen on weekdays and 1,800 yen on weekends) or up to 12 hours (2,500 yen on weekdays and 2,800 yen on weekends) *all prices include tax).

Customers must become members, so the first time they visit they are require to present identification, such as a driver's license or passport, and pay a separate 300 yen (tax included) initiation fee.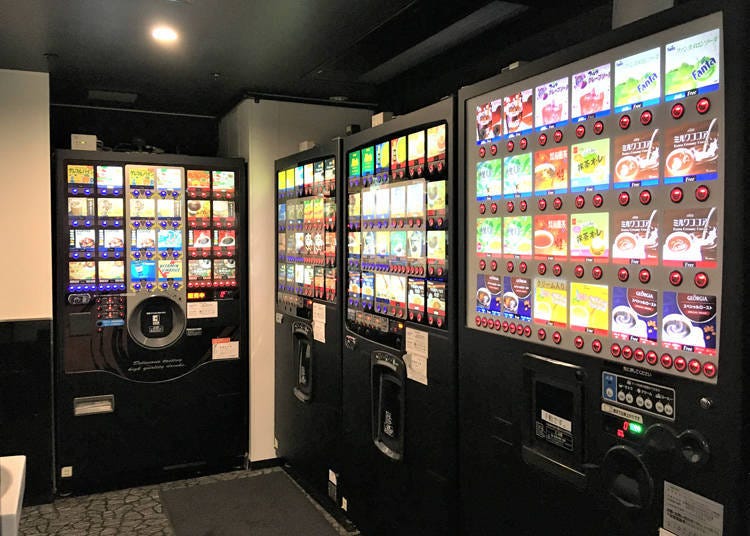 There are FREE drinks vending machines on each floor with around 100 different choices!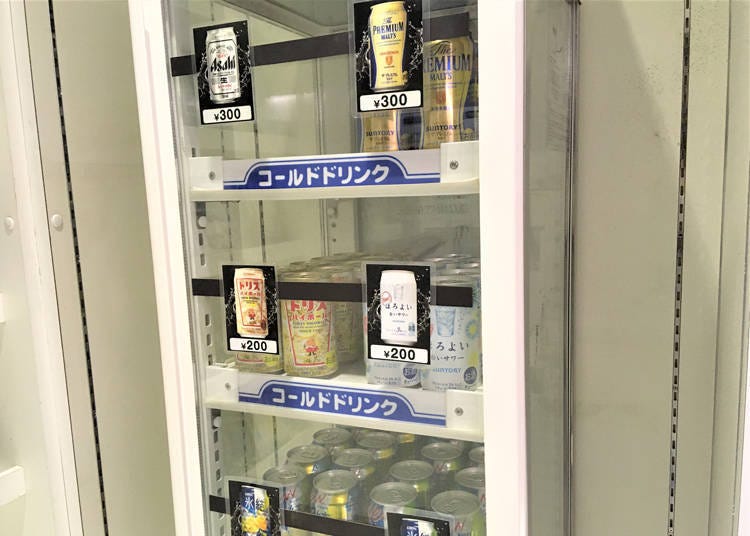 For those preferring something a bit stronger, alcoholic beverages can be purchased at the snack corner in front of the reception desk on the 4th floor.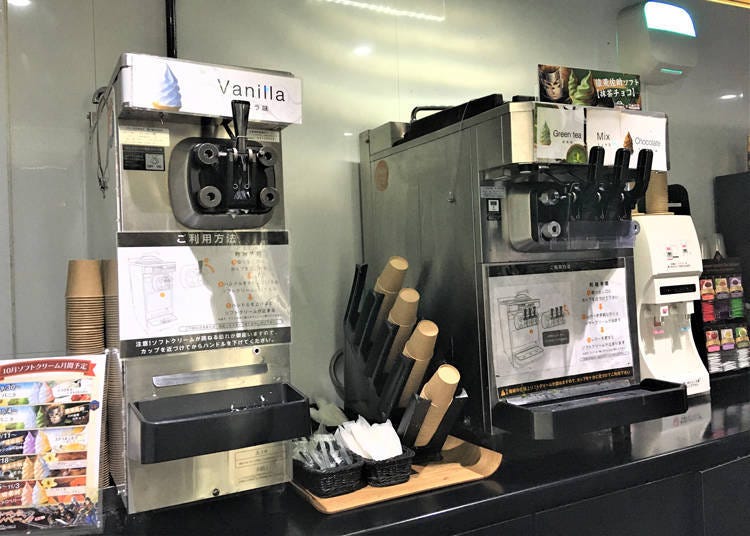 As if that wasn't enough, there is even an all-you-can-eat soft ice cream corner. Containers are provided and you can fill them as you like.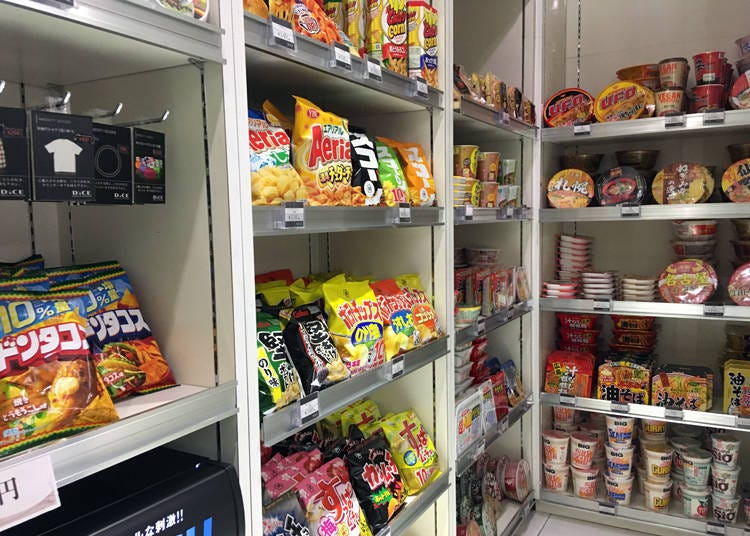 In addition to the snack corner selling snacks and cup noodles, underwear and socks also can be purchased. If you are hungry for more than a snack, the facility has arrangements with other shops to deliver pizzas, soba, and other dishes. It is also permissible to go out and purchase food and drink at other places to bring back into the facility. You can go to a nearby convenience store, buy something, and bring it back inside.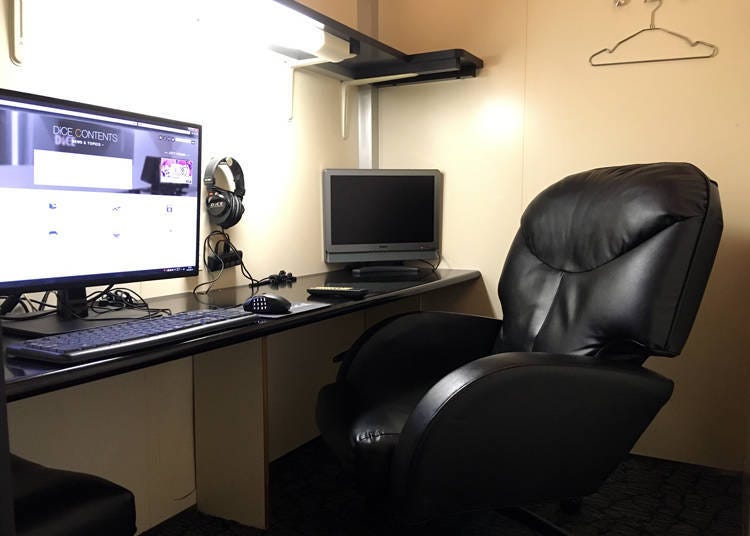 Each booth is more spacious than those in typical manga kissa and as you can see in the photo, the booth for individual use is very spacious. Even with two chairs in it, it is still quite spacious. If you would like to sleep, the chair fully reclines.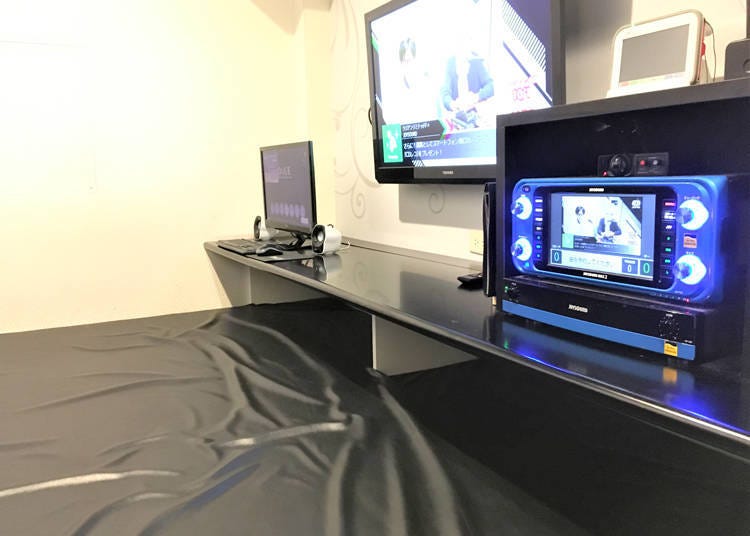 The karaoke VIP rooms are even more spacious with a totally level area that is wide enough to comfortably accommodate two people lying down. The room can even accommodate groups of up to 4 or 5 people. These booths are each equipped with AC controls making them actually more like rooms.

What sets this hotel-like facility apart from a hotel, aside from its reasonable rates, is that there are no check-in or check-out times. You can check in or out whenever you like. In Ikebukuro you do not need to worry about missing the last train because you can always come to DiCE at any time to either continue partying or rest until morning.

The facility is currently preparing explanatory materials in English and depending on the day there are staff members who can speak English.
DiCE 池袋店

Address

White City Building 2F-10F (Reception 4F), 1-11-11 Higashi Ikebukuro, Toshima City, Tokyo 170-0013

Nearest Station

2-minute walk from East Exit of Ikebukuro Station


Phone Number

03-5944-9202

Open: 24 hours a day
Closed: No set holidays
2. Sakura Cafe & Restaurant Ikebukuro: Make friends with fellow travelers!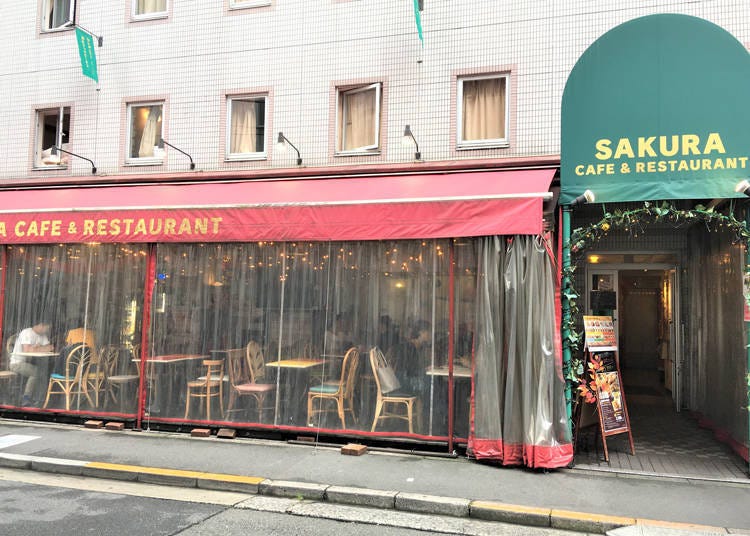 Our next recommendation is the Sakura Cafe & Restaurant Ikebukuro that is visited by travelers from all over the world. This cafe restaurant is part of the Sakura Hotel which consists of two buildings, one on either side of the road. Being part of the hotel, it is open 24 hours a day 365 days of the year.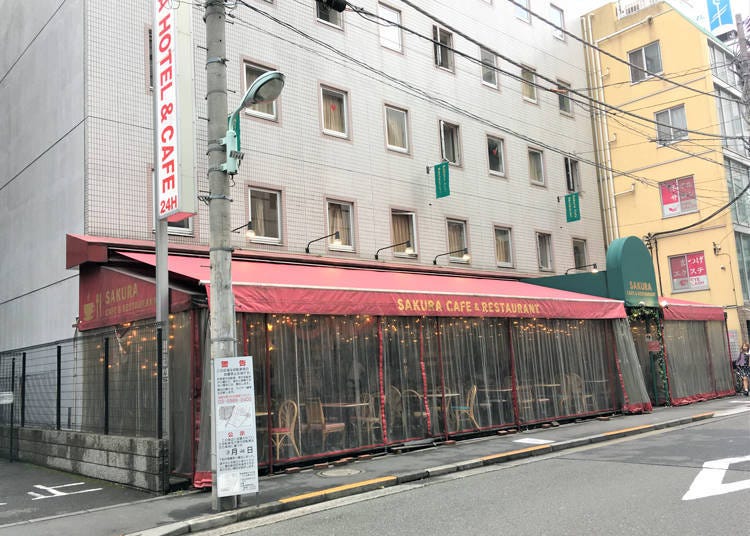 The Sakura Hotel has a long history as a hotel welcoming foreign travelers. In addition to the facility in Ikebukuro it operates several other facilities in Tokyo and all of the hotel staff are able to speak English. Of course all explanatory materials and menus in the facility are in English and there is also free Wi-Fi.

It also has the largest terrace in Ikebukuro that is open depending on the season and weather. It has an open, spacious feel to it.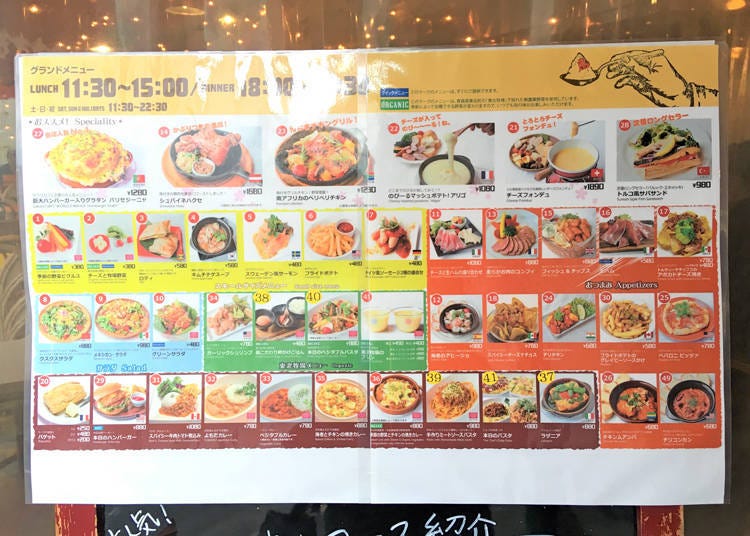 One unique feature of this facility is that it has about 60 types of beer and wine from all parts of the world. The menu also offers a wide selection of German, Swedish, Spanish, Indonesian, Korean and other ethnic dishes for your dining pleasure. There are also vegetarian dishes.

In addition to the Grand Menu that is available 24 hours a day, there are also morning and lunch menus. The early morning buffet that starts from 4:30 a.m. (390 yen including tax) offers hot soup, toast, and drinks and you can have as much as you like. This is especially appreciated by travelers arriving late at night or early in the morning.
When you look inside you will see refrigerated units stocked with all sorts of beer from around the world. If you see a beer you like, you can select it and take it to the counter for payment.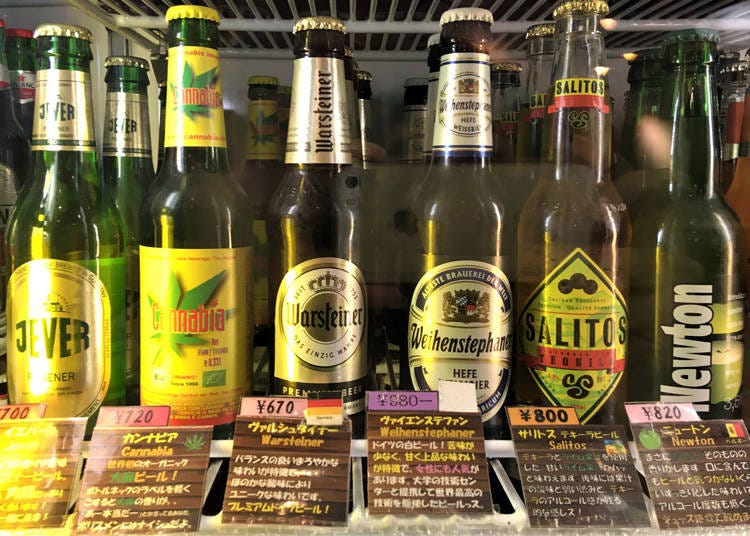 One of the great things about these imported beers is their reasonable prices.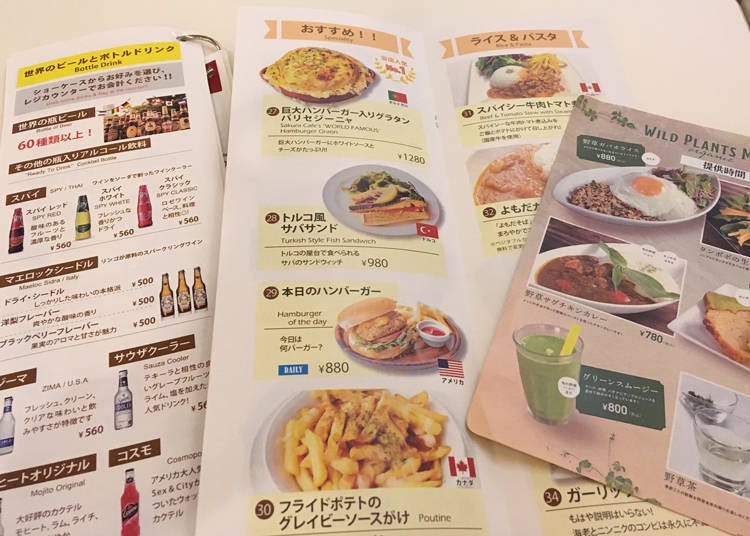 If you are wondering about what you should eat, we seriously recommend the Paris Seginha Gratin with Giant Hamburger (1,280 yen including tax); the most popular item on the menu. Not a "hamburg" steak, but a hamburger cooked in a gratin with lots of white sauce and cheese. A Portuguese who went to work in France got the idea to make a Portuguese version of the French croque-monsieur, basically an arrangement of the Portuguese sandwich called Francesinha. The Sakura Cafe chef then modified that to make the original dish called Paris Seginha.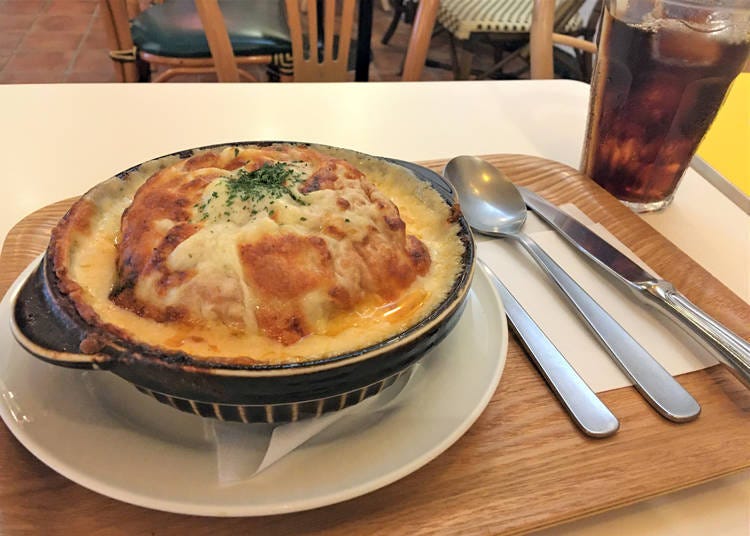 This dish is massive! Even so, quite a few people are able to eat the whole thing by themselves.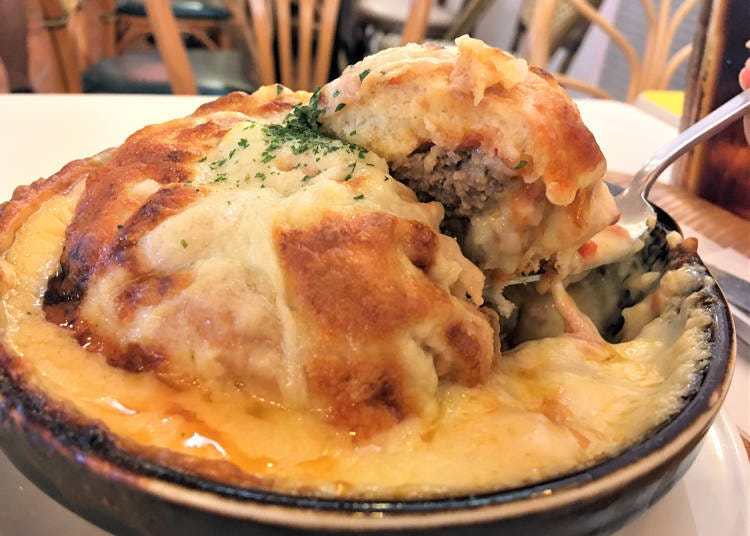 When you slice into it you can see layers of cheese, white sauce, buns, and the giant hamburger. The dish is served piping hot, so be careful not to burn yourself on the white sauce.

There is such a steady stream of foreign visitors who have just arrived in Japan visiting this area that it is easy to forget that this is Ikebukuro. It is as though you are in a different world, one so comfortable that you don't notice time slipping away. This spot does not disappoint, so no matter when you're in Ikebukuro, it's worth a visit!
Sakura Cafe & Restaurant Ikebukuro

サクラカフェ&レストラン 池袋

Address

Sakura Hotel Ikebukuro Annex 1F, 2-39-10, Ikebukuro, Toshima City, Tokyo 171-0014

Nearest Station

About a 3-minute walk from JR Ikebukuro Station West Exit C6. Close to the Ikebukuro Post Office.


Phone Number

03-5391-2330

Open: 24 hours a day
Closed: No fixed holidays
3. Jugar Cafe - a cozy cafe & restaurant hideaway close to Tokyo's commercial district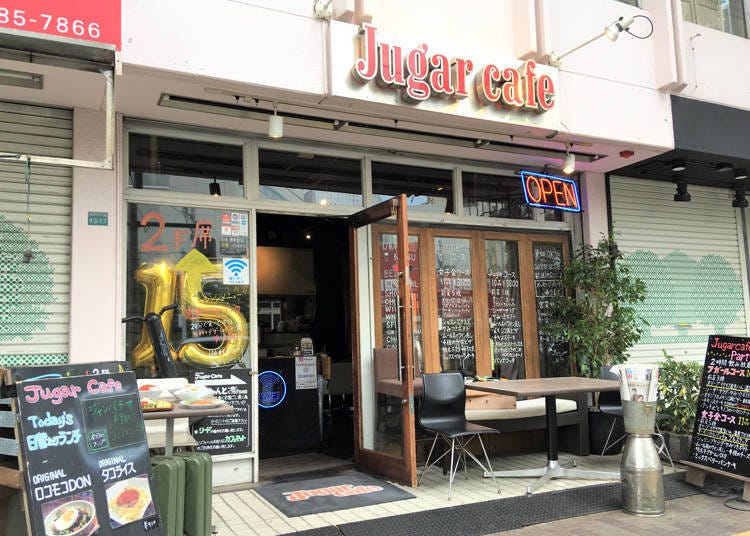 Last, but not least, is Jugar Cafe. This hideaway cafe restaurant is located 13 minutes on foot from the East Exit of JR Ikebukuro Station and 1 minute on foot from the Higashi Ikebukuro Station on the Tokyo Metro Yurakucho Line. The area, near to the commercial district with office buildings and residential areas, has a relaxed atmosphere.

Many of the regular customers are office workers and local residents that give the area a stylish at-home feel to it. Unusual for a cafe restaurant in the city, customers can also bring their dogs with them. If the dogs are well-behaved and on a leash, not only can they sit on the terrace but are also allowed into the dining area.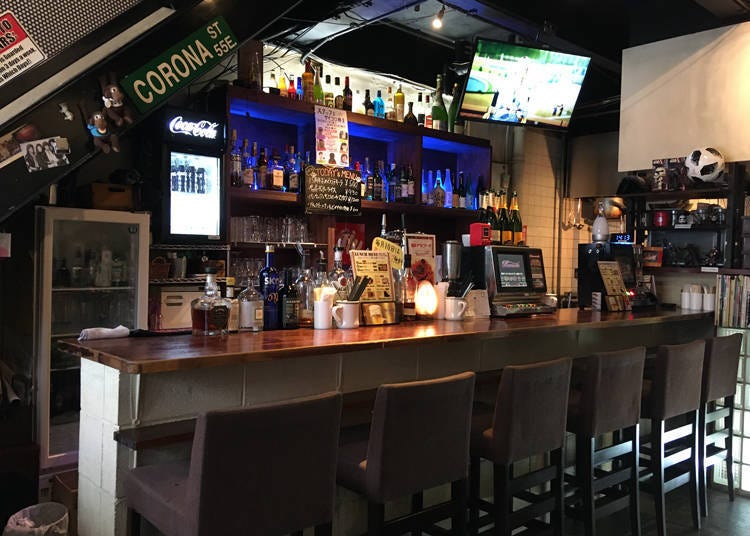 There is a counter bar and tables on the first floor where you can get a casual drink.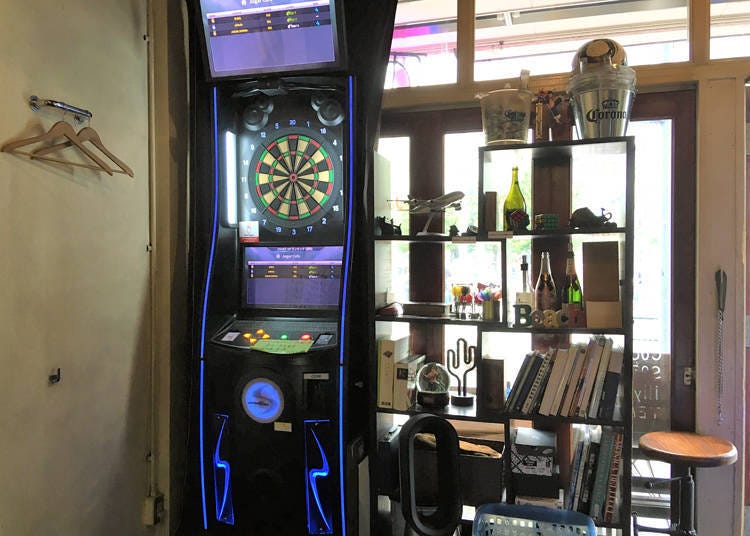 There are TVs and dart games on both the first and second floors, so sports fans can watch sporting events while playing darts and passing the time.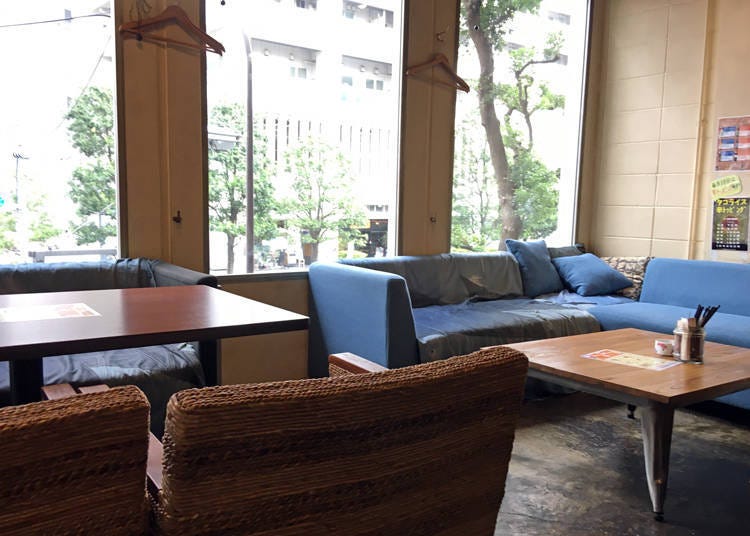 There are comfortable sofas on the second floor where groups and couples can relax.

This is both a darts bar and a dog cafe and at the same time a restaurant that serves proper dishes which makes it rather unique. There is a weekday lunch (Monday ~ Friday 11:30 a.m. ~ 3:00 p.m.) and dinner time (6:00 p.m. ~ 5:00 a.m.) popular with customers seeking a hearty meal.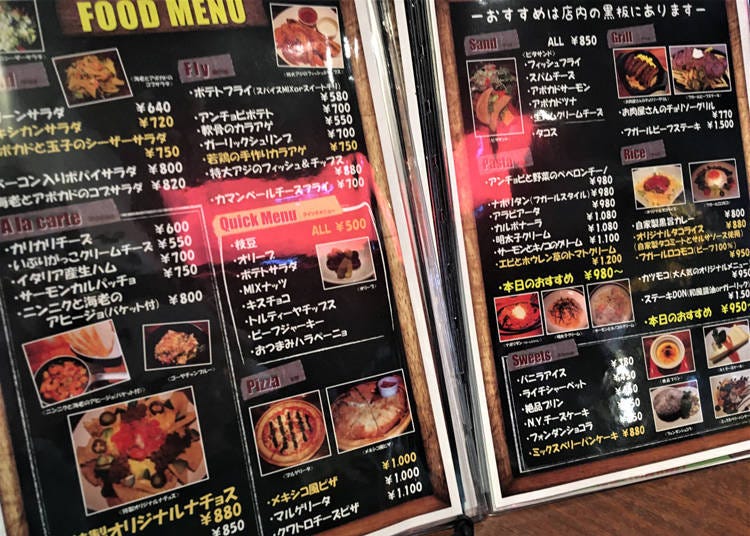 The menu offers a wide selection of snacks and regular dishes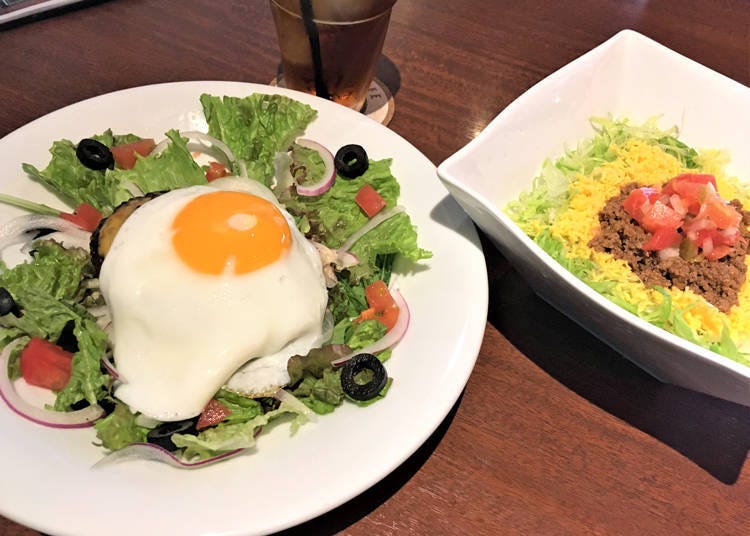 When you visit we highly recommend you try the Jugar Loco Moco - just look at that perfectly cooked egg! (Lunch 960 yen including tax; dinner 1,040 yen including tax) On the left side of the photo and the Original Tacos Rice (lunch 910 yen including tax; dinner 960 yen including tax) on the right side of the photo. These are popular menu items offered during both the lunch and dinner times and during the lunch time they also include a drink, salad, and soup.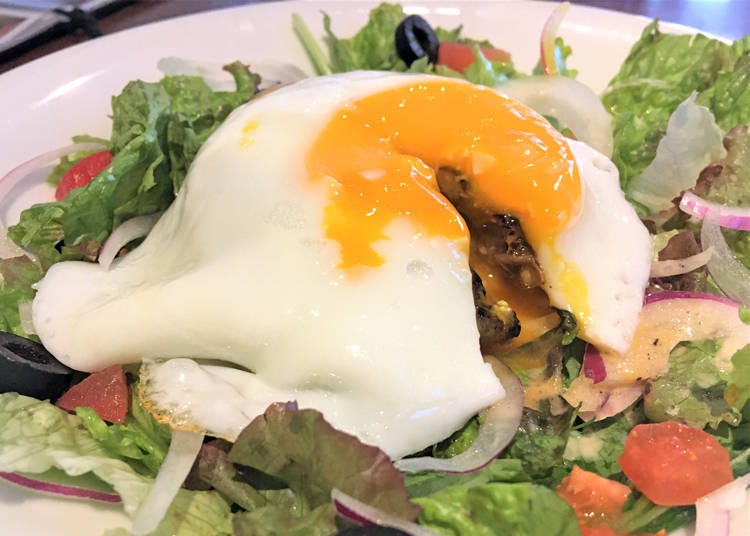 The Jugar Loco Moco is a handmade hamburger with an original sauce and salad on top of rice. It is topped with a sunny-side-up fried egg. The handmade hamburger is made with 100% beef and according to the manager many people come at dinner time just for the food without drinking.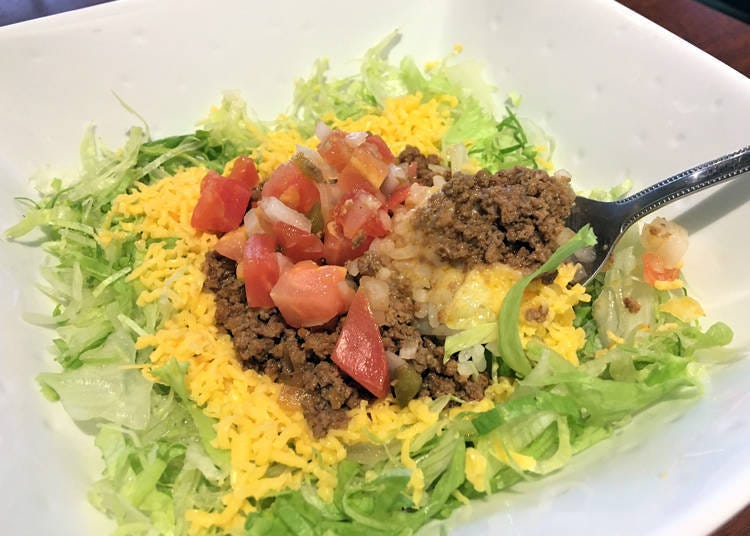 The Tacos Rice is also delicious. Lettuce, cheese, original tacos meat and salsa sauce on top of rice which you can then mix together as you please.

One tends to think of cafes as mainly serving light dishes and sweets, but here you can enjoy wholesome and delicious dinners in a relaxing atmosphere. Currently a menu in English is being prepared.

If you find yourself hungry for a midnight snack, or perhaps even a midnight feast, this is the place for you!
Jugar café(フガールカフェ)

Address

2-43-17, Minami Ikebukuro, Toshima City, Tokyo 171-0022

Nearest Station

12 minutes on foot from the East Exit of JR Ikebukuro Station and 1 minute on foot from the Higashi Ikebukuro Station on the Tokyo Metro Yurakucho Line.


Phone Number

03-5952-0122

Open: Monday ~ Friday 11:30 a.m. ~ 3:00 p.m.; 6:00 p.m. ~ 5:00 a.m.; Saturday and Sunday 6:00 p.m. ~ 5:00 a.m.
Closed: always open; unscheduled closed times
If you happen to visit Ikebukuro, then these are great spots to pop in and visit while in the area. But if you happen to miss the last train, you can still find ways to spend a good time and make the most of every moment on your Tokyo travels!

Article by Dali Corporation
*This information is from the time of this article's publication.
*Prices and options mentioned are subject to change.
*Unless stated otherwise, all prices include tax.