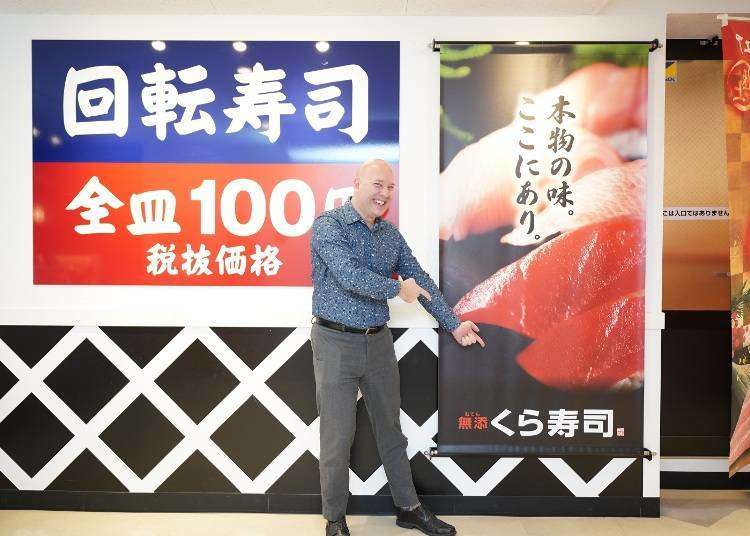 When you think about Japanese food that is popular with people from abroad, of course the first thing that comes to mind is sushi. One of the most impressive things is Kaiten-zushi, the unique Japanese system of cheap sushi rotating around the shop on conveyor belts.

Amongst these popular revolving sushi chains is Muten Kura-zushi, a favorite of the Japanese locals and known for their variety in dishes and no additives. Today, we'll see some popular menu items of Muten Kura-zushi as selected by Live Japan editor Timothy!
Timothy Visits Muten Kura-zushi for the First Time!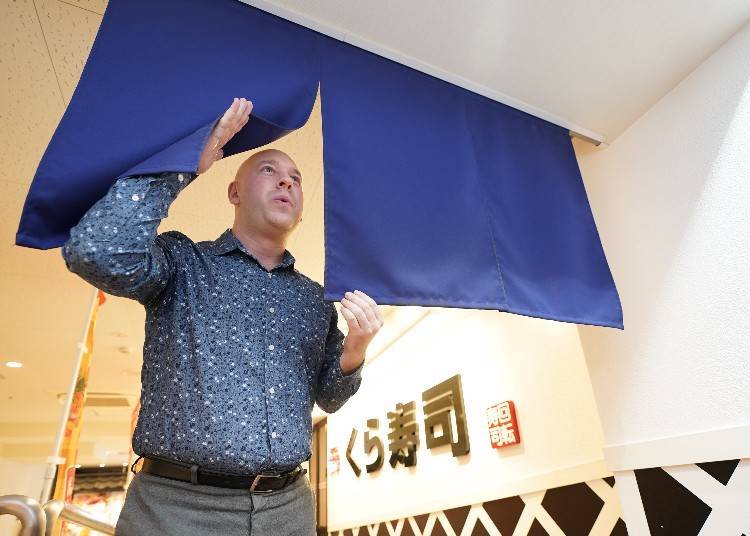 Today's visitor is Timothy from America, who has carefully studied Kurazushi's menu. "Of course I love sushi, but at these kinds of conveyor belt sushi spots in Japan they have so many more options beyond the fish. I'm really looking forward to trying them out!"

Kurazushi does have stores in the US, but today is Timothy's first time. His expectation grows as he sees just how many different flavors one could enjoy.
What is Muten Kura-zushi?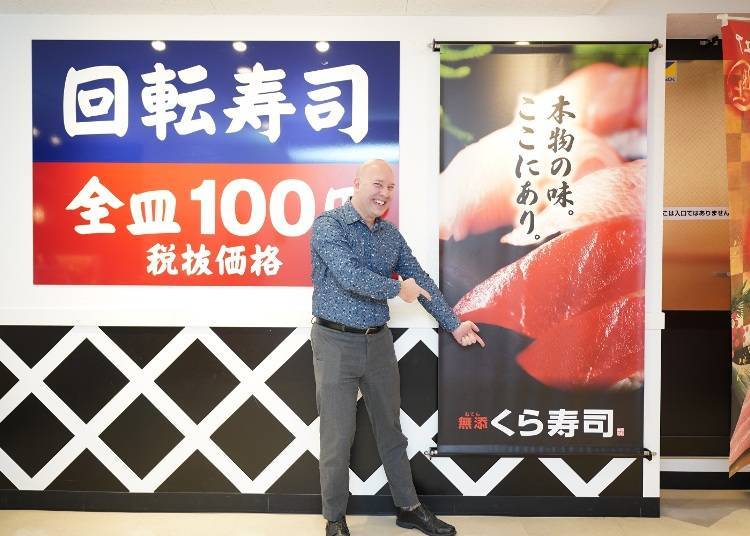 Muten Kura-zushi offers sushi that's completely safe and free of additives such as chemical seasonings, artificial sweeteners, synthetic colorings, and artificial preservatives, all at ¥100 (tax not included). Founded in 1977, it began as a sushi takeout shop, and didn't begin using the rotation system until 1984.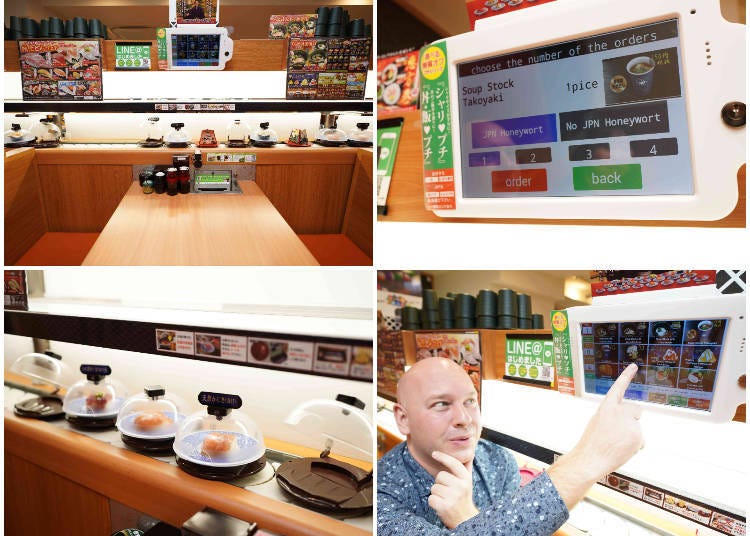 It seems that this now popular rotating sushi system, with its family restaurant style atmosphere, booths lined up beside the rotating conveyor belts, and the touch-screen order panel, actually began with this very Muten Kura-zushi. The skill with which each piece of sushi is rolled is impressive! Freshness is controlled by an IC chip inserted in the lid of the clamshell dishes, so items are always guaranteed to be fresh.

On top of that, it seems that everything, from customers' order speed, meal time, number of people, etc., are all managed by IT, in order to appropriately adjust the timing and the flow of the goods. It's the cutting edge of sushi technology!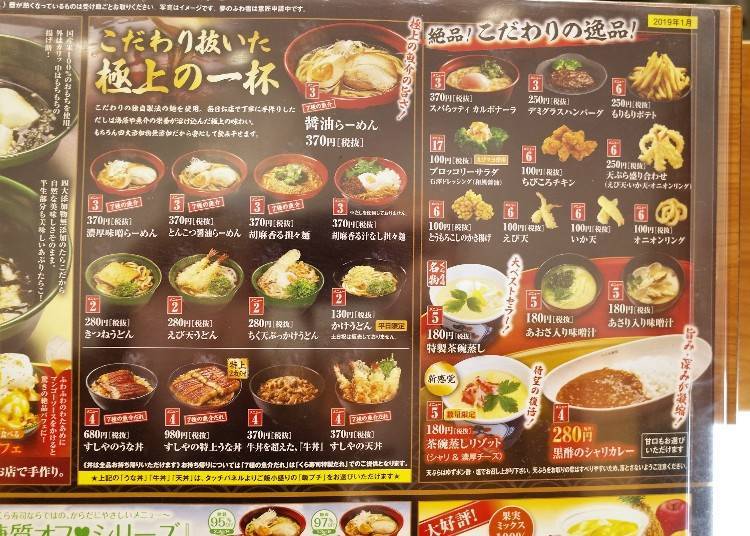 It's not just the sushi, but the vinegar used for the shari (sushi rice) that is also made at the Kura-zushi processing facility with their own unique ingredients.

Also, to accommodate more customers, including those who might be squeamish about eating raw foods, they have even added ramen to the menu, which has proved to be a big hit! It may be a side menu item, yet its ingredients and taste have become so popular, its quality is just what you would want from a specialty shop.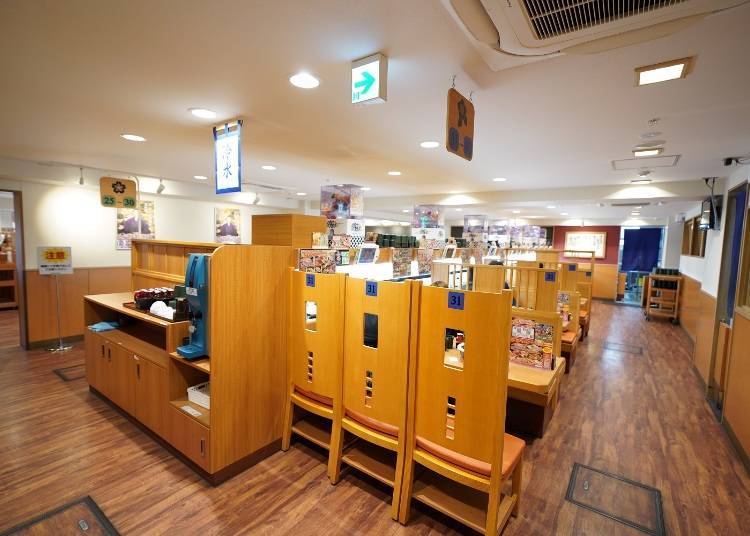 The location we visited today was the Muten Kura-zushi in Ikebukuro's Sunshine 60. Ikebukuro is a popular attraction for tourists, and so many foreign visitors visit this shop.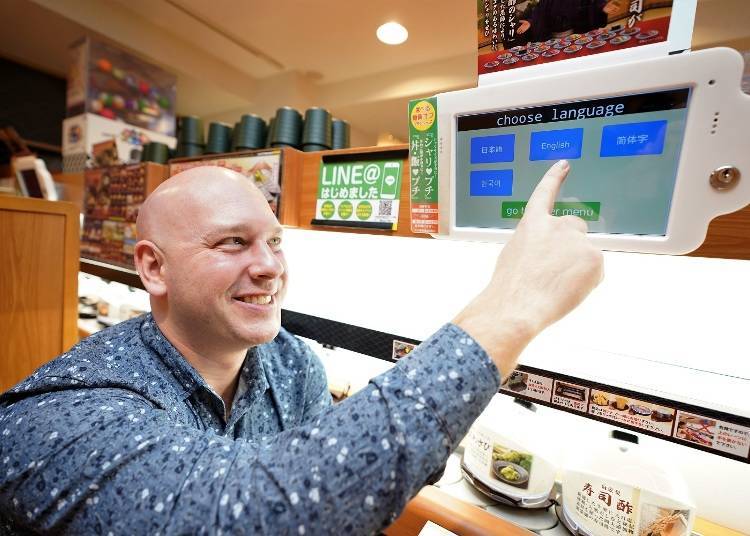 Ordering is very easy. You can either grab your favorite sushi off the conveyor belt, or if you want something specific, you can order it directly via tablet. In this Ikebukuro location, the tablet is available in four languages: Japanese, English, Korean, and Traditional Chinese.
Recommended Side Dish #1: The Taste of a Specialty Shop! Deliciously Prepared Seafood Shoyu Ramen!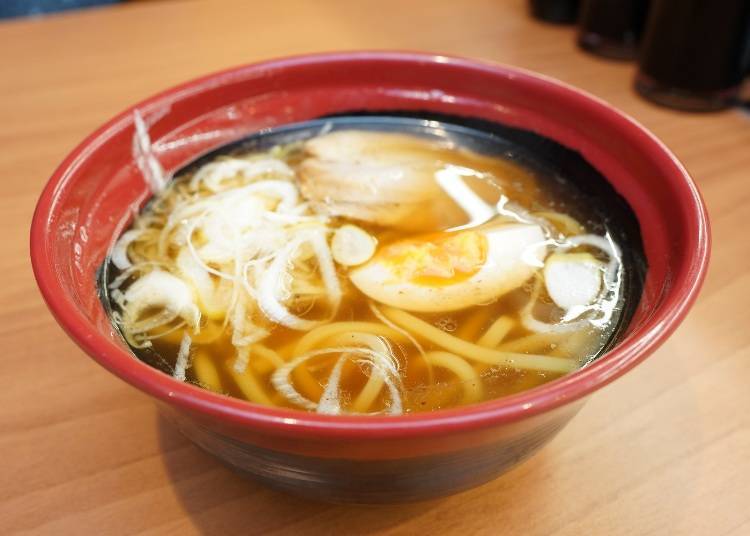 The side menu item of Kura-zushi which triggered its rise in popularity: the 7 Seafood Shoyu Ramen (¥370, tax not included). When you order using the tablet, it will come out through a separate conveyor belt, and stop right in front of your seat. Impressed, Timothy also can't help but say "Wow!!"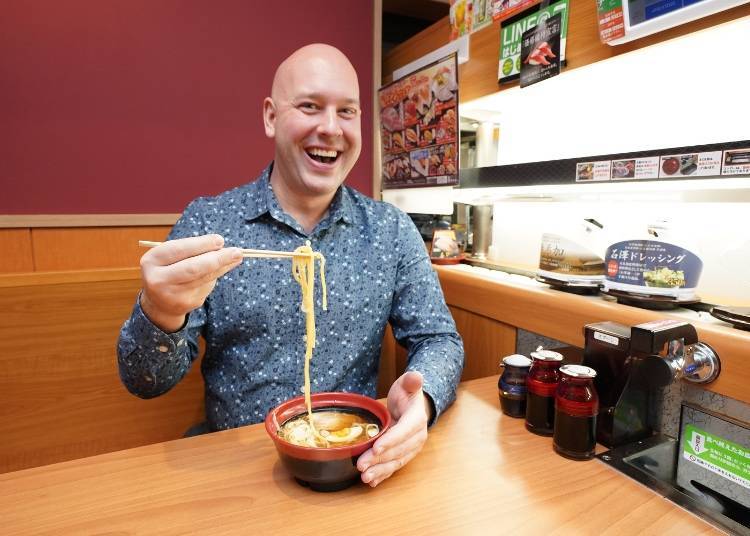 This item alone could be a full meal. "The noodles are thick and the texture is great. The warm, rich aroma of the stock and the oil is just right. It already feels like an authentic ramen shop! Not too salty, and the green onions are fresh and add a really nice touch."

It's the perfect size too, good enough if you want to eat only that, but small enough that you will still have room if you want to try other items. Made with a delicious fish-based stock that you could only expect from a sushi shop, even the ramen is perfectly satisfying.
Recommended side menu item #2: Delicious Soup Stock 'Kura Soup Takoyaki!'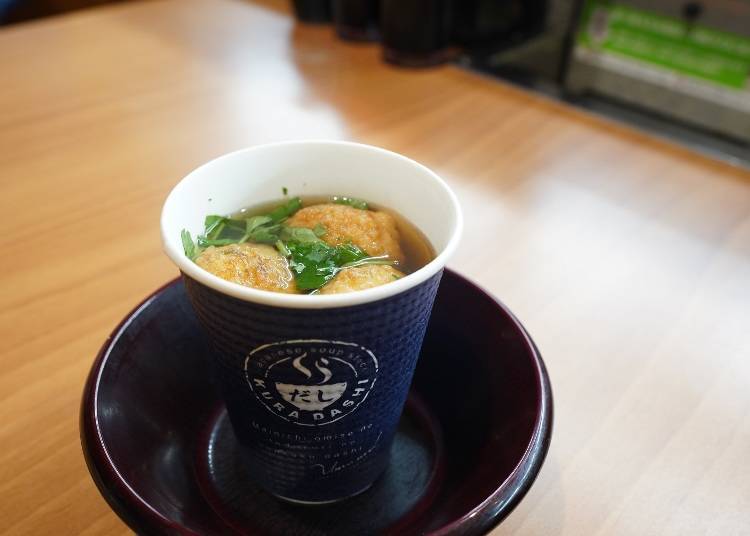 This is the Kura Soup Takoyaki (¥150, tax not included), which is a serving of fried takoyaki soaked in the delicious soup. It is a limited-time winter menu item that should certainly grab your attention. Timothy also seems to love takoyaki.

"I love takoyaki so much! It's one of those must-try foods in Japan. But I'm curious about the consistency of these - and wonder what the flavor of the soup stock is. Admittedly, it's my first time to have takoyaki at a sushi shop."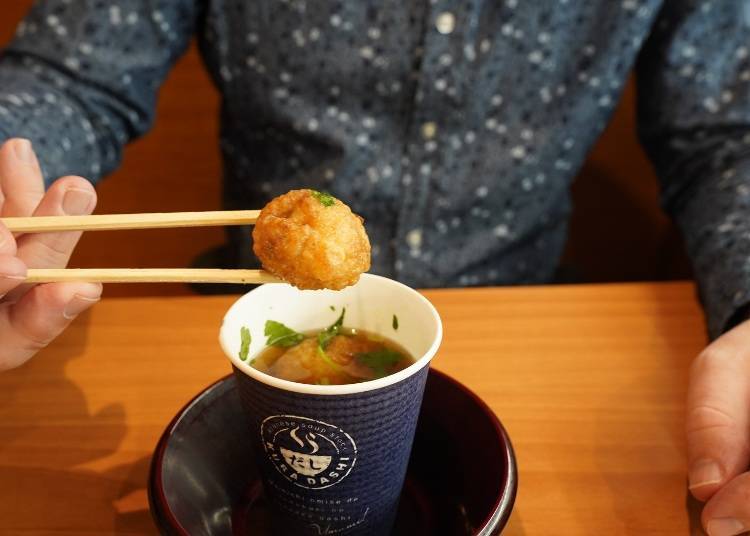 Once the lid of the cup is off, the scent of the soup wafts out.

"Oh, wow...it smells so good! Not at all what I was expecting - like a hearty consomme soup." He takes a sip. "And it's so delicious! The flavor is really tasty, very savory. I could drink this all day and not get tired of it. I understand it is a fish base, but doesn't taste fishy whatsoever. Seems like a sales ad, but honestly it's so good!"

The soup stock includes 7 kinds of seafood - kelp, bonito, anchovy, herring, scallops, mackerel and white croaker - and cooked fresh 3 times every morning for plenty of deep flavor. It seems the udon also uses this same soup stock, so that item is also recommended. On weekends, kake-udon is your best bet, at only ¥130! You can even come just for the udon.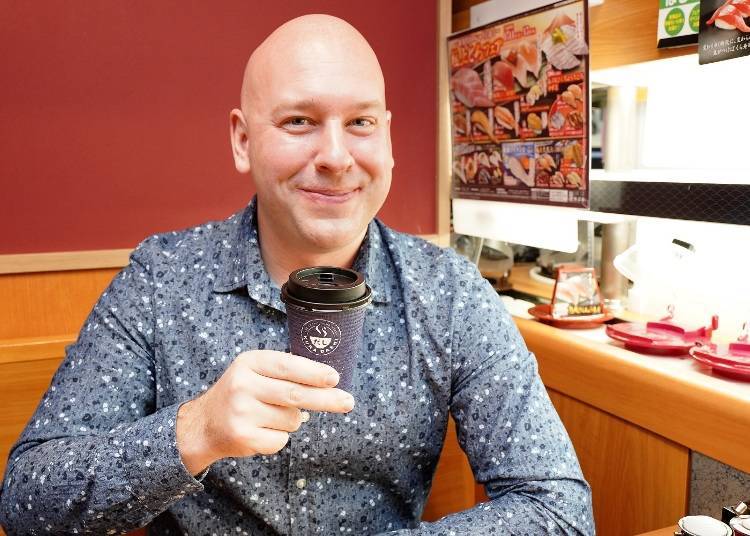 "This cup is also nice! It looks like a coffee cup, I could even take it with me and drink outside! I wonder if I could come here with my Thermos..." Timothy certainly seems happy about that!
Recommended Side Menu #3: It doesn't stop at good flavor. Chawan-mushi Risotto!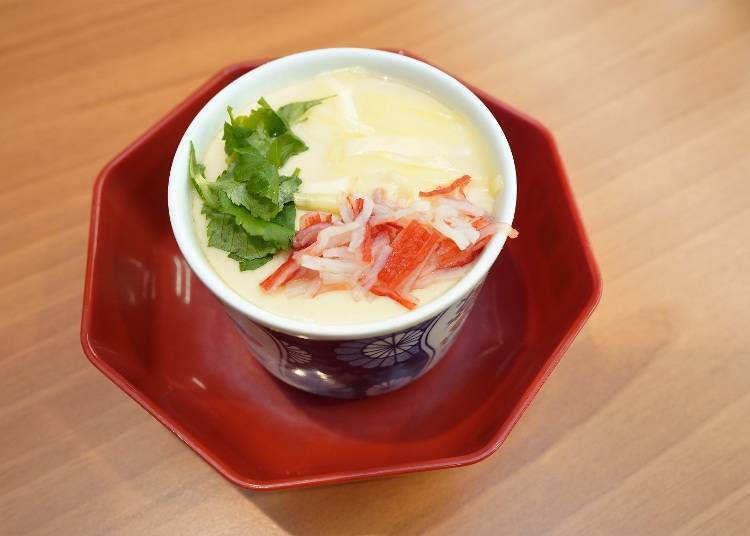 The No. 1 popular side menu item is the Specially Made Chawan-mushi (¥180, tax not included). The Chawan-mushi Risotto (¥180, tax not included) is said to have been commercialized as an arranged menu of the Chawan-mushi which had previously been sunset.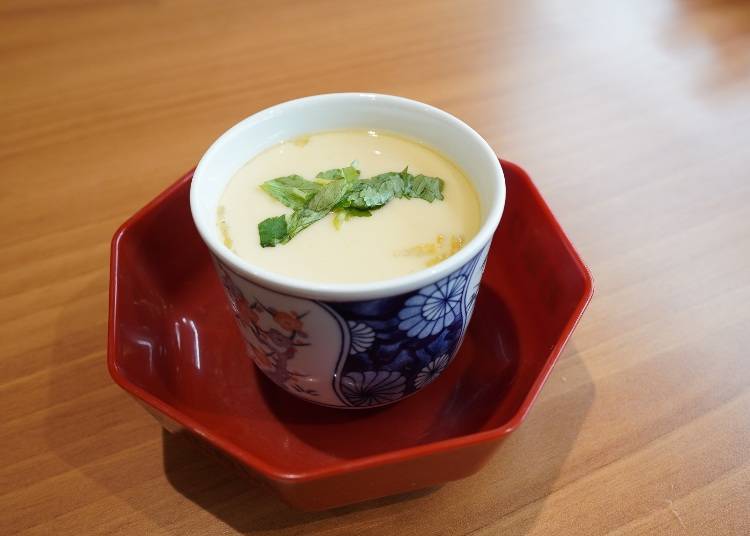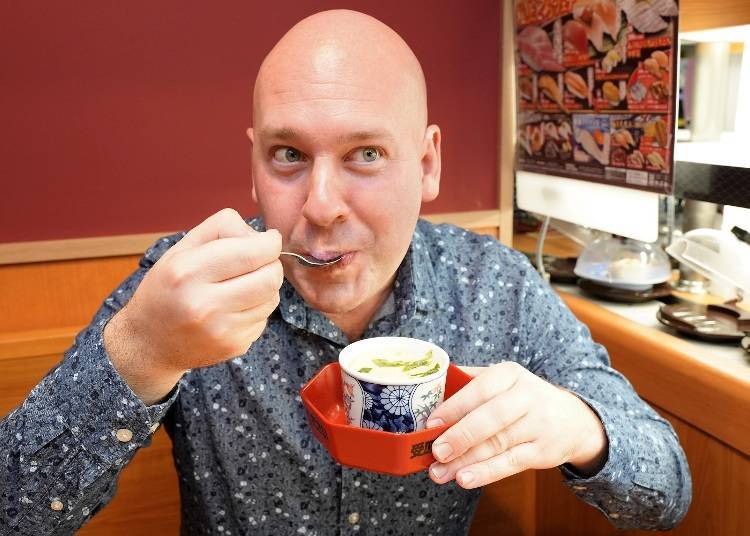 First is the ordinary egg custard. "It's really jiggly, haha! But it does have the flavor of a good chawan-mushi, you can even smell the yuzu! How can I say it... it's almost like a dessert!" The combination of egg and soup stock might not be so common in foreign countries, but it almost seems like a custard or cheesecake.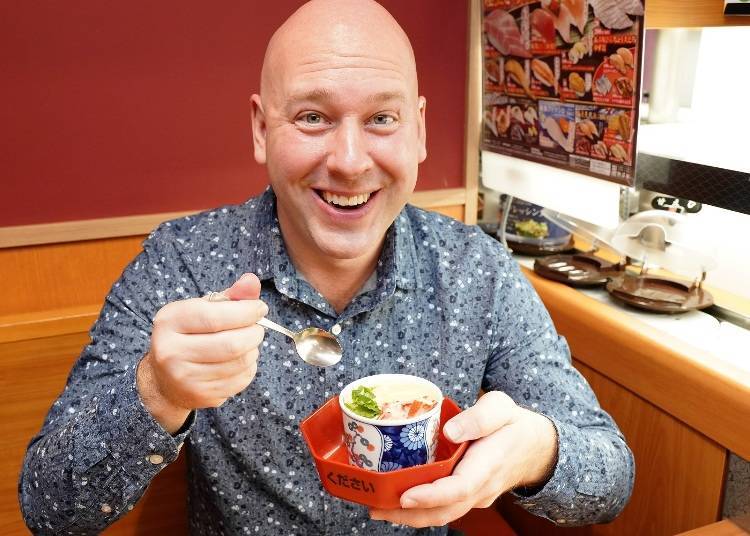 Next is the cup of chawan-mushi risotto. "Delicious! Just as it looks. The flavor of the risotto is thick and a bit heavy, but it's unexpectedly easy to eat, like ochazuke (a kind of rice soup). It kind of makes me want to drink sake with it!"

Because the shari from the sushi is underneath the custard, it is recommended to stir it slowly from the bottom and eat it mixed with the cheese.
Recommended Side Menu #4: Perfect for those who care about their health: Shari Vegetable Series!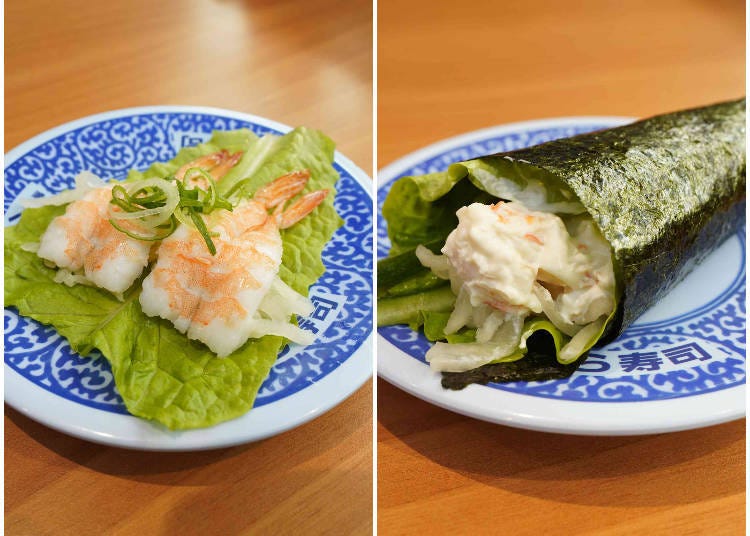 Here is the reduced-sugar Shari Vegetable Series, which uses pickled radish in the place of traditional sushi rice (shari)! (¥100 each, tax not included). This is perfect for those who are watching their rice intake or are on a diet. This option is also available for sushi and is unique to Kura-zushi.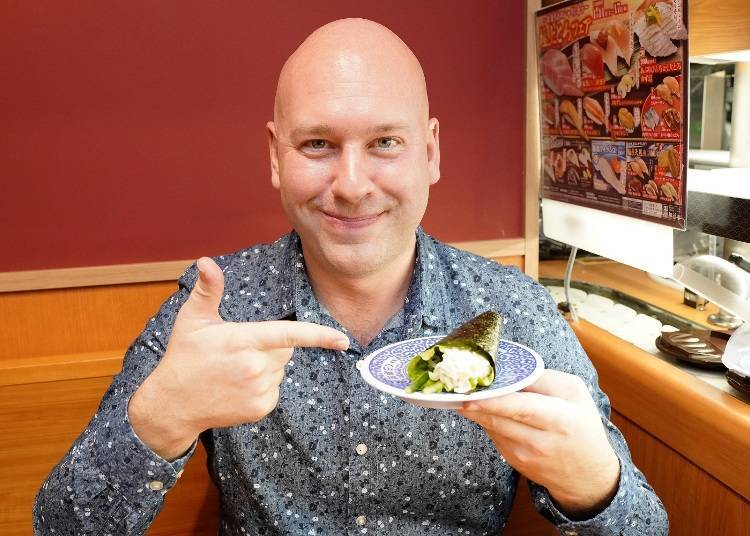 "The texture is perfect! The shrimp is plump and sweet and the crisp aftertaste of the radish is delicious."

Amongst these is the ebi-mayo wrapped in crisp seaweed, which is popular with adults and kids alike.

"The sweetness of the mayo and the shrimp pair really well with the seaweed. I can't believe it's just ¥100!"

At Kura-zushi, you can even choose the amount of shari you want. Additionally, rice vinegar is used to make the vinegared rice, something the health conscious can be happy about.
Recommended Side Menu #5: Authentic Sweets! Fluffy Shaved Ice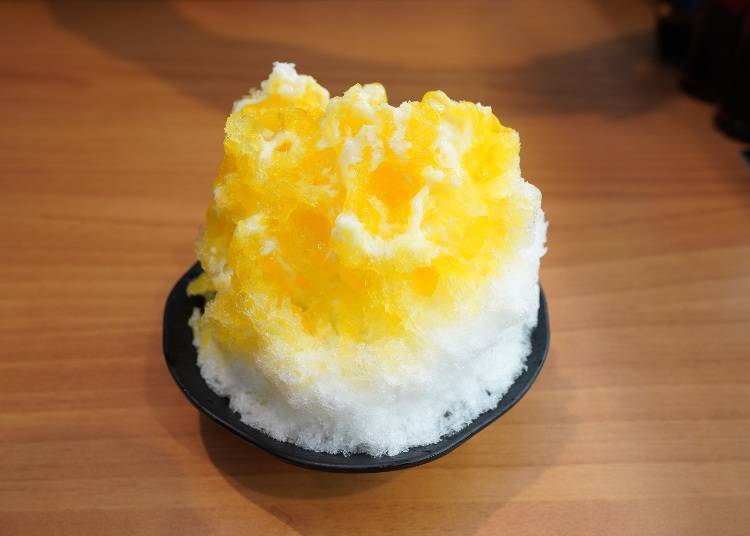 Using a full-scale ice machine, the shaved ice here boasts a really fluffy texture, like the Mango Fluffy Dream Snow (¥250, tax not included).

It is popular no matter the season, and can even be enjoyed in the wintertime. With the quality of a sweets shop and at the price of ¥250, who wouldn't want to give this a try? This shaved ice also seems to be a recommendation by the president of Kura-zushi himself.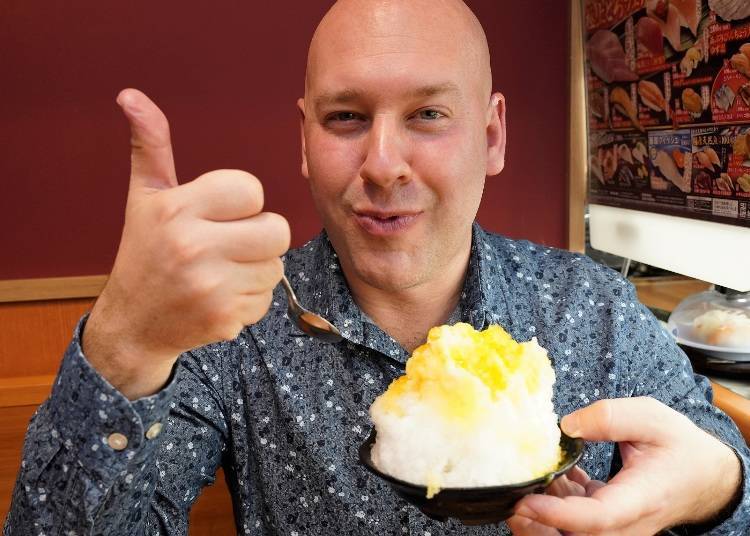 "It's delicious. As an Upstate New Yorker, I think we all ate snow when we were kids - and this has that same delicate texture of snowflakes - no ice crystals. I love the mango sauce too. It's sweet, not over the top - and just like real mangoes!"

What a nostalgic impression! The condensed milk and sauce are reasonably sweet, and the texture of the fruit pulp is perfect.
You don't want to miss out on this! Kura-zushi original sushi!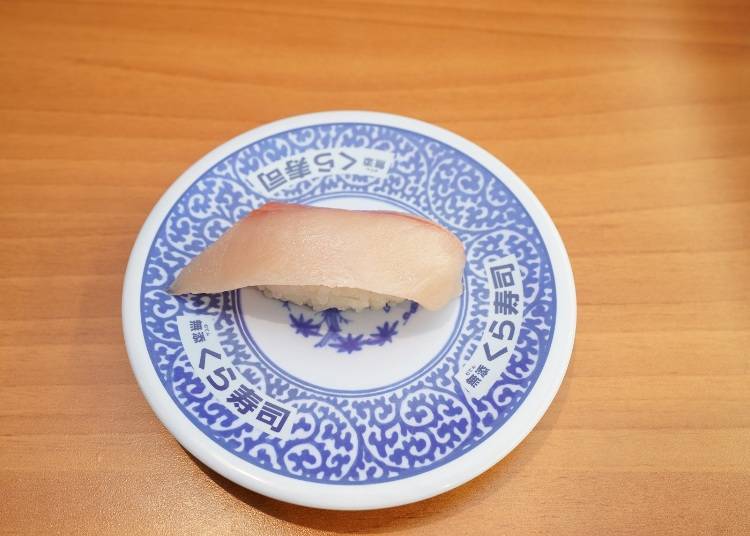 Here is another Kura-zushi original "fruity fish" item, the Mikan-buri (¥100, tax not included). As its name suggests, fruity fish are raised by feeding them food mixed with citrus fruits such as yuzu and mikan oranges. Thanks to the fruit, there is no fish smell, but a different smell that may or may not be familiar.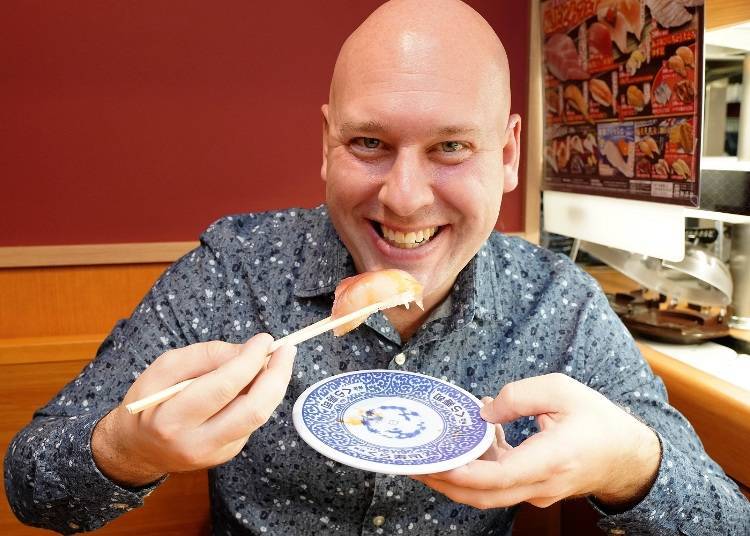 "Yes, it's just as they say. You can kind of taste a light orange flavor, which is a new one... the fish is really soft, and there's no fishy smell. I think even people who don't like raw fish would enjoy it!" It is also recommended for kids who may not like fish, so please have them give it a try, too!
Kura-zushi's Top 3 Popular Items?!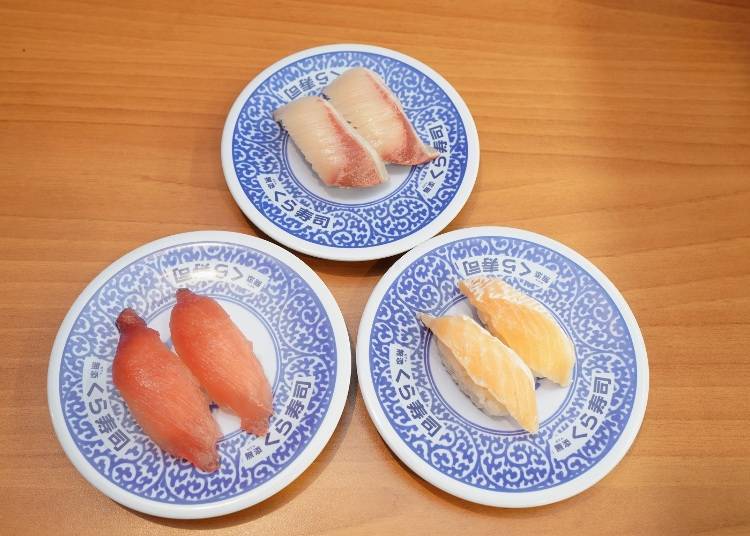 At last, we will introduce the top 3 popular menu items. To ensure the most delicious fish, the purchasing and production method is even changed to suit these particular sushi dishes. This one is ¥100 (excluding tax) for 2 pieces on 1 dish.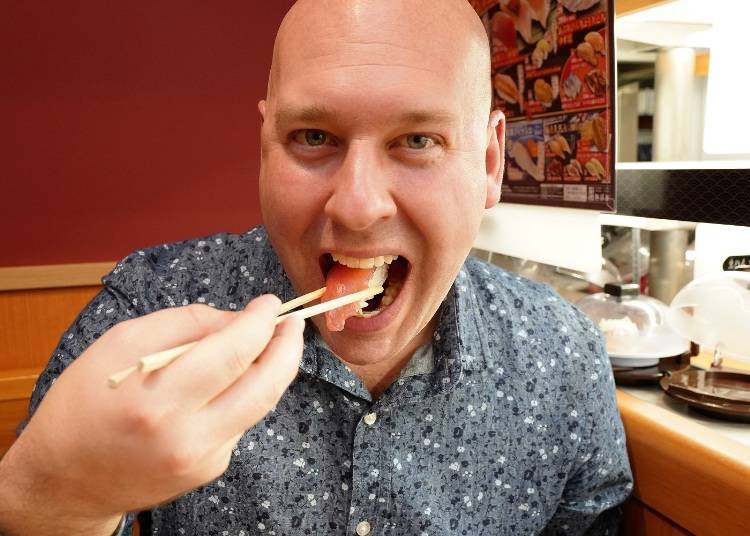 The first most popular item is of course, tuna. "Of course the tuna is delicious, but so is the vinegared rice! I don't even want to use too much soy sauce. It's pretty much great as it is," says Timothy.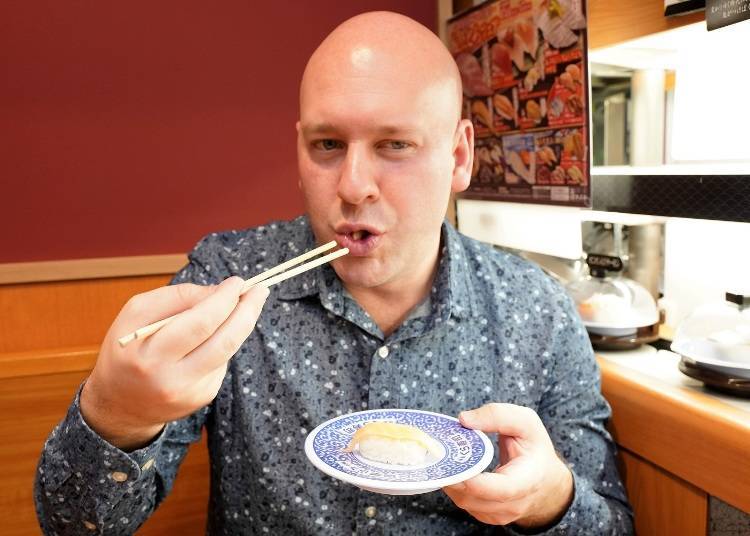 The second most popular is the salmon.

"The salmon is soft and naturally salty. Salmon is general a fatty fish, but this one is mild and not as strong."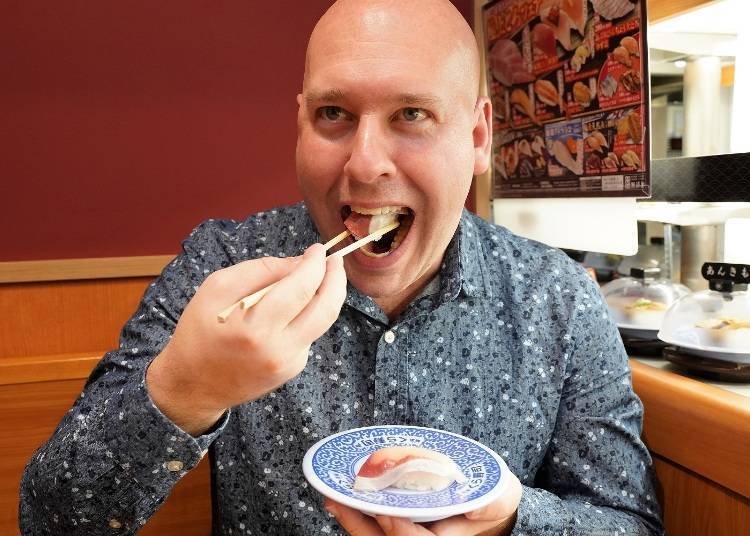 The third most popular is yellowtail.

"It may be a bit thick, but it's also very soft. I just might like this one best! It has some fat and has a thick texture like meat. I'm really surprised this one is only ¥100."
Timothy's choice! What is his top recommendation at Muten Kura-zushi?
"The risotto and the ramen are so good, I can't decide between the two of them... however the number one best has to be the takoyaki! The soup is so delicious, I could eat it every day. Actually I would like to have this instead of miso soup with my sushi! Too bad it's seasonal."

A soup menu this good even at Kura-zushi, it seems to have received similar taste reviews from all countries. Because there are so many dishes that use this soup stock, please feel free to try them all!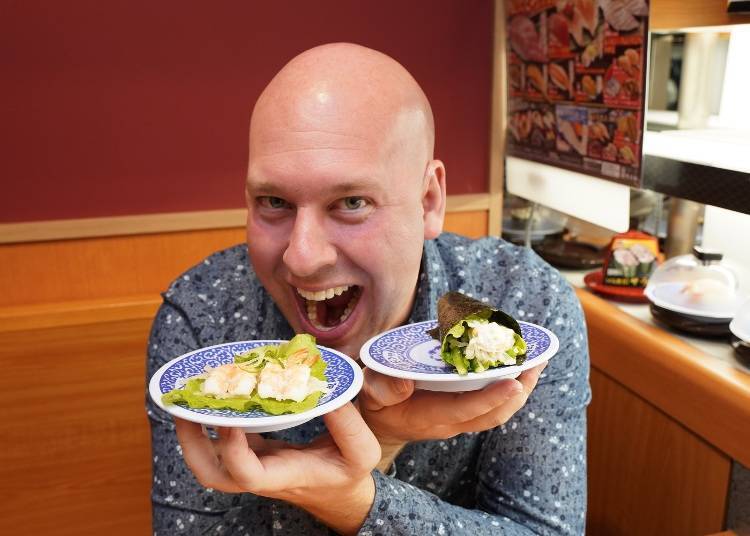 "As for uniqueness, the Shari Vegetable Series is kind of an unexpected and modern variation that I think people from abroad would appreciate and enjoy!"

In many foreign countries, Japanese food has the image of being healthy. It seems the menu for the health-conscious will become even more popular from now on.
Muten Kura-zushi is a place where you can enjoy a different meal each time, even if you come every day!
There are approximately 160 different menu items available at Kura-zushi. The variety and affordability also accommodates a wide range of people, from young students who want to eat to their heart's content, to the health-concerned middle aged, to entire families.

There is sure to be something here to please everyone. Even those who do not like raw fish, and those who have different preferences and appetites, can enjoy this barrier-free sushi shop. Why not try out the delicious menu items of Muten Kura-zushi yourself?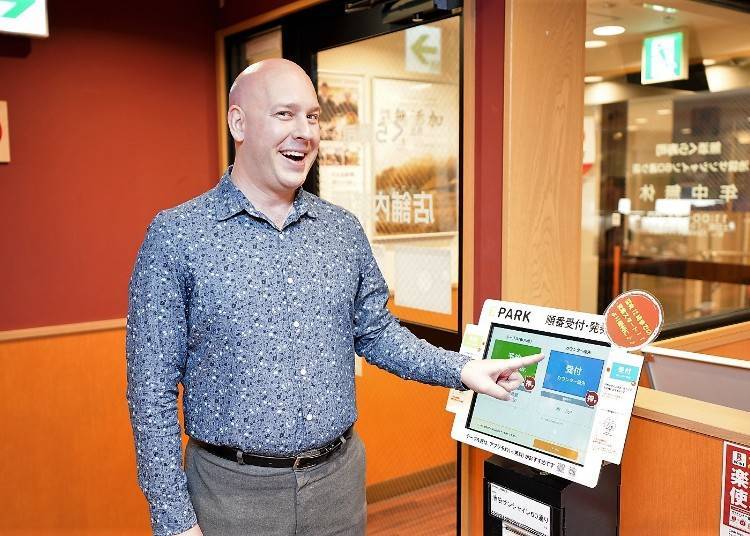 Muten Kura-zushi, Ikebukuro Sunshine 60 Location

「無添 くら寿司」池袋サンシャイン60通り店

Address

1-29-1 Higashi Ikebukuro, Saint Tropez Ikebukuro Bldg., 6F, Toshima, Tokyo, 170-0013

Phone Number

03-5962-0910

Hours:
Weekdays: 11:00 AM~12:00 AM
Weekends/Holidays: 10:20 AM~12:00 AM
*Last entry is 30 min before closing time
Written by: Miyuki Yajima
*This information is from the time of this article's publication.
*Prices and options mentioned are subject to change.
*Unless stated otherwise, all prices include tax.