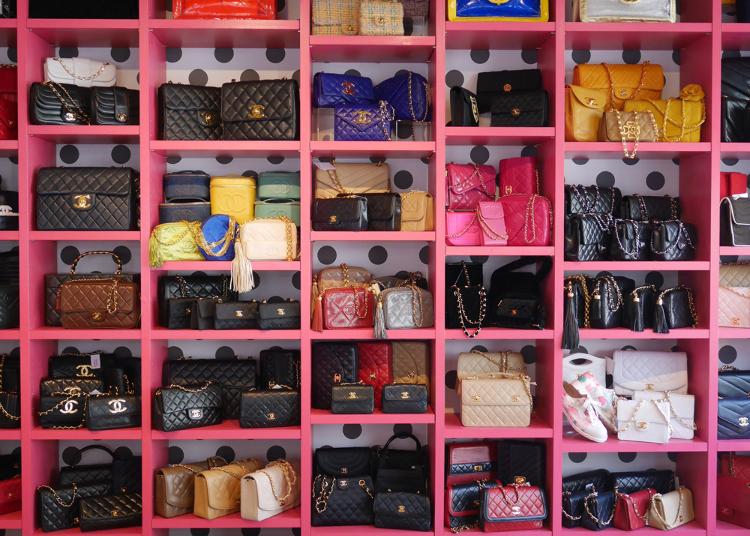 Here are the most popular Clothing Stores in Harajuku, according to leading travel website Live Japan! Our ranking is based on the most popular pages viewed by foreign visitors in the past month. Be sure to add them to your Japan travel plan when you visit Harajuku!
1.AMORE Vintage omotesandou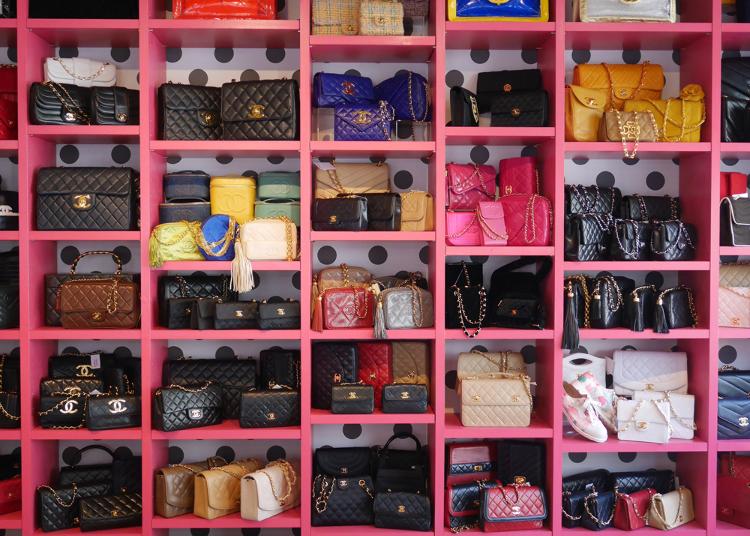 The Omotesando branch exclusively stocks vintage Chanel, with over 1,000 items including bags and accessories. AMORE Wardrobe has also opened nearby, offering vintage Chanel apparel and shoes. Our vintage shops deal exclusively in the world's rarest Chanel goods. We offer a special space with a wide selection of items ranging from classics to the hard-to-find.

Our daily social media posts offer something not just for Japan, but for our customers around the world.
・instagram @amore_tokyo 
・twitter @AmoreTokyo
・weibo @AmoreVintage
・Wechat ID @amoreomotesando @amorewardrobe
Address

CH building 1F, 5-1-15, Jinguumae, Shibuya-ku, Tokyo, 150-0001
View Map

Nearest Station

Omotesando Station (Tokyo Metro Ginza Line / Tokyo Metro Chiyoda Line / Tokyo Metro Hanzomon Line)
5 minutes on foot


Phone Number

03-5778-3567
2.WOODEN DOLL Takeshita Street store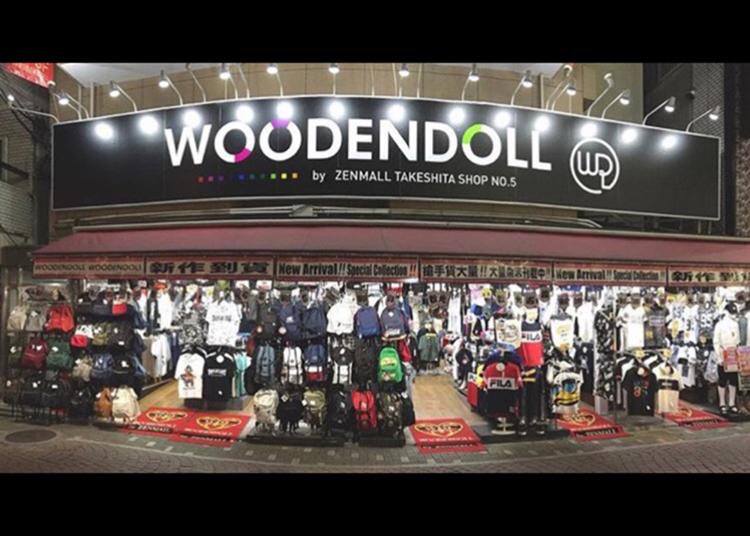 Our shop is almost overflowing with clothes and accessories that are composed of a blend of styles unique to Takeshita Street, focusing on the latest fashion trends – please come and have a look!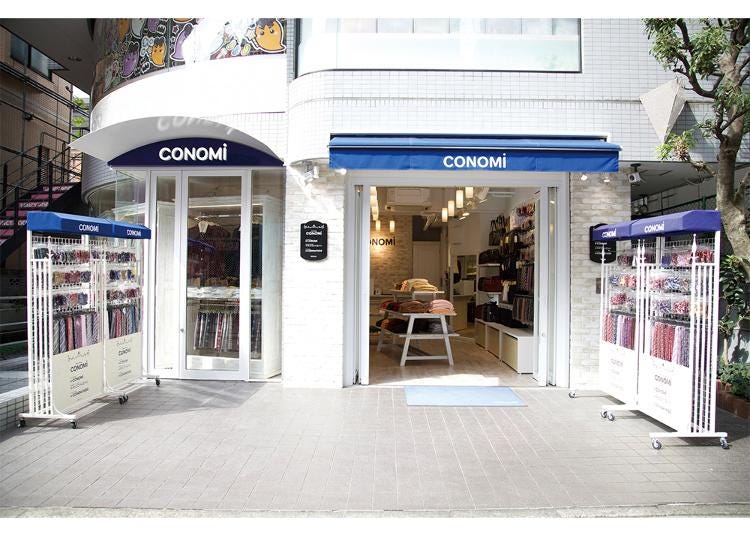 Do you know uniform fashion?
The uniforms Japanese students wear for school are catching on around the globe as they look absolutely cute.

CONOMi, a hit uniform fashion brand in Tokyo's Harajuku district, attracts customers from around the world on top of Japanese customers!

Besides our shop in Harajuku, Tokyo, you can find our outlets in Osaka, Nagano, and Niigata. Hong Kong shop has opened, too!
Customers overseas can shop online.

You can create your own uniform style with our wide variety of colors and different types of accessories.
Try sailor style, blazer style, knit style and more for all kinds of uniform coordinations!
Our experienced staff can help coordinate your uniform.
Men's uniforms are also available.

Why not try Japan's unique uniforms worn in TV dramas and films by Japanese idols and by highschoolers?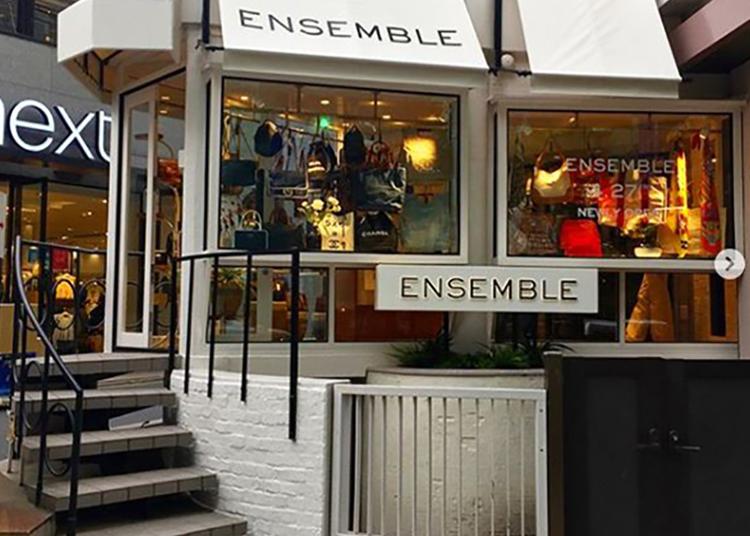 Our shop provides customers with beauty that never goes out of style, and even works for different generations.
Browse our lineup of items that have qualities of essential beauty at this accessory shop that fuses old and new.

Fashion changes, but style endures.
We hope our shop will be able to provide you with an opportunity to make new discoveries about yourself while at the same time remaining true to your current style.
5.Maker's Watch Knot Omotesando Gallery Shop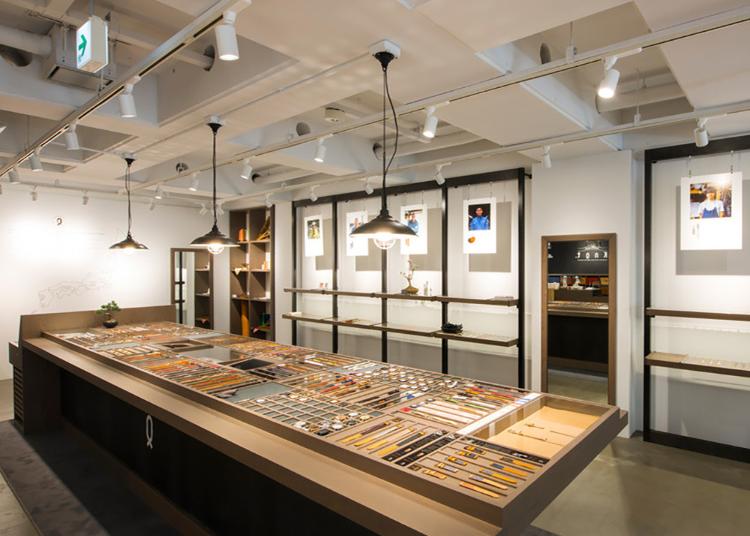 "Knotting Japan to the world through Japanese quality."

At Maker's Watch Knot, it is our aim to provide custom-order watches that anyone in the world can purchase at a reasonable price, boasting super design and quality made in Japan. Our brand was born from this vision.

You can custom-order a watch from more than 15,000 different types of combinations. In the same way that you coordinate your shirt and your tie, you can easily customize your watch and strap to suit your clothing or mood. We are able to sell our high-quality watches at one-third of the market price by eliminating unnecessary costs.

Come and visit our gallery shop, where you can use real samples and enjoy custom-ordering.
Maker's Watch Knot Omotesando Gallery Shop

Maker's Watch Knot 表参道ギャラリーショップ

Address

Espace Omotesando 1F, 4-21-7 Jingumae, Shibuya-ku, Tokyo, 150-0001


Nearest Station

Omotesando Station (Tokyo Metro Ginza Line / Tokyo Metro Chiyoda Line / Tokyo Metro Hanzomon Line)
3 minutes on foot


Phone Number

03-6447-0670
6.DECOUVERTE Aoyama store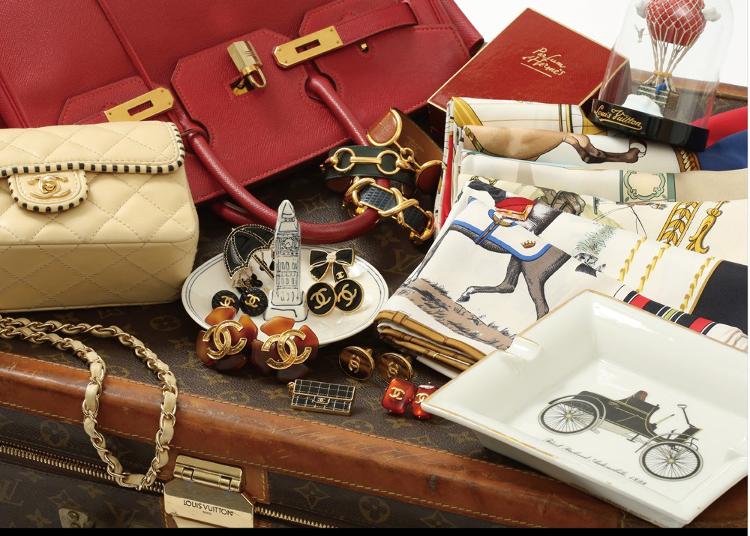 We have accumulated top-quality brand name goods from years past, masterful products with unique value only known by few, and much more from various locations in Japan and around the world to make their beauty available to you.
Our knowledge of brands runs deep, and we want you to "Découverte (discover that once-in-a-lifetime treasure)" at DECOUVERTE. Holding our items in your hands will give you a sense of their history, while allowing you to discover a new part of yourself.
* Our Instagram page is updated daily: https://www.instagram.com/decouverte.jp/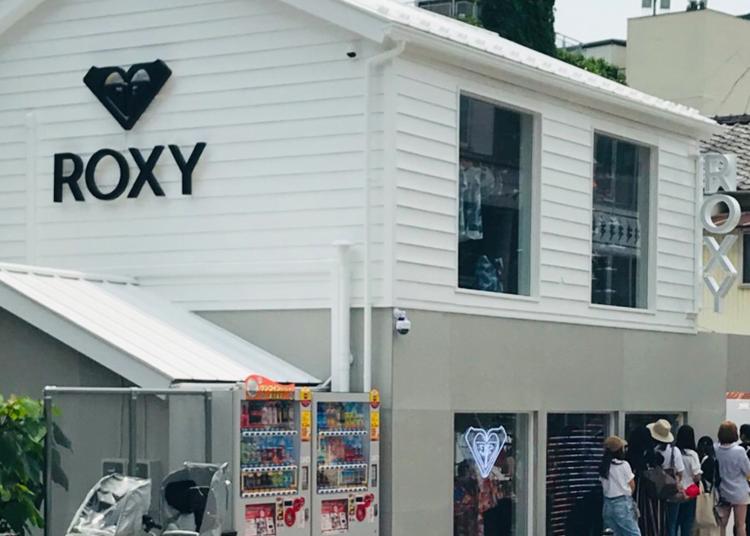 The leading active and lifestyle brand ROXY opened its first Japanese brand store ROXY TOKYO in Harajuku's Cat Street on May 25, 2019.

The store stocks products that complement the style of the Harajuku and Shibuya area, including limited-edition collaboration products and original limited-edition products. The ROXY brand first began in 1990, focused on surf casual wear such as swimwear and board shorts, and now has a varied lineup ranging from snow wear and fitness wear to shoes.
ROXY TOKYO has the newest brand items and a global atmosphere.
Address

5-11-13, Jinguumae, Shibuya-ku, Tokyo, 150-0001
View Map

Nearest Station

Meiji-Jingumae (Harajuku) Station (Tokyo Metro Chiyoda Line / Tokyo Metro Fukutoshin Line)
10 minutes on foot


Phone Number

03-6419-7040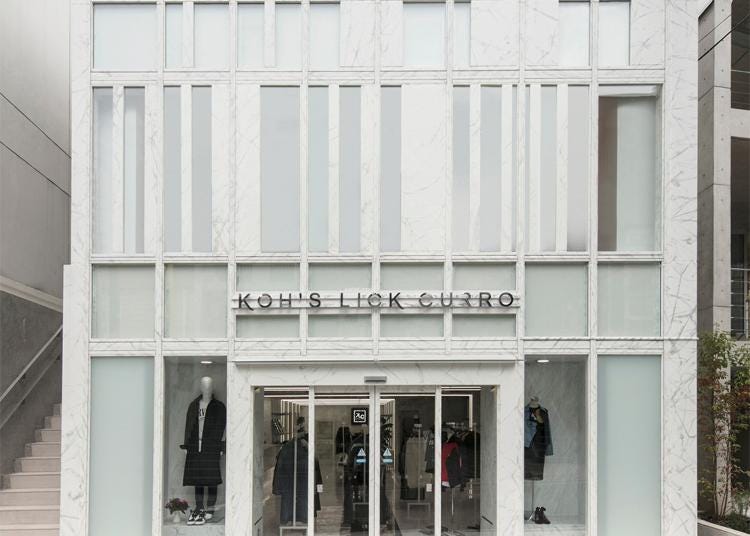 At Koh's Lick Curro, a new type of luxury store, we always provide patrons with new discoveries and an uplifting feeling, and do not merely follow the trends of the times. As an international fashion hub, our selection of clothing features items from Europe, Asia, the US, Japan and more. We can suggest looks for you that fit with your individuality and harmonize seamlessly with the intelligence and sensibilities of a grown man or woman.
Our store is based on the concept of "enjoying every genre" of fashion. The selection of clothing items offered at our store is a combination of the renowned maison fashion brands and new up-and-coming brands, including a variety of Japanese brands from various styles of fashion. In total we carry over 50 brands. You're sure to discover something new when you visit as we have a wide range of styles on offer including streetwear, casualwear, mode, and feminine styles.
Brands we stock include Maison Margiela・MARNI・yohji yamamoto・MSGM・alexanderwang・JOHN LAWRENCE SULLIVEN・AKIKO AOKI.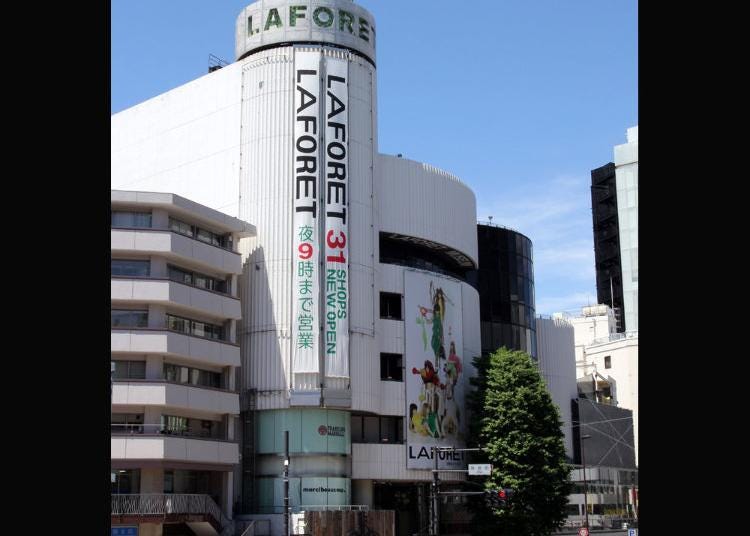 LAFORET HARAJUKU is located in Harajuku, the capital of youth trends in Tokyo. There are some 140 shops and cafés selling the latest fashion items and accessories, gadgets, books and CDs. Many people flock here on the first business day of the new year to purchase lucky bags. The shops are on floors 1.5 below-ground to the 5th floor aboveground and LAFORET MUSEUM is on the (top) sixth floor. Fashion-related events featuring music, photography and design are held here regularly. A five-minute walk from the Omotesando Exit of JR Harajuku Station, and a one-minute walk from the No. 5 Exit of Meiji-jingumae (Harajuku) Station on the Tokyou Metro Chiyoda Line.
Address

1-11-6, Jinguumae, Shibuya-ku, Tokyo, 150-0001
View Map

Nearest Station

Harajuku Station (JR Yamanote Line)
5 minutes on foot


Phone Number

03-3475-0411
Japan's most exclusive vintage shop offering a wide selection of luxury brands including HERMES, GUCCI, Louis Vuitton, CELINE, Ferragamo, YSL, and Dior. We stock bags, apparel, accessories, and shoes. Our store is a dreamlike space offering the opportunity to get your hands on rare items that would normally be impossible to find.

We post information about new items and the like daily on our social media channels.
・instagram: @amore_tokyo 
・twitter: @AmoreTokyo
・weibo: @AmoreVintage
・Official Wechat ID: @AMOREvintage
・Aoyama shop Wechat ID: @amoreaoyama
Address

parattsuino Omotesando 2F, 5-1-6, Jinguumae, Shibuya-ku, Tokyo, 150-0001
View Map

Nearest Station

Omotesando Station (Tokyo Metro Ginza Line / Tokyo Metro Chiyoda Line / Tokyo Metro Hanzomon Line)
1 minute on foot


Phone Number

03-5468-7030
*This information is from the time of this article's publication.
*Prices and options mentioned are subject to change.
*Unless stated otherwise, all prices include tax.