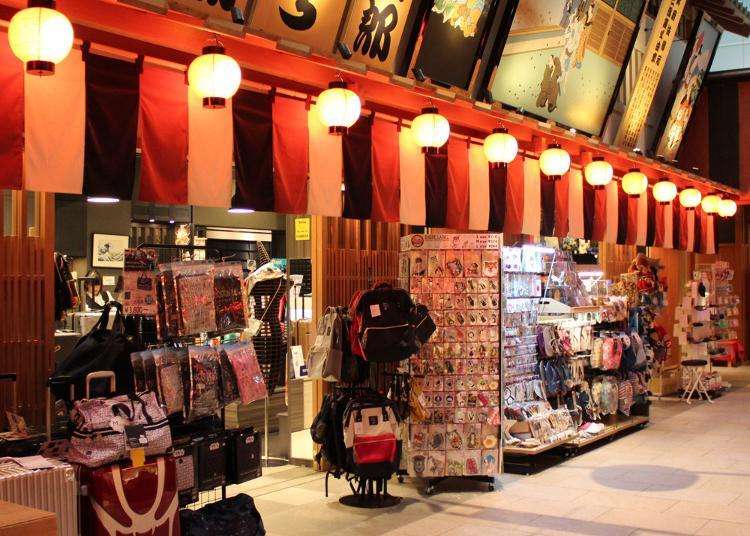 These are the top recommendations for Haneda, with travel tips and more, according to LIVE JAPAN, a top-class travel website for visitors to Japan. Our ranking is based on the most popular pages viewed by foreign visitors in a given category.

For instance, Travel luggage and accessories speciality shop -Toko Haneda International Airport Store, sakazen Kamata store, Natural Hot Spring Heiwajima and other related spots will be listed. Be sure to check them out during your visit to Haneda!
1.Travel luggage and accessories speciality shop -Toko Haneda International Airport Store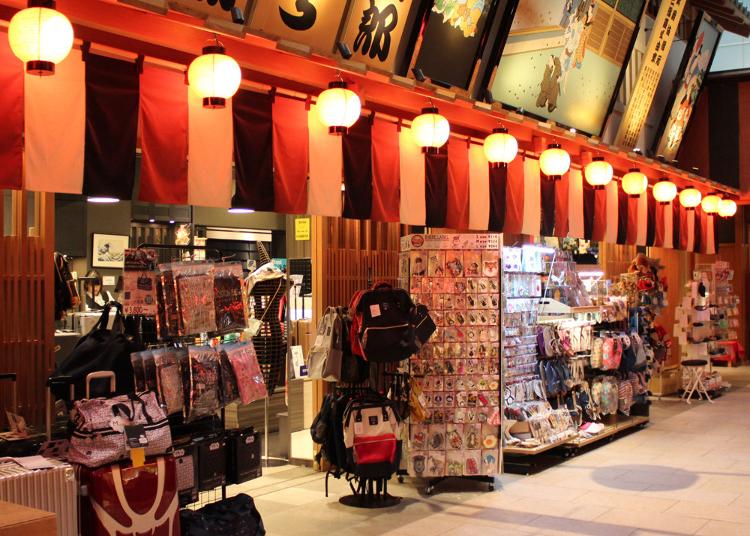 On the 4th floor of Haneda Airport's International Terminal, Japanese culture and the aesthetics of Japan's Edo Period come together to create the main street of "EDO MARKET". Travel Pro-Shop Toko (Haneda International Airport Store), which specializes in travel, travel-related products and souvenirs, is located there.

They carry top suitcase brands such as Samsonite and Proteca, and our messenger bags and backpacks include the popular anello series, known for their ease of use.
Our most popular miscellaneous travel product is the stylishly-designed, weather-resistant B-SIDE LABEL stickers. You can find Haneda Airport-exclusive designs in addition to ordinary stickers at our store, including the "Haneda Penguin" and "I LOVE HANEDA" stickers.

They also stock Japanese souvenirs, which are a necessity for any traveler in Japan on business or for a homestay. Our selection of Japanese-made hand towels is also popular.
Before you set out on your journey, be sure to pay us a visit.
Address

HanedaAirport international passenger terminal 4F, 2-6-5, HanedaAirport, Ota-ku, Tokyo, 144-0041
View Map

Nearest Station

Haneda Airport International Terminal Station (Keikyu Airport Line / Tokyo Monorail Haneda Airport Line)


Phone Number

03-6428-0722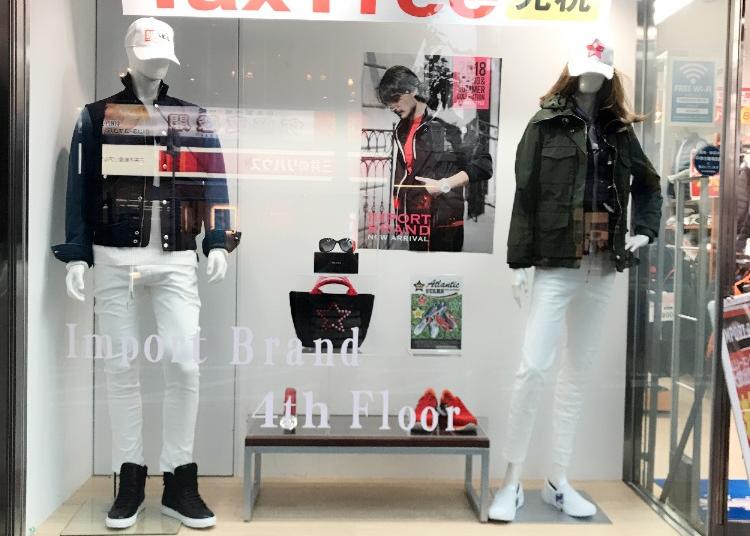 These guys offer the various collections of clothing and other items, with both Japanese and directly imported goods. Our floor dedicated to underwear, accessories, and interior goods is the largest in the area.

All of the items Sakazen offers are here, with men's and women's clothing ranging from size small to 9L, and imported name-brands. New collections are arriving every day!

Not only is there an extensive selection of business attire such as suits, slacks and jackets, but they also have more casual pieces of clothing such as khakis, parkas, and T-shirts.
3.Natural Hot Spring Heiwajima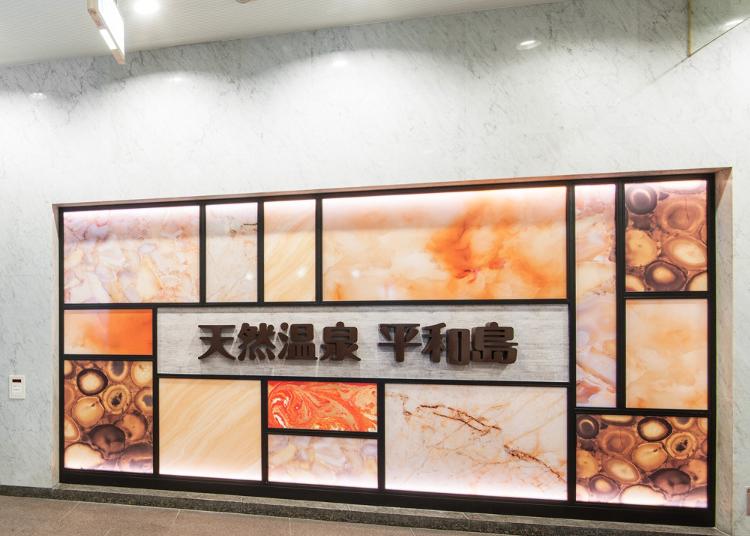 One of the best natural hot springs (boiler heated) in Tokyo, boasting a yield of 150 tons per day from 2,000 meters underground. After bathing, your skin will feel moist, soft, and smooth. The water contains a high concentration of salt, which prevents sweat from evaporating after bathing and leads to high moisture retention.

In the spacious Viewing Spa, you can refresh yourself in a highly concentrated carbonated spring and sit-down stone sauna, and enjoy watching TV on a large screen. The Shining Spa features a natural hot spring bath, among various other facilities, and is perfect for people wishing to get refreshed and healthy by washing their sweat off in the jacuzzi, togoal bath, snoozing bath, or whatever you so choose.

Although located in an urban setting, the spacious facility offers guests with a resort-like atmosphere. The stone sauna area consists of a room for experiencing löyly, a popular attraction, and stone saunas that feature seven different kinds of natural stone. You are guaranteed a relaxing time. There are various other facilities to help our guests enjoy a special experience. Please relax to your heart's content.
Address

1-1-1, Heiwajima, Ota-ku, Tokyo, 143-8532
View Map

Nearest Station

Heiwajima Station (Keikyu Main Line)
3 minutes by bus


Phone Number

03-3768-9121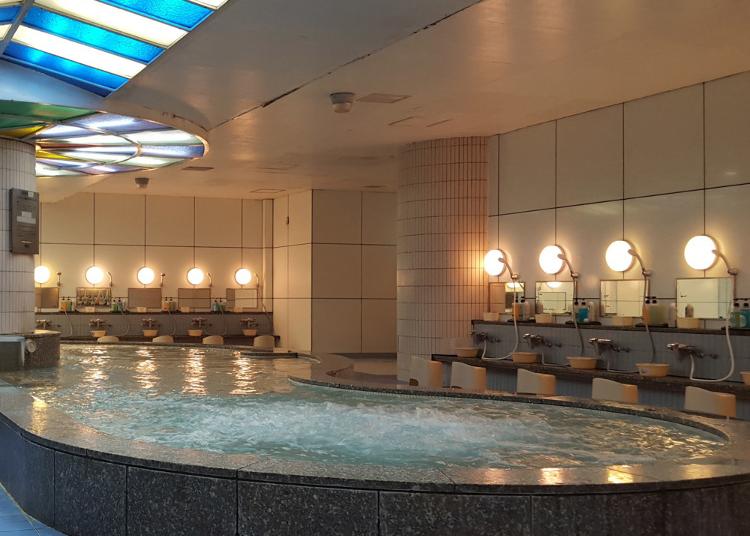 Capsule Inn Kamata is located in Kamata Ota-ku Tokyo. Our sauna is open to guests, as well as the general public.

The hotel is an eight-minute train ride from Haneda Airport and a five-minute walk from Keikyu Kamata Station, or a two-minute walk from JR Kamata Station. There is easy access to the city and are very convenient for business and sightseeing. Perfect for unplanned stays and early morning departures.

One of the largest common large common bath in Tokyo, as well as two saunas, high temperature and low temperature saunas are available in the commodious hotel.
Both are free for our hotel guests.
In addition to the popular grand menu, the restaurant serves a variety of seasonal specialties, alcoholic and non-alcoholic beverages.

Beer after a relaxing time in the large baths and a sweat in the sauna is exceptional.

They have a 24-hour front desk, as well as free wi-fi access, towels and amenities!


*These services are only available for hotel guests.
カプセルイン蒲田

Address

Athletic Kamata, 5-20-5 Kamata, Ota-ku, Tokyo, 144-0052


Nearest Station

Kamata Station (JR Keihin-Tohoku Line / Tokyu Ikegami Line / Tokyu Tamagawa Line)
2 minutes on foot


Phone Number

03-3731-0604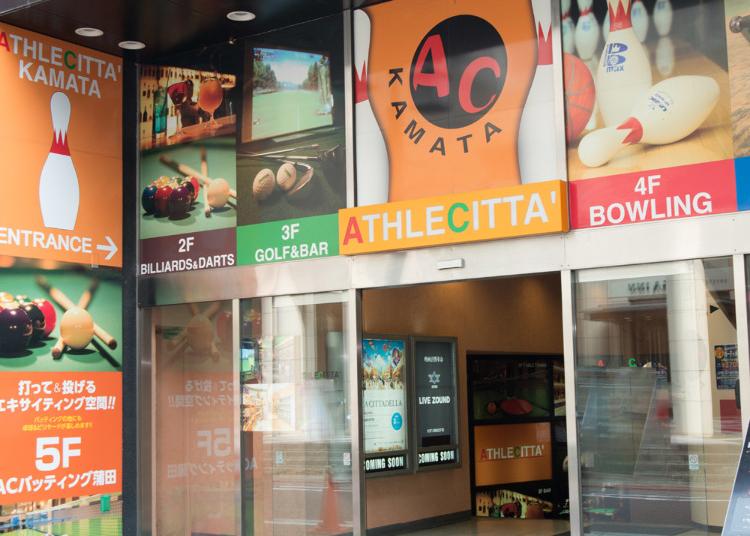 AC Bowl Kamata is a 16-lane bowling alley in an entertainment facility "ATHLECITTA' Kamata" in Kamata, Ota-Ward.
The bowling alley is loved by the locals and people of all ages can enjoy their time here all day long.
But you might think "I can't bowl all day, it's too tiring".
The secret of enjoying the whole day in the bowling alley is that there are number of other activities you can do. They have batting cages, table tennis tables, billiard tables, dartboards and even a golf bar! Plus, it's all indoors so rain is never a problem.

How about alcohol and meals while playing bowling?
They have a satisfying food delivery service so the whole family can enjoy their time.
Play against professional baseball players in the batting cage! You can experience professional level batting with a maximum speed of 140km/h.

Darts and golf car are recommended for couples!
ACボウル蒲田

Address

Athletic Kamata 4F, 5-20-5 Kamata, Ota-ku, Tokyo, 144-0052


Nearest Station

Kamata Station (JR Keihin-Tohoku Line / Tokyu Ikegami Line / Tokyu Tamagawa Line)
2 minutes on foot


Phone Number

03-3731-0604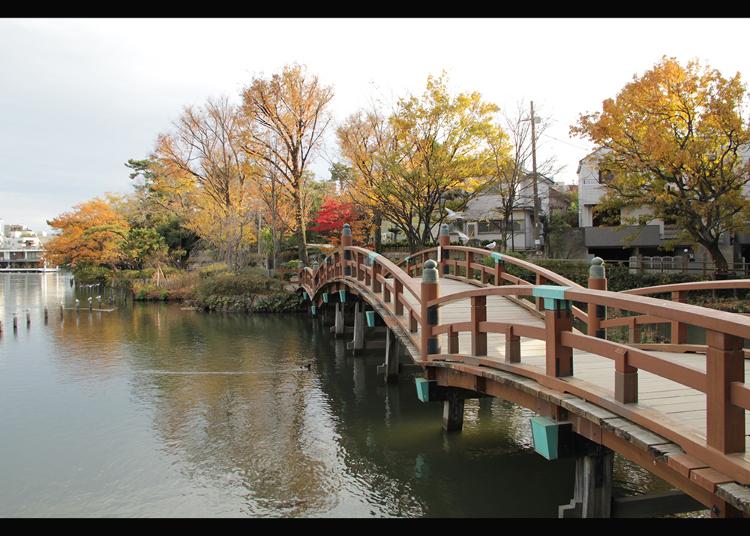 Senzoku-ike is a spacious pond with an area of 40,000 square meters. It is so named because of the legend that Nichiren, founder of Nichiren Buddhism, washed his legs in this pond. Senzoku-ike has been recognized as a place of scenic beauty since olden times, and in the mid-19th century was immortalized in an ukiyo-e painting by Utagawa Hiroshige. Now part of a municipal park in Ota ward, the pond offers a scenic circuit for a walk or a jog.

You can also enjoy relaxing views of the pond by row- and paddle boat. The recently built Ikezuki-bashi Bridge further adds to the appeal. During April, the pond is surrounded by a curtain of cherry blossoms that attracts a large number of people; it is one of the most popular cherry-blossom viewing sites in Tokyo. A two-minute walk from Senzoku-ike Station on the Tokyu Ikegami Line.
Address

2-14-5, Minamisenzoku, Ota-ku, Tokyo, 145-0063
View Map

Nearest Station

Senzoku-Ike Station (Tokyu Ikegami Line)
2 minutes on foot


Phone Number

03-3726-4320
7.Nankaibuhin South Tokyo Store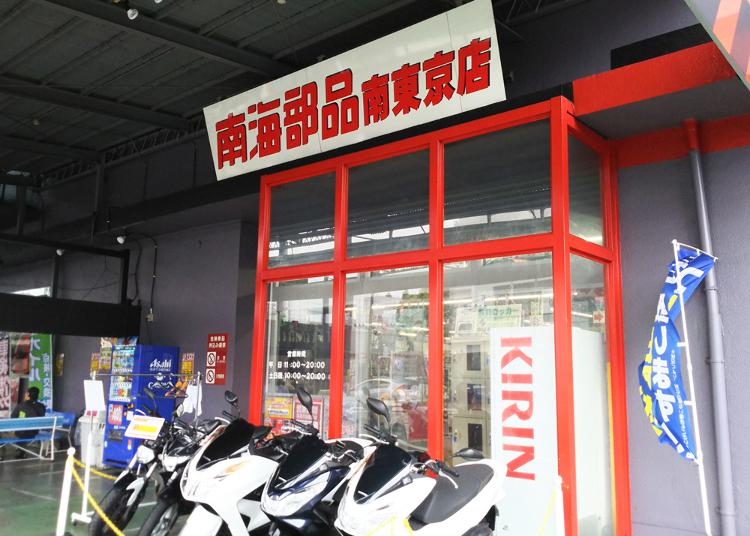 [Limited] In-store selling of Nankai original brand products is handled only at this store in Tokyo!!

Centered around Nankaibuhin Head Office (Osaka), they operate more than 60 stores throughout Japan. Our range of stock is one of the best in the region! Focused on our original brand 'Nankai' products, they have a huge variety of items that wide range of riders will enjoy, including the Japanese manufacturers KOMINE, RSTAICHI, GOLDWIN, ARAI, SHOEI and OGK, from scooters to supersport riders. In addition to accessories, they also carry motorcycle parts and sell various products and repair parts that are necessary for motorcycle maintenance, as well as tools, and some custom parts.

The store is easily accessible from Haneda Airport and the closest train station (Musashi-Nitta Station), and is easy to reach even for those who have difficulty arriving by motorcycle.
Address

2-34-15, Chidori, Ota-ku, Tokyo, 146-0083
View Map

Nearest Station

Musashi-Nitta Station (Tokyu Tamagawa Line)
5 minutes on foot


Phone Number

03-5482-7700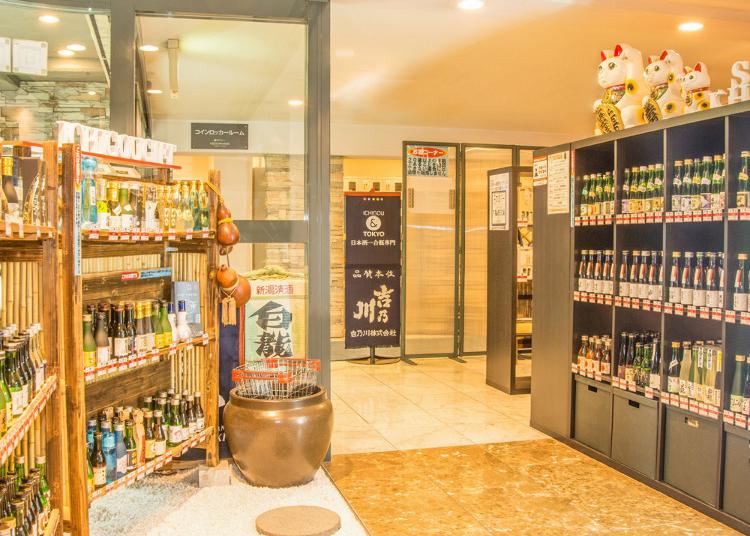 These guys are located a 5-minute walk from Keikyu Kamata station, 8-minute train ride from Haneda Airport. From our shop in Kamata, they want to spread the wonders of Japanese sake not just to all of Japan, but also to the entire world. At ICHIGOU, they sell Ichigou bottles of sake (approx. 180ml), which offer a unique and compact feel. Japanese sake is becoming greatly respected as a souvenir in both Asian countries as well as in the West. Our store offers a top-class selection Ichigou-sized sake. They're reasonably-priced and easy-to-carry, allowing you to sample many different kinds at your own pace, making it easy to become more acquainted with Japanese sake. They also sell original bottle designs unique to our store.
ICHIGOU

Address

Athletic Kamata 1F, 5-20-5 Kamata, Ota-ku, Tokyo, 144-0052


Nearest Station

Kamata Station (JR Keihin-Tohoku Line / Tokyu Ikegami Line / Tokyu Tamagawa Line)
2 minutes on foot


Phone Number

03-3731-0604
9.Ota City Tourist Information Center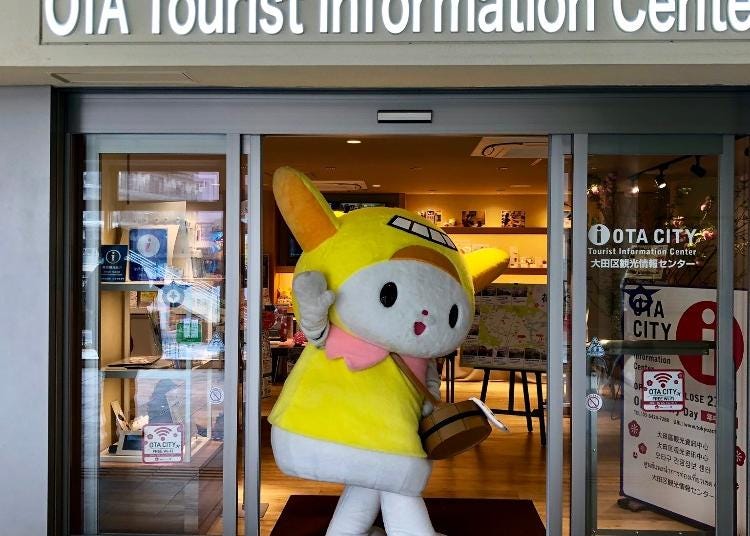 Here you can find the allure of Ota City that can not be found in a tour guidebook.

They offer activities that allow visitors to experience Japanese culture, ranging from traditional Japanese customs which have been passed down since ancient times to trendy culture that serves as a symbol of modern Japan.

Theyhave activities that require a fee and a reservation as follows,
* kimono wearing
* tea ceremony
* flower arrangement
* calligraphy
* manga creation.

Activities that are free of charge, walk in base.( no reservation required )
*Quick kimono try on
*easy Japanese lesson
*Origami making
*paper crafts
Address

Wing kitchen KeikyuKamata M2F, 4-50-11, Kamata, Ota-ku, Tokyo, 144-0052
View Map

Nearest Station

Keikyu Kamata Station (Keikyu Main Line / Keikyu Airport Line)


Phone Number

03-6424-7288
Haneda Shrine attracts worshipers from the entire Haneda area, including the Haneda Airport. It is dedicated to two gods, Susanoo-no-Mikoto and Kushinada-hime-no-Mikoto (the legendary imperial prince and princess). Also, many airline and airport employees visit to pray for the safe operation of aircraft and aviation security throughout the year. When an infectious disease spread in 1861, the 13th shogun, Tokugawa Iesada, visited the shrine and recovered from the disease. Since then, many worshipers have come to pray for the recovery of their health.

An artificial mountain, Haneda Fuji, was created in 1868 and is said to have imitated the appearance of the beautiful Mt. Fuji, which the people in those days also admired. The shrine is designated as a cultural property of the Ota ward. Inside the premises, many events are held throughout the year. In particular, the summer festival is a powerful festival where 3,000 people carry a portable shrine, so the shrine bustles with many spectators. It is a five-minute walk from the Otorii Station on the Keihin Electric Express Railway.
Address

3-9-12, Honhaneda, Ota-ku, Tokyo, 144-0044
View Map

Nearest Station

Otorii Station (Keikyu Airport Line)
5 minutes on foot


Phone Number

03-3741-0023
*This information is from the time of this article's publication.
*Prices and options mentioned are subject to change.
*Unless stated otherwise, all prices include tax.