Though most commonly portrayed as a cutting edge, futuristic city, Tokyo manages to seamlessly blend Japan's timeless history with its ultra-modern present-day form. This beautiful juxtaposition is perhaps best experienced at two of Tokyo's most popular destinations; Asakusa and Odaiba. For the savvy traveler, taking a cruise down the Sumida River is the best way to take in both locations while enjoying scenic skyline views along the way. For the perfect mix of old and new, try our 1-day itinerary of Asakusa and Odaiba.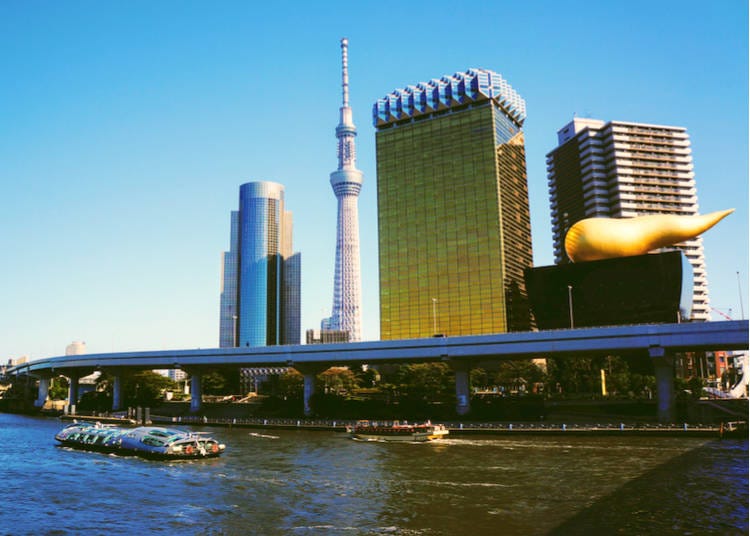 As you will be travelling by the Suijo Bus river cruise, reserving tickets should be your first priority. The cruise is very popular and tends to sell out quickly, so leave yourself as much time before your desired departure as possible.

If you are not able to reserve tickets online ahead of time, plan to arrive at the Tokyo Cruise office by 9:30 AM when they open for business. Tickets are ¥1560 for adults and ¥930 for children. View https://www.suijobus.co.jp/en/price/ for more details.
Suijo Bus Departure Timetable From Asakusa (Asakusa - Odaiba Seaside Park)
Hotaruna boat

10:00
Himiko boat

10:10
Hotaruna boat

13:15
Himiko boat

13:25
Hotaruna boat

15:15
Himiko boat

15:25
Tokyo Cruise Ship Asakusa office

東京都観光汽船 浅草営業所

Address

1-1-1 Hanakawado, Taitou-ku, Tokyo

Nearest Station

Tokyo Metro Ginza Line Asakusa Station
Tobu Isesaki Line Asakusa Station
Toei Subway Asakusa Station


Phone Number

0120-977-311
1. Senso-ji Area - 10:00 AM - 1 Hour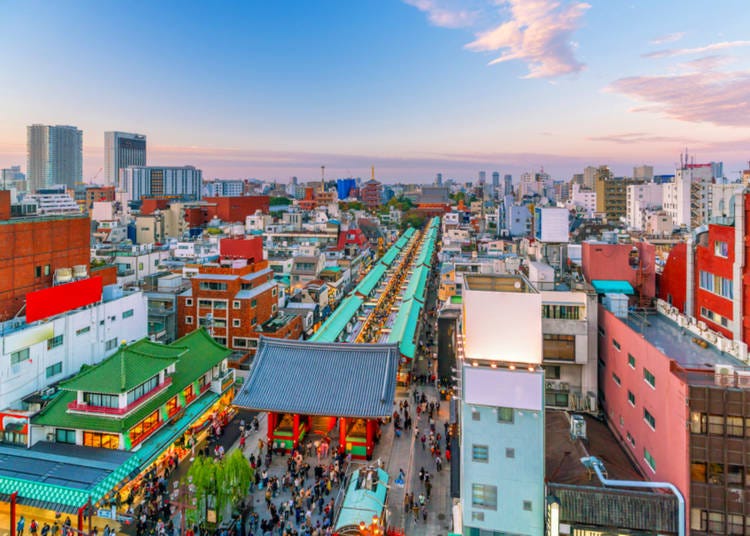 From the giant red lantern suspended over the entrance to its towering five-story pagoda, Senso-ji is an iconic Tokyo landmark. As the city's oldest temple, walking its storied grounds feels a bit like stepping back in time. Before entering the temple, stop by the jokoro; a large incense burner located near the entrance, to fan some of the smoke onto your face and hands. According to Japanese tradition, this is done to purify yourself of illness before entering the temple. Then, stop briefly by the nearby fountain to wash your hands, and you will be ready to experience Senso-ji temple like a local.

After visiting the temple's ornate interior, take some time to explore the surrounding area. Nearby, you'll find beautifully hand-carved statues, a small koi pond, and Senso-ji's lesser-known neighbor, Asakusa Shrine.
Address

2-3-1, Asakusa, Taitou-ku, Tokyo, 111-0032
View Map

Nearest Station

Asakusa Station (Tokyo Metro Ginza Line / Toei Asakusa Line / Tobu Isesaki Line (Tobu Sky Tree Line) / Tsukuba Express)
5 minutes on foot


Phone Number

03-3842-0181
2. Nakamise-dori - 11:00 - 45 Minutes
Between the train station exit and Senso-ji, you will find yourself walking along a narrow (and often crowded) street lined with stalls selling everything from pastries, to plum wines, to maneki-neko dolls. This famous path, known as Nakamise-dori, is a great spot to pick up some Japanese souvenirs and sample the local flavor. Street food classics such as yakisoba and takoyaki are a must-try. Also, be sure to satisfy your sweet tooth with ningyo yaki, a sweet cake shaped into traditional Japanese imagery and filled with red bean jam.
3. Nishi Sando Shopping Street - 12:00 PM - 30 Minutes
Located just a couple minutes on foot from Senso-ji, Nishi Sando is a covered shopping arcade adorned with lanterns and traditional decorations often seen at Japanese festivals, as well as a wooden walkway; all of which create a unique and inviting atmosphere. This is another great spot to search for unique Japanese souvenirs including handmade fabrics, swords, and even authentic yukata; a traditional garment worn in the summer.
4. Asakusa Culture and Tourism Center - 12:45 PM - 20 Minutes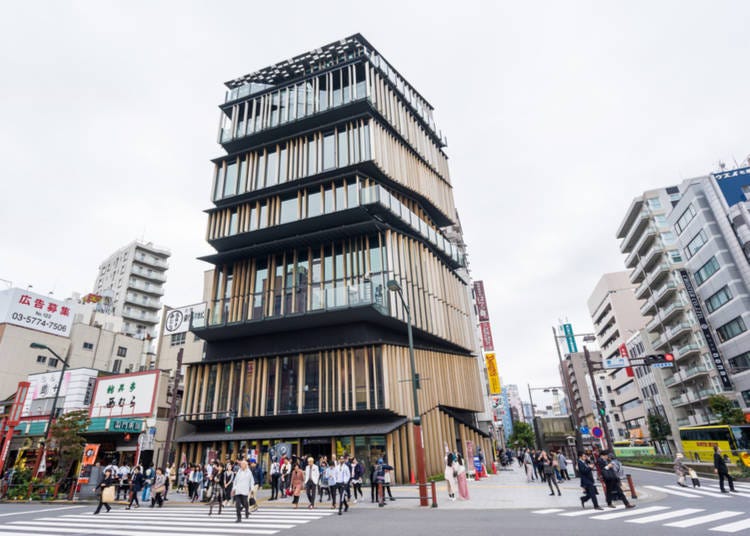 Image credit: voyata / Shutterstock.com
The Culture and Tourism Center may not sound like the most exciting stop on the list, but it is well worth the visit. From its unique exterior designed by famous architect, Kengo Kuma, it becomes immediately apparent that this is not your typical dry, boring information center. While it does house a great deal of information about the surrounding area and Tokyo in general, the real draw is the 7th floor observation deck that offers gorgeous views of Asakusa from above. It's the perfect place to escape the crowds and snap some impressive travel photos.
If you've decided to take a later cruise and have a little extra time on your hands, here are a couple other experiences you may enjoy.

Guided Rickshaw Tour - 30 Minutes to 1 Hour
Sightsee like royalty from your own private rickshaw on a guided tour of Asakusa. Your guide/rickshaw driver will to some of the area's key landmarks and even act as your own personal photography while teaching you about Asakusa's history. Various packages are available based on what you would like to see and how long you would like the ride to last.
Address

2-7-11, Kaminarimon, Taitou-ku, Tokyo, 111-0034
View Map

Nearest Station

Asakusa Station (Tokyo Metro Ginza Line / Toei Asakusa Line / Tobu Isesaki Line (Tobu Sky Tree Line) / Tsukuba Express)
1 minute on foot


Phone Number

03-6802-7794
World Beer Museum - 1 Hour
Despite the word "museum" being in the name, the beer lovers amongst us may find the World Beer Museum inside Solamachi (at Tokyo Skytree) to be more of a religious experience than an educational one. Serving up more than 150 rare beers from around the world, this inviting pub atmosphere is the perfect place to relax before your next stop. If you're feeling overwhelmed by the sheer amount of options to choose from, let the helpful staff recommend something you are sure to enjoy.
5. Asakusa → Odaiba: River Cruise - 1:25 PM (Trip Takes Approximately 70 Minutes)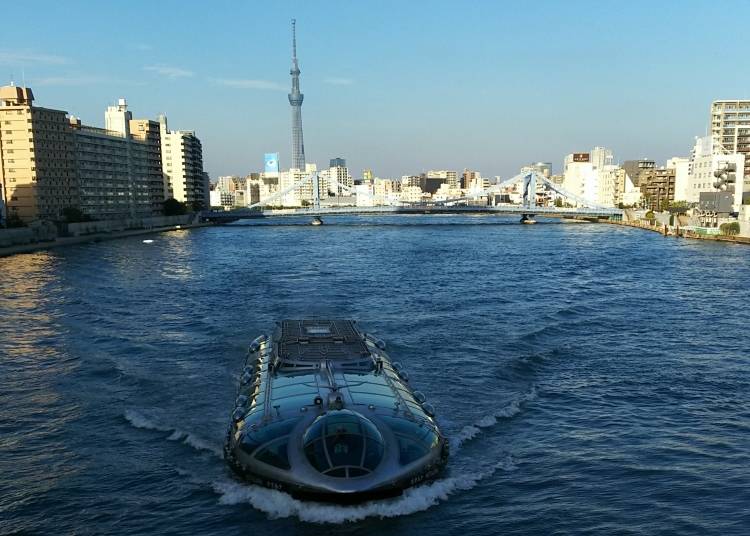 The trip from Asakusa to Odaiba will find you on one of two boats; either the Himiko or the Hotaluna. Both boats look like futuristic starships that forgot how to fly, but vary slightly in their features and in what route they take to Odaiba. While both boats ultimately dock in Odaiba Marine Park, the Himiko will make a brief stop at Hinode along the way. On a day with clear weather, you may want to opt for the Hotaluna, as it offers a small roof deck where you can enjoy the view in the open air. If you prefer to ride inside, the Himiko features a small cafe which serves unique sweets and cocktails during the journey.

Sights to See Along the Way
During the trip from Asakusa to Odaiba, you'll come across several notable and picture-worthy spots.

Ryogoku Kokugikan
Also known as Ryogoku Sumo Hall, this building is the home of sumo wrestling in Tokyo.
Address

1-3-28, Yokoami, Sumida-ku, Tokyo, 130-0015
View Map

Nearest Station

Ryogoku Station (Toei Oedo Line / JR Sobu Line)
2 minutes on foot


Phone Number

03-3623-5111
Hamarikyu Gardens
Located in Chuo, Tokyo, Hamarikyu is a public garden dating back to 1946. Depending on the time of year you are visiting, you may be able to spot some plum or cherry blossoms from the boat!
Address

Hamarikyuteien, Chuo-ku, Tokyo, 104-0046
View Map

Nearest Station

Tsukijishijo Station (Toei Oedo Line)
5 minutes on foot


Phone Number

03-3541-0200
Toyosu Wholesale Fish Market
You may not be familiar with this name, but chances are you have heard of its predecessor, Tsukiji Fish Market. After Tsukiji's wholesale market closed in 2018, it made the move to its new and improved home along the shoreline in Toyosu.

Rainbow Bridge
One of the most famous sights in Odaiba, you will have unrivaled views of the Rainbow Bridge as you prepare to dock in Odaiba Marine Park.
Address

3-33-19, Kaigan, Minato-ku, Tokyo, 105-0022
View Map

Nearest Station

Odaiba-Kaihinkoen Station (Yurikamome)
5 minutes on foot


Phone Number

03-5442-2282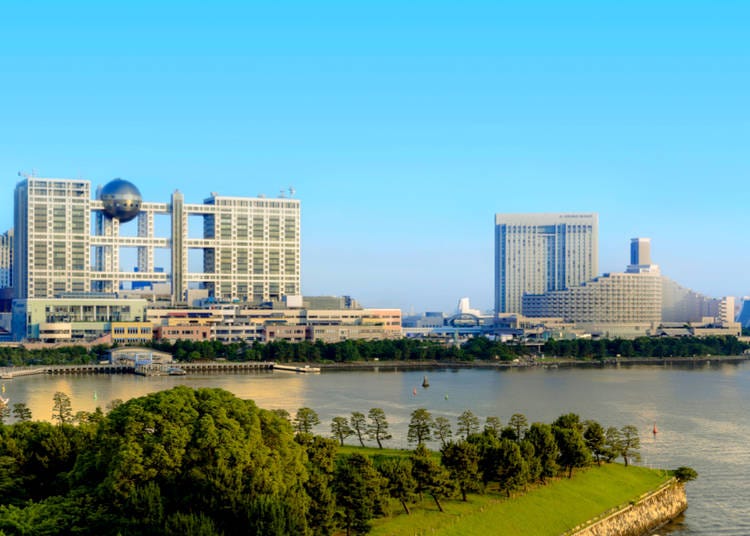 Located on a man-made island in Tokyo Bay, Odaiba is one of Tokyo's newer and more popular areas. With so much to see and do, fitting it all into one day can be difficult. Luckily, we've handpicked some of the best activities to round out your afternoon.
Fuji Television Building Observation Deck - 2:45 PM - 30 Minutes
While most observation decks in Tokyo are located in central parts of the city, the Fuji Television Building observation deck has the advantage of being located outside the city skyline; offering a unique perspective of Tokyo that is not often seen. While here, be sure to check out the interactive exhibit that compares the Tokyo skyline of today to the view from several hundred years ago.
Address

2-4-8, Daiba, Minato-ku, Tokyo, 137-8088
View Map

Nearest Station

Daiba Station (Yurikamome)

Palette Town Ferris Wheel - 3:30 PM - 20 Minutes
At 115 meters tall, the ferris wheel at Palette Town, named Daikanransha, is one of the tallest in the world. From the top of the wheel, you can experience breathtaking views of Tokyo and beyond. On clear days, it's even possible to catch a glimpse of Mt. Fuji in the distance!
Address

Palette town, 1-3-15, Aomi, Koutou-ku, Tokyo, 135-0064
View Map

Nearest Station

Tokyo Teleport Station (Rinkai Line)
1 minute on foot


Phone Number

03-3529-1821
Trick Art Museum - 4:00 PM - 90 Minutes
If you're visiting with a friend, the Trick Art Museum is the perfect place to snap some unforgettable photos. Here, 3D drawings and careful perspectives come together to make you part of the artwork.

The museum is located in the DECKS Tokyo Beach building, and is open everyday from 11:00 AM till 9:00 PM. Tickets are ¥1,000 for adults, ¥600 for children, and free for children under 3 years old.

Takoyaki Museum - 5:45 PM - 30 Minutes
A staple of Japanese street cuisine, takoyaki is diced octopus that is battered, fried to crispy perfection, and often topped with a variety of condiments. It's popularity is exceeded only by its variety, and the Takoyaki Museum in Odaiba is the best place to find many different styles of takoyaki all gathered in one area. Be sure to stop by Aidu-ya, the Odaiba sister store of the Osaka shop credited for creating the first takoyaki, to experience where it all began. Takoyaki is perfect for sharing, so grab a few different types and have a taste test with friends.

The Takoyaki Museum is located on the 5th floor of the DECKS Tokyo Beach building, and is open from 11:00 AM until 10:00 PM.

Tokyo Ramen Kokugikan Mai - 6:30 PM - 45 Minutes
For something a bit more filling, head to Tokyo Ramen Kokugikan Mai. Much like the Takoyaki Museum, you'll be able to choose from different types of ramen representative of styles from all over Japan. In addition to traditional ramen, you can also find tsukemen here; a version of ramen where the noodles are served on the side and dipped into the hot broth before eating in order to preserve their chewy texture.

The Ramen Kokugikan Mai is located on the 5th floor of AQUA CiTY Odaiba and is open from 11:00 AM until 11:00 PM.

Oedo-Onsen Monogatari - 7:30 PM - 90 Minutes
As the theme for the day is the merging of classic and modern Japan, enjoy the best of both worlds at Oedo-Onsen Monogatari. A self-described "onsen theme park", the spa was designed to capture the charm and antiquity of Edo period Japan. Relax in a hot bath while taking in the skyline views over Tokyo Bay.
Address

1-7-1, Daiba, Minato-ku, Tokyo, 135-0091
View Map

Nearest Station

Daiba Station (Yurikamome)
1 minute on foot


Phone Number

03-3599-4700
Rainbow Bridge - 9:00 PM
Though you will have already seen it on your trip into Odaiba, Rainbow Bridge truly lives up to its name once the sun goes down. At night, the bridge is illuminated with colorful lights, making for a memorable photo opportunity.
Trying to experience old and new Japan in just one day may seem overwhelming on the surface, but by following our itinerary, you truly can have the best of both worlds.
Written by:
*This information is from the time of this article's publication.
*Prices and options mentioned are subject to change.
*Unless stated otherwise, all prices include tax.