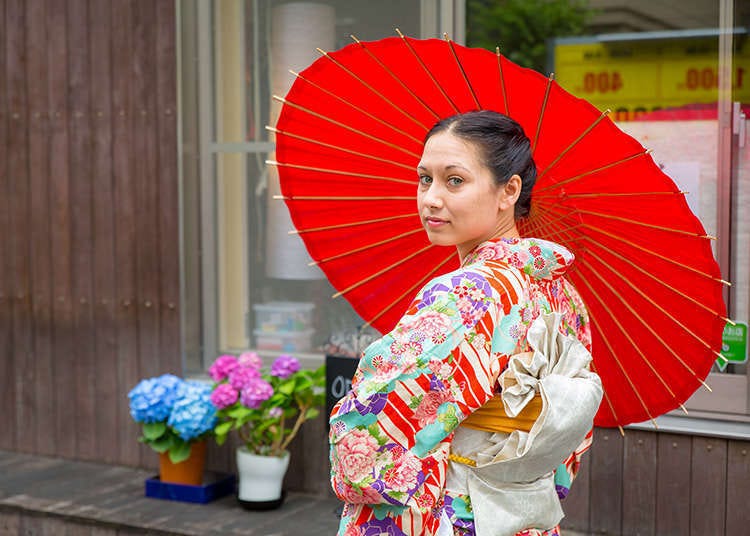 The kimono is one of the most beautiful and fascinating traditional garments in not only Japan, but the world. You may have admired them, but have you ever considered wearing one? I recently had the chance to try on an authentic Japanese kimono, with the help kimono rental shop Birei!
Take a Stroll in Asakusa While Dressed in an Authentic Kimono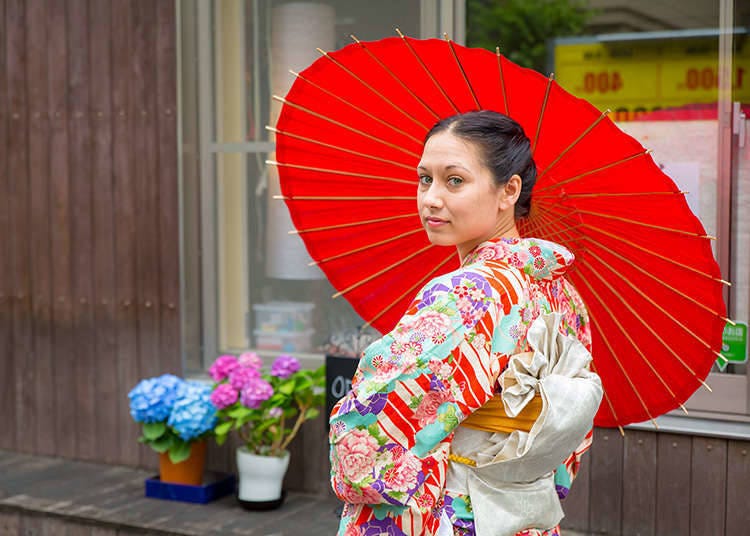 Asakusa is one of my absolute favorite neighborhoods in Tokyo. You can't turn a corner without coming across one of the many shrines, temples, and old fashioned shopping streets filled with traditional foods, toys, and other relics of days past. The charming Edo period atmosphere makes it the perfect setting to try on an authentic kimono and take a traditional-style stroll. However, as lovely as kimono are, they can be intimidating to those unfamiliar with their intricacies. Luckily, you don't have to go it alone; I visited the kimono rental shop Birei for the complete kimono wearing experience.
Birei: A Traditional, Yet International Kimono Rental Shop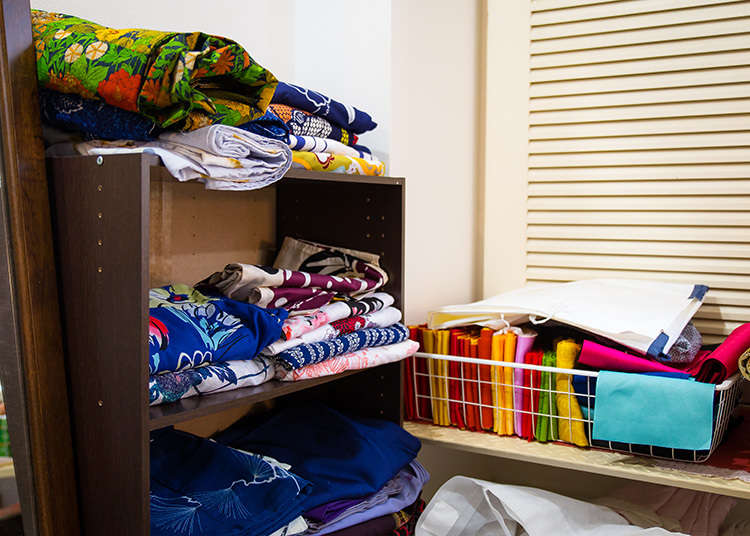 After arriving in Asakusa Station, I was able to find Birei after an enjoyable seven minute walk that included crossing over the scenic Sumida River. Located in a nondescript building of a quiet side street, I spotted the shop by the window display of happy kimono-clad customers. I rang the shop doorbell, still not quite sure what to expect. As the door opened, any anxious feelings melted away, as I was warmly greeted by the shopkeeper, who introduced herself as Meiko. I was instructed to change out of my shoes and into the provided slippers. I walked further into the main room and found myself in a cozy kimono heaven! Countless kimono could be seen on the racks, as well as a few framed pieces of particularly beautiful fabric displayed on the wall.

Meiko-san invited me to take a seat so we could begin consultation. While she was very game to let me practice my (very far from perfect) Japanese, she spoke excellent English, having graduated from California State University. English-speaking customers need not worry about communication problems! She asked if I had anything in mind.
A Rainbow of Possibilities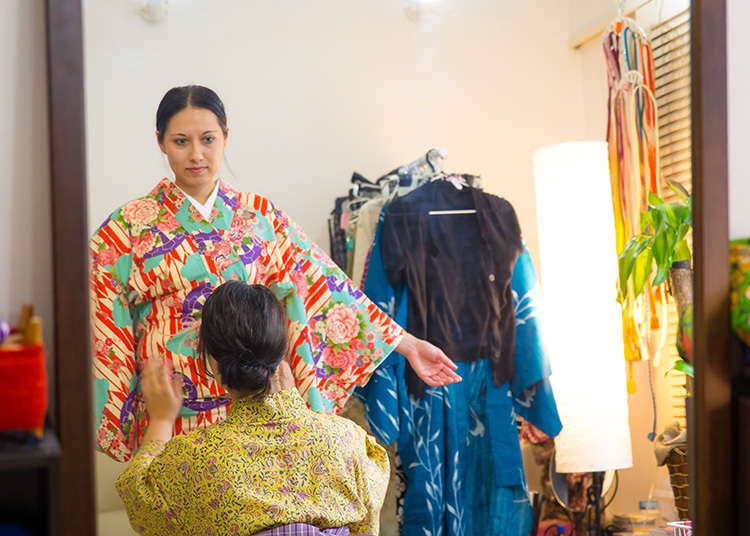 I have to admit, I was a little overwhelmed by the choices, many of which were antiques. I decided it was best left to the expert. She explained that the type of kimono worn depends on the season. For example, silk is often used as a material in winter kimono, as well as cotton. As weather had just recently begun to heat up, Meiko-san suggested a light, cotton natsu-kimono, which means "summer kimono." She selected several possible kimono and obi (sash) combinations, with various patterns and colors. Even after narrowing the choices down, it was a difficult decision. Although a chic, understated grey garment caught my eye, ultimately, it was a colorful floral motif kimono that was calling me name. The base pattern on the fabric was red and ivory, overlaid with multiple kinds of iconic Japanese flowers, including chrysanthemums and cherry blossoms. Pops of teal, purple, and pink can also be seen on the cotton kimono. Once I had selected my kimono, Meiko-san chose a pale gold obi to complement it.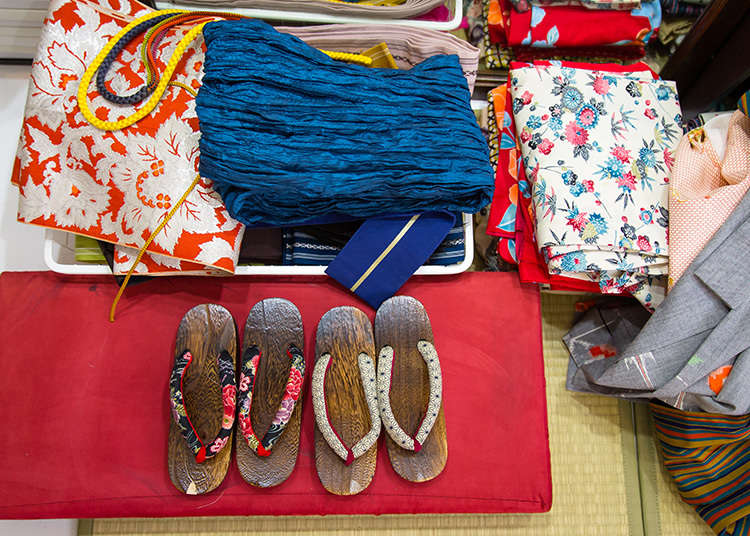 Next came the real challenge: How do I fashion this large piece of cotton, and roughly 4 meter (13 foot) sash, around my body in such a way that it resembles the beautiful kimono worn by Japanese ladies? The fact is, kimono of any type can be tricky to put one by oneself, even for Japanese people. Another great thing about a kimono rental shop, is that the staff will be there to help you dress each step of the way. Before I could put on the kimono, I went to a private room to change out of my regular clothes and into a juban, a thin, white cotton robe to wear underneath. I then put on a pair of white tabi, the traditional Japanese socks, characterized by the separation between the big toe and the others.
The Main Event: Putting on The Kimono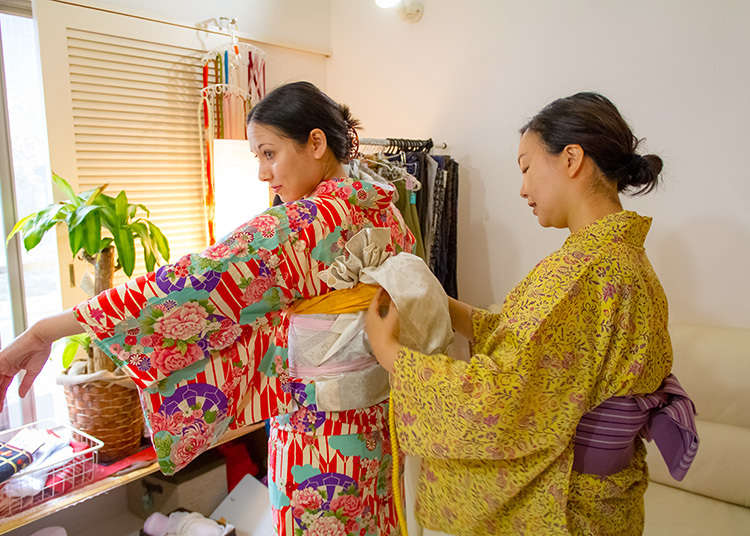 Finally it was time to put on the kimono. Meiko-san expertly wrapped and folded the fabric around my body so it was the perfect length and tightness. To keep the kimono in place while putting on the obi, she tied a temporary cord around my waist. At one point in the process, the Meiko-san held the obi stretched out from my body and made me slowly spin myself into it, making me feel a bit like a human cinnamon roll! Unlike a regular belt that is fastened at the waist or hips, an obi is meant to sit much further up on the torso, on the stomach, just under the bust. If done correctly, both the kimono and the obi should be tight, but not painfully so. It was snug, but somehow very comfortable, and despite the absence of zippers or buttons, it felt completely secure. Meiko-san tied the back of the obi in a beautiful flower-like shape, explaining that there are multiple ways of tying the back knot, from casual to highly ornate styles.
Level Up Your Kimono Know-How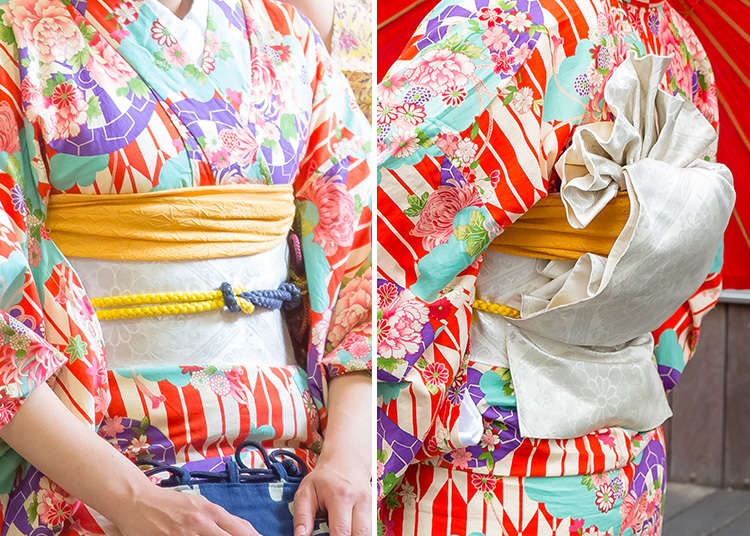 In addition to basic items already mentioned, there are a few other pieces that go into wearing a kimono. A multi-colored obi-jime was tied around my obi, and peeking out above it, was a yellow obi-age. These ties are both fashionable and functional, decorations that help hold the obi in place. A thin, lightweight board called an obi-ita was tucked underneath my obi to help keep the desired flat appearance. Just a few more finishing touches to go!
Choosing Accessories in the Spirit of "Kamawanu"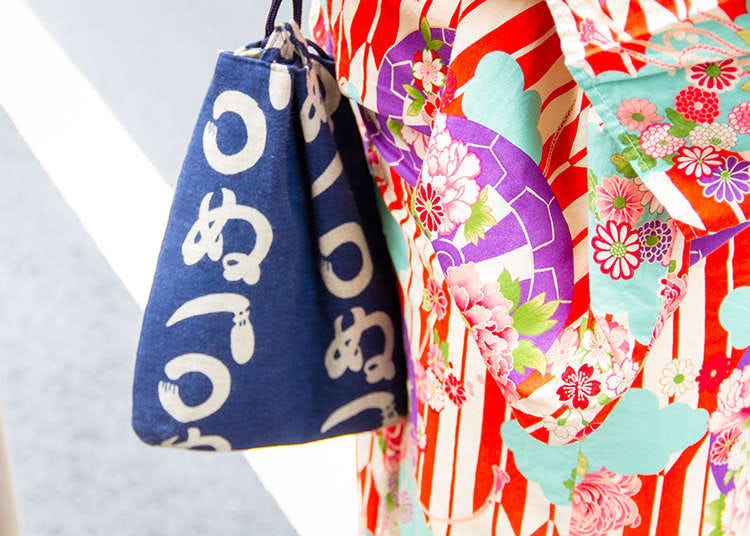 I chose a small traditional bag to use. The pattern I couldn't resist was called kamawanu, which was very popular during the Edo period. Kamawanu refers to its pattern of a sickle (kama), ring (wa), and the Japanese hiragana character 'nu'. It's a little hard to translate, but kamawanu also means something along the lines of "I don't mind!" or "No worries!". Basically, the term conveys a relaxed kind of feeling. Contrary to many preconceived notions, a kimono, while beautiful, is not necessarily formal wear, Meiko-san explained. It was the everyday style of dress in old Japan, and even today, kimono can be worn casually. Of course, there are special kimono, such as the elegant, long-sleeved furisode that are worn to events such as Seijin no Hi (Japan's coming of age ceremony), or for weddings. Some might say that stroll in Asakusa is best accompanied by a casual kimono and a relaxed attitude, to fully enjoy the sights, sounds, and tastes of the area.
Finishing Touches: The Perfect Shoes and Hair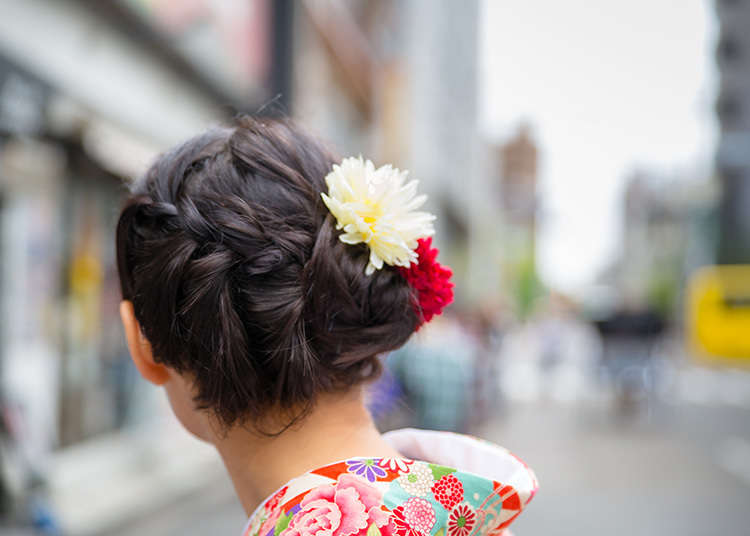 Finally, there was the matter of my hair. My modern (and slightly messy) hairstyle didn't exactly suit the rest of the ensemble, and traditionally, while wearing a kimono, hair should be pulled up, away from the neck. Meiko-san was kind enough to style my hair in quick, but lovely updo, complete with two faux flowers as accessories.

For footwear, I chose a pair of wooden geta with sunny yellow fabric that was also dotted with small flowers.
All Dressed Up and Ready to Go!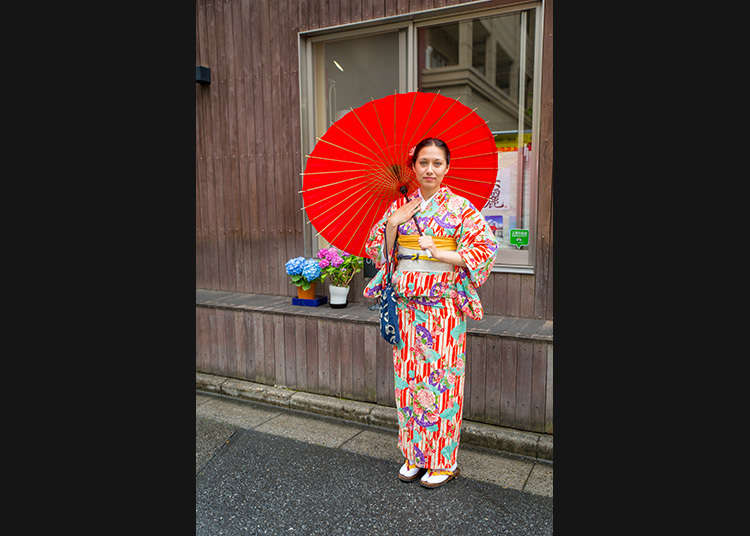 Even a few raindrops could not cramp my Edo style; Meiko-san was equipped with a traditional Japanese umbrella, and also let me borrow a lovely black folding fan, called a sensu, to combat the heat. Completely dressed in kimono with accessories, I was ready to visit Asakusa!

I'm happy to report I could ride a rickshaw, browse the traditional souvenir shops, and even sample some of Asakusa's famous melon pan (melon bread) in complete comfort and traditional style!

Many non-Japanese visitors may feel a little shy about wearing a kimono about town, but with a little bit of help, there really is nothing to fear! The entire dressing process was faster than I had imagined. it took under 30 minutes to complete my American jeans to Japanese kimono transformation. The clothing and geta were both very comfortable and easy to walk in. The most difficult part of the experience was having to say goodbye to such gorgeous clothes!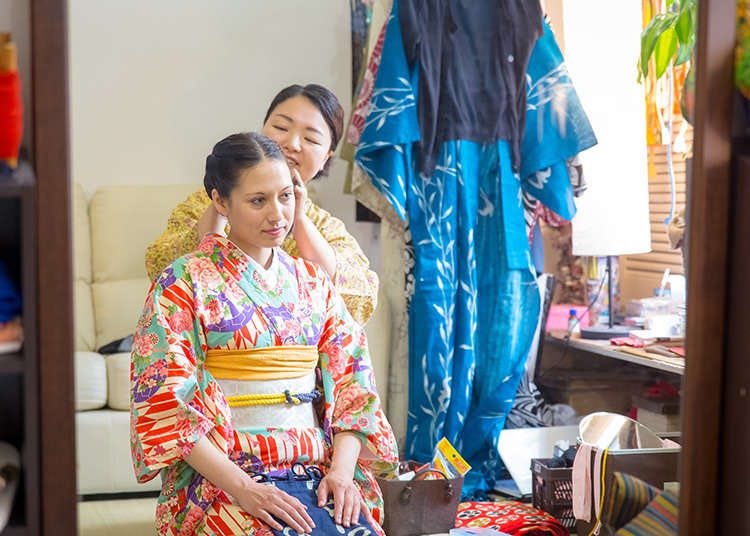 If you're in Tokyo and want to explore Asakusa, why not make Birei part of your adventure? The rental shop has a few different options available:
•The 2 Hour Plan: 3500 yen
•Free Plan - Wear a kimono until 4:30 p.m.: 5000 yen
•Rickshaw Plan - Includes a 15 minute rickshaw ride: Main plan + 2000 yen / person

Birei also offers the option of "Experience" plans, for those interested in trying their hand at a traditional Japanese art, like origami or calligraphy. For families, there are also plans for kids!
Whichever plan you choose, I hope you enjoy your kimono experience as much as I did.
美麗

Address

Saikodo Village KAME102, 1-18-4 Higashikomagata, Sumida-ku, Tokyo,130-0005
Written by: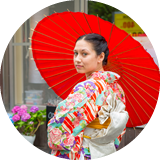 *This information is from the time of this article's publication.
*Prices and options mentioned are subject to change.
*Unless stated otherwise, all prices include tax.
Limited time offer: 10% discount coupons available now!