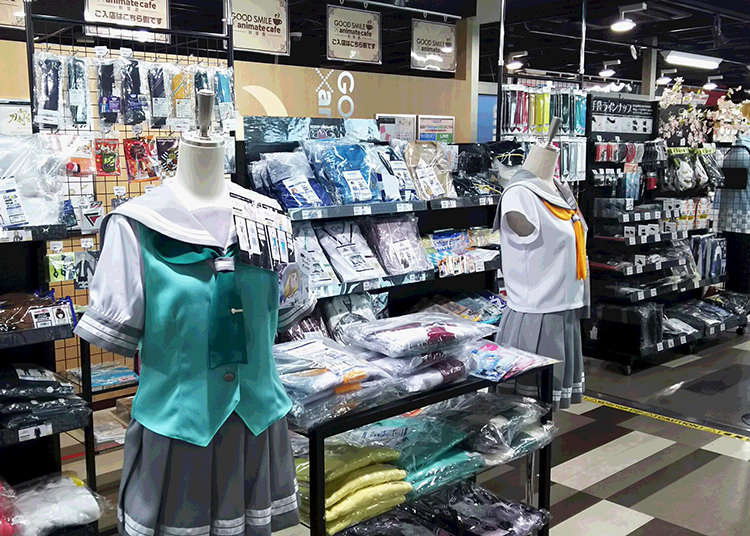 At ACOS Akihabara, you can perfect your cosplay costume and have fun doing it!
The word "cosplay" is an English portmanteau combining "costumes" and "play." When cosplaying, people dress up and perform as their favorite characters from films, comics, anime, and video games. And at ACOS Akihabara, you can find the perfect piece to fulfill your role-playing dream and become one of the characters you love! ACOS Akihabara strives to offer costumes that are both devoted to the source material and are supervised by each licenser.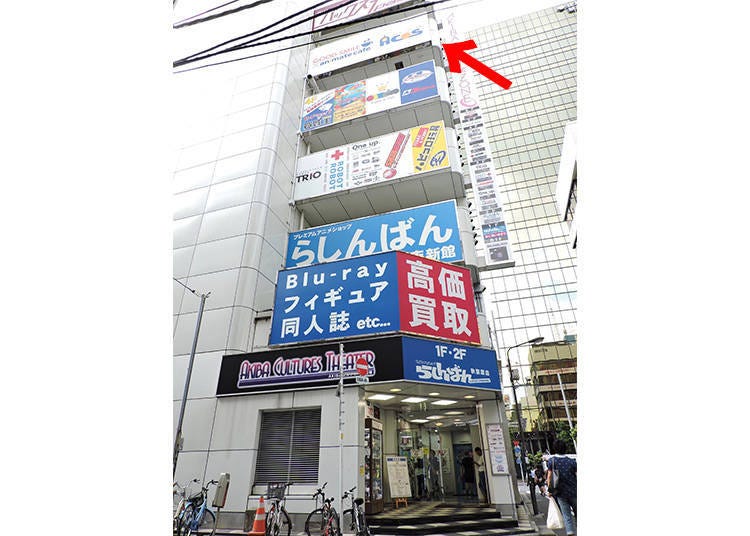 ACOS Akihabara is located on the 5th floor of the AKIBA Culture Zone, and is jam-packed with everything a cosplayer and anime lover needs! The store offers a wide range of products from both classic anime to the latest offerings.

At ACOS Akihabara, the selection caters to tourists. Here they sell wigs, makeup, and cosplay props as well as complete costumes. Before every big cosplay event (such as Comiket and the Tokyo Game Show), many foreign visitors come to ACOS Akihabara to get that one last essential something for their costume. The store has English and Chinese descriptions of almost every item, so no matter where you are from you can explore the store without encountering difficulties. The great selection, multi-language support and the kind staff makes shopping easy!
You can try on most costumes and other accessories to see if the size and quality are the perfect match for you. Just ask the staff for help!

Anime costumes are the most popular items at ACOS Akihabara. But since 2015, there are more and more people coming to purchase cosmetics for cosplay, which play an important role when trying to make the characters perfect.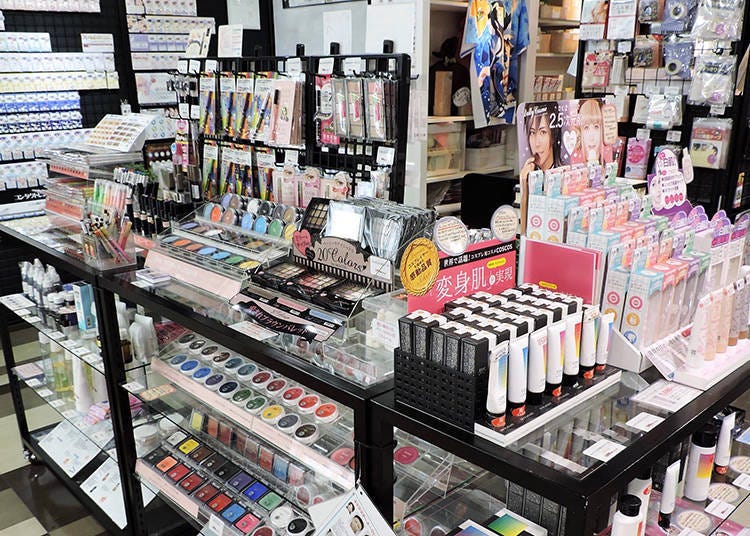 In the cosmetics and contact lenses area, you can find accessories to help you to complete the details of your cosplay costume. If you want to buy contact lenses, you'll need to fill out a purchase agreement and provide ID. This is because contact lenses are technically controlled medical devices in Japan, so for your safety, you must fill out a form stating you know what you are buying. But that's ok, the form is available in English.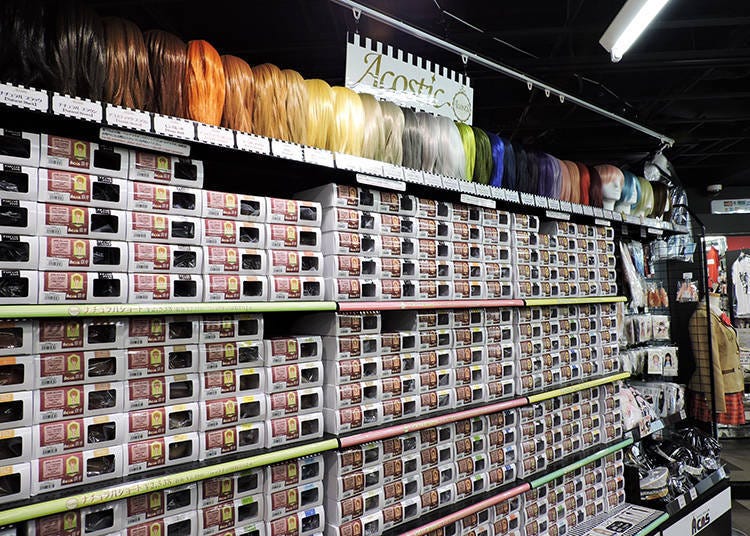 Also, don't forget your wig! Wig samples are lined up on the top shelf by color, so you can compare them to your character's picture and identify which wig you need.

And of course, no action hero cosplay is complete without a weapon. At ACOS Akihabara, you can find the perfect blade, staff, or throwing star to make your cosplay convincing!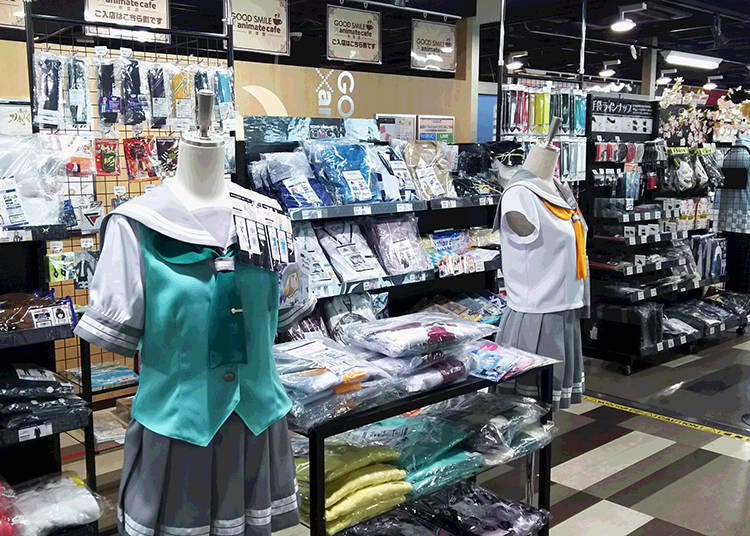 Are you on a budget? If so, you may want to start saving now. A full costume can cost between 20,000 and 30,000 yen. If you have a lower spending limit for your cosplaying plan, the ACOS staff recommends that you try to perfect your costume by filling out the details, such as with accessories and props.

But what if you can only get one piece? What do the experts recommend? ACOS Akihabara recommends hakama, kimono, and "B holders" as great general pieces that work for all cosplay costumes. A hakama is a traditional Japanese clothing item which is tied at the waist over a kimono, which is worn for important occasions. A "B holder" is a piece of cosplay clothing used to compress a girl's breasts to give them a more masculine body shape.
After having a great shopping time in ACOS Akihabara, you might be excited and want to try on your new cosplay costumes and meet new friends with similar hobbies in Japan! But where should you go? On the street?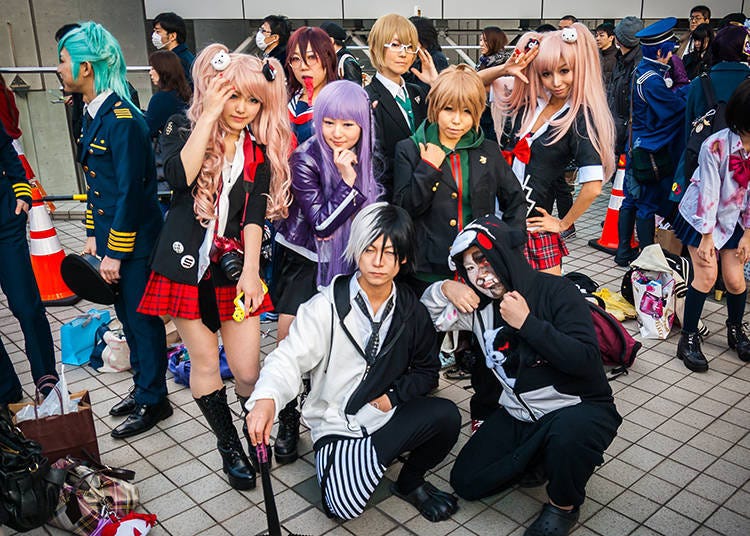 shutterstock.com
Unfortunately, no. There are some cosplay events or anime exhibitions (such as the Tokyo Game Show or Niconico Chokaigi) that only allow cosplay in a designated area of the event. But in recent years, the number of cosplay events in tourist spots has been increasing. Cosplaying visitors might find it easy to attend events such as MAG Festa around Tokyo's Nakano Station or "acosta!" in Ikebukuro. If you are interested in cosplay, you should look for events and information before scheduling your trip!

Cosplay, a unique activity to express yourself and communicate with other people. It does not matter if you are new to or experienced at cosplay, ACOS Akihabara can help! Stop by and let their friendly staff help you start your wonderful journey of cosplaying in Japan!
Address

The fifth floor of AKIBA culture ZONE, 1-7-6, Sotokanda, Chiyoda-ku, Tokyo, 101-0021
View Map

Nearest Station

Akihabara Station (JR Keihin-Tohoku Line / JR Yamanote Line / Tokyo Metro Hibiya Line / Tsukuba Express / JR Sobu Line)
4 minutes on foot


Phone Number

03-3526-3871
*This information is from the time of this article's publication.
*Prices and options mentioned are subject to change.
*Unless stated otherwise, all prices include tax.