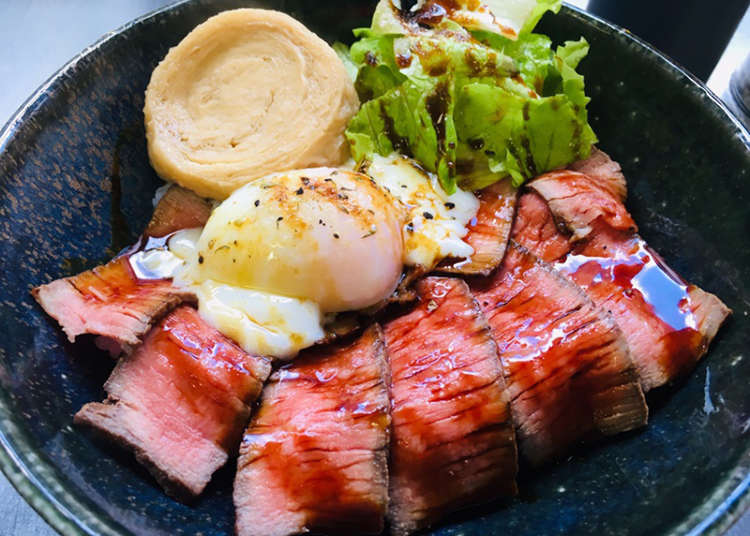 In the northern part of the Kanto region is Tochigi Prefecture, where the popular and highly accessible tourist place of interest Nikko is located. Nikko is a place where you can look forward to scenic natural sights no matter the season, like the cluster of beautiful waterfalls collectively known as "48 Waterfalls of Nikko". For those seeking something more culturally intriguing, there's something for you too! Nikko is, after all, also home to a bevy of world heritage sites such as the Nikko Tōshō-gū and other interesting buildings

Food is also an exciting endeavor in Nikko, with offerings such as yuba (dried tofu skin), a local specialty and a wide range of other gourmet delicacies waiting to be discovered. The large amount of eateries available here means you'll never have to worry about running out of things to eat during your sightseeing journey!

And that's why we're going to take you on a cafe tour around Nikko now and recommend four of our top picks. You'll be seeing traditional, retro cafes and other equally photogenic places that will make your heart flutter with anticipation. Let's start!
1. Nikko Coffee Goyoteidori: Rest and relax in a traditional folk house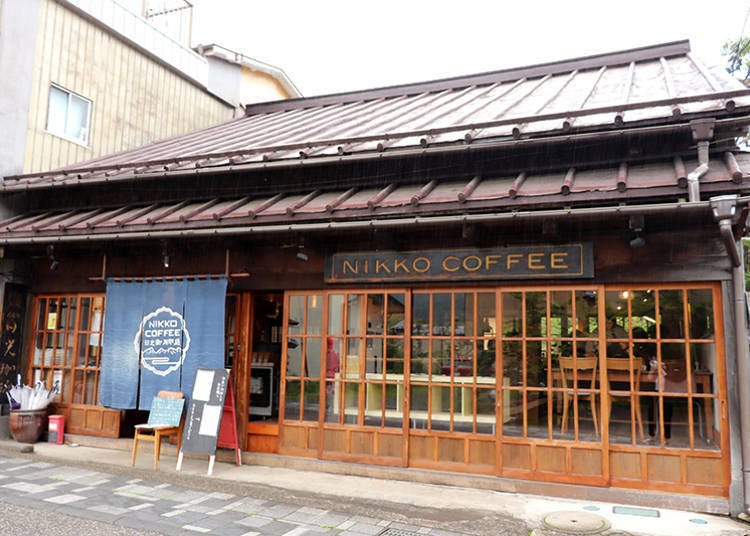 Our first stop is the Nikko Coffee Goyoteidori cafe, which is the fourth cafe out of the five Nikko Coffee branches in the region to open for business. It's about a 10-minutes bus ride and walk from Tobu-Nikko Station. If you choose to walk along Shinkyo Bridge as you make your way there, a registered World Heritage site and an Important Cultural Property of Japan, you'll also be able to take in the beautiful sights of Nikko's natural landscape!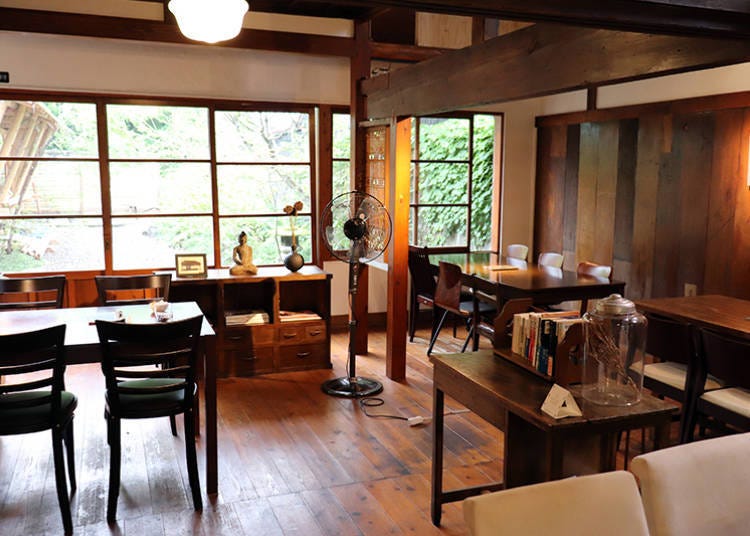 The shop itself is located in a renovated early Showa era (1926 to 1989) building. The warm wooden tones of the decor bring out its olden folk house flavor, which is enhanced by the historical furniture, books, ornaments, and other trinkets in the shop - all put in place to help you get into a state of relaxation as you savor your chosen beverage.

Nikko Coffee cafe is most well-known for its kakigori (shaved ice) that using the premium Yondaime Tokujiro brand of natural ice. After the shop was featured in a few recent TV programs, however, their "Cafe Meal Set" containing gourmet gems like black curry and omelet rice has risen in popularity as well!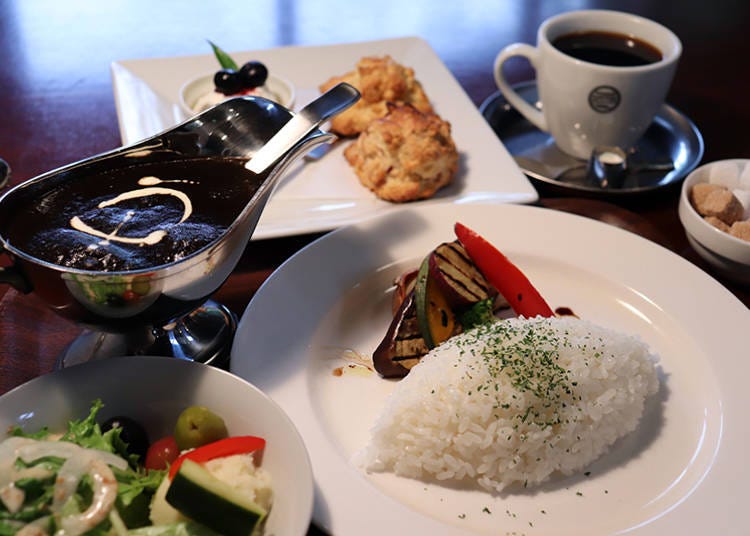 This "Cafe Meal Set" comes in a couple of styles. "Comfort C." will bag you food, a drink, and a cake. If you take "Business B.", you'll get a no-nonsense set meal of food and a drink. The set meal's food option is broken up into even more choices for your consideration. The hottest item on the food menu right now is also something we recommend: "Goyoteidori Black Curry" (C. - 2,482 yen, tax included / B. - 1,944 yen, tax included)!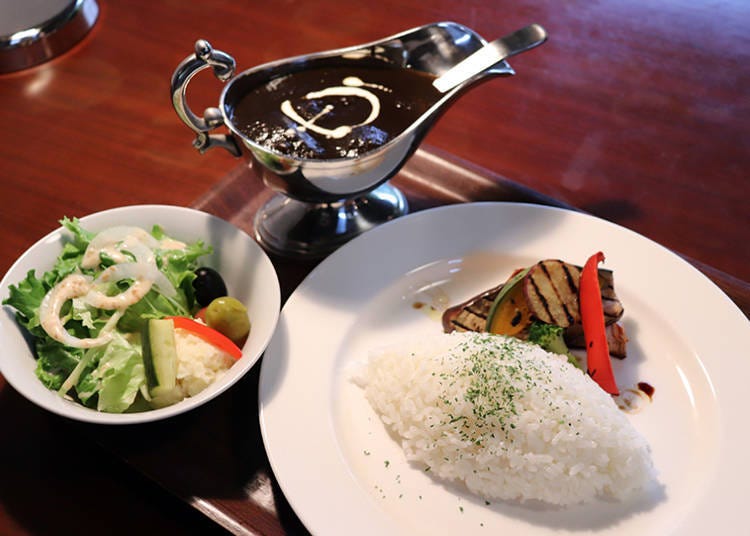 This excellent dish features savory Nikko pork that's been boiled for three whole days alongside a special dry-roasted spice with a heavenly aroma. It comes with a hearty helping of salad and cooked vegetables to ensure meal completeness and is the perfect item to order for lunch.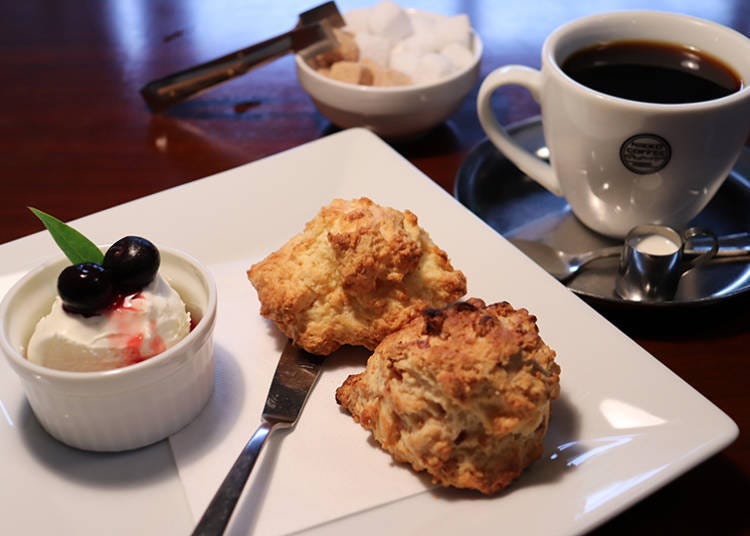 If you've taken the cake option, you can select any cake you like from the menu. Foreign visitors seem to love the "2 Types of Scones" option, which so happens to be our recommendation too! The two flavors you'll be served are plain and tochiotome, referring to a certain type of strawberry produced in Tochigi. The superb compatibility these scones have with cream cheese makes them extra irresistible!

For drinks, it goes without saying that we're going for the "Nikko Cafe Original Blend"! This is a blend of coffee beans from Brazil, Guatemala, and Colombia. The result is a well-balanced coffee that is thick and sour, yet full of flavor and fragrance. This is the best-tasting thing you'll find in this cafe and we really think you should try it!
日光珈琲 御用邸通

Address

3-13, Honmachi, Nikko-shi, Tochigi-ken

Phone Number

03-6260-9100

Hours: 10:00 a.m. – 6:00 p.m. (last order 5:00 p.m.)
Closed: Mondays (if Monday is a public holiday, the Tuesday after that), every first and third Tuesday of the month
*Free Wi-Fi and English menu available
2. Kamaya Cafe du Reverbere: Taste all of Nikko in a bowl of "Nikko Don"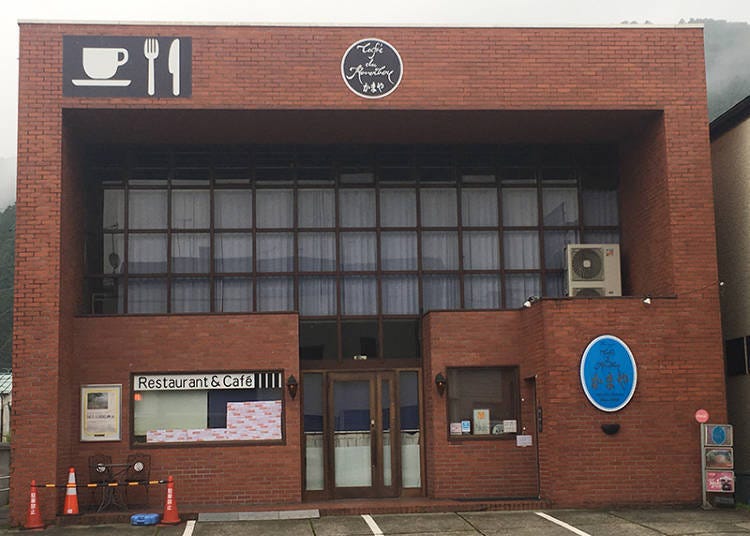 Our next stop is the Kamaya Cafe du Reverbere, located right in front of Tobu-Nikko Station. This old-time cafe and restaurant was established more than 50 years ago. The building used to be a bank, so the design is in the style of a stately, squarish building made with red bricks.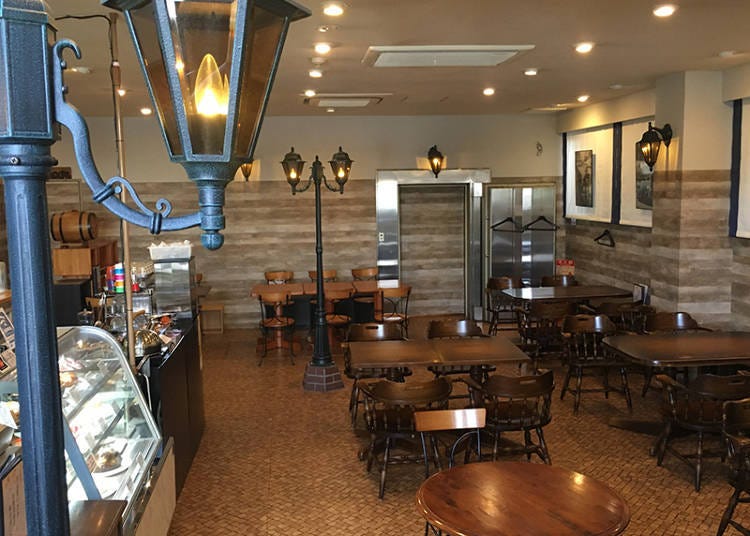 The shop interior is lit up by its iconic street lamps, which are called " reverbere" in French. They keep the space warm and bright. Interesting tidbit for customers ushered to a seat farther inside the shop: You'll be eating in what used to be a bank vault! How cool is that?

The Kamaya menu has been crafted by the owner, a chef and patissier, who gave scrupulous attention to ingredients and cooking methods. Most of the offerings here are hand-crafted with local produce and premium world-class ingredients.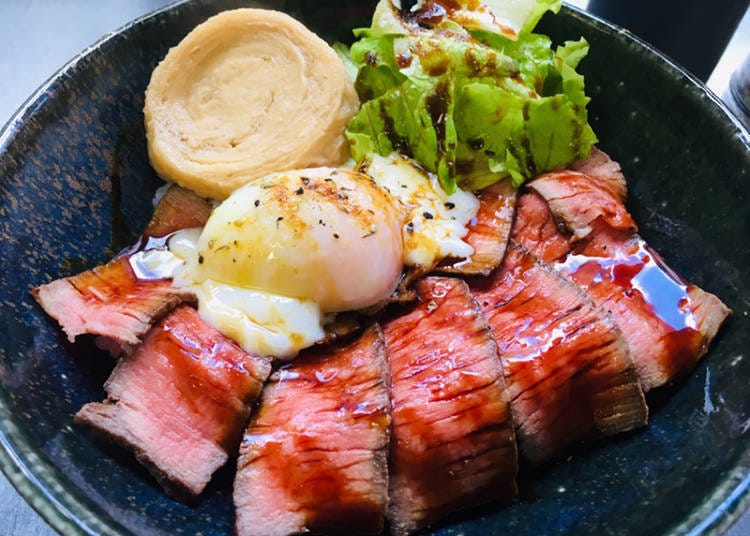 Here is the "Nikko Don", the signature dish of the restaurant. Only a limited number of bowls are available for order every day! The item comes in three sizes: S, M, and L and starts from 1,728 yen, including tax.

Here's a sneak peek at what are some delicious goodies waiting for you in a bowl of "Nikko Don": Homemade roasted beef made with Zen-Nikko Wagyu outer thighs; Nikko yuba roll sprinkled with a dash of light brown sugar; a locally harvested onsen egg; seasonal vegetables supplied by local contract farmers; and koshihikari rice also supplied by local contract farmers. Finish with a dash of homemade teriyaki sauce that uses three-year balsamic vinegar made in Italy as an ingredient, and your sumptuous "Nikko Don" is ready to be enjoyed!

To ensure that you taste the whole of Nikko in a "Nikko Don", the order will also come with a serving of sashimi and yuba salad. Truly something worth trying out for all visitors of Nikko!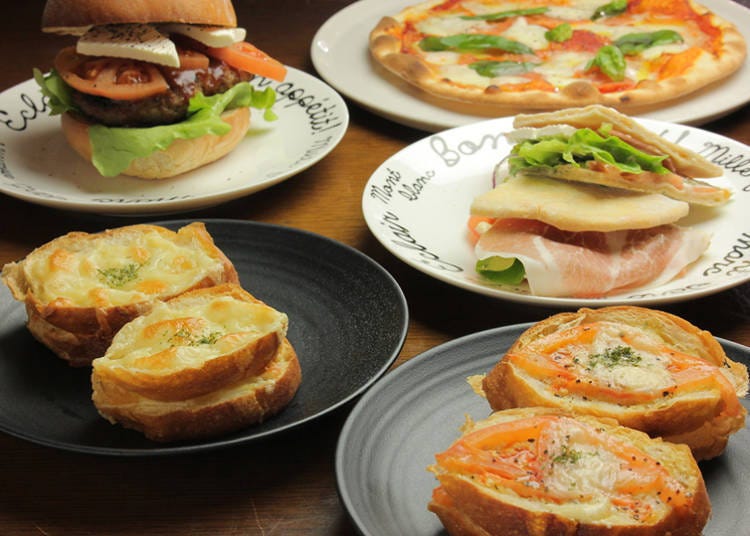 Of course, the restaurant offers a wide variety of other food as well, besides the "Nikko Don", like pizza, hamburgers, and more! Separate menus are also available for those with allergies or special dietary needs, be it vegan, Halal, or other religious diets. Soak up the atmosphere in this unique cafe as you satisfy your belly with the full range of tastes Nikko has to offer!
かまやカフェ・デュ・レヴァベール

Address

12-6 Matsubara-cho, Nikko-shi, Tochigi-ken

Phone Number

0288-54-0685

Hours: 11:00 a.m. – 5:00 p.m. (last order 4:00 p.m.)
*The shop may close earlier if stock is almost sold out.
Closed: Not fixed (5 to 7 days in a month)
*Please check before visiting.
*Wi-Fi, English menu available.
3. Hongu Cafe: Refill your stomach and spiritual reserves under a sacred tree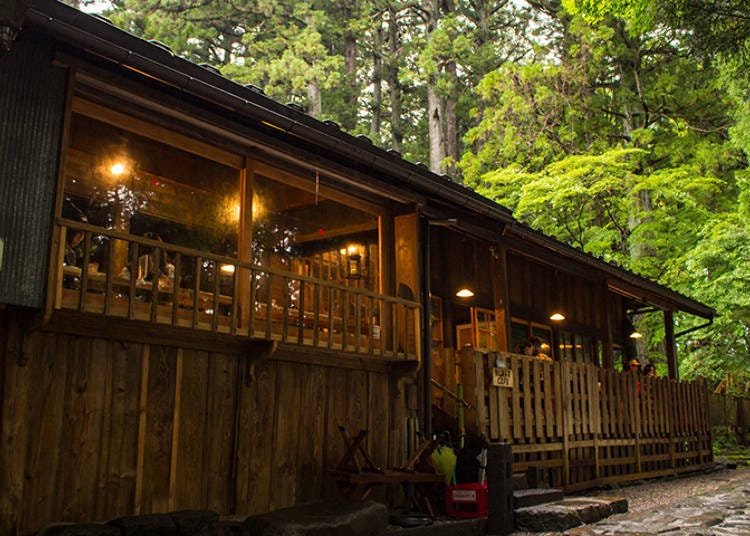 Hongu Cafe is located 1.6 kilometers (about one mile) away from Tobu-Nikko Station, along the approach towards Hongu Shrine, which is the origin point of the World Heritage Site, Shrines and Temples of Nikko. The cafe occupies a renovated ancient folk house that was built more than 300 years ago and used by former priests as their shrine office and residence!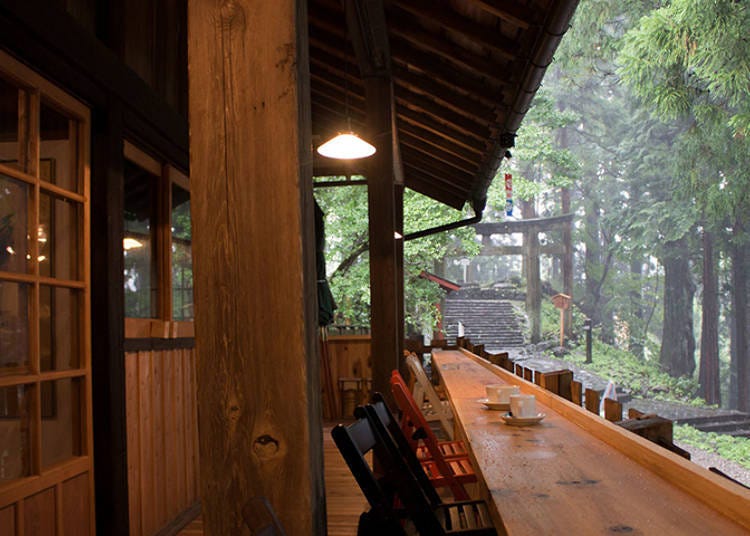 The lovely counter seats and flooring here are made from Nikko Cedar, a sacred tree, and the walls have been given life and color by expert craftsmen who repair cultural assets. There's a terrace area that overlooks important cultural asset Shinkyo Bridge and Daiya River. Where else can you relish a delicious meal and tasty snacks while basking in the spiritual healing power of so many sacred trees?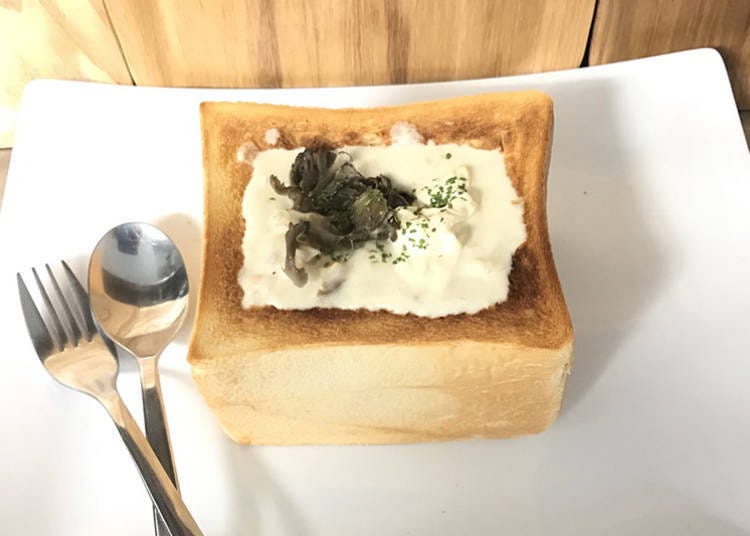 Our top recommendation for food here is the "Clam Chowder in Royal Bread (1,200 yen, tax included)". It's one of Hongu Cafe's signature dishes that has been featured by countless other media outlets as well.

The delectable food item is made by filling up a hollowed out "Royal Bread", Nikko Kanaya Hotel's square-shaped sandwich loaf with Hongu Cafe's special clam chowder, then topped with fresh local yuba and hen-of-the-woods for the full Nikko local food experience!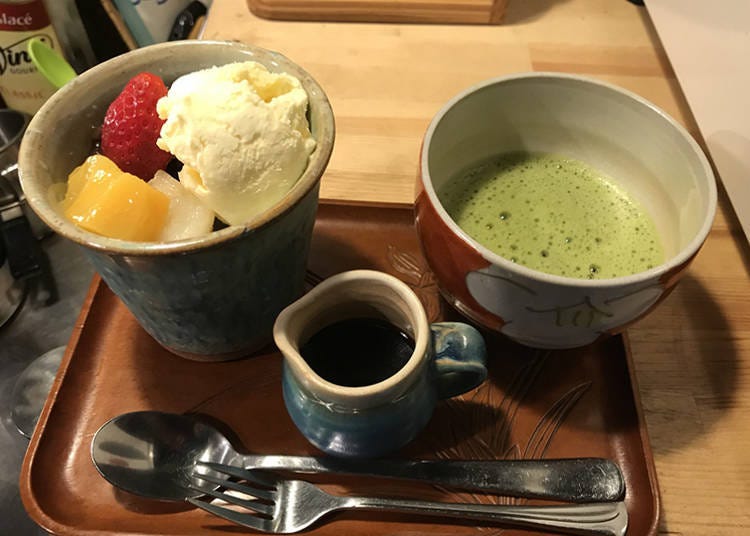 The cafe's beverages like coffee, latte, or matcha are also popular. Towards the end of July, they also start offering kakigori that uses the natural ice of Nikko as an ingredient! This Hongu Cafe original is topped with Oku Nikko Okazaki Farm's summer strawberries, strawberry milk, premium adzuki paste, uji matcha syrup, and other great treats. This shaved ice dessert is popular among locals and foreigners alike!

The item in the photo is a "Cream Anmitsu and Matcha Set (1,200 yen, tax included). Decorated with an abundance of colorful and seasonal fruits, carefully concocted thick syrup, and ice-cream, you can tell this snack was designed to delight! Get into the Japanese mood with this in one hand and a cup of flavorful uji matcha in another!
本宮カフェ

Address

2384 Sannai, Nikko-shi, Tochigi-ken

Phone Number

0288-54-1669

Hours: 10:00 a.m. – 6:00 p.m.
Closed: Thursdays
4. Cafe Senryo Chaya: Classic baked sweet potato and popular kakigori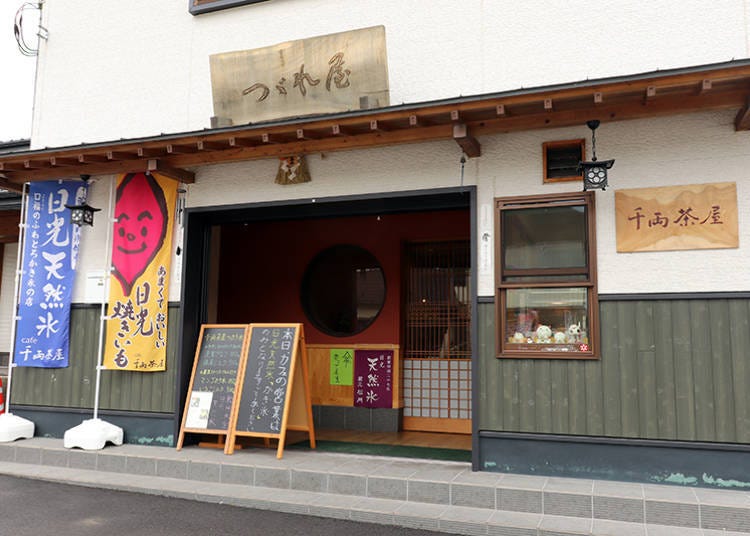 Our final stop for this article is Cafe Senryo Chaya, which is about 10 minutes from Tobu-Nikko Station by foot. Highlights of this cafe include their takeout-only baked sweet potato and standard cafe fare like a refreshing bowl of kakigori! Items on the menu may change depending on the season, so kakigori is their signature dish during hot summers. The shop has been featured in a few magazines before and garnered a horde of loyal and adoring fans!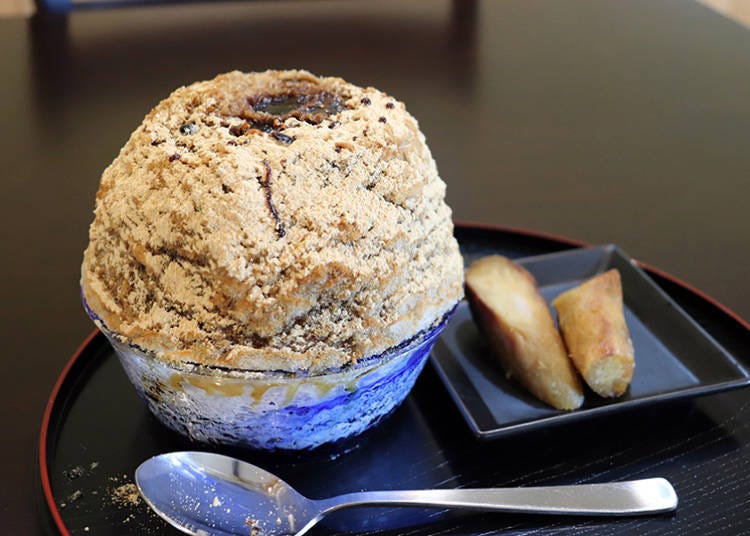 This photo depicts the most popular kakigori choice among visitors, the "Japanese-style Brown Sugar Kinako with Baked Sweet Potato (850 yen, tax included)", which, as its name suggests, comes with a generous amount of homemade thick brown sugar syrup and kinako (roasted soybean flour) powder. The brown sugar syrup makes it look like the dessert is covered with chocolate, and each order comes with a small side of premium baked sweet potato as well!

Let's talk a little about the sweet potatoes. The cafe mainly uses the "Benitenshi" and "Yumehiraku" strains in their products. It's said that their sugar content is boosted to a maximum of 47% when fully ripe, and you just can't get tired of this rich and classic taste! Since the sweet potato portions are paired with kakigori in this order, they've also gone through the frozen treatment and will be served chilled, giving it a texture that's not quite unlike potato paste, which makes it an excellent partner for a nice and cold bowl of shaved ice.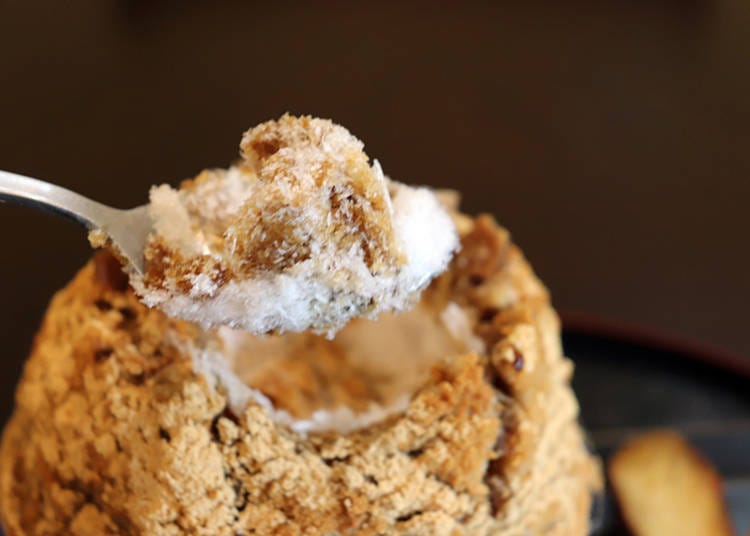 The ice has been shaved in a particular way that makes it fluffy yet crunchy, melting comfortably in your mouth. The brown sugar syrup and kinako powder adds to its "Japanese" feel, making it one of the most-ordered item among foreign visitors! Two rice flour dumplings have been tucked somewhere inside the mound of ice. Finding them becomes a fun activity that allows you to relish this cold dessert until the very end!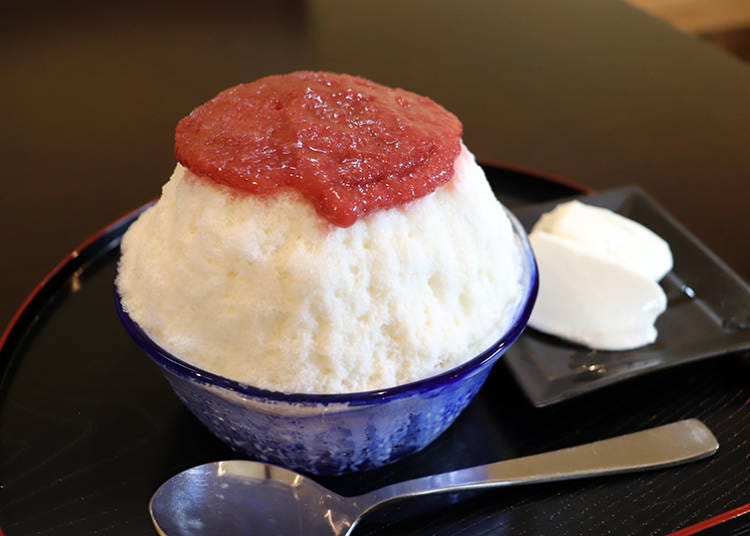 Another popular kakigori which comes highly recommended by the cafe itself is the "Strawberry Milk with Rich and Sweet Yogurt (900 yen, tax included)". It uses stringently selected Tochiotome, a type of strawberry produced locally in Tochigi together with an original condensed milk for a pleasant mix of sweetness and sourness!
The dessert is slathered with a thick strawberry sauce that's not too sweet and thus well-liked even by adults. The shaved ice is fluffy like cotton candy, and the side portion of yummy yogurt enhances its taste.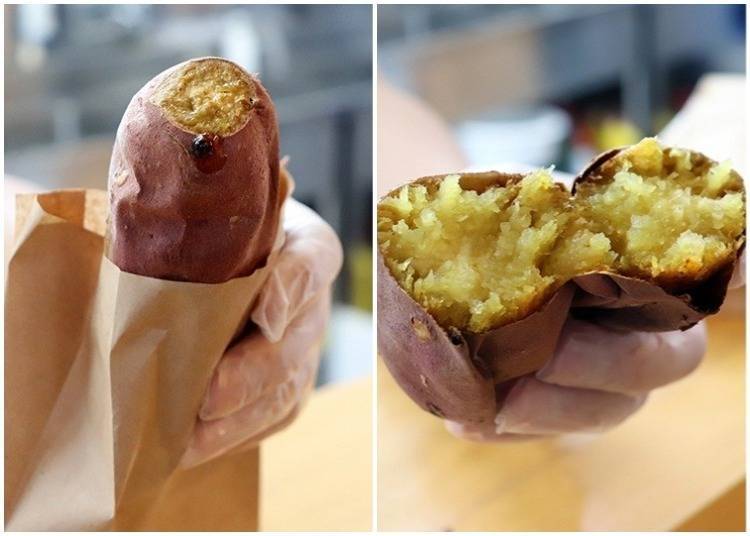 Baked sweet potatoes are available for takeout all year round here for 400 yen per piece, tax included. This delectable treat has been the focus of much media attention this year, leading to a huge spike in its popularity and dwindling availability on most days. Still, if you happen to be in Nikko, it's always a good idea to drop by Senryo Chaya to see if you can get your hands on one of these precious baked sweet potatoes!
Cafe千両茶屋

Address

601-3, Gomachi-cho, Nikko-shi, Tochigi-ken

Phone Number

0288-53-2208

Hours: 10:00 a.m. – 6:00 p.m.
Closed: Not fixed
*Menu has English labels
*This information is from the time of this article's publication.
*Prices and options mentioned are subject to change.
*Unless stated otherwise, all prices include tax.