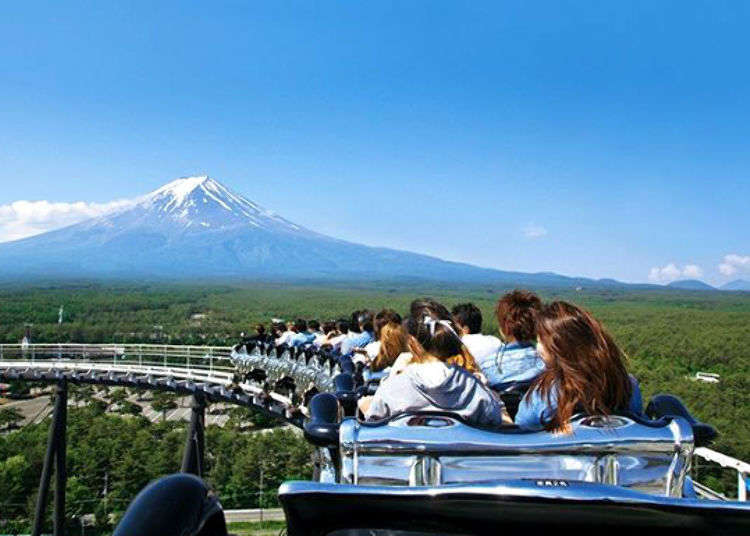 Fuji-Q Highland is Japan's largest amusement park, filled with exciting roller coasters, attractions, and more.

Thrill seekers from all over the world flock to the park at the foot of Mount Fuji and since July 2018, Fuji-Q Highland is free and does not require an entrance ticket anymore!

That change makes the park more attractive than ever, so let's take deep look at how to make the most of one day at Fuji-Q Highland!
Stop By Fuji-Q Highland: Now Without any Entrance Ticket!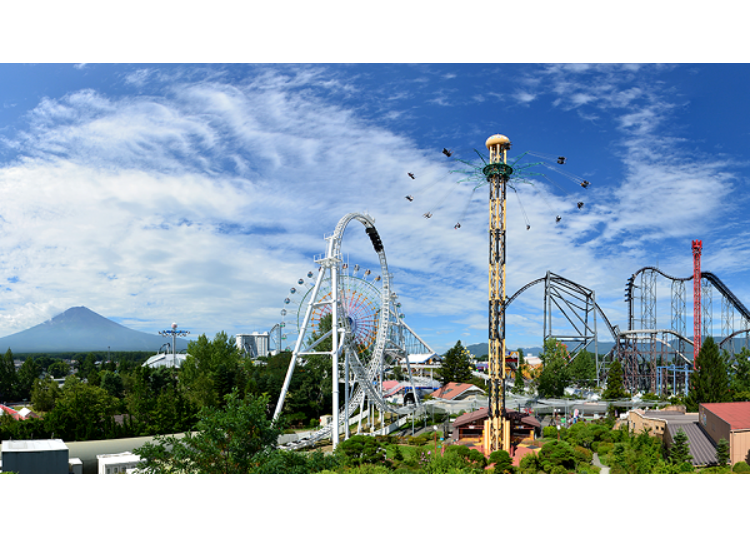 Mount Fuji towers over the iconic park that people simply call "Fuji-Q."
The town of Fuji-yoshida and its famous Fuji-Q Highland lies right at the foot of Mount Fuji, right after leaving the Chuo Expressway Kawaguchiko IC. You'll spot numerous attractions from afar and the closer you get, the louder the screams of thrill and excitement.

The park is a total of 500,000 square meters wide and does not only have several unique roller coasters but also Thomas Land, a theme park dedicated to Thomas the Tank Engine, as well as Lisa and Gaspard Town based on the adorable and massively popular picture books. Of course, there's also a plethora of restaurants and accommodations!

Before July 2018, you needed a ticket to get into Fuji-Q Highland but that has changed – the park is now entirely free to visit! We asked for the reasons behind this surprising change. "There are a lot of international visitors to the World Heritage Site of Mount Fuji and its sightseeing spots nearby. We wanted to allow people to enjoy the atmosphere of the park, the restaurants, and the souvenir shops more casually," explains Mr. Arai from the park's PR department.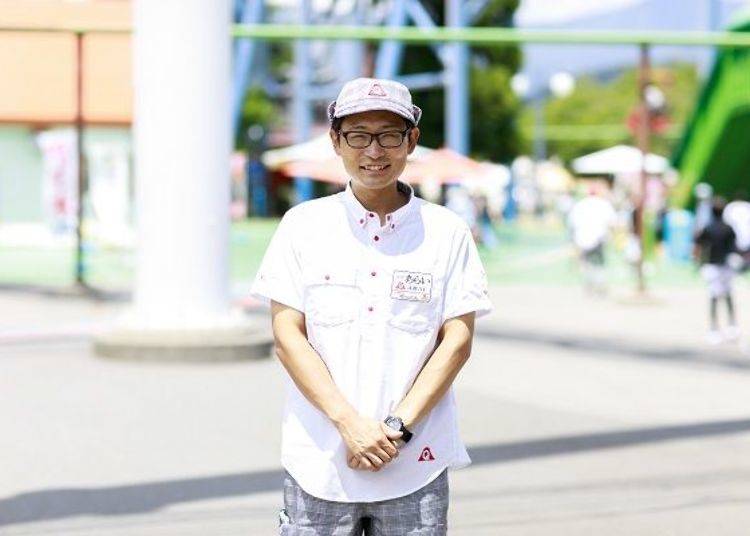 This is Mr. Arai who is showing us the park. The staff is taking service at Fuji-Q Highland very seriously, so feel free to approach them for recommendations, questions, or any issues you might encounter!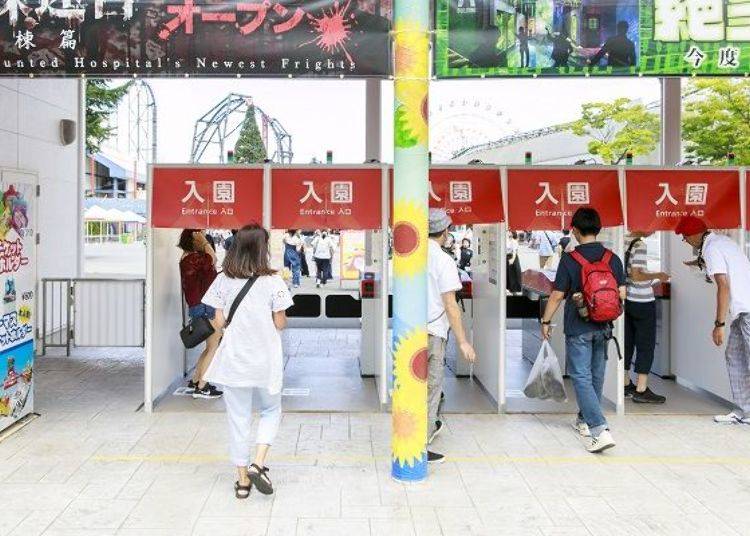 You pay per attraction at Fuji-Q Highland and the "Zekkyo Priority Ticket" is a fast pass that lets you skip the long queues. Additionally, there are various different tickets such as the One-Day-Pass that features unlimited rides for one full day, round-trip train tickets, high-speed bus tickets, combination tickets with accommodations, and more.
We decided to get the One-Day Pass (5,700 yen for adults) to make the most out of one day!
*The ticket prices may vary according to season.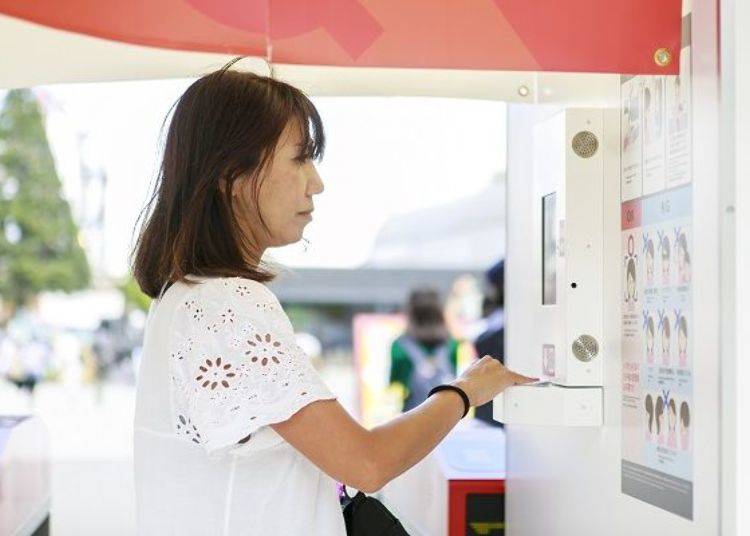 At the park gates, you can have a picture of your face taken and registered with your ticket. From here on, you'll enter every attraction with the "face pass!"
Fuji-Q Highland has two entrances and we got in via Entrance 1. Of course, we had to try the new facial authentication system introduced in July 2018 to make the queues at attractions go smoother, for more convenience for the visitors, and for safety measures. You won't need a ticket to ride the attractions, everything is done with the "face pass."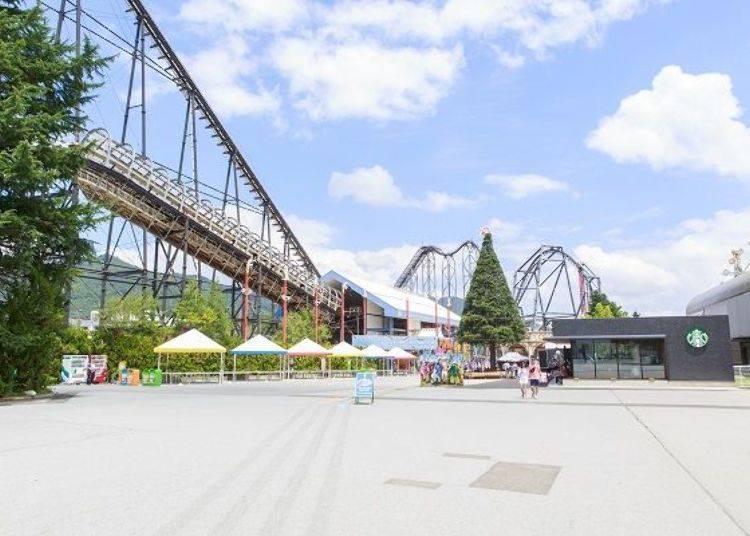 Right behind the gate, you'll see the roller coasters called Fujiyama and Dododonpa. There's also a brand-new Starbucks that opened on July 20, 2018 – it's the first Japanese Starbucks that is located inside an amusement park!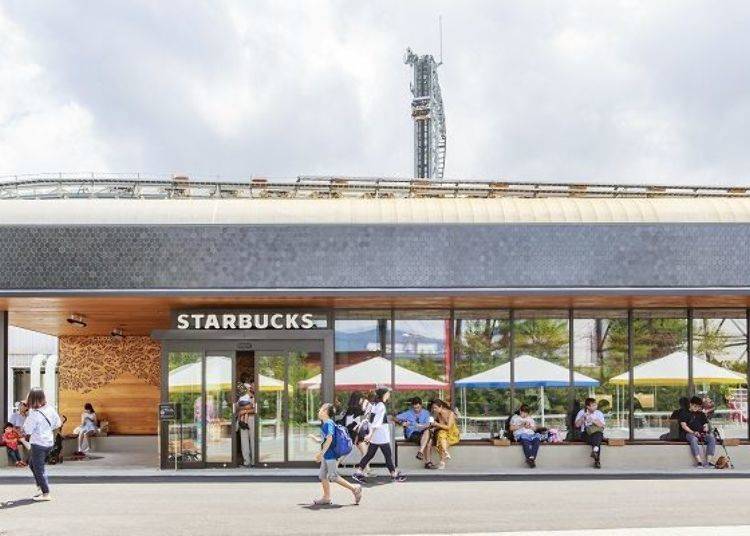 Welcome to Starbucks Fuji-Q Highland! Sip on a cup of coffee while watching the cars of the famous Takabisha roller coaster climb to the notorious drop.
The Absolute Must-Rides: Fuji-Q's Four Major, World-Famous Roller Coasters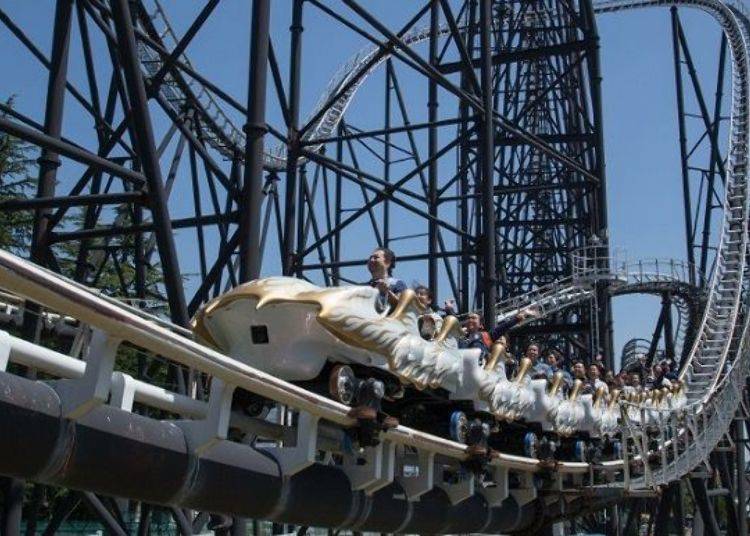 The total length is 2,045 meters! (single ticket: 2,000 yen)
Our first stop is the "King of Coasters," Fujiyama! Since its opening in 1996, it has boasted unwavering popularity among park visitors.

Fuji-Q Highland is known for having only top-notch roller coasters that continuously compete for the crown, and you will have to brace yourself for waiting times of about 3 hours. With the Zekkyo Priority Ticket, however, you can skip most of the wait (extra fee, varies by time slot).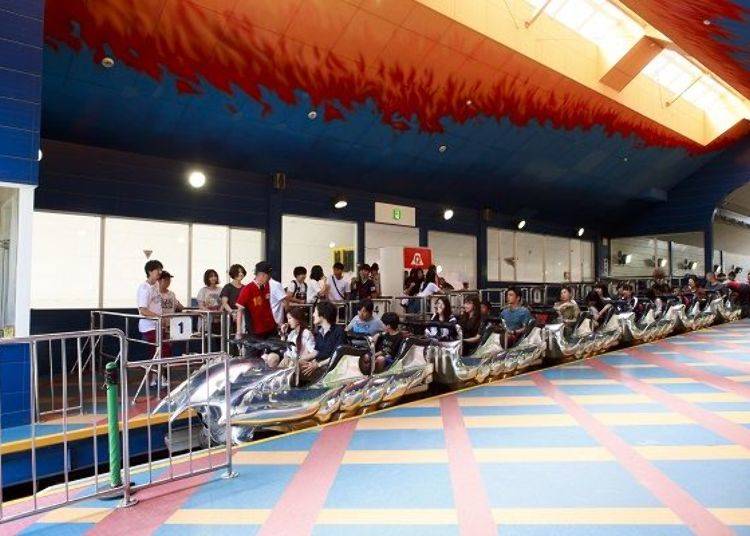 After the staff has checked that everyone strapped in properly, it's time to go!
The Fujiyama boasts a maximum speed if 130km/h and a maximum drop of 70m. "You get to taste the thrill of falling down from a 20-story building, basically," says Mr. Arai.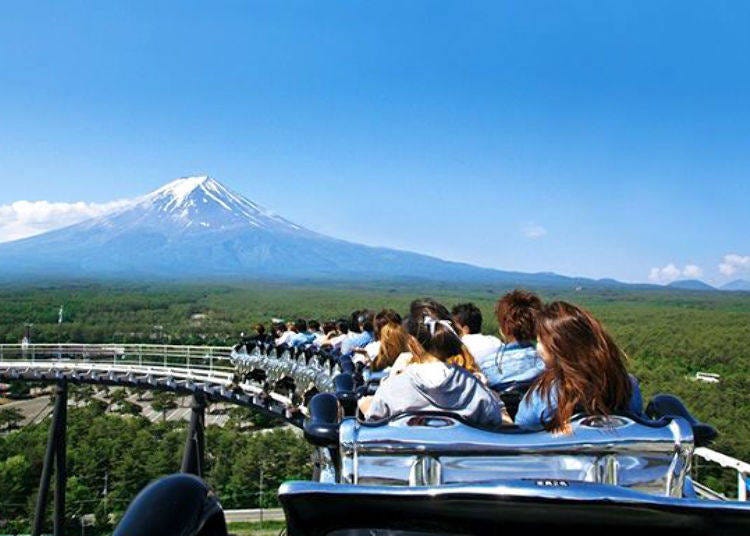 One of Fuji-Q Highlands biggest attractions is the stunning views of the iconic mountain from various spots around the park.
Fujiyama leisurely creeps along with a gentle rattle as it carries you to a height of 79 meters! Its characteristic is having you dazzled by the stunning view while also waiting anxiously for the high drop! The picture shows the calm before the storm...

From up above, the other visitors down below look like ants. But then we suddenly pick up speed!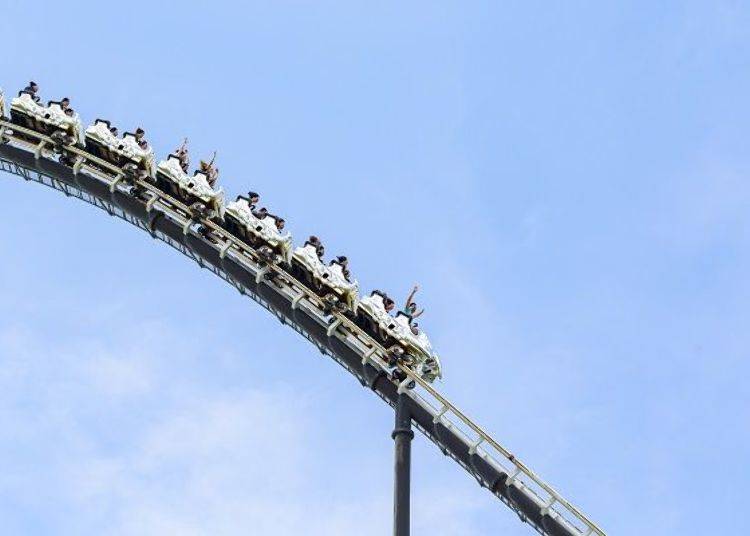 It's almost impossible to hold in a scream!
Up and down and up again, the car snakes through curves to the left and to the right, there's quite a lot of gravity pulling at you from all sides! Sharp curves and steep drops toss you around in your seat but there is no better feeling than feeling the thrill and excitement of 130km/h with the wind in your hair!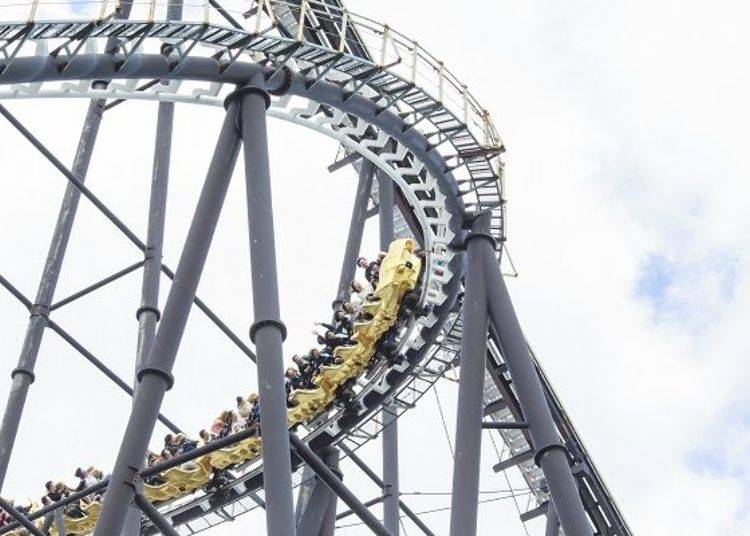 Fujiyama is also very long, boasting a ride time of 3 minutes and 36 seconds!
At the time of Fujiyama's opening, it snatched a total of four world records, such as being the world tallest coaster and having the largest drop. It has been a favorite of the global roller coaster scene and still enjoys a reputation as "once the world's best that still holds its ground as a top-notch coaster without a loop."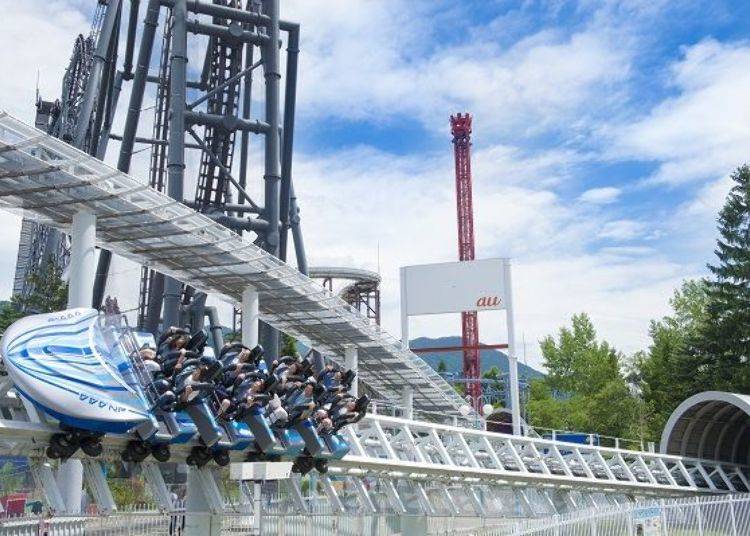 Do-Dodonpa stands unique with a speed of 180km/h! (single ticket: 2,000 yen)
From one screamer to the next: meet Do-Dodonpa.
When it reopened in summer 2017, the old Dodonpa had evolved into the brand-new Do-Dodonpa and was the world's fastest roller coaster with a speed of 180 km/h. This speed is achieved in merely 1.56 seconds right after launch!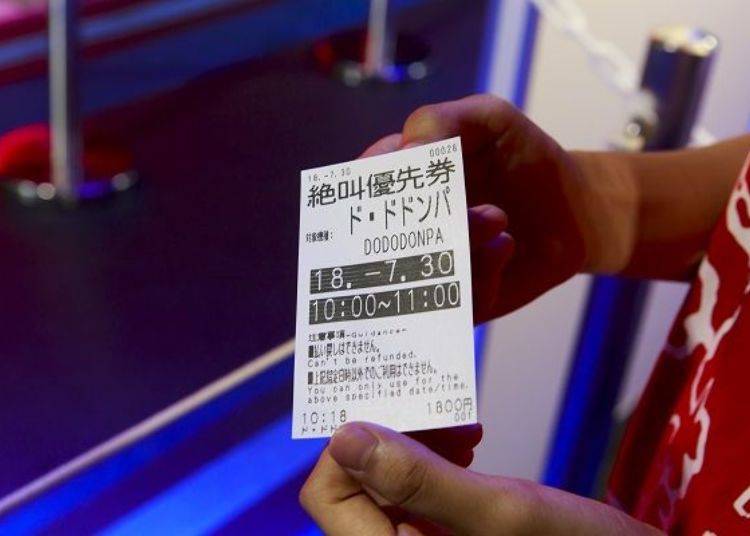 We're using the Zekkyo Priority Pass for this ride and barely had any waiting time.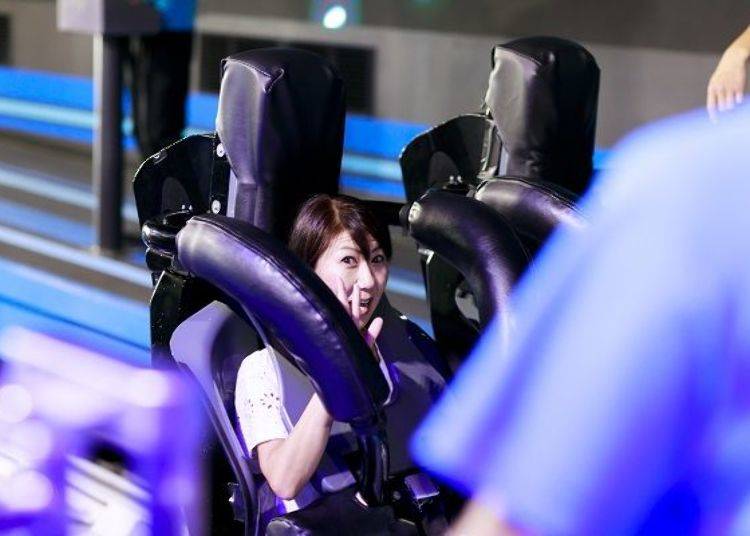 The start was slow, leisurely carrying us to a tunnel before the coaster stopped entirely. The cheerful announcement as we waited just made us all the more anxious! Suddenly, the countdown started and the "Three, two, one!" was accompanied by flashing lights going from green to blue and red. It's a feast for all senses – and then we launched, being pushed into our seats with the immense force of tremendous speed!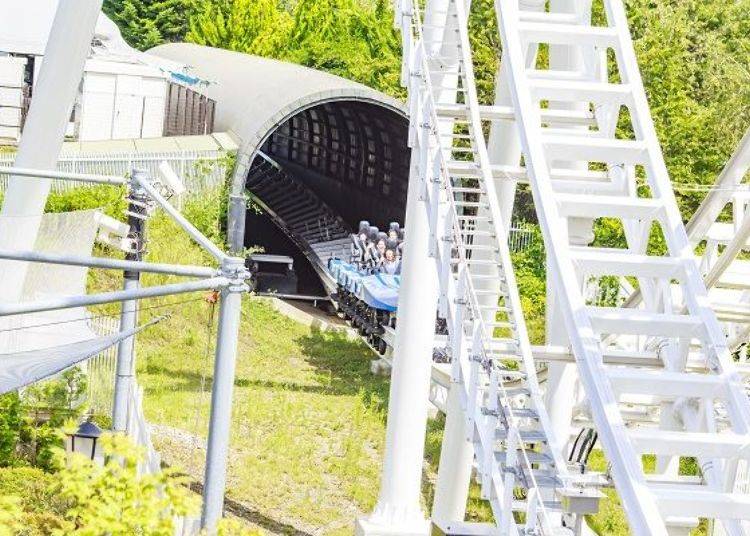 That canon-like launch is enough to carry you to the highest point!
This sudden acceleration almost made us feel like we blacked out and lost a moment. Until we entered the loop and suddenly seemed to hang in zero gravity.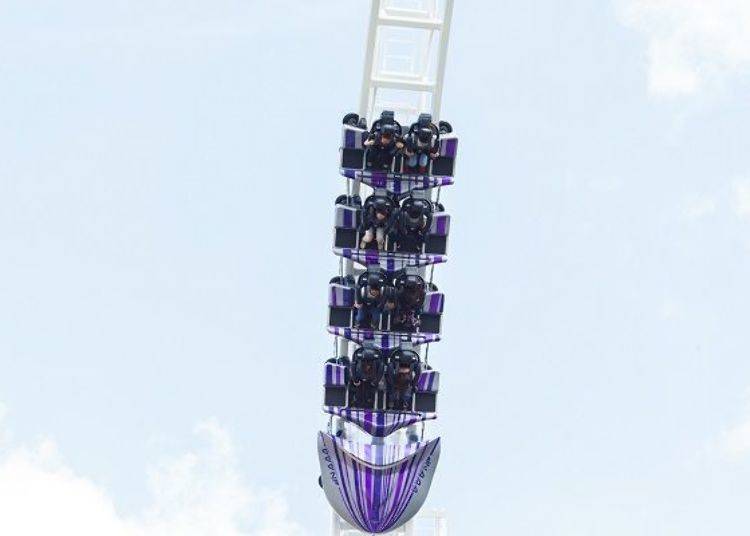 After the sudden launch, we enter one of the world's largest loops.
Because being shot out of a tunnel at 180 km/h isn't enough, next up is a large loop with a diameter of 39.7 meters. You'd think that would slow the coaster down, but it feels like it is getting even faster! The whoosh of coming out of the loop reminded us of a motorcycle suddenly speeding up.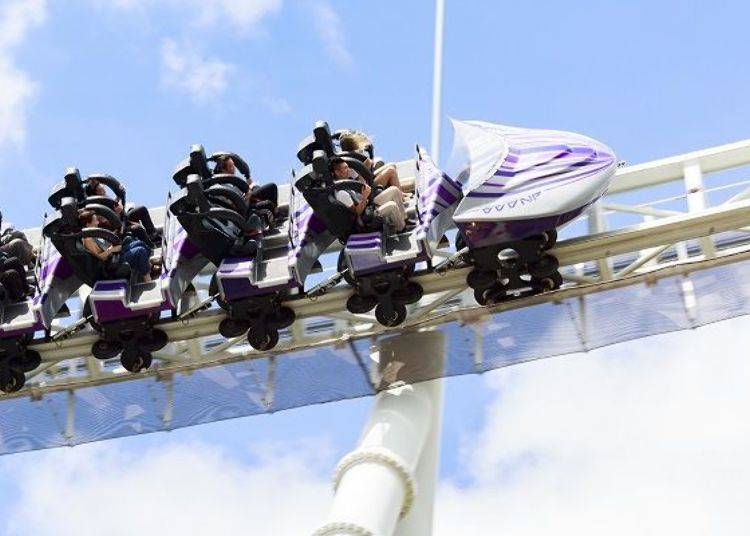 We probably did not take a single breath for the entirety of the thrilling ride!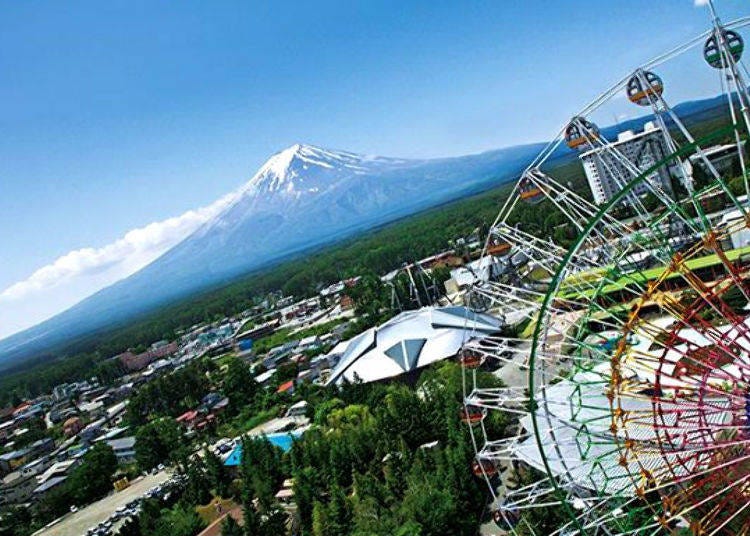 It might be a bit hard to focus on it, but the view on Mount Fuji is exquisite from Do-Dodonpa's loop.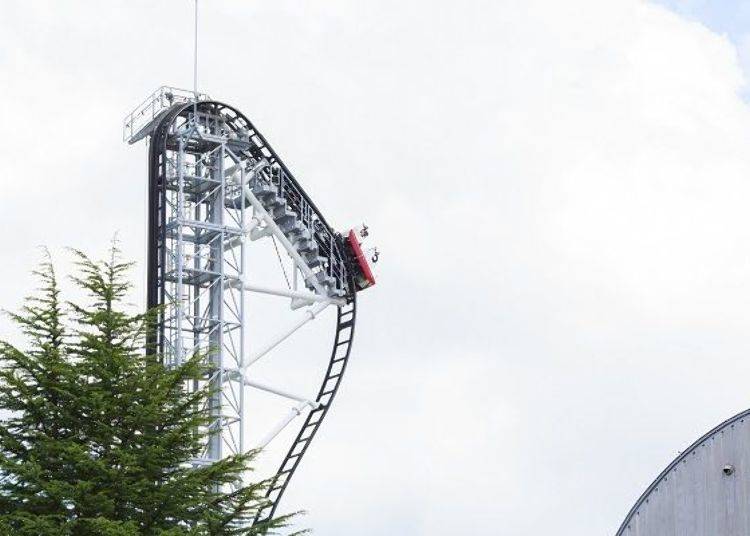 This is Takabisha and its notorious drop, recorded as the world's steepest. (single ticket: 2,000 yen)
Next up is Takabisha. This is a rather terrifying coaster, as it features a drop at an angle of 121 degrees, alongside seven other thrilling elements! While Takabisha is not faster than Fujiyama or Do-Dodonpa, the beyond-vertical drop makes more than up for that.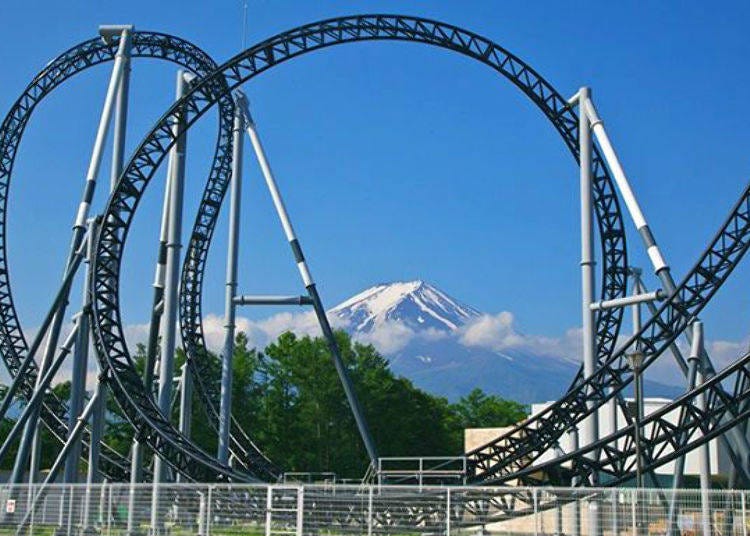 Mount Fuji towers majestically right in the center of one of Takabisha's loops.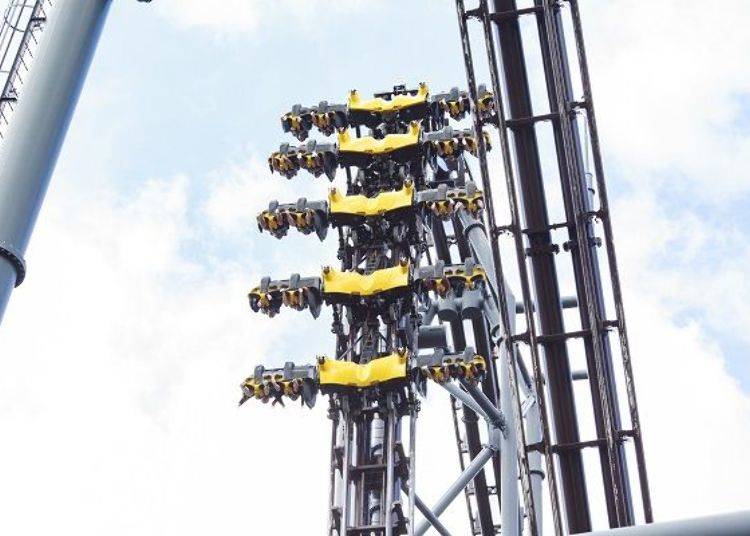 Brace yourself for spinning seats at the Eejanaika! (single ticket: 2,000 yen)
Last but not least, meet Eejanaika, Fuji-Q Highland's fourth large roller coaster. The main characteristic of this roller coaster beauty is the spinning seats – yes, you heard that right. As you ride, not only the coaster's tracks will flip you upside down, the seats rotate forward and back at the same time! After the ride, your knees will shake, and you'll find yourself saying: "Wasn't this amazing?!" Which, coincidentally, is what the name "Eejanaika" can be translated to.

It's the thrill of being spun around and thrown from inversion to inversion at high speed, paired with the feeling of free-falling that will make Eejanaika an unforgettable experience. It's a relationship that cannot be described in words, a curious blend of being terrified and incredibly excited. You'll be unsure of whether you want to ride it again, only to hop on Eejanaika again immediately!
The Haunted Hospital that Keeps You on Edge: Terror on Over 900 Meters!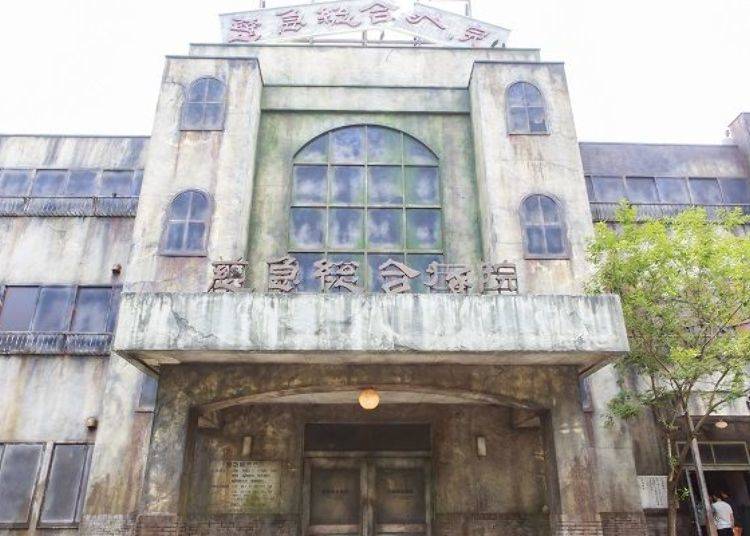 The exterior alone looks frightening: the haunted hospital offers sublime scares and terrors. (8,000 yen for one group, 4,000 yen with a One-Day Pass. *up to 4 people in one group)
While you might feel like you want to take more rides on the four major roller coasters of Fuji-Q Highland, we highly encourage you to seek another kind of thrill instead. Let's head over to the "Super Scary Labyrinth of Fear," a haunted house attraction set inside an abandoned hospital.
It was renewed completely in July 2018 and is even more terrifying than it was before – your skin will prickle with goosebumps and your blood is about to run cold.
After mentally preparing ourselves, we headed in.
As already mentioned, the setting is an abandoned hospital, specifically the ward where patients were detained while horrible experiments were taking place. It's a classic setting as far as horror goes, but every little corner of the spacious hospital is so carefully decorated, the entire building seems to come alive. With a length of about 900 meters, spending an hour inside the haunting ward is not uncommon – neither is people leaving the attraction early because they simply cannot take it anymore. This place is not for the faint-hearted.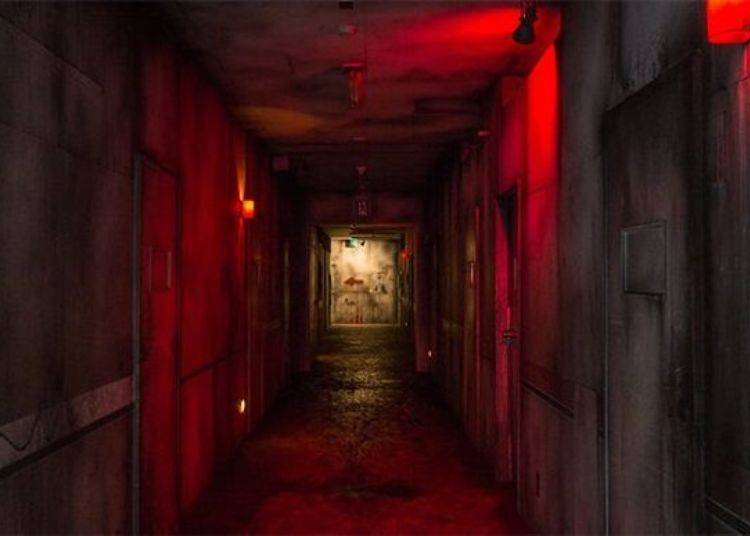 The long corridors are filled with a tense, enigmatic atmosphere.
First, we're lead into a private consultation room and get to see a short, already scary movie about the backstory of the place. Then, it's time to explore the ward ourselves.
Of course, you'll find operations rooms and sickrooms, but also a newborn nursery, a morgue, incinerators, and several other facilities typical of a hospital. It's not just the detailed and realistic decorations that will make you forget that you're actually inside an amusement park. There also are changes in temperature and the air smells different depending on where you are. Low moans, the blood-curdling sound of metal scraping over the floor, and was there a movement in the corner of your eye? This haunted hospital delivers exquisite terrors and scares and no matter how brave you think you are, you are going to fill the ward with your screams nonetheless.

After making our way through the place, having stumbled from one haunt into the next, a weird sense of relief and joy overcomes us as we finally find the way outside, just as if we actually barely made it out alive. By all means, do try the haunted hospital for yourself – it's a fascinating experience!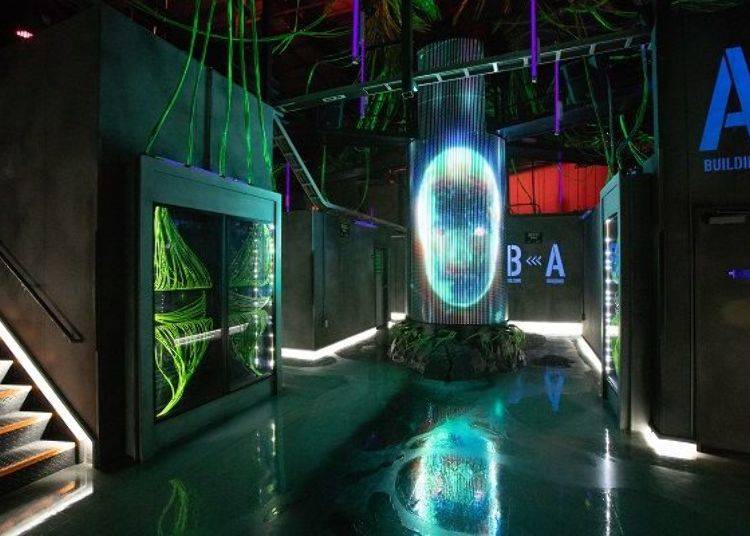 The Desperation Fortress 3 requires physical strength, mental prowess, and plenty of willpower! (Only available with the One-Day Pass)
Another must-see attraction that was just renewed in July 2018 is the Desperation Fortress 3. This classic has undergone several evolutions and the newest version is the most exciting yet.

The fortress has been hijacked by a rogue AI program and you'll have to find a way out by solving various puzzles. That mainly challenges your brain, but beware the many traps you'll encounter on the way! Can you make it out? It's much harder than it seems.

By the way: you can use the Zekkyo Priority Pass for all the attractions we showcased this far. If there's one attraction you absolutely want to do, think about getting such a pass!
From Thrilling to Relaxing – More Attractions!
If screaming isn't quite your thing, don't worry. Fuji-Q Highland offers a plethora of other attractions, so let's go take a look at some of the less intense highlights!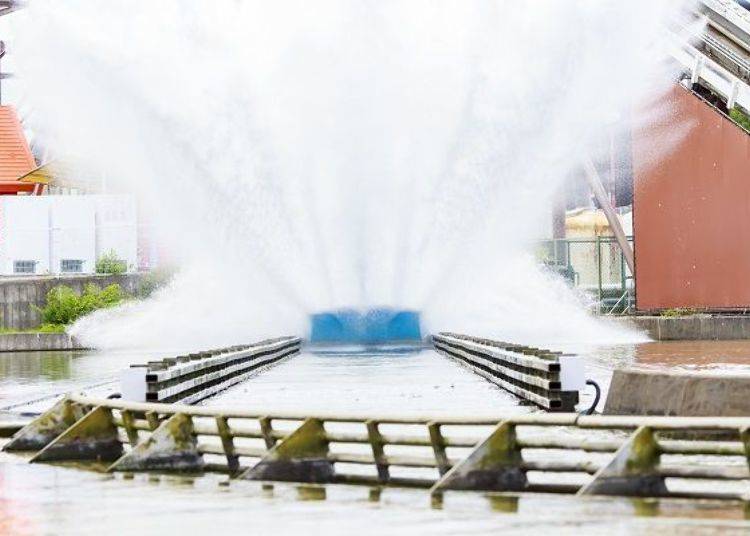 This is Cool Jappaan and its drop of 30 meters right into a pond! You'll definitely get wet, even if you just stand nearby and watch! (single ticket: 1,500 yen)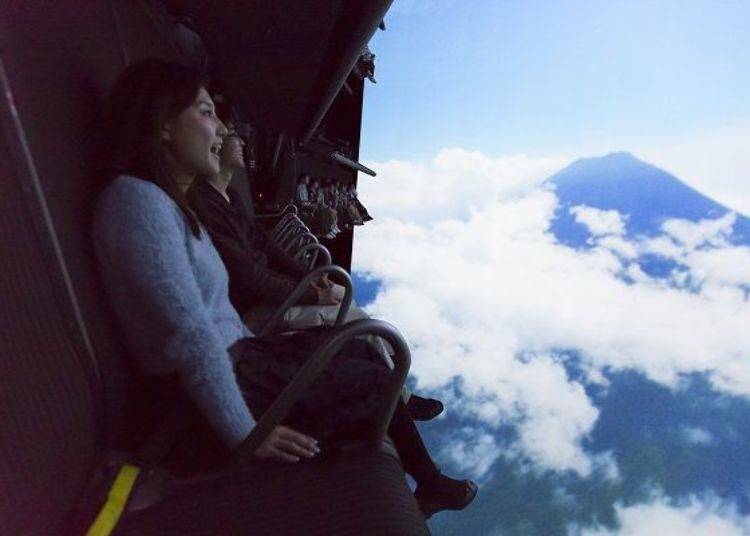 Fuji Airways is a fun flight simulator that'll take you on a virtual trip right over and around Mount Fuji (single ticket: 1,800 yen; children: 1,300 yen). It boasts a massive screen that shows the iconic mountain from various angles, while you're exposed to wind, water splashes at you approach the lake, and the scent of greenery and flowers surrounds you.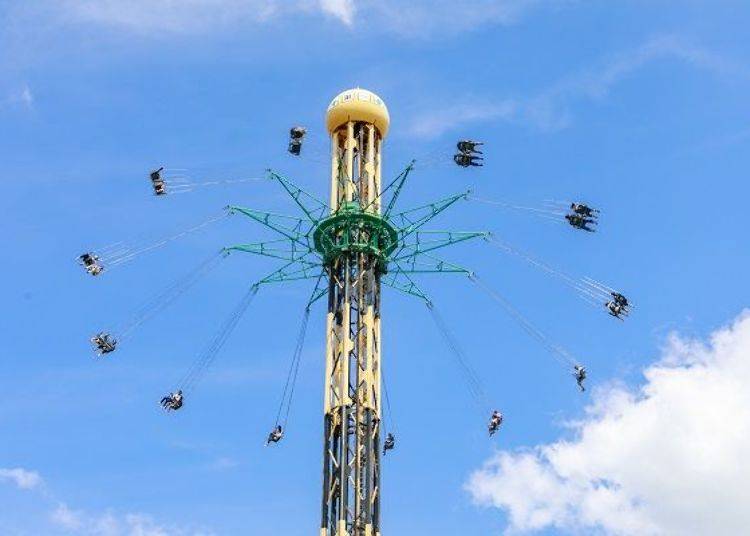 Tekkotsubanchou is over 50 meters high and rotates at about 51 km/h. It's a great choice for thrill-seekers that don't feel quite comfortable with the major roller coasters (single ticket: 1,500 yen).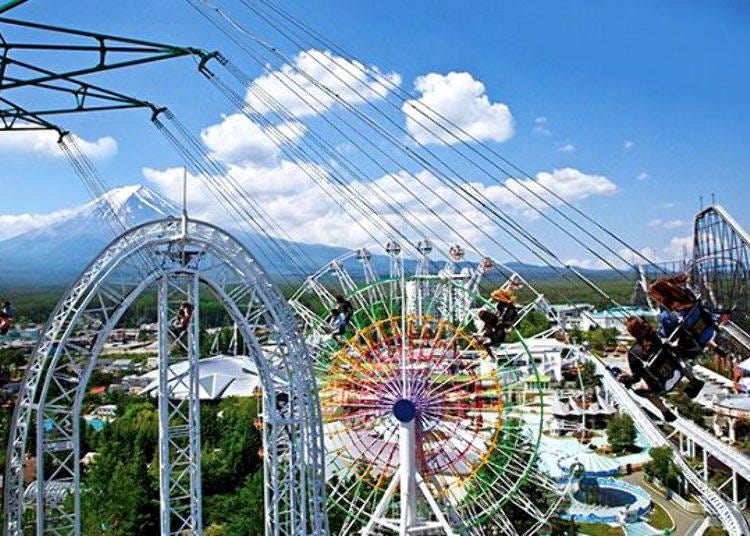 The view from Tekkotsubanchou is mesmerizingly beautiful. It makes you feel like a bird flying through the sky.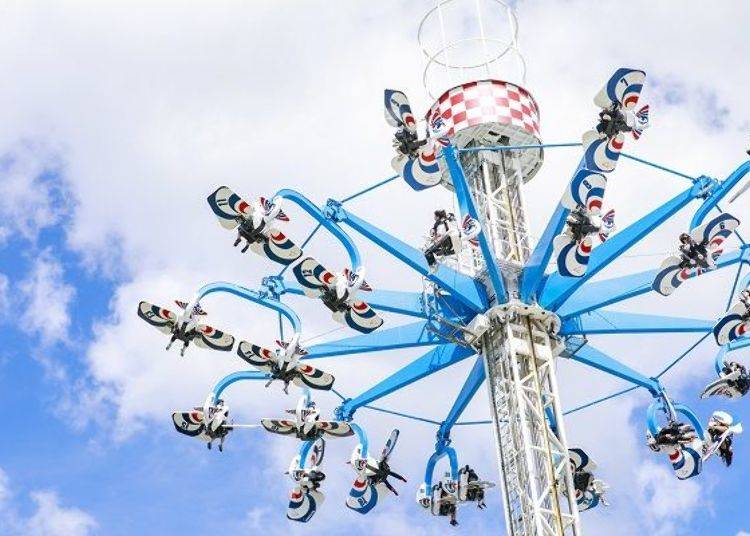 It's not giant dancing butterflies, it's Tentekomai! This attraction allows you to control the wings yourself. However, it won't be long before the wind will throw you around in an exciting way, making steering a lot more difficult! But that's exactly what makes Tentekomai so much fun (single ticket: 1,500 yen).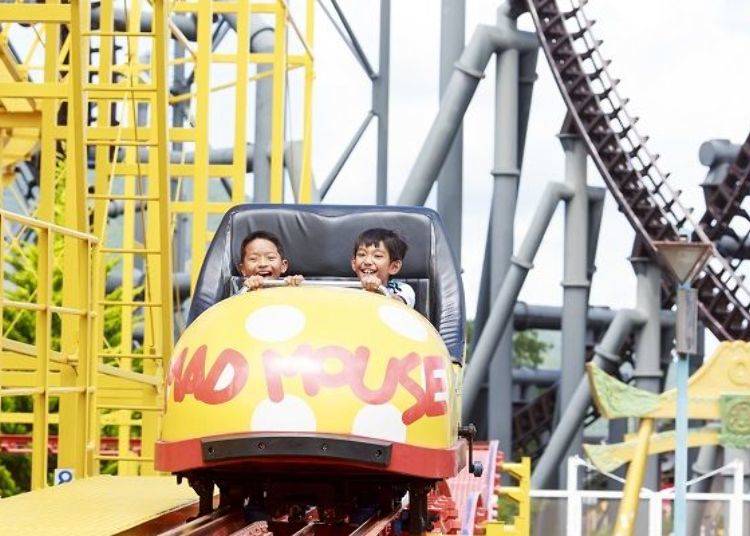 Mad Mouse is a fun coaster for two that'll tickle your nerves with fun thrills while still being relatively tame, compared to Fuji-Q's other coasters. Even kids will have a blast in this one (800 yen).
Getting Hungry? Choice Food and Restaurants!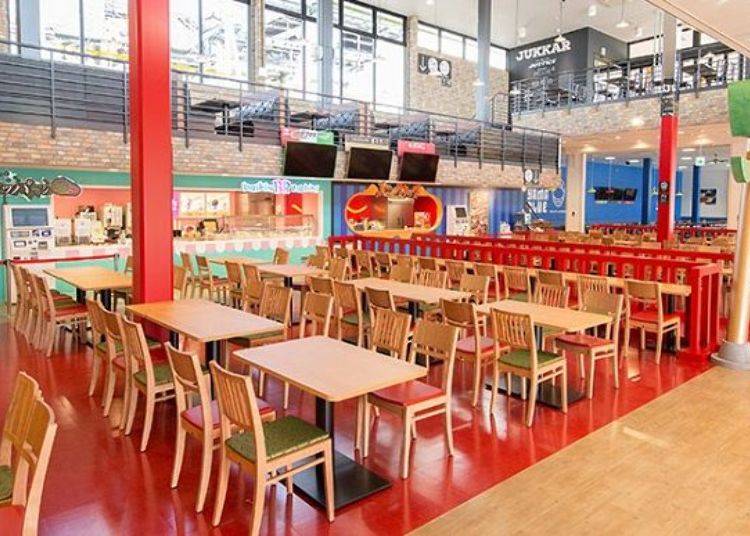 The second floor has an area with lower tables and chairs, perfect for kids.
Among the many restaurants of Fuji-Q Highland, we especially recommend the Food Court, usually boasting quite a queue of hungry park visitors. It's right in front of the Crystal Lagoon which becomes a skating rink in winter. The food court has several dishes created after the park's attractions!

There's the "Shivering Labyrinth Burger" (850 yen), for example, as well as the "Kakuni ga Shuyaku de Eejanaika Ramen" (1,000 yen), connecting popular attractions to delectable dishes and making your park experience even richer! We decided to try the "Tekkotsu Onion Banchou."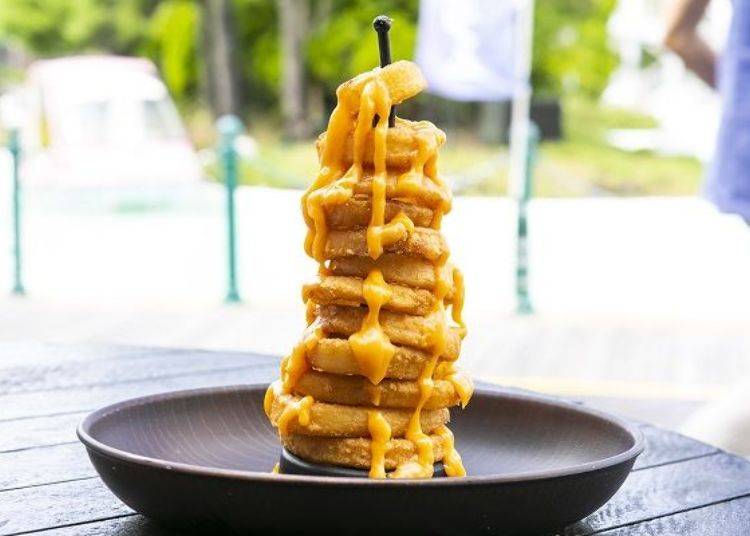 The Tekkotsu Onion Banchou for 700 yen.
Of course, it emulates the tall Tekkotsu Banchou as a tower of onion rings, topped with plenty of melting cheddar cheese! It's a more than satisfying meal.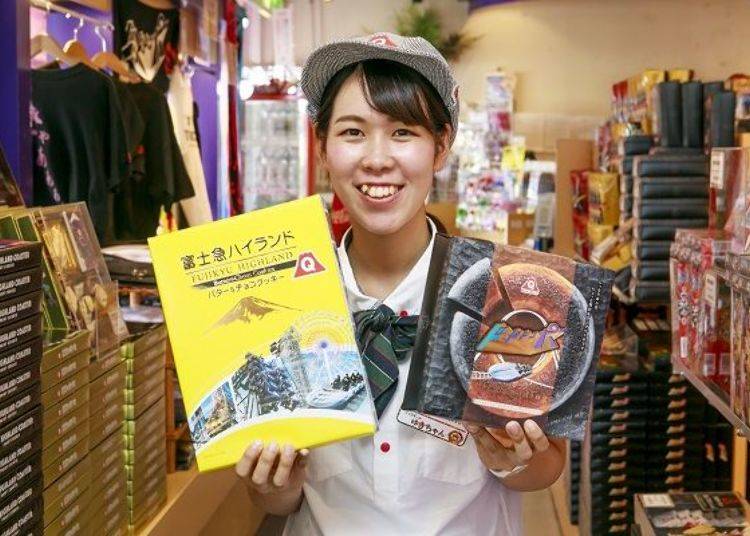 The shops offer plenty of original merchandise. On the left are the Fuji-Q Highland Butter & Chocolate Cookies, on the right are the Do-Dodonpa Rich Pudding Sweets (either for 1,080 yen).
Visit Your Childhood at Lisa and Gaspard Town and Thomas Land!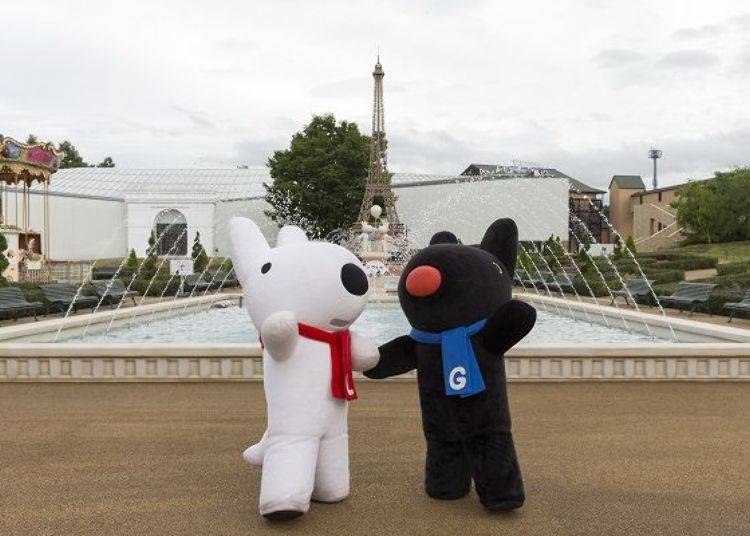 Lisa and Gaspard Town authentically reproduces the world from the popular French picture books "Gaspard and Lisa."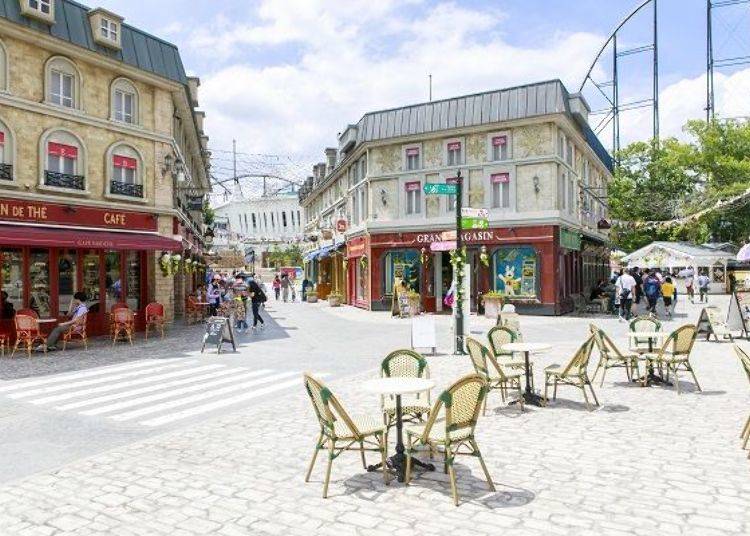 The townscape is undeniably French, featuring a tiny Eiffel Tower, a fountain, a merry-go-round, and so on. It's a fairytale atmosphere for sure.
After riding so many attractions, we were craving a relaxing tea break. That's why we headed to Lisa and Gaspard Town right next to Entrance 1.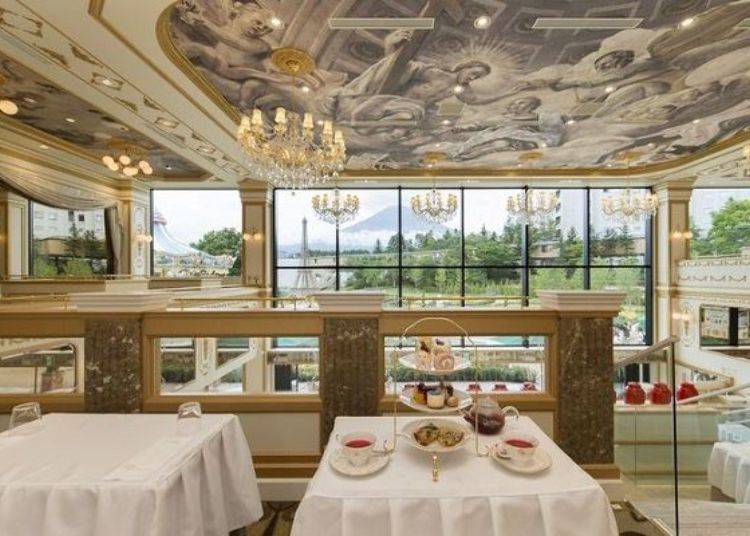 The restaurant is on the second floor while you'll find the Patisserie offering take-outs on the first floor.
Les Rêves Salon de Thé is an atmospheric restaurant and café that we warmly recommend. Its name is French and means "dream tea salon," boasting an interior that is as luxurious as that of an old chateau, with chandeliers and ceiling paintings. It truly is like a dream come true!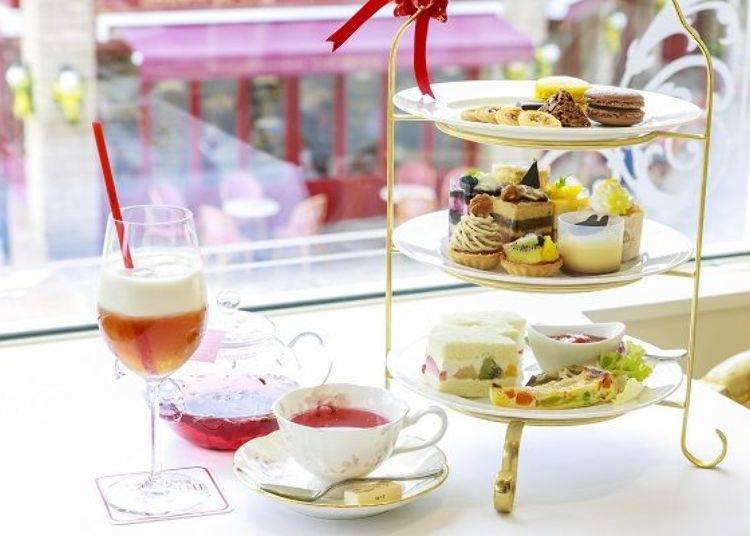 The "Afternoon Tea Set" (2,500 yen per person). The picture shows the set for two.
Savor a delicious menu carefully created by a hotel chef while bathing in the splendid view of Mount Fuji. Right after sitting down, we order the recommended "Afternoon Tea Set."

The upper two plates are filled with a selection of sweets arranged by the salon, while the bottom plate features a dish of your choice. During our visit, we got to choose between Quiche Lorraine and Patissier's Fruit Sandwich.
The quiche has a wonderfully elegant taste while the fruit sandwich is made with plenty of fresh cream. The fruits are of a pleasant sweetness that is not too overwhelming. It's so relaxing, we almost forget about the many screams of the last few experiences!

Lisa and Gaspard Town
© 2018 Anne Gutman & Georg Hallensleben / Hachette Livre
レ レーヴ サロン・ド・テ

Address

〒403-0017 山梨県富士吉田市新西原5-6-1 リサとガスパールタウン内 / Inside Lisa and Gaspard Town, 5-6-1 Shinnishihara, Fujiyoshida-shi, Yamanashi, 403-0017

Phone Number

0555-22-1000

Hours: from 11:00 a.m. on weekdays, from 10:00 a.m. on Saturdays, Sundays, and holidays
*The restaurant closes 30 minutes before park closing time.
*Opening hours change by season.

Vacancy search, reservation

from

22,880JPY

1room, 2adults

Check with our partner site as the latest rates, rate details, and guest room requirements may vary.
リサとガスパール タウン

Address

〒403-0017 山梨県富士吉田市新西原5-6-1 / 5-6-1 Shinnishihara, Fujiyoshida-shi, Yamanashi, 403-0017 Japan

Phone Number:0555-23-2111 (Fuji-Q Highland)
Hours: varies by day, please see the official homepage
Closed: irregularly
Admission: free
Let's visit one more spot at Fuji-Q Highland!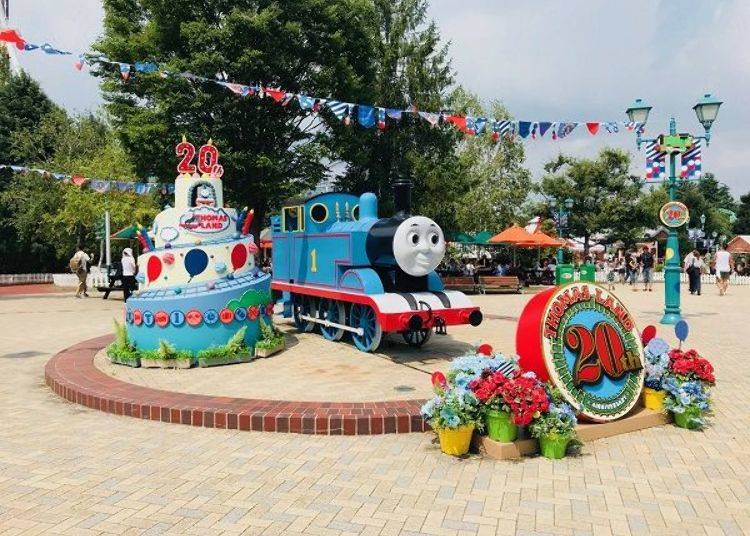 Thomas the Tank Engine welcomes you at the main square, which is always bustling with families taking commemorative photos.
We're heading towards the Ferris wheel to visit the park's own Thomas Land, celebrating its 20th anniversary in 2018. It's the world's first outdoor Thomas & Friends park outside of the UK and is Japan's only one.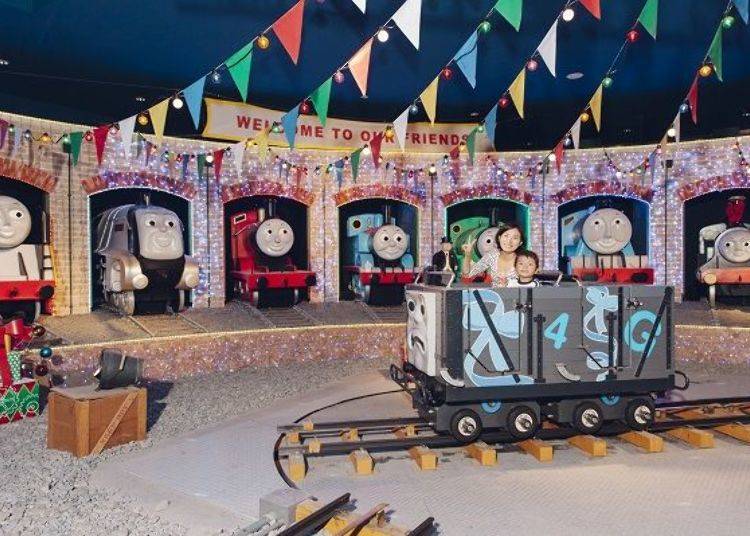 Thomas and his friends all come together at the "Thomas' Party Parade" (500 yen).
Thomas Land has eleven different attractions! One of them is the Thomas' Party Parade that sees the famous tank engine and all of his friends come together as you ride a freight car. The most popular ride, however, is the Thomas and Percy's Fun Ride that takes you over the Island of Sodor, suited for the entire family – from small children to pregnant women and seniors, this ride is fun for everyone!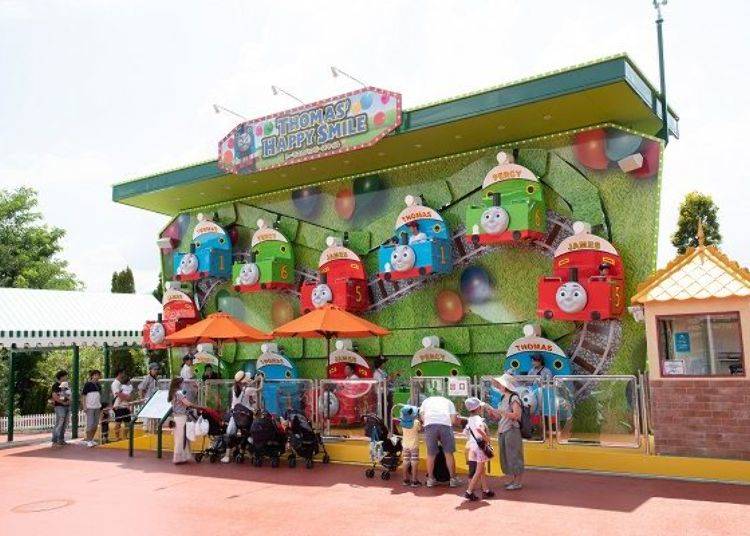 Thomas' Happy Smile is an all-new attraction that just opened in July 2018 (400 yen).
With numerous restaurants, cafés, and souvenir shops, Thomas Land offers plenty of opportunities to have fun. While the little ones will especially love the experience, even grown-ups will find much to smile about. It's a great place to make memories together.

Thomas Land © 2018 Gullane (Thomas) Limited.
トーマスランド

Address

〒403-0017 山梨県富士吉田市新西原5-6-1 / 5-6-1 Shinnishihara, Fujiyoshida-shi, Yamanashi, 403-0017, Japan

Phone Number:0555-23-2111 (Fuji-Q Highland)
Hours: varies by day, please see the official homepage
Closed: irregularly
Admission: free
Relaxation To Your Core at Fujiyama Onsen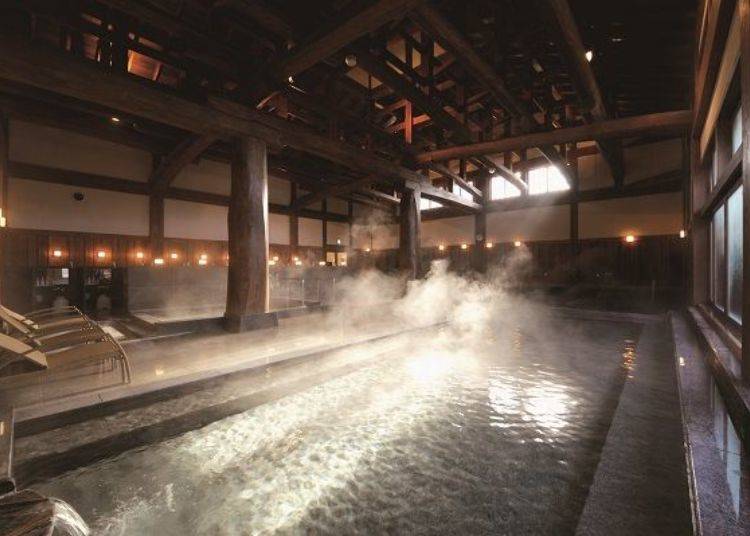 The 330 square meters-wide hot spring is one of Japan's largest wooden bath houses and relaxes you with a wonderfully natural wood aroma.
While Fuji-Q Highland is fun and exciting, you will likely long for relaxation and quiet after such a thrilling day. That's why we urge you to visit Fujiyama Onsen hot spring before returning home.

It's a natural hot spring and spa that is filled with water of various minerals, including magnesium, calcium, or sodium, said to enhance your metabolism among other benefits. Calm down with a drink in the restaurant, relax with some aromatherapy, or simply get lost in your thoughts while gazing at Mount Fuji.
ふじやま温泉

Address

〒403-0017 山梨県富士吉田市新西原4-17-1 / 4-17-1 Shinnishihara, Fujiyoshida-shi, Yamanashi, 403-0017 Japan

Phone Number

0555-22-1126

Hours: 7:00 a.m. – 9:00 a.m. (morning bath), 10:00 a.m. – 11:00 p.m. (regular, last admission at 10:00 p.m.)
Admission: 600 yen for adults, 310 yen for children (morning bath), 1,400 yen for adults, 700 yen for children (regular, weekdays), 1,700 yen for adults, 850 yen for children (weekend and holidays; tax included)
*A discount for the regular admission is available upon showing the One-Day Pass.
*Children's admission applies to kids older than 3 and younger than elementary school age.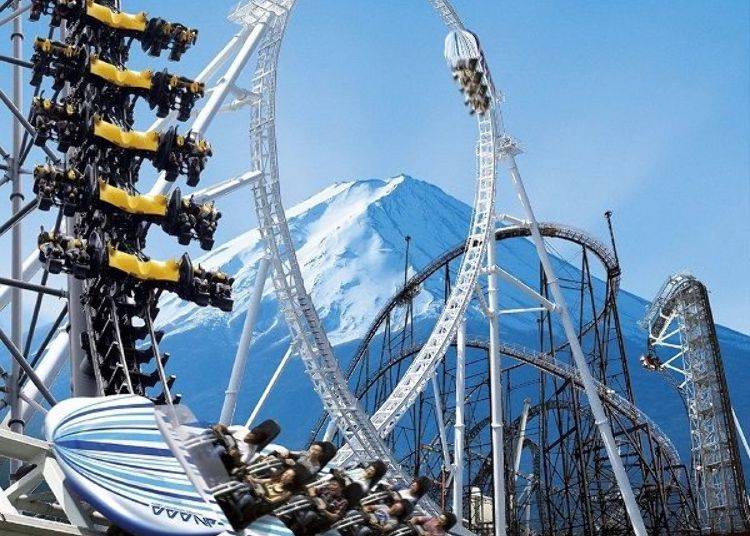 A full day at Fuji-Q Highland seems to have passed in the blink of an eye! From roller coasters that make you scream to cheerful family attractions, there's something here for everyone. Couples, friends, family, and even solo amusement park enthusiasts will not get bored with Fuji-Q Highland's rich lineup of things to do! Some people even call the park the "world's greatest amusement city" and do so for a good reason.

Enjoy the four major roller coasters, experience fun terror at the horror hospital, and meet cute characters while sipping on a cup of tea. That's just how diverse Fuji-Q is, and all of that without an admission fee! By all means, do yourself a favor and stop by!
Address

5-6-1, Shinnishihara, Fujiyoshida-shi, Yamanashi, 403-0017
View Map

Nearest Station

Fujikyu-Highland Station (Kawaguchiko Line (Fujikyuko))
1 minute on foot


Phone Number

0555-24-6711
Hours: varies by day, please see the official homepage
Closed: irregularly
Admission: free
Attraction Admission:
One-Day Pass Advance Ticket (E-tickets), includes unlimited rides
*If you register your face via picture online in advance, you will be able to enter smoothly via the Priority Gate.
*This facial recognition also lets you enter the park 15 minutes before official opening time.
*Visitors accompanied by toddlers are required to buy a separate toddler free pass, please go to the priority gate with your entire group and all tickets.
*Seniors using the facial recognition services will have to present a photo of themselves via smartphone to the staff when riding an attraction or have their guardian do it for them.
*The attractions inside Thomas Land are also applicable.
*Certain attractions are excluded from the one-day pass.

Adults (from 18): 5,200 yen
Teenagers (junior high and high school): 4,700 yen
Children (elementary school): 3,900 yen
Seniors (from 65): 1,900 yen

One-Day Pass pre-purchase (E-tickets), includes unlimited rides
*Up to 8 tickets can be bought in one online purchase.
*On the day of your visit, you need to issue your ticket from the ticket machine and enter the park after the facial recognition registration.
*The attractions inside Thomas Land are also applicable.
*Certain attractions are excluded from the one-day pass.

Adults (from 18): 5,200 yen
Teenagers (junior high and high school): 4,700 yen
Children (elementary school): 3,900 yen
Toddlers (from 1): 1,900 yen
Seniors (from 65): 1,900 yen

One-Day Ticket (sold on the day), includes unlimited rides
*The attractions inside Thomas Land are also applicable.
*Certain attractions are excluded from the one-day pass.
*The toddler ticket comes with a commemorative gift

Adults (from 18): 5,700 yen
Teenagers (junior high and high school): 5,200 yen
Children (elementary school): 4,300 yen
Toddlers (from 1): 2,000 yen
Seniors (from 65) and pregnant women: 2,000 yen

Afternoon Pass
Unlimited rides from afternoon to closing.
*From 1:00 p.m. on days with a closing time between 5 and 6:00 p.m., from 2:00 p.m. on days with a closing time at 7:00 p.m.
*Not sold on December 31.
*Prices vary by time.
*The attractions inside Thomas Land are also applicable.
*Certain attractions are excluded from the one-day pass.
*The toddler ticket comes with a commemorative gift

Adults (from 18): 3,600 yen
Teenagers (junior high and high school): 3,300 yen
Children (elementary school): 3,000 yen
Toddlers (from 1): 1,600 yen
Seniors (from 65) and pregnant women: 1,600 yen

Single Smart Free Pass
A one-day pass for guests visiting the park by themselves.
You will be able to ride Fujiyama, Takabisha, and Eejanaika as a solo rider.

Regular price (all ages): 5,300 yen

Zekkyo Priority Ticket
Enjoy Fuji-Q Highland's most popular attractions with barely any waiting time.
The prices are the same for all ages and vary by attraction and time.


Via Gurutabi
Don't forget Fuji-Q Highland Tickets!
Save money and hassle - make your trip extra memorable by getting these useful tickets on our partner site, Rakuten Travel Experiences!
*This information is from the time of this article's publication.
*Prices and options mentioned are subject to change.
*Unless stated otherwise, all prices include tax.