When you're considering a Japan ski holiday, there's a lot to love about Tohoku! This highly accessible region, just north of Tokyo, is home to a variety of ski resorts, making it one of the more attractive winter destinations.

Here we will introduce our top 10 recommended Tohoku ski resorts for foreign tourists! These include resorts with shuttle buses directly to the station, those with nearby sightseeing attractions, and especially, those with staff who are able to speak other languages.
Tons of Great Tohoku Ski Resorts!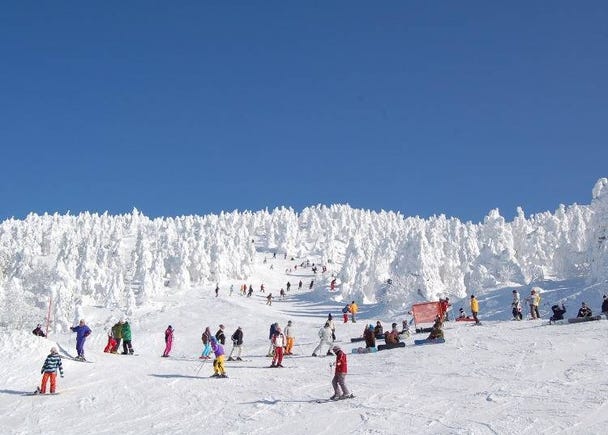 Tohoku has many unique ski resorts, ranging from large resort ski resorts with plenty of hotels to smaller ones that use the topography of the mountains and valleys in their courses. There are also many ski resorts with long business periods, and you can even find skiers in short-sleeves enjoying summer skiing in Tohoku as late as May!

Also, it is only at Tohoku ski resorts where you can see such high altitudes and the natural phenomenon "juhyo," or frost-covered trees (also called "snow monsters") that are created by the severe cold. Some ski resorts offer "juhyo tours" by snowmobile, so you can enjoy the views, even if you can't ski!
Special Features of Tohoku Ski Resorts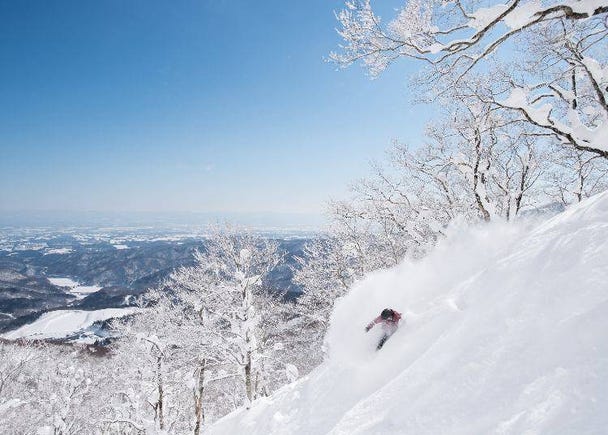 The best feature of Tohoku skiing is the smooth quality of the snow! The snow is very light, so you feel as if you are floating as you glide down the slopes.

In recent years, an increasing number of ski resorts offer areas of "unpressed snow," such as the "Tree Run Zone," where you can enjoy the best quality powder snow. You may need to register in order to ski this course, so please be sure to check ahead of time.

Another feature is the nearby Onsen Town, which has a number of hot springs resorts. We also recommended scheduling a day trip for a nice, relaxing soak.
1. Aomori Spring Ski Resort: A Stunning View of the Sea of Japan from the Slopes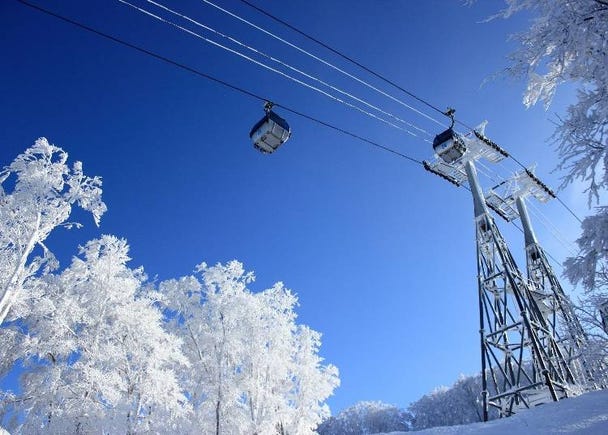 The Aomori Spring Ski Resort is surrounded by old-growth beech forests and located on the northern slope of Mt. Iwaki, the highest peak in Aomori Prefecture.

One of the charms of this fantastic Tohoku skiing area is the steady amount of snowfall and smooth snow quality that they receive throughout the season.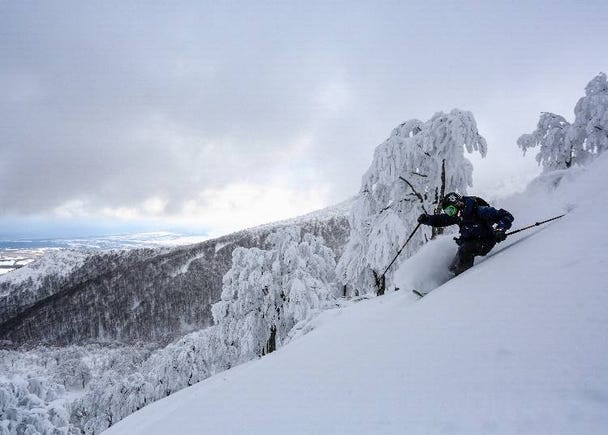 There are 14 available courses, ranging from beginner to intermediate. There is even a 3.5km long beginners' course that starts from an altitude of 921 meters. Make tracks as you ski your course, accompanied by a superb view of the Tsugaru Plains and the Sea of Japan.

For advanced skiers, back-country tours are recommended. A guide familiar with the mountain areas will take you through the slopes with the best conditions on that day. There are also English-speaking guides available.
青森スプリング・スキーリゾート

Address

Ajigasawa-kogen, Ajigasawa-cho, Nishitsugaru-gun, Aomori-ken

Phone Number

0173-72-1011

Business Hours: 8:30AM~9:30PM (may vary seasonally)
Fee: One-day ticket, 4,800 yen
Regular Holidays: None
2. Lake Tazawa Ski Resort: Overlooking Lake Tazawa from the Slopes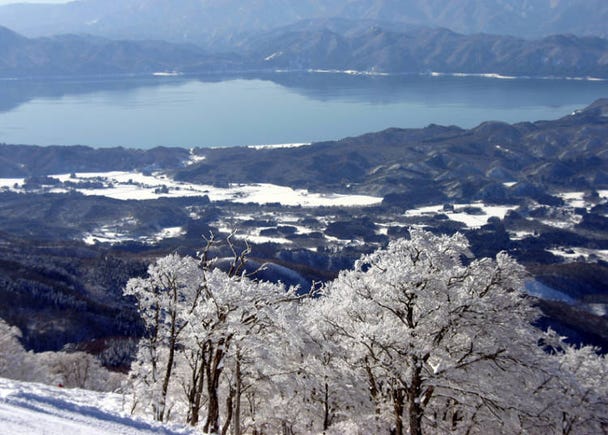 Lake Tazawa, one of Akita Prefecture's most famous tourist attractions, is said to be the deepest lake in Japan.

Located in the eastern part of the area, Lake Tazawa Ski Resort boasts an excellent location where each of the 13 ski courses offer a stunning view of Lake Tazawa. Choose the course that suits your level and preference. They range from beginner to advanced and even include family-friendly, wide, gentle slopes, three unpressed snow courses for advanced skiers, and even the course where the Moguls World Cup is held.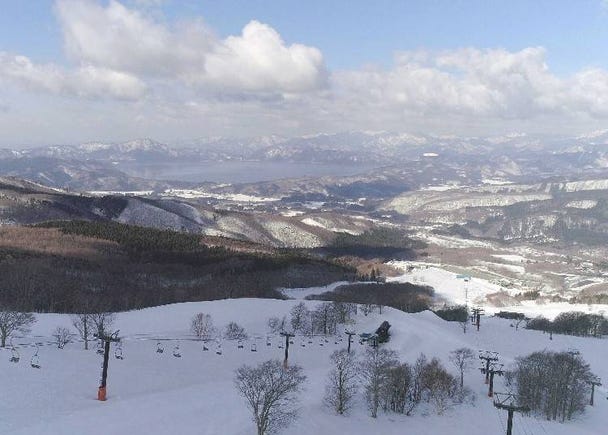 All facility information is available in multiple languages to support foreign guests. Other famous cultural attractions in the area include Mizusawa Onsen, Nyuto Onsen, and Bukeyashiki Samurai Residence Street, all within 30 minutes from this Tohoku ski resort.
たざわ湖スキー場

Address

Shimotakano-73-2, Tazawako Obonai, Semboku-shi, Akita-ken

Phone Number

0187-46-2011

Business Hours: 9:00AM~4:00PM
Fee: Varies
Regular Holidays: None
3. APPI-Kogen Ski Resort: Best Quality Snow on a Long Course
The Appi Kogen Ski Resort, located in the northwestern part of Iwate Prefecture, is one of Japan's largest ski resorts, with 21 courses and a total run distance of 43 kilometers. The maximum course distance from the summit is over 5 km long.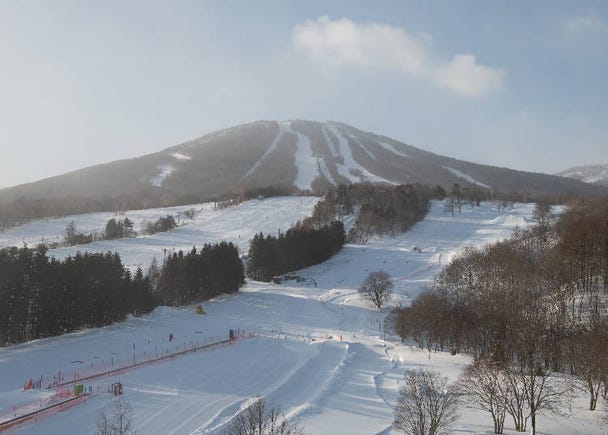 The snow covering the spacious course area is carefully pressed for max ease and comfort when skiing for an extended period of time. If you prefer light snow close to that of Hokkaido, try the 2km long unpressed snow course, and kick up some powder snow!

Advanced skiers may want to try the special Tree Run Zone, which has several entry procedures and requirements. There are also many foreign language speaking staff members at the ski resort and the hotels.
安比高原スキー場

Address

Appikogen, Hachimantai, Iwate 028-7306

Phone Number

0195-73-5111

Business Hours: 8:30AM~8:00PM
Fee: 8-hour ticket, 5,600 yen (price may vary by time)
Regular Holidays: None
4. Geto Kogen Resort: An Expansive Tree Run through Heavy Snow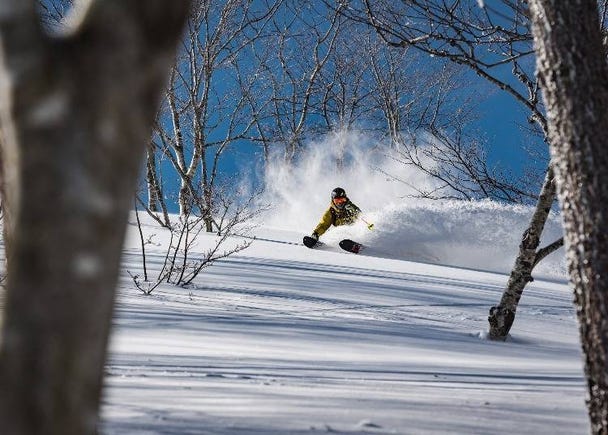 The Geto Kogen Resort in Kitakami, Iwate Prefecture, is famous as a resort that gets some of the heaviest snowfall. Not only do they have good-quality snow, but courses also boast a reset rate that almost guarantees fresh, track-free slopes each time, even if you just skied a new path down.
Their tree run course is also frequented by many advanced skiers. There are also five great areas for taking photos. For families, there are beginner courses with gentle slopes you can cruise along while enjoying the scenery of the slopes and the beech forests.

A free shuttle bus runs between Kitakami Station and the Shinkansen. There is also lodging in the area, such as the resort's "Skier's Bed." Wi-Fi is available throughout this Tohoku ski area.
夏油高原スキー場

Address

Iwasakishinden, Wagacho, Kitakami-shi, Iwate-ken

Phone Number

0197-65-9000

Business Hours: 8:30AM~9:00PM (lift hours)
Fee: One-day ticket, 4,900 yen (price may vary by time)
Regular Holidays: None
5. Mt. Gassan Ski Resort: The Mecca for Summertime Skiing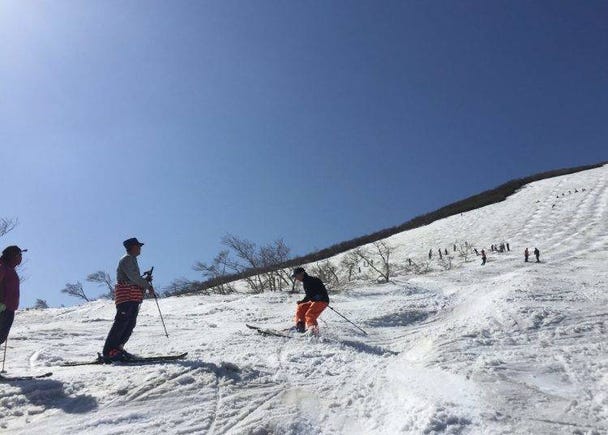 Mount Gassan Ski Resort is located in Bandai Asahi National Park, where skiers and snowboarders gather from around the world to enjoy a summer Tohoku skiing mecca. It is open in early April, when regular ski areas close, until late July. The experience of skiing on the last remaining snow on the slopes surrounded by fresh green beech trees is a valuable part of summertime skiing.
Because it is a national park, the grounds are not specially maintained, leaving natural bumps in the snow-covered slopes, resulting in more of a "wild ride" experience than you would get by skiing in a resort. The unevenness is even more prominent throughout June, so if you prefer less of a bumpy ride, we recommend visiting between April and May.
月山スキー場

Address

Tsukiyamazawa, Nishikawacho, Nishimurayama-gun, Yamagata-ken

Phone Number

0237-75-2025

Business Hours: 8:00AM~4:30PM
Fee: One-day ticket, 4,600 yen (price may vary by time)
Regular Holidays: None
6. Zao Onsen Ski Resort: Glide Through Nature's Artwork, "Snow Monsters"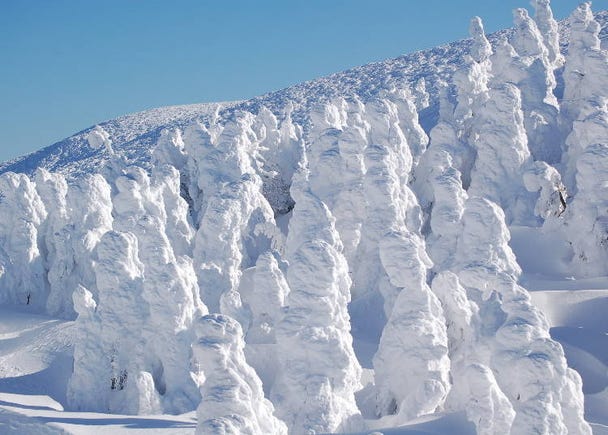 Zao Onsen Ski Resort is located on the Yamagata side of the Zao Mountain Range. With a total area of 305 hectares, it is one of the largest ski resorts in Japan, boasting an area so expansive you couldn't run all the courses in a single day if you tried.

That being the case, there are a variety of courses available, including carefully prepared courses built according to the topography of the land, and super-advanced courses with maximum slopes of 38 degrees.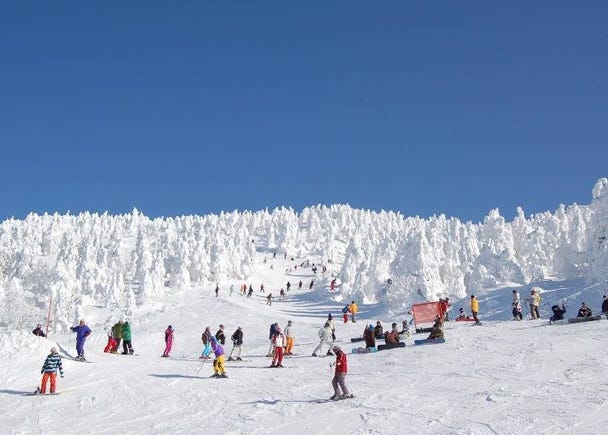 The recommended course is the "Juhyo Course," or "Ice trees" course, which runs down from the top of the mountain. These frost and ice-covered trees are also sometimes called "Snow Monsters."

Seasonal winds blow through the conifer trees, creating the "ice tree snow monsters" that form when water drops and snow mix and harden. Many skiers from all over the world visit each year to see these wonderful artworks of nature that are only created under very specific wind and temperature conditions. After skiing, immerse yourself in the famous hot springs that dot the foothills to soothe your muscle fatigue.
蔵王温泉スキー場

Address

Zao Onsen, Yamagata-shi, Yamagata-ken

Phone: 023-694-9617 (Zao Samuel Kyokai)
Business Hours: 8:15AM~5:00PM
Fee: One-day ticket, 5,000 yen (price may vary by time)
Regular Holidays: None
7. Tengendai Kogen: A Beautiful Downhill Long-Course
Tengendai Kogen, located in the southeastern part of Yamagata Prefecture, is a ski resort with a long snowy season that lasts until Golden Week each year.

Three lifts are installed vertically to the top of these courses, the longest one boasting a maximum length of 6 kilometers and an altitude of 900 meters.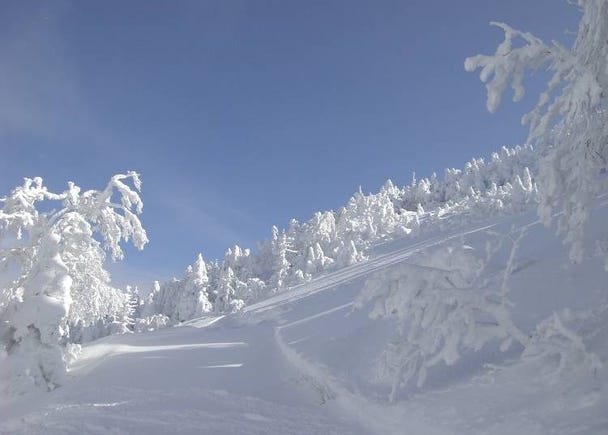 The slopes aren't overly packed with snow, so you can enjoy the feeling of flying through light, fresh snow. There is also a "Snow Hike" tour of Tengendai Kogen, which overlooks the Yonezawa basin from an altitude of 1,350 meters above sea level. Take a walk through the snowy fields wearing traditional Japanese snowshoes called "kanjiki."
Tengendai Kogen Ski Resort

天元台高原

Address

Tengendai, Shirabu Onsen, Yonezawa-shi, Yamagata-ken

Phone Number

0238-55-2236

Business Hours: 8:20AM~4:00PM
Fee: One-day ticket, 4,500 yen (price may vary by time)
Regular Holidays: None

Vacancy search, reservation

Please enquire directly about rates.

Check with our partner site as the latest rates, rate details, and guest room requirements may vary.
8. Sumikawa Snow Park: Exciting Snowmobile Tours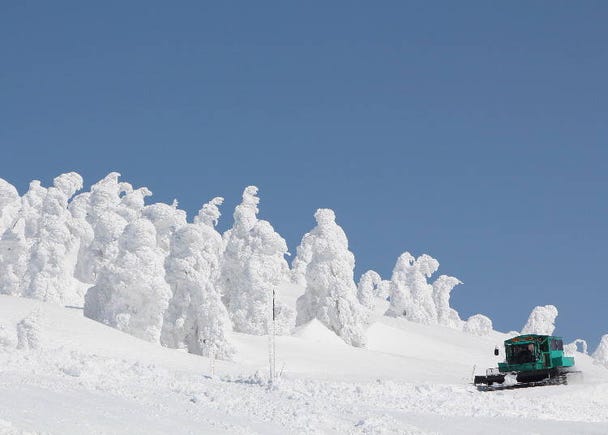 Sumikawa Snow Park is located on the Miyagi Prefecture side of the Zao Mountain Range. It is another ski resort where you can see the rare natural "Snow Monster" phenomenon.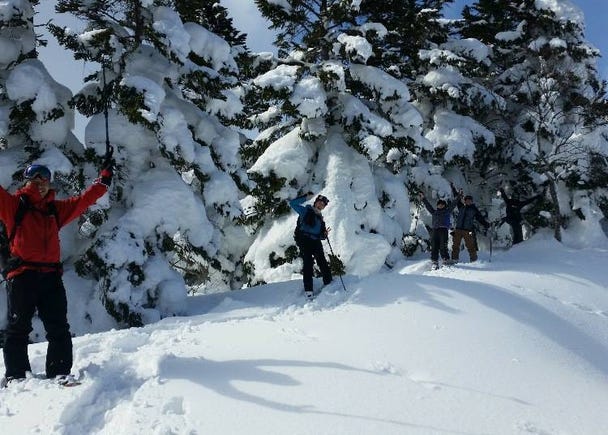 Although it is a bit more compact, this resort offers eight courses that make use of the varied topography, such as swamps, forests, and well-maintained parks. Various tours are also available, including a backcountry tour and a Snowcat tour where you can ride a snowcat up to Mount Katta.

The "Ice Tree Tour" is popular with tourists who can't ski or snowboard, and takes you to a field of ice trees at an altitude of 1,600 meters via snowmobile. Stroll through the fields for a glimpse of these powerful Ice Tree forests.
すみかわスノーパーク

Address

Slope Rest House, Kuraishidake National Forest, Zao, Togatta Onsen, Katta-gun, Miyagi-ken

Phone Number

0224-87-2610

Business Hours: 8:30AM~4:00PM
Fee: One-day ticket, 3,500 yen
Regular Holidays: None
9. Hoshino Resort Nekoma Ski Resort: A Powder-Snow Paradise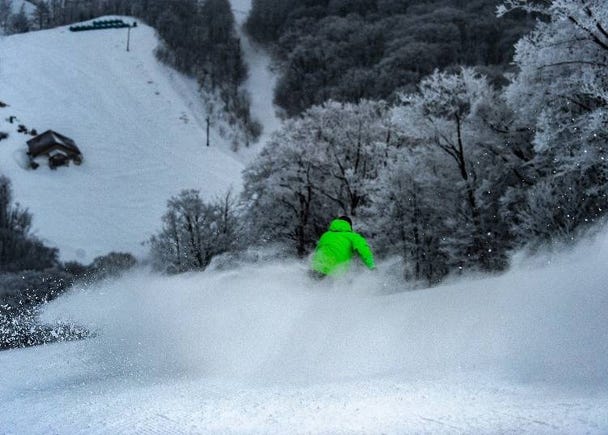 Hoshino Resort Nekoma Ski Resort is located in the heavy-snowfall area of the Urabandai mountain range in Fukushima Prefecture. Although it is located in the south of Tohoku, this ski resort boasts a dry inland climate, an altitude of over 1,000 meters, a north-facing slope, and smooth powdered snow brought by chilled lakes.
Micro-fine, high-quality powder snow here piles up generously, making for a comfortable, good-quality ski down that attracts many fans from far away. The business operates for an extended period, all the way until Golden Week. There are evensSpring-only services such as free ski and snowboard rentals available.
Hoshino Resorts Nekoma Snow Park & Resort

星野リゾート 猫魔スキー場

Address

1163 Nekomayama, Hibara, Kitashiobara-mura, Yama-gun, Fukushima-ken

Phone Number

0241-32-3001

Business Hours: 8:30AM~4:00PM (may vary seasonally)
Fee: Varies
Regular Holidays: Jan 14~Mar 3: Tues, Wed, Thurs
10. Hoshino Resorts Alts Bandai: A World-Class Park to Brag About
Hoshino Resorts Alts Bandai, which spans the three mountains of Mount Bandai, Mount Nekomadake, and Mount Mayatakesan, is one of the largest snow resorts in Japan.

A variety of courses are available, including a kids' area, a gondola area overlooking Lake Inawashiro, a symbol of Fukushima, and a park where athletes from all over the world come together.
Activities other than the typical snow sports include "snow rafting," in which you ride an inflatable rubber raft pulled by a snowmobile, and the Bandai Observation Deck on the top of the mountain. You can stay at a hotel that connects directly to the slopes to reduce travel time, giving you more time to even enjoy a relaxing spa visit.
Hoshino Resorts Alts Bandai Snow Park & Resort

星野リゾート アルツ磐梯

Address

6838-68 Sarashina Shimizudaira, Bandai-machi, Fukushima-ken

Phone Number

0242-74-5000

Business Hours: 8:30AM~4:30PM (weekends & holidays: 8:00AM~5:00PM)
Fee: One-day ticket, 4,900 yen
Regular Holidays: None
Text by: SHOE PRESs
*This information is from the time of this article's publication.
*Prices and options mentioned are subject to change.
*Unless stated otherwise, all prices include tax.