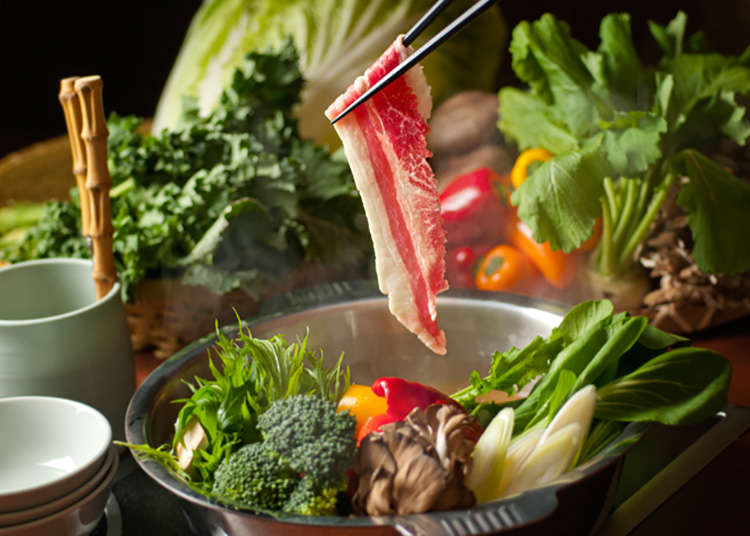 We will be introducing to you restaurants offering a toushitsu-seigen lunch (low-carb lunch) that can satisfy you despite limiting the amount of carbohydrates in the meal. Our list offers a wide variety of meals from Chinese food to shabu-shabu (a Japanese dish featuring thinly sliced beef lightly boiled in water)!
Makizushi (a type of Japanese sushi roll wrapping various fillings) of nuts paste without rice! Tahichian Nonicafe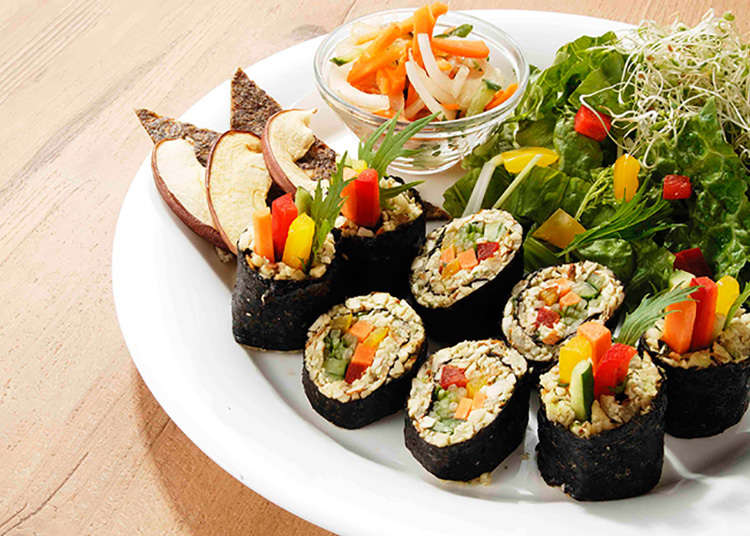 The cafe not only offers healthy drinks and sweets containing Noni, special fruit used for tea and other foods popular in Tahiti and Hawaii, but also prepares meals containing low GI ingredients which are effective in slowing the increases in blood sugar level and in healthy dieting. Pleasantly arranged on a plate, the makizushi contains roughly ground nuts paste instead of rice and wraps vegetables inside the paste. Aside from cutting a huge amount of sugar by removing rice, unroasted nuts used for the paste contain a lot of enzymes. Even for the side dish and salad, organically cultivated ingredients are used and no additives are used.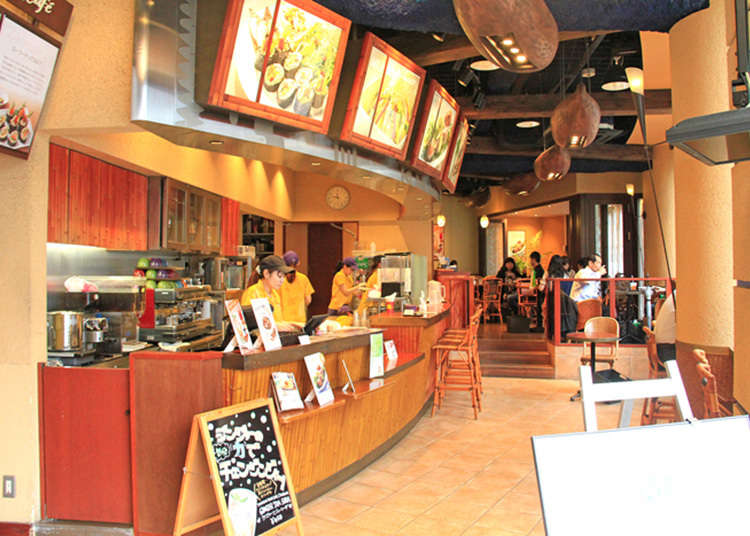 They also have a healthy menu which prevents accumulating AGEs, one of the causes of aging and produced by the excess of sugar in the body combining to the protein. AGE has been considered to be one of the reasons of aging, therefore, it is important not to pile it up. In order to prevent accumulating AGEs, AGE-less menu made from specific ingredients and cooked by innovative methods was developed. It is popular among health-oriented people.
タヒチアンノニカフェ

Address

3-2-2, Nishishinjuku , Shinjuku-ku, Tokyo, 160-0023
Surprisingly Healthy Menue at Chinese Restaurant Fun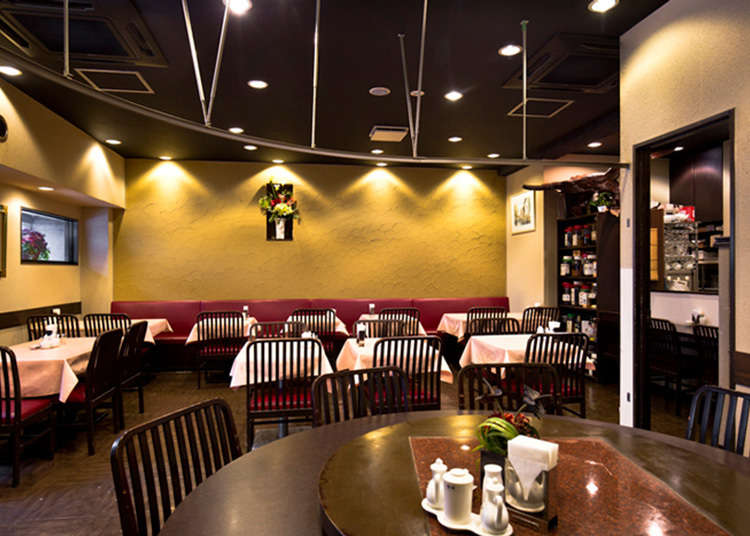 The Chugoku Ryori (Chinese Restaurant) Fun is located in Shinjuku where business people come and go all the day and famous for gourmets. You will be able to savor your lunch in their clean, refined interior decorated by seasonal flowers. The restaurant also accepts catering orders from famous people, and the taste of the dishes is well-established. The low-carb menu here was originally the idea from the owner who started researching on low-carb meals in order to improve his own health. Since potato starch and sugar are needed for Chinese cuisine to give it rich taste, it is challenging to make such delicious foods while keeping content amount of carbohydrate low. The chefs in the restaurant always try to create new recipes every day.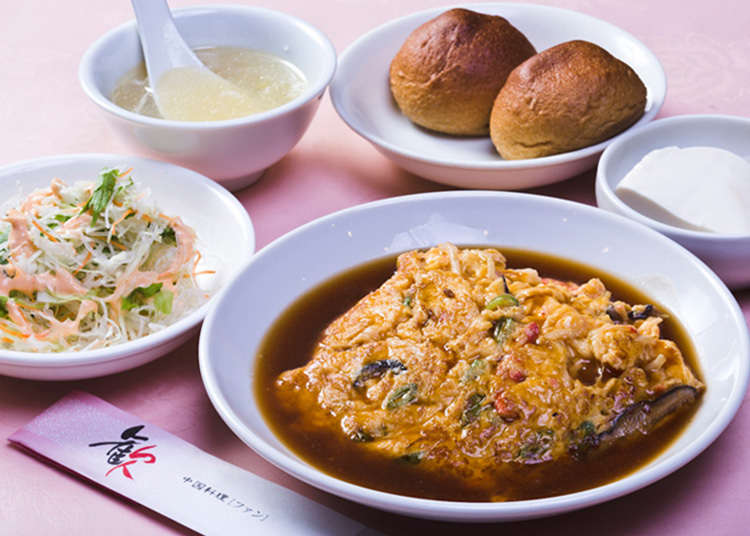 For lunch time, we recommend the Diet Lunch set which is accompanied with the main dish (you can choose), salad, soup, bread made of wheat bran, and dessert. Sugar is not used in any of the dishes including the dessert, and sugar intake would be 15 grams even if you finish it all. It is equivalent to the sugar amount in 1/3 of an onigiri (Japanese rice ball). The main dishes for the Diet Lunch are changed every week. One of the popular standard, Kanitama-amazu-ankake (crab meat omelet with sweet vinegar sauce) has tightly packed fillings in the fluffy egg, giving an extravagant taste. Since it is a popular store in a business district, you may have to line up during peak hours. Be prepared for it from 11:30 to 12:00 pm.
歓

Address

6-7-3, Shinjuku, Shinjuku-ku, Tokyo, 160-0022
Applying Nabe (Japanese hot pot dishes) in a buffet for effective sugar reduction! Nabezo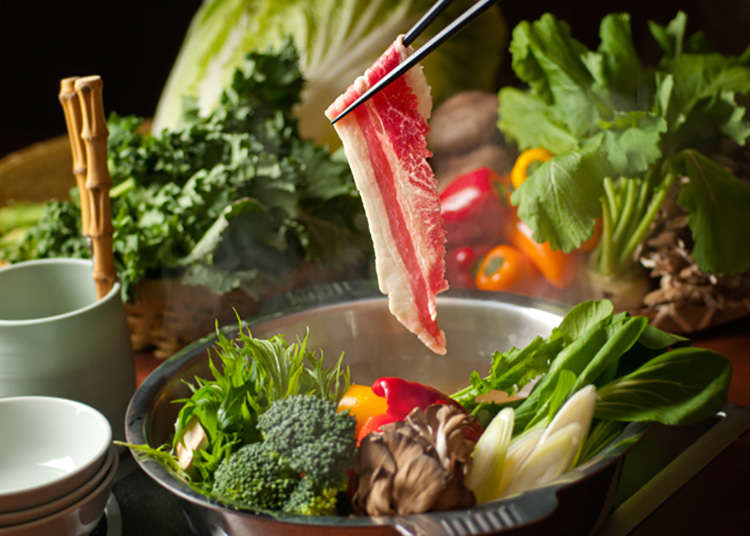 A good thing about low-carb diet is that you can eat plenty of meat and fish by reducing the sugar intake. Then, how about to try the all-you-can-eat lunch at Nabezo? Among the several of Nabezo branches in Shinjuku district, the Shinjuku Meiji-dori branch is a perfect meeting place being located near Isetan department store. The simple and natural interior inspired by Northern European design will make you feel very pleasant.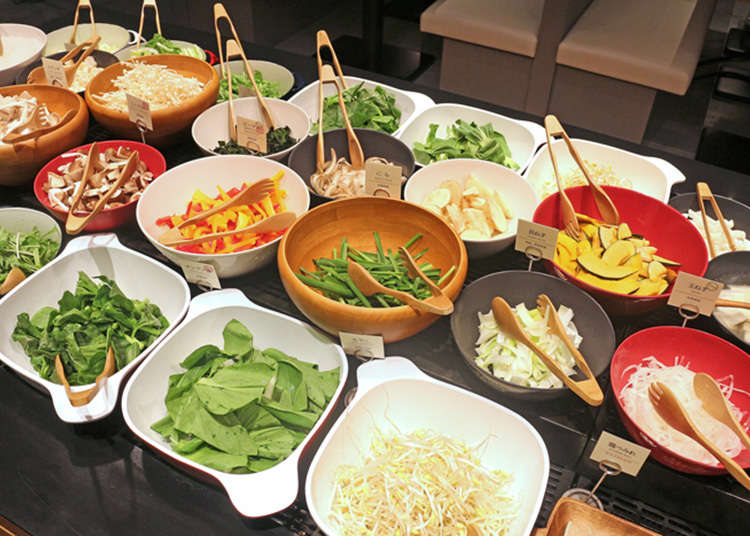 A buffet with several kinds of nabe soup and carefully selected vegetables is a clever way to cut-off sugar intake. The lunch menu here includes Buta-shabu Tabe-hodai (all-you-can-eat style pork with nabe soup) and Ushi/Buta Tabe-hodai (all-you-can-eat style beef and pork with nabe soup), and both are limited to 90 minutes. Aside from shabu-shabu, which uses boiled water, you can choose the type of soup from soy milk with collagen and spicy-and-tasty kimchi among others. More than 20 kinds of vegetables which are chosen carefully are lined up in a buffet style, and you can freely pick them up to add in your shabu-shabu soup. Avoiding root vegetables, which are usually high in sugar content, would further decrease your sugar intake. Although udon (Japanese wheat noodle) and Chinese noodle are available, you may want to eat only modest amount of them if you are really on a diet. It is hard to refuse some food when a meal is served as a set for one person, however, you can choose what to eat according to how much you are concerning your sugar intakes thanks for this buffet style. Be sure to try a lunch filled with meat while keeping low-carb.
Address

Rainbow village building 7F,3-5-4, Shinjuku, Shinjuku-ku, Tokyo, 160-0022
View Map

Nearest Station

Shinjuku-Sanchome Station (Tokyo Metro Marunouchi Line / Tokyo Metro Fukutoshin Line / Toei Shinjuku Line)


Phone Number

03-5362-7792
Area

Category

Articles Genre
*This information is from the time of this article's publication.