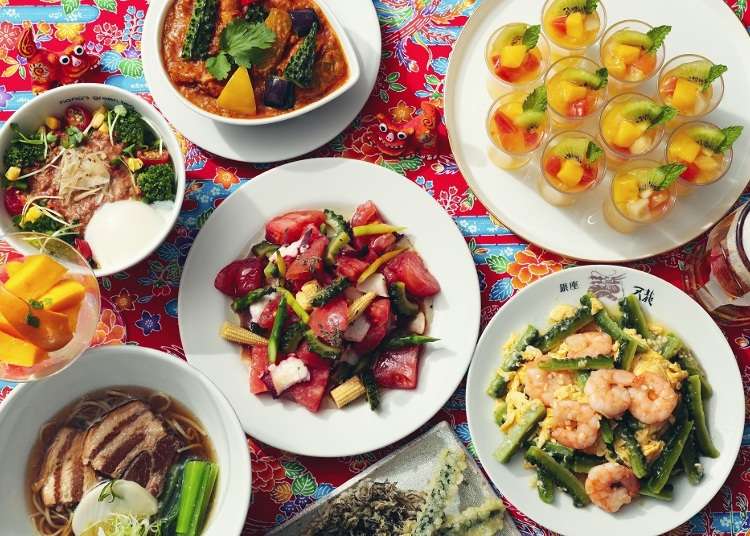 It's summer in Japan and that means plenty of traditional festivals and fireworks! There's something happening pretty much every day, so it can be hard to choose where to go and what to skip. Because of that abundance of things to do, we want to highlight interesting events that probably won't be on your radar – those in department stores and shops in Tokyo and Yokohama! They're fun, unique, and air-conditioned, so just the right thing to escape the summer heat for a while! Look forward to meeting iconic characters of Japanese pop culture, movie premiere events, and more!
The Okinawa Gourmet Fair: Tasting Okinawan Cuisine at Solamachi, Right Next to Tokyo Skytree!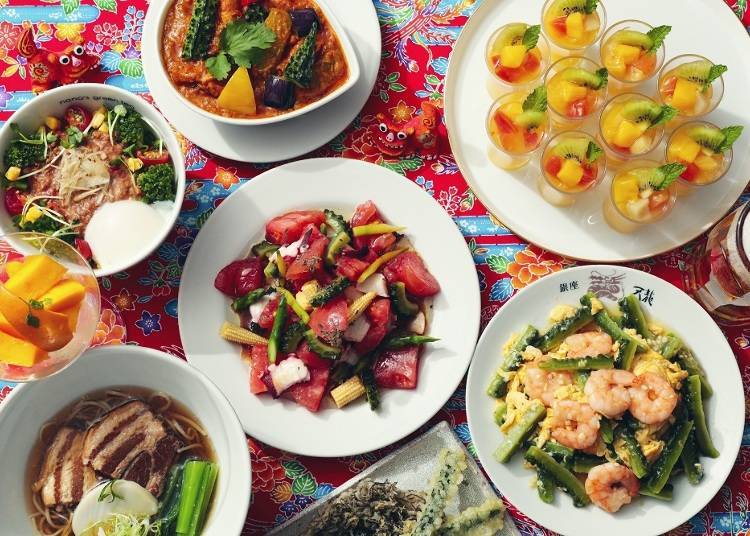 Event Period: July 12 (Fri) – September 2 (Sun), 2018

The Okinawa Gourmet Fair whisks you away to the delicious world of Okinawan cuisine, Japan's southernmost prefecture. The event is held at Solamachi, the shopping complex at the foot of the famous Tokyo Skytree. Explore the many participating restaurants on 6F, 7F, 30F, and 31F of Solamachi, but do come with an empty stomach! We promise that you won't be able to get enough of the taste of Okinawa!
● This is Okinawa! Enjoy Authentic Dishes with Okinawa-Only Ingredients!
Of course, you'll find all representative dishes and ingredients of Okinawan cuisine waiting to be savored, such as bitter melon (gōya) and a variety of local specialties. Just look for the "Solamachi Limited Menu" at each store, because that's where all the irresistible Okinawan delicacies can be found! Let's take a look at some of the gourmet highlights!

・Rafute Soba (Noodles with Okinawan Glazed Pork) at Komatsuan Main Shop (East Yard 7F)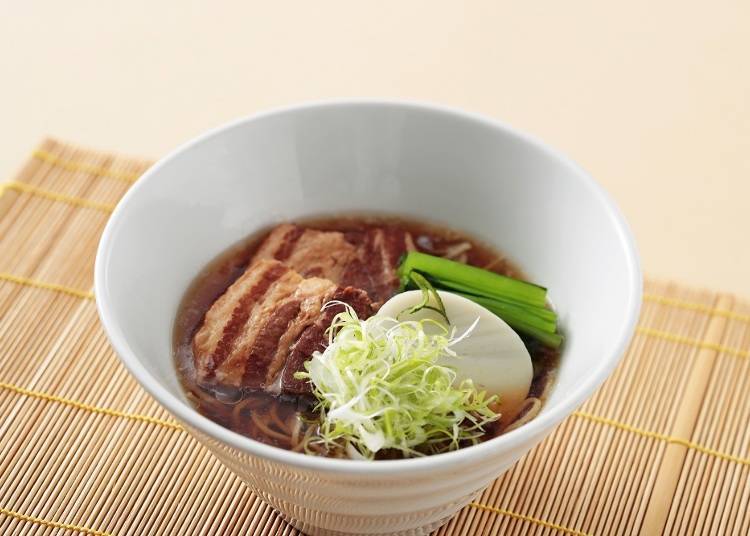 Japanese food fans surely know of soba, the classic buckwheat noodles. Okinawa adds its own specialty called rafute to the savory noodles, a dish of pork belly stewed in soy sauce, sugar, and sake. It boasts a wonderfully rich taste with plenty of juicy pork!
※Not on the menu between August 11 and 15.

・Pork Shabu-Shabu and Gōya Mizore Pasta (Pasta with Grated Radish and Bitter Melon) at Kokonoha (West Yard 4F)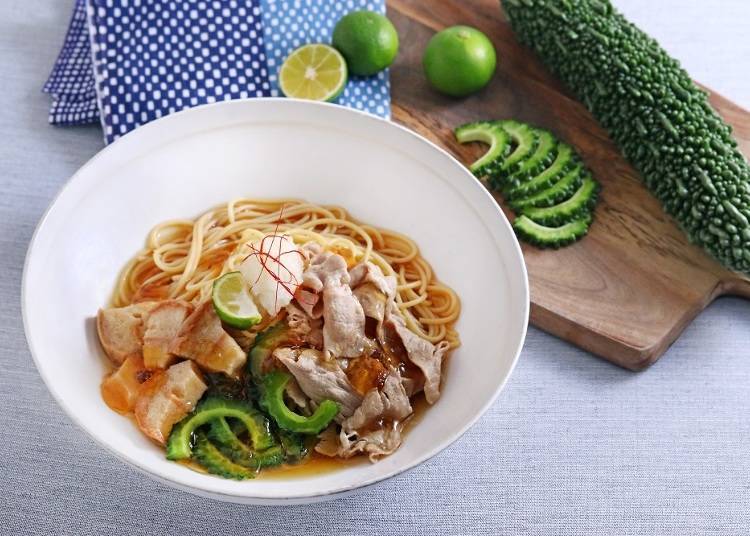 This pasta dish is served cold and offers a perfect refreshment in the humid summer heat. The grated radish and bitter melon enhance the taste with a gentle bitterness that will cool you down and pleasantly tickle your taste buds! The noodles also come in a bit of soup, created after the image of Okinawa's famous champloo dish.

・Loco Moco-style Plate with Spam at Ginza Grill Cardinal (East Yard 7F)
Ginza Grill Cardinal is famous for its hamburger steak, so the restaurant used its strength to create this plate with Okinawa's favorite, spam. Enhanced with fried egg and savory sauce, enjoy a casual meal that highlights the relaxed side of the Okinawan lifestyle.
※Only on the menu between 5:00 p.m. and 10:00 p.m.

・Okinawa Soba Monja at Tsukishima Meibutsu Monja Daruma (East Yard 7F)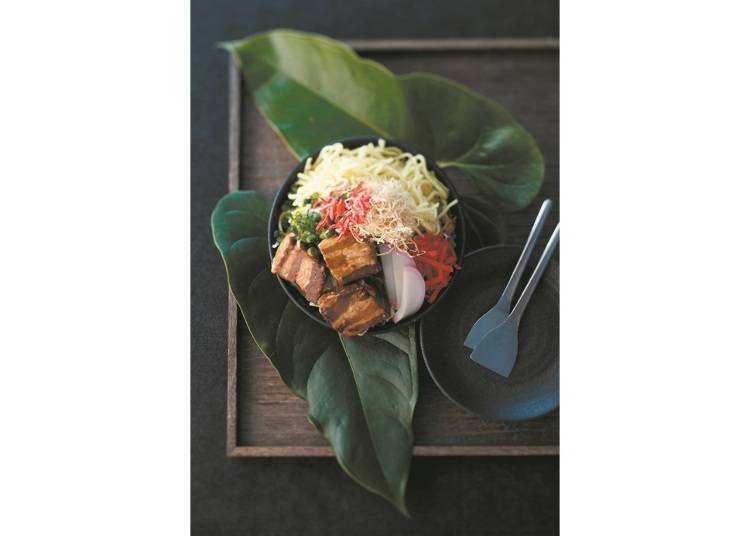 The specialty of Tokyo's Tsukishima area is monja or monjayaki, a batter dish fried on a hot pan. This local Tokyo dish meets Okinawa by adding simmered pork belly that has a wonderful melt-in-the-mouth quality! The bonito soup stock gives an extra flavor kick that will make this dish quickly become one of your favorites.

・Double-lined Fusilier (gurukun / takasago), Dried Overnight at Edo Tokyo Sushitsune (East Yard 7F)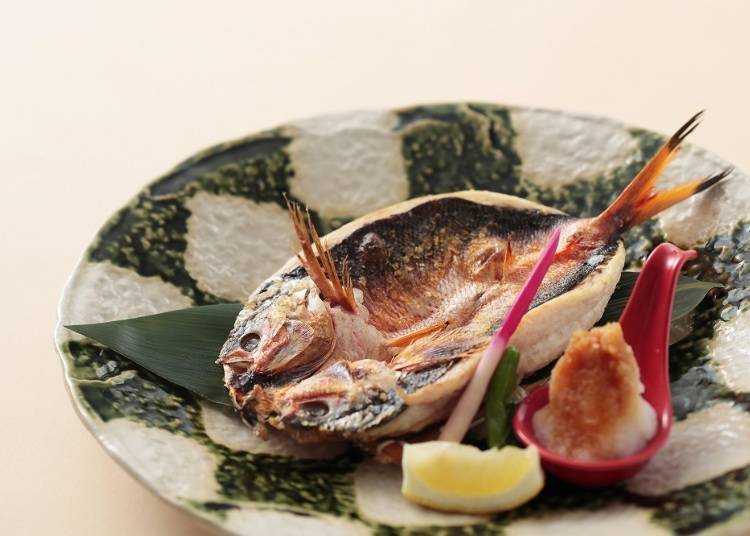 Gurukun is the Okinawan name for a fish we call Double-lined Fusilier in English. Edo Tokyo Sushitsune lets you savor that local delicacy dried overnight, all homemade and absolutely irresistible! Usually, this fish is eaten fried but because it is a bit on the fatty side, it makes an excellent dish when dried. Those who want to discover Okinawa's seafood cuisine, this dish is for you.

・Okinawan Mozuku Seaweed and Bitter Melon Tempura at Shokkan (East Yard 30F)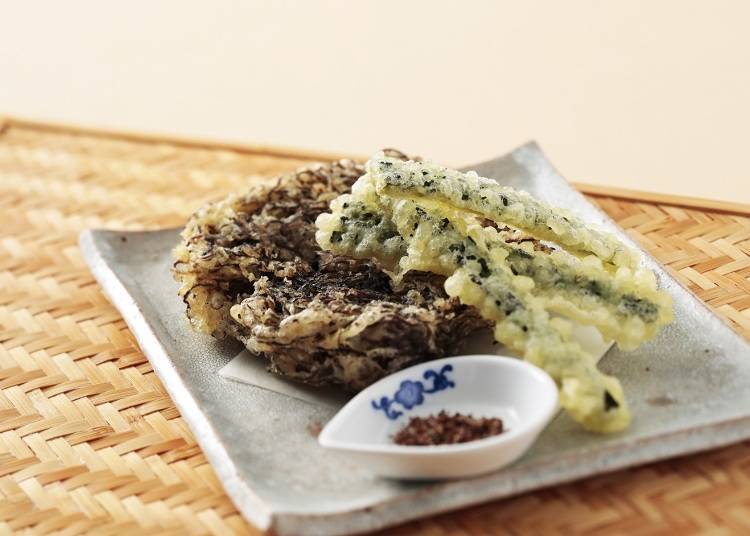 Mozuku seaweed is a well-beloved ingredient in Okinawa because it is pleasantly firm to the bite and boasts a whole lot of nutrients. As tempura, it is exceptionally crunchy and makes for a simple but extraordinary excursion to the world of Okinawan cuisine, paired with the characteristic bitter melon. Simply sprinkle a bit of sea salt on it and take your taste buds on a southern adventure!
※Only on the menu between 5:00 p.m. and 9:45 p.m.
● Tropical Sweets from Okinawa Keep You Cool in the Heat!
The Okinawa Gourmet Fair doesn't only feature yummy main dishes but also a colorful selection of refreshing sweets! From dragon fruit to mango, dive head-first into Okinawa's tropical taste and experience the summer from its sweetest side!

・WOW WOW Dragon!!! COOLLY'S at Cold Stone Creamery (West Yard 4F)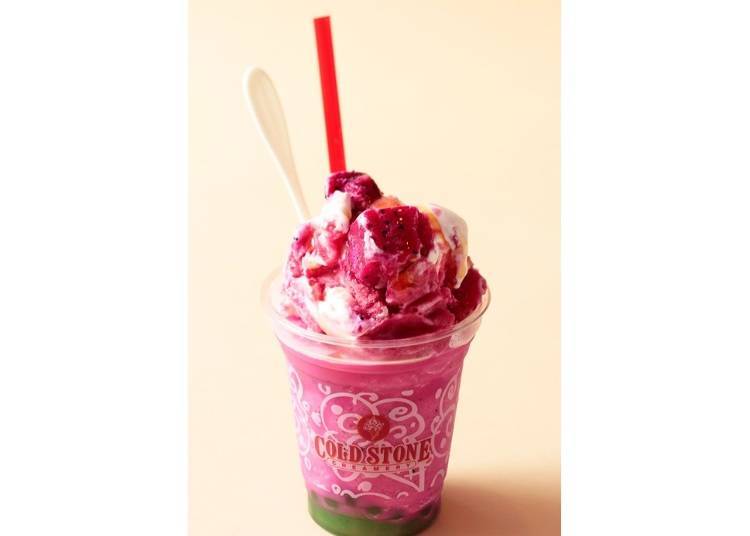 This absolutely stunning dessert pays homage to Okinawa's dragon fruit. The frozen drink is based on pitaya and topped with a kiwi juice coating, for a full-bodied fruit experience that'll refresh you to your core! Creamy milk and sour berry are the two kinds of ice cream that top this colorful creation, adding even more flavor sensations!

・Tokyo Sundae Kuromitsu (Black Syrup) at AZUMACHO CAFE ~Tokyo Cider Club~ (East Yard 7F)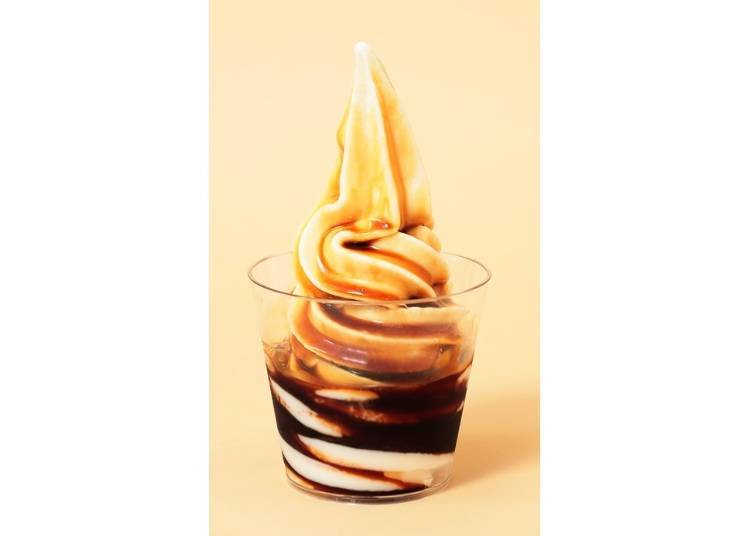 Kuromitsu is brown sugar syrup, and this one's made from a luxurious sugar straight from Okinawa! It tops a generous serving of mellow soy milk soft serve, making for an extraordinary marriage of flavors. If you're craving a sweet delight to savor under the sun, this one is for you!
● Getting Tipsy With Okinawan Beer, Cocktails, and... Goldfish?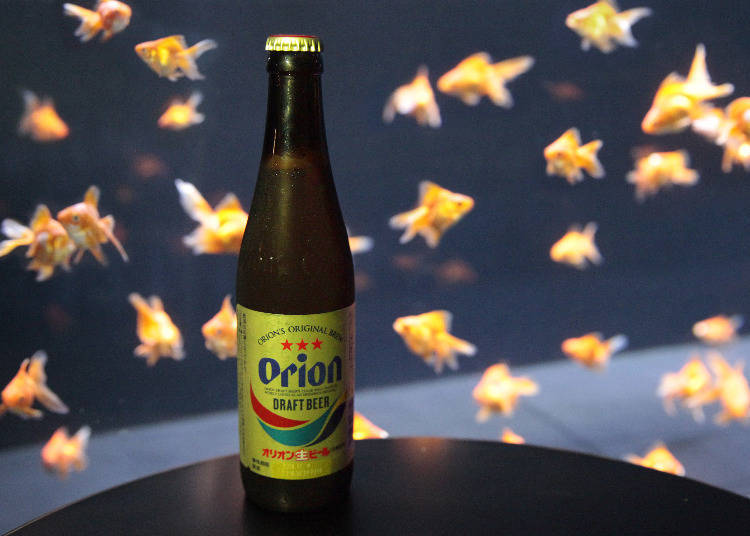 On to the Sumida Aquarium! This year, the aquarium also hosts the "World's Goldfish Beer Hall" event that features both beautiful goldfish and tasty beer straight from Okinawa! Enjoy a good Okinawan Orion as you watch the colorful fish frolicking about – especially note the ryūkin, goldfish that came from China to Ryukyu (Old Okinawa).

・Sumida Aquarium (West Yard 5F, 6F)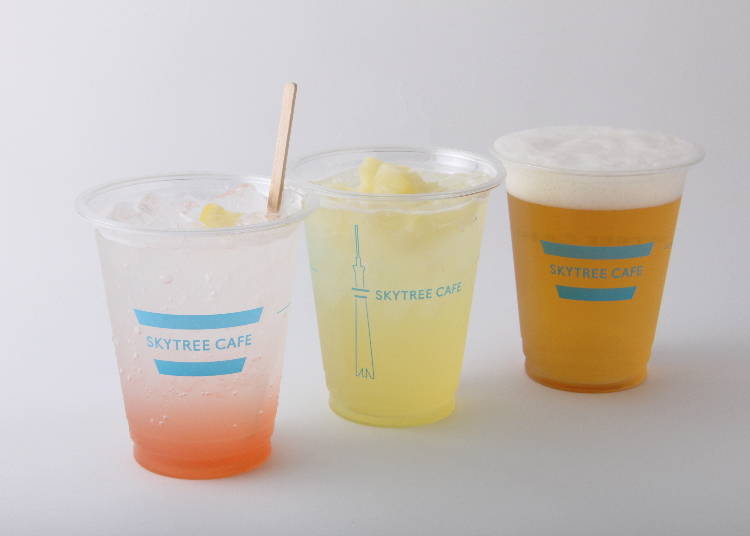 ▲(C)TOKYO-SKYTREE
If you're more the cocktail kind of person, head to the Tembo Deck Floor 340 and its Skytree Café. The menu there entices with Okinawan drinks such as Awamori Cocktail and Shequasar Pineapple Soda. Of course, Okinawan beer is also plentifully available, including Orion.

・Skytree Café (Tokyo Skytree Tembo Deck Floor 340)
Ocean's 8 Costume Exhibition: Gorgeousness and Style at Tokyu Plaza Ginza!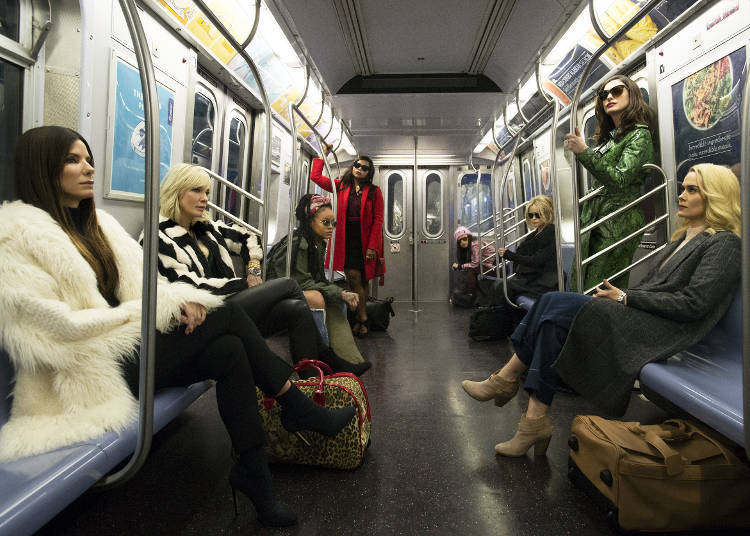 Event Period: July 27 (Fri) – August 1 (Sun), 2018

The movie "Ocean's 8" celebrates its release in Japan on August 10, following the majorly successful Ocean's 11 as the series' newest installment. The movie has attracted a lot of attention not only because of its action-loaded scenes and fun story but also because of its all-female cast. Now, Tokyu Plaza Ginza hosts an exhibition of the gorgeous costumes that the heisting heroines are wearing in the movie. It's a rare occasion to get an actual look at the professional wardrobe of Sandra Bullock and Anne Hathaway.
Ocean's 8 is a heist comedy movie that is based on the vastly successful Ocean's 11, a movie that had a group of extraordinary heisters such as George Clooney and Brad Pitt robs a ridiculous amount of money from a casino in Las Vegas. Meanwhile, Ocean's 8 features Debbie Ocean, the sister of the original protagonist Danny Ocean. Likewise, she gathers her own group of heisters – an all-female crew, this time. The grand plan is to steal a 150-million-dollar Cartier necklace from New York's famous Met Gala. Of course, navigating this extra-tight web of security and secrecy turns into an action-packed, thrilling adventure!
● The Costume Exhibition: What do Fancy Heisters Wear?
Ocean's 8 sees a team of all-female professional heisters join up to pull off a near-impossible theft. Not only the story of the movie grabs people's attention, so does the fashion of the crime team. The Met Gala is, after all, one of the world's most important fashion events, as it is a fundraising gala for the Metropolitan Museum of Art's Costume Institute itself. As it acts as the main set of the movie, you can imagine how many breathtaking outfits walk over the screen!
To celebrate the Japan premiere of Ocean's 8, Tokyu Plaza Ginza hosts an exhibition for the movie's gorgeous costumes worn by Sandra Bullock, Anne Hathaway, Cate Blanchett, and Rihanna. Even an imitation of the Cartier necklace, the target of the heist, can be adored and fawned over!

You'll find the exhibition at the Kiriko Lounge (6F) and after you've basked in the luxury of the costumes, why not stop by the Pool Side Garden on the shopping center's rooftop? Enjoy a cocktail or a glass of champagne after savoring beautiful fashion!

Ocean's 8
National release: August 10 (Fri), 2018
Distribution: Warner Bros. Pictures
©2018 WARNER BROS. ENTERTAINMENT INC., VILLAGE ROADSHOW FILMS NORTH AMERICA INC. AND RATPAC-DUNE ENTERTAINMENT LLC
Celebrate Rilakkuma's 15th Anniversary at the "Welcome to Rilakkuma Town" Exhibition at Sogo Yokohama!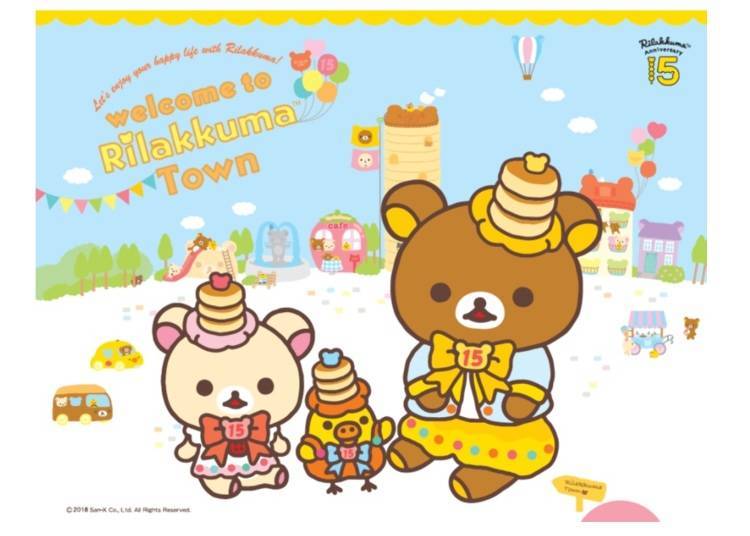 Event Period: August 8 (Wed) – August 20 (Mon), 2018

Rilakkuma is one of Japan's most beloved characters – and seriously, who can resist an "Aww!" when looking at the adorable little fella? He first made his appearance on merchandise in 2003, making 2018 the 15th anniversary of Rilakkuma. One reason why the bear is so popular is that, as his name suggests, he's always laid-back, relaxed, and rather lazy.
Rilakkuma has appeared on all sorts of products, teamed up with companies, franchises, and campaigns, and even has made waves abroad. To celebrate the 15th anniversary of the adorable character, the department store Sogo Yokohama hosts an exhibition called "Welcome to Rilakkuma Town" (Rilakkuma Town e yōkoso).
● Rilakkuma Town – Can We Live There, Please?!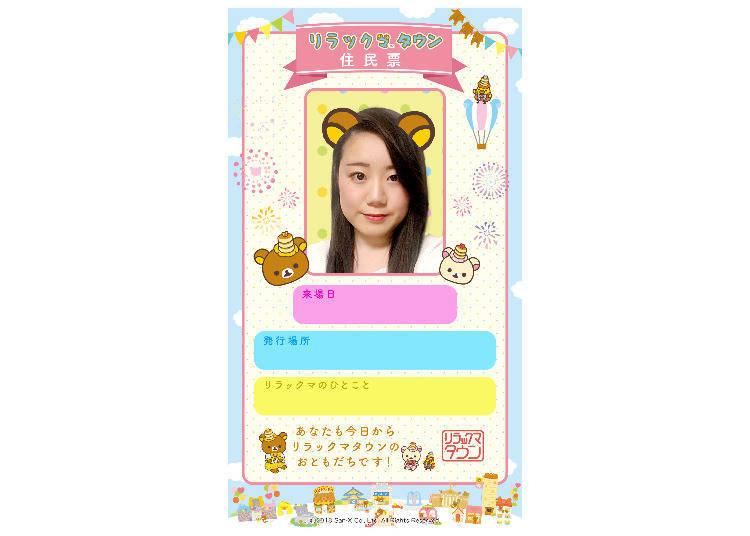 Just head to the 8th floor of Sogo Yokohama and you'll find a plaza, a museum, and large display windows all adorned by Rilakkuma and friends! Welcome to Rilakkuma Town indeed – being greeted by the bear himself wearing a costume for his 15th birthday kind of makes you never want to leave this adorable place again, ever. Actually, the exhibition lets you become a resident of Rilakkuma Town! There's a photo booth in the "forest" on the way to the town where you can get your own ID card!
● Exploring the World of Rilakkuma – and Taking Lots of Pictures!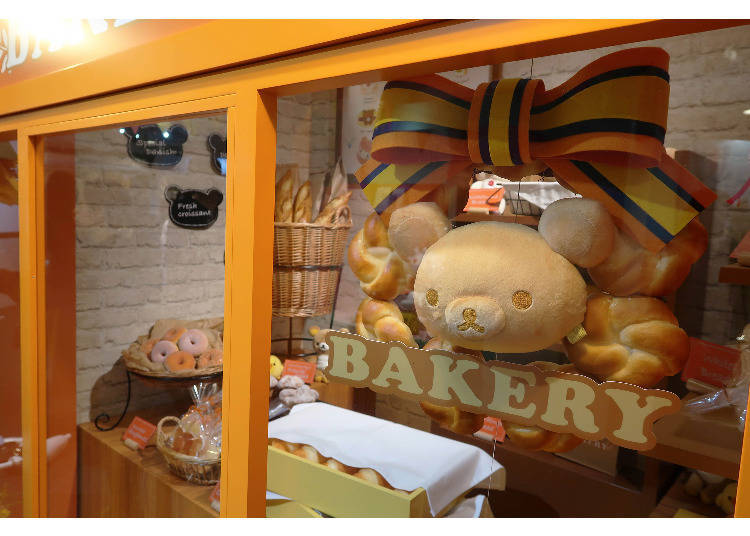 Once you've become a proper resident, continue on to the town and do some sightseeing. Don't worry, everything you see can be taken pictures of at your leisure, so go wild and get some adorable snapshots! Dedicated selfie spots help with that as well.
Additionally, there are "plushie shot spots" that encourage you to take pictures of the town inhabitants as they go about their business. This is Japanese pop culture in its cutest form, so don't hold back!
● Get Limited Rilakkuma Goodies!
Once you've thoroughly explored Rilakkuma Town, why not stop by the market and its cute display windows? About 100 limited anniversary goodies wait to be picked up, so it's the perfect occasion to find an adorable souvenir or two. Plushies, straps, handkerchiefs – there are basically no limits to Rilakkuma Town's own market! We especially recommend the brand-new lip balm by Sogo Yokohama and its cute illustration!
The first 100 people each day who make a purchase for over 5,00 yen (tax included) will get an A4-sized tote bag (four designs, changes daily)!
● Meet Rilakkuma, Korilakkuma, and Kiiroitori!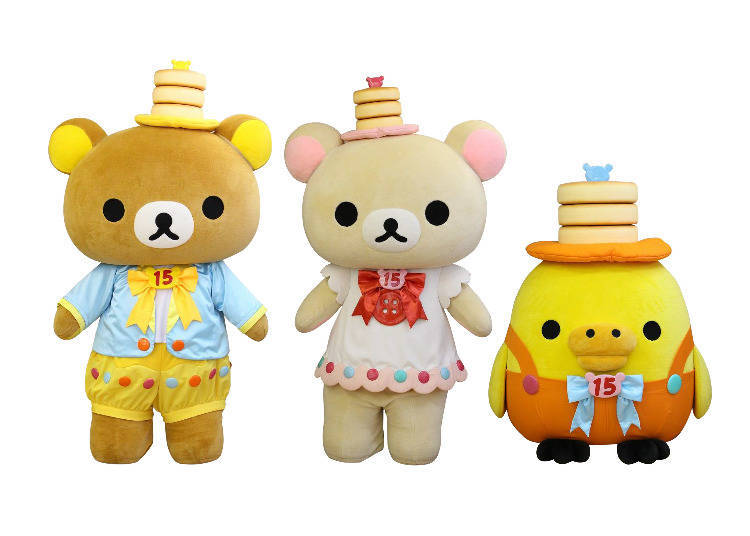 On August 11, a Saturday and public holiday, you'll even get to meet Rilakkuma, Korilakkuma, and Kiiroitori! Take note that these meet-and-greets take place at 11:00 a.m., 1:00 p.m., and 3:00 p.m. and only the first 40 groups will get the chance to get close to the characters. Numbered tickets are distributed from 9:30 a.m. on the morning the same day, next to the main entrance of Sogo Yokohama on the basement floor. Don't forget your camera!

It's the first time that a Rilakkuma birthday event is held in Yokohama, so this is a special occasion especially for fans in the area. Generally speaking, however, the adorable bear and his friends didn't get that many events yet, so this is an absolute must-see if you're in Japan while it happens!

Organized by: Rilakkuma Town Executive Committee
Supervision: San-X
©2018 San-X Co., Ltd. All Rights Reserved.
Appealing

Address

2-18-1, Takashima, Nishi-ku, Yokohama-shi, Kanagawa, 220-8510
View Map

Nearest Station

Yokohama Station (JR Tokaido Main Line / JR Yokosuka Line / JR Shonan Shinjuku Line / JR Keihin-Tohoku Line / JR Negishi Line / JR Ueno Tokyo Line / Line 3 (Yokohama Blue Line) / Tokyu Toyoko Line / Minatomirai Line / Keikyu Main Line / Sagami Railway Main Line)


Phone Number

045-465-2111
Area

Category

Articles Genre
*This information is from the time of this article's publication.