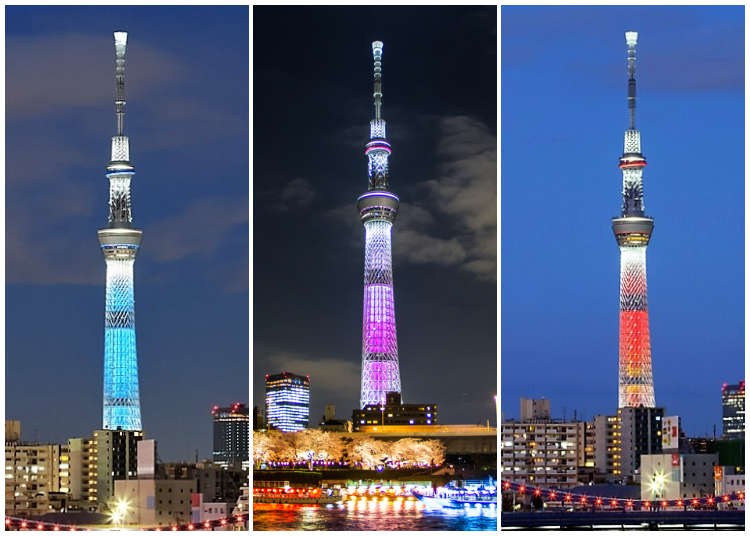 TOKYO SKYTREE(R) is Japan's newest landmark. As of March 2016, the world's tallest free-standing broadcast tower houses observation decks with panoramic views of Tokyo, a restaurant and souvenir shops. Here we will introduce to you the fun and the less commonly known things inside TOKYO SKYTREE(R)!
Where did the name come from?
The name TOKYO SKYTREE(R) was from the image of a "large tree pointing towards the sky." Around the tree people gather to relax and put their mind at ease.
TOKYO SKYTREE(R) was designed by the sculptor Mr. Kiichi Sumikawa. The tower was designed to take a very Japanese-like shape as it takes from the curve of a Japanese sword and the rise that can be seen in the pillars of shrines and temples.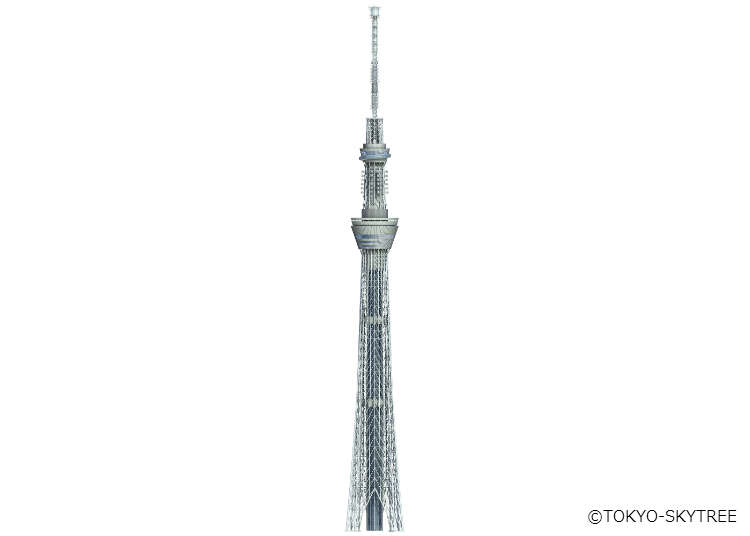 The height of TOKYO SKYTREE(R) is 634 meters. It has a one-of-a-kind height for a free-standing broadcast tower (as of March 2016). On November 17, 2011, it was recognized as the world's tallest tower by Guinness World Records.
At present, digital broadcasting has become mainstream and radio waves are difficult to reach when there are obstacles. As of 1958 there was Tokyo Tower, which served as a comprehensive broadcast tower, but the area is filled with too many high-rise buildings. It was feared that these building would act as obstacles for broadcast towers. In order to avoid this situation,it was concluded that a tower with a height exceeding 600 meters was needed, and so they built a new broadcast tower -- TOKYO SKYTREE(R).
What can you see from the viewing platform?
Tembo Deck has a height of 350 meter and the Tembo Galleria is at 450 meters. Depending on the weather and the situation, when it's sunny, you can see until 75 kilometers from the the Tembo Galleria and view the magnificent Mt. Fuji. In addition, we recommend for you to gaze at the view of the Tokyo streets while dyed in red during evening and the night view.
Walking around Tembo Galleria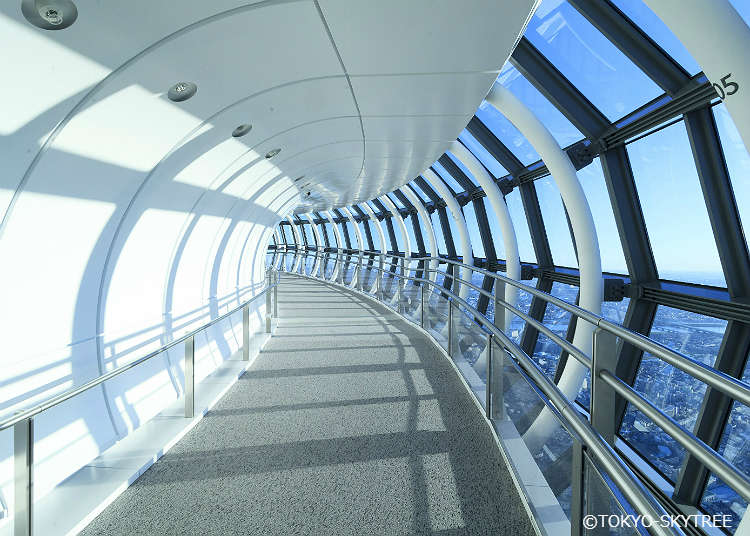 The TOKYO SKYTREE(R) Tembo Galleria is a corridor which is on glassed-in slope. Walking along the corridor, 450 meters above-ground, would really excite you and would make you feel as if you were walking on air.
To the highest point "SORAKARA POINT"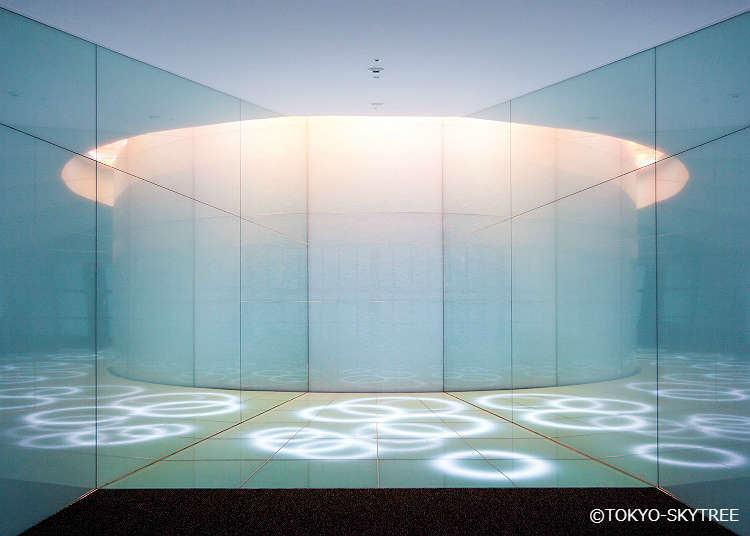 Located in SORAKARA POINT, the highest reachable point at 452.1 meters is a production space where you can feel the mysterious space and the feeling of floating as well as the roundness of the Earth.
Eat at "Sky Restaurant 634"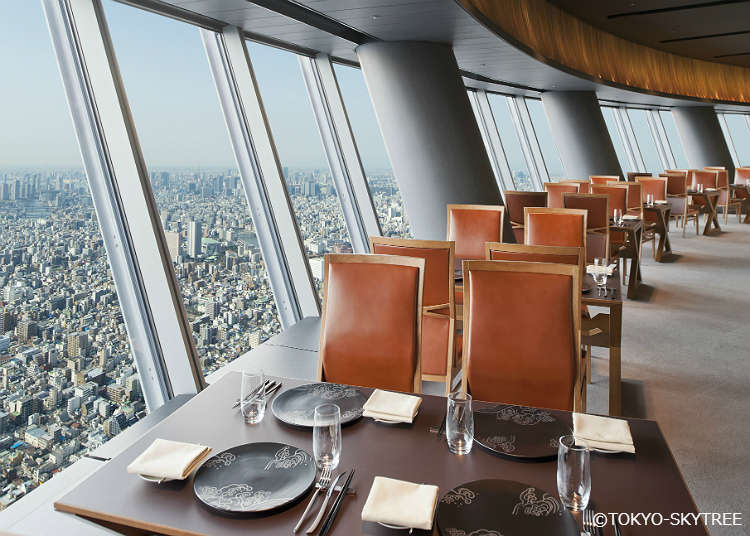 Sky Restaurant 634, located in the Tembo Deck Floor 345, is a restaurant with a nice view at 345 meters above-ground. With French cooking technique at its foundation, they serve courses which perfectly combine the balanced taste of Edo-Tokyo. Enjoy the new Japanese cuisine which takes importance in the essence and appearance of shitamachi while gazing at the picturesque scenery.
Visit the PPAP CAFE! Open for a Limited Time!
PPAP by Pikotaro has taken the world by storm and if this infectious melody hasn't been stuck in your head yet, you can head over to the Official PPAP CAFE, available for a limited time, to catch a glimpse of what makes it so popular!

PPAP, Pen-Pineapple-Apple-Pen recently entered the Guinness World Records as the shortest song to appear on the Billboard Hot 100 at 45 seconds! It became a hit after artist Justin Bieber tweeted it out to the masses.

The artist, Pikotaro, who created PPAP has opened a limited time cafe in Tokyo Skytree(R) on the 4th floor of the Skytree Tree Village until the 12th of January 2017.

Their menu is easy to imagine as they uniquely twist new meanings to PPAP: PPAParfait (Pen-Pineapple-Apple-Parfait) 600 yen, PPATea (Pen-Pineapple-Apple-Tea) 420 yen, PPAPan (Pan-Bulgogi-Avocado-Pan) 700 yen, and more! New menu items were added in December, so make sure to visit soon!

If you are a fan of apples and pineapples, you should definitely visit this limited time shop!
Recommended souvenir (1) Monaka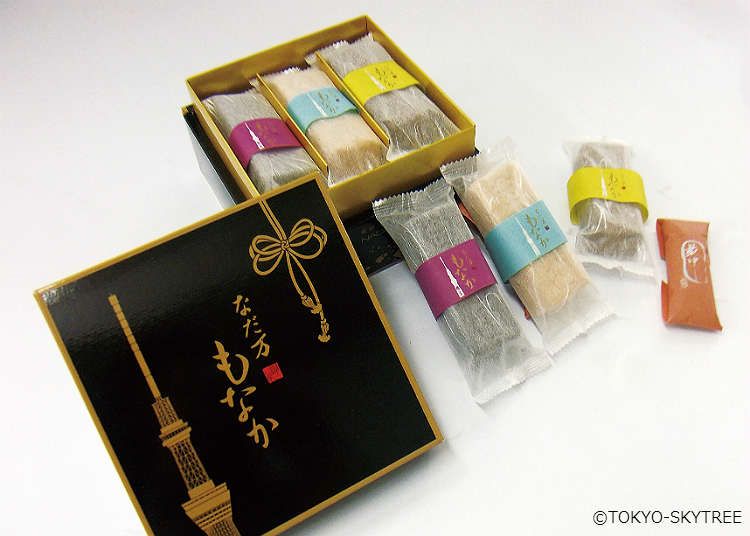 The TOKYO SKYTREE(R) Official Shop located on floors one and five and on the Tembo Deck Floor 345, is filled with original goods. We recommend the traditional Japanese Sweet "Monoka" made by the long-established Japanese restaurant "Nadaman." Savor the sweetness of exquisite anko made from adzuki beans, which makes it a healthy sweet.
Recommended souvenir (2) Long Roll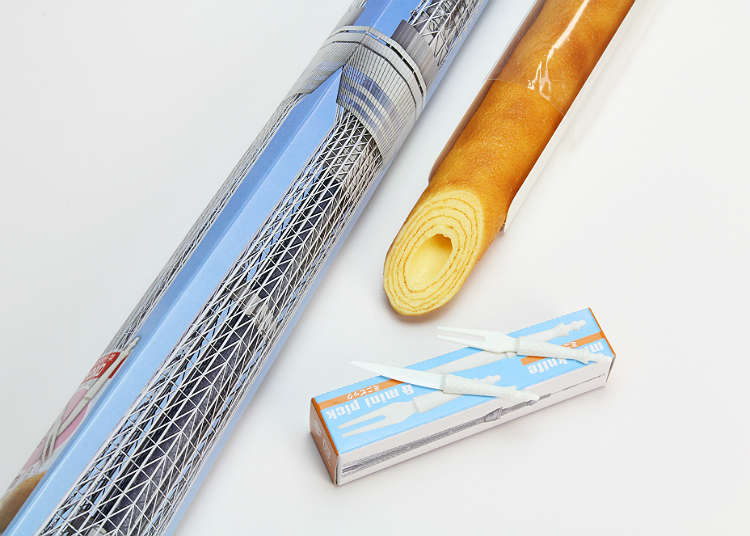 "TOKYO SKYTREE(R) Long Roll" has been a popular sweet since the tower opened. The whole of the package is a tower 1/1000 in size or 63.4 cm. It's shape which imitates the TOKYO SKYTREE(R) and its original knife and pick are all cute.
TOKYO SKYTREE(R): the more you know, the more it gets fun
TOKYO SKYTREE(R) is located in Oshiage, a place filled with the feeling of a downtown area. It's a rare opportunity to view at one glance the streets of Tokyo from this height. Be sure to go to TOKYO SKYTREE(R) when you visit Japan.
Address

1-1-2, Oshiage, Sumida-ku, Tokyo, 131-0045
View Map

Nearest Station

Tokyo Skytree Station (Tobu Isesaki Line (Tobu Sky Tree Line))


Phone Number

0570-55-0634
Area

Category

Articles Genre
*This information is from the time of this article's publication.