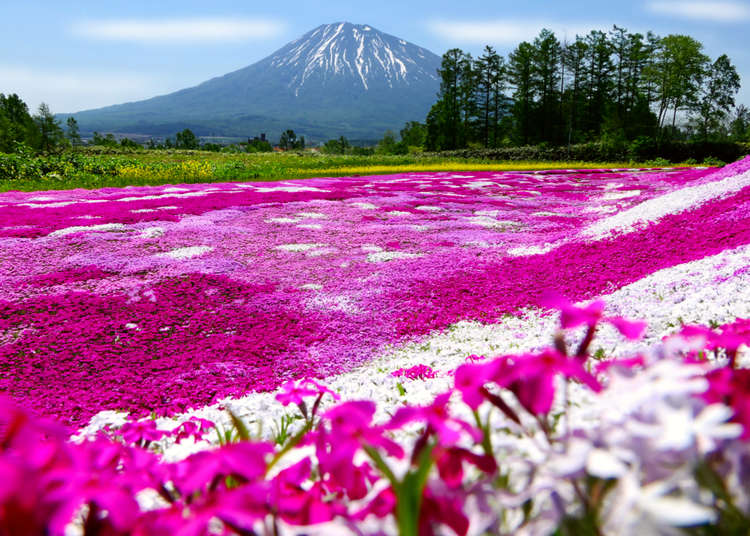 Mt. Yotei is located in the southern part of the Shiribeshi region. It's a stratified volcano (a conical shaped volcano formed through lava deposits from multiple eruptions) with an altitude of 1898m. There are a number of stratified volcanoes in Japan, and Mt. Fuji is one of the most famous of these. Mt. Yotei looks very similar to Mt. Fuji in shape, and that explains why it's called "Ezo Fuji". Majestic Nature spreads out in all directions and you'll find many famous water springs around here, with melted snow bubbling up from the ground. In this article, we're going to suggest some scenic spots around Niseko and Mt. Yotei which are good places to go for a drive.
Mt. Yotei scenic views #1: Potatoes and Mt. Yotei - a familiar sight in early July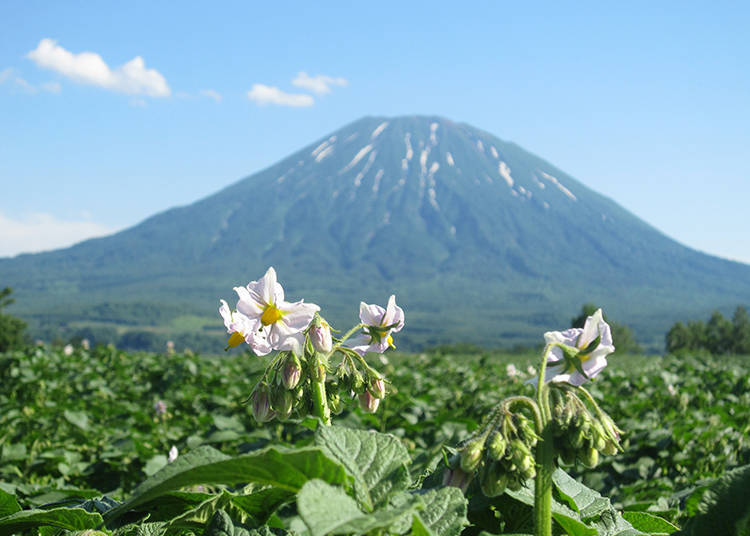 Mt. Yotei is located at the western end of Shikotsu-Toya National Park and is one of the 100 Famous Mountains of Japan. Its near perfect conical shape is the archetypal symbol of the Niseko region. With its solitary peak, Mt. Yotei, also known as Ezo Fuji from its stunning resemblance to Mt. Fuji, is widely considered to be one of Hokkaido's most famous mountains. You can climb the mountain from early June onwards. From early July to early August, there are around 80 types of alpine plants that you can see around the summit of the mountain. Right now this mountain looks beautiful and serene, but it has a very violent history. There've been some extremely violent eruptions in past, spewing out large volumes of volcanic ash over the surrounding area. However, it's this ash that makes the land around Niseko so fertile: it's the reason why the agricultural industry here is so successful. Arable fields spread out below Mt. Yotei, and the combination of fields and the mountain gives the scenery a unique idyllic beauty. It's time to take a closer look at Mt. Yotei!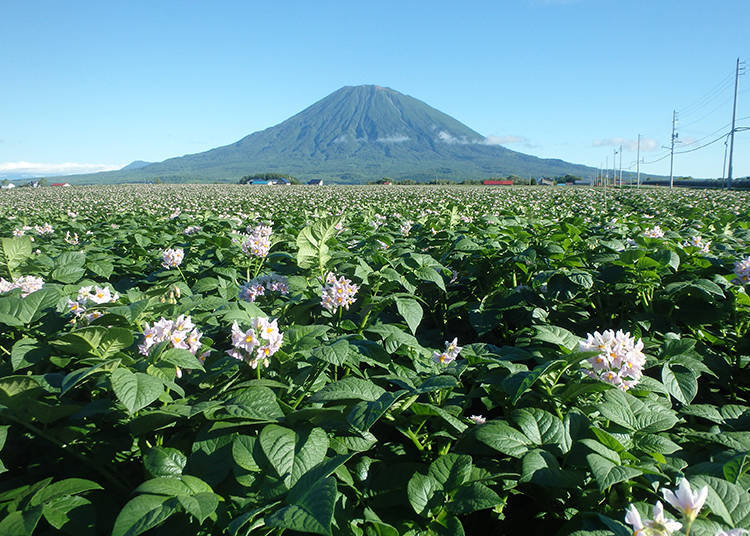 The Kutchan Town Potato Fields spread out against the backdrop of the mountain are a familiar sight in early summer
Kutchan is known as one of the leading potato producing areas in Hokkaido. In July the potato flowers start blooming all over the city, white or light purplish red. The locals love them because they're a sign that summer is on the way. The somber shape of Mt. Yotei lurks in the background behind the vast potato fields. It's a gorgeous view whichever direction you look from. When you drive around Kutchan, you'll see beautiful landscapes like this wherever you look. Try and find a few favorite spots of your own!
Kutchan Town Potato Field

倶知安町のジャガイモ畑

Address

北海道虻田郡倶知安町の各所 / Kutchan-cho Abuta-gun, Hokkaido, 044-0000, Japan

Phone Number

0136-22-1121

(Kutchan-cho Government Office)
Access: 10 minutes by car from JR Kutchan Station
Mt. Yotei scenic views #2: Popular with those in the know! Sunflower fields at Higashiyama Hano no Oka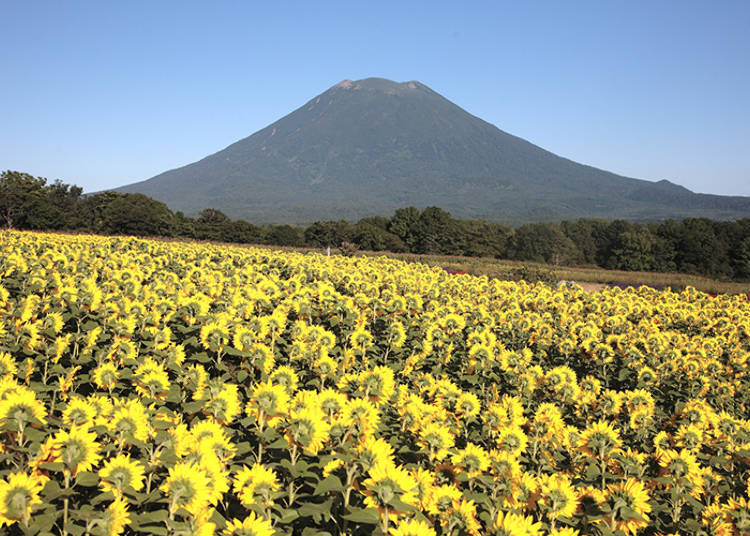 Summer sights in the Niseko area, Higashiyama Hana no Oka
The sunflower fields near Niseko Takahashi Dairy Farm at Higashiyama Hana no Oka are a popular place for those in the know. From the end of July through to the middle of August, the appearance of sunflowers blooming with Mt. Yotei and Niseko Annupuri in the background is an exquisite sight. The beauty of these large flowers set against the backdrop of the blue sky makes for an unbelievably stunning contrast. It's free to visit here, so you can take as many souvenir photos as you like. You can also enjoy the peaceful pasture landscape at the Niseko Takahashi Dairy Farm nearby. Get yourself a soft ice cream (290 yen), made with fresh milk produced on the farm, and go for a walk.
東山 花の丘

Address

〒048-1522 北海道虻田郡ニセコ町曽我888-1 / 888-1, Soga, Niseko-cho Abuta-gun, Hokkaido, 048-1522, Japan

Phone Number

0136-44-3734

(Niseko Takahashi Dairy Farm)
Access: 8 minutes by car from JR Niseko Station
Mt. Yotei scenic views #3: Mt. Yotei, Red Fuji, glowing in the evening sun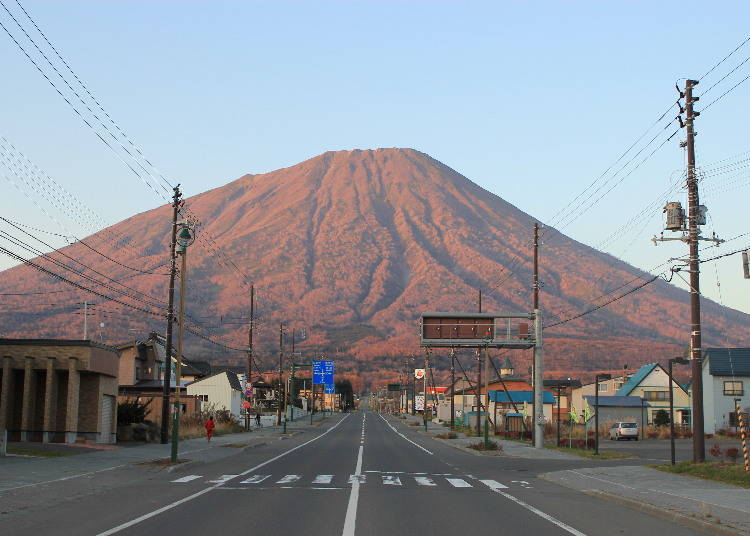 Red Fuji as seen from the center of Makkari village
Mt. Yotei's appearance changes depending on the season and the time of day. However, the views of the mountain in the evening are something else! The south side of the mountain as seen from Makkari village appears in perfect outline turning deep red in the evening sun. The mountain is also called Red Fuji because it's reminiscent of the ukiyo-e paintings by Katsushika Hokusai and Utagawa Hiroshige. Some fans of the view specifically come along in the evening to see it. It depends on weather conditions, but there are a number of different places in the village where you can go to enjoy the views.
Red Fuji from Makkari Village

真狩村の赤富士

Address

北海道虻田郡真狩村字 / Makkari, Makkari-mura Abuta-gun, Hokkaido, 048-1631, Japan

Phone Number

0136-45-3613

(Makkari Village Office)
Mt. Yotei scenic views #4: Ride the gondola and see Mt. Yotei and Niseko from the top of the mountain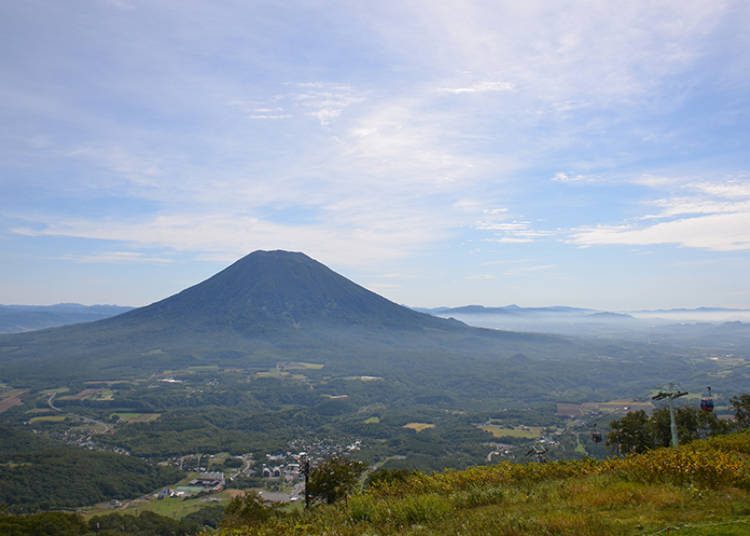 You get good views of Mt. Yotei from the ground, but it's also great to see the mountain and Niseko from high up as well. Niseko Annupuri rises up opposite Mt. Yotei across the Shiribetsu River. There are four ski resorts here, including the Niseko Annupuri International Ski Area and Niseko Grand Hirafu. In summer there's a gondola in operation so you can see Mt. Yotei and the surrounding countryside from high up on Niseko Annupuri.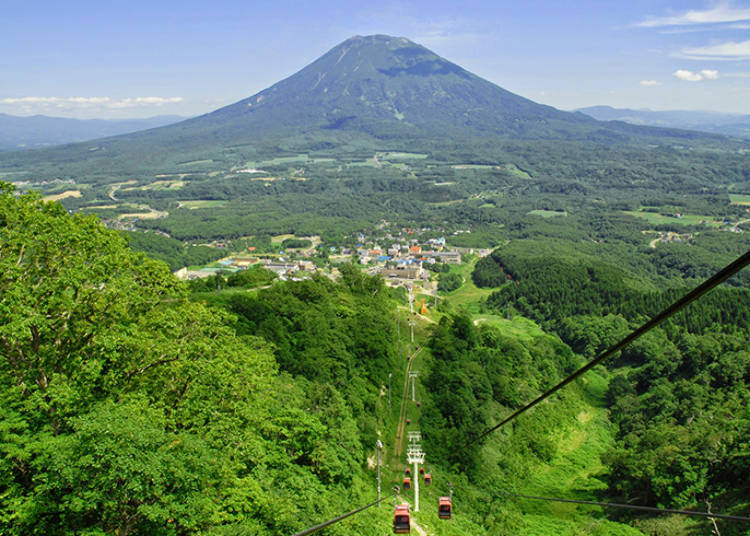 As the summer gondola rises up the mountain, you see Mt. Yotei and the countryside spread out down below
Niseko Grand Hirafu's summer gondola climbs up the Niseko Annupuri mountainside with views of Mt. Yotei right in front of you. As it climbs higher, you'll see the scenery change, with the Niseko townscape receding and a magnificent spectacle of greenery spreading out in front of you. It's a wonderful panorama with a full-on view of Mt. Yotei. If it's a clear day, you can usually see as far as the Nakayama Pass and Mt. Usu. A nice touch at the end of the gondola ride is the "vista couch". Why not have a souvenir photo taken here on the couch with Mt. Yotei in the background?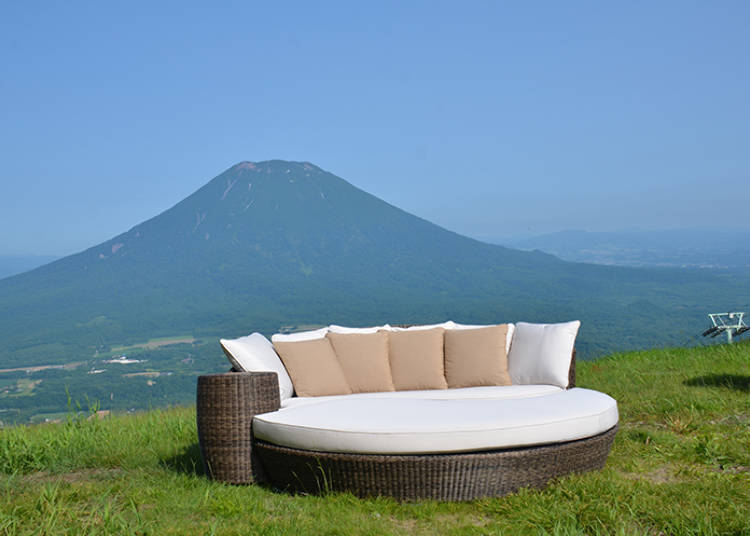 Niseko Siesta (Vista couch) Get your picture taken in Mt. Yotei in the background. There's also a selfie deck where you can take your own selfies
Niseko Grand Hirafu Summer Gondola

ニセコ グラン・ヒラフ サマーゴンドラ

Address

〒044-0081 北海道虻田郡倶知安町字山田204 / 204 Aza Yamada,Kutchan-cho,Abuta-gun, Hokkaido,044-0081,Japan

Phone Number

0136-22-0109

Fees:
Round trip: Adults 1100 yen; children 550 yen adults; pre-school children free, pets 300 yen.
One-way: Adults 700 yen; children 350 yen adults; pre-school children free, pets 300 yen.
Open: July 14 to September 24, 2018 9:00 AM - 4:00 PM (August 10 - 16, 8:30 AM - 4: 00 PM)
Closed: Open throughout the season
Access: 15 minutes by car from JR Kutchan Station
Don't miss the autumn leaves! Mt. Yotei's Mizu no Teien (Water Garden)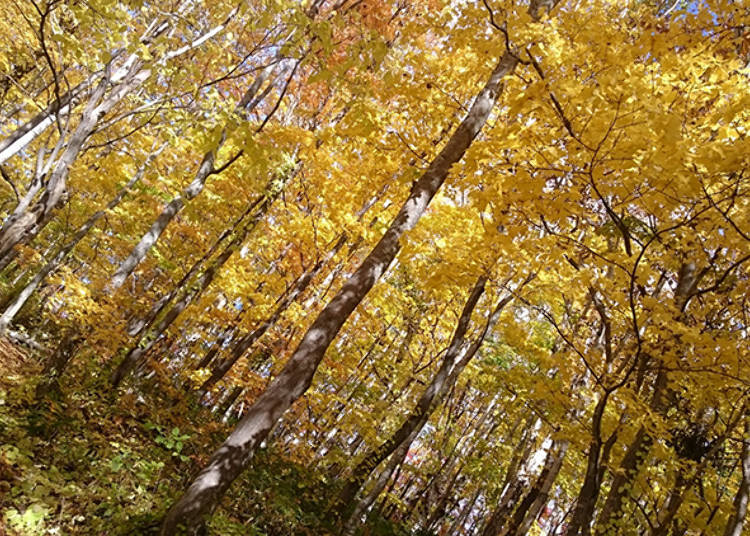 You come to the beautiful lake at the end of a passage of fresh green trees and leaves
A long time ago repeated eruptions by Mt. Yotei created a number of scenic locations around here. At the foot of the mountain is a crescent-shaped lake. The shape is what gave the lake its name, Hangetsuko (Half Moon Lake). The crater of the lake was created by an eruption of Mt. Yotei. There's a walking trail around it. It's a 15 to 20 minute walk to the lakeside from the parking lot: you'll see the lake appear with the beautiful forest stretched out all around. Its surface is exceptionally clear. The greenery all around is reflected in stunning emerald green on the water in summer. In fall, you can see the reflection of the red tinged autumn leaves. If the weather is nice, you should even be able to see Mt. Yotei reflected in the water.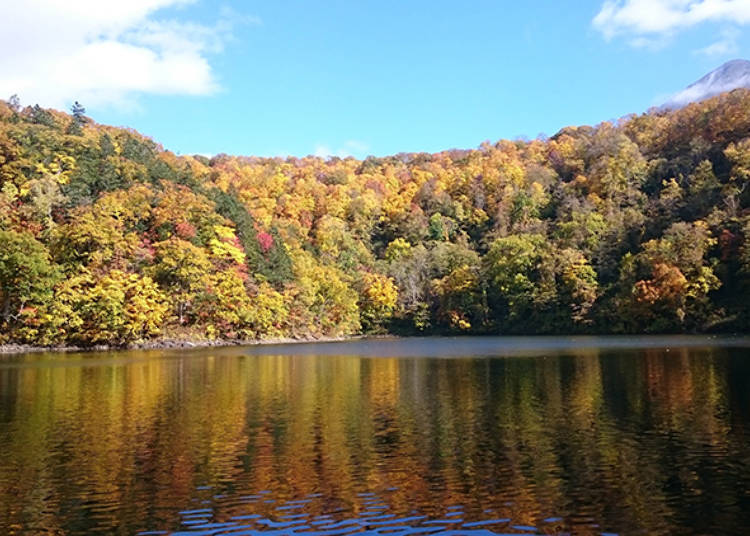 The autumn leaves are reflected on surface of the lake. In summer Hangetsuko is steeped in emerald green. It's a stunning sight.
Lake Hangetsu (Half moon) Nature Park

半月湖畔自然公園

Address

〒044-0000 北海道虻田郡倶知安町字高嶺 / Takane, Kutchan-cho, Abuta-gun, Hokkaido, 044-0000, Japan

Access: 15 minutes by car from JR Kutchan Station
Spring water from Mt. Yotei flowing vigorously all through Fukidashi Park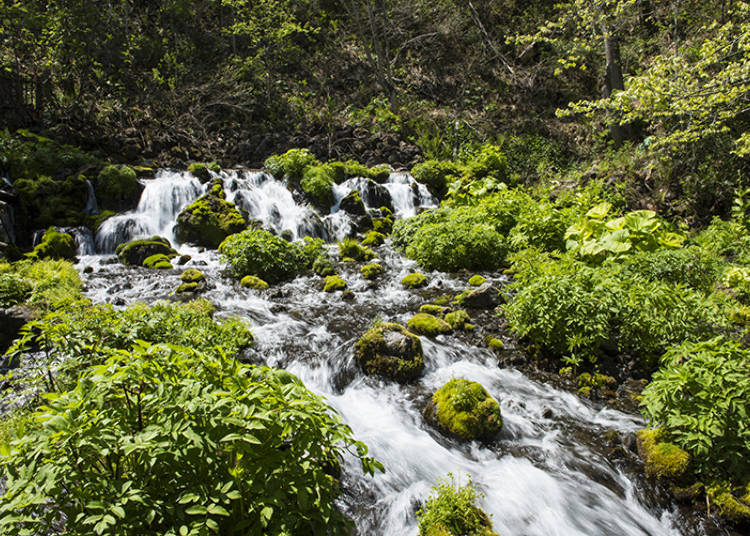 Melted snow from Mt. Yotei takes several decades to well up as spring water
Now it's time for us to tell you a bit more about the water round here. Fukidashi Kouen in Kyogoku-cho east of Mt. Yotei boasts of having the highest volumes of flowing spring water in the whole of Japan. The water of Fukidashi Kouen has also been chosen as one of the 100 best spring waters in Japan. Around 80,000 tons of water are discharged every day, enough for the daily water needs of 300,000 people! Melted snow from Mt. Yotei takes several decades to reemerge from the ground as spring water. It's cool and fresh, around 6.5 degrees even in summer, with a soft and mellow taste. There are spring water outlets set up all over the park. You can drink it freely or draw off the water to use it later. Many people come here with plastic bottles and water tanks, especially at the weekend.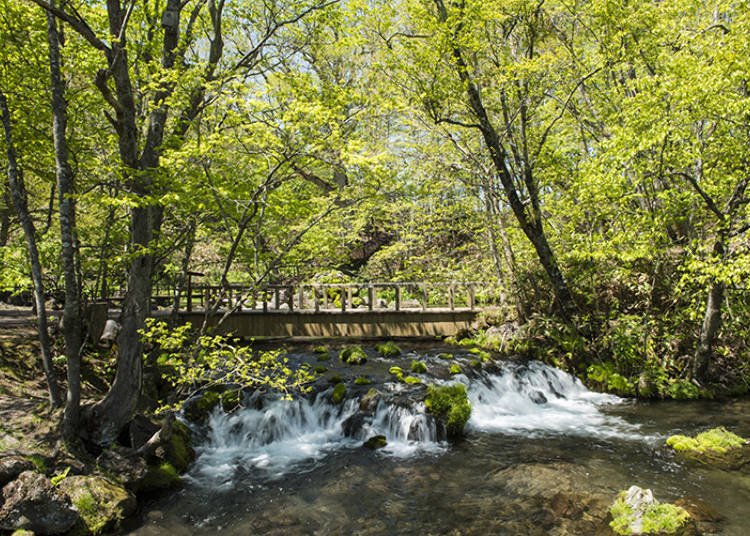 The spring waters gush out all around the park.
As you walk round the park, the spring water is flowing along the waterways, closely enshrouded by greenery. It's a magical place, a bit like somewhere spirits might live. The people of Kyogoku treat Fukidashi Park with reverence - to them it's a sacred place. The statues of Kannon (Goddess of Mercy) watch over the springs at the park.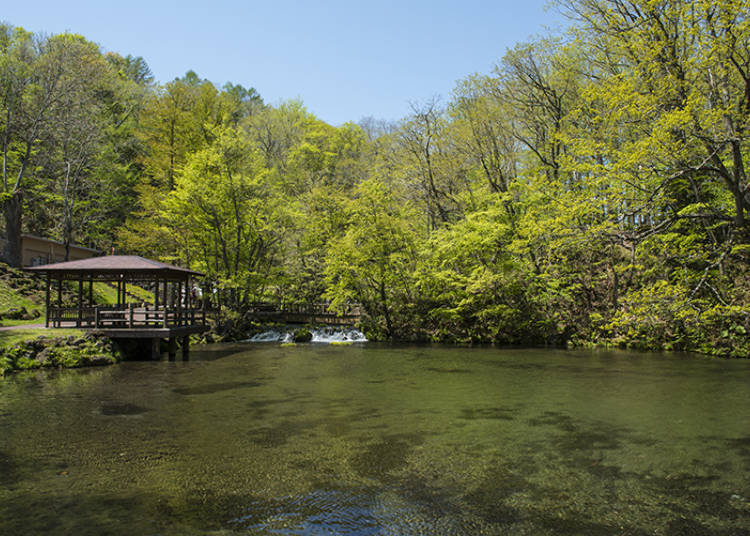 A beautiful sight in the middle of May. As the greenery deepens in color, the sunlight filtering through the leaves glistens on the surface of the water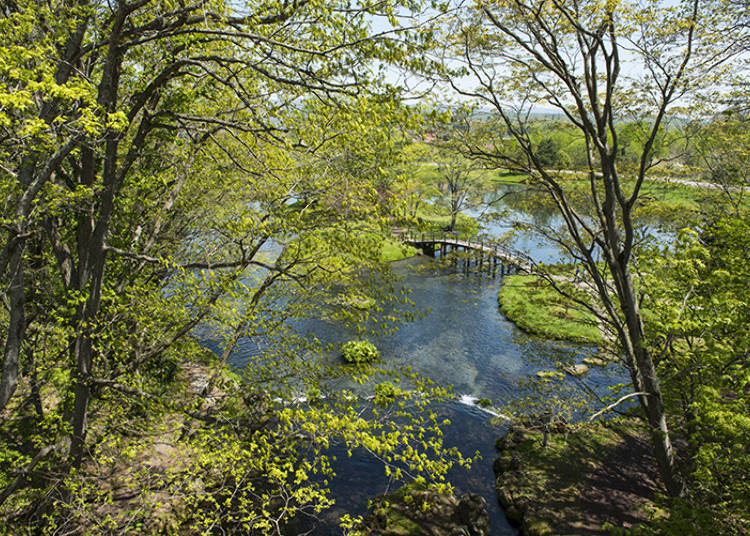 View from the suspension bridge in the park. Even from this high up, the water is so clear you can see the bottom of the spring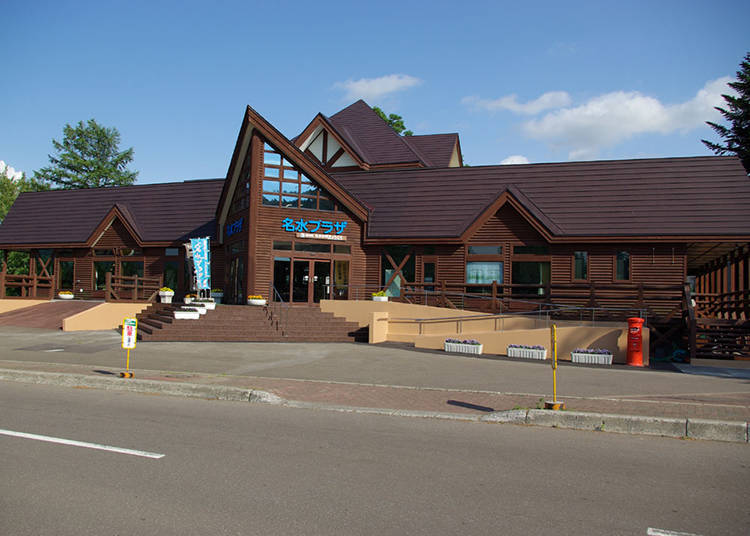 Meisui Plaza in the main building of the roadside station at Fukidashi Park.
There's a roadside station here called Meisui-no-sato Kyogoku. In Meisui Plaza in the main building there's a restaurant and a shop, where you can get food and drink, and do some shopping. Meisui coffee, made with spring water using the "nel drip" technique is a specialty here. It's well worth trying!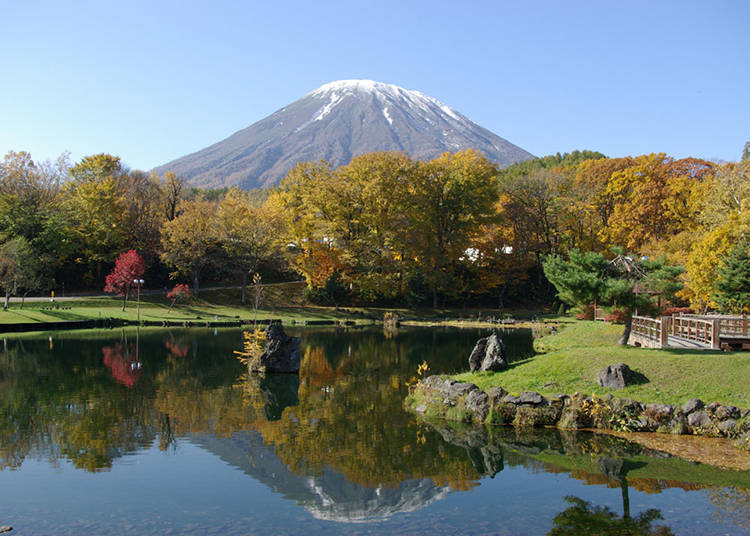 Fukidashi Park in fall. The charming reflection of Ezo Fuji turned upside down.
ふきだし公園

Address

〒044-0131 北海道虻田郡京極町字川西45 / 45, Kawanishi, Kyogoku-cho Abuta-gun, Hokkaido, 044-0131, Japan

Phone Number

0136-42-2111

Access: 30 minutes by car from JR Kutchan Station
You'll be touched and moved by the plain and simple beauty of Nature here in Niseko. It's a feeling you don't normally experience in the city. Winter in Niseko is a time of fun and excitement, but you can't fail to be charmed by the attractions of this place in summer when the countryside all around is bathed in deep shades of green.
Area

Category

Articles Genre
*This information is from the time of this article's publication.
*Prices and options mentioned are subject to change.
*Unless stated otherwise, all prices include tax.