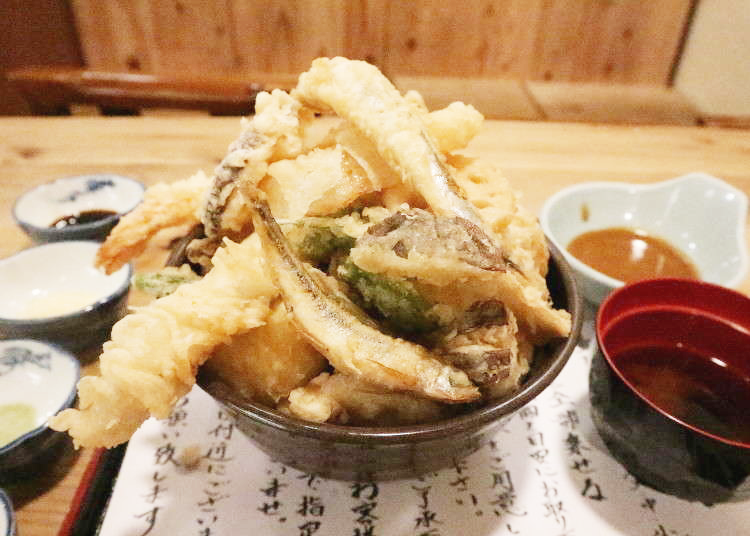 There are so many affordable and delicious places to eat in Osaka. In addition to the great price and taste, they offer a generous serving portion. Takoyaki [octopus balls] and okonomiyaki [wheat-flour-based pancake with various ingredients] are famous Osaka dishes.

This time we went to check out "Tetsutarou Umeda Nakazakicho," a restaurant that offers huge servings for lunch, where you can choose an unlimited amount of fresh tempura. Just a quick walk from Osaka Station, it's a perfect place to head to when you're in need of a good meal after all that traveling!
Look for the store with all the lanterns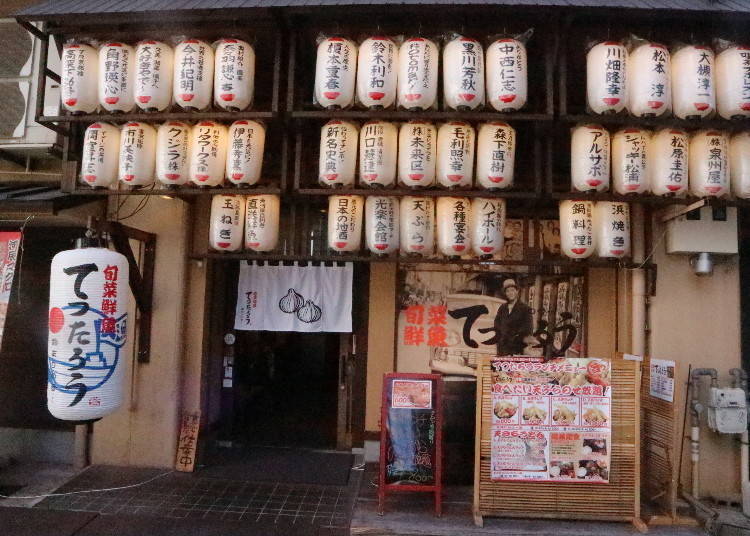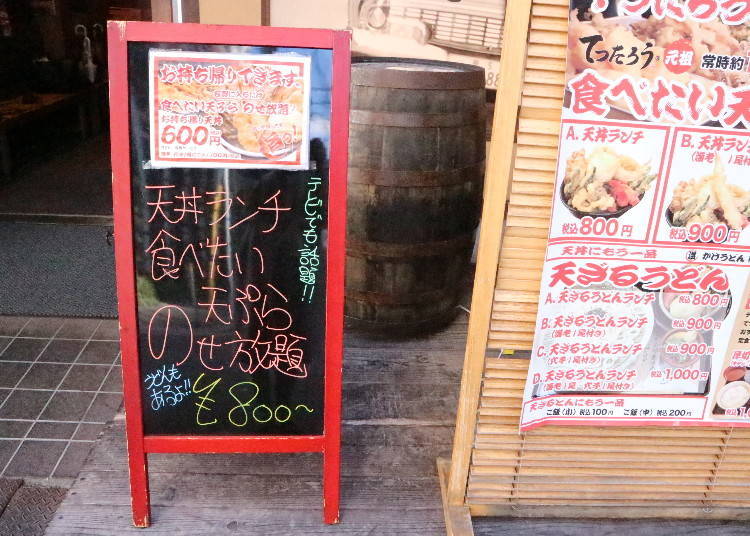 Head north along JR Kyoto Line's overpass towards the vicinity of Nakazakicho. Recently it has become a popular area among young people because of its vintage clothes shops and stylish cafes.

After walking for about 15 minutes from Osaka Station, you will find a shop with a ton of lanterns hanging outside, called "Tetsutaro Umeda Nakazakicho." At night it's a seafood izakaya [Japanese-style pub], but during lunch, they offer the tendon [tempura rice bowl] with "unlimited tempura."
Enjoy the atmosphere of a traditional Japanese izakaya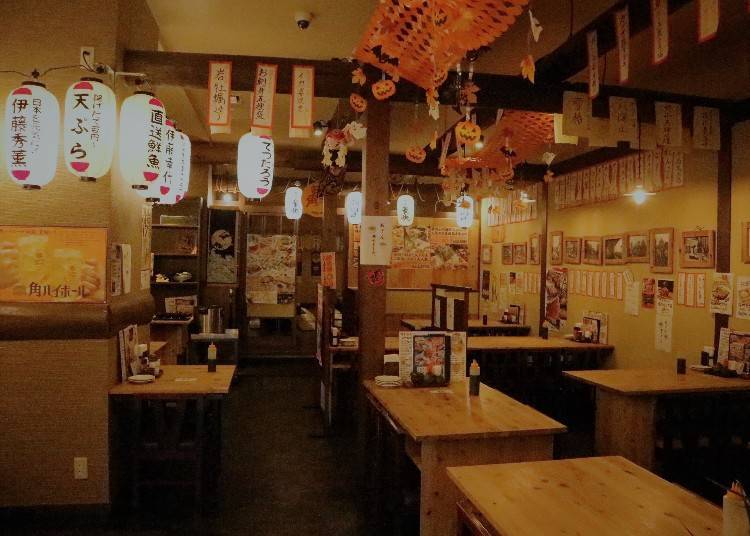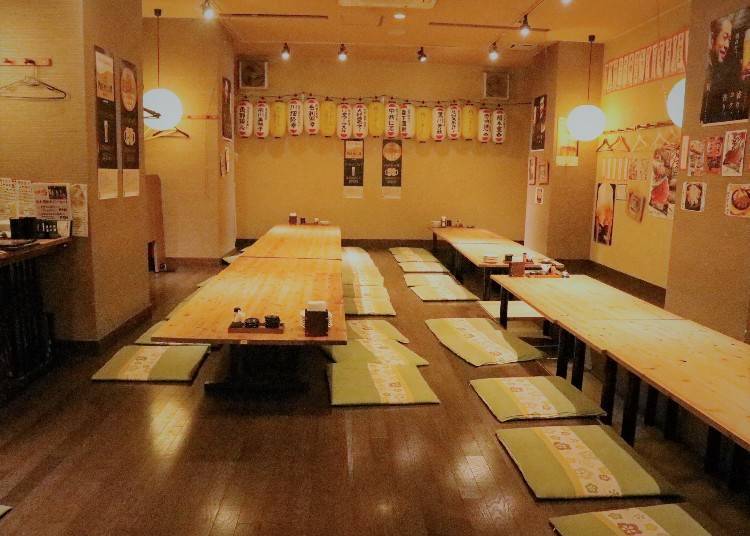 Just like outside, there are a lot of lanterns hanging around the spacious shop, meaning you can enjoy an authentic Japanese izakaya atmosphere. They even have floor seating space in the back so that the restaurant can accommodate a large party. Lately, it has become particularly popular among overseas tourists, too!
Load up on tempura, but don't be too greedy!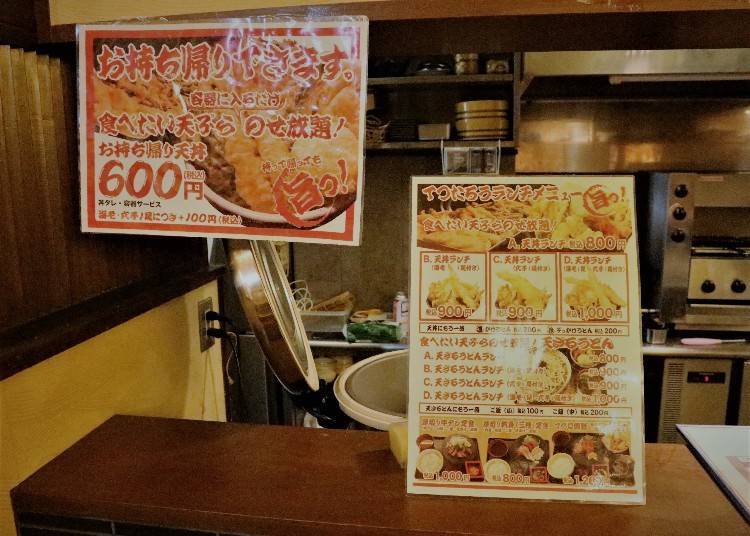 The long-awaited lunchtime! First, make your payment at the register. What we are looking for is the "Tabetai Tempura Nose-houdai [Unlimited Tempura] Tendon Lunch," and its only 880 yen (tax included)!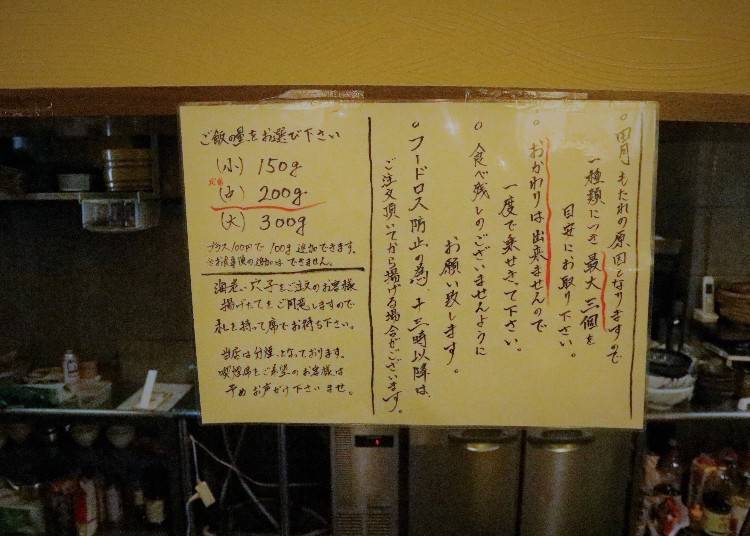 For shrimp and conger eel, it requires an additional fee of 100 yen each. You can choose from large, medium and small rice. There is a warning sign stating "no leftovers," so make sure you don't overdo it.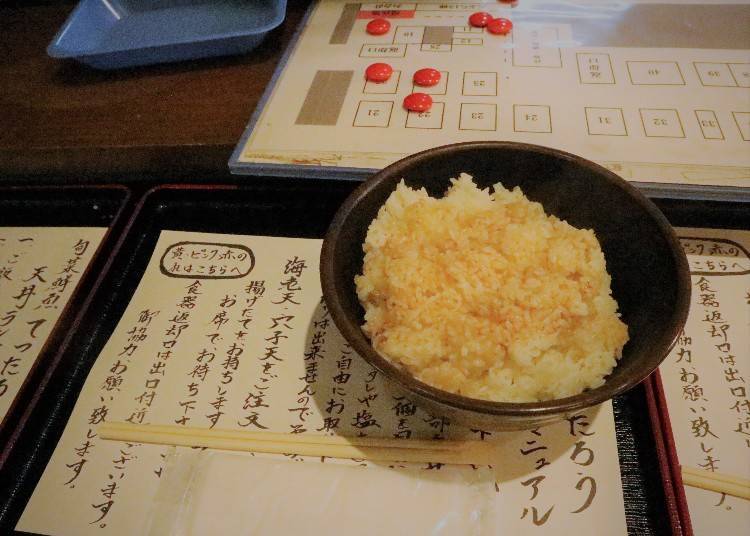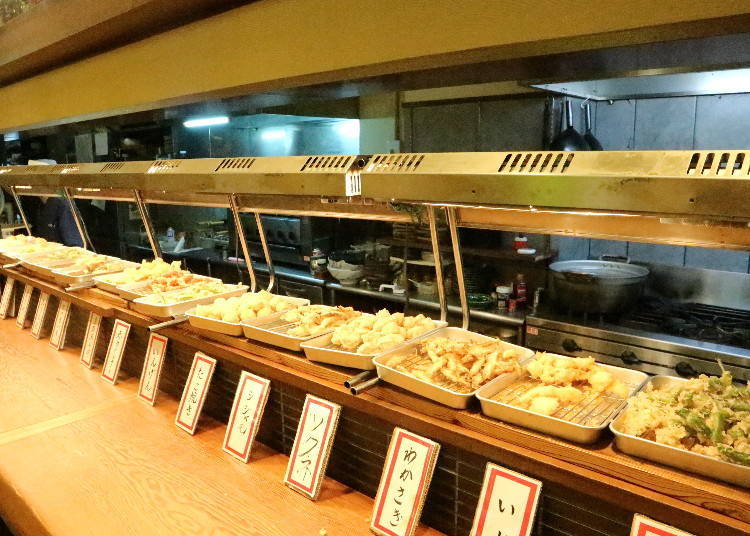 Today we decided to go with the "large!" option. After pouring some tentsuyu [tempura sauce] on Japanese rice that has been cooked slightly hard, you can load up your bowl with tempura from a selection of 15: including sweet potato, Awaji Island onion, eringi [king trumpet mushroom]. You can load up to 3 per type. The most popular item is the "soft-boiled egg," which is (sadly) limited to one. Since it's an izakaya, the seasonal ingredients and seafood are carefully selected.

On the day that we visited, they offered shishamo, squid and wakasagi. Sometimes they serve hamo [dagger-tooth pike conger] in spring and sanma [Pacific saury] in autumn. They also have Osaka style dishes such as takoyaki and beni shoga [pickled ginger].
Fun ways to take your meal to the next level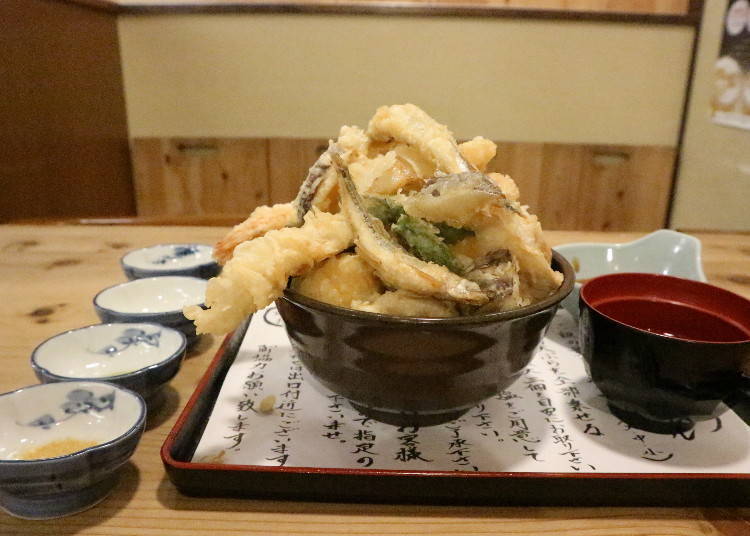 We got all 15 types of tempura with shrimp and conger eel! The shrimp and conger eel are made after we order it at the register, so they bring them out on a separate plate. The lunch comes with akadashi [red miso soup], tsukemono [pickles] and various condiments.

Have you ever seen a rice bowl overflowing with this many toppings?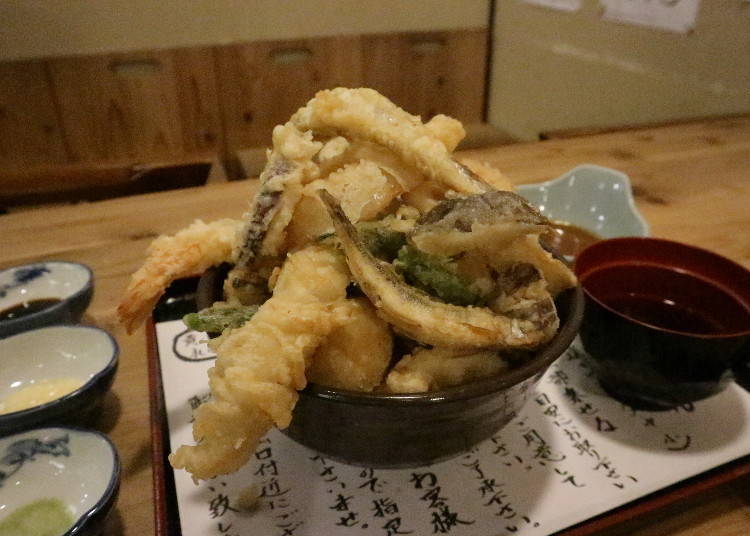 Even with such a large portion, most people have no trouble finishing it. This is because they make the tempura in a way so you don't really feel the greasiness.

First, they apply the batter lightly and then deep-fry it in a blended oil of sesame oil and canola oil. Also, they use cooking equipment that makes it hard for the ingredients to soak in the oil. By using this equipment, they don't have to use a lot of oil and can reduce the time needed to deep-fry it. As a result, they can reduce the oil absorption rate by 50% compared to other deep-frying equipment!
Another great point is the insane selection of condiments
Not only do they have many types of tempura, but they also have a plethora of condiments. Worcestershire sauce, mayonnaise, matcha salt, curry salt – to name a few. By applying Worcestershire sauce, you can make it rich and heavy. Matcha salt and curry salt is great when you want to enhance the flavor of the ingredients. If you want some mellow flavor to add some mayonnaise, you can try out many different combinations. There is also the daily "tsukedare [dipping sauce]," and when we visited it was curry sauce.

They also have other condiments such as mizore ankake with grated daikon radish, tomato sauce, demi-glace sauce, tamago ankake sauce. They offer many types of tempura and condiments because they want "customers to have fun." You can feel the passion and creativity of the store so that customers can enjoy their meal.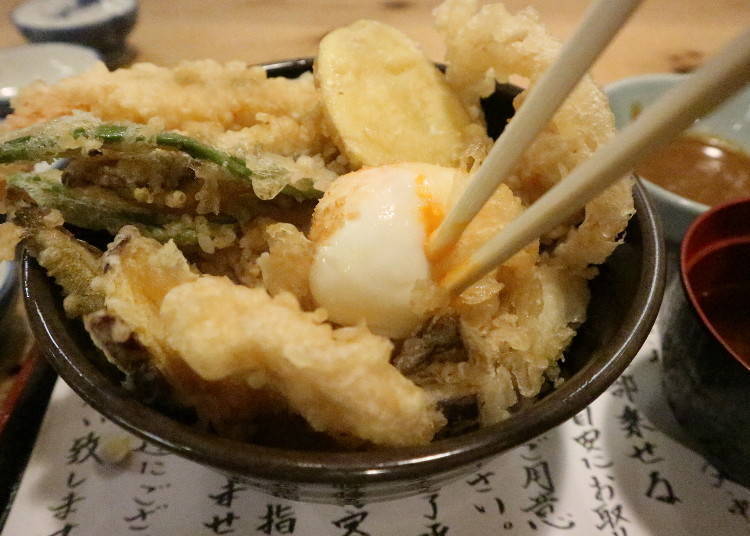 It is light and crispy, and it's hard to stop once you start eating. The shrimp and conger eel are nice and plump. You can feel the freshness of the vegetables, such as the sweet potato and lotus root. As we work our way through the tempura, we found the most popular piece, the "soft-boiled egg."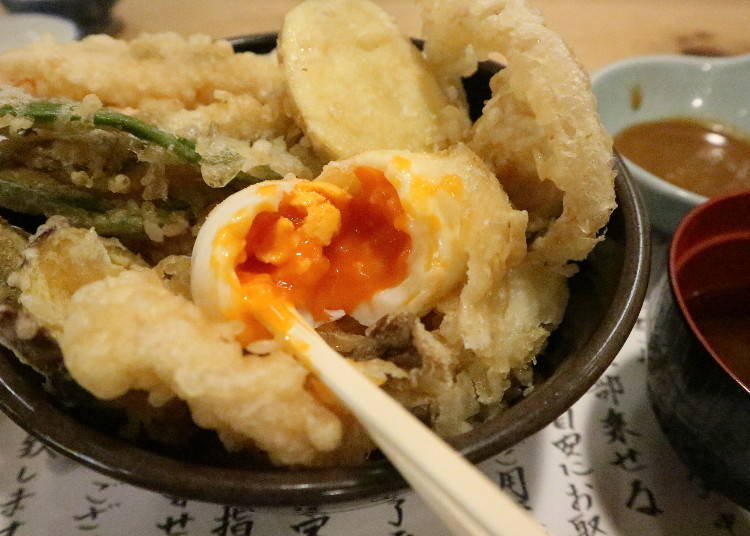 When you split it in two, the yolk flows out and it's hard to stop your mouth just completely filling with saliva, if we're honest!

You can mix the yolk with other tempura or rice. Of course, you can eat the egg directly too. The light batter surrounding the egg gives it a crispy texture and the contrast between the springy white and the rich oozing yolk is amazing.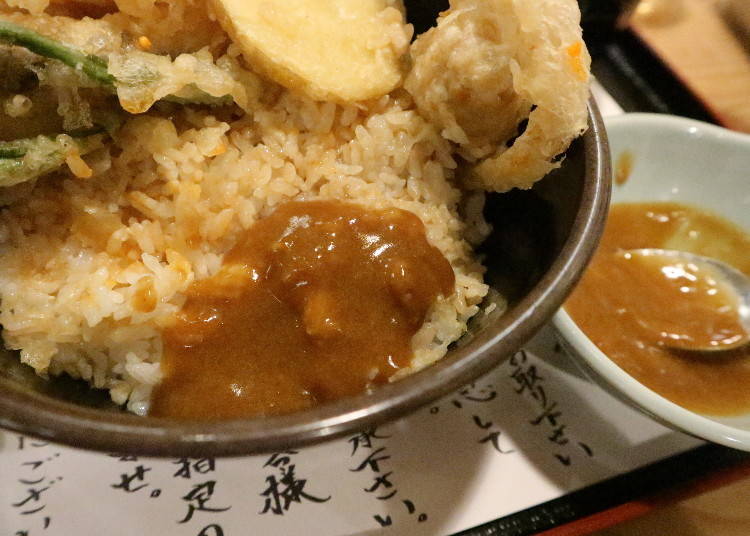 After finishing up most of the tempura, we added some curry sauce on the rice. It is an authentic curry with a nice spiciness. Many people finish the tempura and convert their bowl into a "curry bowl."

The manager told us that "We want to keep providing interesting ingredients so customers can continue to enjoy their meal. "

The tempura lunch is already amazing, but it seems like it will just keep getting better. Please stop by when you visit Osaka.
Tetsutarou Umeda Nakazakicho

旬菜鮮魚てつたろう梅田中崎町店

Address

36 JR underpass 3 Chome-3-15 Nakazakinishi, Kita-ku, Osaka, 530-0015

Phone Number

06-4802-0303

Hours: Lunch 11:30 a.m. - 2:30 p.m. (last order 2:00 p.m.), dinner 5:00 p.m. - 12:00 a.m. (Last order 11:30 p.m.)
Price: Tendon Lunch Tabetai Tempura Nose-houdai [Unlimited Tempura] from 880 yen (tax included)
Closed: not scheduled
Text by:WESTPLAN
*This information is from the time of this article's publication.
*Prices and options mentioned are subject to change.
*Unless stated otherwise, all prices include tax.