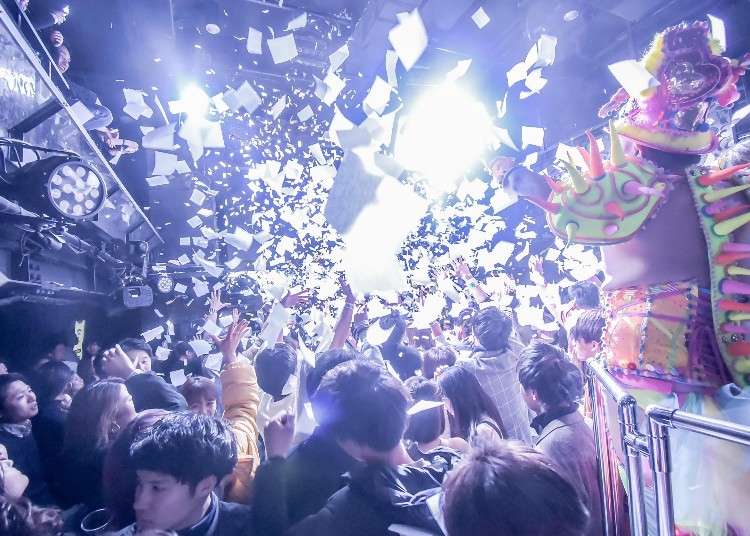 Osaka clubs are on a different level. Namba, Dotonbori, and Shinsaibashi are well-known areas in Kansai, generally referred to as "Minami". Large and glamorous, with famous departments, huge commercial buildings, restaurants, fashion boutiques and shops of every kind you can think of, this is the place to go if you want the Osaka experience. You'll find famous Osakan food here, and plenty of places to enjoy the nightlife.

In this report, we'll be taking on one of the bigger places in the Osaka club scene, Cheval Osaka. With a luxurious atmosphere, some of the best audio systems in the world as well as the Osaka club scene's first smoke separation system, the club's comfort and service have won positive reception, and the party just keeps going on.

This Osaka club also sees plenty of tourists visiting Japan, so if you're looking for a place to head out to when night hits, this is for you!
Conveniently located right outside of Saishinbashi's subway station!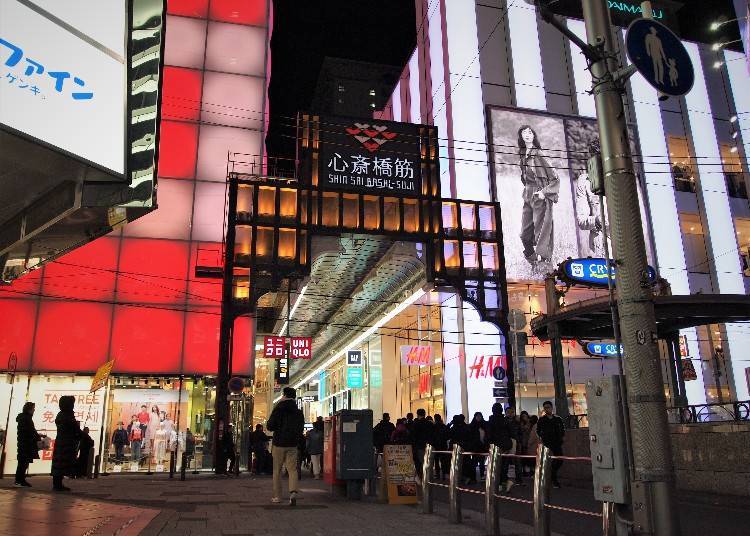 Saishinbashi's commercial district, filled with shops
Cheval is a mere 30-second walk from Saishinbashi's subway station's No. 6 exit. It's about 30 meters east into the Saishinbashi-suji commercial district, with the large stores like UNIQLO and H&M. The Osaka club itself is bright and bustling with life – people new to clubbing should find it perfectly welcoming.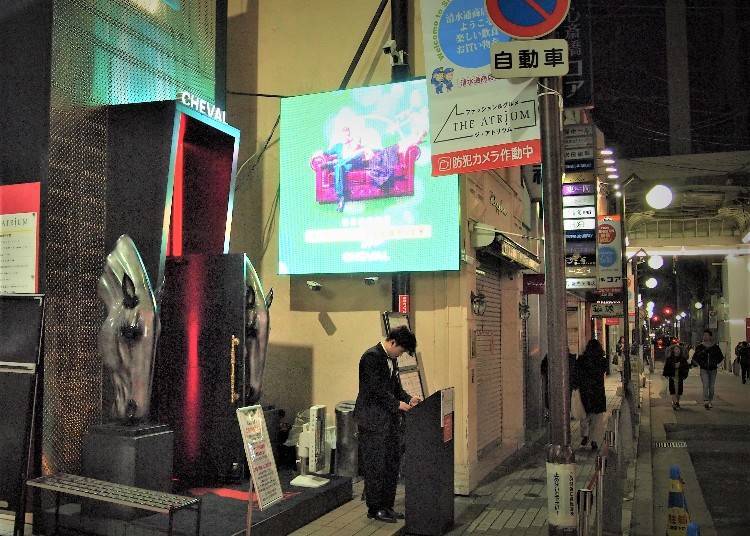 One step out of the commercial district and this building really stands out...
The building with the two horse monuments is what you're after. There'll be a suit-clad staff member waiting outside. A sign out front explains the rules in English, so after you've confirmed the fee and systems, go ahead and speak with the staff. You'll have to show your ID, so your passport should make a safe bet.
Descend the steps into luxury!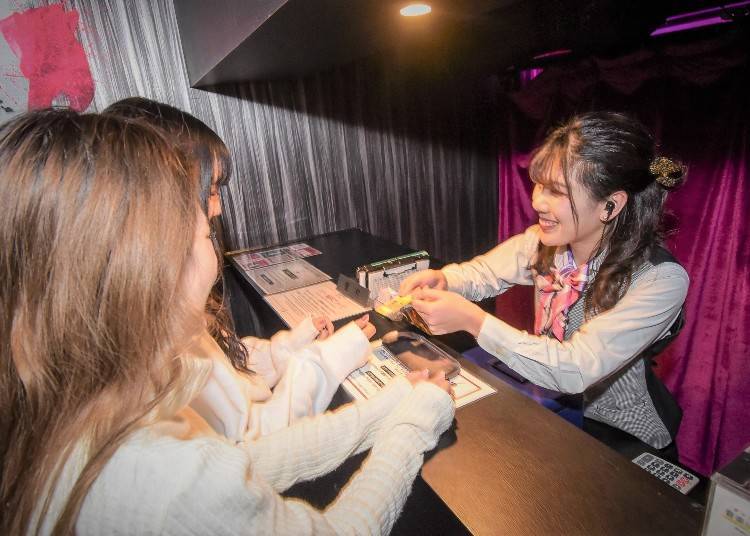 Some staff members speak English, so visitors to Japan should have no problem!
Stepping through the entrance, you'll find stairs and the receptionist below them who will accept your pay. (On weekdays, men pay 2,500 yen and women 1,000, and on holidays/weekends, men pay 3,500 while women pay 2,000. All prices include tax and one drink; prices differ for special and guest events.)

After getting your drink coin, go on forward. There are lockers you can use for 300 yen to deposit your things, so make use of them to take the load off. Be sure to keep your valuables on your person, though!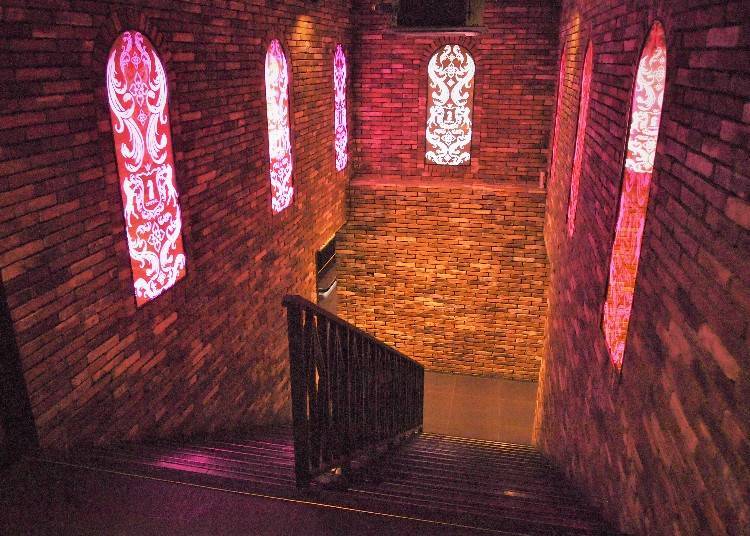 The fantastical, color-changing window shaped neon lights are a sight
After passing by the receptionist, you'll find yourself surrounded by brick walls lined by window-shaped neon signs. As you step down the symbolic, elegant stairs, you'll start to hear club music leak in, getting the blood pumping. After a leisurely descent, start heading for the main room.
The Open, Liberating Main Floor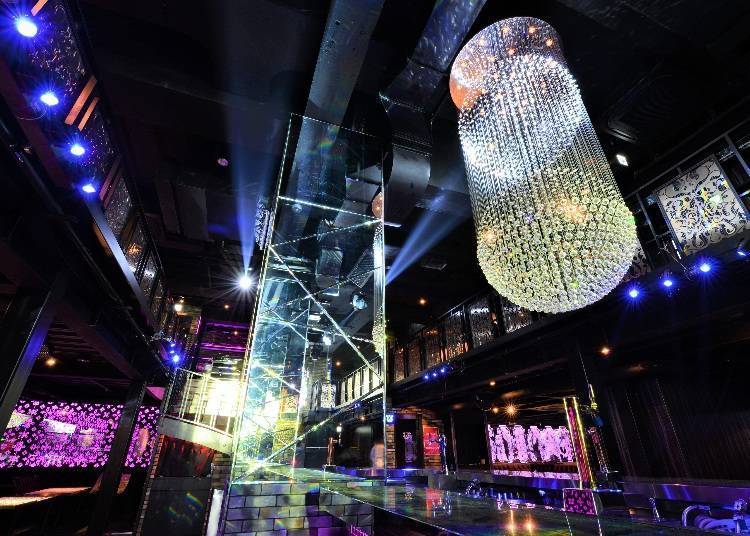 A spherical chandelier over the bar counter at the back of the main room.
You'll step inside and find yourself in Cheval's main room. It has two floors and no ceiling between them, giving it a gorgeous, liberating feeling that is accompanied by the sheer luxury of the pillar of mirrors in the middle and the large chandelier.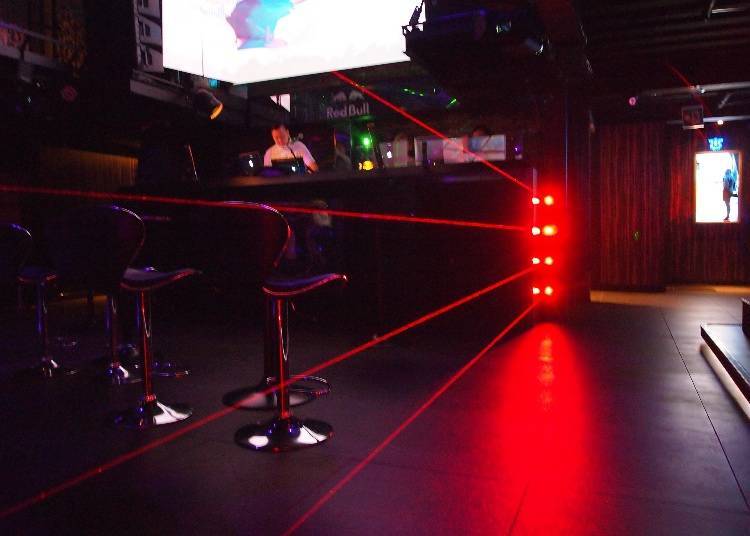 The high-end audio equipment here is also highly regarded. The speakers are arranged so that it feels like the music is descending from the sky, preserving a clarity of sound with pleasant bass. The red lasers that distinguish the halls from the dance floor also give off a high-class, playful air.
The smoker's area is a chic booth itself!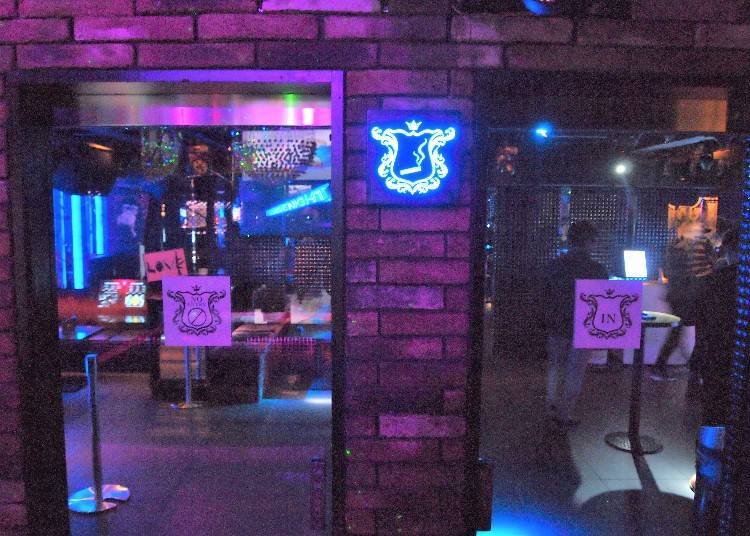 The cigarette emblem is very fancy
One of Cheval's biggest appeals is that it has a designated smoking area – a first for a Japanese club. The smoking area has a DJ's booth, too, making it a sub-room on its own!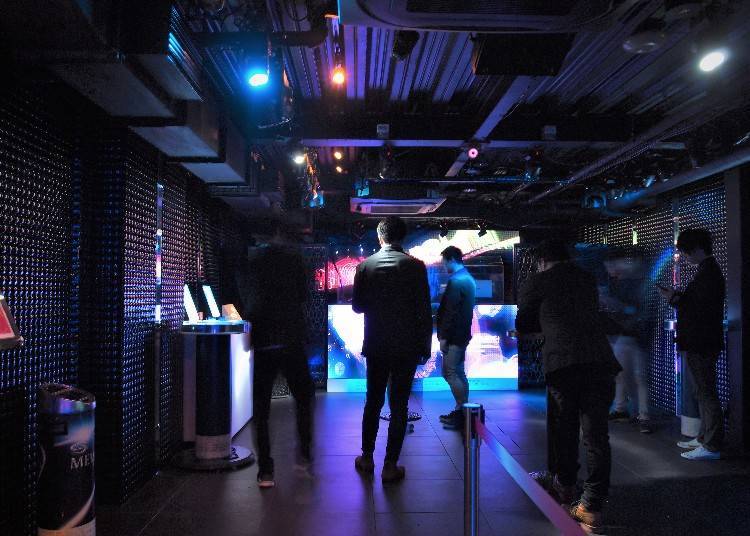 The smoking area also has a cigarette vending machine
Cheval has events going on in both areas, the main room and the smoker's sub-room. The main room generally has EDM and the top 40 Western pop songs, while the sub-room is attended to by the house and techno DJ. It might even be fun to alternate between the rooms, depending on your mood.
Try the elegant VIP room, too!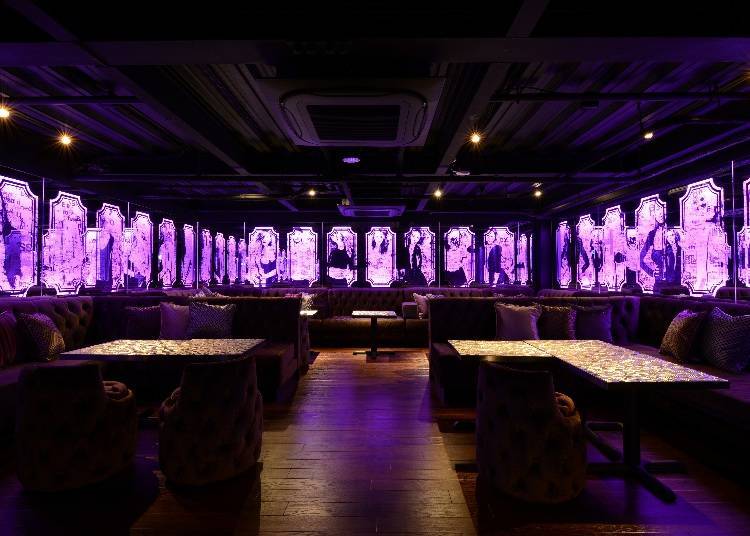 The first floor's box seats have a charmingly beguiling atmosphere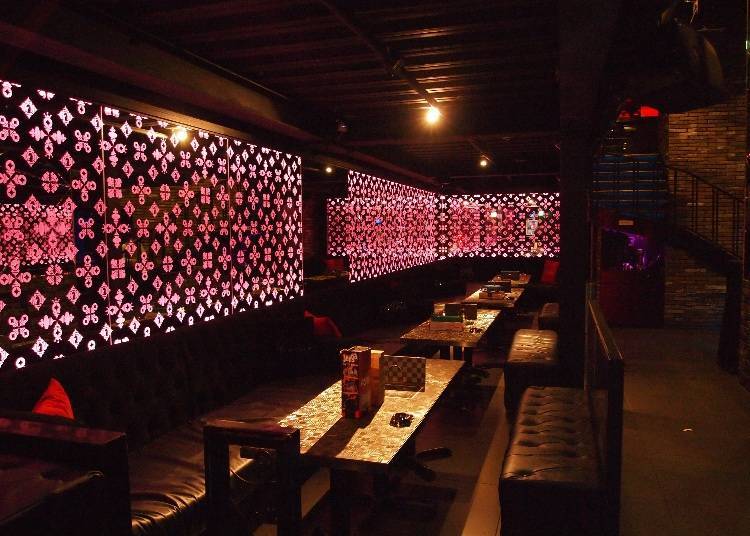 Cute neon seats by the floor
If you want to have an even more comfortable, luxurious time, check out the VIP seats. They boast a wide variety, from the box seats to the tables right next to the main room, all with their own styles. The VIP seats will also get you access to the exclusive menu, with champagne sets and meals. The seat prices starts at 20,000 yen, separate from all other fees and taxes. (Price subject to change by group size and day)
Dance, drink, and enjoy yourself with other adults!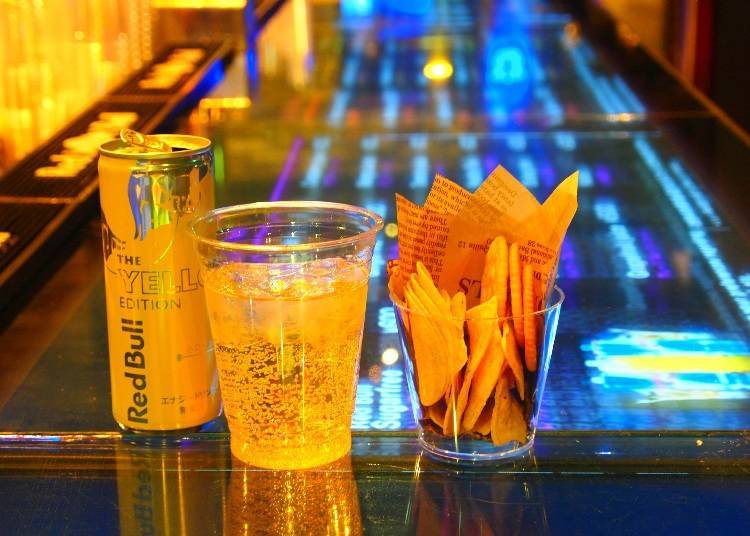 Popular Red Bull Vodka, 700 yen (with tax)
The bar counter deals in about 100 drinks, and the alcoholic beverages will generally run you 700 yen, with tax. Chips and crackers come free. The monitors are embedded in the counter with videos and the menu on display, giving it a cool and futuristic vibe.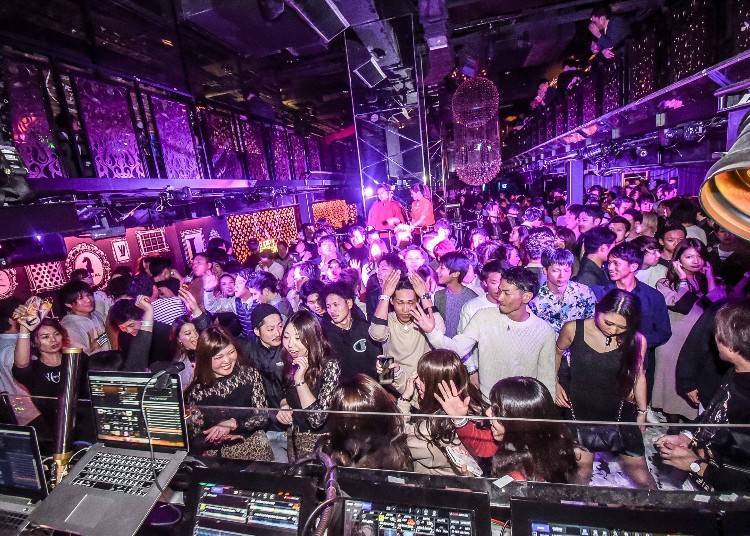 Most of Cheval's patrons are in their late 20s and 30s, many of whom come to enjoy both the music and the high-class atmosphere. With the world fair slated for 2025, the Osaka nightlife just keeps on heating up. Give this Osaka club a visit and enjoy music with a crowd in style!
シュバル オオサカ

Address

THE-ATRIUM B1-B2 1-5-30 Shinsaibashisuji Chuo-ku Osaka-shi Osaka

Nearest Station

Right next to Shinsaibashi subway station


Phone Number

06-6243-6288

Hours: 10PM – 4 AM
Price: (Weekdays) Men 2500 Yen, Women 1000 Yen (Weekends, Holidays) Men 3500 Yen, Women 2000 Yen (Includes tax and 1 drink; prices differ for special and guest events.)
※ Only men over 22 or women over 20 may enter.
※ ID required. (Bring a passport or equivalent ID)
※ There is a dress code – come looking like an adult.
Text by:Bikoo-System
Book an unforgettable experience in Osaka!
Make your trip extra memorable by booking one of these recommended tours on our partner site, Voyagin!
*This information is from the time of this article's publication.
*Prices and options mentioned are subject to change.
*Unless stated otherwise, all prices include tax.