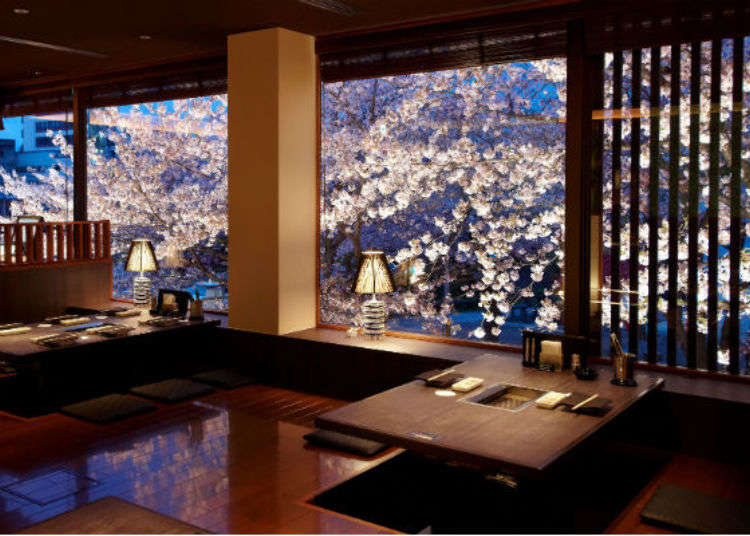 There are plenty of good places to see the cherry blossoms in Japan, but Kyoto is particularly special. The pretty cherry blossom backdrop adds to the city's atmosphere of old-fashioned elegance. Kyoto has a variety of restaurants with stunning views of the cherry blossoms.

Here we're going to tell you about our top picks in the popular Higashiyama-Shijo Kawaramachi area. If you're lucky, you can get a seat with a front-row view!
1. Gion Nawate: Picturesque cherry blossom backdrop and premium Omi beef!
Gion Nawate is located between the east bank of the Kamo River, which flows from north to south of the city and Yamato Oji Dori. The area is thought to be the heart of Gion with its old-fashioned streetscape.

This is where you'll find Wagyu Yakiniku Toku. This is a barbecue restaurant serving Grade A4/A5 Omi beef and authentic Korean cuisine prepared in a Japanese style.
▲Large windows ensure gorgeous views of cherry blossoms at night
The restaurant is situated on the 2nd floor of the building, so you're at just the right height to get the perfect cherry blossom backdrop. The windows are 4m wide and 3m high. You can't fail to be thrilled by the amazing views of the gorgeous cherry blossoms spread out in front of you!

The best places to sit are the tables by the window with horigotatsu (recessed floor heating) or the private room in the corner. These seats are top-rated, so if you want to sit here, you should book in advance. Otherwise, come after 9 PM if you don't have a reservation.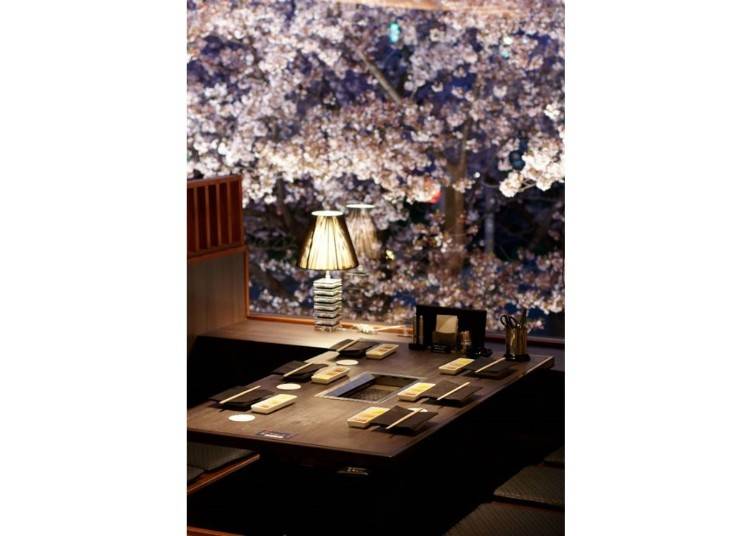 ▲ The horigotatsu tables have perfect views of the cherry blossoms illuminated at night
The beef served at this restaurant is Omi beef from Nakagawa Chikusan (Nakagawa Livestock) in Shiga. Nakagawa Chikusan is one of the leading cattle producers in Shiga – its long-established history goes back more than 160 years. It has a large following, with more and more fans saying, "If it's Nakagawa, I'll eat it."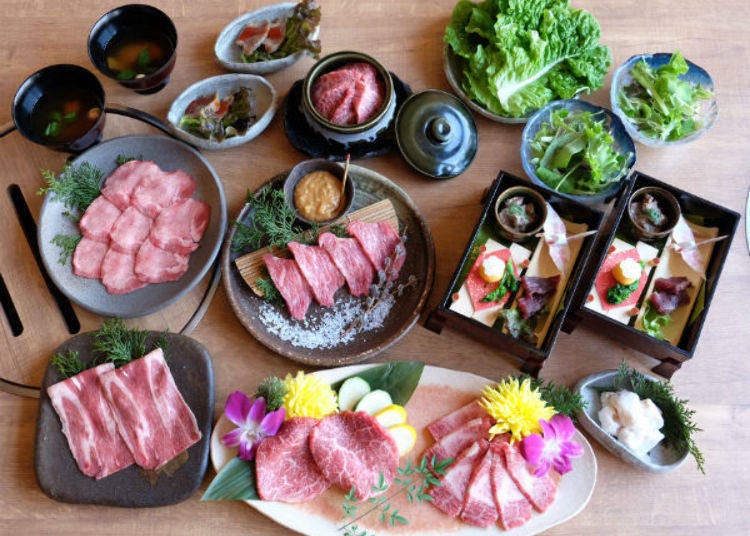 ▲The Spring Hanami Set Meal features a range of different cuts of beef (6,000 yen per person including tax. Minimum two people).
You can order a la carte if you prefer, but as Mr. Shun Kanamori at the restaurant points out, the Spring Hanami Set Meal (available from March 1 to April 30) is the perfect thing to eat as you enjoy the cherry blossom backdrop.

The elaborate set meal includes strips of lean meat, short ribs, and offal cuts, such as tongue, as well as seasonal appetizers, and farm-fresh salad. Omi beef is one of Japan's Sandai Wagyu (Three Major Wagyu), and this meal showcases the delicious succulence of the meat perfectly.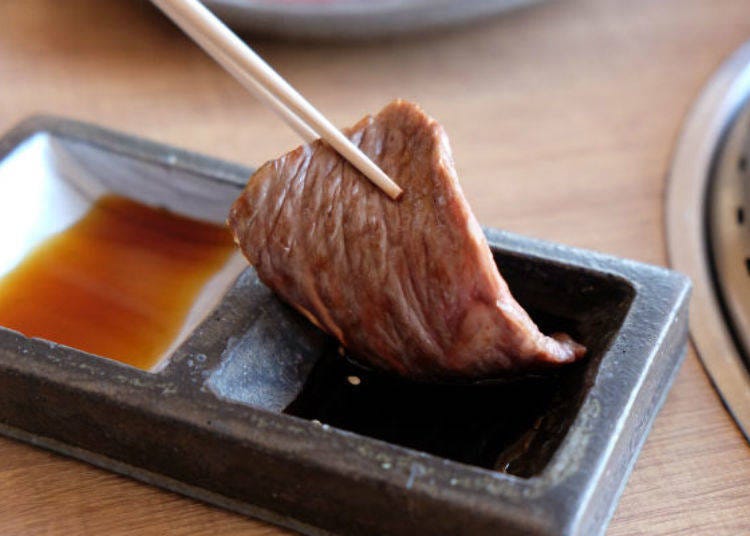 ▲Short ribs with sweet and succulent fat: sensational!
The combination of marbling and lean meat releases a sweet aroma when the meat is cooked with pink juices oozing out slowly. Dip the meat in a little homemade soy sauce to bring out flavors of sweet fat and succulent meat.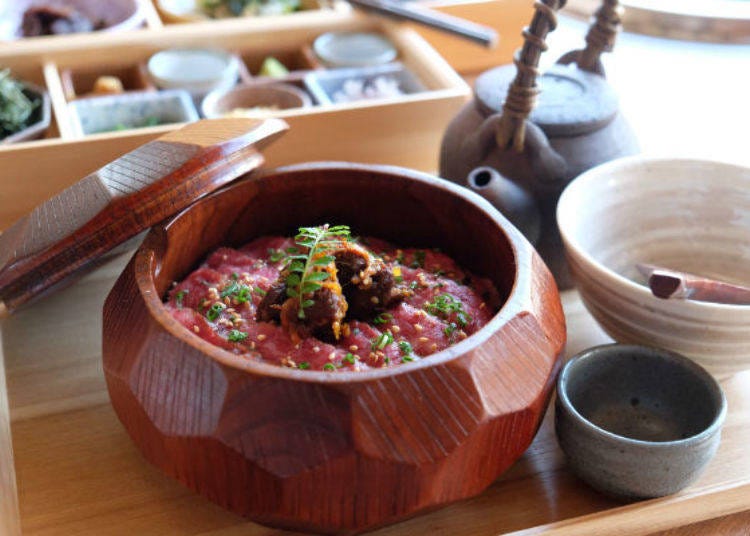 ▲Don't miss the Certified Omi Beef Hitsumabushi Feast (1,830 yen tax included). Only available at lunchtime. You'll be thrilled when you take the lid off the dish and see the size of the beef portion underneath!
Gion Nawate is ideal for a casual lunchtime meal although it's only open for lunch on Saturdays, Sundays, and holidays. The lunchtime only Certified Omi Beef Hitsumabushi Feast is an exquisite dish packed with luxurious beef slices, seared on the outside. Beneath the meat is a large helping of rice covered with seaweed.

You can choose this dish with either thin-sliced or thick-sliced beef. The meat has just the right combination of softness and bite to it, and the salty-sweet dipping sauce is the perfect accompaniment.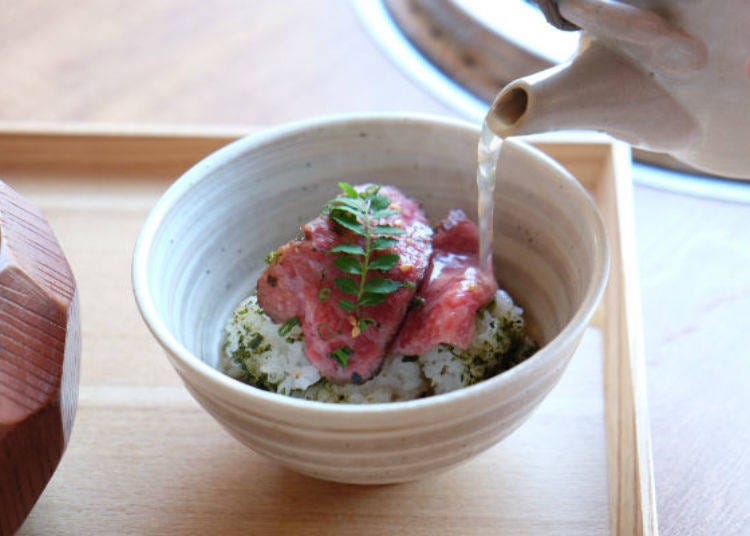 ▲Another delicious dish is beef with oxtail broth poured over. You can alternate the flavors with different accompaniments: specially made broth, spices or pickles.
For lunch, try the Certified Omi Beef Hitsumabushi Feast - Prime Fillet, made with beef tenderloin (3,800 yen, tax included), or the special of the day, such as the Omi Premium Yukhoe and Sea Urchin Hitsumabushi Feast (2,800 yen, tax included). But be warned! Only five servings of the special are available each day.

Gion Nawate is easily accessible. It's around a 30-minute walk from popular tourist spots such as Yasaka Shrine and Kiyomizu Temple. Make sure you see the sights in Kyoto, but the experience of eating delicious wagyu beef as you admire the cherry blossoms is one not to be missed!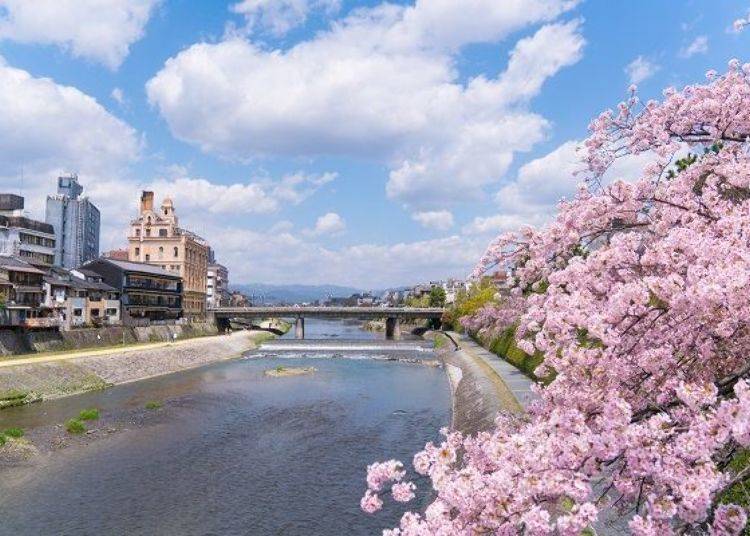 ▲Shades of pink along the Kamo River
和牛焼肉 徳

Address

2 fl. Benzaitencho 26, Sanjosagaru 3, Yamato Oji Dori, Higashiyama Ward, Kyoto, Kyoto Prefecture

Phone Number

075-533-2929

Opening hours: 12:00PM - 3:00PM (Last order 2:00PM); 5:00PM - Midnight (Last order 11:00PM) * Open for lunch on Saturdays, Sundays and holidays
Closed for occasional holidays
2. Shijo Kawaramachi: Cherry blossom views from a riverside Kyoto townhouse
The restaurant is situated along the Takase River, which flows north to south near Kiyamachi as far as Shijo Kawaramachi, a quintessential area of Kyoto.

With around 200 Yoshino cherry trees here, this is known as a secluded spot for getting a cherry blossom backdrop. The area has various places for eating and drinking and is a popular place after a shopping trip. Cherry blossoms lit up amidst the darkness create a romantic atmosphere.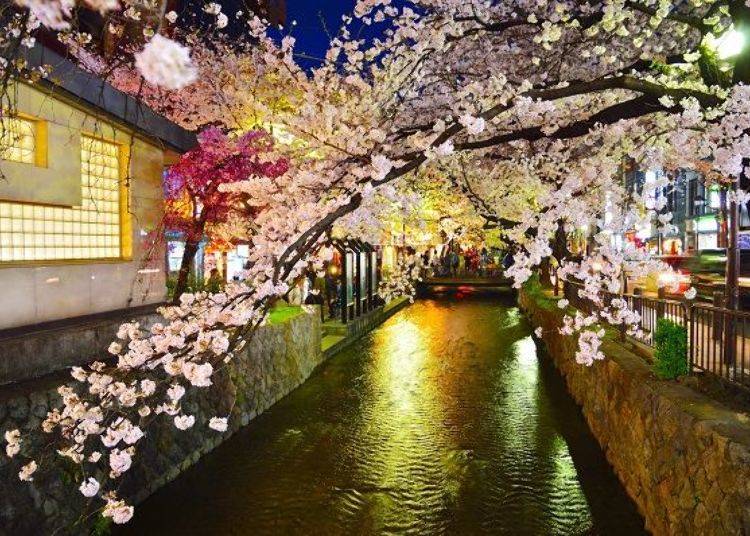 ▲Cherry blossom trees stretch out for a kilometer along the banks of the river which is only two to three meters wide.
Takasegawa Kurio is located in a refurbished Kyoto townhouse down a narrow alleyway running parallel to the river. It's so narrow you have to walk in single file. Despite the narrow frontage, there is plenty of space inside the deep interior.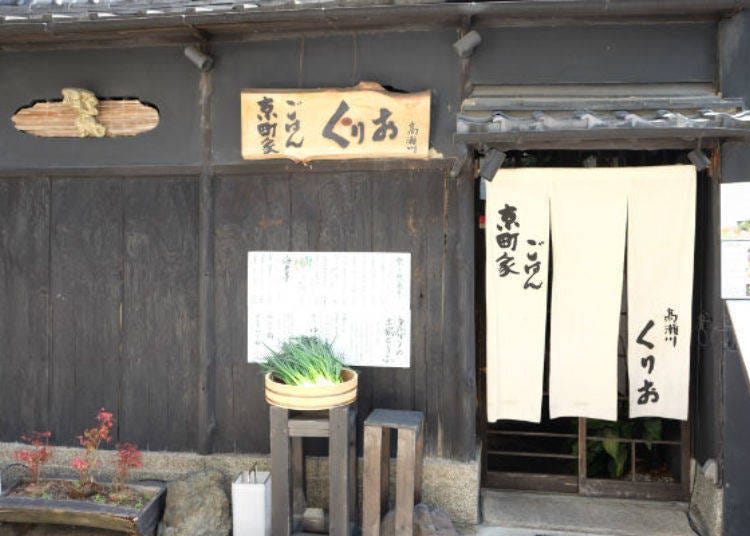 ▲Kyoto vegetables and green onions are laid out at the entrance. The restaurant is two minutes' walk from Kawaramachi Station (Hankyu Railway) and five minutes from Gion Shijo Station (Keihan Electric Railway).
If you sit on the ground floor, you have the Takase River at your feet with the Yoshino cherry blossom branches above you as you look up. Upstairs, the cherry blossoms are directly in your line of sight. It's as if you have climbed up into the trees. The view varies depending on which floor you sit, so find out which view you prefer!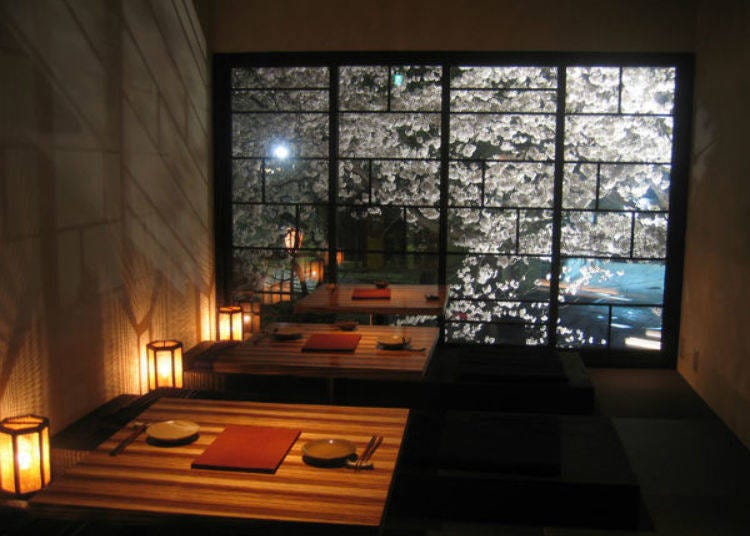 ▲ You feel like you can almost reach out and touch the cherry blossoms when you sit on the second floor.
Takasegawa Kurio specializes in Japanese-style dishes flavored with seasonal soups and stocks. The Traditional Kyoto Vegetables and Tofu Hotpot Set Meal (4,298 yen, including tax) features eight delicious dishes, including lightly simmered bamboo shoots and canola blossoms and zosui (rice porridge) with green onions and yuzu. This is elaborate cooking with delicate soups imparting intense flavors to each dish.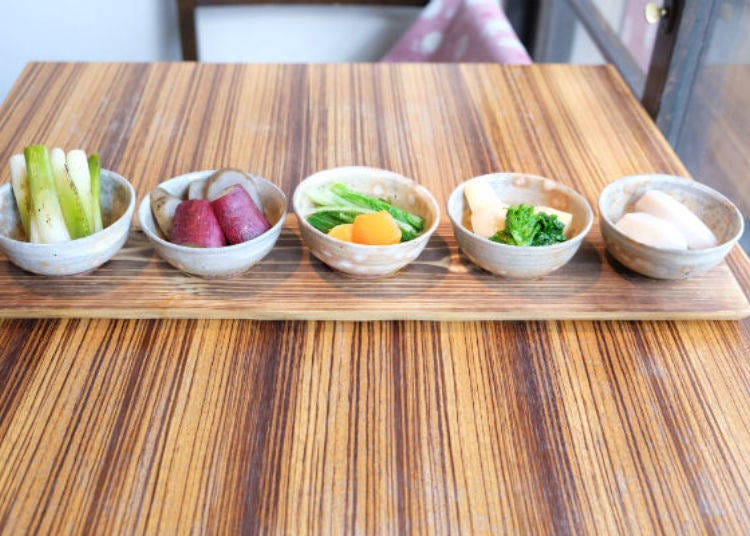 ▲Daily special: Simmered Kyoto-Harvested Vegetables (918 yen, including tax). (From left: Kujo onion (Kyoto green onion), sweet potato and burdock, carrot and mizuna (Japanese mustard greens), bamboo shoots and canola blossom, taro).
The simmered Kyoto vegetables are served in five separate bowls, with subtle differences in the cooking method and broth used for each one. The basic stock is made from kombu, dried mackerel, and tuna shavings. For the green onion dish, mirin and soy sauce are added to give a slightly sweet finish to the broth.

For the sweet potato, if it was cooked just as it is, its delicate starchiness and flavor would be lost in the soup. So the chef grills the potato beforehand to harden the surface before lightly simmering it.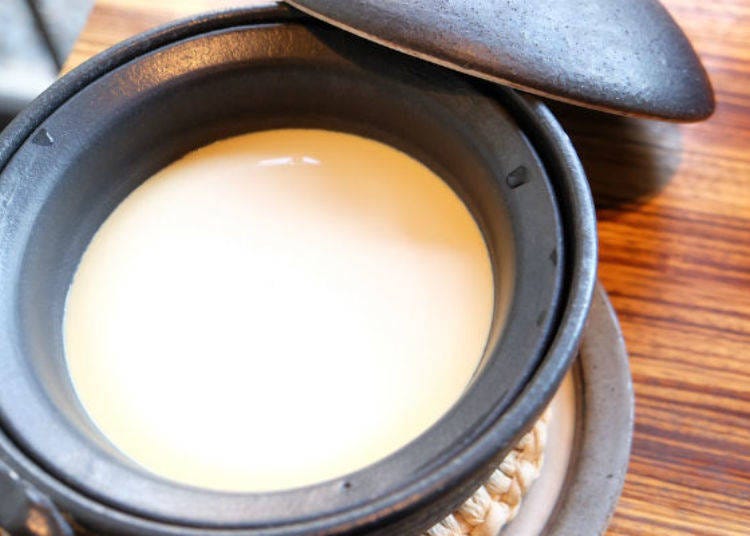 ▲House Specialty: Freshly Made Tofu Pot (1,026 yen, including tax). Hard on the surface, light and loose underneath – delicious!
The Freshly Made Tofu Pot is a specialty of this restaurant. It has a rich intense flavor, made with soymilk at a concentration of 13-14%. You can start by eating it on its own, and then add rock salt, dashi soy sauce or green onions. Light and delicate, it just melts in the mouth.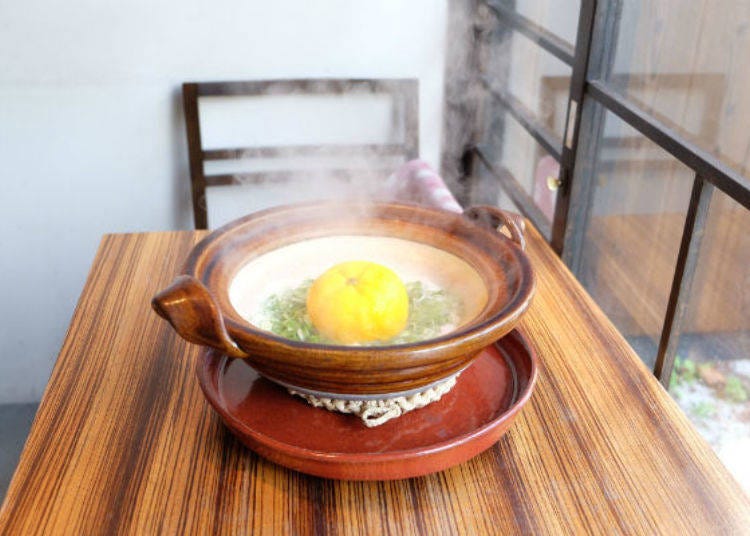 ▲ House Specialty: Green Onion and Yuzu Zosui (1,026, including tax). Look at the large yuzu fruit amidst the steam!
The final dish of the set meal is Green Onion and Yuzu Rice Zosui, available only for a seasonally limited period. The head and tail of the sea bream are seared and cut away to remove any residual smell. The fish is then simmered by for two hours with kombu to create a beautifully flavored luxurious soup. The dish features rice and Kyoto onion with a large yuzu cooked whole laid on top as a finishing touch.

The yuzu is lightly scored. Squeeze some of the juice onto the rice and taste it. The light flavor is indescribably delicious, the refreshing aroma and juice melting together with the rice. You just can't get enough of it!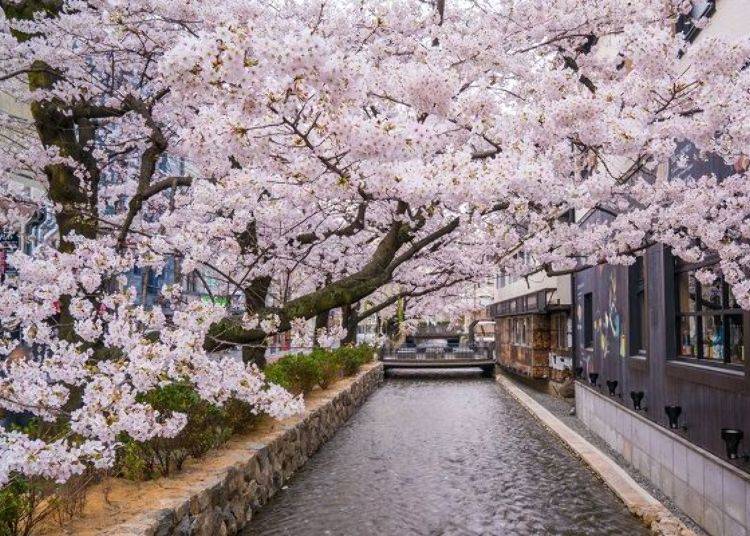 ▲The restaurant is only open for dinner, so we'd suggest you go for a walk along the river to take in the cherry blossoms before you visit.
Other recommended dishes include the sukiyaki set meal, made with Japanese Black wagyu beef (4,298 yen, including tax) or the Kyoto vegetable shabu shabu (1,814 yen, including tax).

Sample delightful soups and broths by the gorgeous cherry blossoms along the Takase River. If you've made the effort to visit Kyoto, you're bound to want to sample some of the best regional cuisine. This is the place for you!
高瀬川 くりお

Address

273-1 Sendomachi, Shijo Kawaramachi, Shimogyu Ward, Kyoto, Kyoto Prefecture

Phone Number

075-344-2299

Opening hours: 5:00PM - 11:30PM (Last orders 10:30PM)
Holidays: N/A
3. Higashiyama: Gorgeous pink cherry blossom backdrop with Italian cuisine!
Higashiyama has cultural facilities and historic buildings, such as the Kyoto National Museum and Kiyomizu Temple, dotted around everywhere.

The Hyatt Regency Kyoto is a luxury hotel located in one of the main tourist areas, which gets very lively during cherry blossom season. You can get wonderful views of the sakura from Trattoria Sette, the Italian restaurant on the second floor.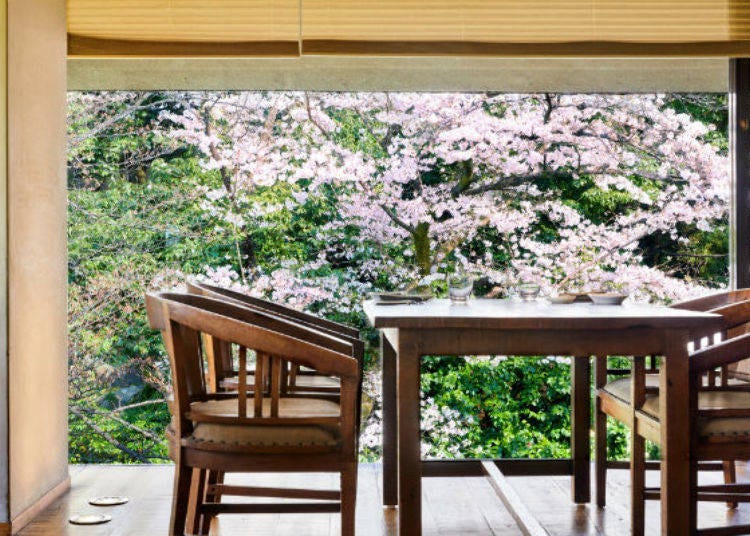 ▲Special table for viewing the cherry blossoms (Photo from March 26, 2018)
The second-floor windows have stunning views of the hotel gardens with their magnificent cherry blossoms. This special table seats four people and is located at the back of the restaurant. It's very popular when the cherry blossoms are in full bloom.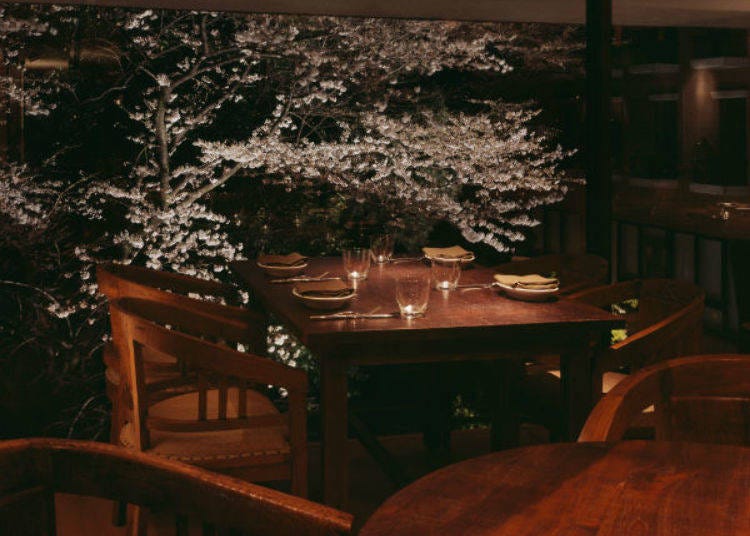 ▲Illuminated cherry blossoms right in front of table. An amazing place to sit if you get the chance!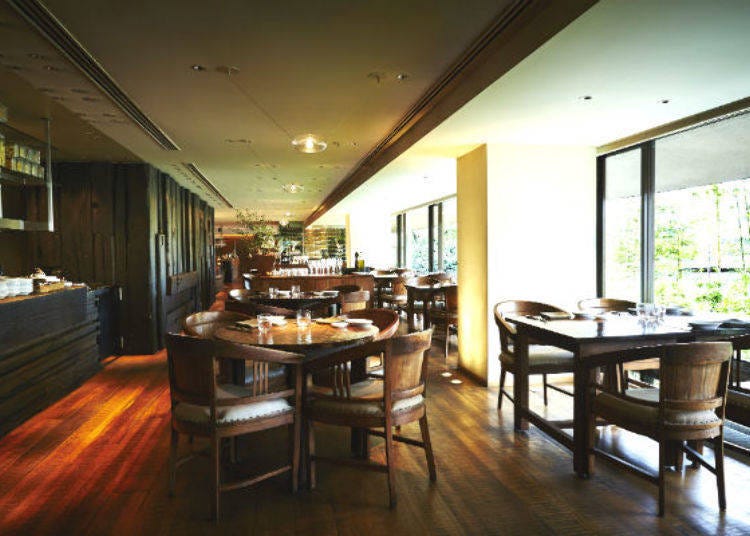 ▲Large windows help create a light and spacious interior. The restaurant faces directly onto Shichi-jo Dori, so you don't have to go through the hotel to get to it.
Trattoria Sette features authentic Italian dishes which bring out the full taste of the rich ingredients. The menu changes regularly depending on the inspiration of the chef and the time of year. So whenever you visit, there's always something new to try!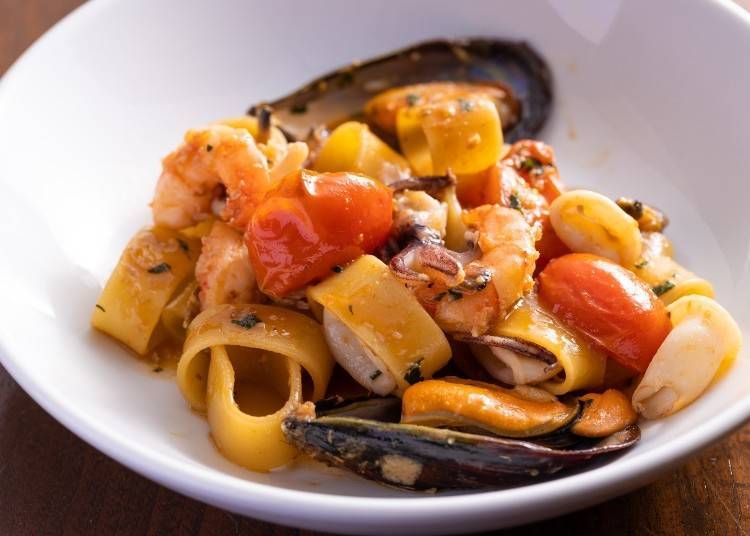 ▲Sample menu. Today's pasta is calamarata. A luxurious dish made with a large helping of seafood.
We also recommend the signature pizza, baked in a specially-made oven. The dough turns crispy on the outside and stays soft and chewy on the inside. Special touches from the chefs demonstrate their skill and artistry. For example, the dough has extra virgin oil added to it, and it's left to ferment for 24 hours before cooking.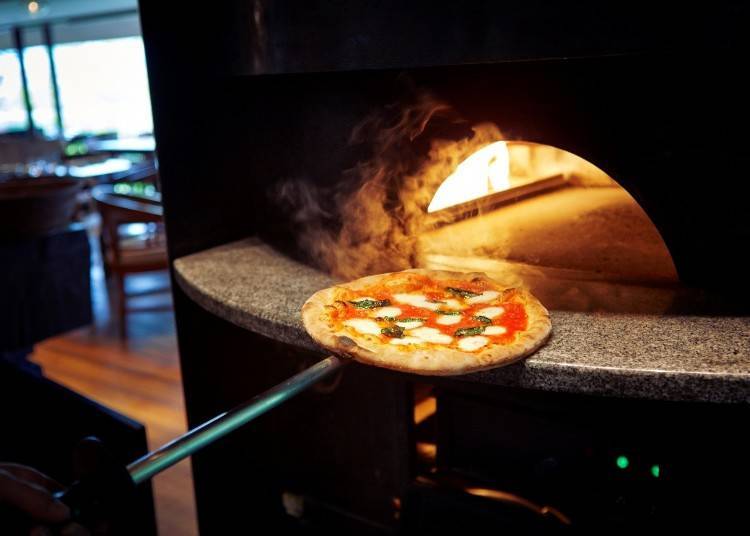 ▲The pizza is freshly baked on the premises in a special oven.
This is a place dedicated to the pleasure and enjoyment of fine cuisine. The restaurant offers all the service and hospitality you'd expect from a high-class hotel. You'll lick your lips at the specialty dishes on offer here as you admire the cherry blossom backdrop. It really is an experience to savor!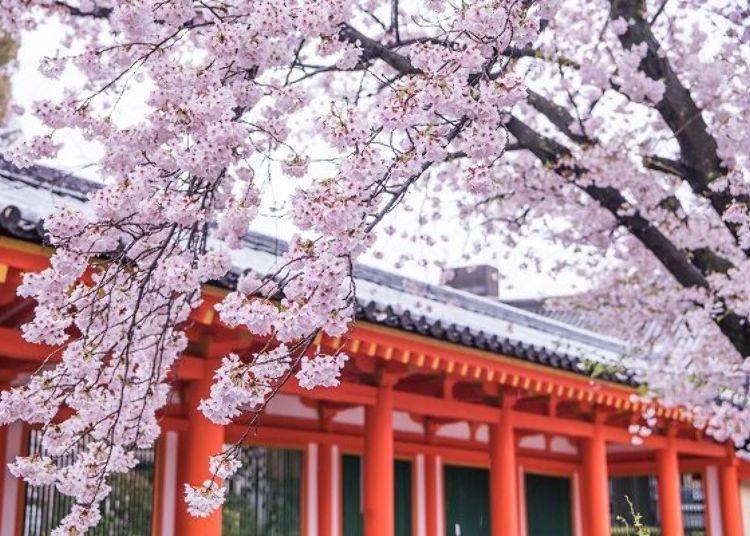 ▲Sanjusangendo is a famous cherry blossom spot near the hotel. It's well worth going for a walk here if you have time.
トラットリア セッテ

Address

2 fl. Hyatt Regency Kyoto 644-2 Sanjusangendomawari, Higashiyama Ward, Kyoto

Phone Number

075-541-3204

Opening hours: 11:00AM to 10:00PM (Last orders 9:30PM); Pastry Boutique 11:00AM to 9:00PM
Holidays: N/A
*Cherry blossom photo taken in the spring. Please note that seeing the cherry blossoms in full bloom will depend on when you visit.
Kyoto's beautiful and mesmerizing cherry blossom backdrops make you feel like time has stood still. This really is a spectacular time of year. A sophisticated meal with views of the sakura is the perfect way to spend time with friends and loved ones.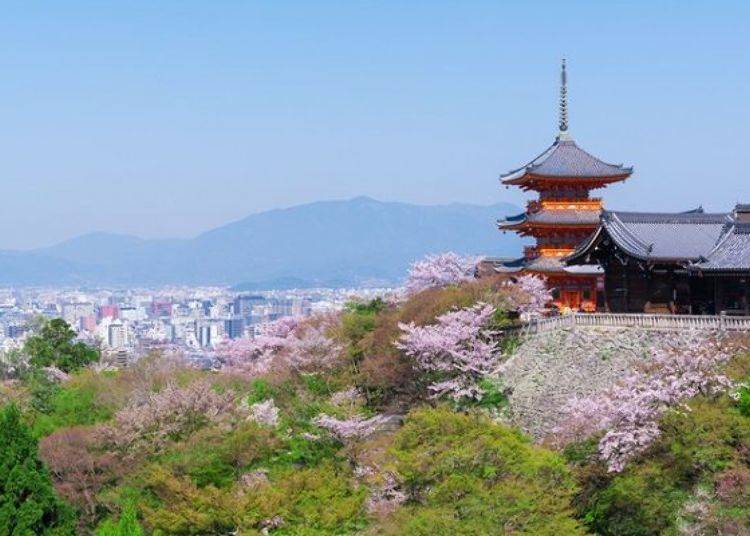 ▲Kiyomizu Temple is a famous spot for cherry blossom viewing in Kyoto's Higashiyama district
* Photos of cherry blossoms are mainly from 2017.
* Depending on the restaurant, not all seats have a good view of the cherry blossoms. Please note that the restaurant may not always be able to guarantee a table with a view when you book.
Text by:kurashisa
*This information is from the time of this article's publication.
*Prices and options mentioned are subject to change.
*Unless stated otherwise, all prices include tax.