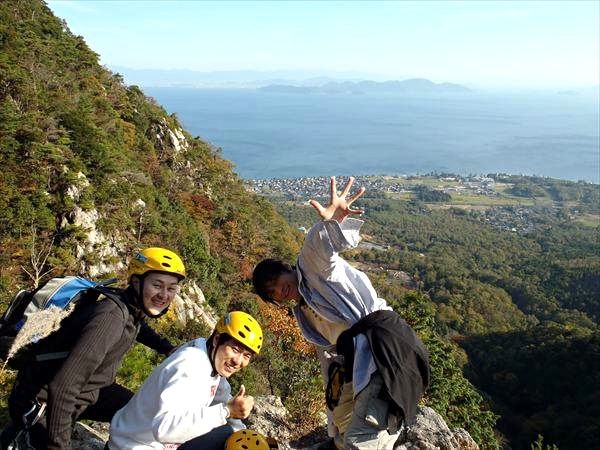 Overview

* For inexperienced people! Local resident guides hold tours after grasping the daily slope conditions (weather, river water level, snow conditions, etc.)
* Stimulate your body and mind! Don't miss the thrilling climbing "Zero Rock" experience!
* You can enjoy safely and safely with a small number of people!
* One train from Hyogo/Osaka/Kyoto to an extraordinary world in 60 minutes
What to expect

Ideal for those who want a little thrilling trekking! It is a mix of rock climbing and trekking. Aiming for the summit of Mt. The village of Ohara in Kyoto spreads out below, and you can enjoy the scenery of nature. A sense of accomplishment and exhilaration that cannot be experienced indoors! It is also perfect for practicing for those who want to try rock ridge walking in the Japanese Alps. **important** Please present your voucher on a device with internet access, such as a smartphone. Booked vouchers can be viewed by logging in to the Klook app/site and clicking "View Voucher" in the booking record.
Additional Info

Kyoto Subway "Kokusaikaikan Station" Exit 1: Iwakura Minami Osagi-cho, Sakyo-ku, Kyoto 606-0003

Recommended rail passes
Hankyu Tourist Pass for Osaka, Kyoto, Kobe(1, 2Days)

【Kyoto】 Randen + Subway 1 Day Pass

Sagano Romantic Train One-Way Ticket | Saga - Kameoka

Kyoto-Osaka Sightseeing Pass 1 Day/2 Days (Osaka Pick up)

Kyoto-Osaka Sightseeing Pass 1 Day/2 Days (Kyoto Pick up)

Kyoto-Osaka Sightseeing Pass with Hirakata Park/Greater Kurama and Kibune Area Day Pass ( 1Day )

Eizan Railway Ee Kippu 1-Day Pass

【Osaka Kyoto Nara】Kintetsu Rail Pass (1, 2, 5Days, Plus)

ICOCA IC Card (Osaka Pick Up)

【Osaka Kyoto】JR West Kansai Pass (1, 2, 3, 4 Days)

JR Kansai Mini Pass(3 Days)

Kansai Thru Pass (2 or 3 Days)

【Osaka Kyoto】JR Kansai WIDE Area Pass (5 Days)

Kansai WIDE Area Excursion Pass

【Hida-Takayama】JR Takayama-Hokuriku Area Tourist Pass (5 Days)

JR Kansai-Hiroshima Area Pass (5 Days)

JR Kansai Hokuriku Area Pass(7 Days)

【Kansai Hiroshima】JR Sanyo-San'in Area Pass (7 Days)

【Kansai Hiroshima】JR Sanyo-San'in-Northern Kyushu Area Pass(7 Days)

JR WEST All Area Pass(7 Days)

JR Osaka-Tokyo Hokuriku Arch Pass (7 Days)

JR Pass for Whole Japan (7, 14, 21 Days)