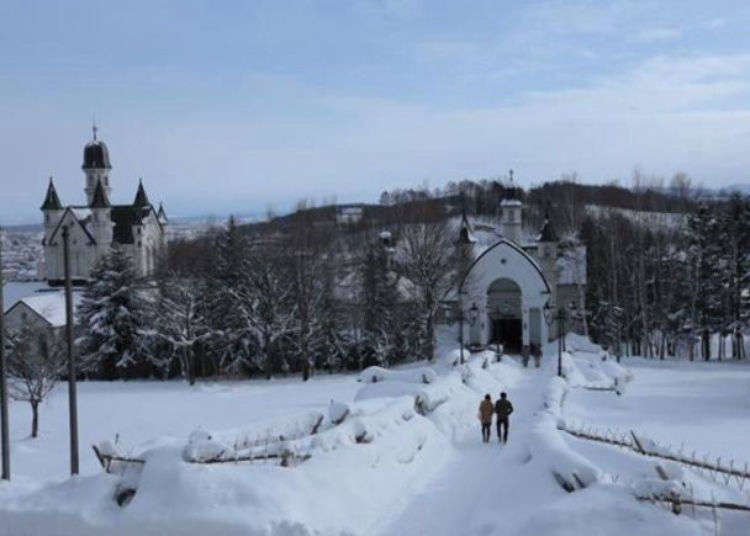 The Snow Crystal Museum in Asahikawa Hokkaido is famous nationwide for its snow crystal theme. It recently became a huge hit thanks in part because its atmosphere resembles that of the movie "Frozen", and everywhere there is fantasy-like scenery!

As perfectly white as a snow sculpture and reminiscent of an old European castle, it has an other-world beauty. It's a fantastic place where you can enjoy snapping selfies while imagining yourself to be a heroine.

Note: The Snow Crystal Museum will be closed from June 30, 2020. Refer to the official website (https://yukibi.marryblossom.com) for more information.
Very romantic! Just looking at the Snow Crystal Museum building will thrill you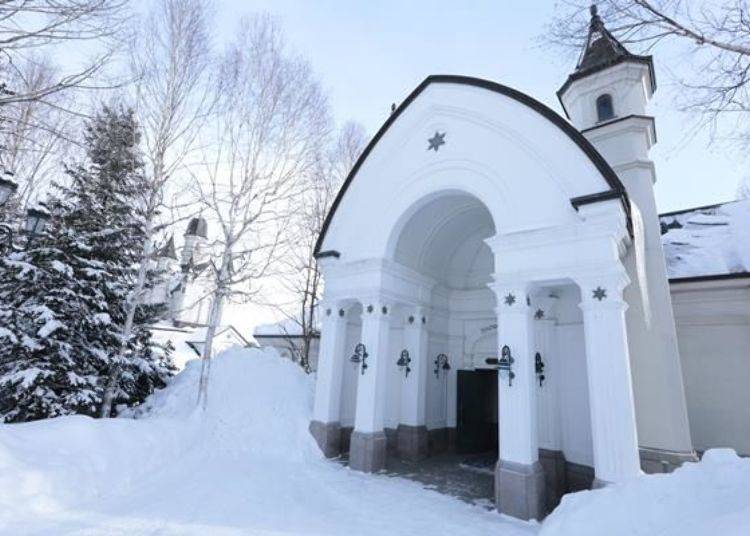 The Snow Crystal Museum opened in May 1991. Its European Byzantine exterior looks like something in a painting (photo provided by Snow Crystal Museum)
It is not unusual for winter temperatures around Asahikawa to drop well below freezing. However, it's precisely that cold that makes the snow sparkle! In this frozen wilderness, it's easy to become captivated by the beautiful snow-capped scenery and sight of the fluffy snow as it falls gracefully in the crisp air.

The Snow Crystal Museum was born from the desire to convey the mystical beauty of a world of snow and ice to as many people as possible throughout the year.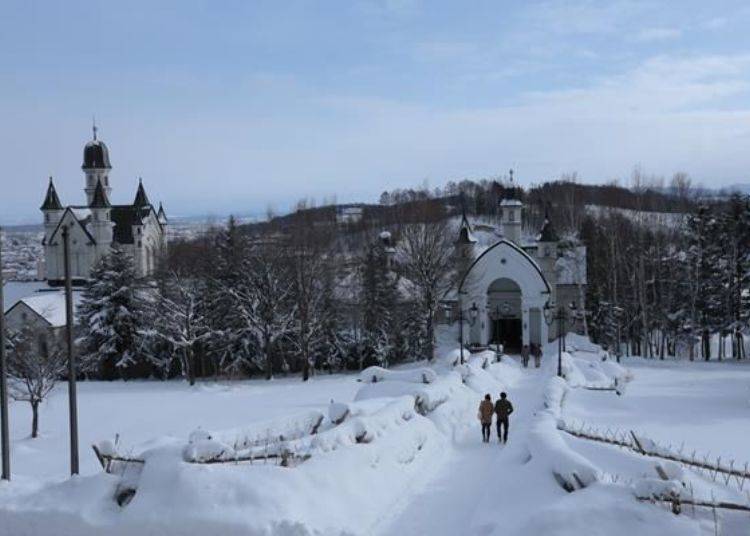 The Snow Crystal Museum is located on a hill outside Asahikawa City – about a two hour bus ride from Sapporo. The building in its lovely snow setting looks like something out of the Middle Ages of Europe! (Photo provided by Snow Crystal Museum)
When visiting the Asahikawa Zoo and other sightseeing spots in Asahikawa, this is another spot you really should visit. Let's take a look inside!
Excitement builds as you approach the Snow Crystal Museum's entrance!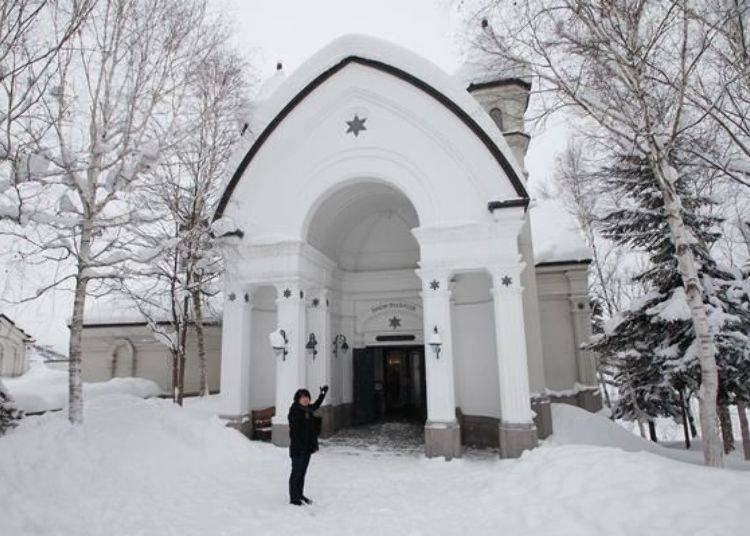 After paying the admission fee (all prices include tax; adults 700 yen, high school students and university students 500 yen, elementary and junior high school students 400 yen, small children free) make your way deeper into the building.
The doors open to reveal a brilliantly white entrance. Bathed in soft light, the space exudes an air of luxury making you feel as though you were being welcomed as a prince or princess!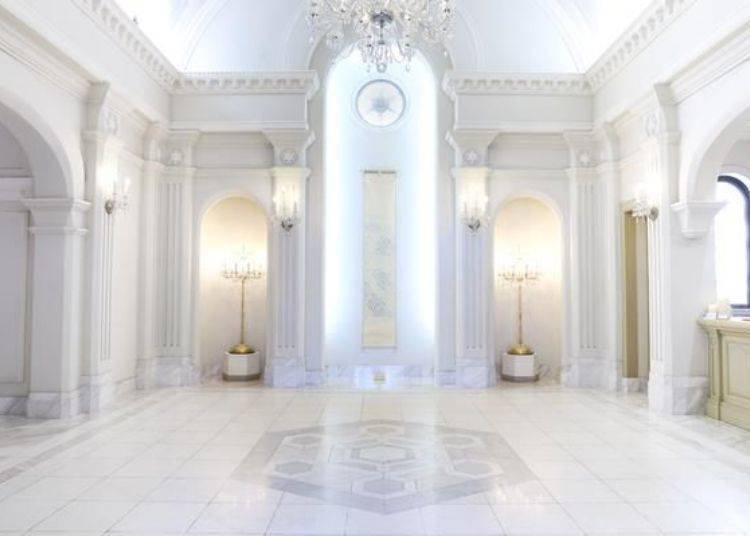 he center of the entrance is adorned with a Yukaraori tapestry, a style originating in Asahikawa, called the Snow Coat of Arms. (Photo provided by Snow Crystal Museum)
The luxuriousness of the building and furnishings is evidenced by its reported cost of six billion yen (around US$55 million). While the exterior is gorgeously photogenic, the elegant marble floors inside the building are equally astonishingly beautiful!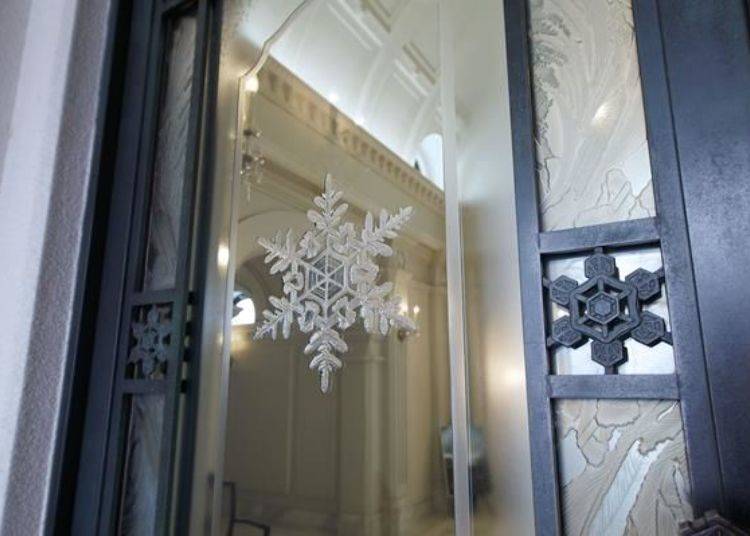 Snowflake and frost patterns are engraved on the glass doors and windows throughout the museum. The engravings on each of the glass decorations were all handmade by artisans.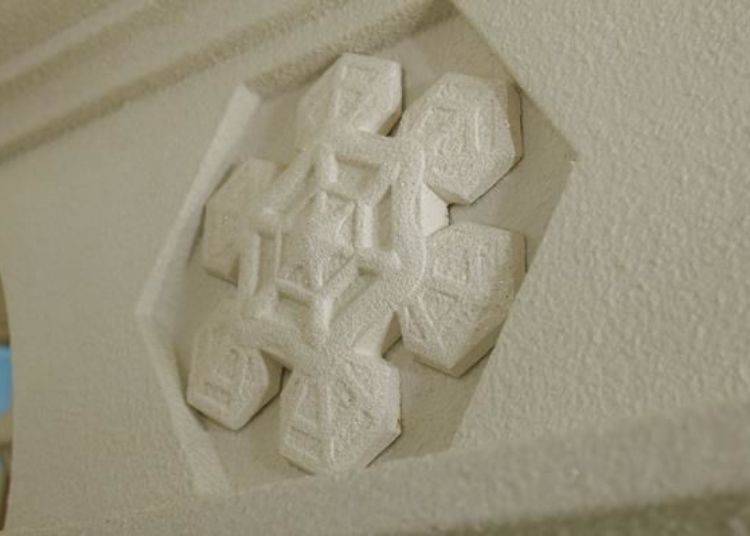 The pure white walls inside the museum were created using a special application of finely crushed glass blown onto their surfaces to convey the image of glistening diamond dust powder snow in the winter.
As I went deeper into the museum I felt a rising thrill of anticipation.
Descending the hexagonal spiral staircase, you enter another world!
The main floor is located 18 meters below. To reach it you go down the spiral staircase off the entrance.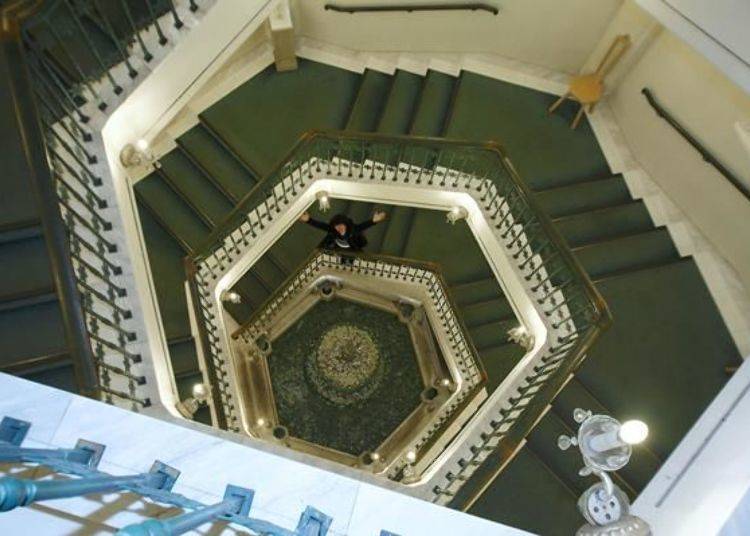 The hexagonal spiral staircase resembles a snow crystal.
The long stairway spirals downwards. Although there are 62 steps, the stairs are broad enough to make the descent surprisingly easy.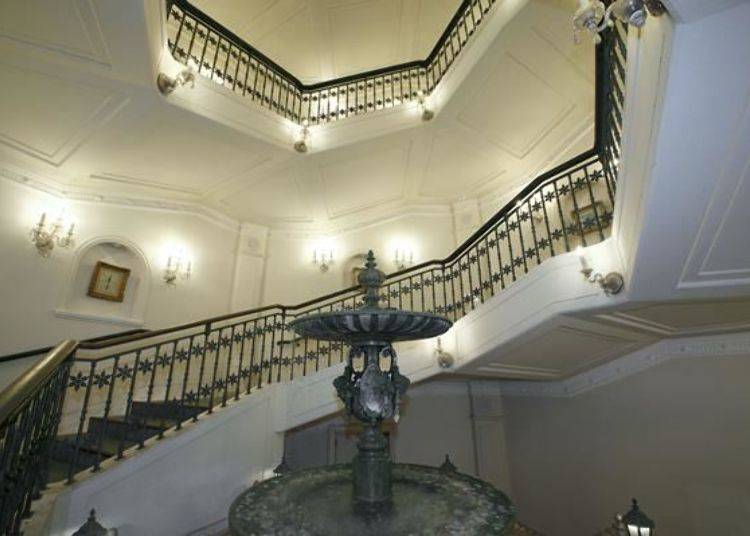 There is a fountain in the center in which many coins have been tossed – probably by many visitors making a wish!
At the bottom of the stairs the air feels a bit chilly. One enters the main floor by passing along the Corridor of Ice.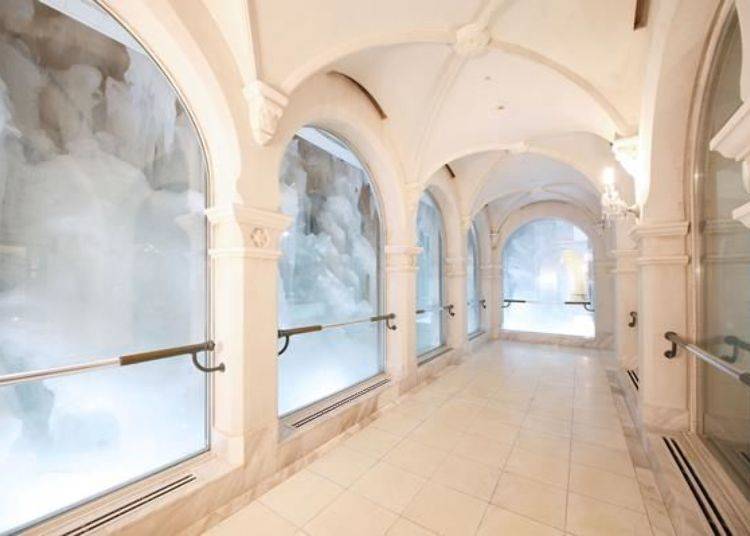 The corridor is flanked by glass windows on both sides, the temperature of the room kept at 10 degrees throughout the year, and the ice rooms beyond the windows are always kept at 15 degrees below freezing. Even in summer the room feels chilly.
Columns of ice 6 meters tall extend 62 meters on the other side of the windows! These are kept frozen using groundwater that's sprayed through special nozzles.

The corridor extends deep into a veritable palace. There is a sense of mid-winter exhilaration as you open the doors in the rear leading to the main floor.
You'll love the majestic atmosphere of the music hall!
Beyond the doors you'll see a spacious room, the temperature of which is much warmer.

Bright white walls and pillars rise high above your head, and beyond that is a huge blue painting on the ceiling! The ceiling of the main floor is so high and spacious it is hard to believe that it is underground. There is a solemn mood in this space which is perfectly suited to hymns.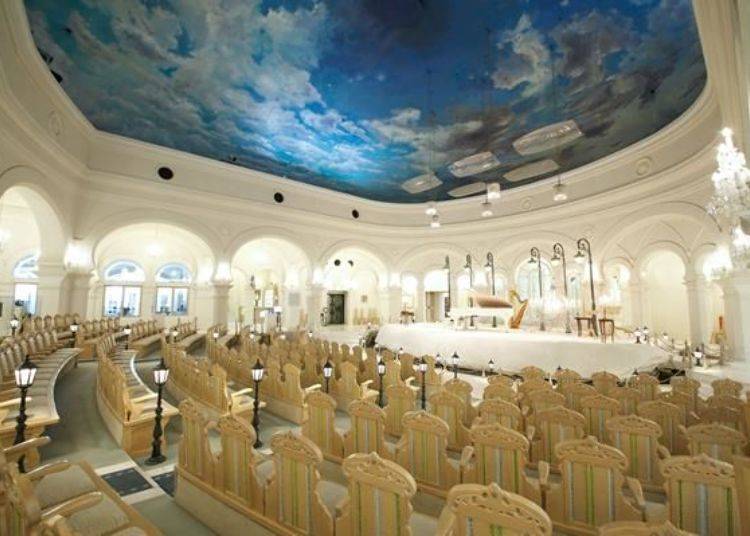 The 184 wooden chairs were custom made by Asahikawa Furniture from the abundant forest resources around Asahikawa and crafted using traditional techniques. The backrests and the seat surfaces are adorned with Yukaraori material.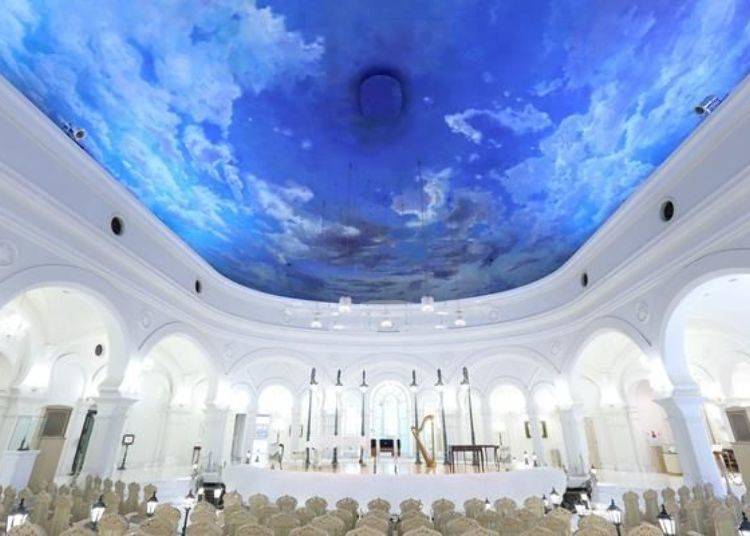 The floor area measures around 462 square meters, above which is a giant mural on the ceiling entitled Northern Sky. It took the combined efforts of seven artists three months to create. (Photo provided by Snow Crystal Museum)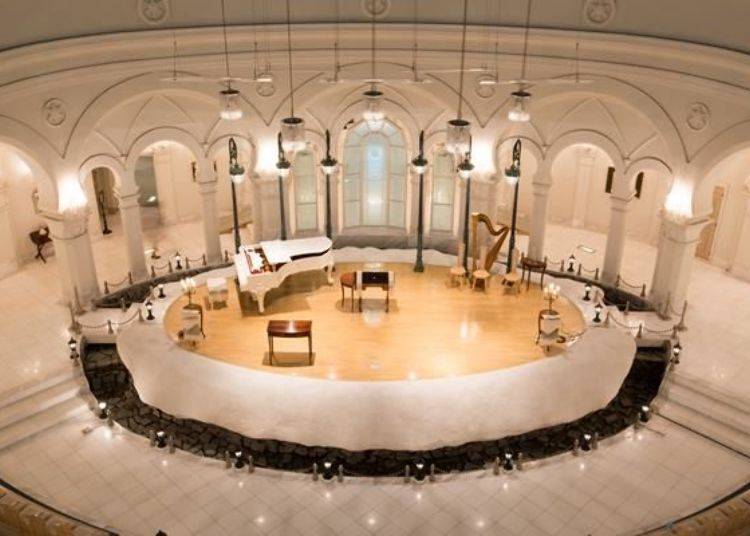 Water flows around the center stage on which there are a white Austrian grand piano, one of only two in Japan, and a grand harp made in France. (Photo provided by Snow Crystal Museum)
This music pavilion is used for wedding ceremonies and concerts. It was designed to create the image of a babbling brook fed by melting snow under a blue, spring sky.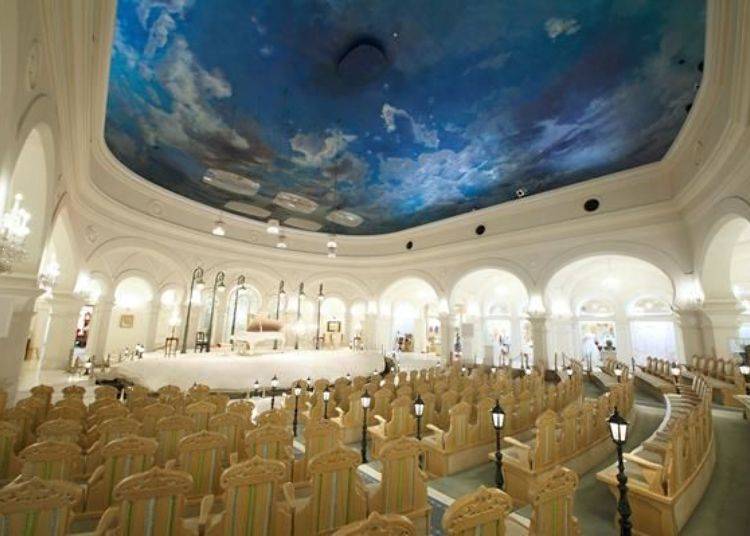 Its beauty is magnificent from any view!
Many types of snow crystals, each equally beautiful!
Around the main floor are an exhibition floor, gift shop, and cafe.

Let's first visit the Snow Crystal Museum, an exhibition floor where you can see snow crystals – the very theme of this Hokkaido museum.

Entering the room you find yourself surrounded by glittering snow crystals!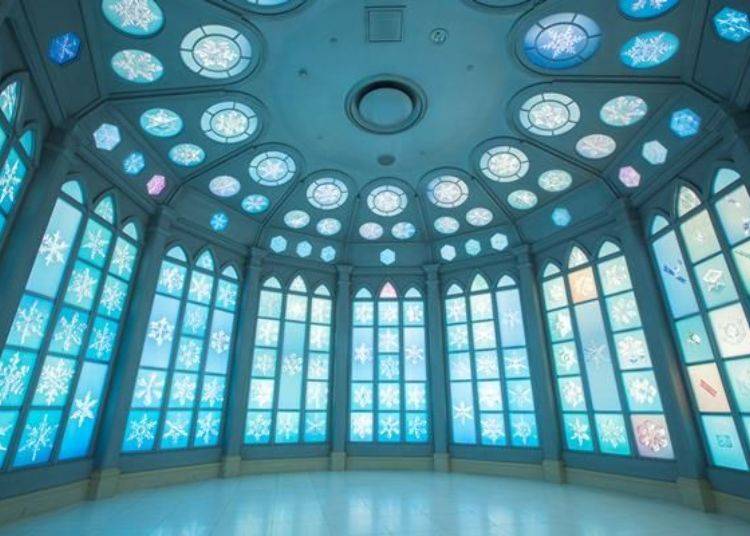 About 200 enlarged photos of snow crystals adorn the walls! Every winter for more than 20 years researchers have dug ice caves on Tennyogahara in the Daisetsu mountain range in order to take microscopic photographs of ice crystals.
Being in this space, you feel just you have entered a magical fairyland – just like in a movie!

No two crystals are exactly the same. You can either carefully look at each one or pose for a photo in front of the sparkling hexagonal background.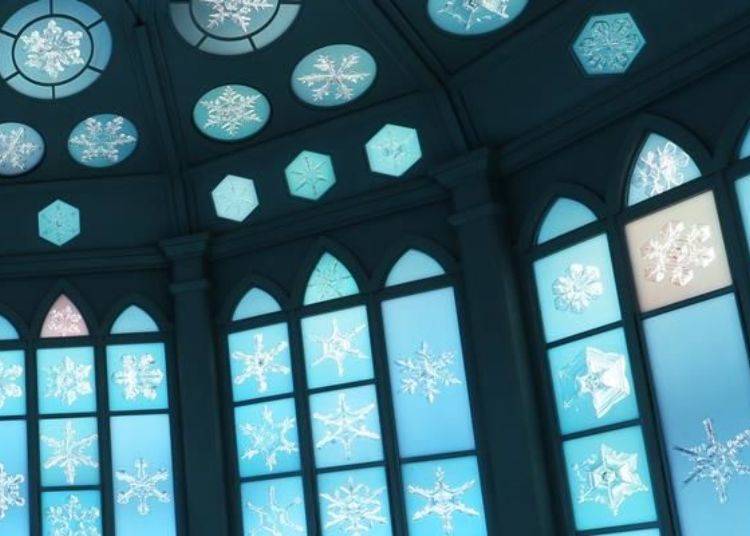 Photos of ice crystals continue overhead. Going from right to left, the snow crystals were made in low-temperature environments of 5, 10, and 15 degrees below freezing. (Photo provided by Snow Crystal Museum)
By the way, there are pink snow crystals mixed with blue sparkling snow crystals, and it is said that if you touch here, you will become joined with the person of your dreams!

Towards the back of the Snow Crystal Museum there are also a theater and reference room.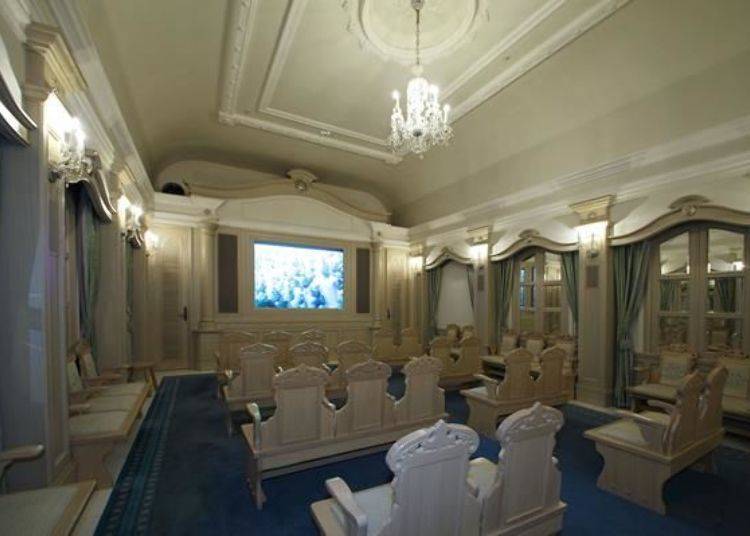 In the theater you can watch a video showing the four seasons of Mount Daisetsu.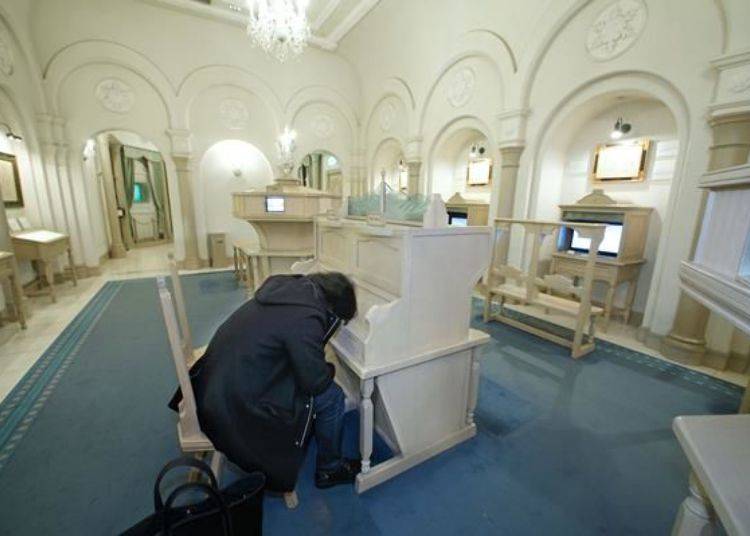 In the reference room you can view images of snow crystals as though looking at them through a microscope. While it may seem that I have fallen asleep, actually I am looking at the snow crystals.
Various items and sweets with snow crystal motifs!
After leaving the Snow Crystal Museum and returning to the main floor, let's now move on to the Museum Shop.
Here you can buy original goods and sweets with a snowflake motif. Plus if you feel so inclined, you can also experience being a princess!
The Museum Shop has a large selection of decorative and interior decor items.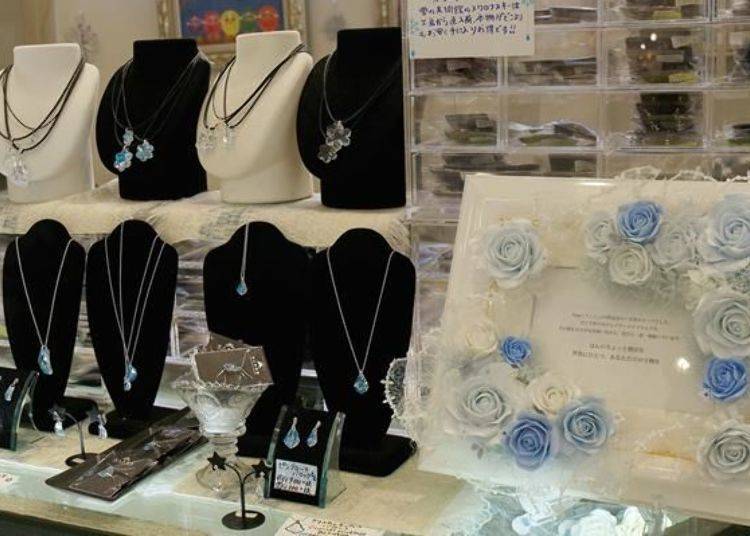 Popular original items are Swarovski crystal accessories having a snowflake motif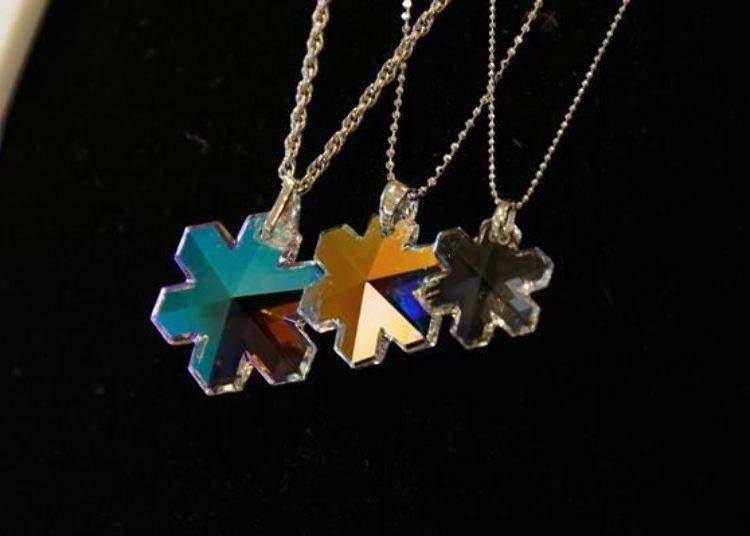 Necklaces come in three sizes: large (4,300 yen less tax), medium (3,000 yen less tax), and small (2,500 yen less tax). Each comes in a choice of three colors: blue, yellow, and clear.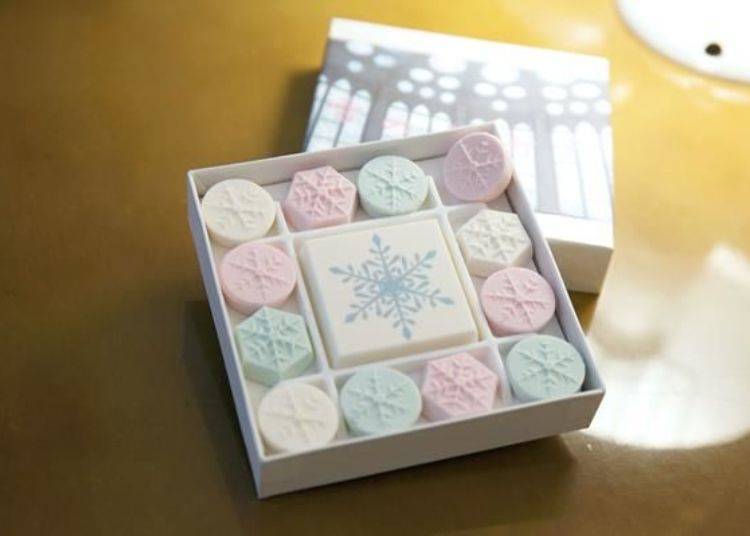 The most popular original confectionery item is Wazanbon [refined Japanese sugar] (800 yen, tax not included) in the form of snow crystals. This elegant sweet is unique in that it melts in your mouth with a fizzling sensation.
Enjoy dressing up and getting your picture taken!
You can select a gown you like and dress up like a princess!
If you take a photo dressed in a gown, everyone will certainly think you are a movie heroine! (Photo provided by Snow Crystal Museum)
There are a number of options available.

・Princess Experience (3,240 yen including tax; reservations possible)
Your photo will be taken in a rental gown and then printed on Snow Crystal Museum original paper (2L size) and given to you as a gift.

・Princess Experience Accessories (4,320 yen including tax; reservations possible)
The Princess Experience plus tiara accessory, gloves, bouquet and other small accessories.

・Premium Princess Experience (10,800 yen tax included; reservations required)
After taking the photo, for one hour you can wear the gown and accessories while going around the museum taking selfies! There is also a beautician available to help stylize your hair.

It is also possible to select Japanese-style attire rather than Western.

Once you inquire about the options for the experience at the Snow Crystal Museum Shop, you will be shown to a dressing room in the back where all the gowns are kept.
There are about 100 gowns from which to choose.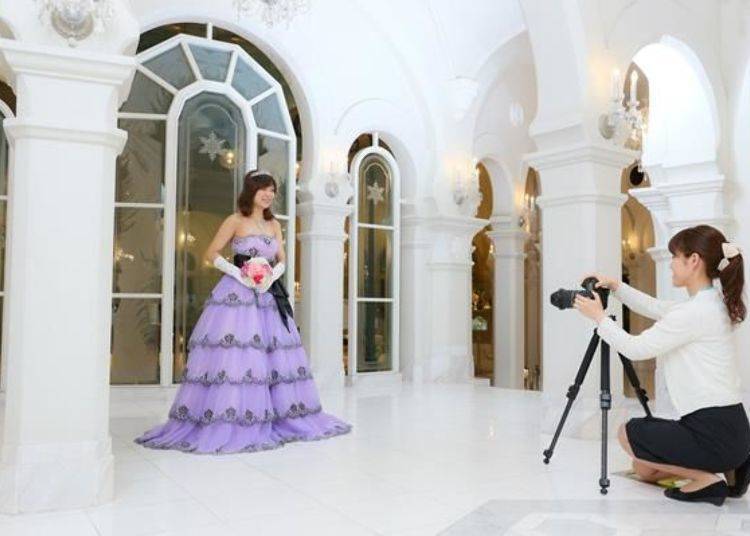 After you have changed into a gown, you can then pose for a photo (photo provided by Snow Crystal Museum)
The music hall or on the spiral staircase are perfect places to have your photo taken! Why not go all out and try the Premium Princess Experience?

For those who decide not to do the Princess Experience, there are also other goods in the museum for taking photos like this.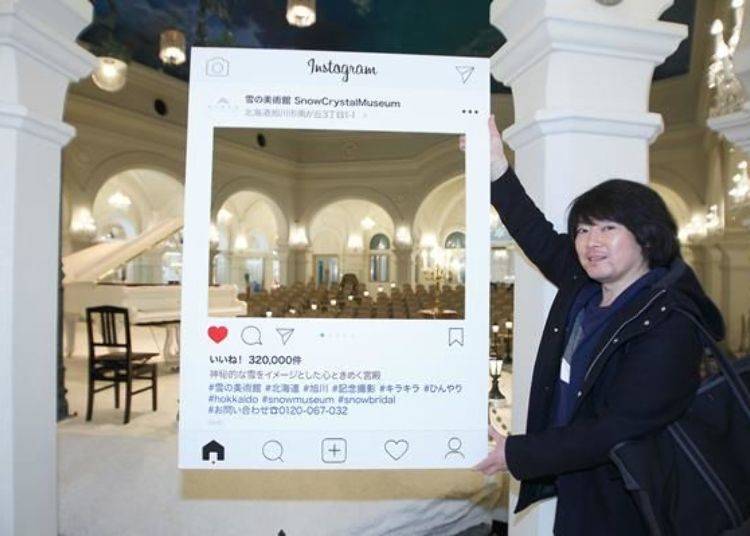 You can pose any way you like with this frame. Don't forget to snap and share on Instagram!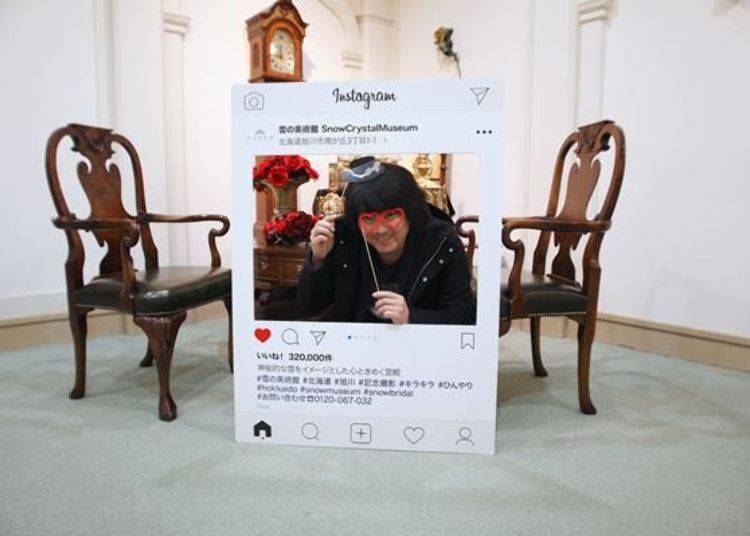 There are also some simple disguises
How about enjoying an elegant afternoon tea?
After you have seen everything and taken lots of photos, enjoy a leisurely afternoon tea at the Cafe Restaurant Snoowna.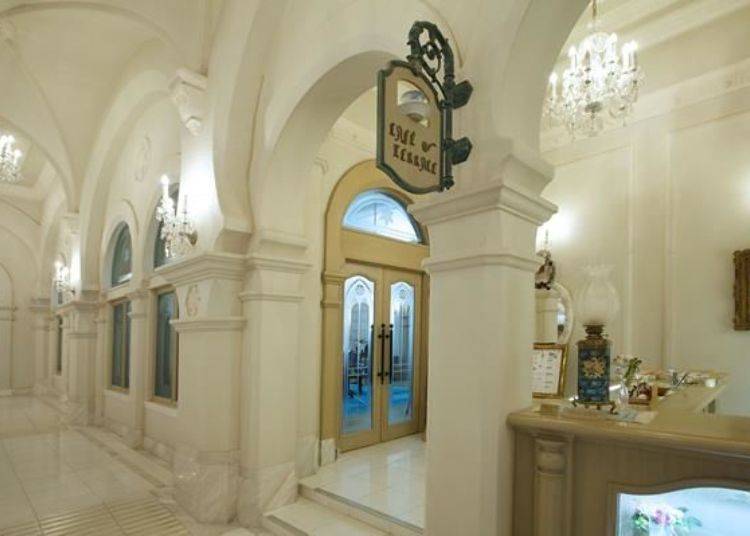 The cafe entrance faces the main floor.
You can enjoy lunch made with Hokkaido ingredients and sweets. The shop is charmingly decorated in a European antique style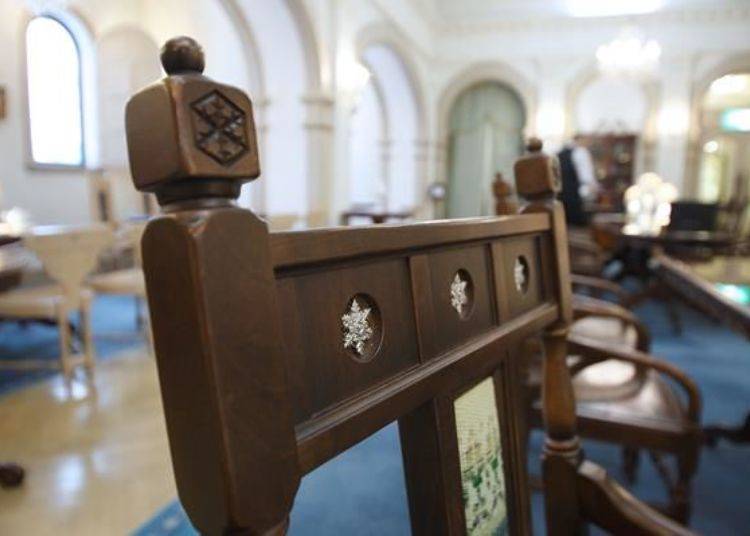 The antique-style wooden chairs have snowflake patterns. The attention to detail is marvelous!
The afternoon tea is especially recommended (2:00 p.m. ~ 4:00 p.m., L.O. 3:00 p.m., 1,500 yen per person including tax; possible to order for two or more people).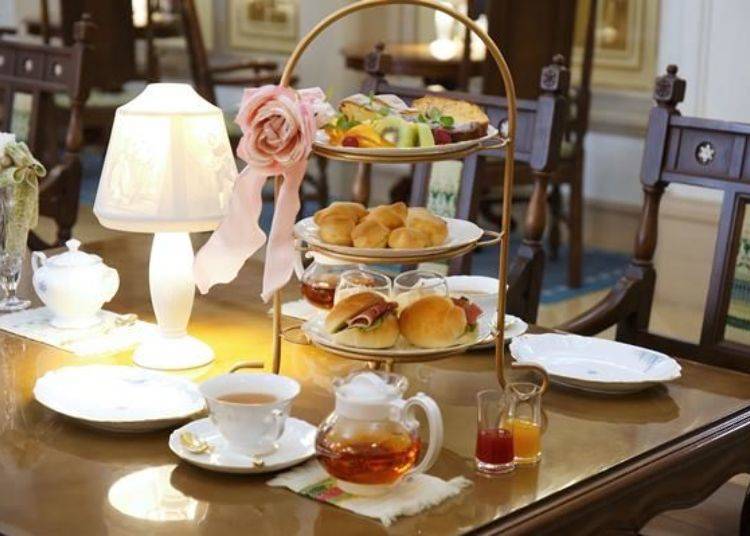 Afternoon Tea set for two. Scones, cookies, fruit, butter roll sandwiches, and various desserts served with tea.
The strawberry jam and mango jam in the glass containers are for putting on the scones in the middle tier. If you look closely, they are in the hexagonal shape of snow crystals!
The sweets on the upper tier vary according to the day. On this day they included gateaux chocolat, cheese cake, and pound cake.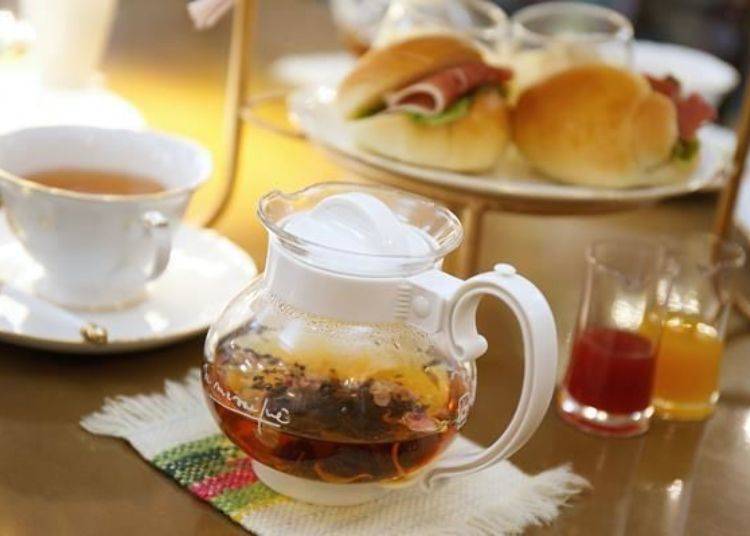 There are six types of tea from which you may choose! This is an original tea blend called YUME that is made with rose buds. It has a delightful aroma of vanilla and fruit.
The bread, scones, and cakes are all homemade. It may look like a light repast, but there is quite a bit to it and the slight salt flavor of the sandwich is perfectly balanced by the sweet desserts! This makes a delightful change for a late lunch.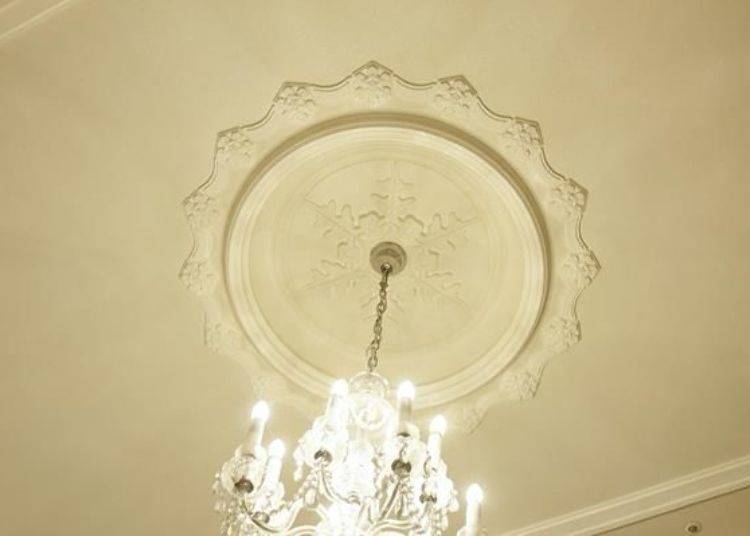 Cafe ceiling. The suspended chandelier also has snow crystal patterns.
This room has a separate entrance so it is possible to just come for a meal.
Cafe Restaurant Snoowna
3-1-1 Minamigaoka, Asahikawa City, Hokkaido
Open: 10:00 a.m. ~ 4:00 p.m. (L.O. 3:45 p.m.) *Afternoon tea is served between 2:00 p.m. and 4:00 p.m. (L.O. 3:00 p.m.)
Closed: end and start of the year *sometimes closed for group events
0166-73-7017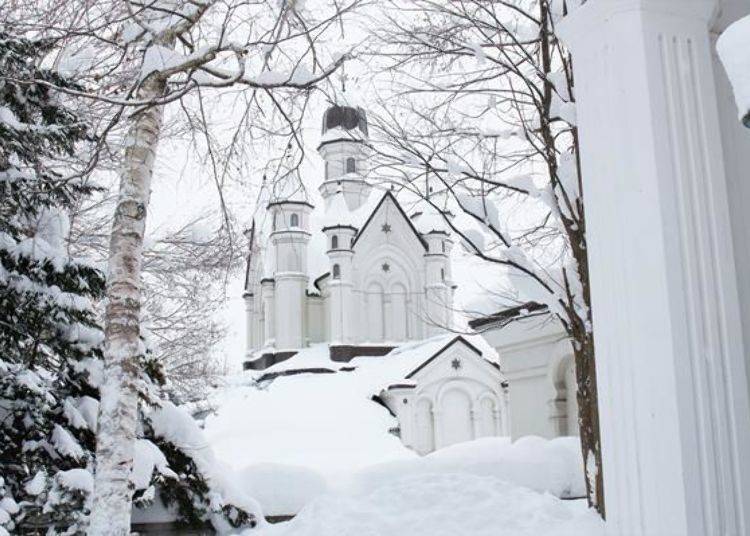 Hokkaido's Snow Crystal Museum has many beautiful picture-perfect spots! It is a museum that has snow crystals for its theme throughout. Without a doubt, you can take beautiful photos anywhere in it! Why not visit and imagine yourself as a princess?
雪の美術館

Address

3 Chome-1-1 Minamigaoka, Asahikawa, Hokkaido 070-8028

Phone Number

0166-73-7017

Open: 9:00 a.m. ~ 5:00 p.m.
Closed: end and beginning of year *admission is restricted when there are wedding ceremonies
Admission: (All prices include tax) Adults 700 yen, high school students and university students 500 yen, elementary and junior high school students 400 yen, small children free
Text : Nobuhiro Kawashima
*This information is from the time of this article's publication.
*Prices and options mentioned are subject to change.
*Unless stated otherwise, all prices include tax.