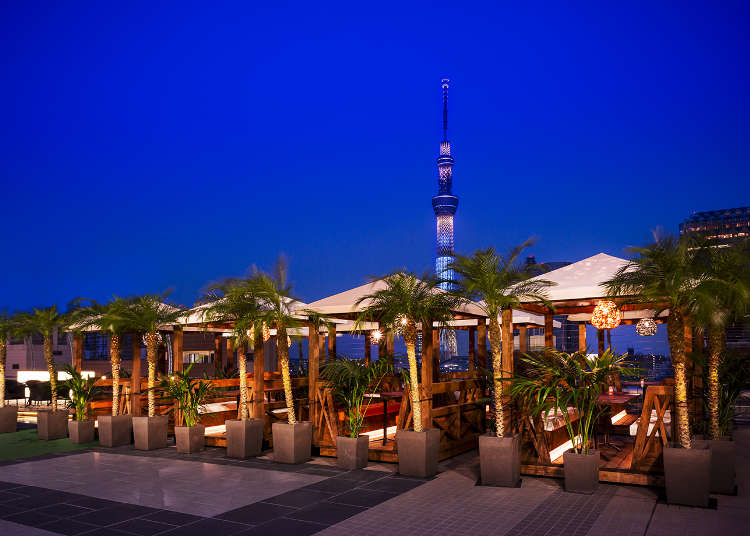 Ueno and Asakusa are very popular tourist destinations in the metropolis of Tokyo. Around their most famous respresentatives, such as Ueno Park, Tokyo Skytree(R), and the amusement park called Hanayashiki, many an atmospheric beer garden can be found to take a break from sightseeing and fight off the summer heat!
Enjoy a Cold Beer in a Lush Park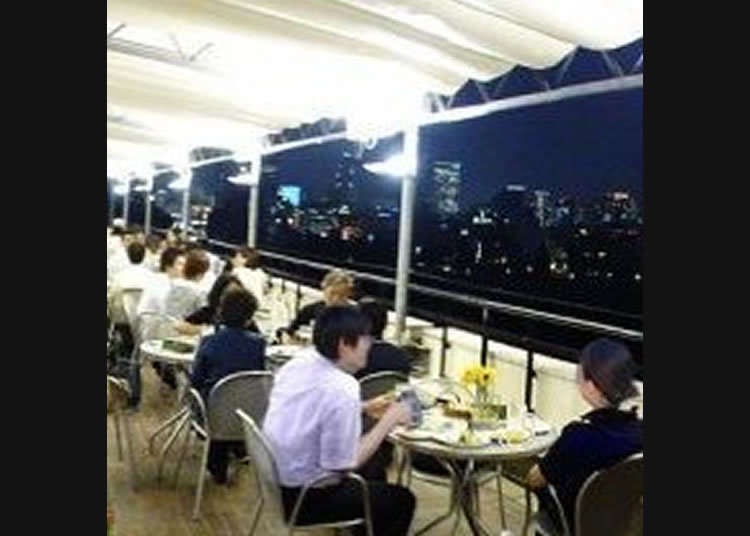 "Ueno Seiyoken was opened as early as 1872 by a French pioneer, acting as a trailblazer for many other French restaurants to follow. This beer garden really lets you enjoy a taste of nostalgia; in fact, it was one of the famous author Natsume Soseki's favorite spots in all of Tokyo. Located in Ueno Park, the view over the lush green park and Shinubazunoike, Ueno's own pond, sprawling beneath is both relaxing and inspiring.
As for food, our recommendation is the ""beef shoulder roast Genghis Khan-style in royal homemade tare sauce"" for 2,000 yen. The ""5 types of beer sausages"" assortment for 1,500 yen is also a great choice. Draft beer is 700 yen per regular glass and 720 for a medium-sized one. Sour ale can be savored for 540 yen. In the all-you-can-drink plan, costing 2,600 yen for two hours, you can enjoy a variety of drinks without any limit. The beer garden is open until the 11th of September, every day from 5:00 p.m. to 10:00 p.m. On Saturdays, Sundays, and national holidays, it opens at 4:00 p.m. already."
Ueno Seiyoken Roof Of Beer Garden

上野精養軒屋上ビアガーデン

Address

4-58, Uenokoen, Taito-ku, Tokyo, 110-8715,Japan
Sip a Beer in the Shadow of Tokyo Skytree(R)
The next beer garden on our list lies at the foot of Tokyo's famous Skytree, on the 4th floor of the Sky Arena, and is called Miageru Beer Garden. At noon, the impressive tower stretches into a blue sky while at night, the massive structure is beautifully lit up. Sitting directly underneath it, no matter the time of day, will provide you with a very unique angle of the tower. All-you-can-drink and barbecue service is both on the menu, as well as a lunch set featuring delicious aged sausage for 3,500 yen (per 90 minutes) during lunch and 4,500 yen for dinner (120-minute-service). The beer garden's theme for 2016 is LOOK UP!! PHOTO UP!! - if you want to take part, notify the staff and a photo panel will be brought right to your table for the best shot upwards! Open until the 2nd of October, everyday from 11:00 a.m. to 10:00 p.m.
見上げるビアガーデン

Address

Tokyo Skytreetown,Solamachi 4F,1-1-2, Oshiage, Sumida-ku, Tokyo, 131-0045,Japan
Barbecue & Beer at an Amusement Park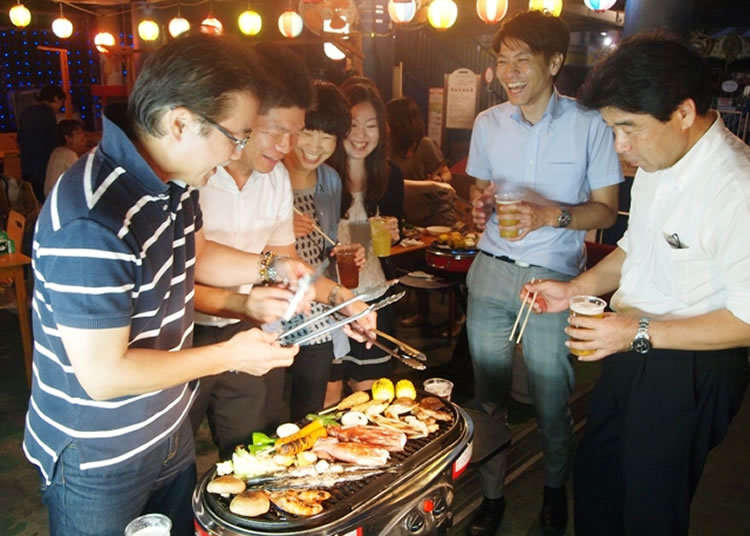 Right next to the swan attraction of the Hanayashiki amusement park, visitors can enjoy a great time at the park's own beer garden. It's popular barbecue plan includes an all-you-can-drink menu that features different types of beer and shochu, even sparkling wine. This service lasts two hours and you can start anytime between 7:00 p.m. and 10:00 p.m., at whatever time you like! Thick slices of beef and pork, fresh vegetables, and a variety of skewered sausages are included in the price of 4,500 yen. Apart from this evening offer, there's also a lunch course including park tickets, and a happy hour course. The beer garden is open until the 30th of November, every day from 11:00 a.m. to 10:00 p.m.
Address

2-28-1, Asakusa, Taitou-ku, Tokyo, 111-0032
View Map

Nearest Station

Asakusa Station (Tokyo Metro Ginza Line / Toei Asakusa Line / Tobu Isesaki Line (Tobu Sky Tree Line) / Tsukuba Express)
3 minutes on foot


Phone Number

03-3842-8780
The Most Scenic Location in all of Tokyo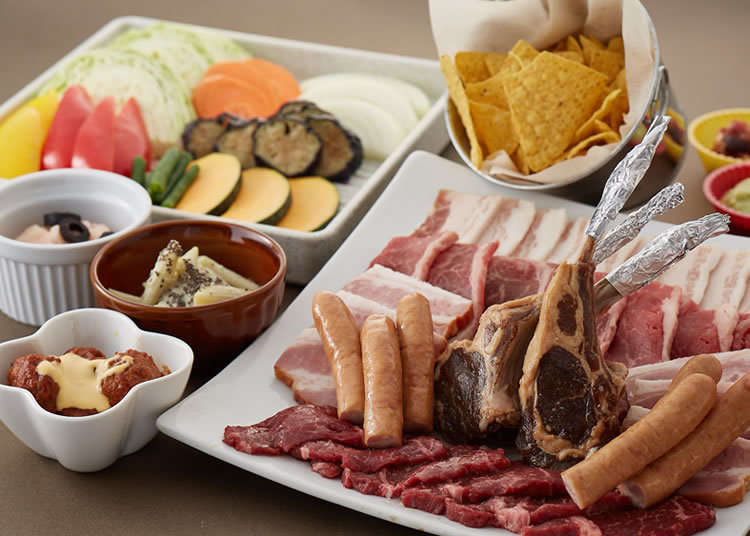 Following the concept of a sophisticated resort, this beer garden is located on the roof of the Ekimise Building of the Tobu Line Asakusa Station. It offers an amazing view on the Tokyo Skytree(R), during the day as well as during the night. The barbecue set, including an all-you-can-drink plan and a big platter of gourmet meat and vegetables, costs 4,320 yen for a regular seat and 5,400 yen for a premium seat. When sitting on the premium seats, the view on Skytree will be an especially amazing one - it is visible from the top to the bottom entirely while relaxing in a booth or on a sofa. Ekibeer Skytreeview is open until October the 2nd, every day between 11:00 a.m. and 3:00 p.m., as well as 4:00 p.m. and 10:00 p.m.
Noryou Hareterace Ekibeer Skytreebew

納涼ハレテラス エキビア スカイツリービュー

Address

EKIMISE RF,1-4-1, Hanakawado, Taito-ku, Tokyo, 111-0033,Japan
Area

Category

Articles Genre
*This information is from the time of this article's publication.