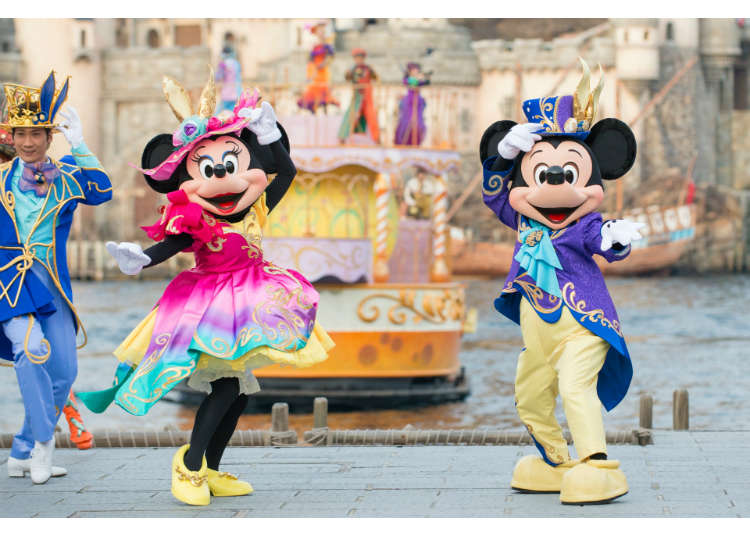 Tokyo DisneySea doesn't only celebrate its 16th anniversary in 2017 but also Disney Easter for the second time ever! Together with Tokyo Disneyland, the Easter event takes place from April 4 to June 14, 2017, and there are many things to be discovered!
For this year, both Minnie and Mickey don all-new costumes, and popular characters such as Duffy, Shellie May, and Gelatoni appear in shows all around the park – the latter is a painter and a cat, an exclusive character of Tokyo DisneySea.
A new friend of Duffy's also celebrated her debut in 2017 – Stella Lou, an adorable rabbit who dreams of becoming a dancer.
Fashionable Easter – Celebrating Colors!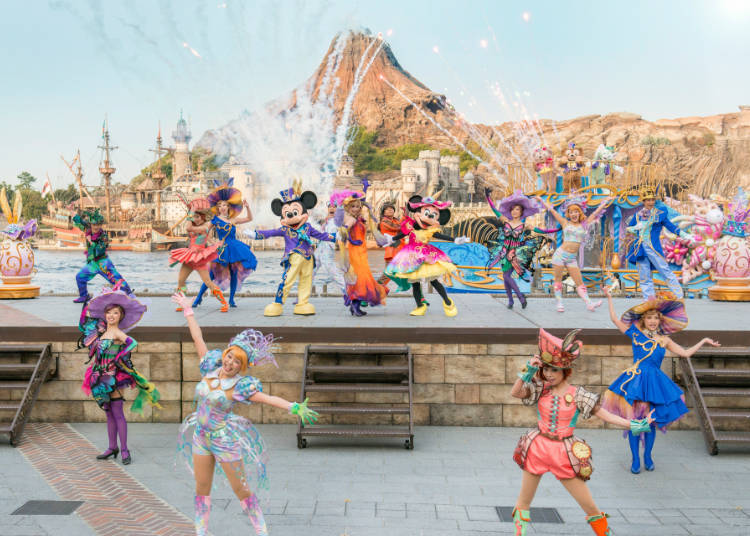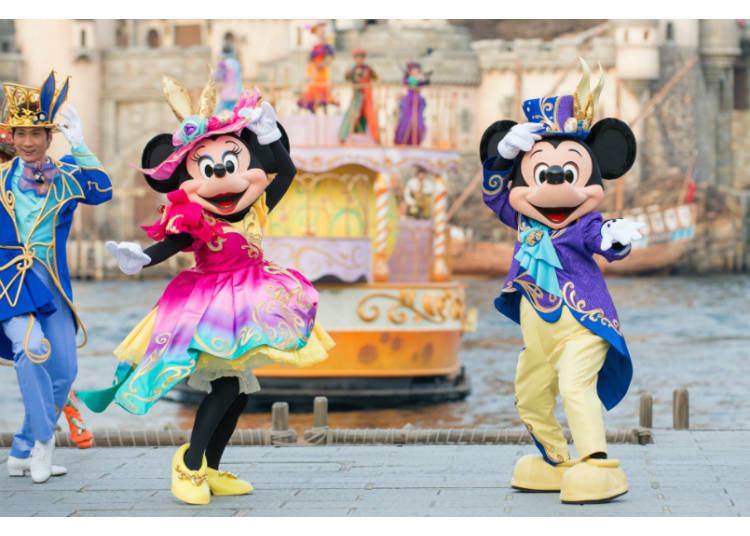 Disney Easter did not take place in 2016, as that year marked the 15th anniversary of Tokyo DisneySea. Fans can look forward to the bunny-eared event of 2017, however! One of the highlights of Disney Easter at Tokyo DisneySea is the Fashionable Easter event. Be prepared, as jet skis will suddenly appear to announce the start of the magical show. They are followed by Disney's favorites like Mickey and Minnie, Donald and Daisy, Goofy, Duffy, and Shellie May, all riding on different boats and wearing the colorful and breathtakingly beautiful local fashion of the ports they departed from. Every boat follows a different theme and observing the spectacle of different garments is a must-see of Disney Easter.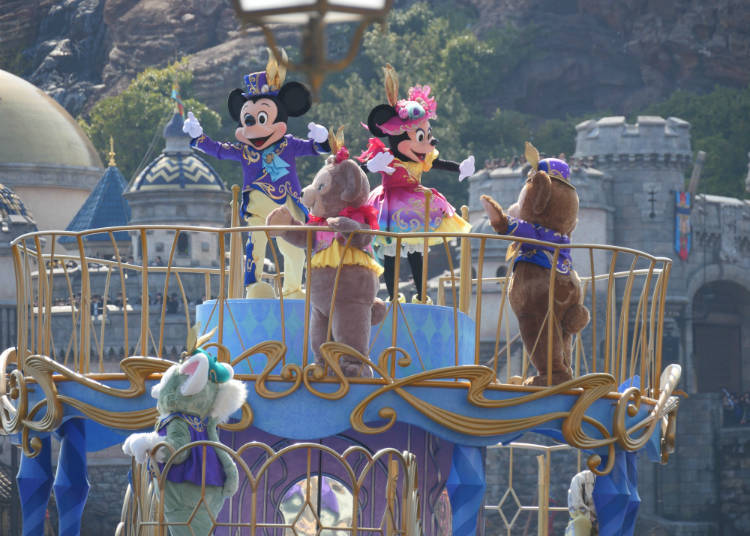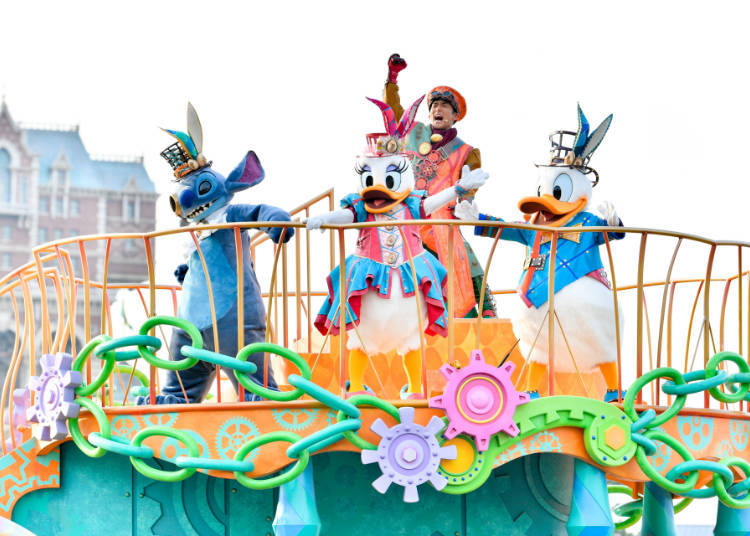 The four theme boats come from the American Waterfront, Mermaid Lagoon, the Lost River Delta, and the Mysterious Island. Clad in clothes designed in the spirit of Easter, the dancers showcase the characteristic fashion of their unique ports in stunning dances.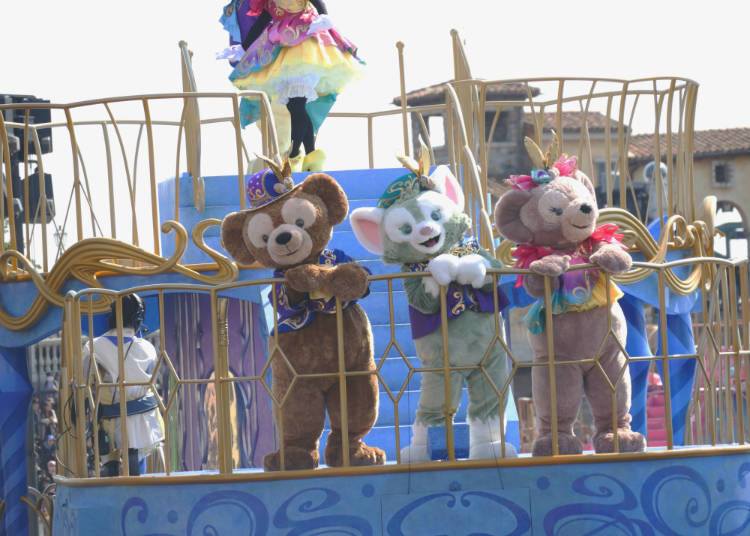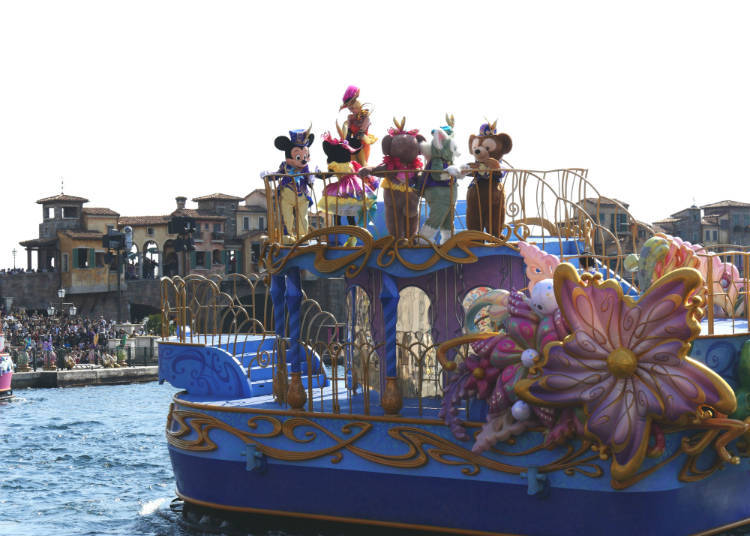 Among them are the Disney characters in pairs: Minnie and Mickey, Daisy and Donald, Shellie May, Duffy, and Gelatoni. The event isn't just beautiful and colorful, however, but also highlights the art of fashion itself.
Butterflies and plants are the main theme of another port, while others utilize very soft pastel colors or vivid splashes. After circling the harbor, the characters and dancers get off at the stage for the finale of their performance! Guests can experience this magnificent show from up close.

Show: three times a day
Hours: 10:30 a.m., 2:00 p.m., 4:30 p.m. in April (the show takes about 25 minutes)
Location: Mediterranean Harbor
Say Hello to Stella Lou on her Greeting Drive!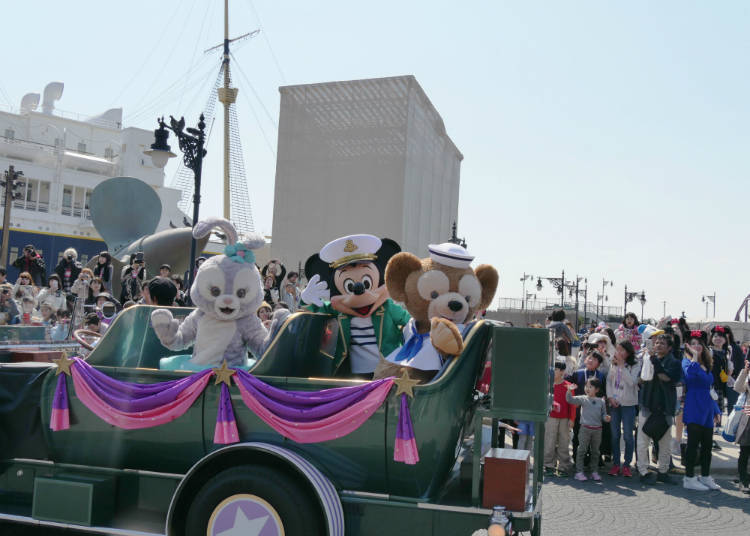 After Shellie May and Gelatoni joined the Disney family in 2014, a new friend makes her debut in the spring of 2017: Stella Lou! She's an adorable rabbit with lilac fur, long lashes, and even longer ears. She hops in a car with Duffy and Mickey to greet DisneySea's guests at the American Waterfront in the classical Greeting Drive. Don't miss out on the chance to say hello!

Greeting Drive: twice a day
Duration: about 10 minutes
Location: American Waterfront
Colorful Decorations and Photo Opportunities all around the Park!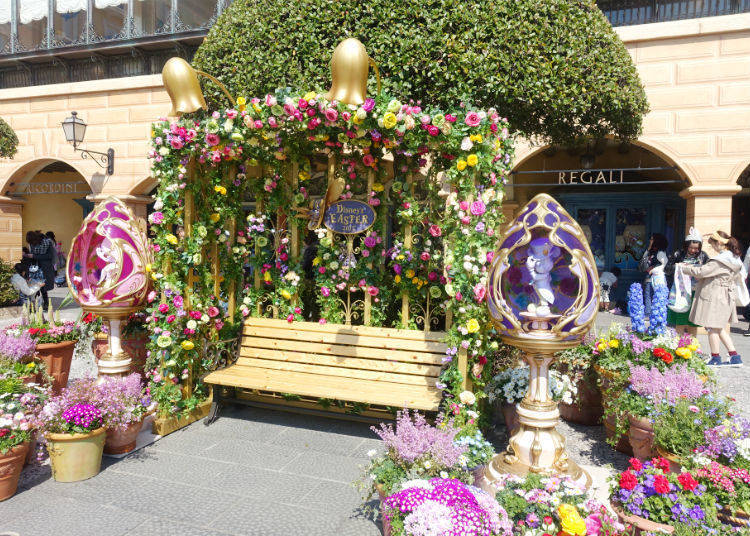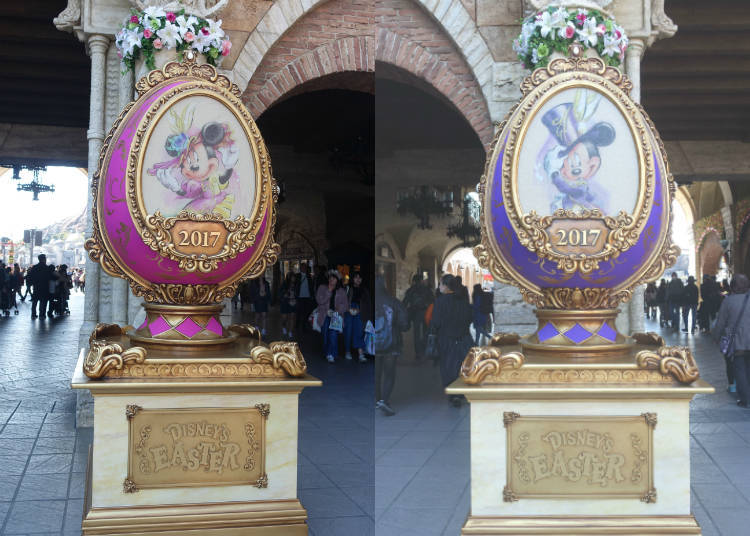 The gate of the Mediterranean Harbor is adorned with vividly colored Easter eggs and flowers. Six differently designed and colored eggs sit at the very top, with a Minnie-themed egg and a Mickey-themed egg right below them – this is one of Easter's most popular photo spots!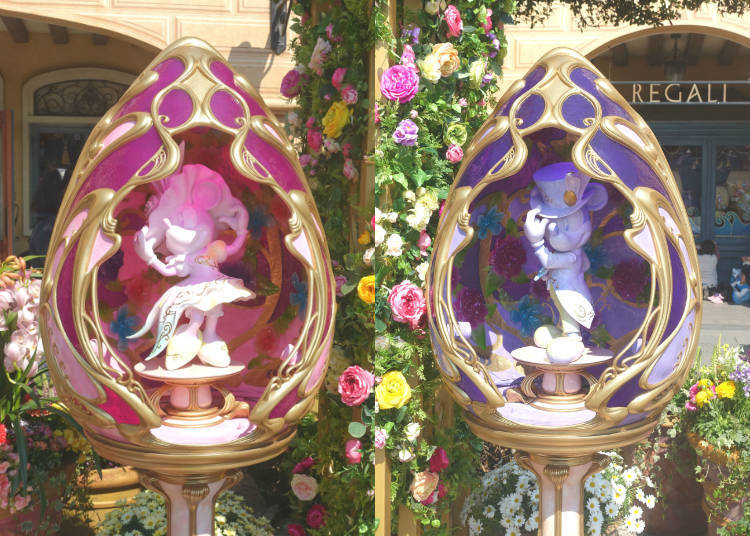 Besides the gate, various photo spots are scattered throughout DisneySea, including places that let you lend photo props to fancy up your shots.
Eggs of seven different themes can be found at the American Waterfront, including Disney characters in various colors and poses. Big, overflowing Easter bonnets will put you in the proper spring mood!
Disney Easter's Special Gourmet Experience at the Zambini Brothers' Ristorante of the Mediterranean Harbor!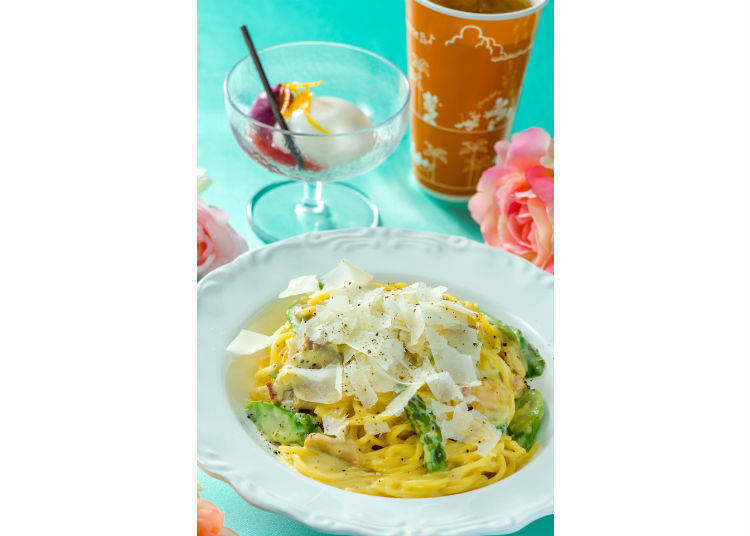 Special set for 1,580 yen (tax included)
Look forward to an egg-centric menu, created in the spirit of Easter! Spaghetti Carbonara with asparagus, a mango-milk pudding, and a drink of your choice makes up the Easter set menu. Sweets can also be enjoyed in a set, so dig in!

Location: Zambini Brothers' Ristorante at the Mediterranean Harbor
Savor the Spring Tail with Chicken & Cheese Curry at Sultan's Oasis, Arabian Coast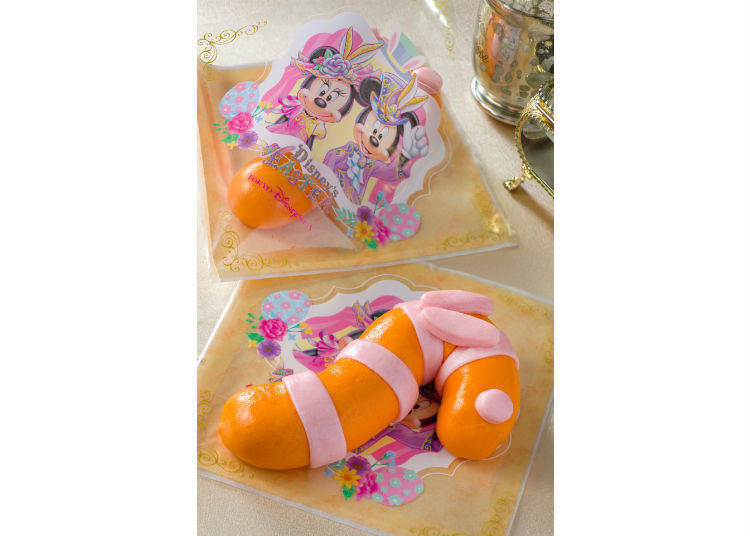 The Spring Tail is usually known as the Chandu Tail, a steamed bun filled with chicken cream. For Easter, this beloved snack has donned bunny ears and while it first seems like a dessert, it is actually filled with savory chicken and cheese curry. The spiciness of the filling goes excellent with the mellow bun surrounding it! Make sure to eat it while it's piping hot! Enjoy the Spring Tail for 500 yen (tax included).

Location: Sultan's Oasis at the Arabian Coast
Enjoy Disney Easter at Tokyo DisneySea!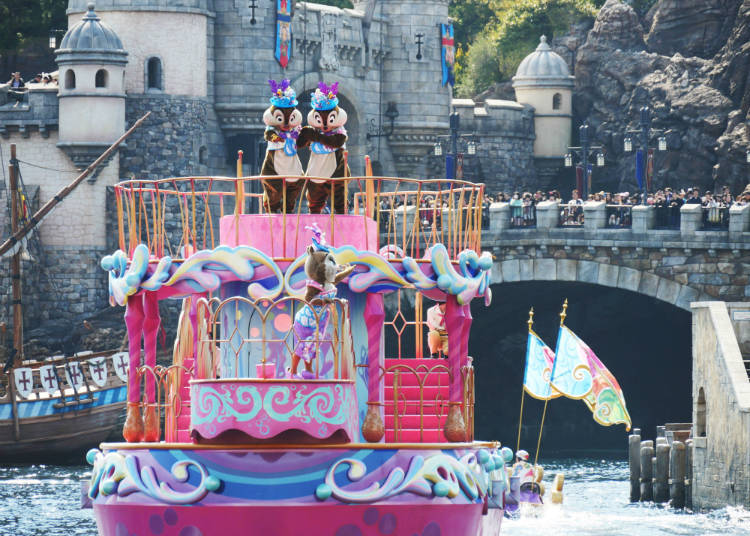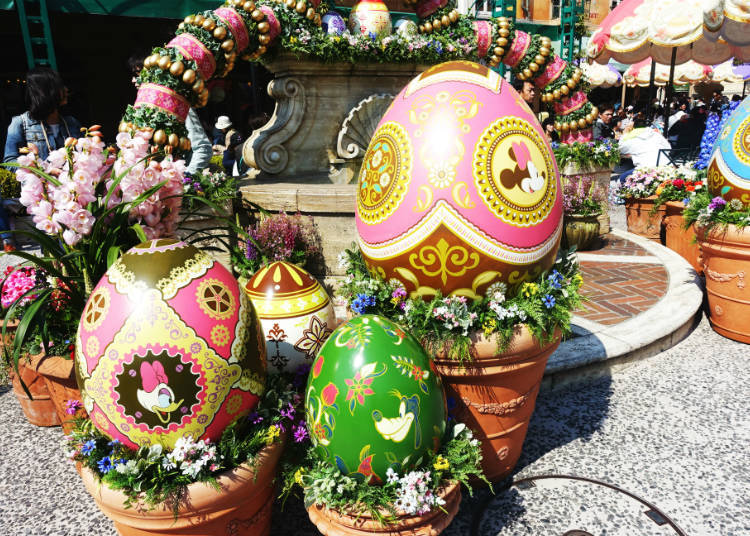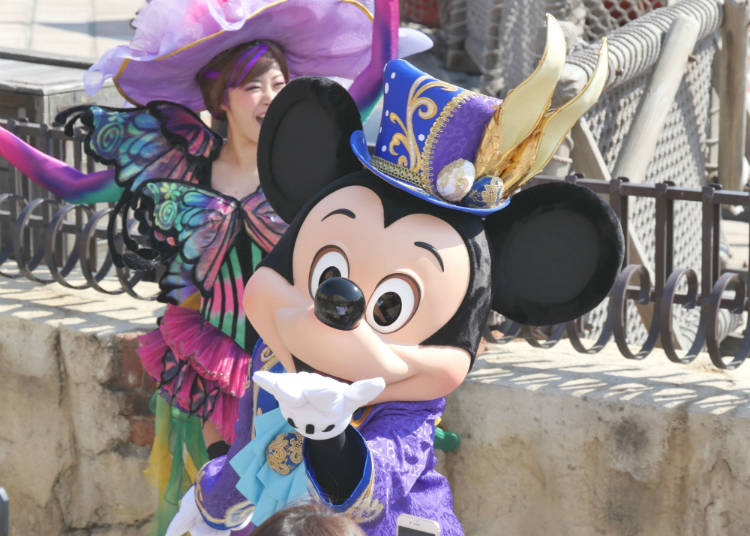 Disney Easter takes place until June 14. If you are in Tokyo during this time, do make sure to stop by the park and indulge in a one-of-a-kind Easter celebration, even if the actual holiday has already passed!
For those of you who want to watch the main show, we highly recommend going to the venue early to get a seat. Keep in mind that the show may be canceled due to bad weather, so pay attention to the announcements on rainy days. Now go out and have some Easter fun!
Area

Category

Articles Genre
*This information is from the time of this article's publication.