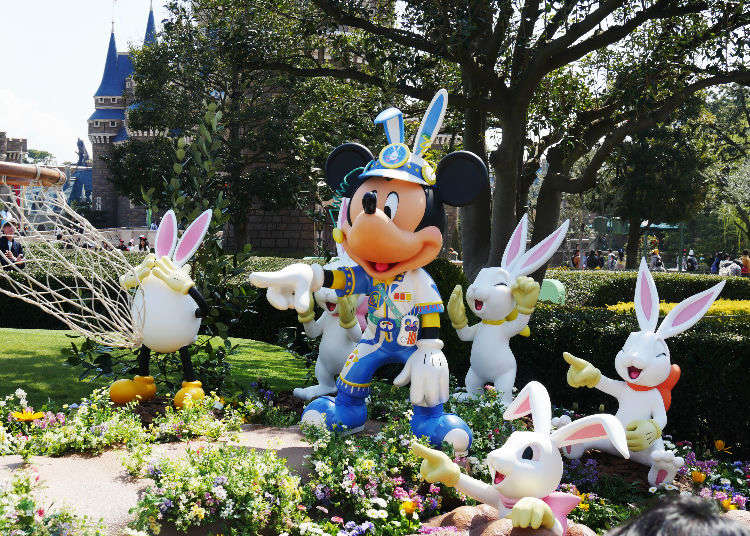 Tokyo Disneyland is a must-see spot for many a tourist coming to Japan. The famous theme park is fun in every season, with not only the shows and parades changing in accordance to various festivities but also the decoration of Tokyo Disneyland itself. This transforms the place and its unique atmosphere into something entirely new for every festival! It really is "the Kingdom of Dreams and Magic."

Disney Easter takes place from April 4 to June 14, 2017, and promises a unique Disney-esque egg-hunt called "Usatama." Along with special Easter-themed events and parades, seasonal dishes and snacks are also on the menu all around the park. Let's take a look at the Easter highlights of Tokyo Disneyland!
Usatama on the Run! – Disney's Easter Showdown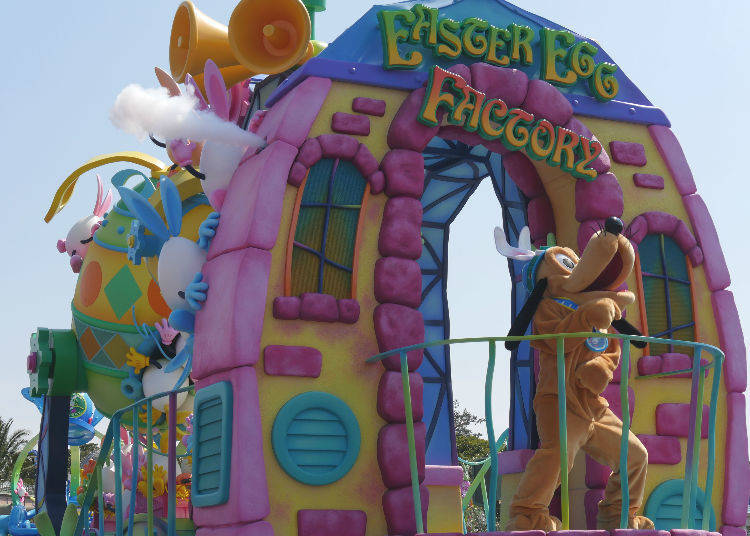 Just when Mickey was busily working at the Easter egg factory day in, day out, a brand-new machine suddenly appeared in front of him. This machine was capable of producing colorful Easter eggs all by itself! Not having to paint every single egg by hand certainly seemed tempting, so this mysterious machine was an unexpected but welcome gift. Suddenly, however, an Usatama ("rabbit egg") was born – an egg with little rabbit ears that started wandering around the park! Mickey and his friends struggle to find all the Usatama that have escaped and are now hiding all over the park.
The Colorful Floats of the Disney Easter Parade
The first float is Pluto's who sits at the very top, followed by the curious character of Usatama, an egg with rabbit ears and hands and feet much like Mickey Mouse's. Disney's two main stars, Mickey and Minnie, have their very own parade float that is equipped with a large catcher. Dressed in colorful costumes, the two characters take on the role of Usatama Catchers trying to get a hold of the little rabbit-eggs.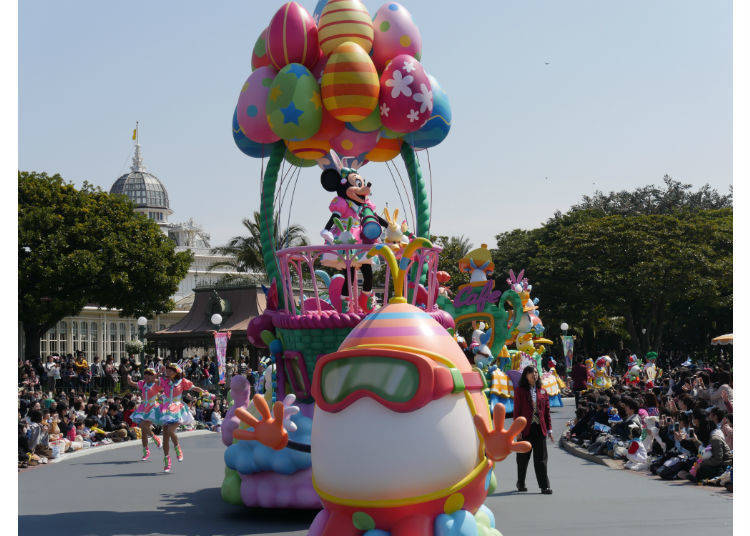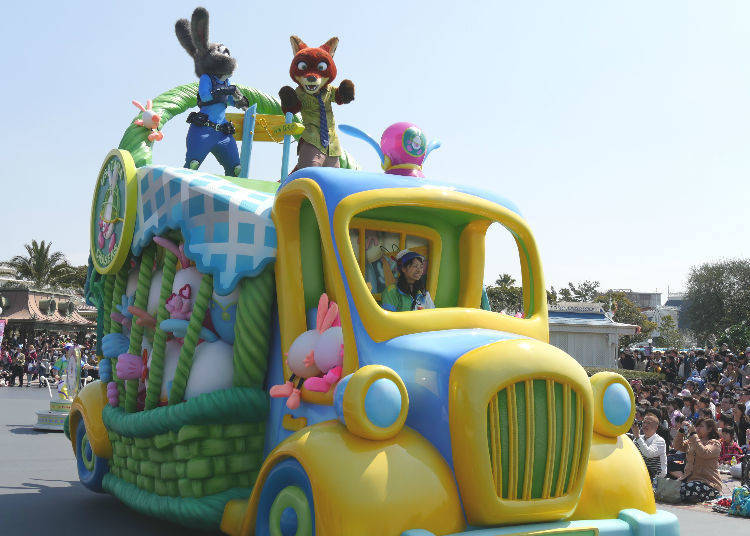 Of course, the parade is enhanced with numerous dancers in colorful costumes, wearing bunny ears on their heads to evoke a fun and playful Easter feeling!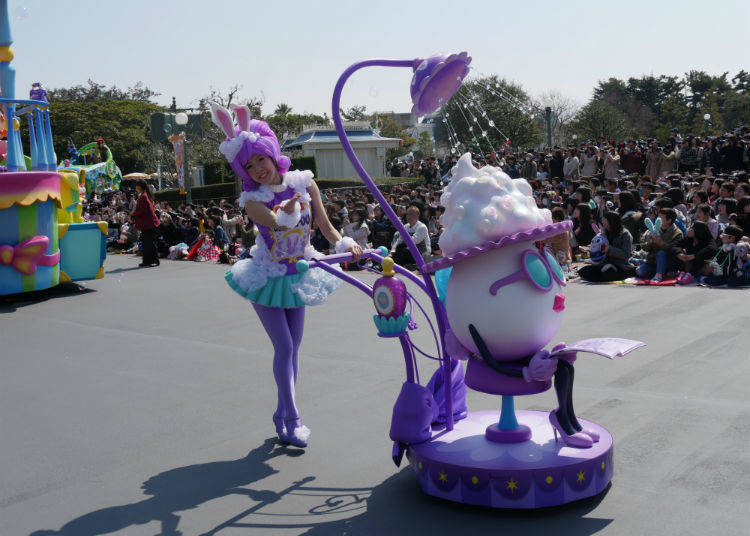 Parade: 2-3 times a day
Hours: 11:00 a.m. and 4:45 p.m. (the parade takes around 45 minutes)
On April 15th, the parade runs three times a day (9:45 a.m., 1:20 p.m., 4:45 p.m.).
Location: parade route
Search for Usatama! Disney's Easter Egg Hunt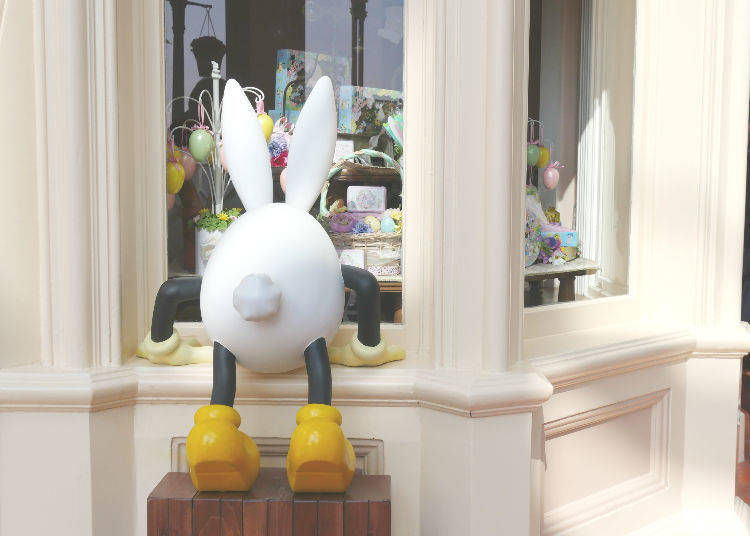 During Easter 2017, a special map of Tokyo Disneyland is available for free all around the park, both in Japanese and English. This map will guide you on an Easterly walk through the entire park, with an original Usatama Chasers sticker beckoning at the goal!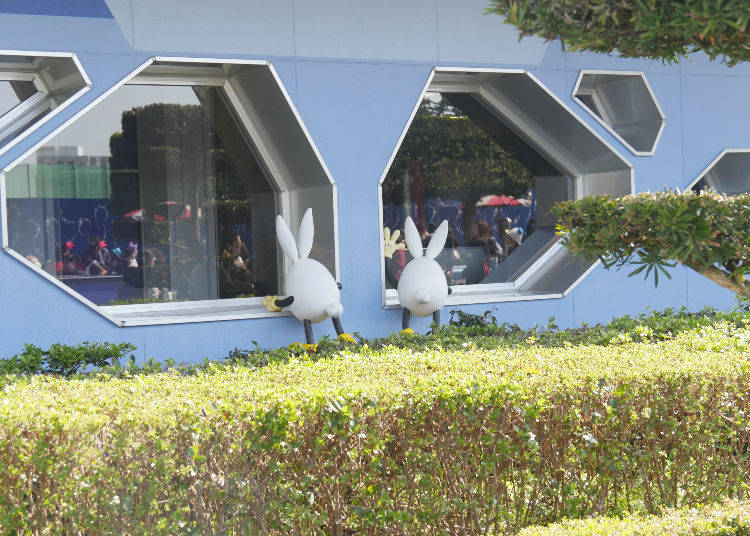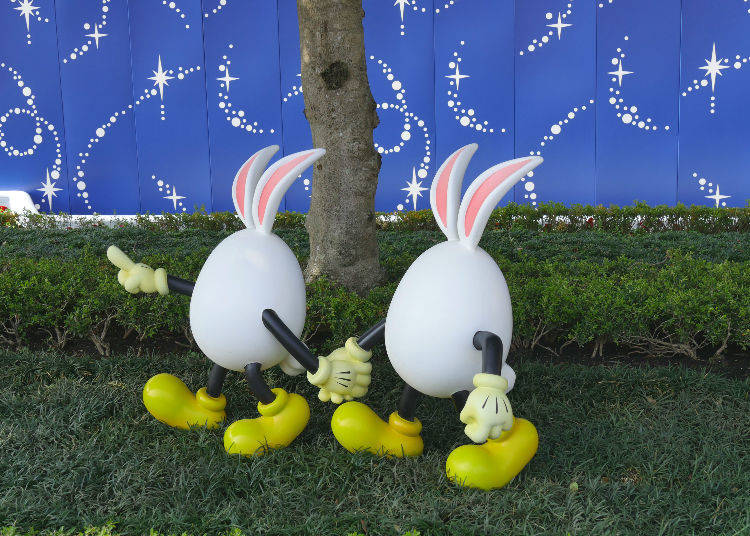 Make sure to keep your eye open for Usatama all around the shopping area, near the restaurants, and more! Don't hesitate to peek into windows, look for the bunny-eared eggs in plants and grass, or Usatama hanging on to their friends. The Easter map features tips and hints, so pay close attention!
Easterly Decoration all around Tokyo Disneyland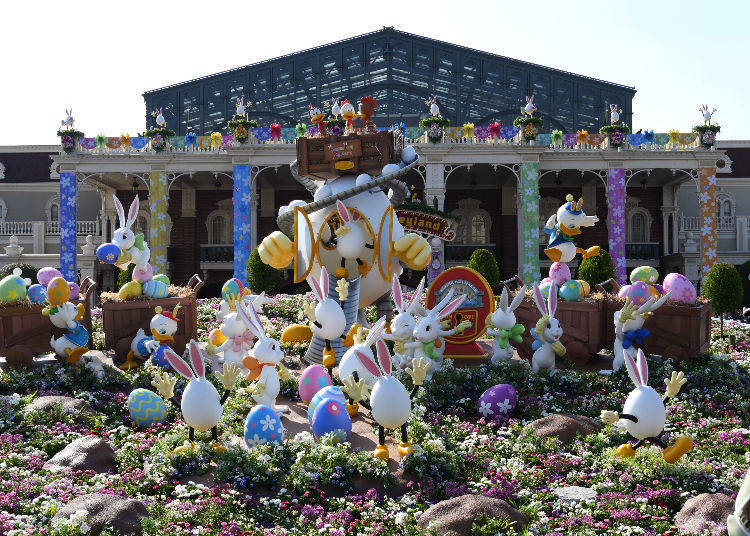 Usatama is also the main theme of the beautiful decoration that adorns the entire theme park. Right at the entrance, you'll find the aforementioned mysterious Easter egg maker machine that gave birth to the little bunny egg.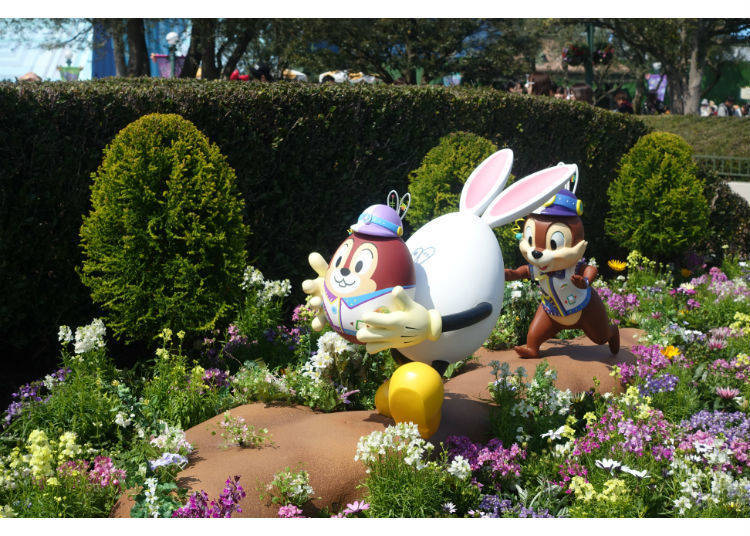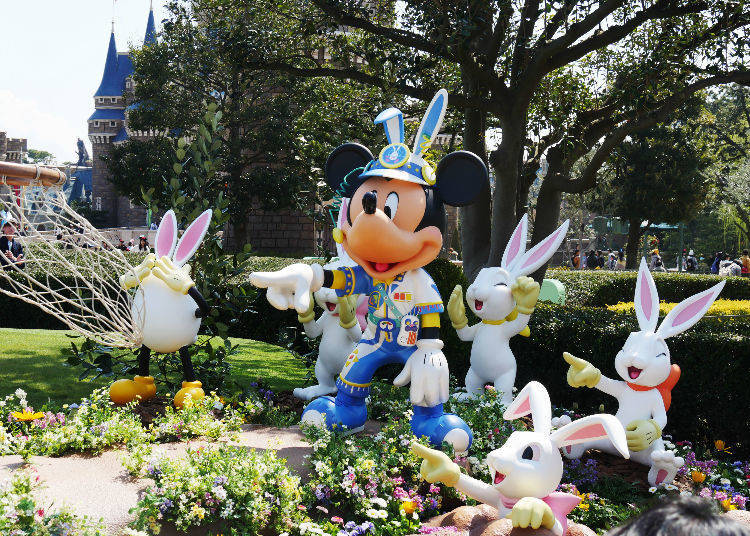 Scenes of Usatama being caught can be witnessed all around Cinderella's Castle and make for wonderful photo opportunities to commemorate your Easter trip to Tokyo Disneyland. On top of that, 50 varieties of Disney-themed Easter eggs wait to be picked up, all adorned with Disney's popular characters. Go find your favorite one!
Special Gourmet Experience at Huey, Dewey and Louie's Good Time Café in Toontown!
Special set: 900 yen (tax included)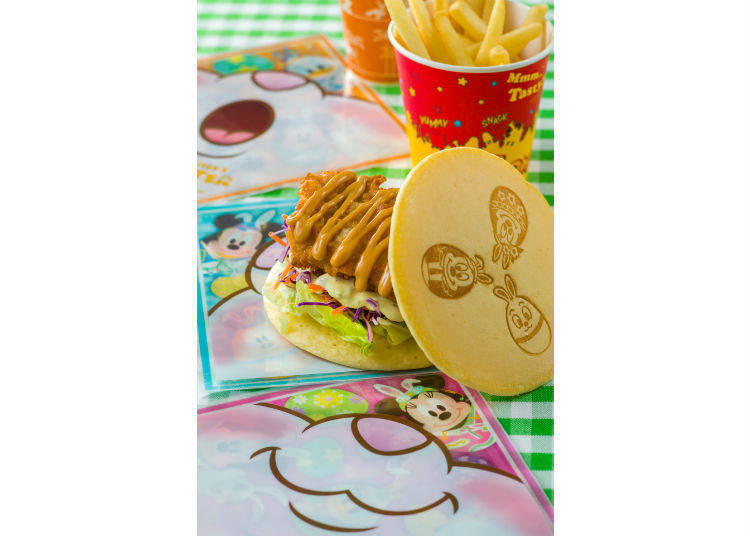 Look forward to a pancake sandwich with marinated fried chicken, served with French fries and a drink! An adorable Easter egg is drawn right on the pancake, giving the gourmet set that special Easter feeling. The fried chicken is unbelievably crispy, and the fresh salad and juicy tomatoes balance the meat perfectly. A special lunch case comes with the gourmet set for 1,860 yen (tax included)

Location: Huey, Dewey and Louie's Good Time Café in Toontown
The Special Set of Tomorrowland Terrace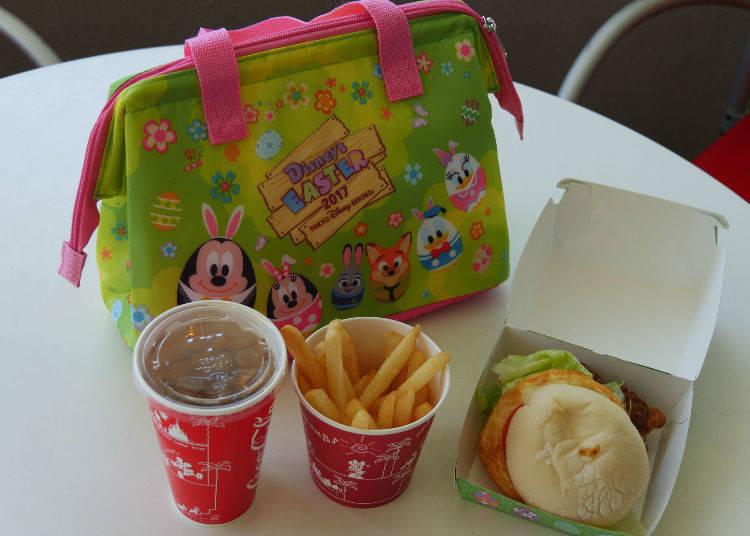 Another Easterly gourmet experience can be made at Tomorrowland Terrace, right next to Cinderella's Castle. This set features an egg and fried chicken sandwich, served with French fries, and a drink. Just like with the pancake version, an Easter egg is drawn on the bread of the sandwich. Upgrade your set for 1,850 yen (tax included) to get a lunch case with the food!

Location: Tomorrowland Terrace in Tomorrowland
Easter Sundae (Mix Berry Berry and Strawberry Cheese Ice Cream) with a Souvenir Cup for 860 yen (tax included) at the World Bazaar's Ice Cream Cones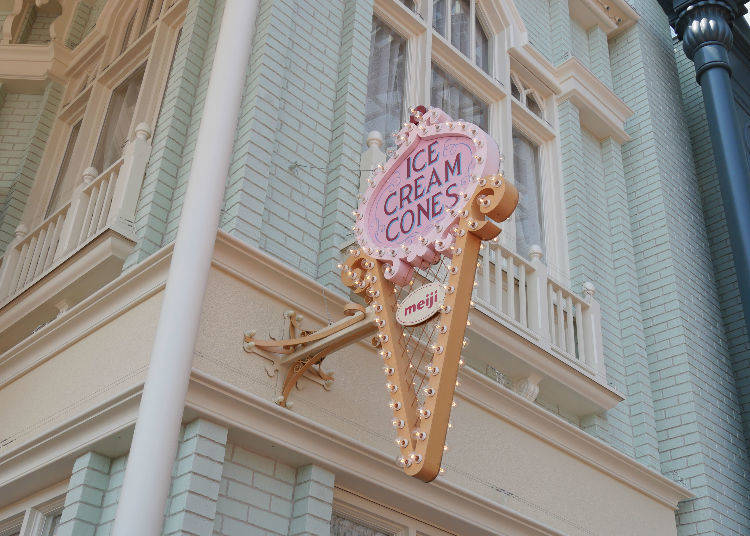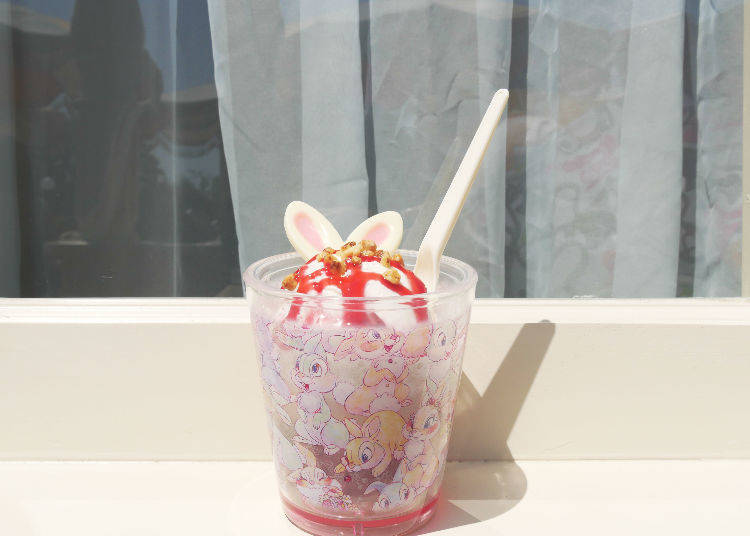 This Easter Bunny-themed sundae is a real treat! The inside is filled with almonds and incredibly crunchy, surrounded by mellow Mix Berry Berry and Strawberry Cheese ice cream! It is served in a decorative cup that can be taken home as a unique souvenir, so don't miss out on this delicious dessert!

Location: Ice Cream Cones at World Bazaar
Experience Disney Easter for Yourself!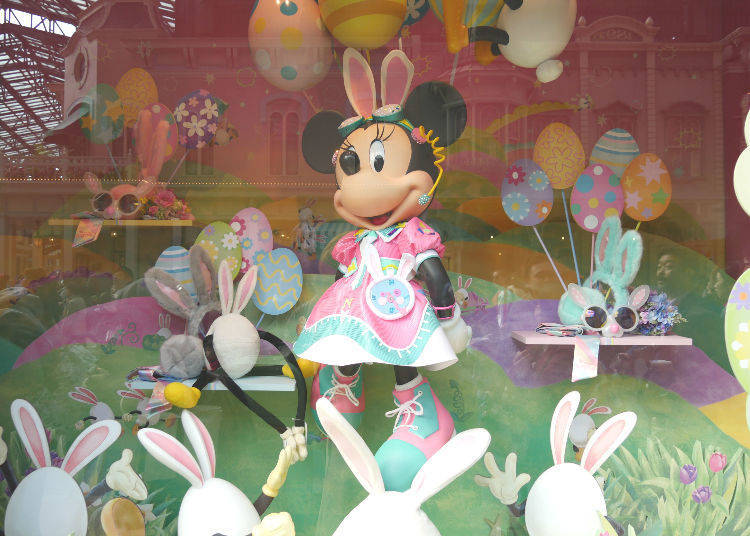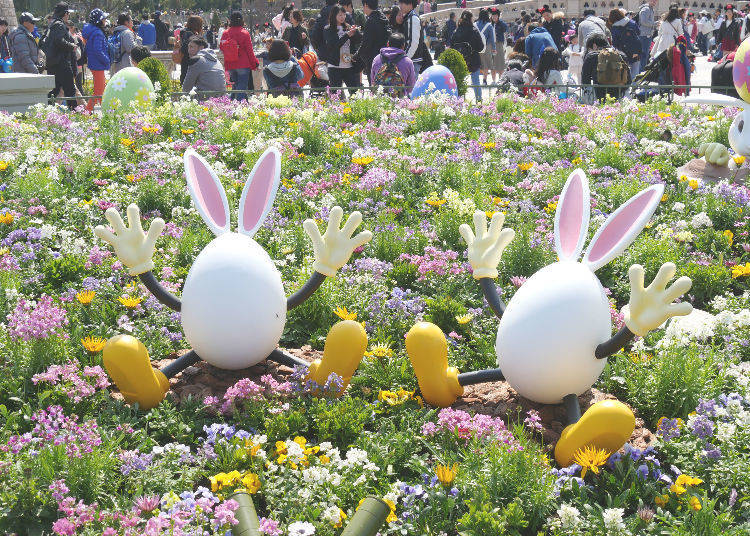 Disney Easter 2017 takes place from April 4 to June 14, so make sure to stop by and hunt some Usatama, try the many Easter-themed gourmet delicacies, and experience the magic of Easter at the iconic Disney parade!
Address

1-1, Maihama, Urayasu-shi, Chiba, 279-0031
View Map

Nearest Station

Maihama Station (JR Keiyo Line)
4 minutes on foot


Phone Number

0570-00-8632
Area

Category

Articles Genre
*This information is from the time of this article's publication.